Cruise ship wifi can be super expensive. Luckily, there are several ways that you can access the internet for free on Royal Caribbean cruise ships!
So, put your wallet away and read on to find out how to get free wifi on your next Royal Caribbean cruise. No free WiFi hacks needed! These are all legitimate methods that are available to you.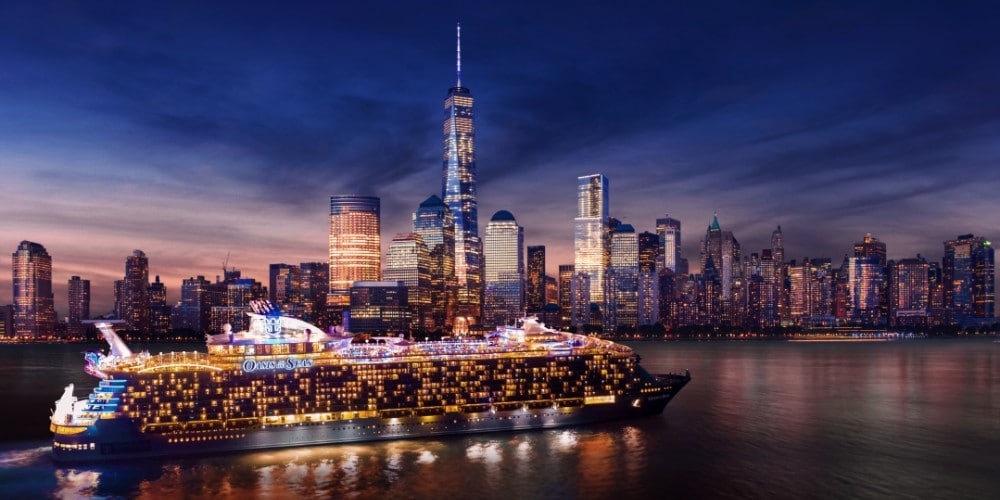 Does Royal Caribbean Have Free WiFi?
Royal Caribbean WiFi typically is not free. Royal Caribbean offers several different paid wifi packages with prices starting at around $11 per day for a single device. However, you don't necessarily have to pay for internet access on your cruise.
Royal Caribbean WiFi Cost
The exact cost of Royal Caribbean WiFi is not fixed. It varies depending on:
The ship
The sailing
The number of devices used
Whether you buy a daily pass or get WiFi for your whole cruise
How far in advance you purchase WiFi
Whether there's a sale on
The cheapest Royal Caribbean WiFi packages are around $20 per day, but it could cost you as much as $26 per day for a single device. It's generally cheapest to buy WiFi before you cruise, and to buy a package for the whole cruise rather than for a single day.
Suggested read: Royal Caribbean Internet Package Prices
To see the WiFi options available for your cruise and the exact pricing, log on to the Royal Caribbean Cruise Planner.
If the WiFi package you want looks expensive, you could wait to see if it goes down, or try some of these ways to get free WiFi on your cruise…
How To Get Free WiFi on Royal Caribbean
1: Get Free Credit When You Book Your Cruise
Royal Caribbean often offers free perks and incentives to encourage you to book a cruise. Sometimes, these special offers include free WiFi packages and sometimes they include free onboard credit, which you can then use to buy a WiFi package.
Free onboard credit is a common incentive that's often used to encourage people to upgrade from an inside to an outside cabin, or from an outside to a balcony stateroom.
If you happen to get free onboard credit when you book your cruise, it's easy to use this to buy a WiFi package – just go to the Royal Caribbean Cruise Planner and purchase the WiFi with your onboard credit before your cruise.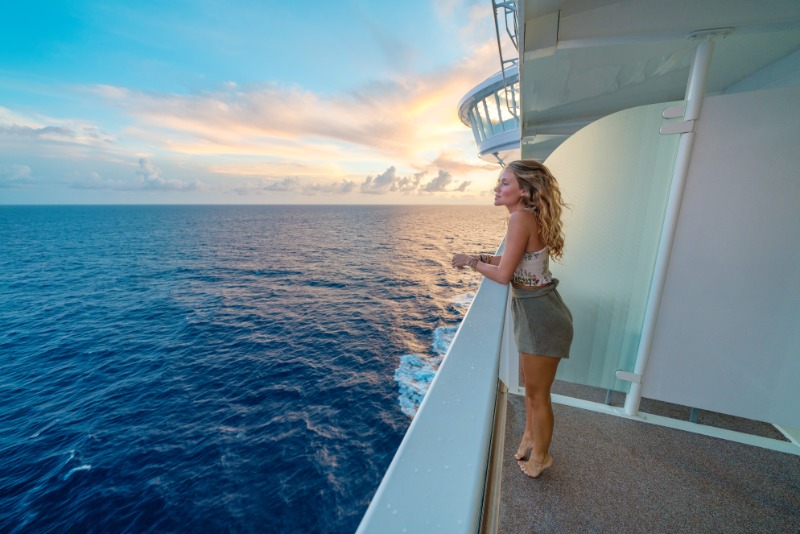 It's important to note that when free perks like free WiFi are included in a cruise holiday, it's often the case that the cruise fare is higher than if you were to book it outside of this promotional period.
So, whilst it can seem that you're getting free WiFi, you could actually be paying for it by paying more for your cruise overall.
NEW DEALS JUST RELEASED!
Don't miss the latest Royal Caribbean offers…
2. Reach Diamond Level in Royal Caribbean's Crown & Anchor Society
Loyalty surely pays off when you're a member of Royal Caribbean's Crown & Anchor Society. This program, tailored to reward the most dedicated cruisers, not only showers guests with perks like free drinks and access to an exclusive lounge, but also ensures they remain connected to the online world during their voyages.
Being a Diamond, Diamond Plus, or Pinnacle Club member in the Crown & Anchor Society certainly has its internet privileges. Specifically:
Diamond Level
If you cruise enough to collect 80 to 174 points (that's at least 80 nights at sea in a stateroom or 40 nights in a suite), you'll reach Diamond status and get free WiFi for 24 hours on each cruise.
The 24-hour window starts ticking the moment you log in. So a good tip is to access the WiFi in the afternoon, then you'll have it until the following afternoon. This technically gives you access on two different days.
If you'd rather buy the package for your whole cruise, you can instead get a discount of $25.99 off the package price.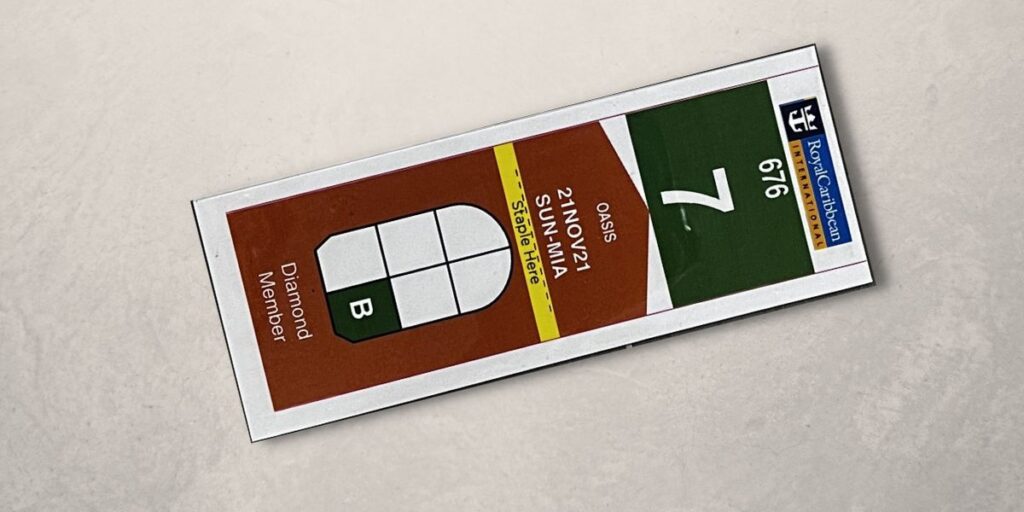 Diamond Plus Level
Cruisers who fall in this category, with 175 to 699 points, get WiFi access for 48 hours during their cruise. Again, you should try to time this to cover three days, preferably including your sea days.
Pinnacle Club Level
Pinnacle Club members, the top status level for those with over 700 loyalty points, enjoy a complete Surf & Stream internet package for one of their devices. This generous gesture from Royal Caribbean can save these top-tier members a significant amount, potentially amounting to thousands over multiple cruises.
Crown & Anchor Society WiFi Discounts
For those who haven't reached these lofty heights in the Crown & Anchor Society, there's still good news. Royal Caribbean ensures that even its Gold, Platinum, and Emerald members aren't left adrift. They benefit from discounts on internet packages: 10% off for Gold members, and an appealing 15% off for both Platinum and Emerald members.
3. Get Free WiFi With Casino Points
Royal Caribbean's casino rewards program, Club Royale, offers avid casino-goers a chance to reap the rewards of their gaming, and one of these enticing benefits is free WiFi.
Joining the Club Royale program is free of charge, and the system is based on Tier Credits earned while playing in the casino. The more you play, the higher you climb in the program's hierarchy, unlocking an array of benefits along the way, including WiFi perks.
Choice Tier – 1 to 2,499 Tier Credits
Though this first tier doesn't offer complimentary WiFi, it's the stepping stone to greater rewards.
Prime Tier – 2,500 to 24,999 Tier Credits
At this level, members can get a 30% discount on Royal Caribbean's VOOM Surf & Stream internet package. You usually get 1 point for every $5 spent, so you would need to spend $12,500 in the casino to reach this level.
Signature Tier – 25,000 to 99,999 Tier Credits
At the Signature level, you'll receive free WiFi for one device, ensuring seamless online connectivity throughout your cruise.
Masters Tier – 100,000+ Tier Credits
Reserved for the highest of rollers, Masters members are graced with free internet access on not one, but two devices. An internet luxury, indeed! You'll likely need to spend around half a million dollars in the casino to reach this level, so at this point, Royal Caribbean really does want to keep you happy!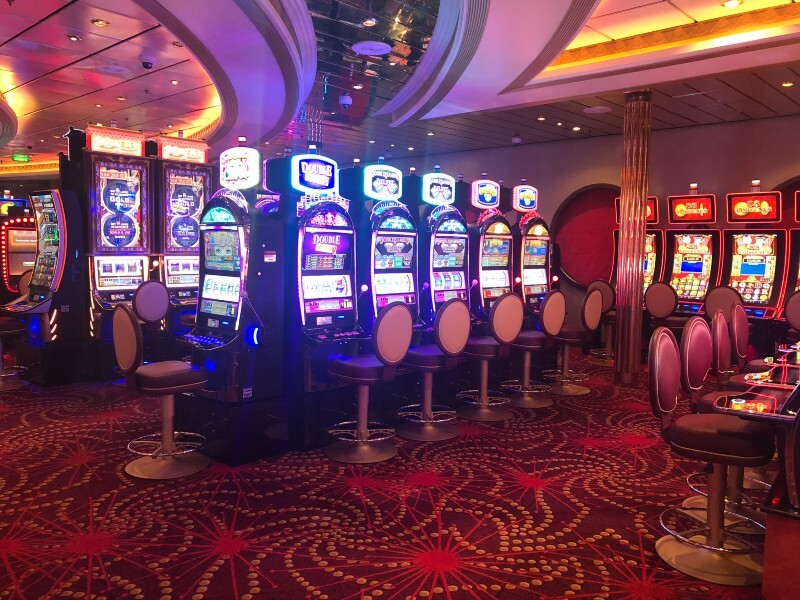 Earning these coveted Tier Credits is simple: guests pocket 1 Tier Credit for every $5 coin-in at slot machines, and 1 Tier Credit for every $10 coin-in on video poker machines. For table games, the Tier Credits depend on the type of game, the average bet placed, and the duration of play.
While free WiFi is a tempting prospect, pursuing gambling solely for this perk isn't the most economical decision. But for those who plan to spend considerable time in the casino anyway, the added benefit of free WiFi is a nice perk to have.
4. Stay In One Of The Top Suites
If you've taken the plush route and have booked a suite for your upcoming cruise, you're in for a delightful digital treat, especially if you're onboard their Quantum, Oasis, or Icon Class ships.
For cruisers residing in the Grand Suites or higher categories on these ship classes, the digital world remains at their fingertips without any additional charge. Royal Caribbean generously offers a complimentary VOOM Surf & Stream WiFi package to these guests.
What's even better? Every guest staying in the suite cabin gets this benefit, allowing each individual access to an internet package for one of their devices.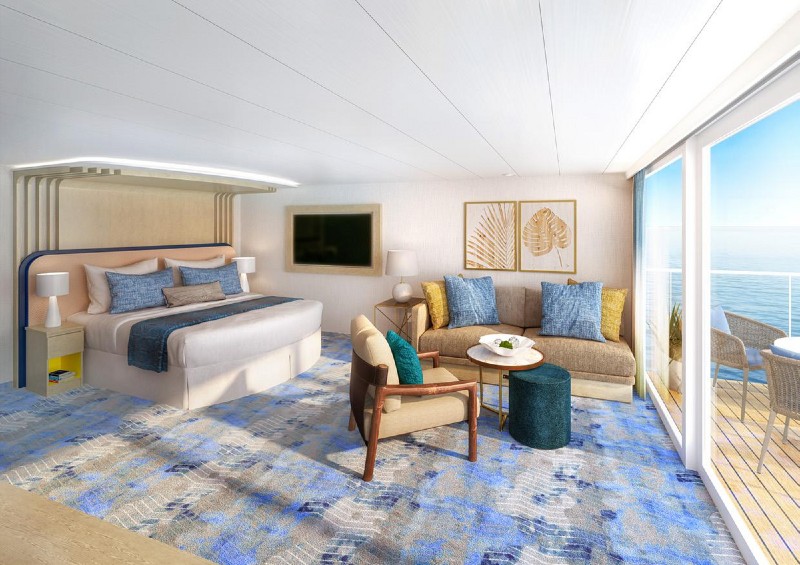 However, there are some exceptions to be aware of…
The free wifi for suite guests applies only to those staying in Grand Suites and above. That means that anyone staying in Junior Suites will have to purchase their WiFi.
Additionally, those in Grand Suites and above on the older ships like Vision, Radiance, Voyager, and Freedom Class will also need to pay for their internet connectivity.
Not sure which class your ship is in? You can find that here: Royal Caribbean Ship Classes
5: Find Free Wi-Fi Hotspots Off The Ship
Free WiFi will be available in each of the ports that your cruise ship calls at, and it's usually really easy to find.
If you're happy to check your emails and update your social media only whilst your ship is in port, then this is the best way to get free WiFi on your cruise.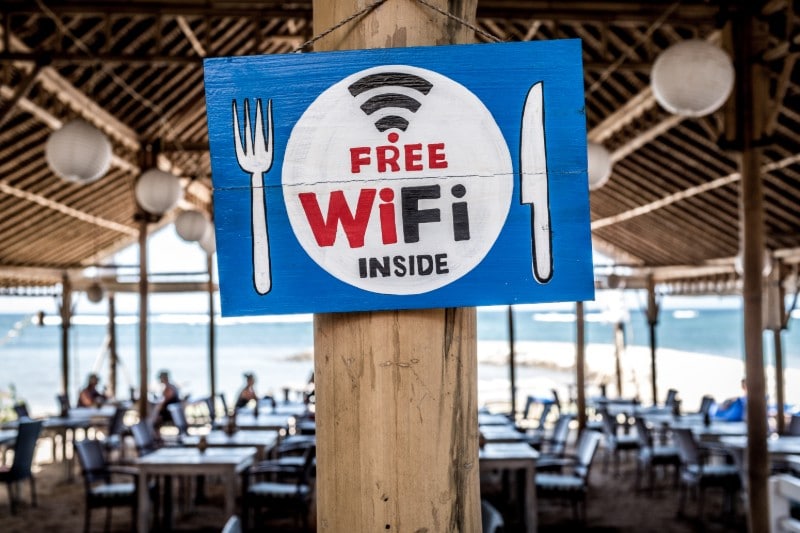 How To Find Free WiFi Locations In Port
There are three ways to find free WiFi whilst your cruise ship is in port:
Go To An Open Deck
If there's free WiFi in the cruise terminal, you might not need to leave the ship to access it, so this is worth a shot.
Walk along the port side of an open deck, such as the top deck or the promenade deck (if your ship has one), and see if you can find any free WiFi in range.
In some ports, the WiFi signal from the cruise terminal will reach to your ship whilst it's in port.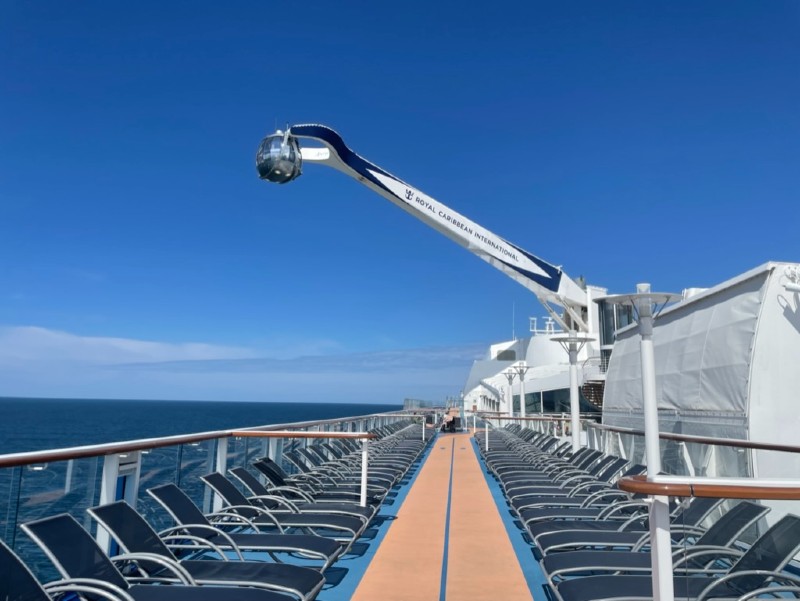 Ask a Crew Member
You may be surprised to hear, that crew members don't get free WiFi on-board cruise ships. So, when they have a few hours off, one of their favourite things to do is to get off the ship and head straight for the nearest free WiFi hotspot. They'll be happy to point you in the right direction.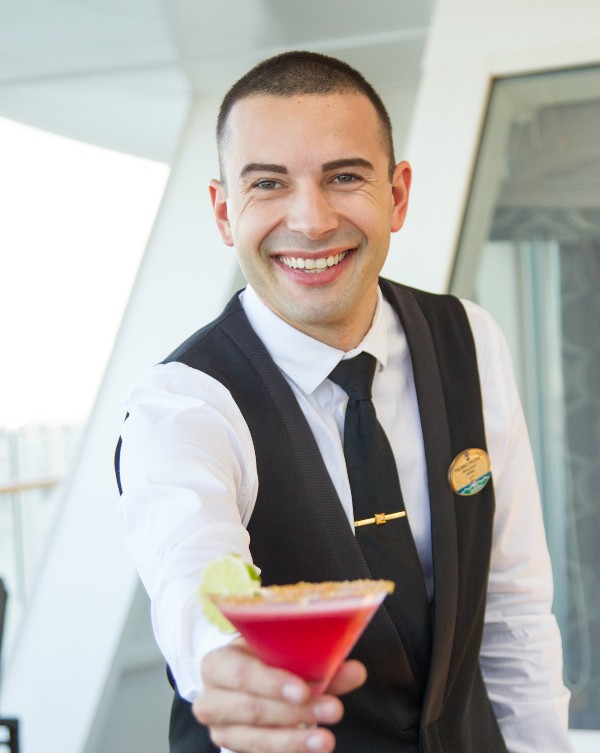 Get a Free WiFi Finder App
If you go to the app store on your mobile device and search for 'WiFi finder' or 'WiFi map', you'll find a great selection of apps that show where your nearest free WiFi points are on a map.
I'd recommend getting a couple of apps before you cruise, just in case the crew member that you ask isn't sure, or you want to find WiFi whilst you're off on an excursion.
6. Use the Royal Caribbean Chat App
Okay so this final way isn't free, but it is a lot cheaper than buying WiFi.
If your main reason for wanting WiFi is so that you can keep in touch with others on the ship, then Royal Caribbean's chat app is ideal. For only $1.99 per day, you can text other guests without an internet package.
So whether you want to meet up with your husband after he's finished watching sports and you're done in the spa or if you want to keep in touch with some new friends that you met on board, you can do that.
To use the service, all participants must purchase the chat facility, and you must do so for your entire cruise.
NEW DEALS JUST RELEASED!
Don't miss the latest Royal Caribbean offers…
Final Words
There are several ways to get free WiFi during your cruise, but it might still be best to pay for it. Unfortunately there's no real Royal Caribbean WiFi hack to get free internet when you shouldn't.
When I've cruised in Europe, I've found that my UK mobile phone contract includes 4G data abroad, so I've just used that when the ship's in port. On sea days, I've actually enjoyed not having WiFi.
When I've cruised in the Caribbean I have, on occasion, purchased the Royal Caribbean Voom WiFi package and found it to work great in most areas of the ship. Royal Caribbean extends its onboard WiFi to its private island, Perfect Day at CocoCay, and so it was a great bonus to be able to use the WiFi there too.
The Royal Caribbean cruise WiFi cost can be expensive, so always consider carefully whether you really need it.
Want More Info?
If you have any questions about Royal Caribbean WiFi or getting internet on Royal Caribbean, you'll find several Facebook groups where other cruisers can help. Take a look at the Royal Caribbean Cruising Facebook group and the Royal Caribbean Cruises Facebook group for good places to start.
Related Posts