If you're not someone who has cruised before, you might not be aware of traditional dining times on cruise ships. However, many people now prefer to enjoy more flexibility with dinner, so cruise lines have either done away with traditional dining altogether or set up an alternative option.
With My Time Dining Royal Caribbean has given people the option of dining at a time that suits them, but there are traditional dining options, too.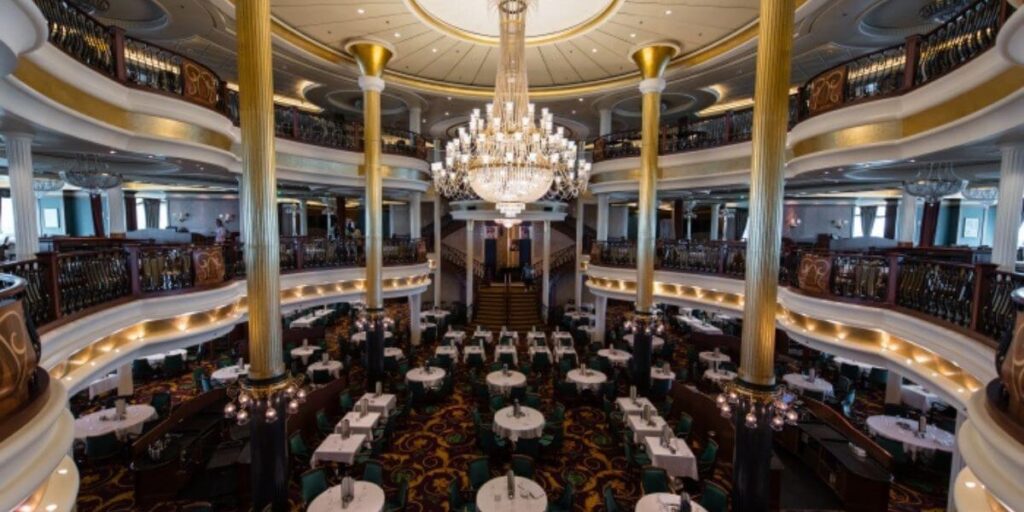 Read on to learn what My Time Dining is, the benefits that it offers, and how to book.
What Is My Time Dining on Royal Caribbean?
My Time Dining is the flexible dining option on Royal Caribbean cruises. This allows you to decide when you want to eat, and who you want to sit with, instead of traditional dining where you have set times and sit with the same group each day.
A lot of people still prefer the idea of traditional dining – where you sit for dinner at the same time every evening, with the same party and with the same waiter. It has its advantages, but for a lot of people, it's too restrictive.
My Time Dining is therefore available to anyone who wants to mix things up. You don't have to attend dinner at the same time, and you can arrange a table that works for you.
How Does My Time Dining Work?
On a Royal Caribbean cruise, you need to register for My Time Dining if you don't want a set dining time. You do have to prepay your gratuities in order to sign up to My Time Dining. You can then book dinner in the Main Dining Room for any time you want, or just walk in without a reservation.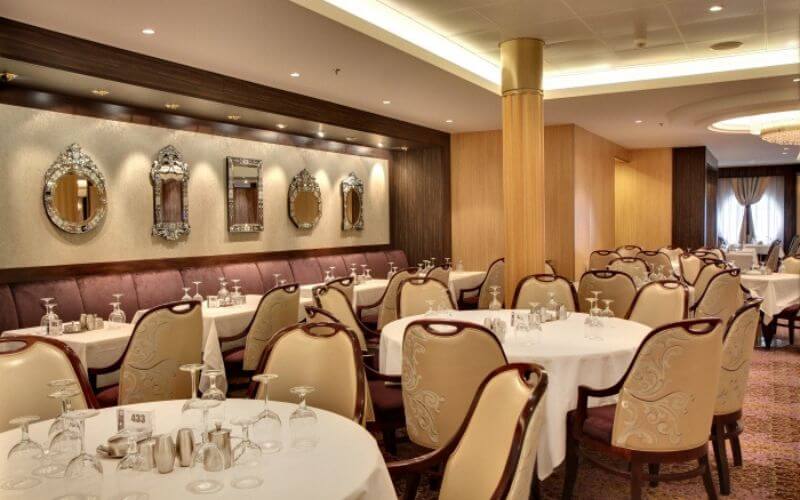 It is recommended that you book a table though. If you want to walk in then you might have to wait for a suitable one to become available, while if you've booked, it should be ready for you when you arrive.
Just make sure to turn up at the reserved time. If you're late, then your table may be given away, and you'll have to wait for another one.
The benefits of My Time Dining are that you can decide who you eat with and when. Traditional dining guests may be seated with other parties to form a larger table, which can be fun if you're confident enough to make new friends. But some people just want to eat with their own family.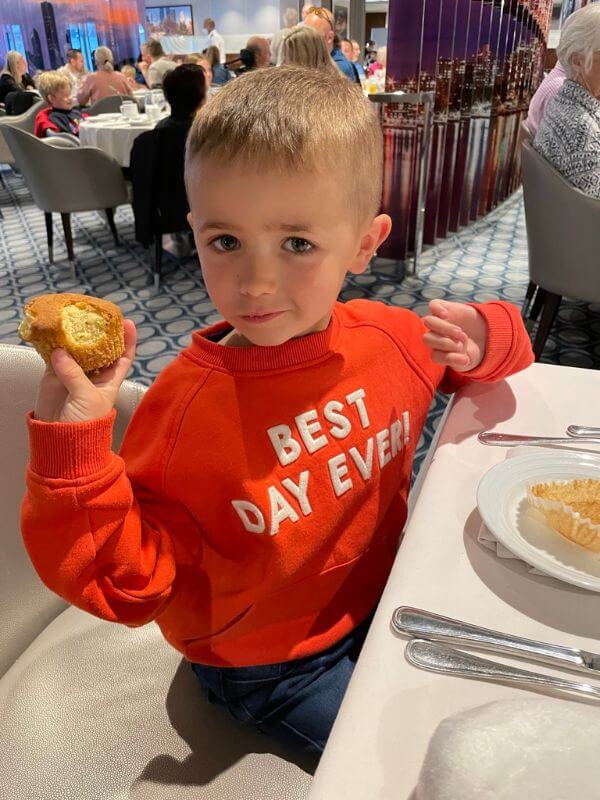 It also means you aren't limited to eating at the traditional Royal Caribbean dining times of 5.30 pm or 8 pm – you can choose any time between 6 pm and 9.30 pm for your table.
The only real downside – beyond having to pay your gratuities in advance – is that you aren't guaranteed the same waiter every night. This may not seem like a big deal if you're new to cruising, but cruise ship waiters are exceptional at their job and they are very good at learning all about you.
If you do get the same waiter every night, they'll remember your name and your preferences. They'll be able to make recommendations based on what you've previously ordered and make sure your favourite drink is waiting for you, if you want them to. Their memory is incredible, and they really do make you feel special.
So with My Time Dining, you might lose some of that experience, but the flexibility of your own table and time is often preferable anyway.
Depending on the choice of the guests on board, there may be designated restaurants for those on a traditional dining plan and those on a My Time Dining plan. You'll be told which restaurant to go to based on your choice.
What Restaurants Are Included in My Time Dining?
My Time Dining is only applicable to the Main Dining Room on your ship. The buffet restaurant doesn't offer reservations and you can visit it whenever you want. Speciality restaurants require reservations, but they don't have traditional dining times.
Read more: What's Included in a Royal Caribbean Cruise?
If you plan on spending most of your time in the buffet restaurant anyway, then you might not be concerned about the Main Dining Room and your dining times. However, if you don't sign up for My Time Dining within the first two days of your cruise, then you're stuck with traditional dining times.
That means, if you decide to visit the Main Dining Room on day 3 of your cruise, you won't be able to choose your time. Even if you only plan to eat in the Main Dining Room a couple of times during your cruise, it often makes sense to choose My Time Dining so that you can pick the time you want.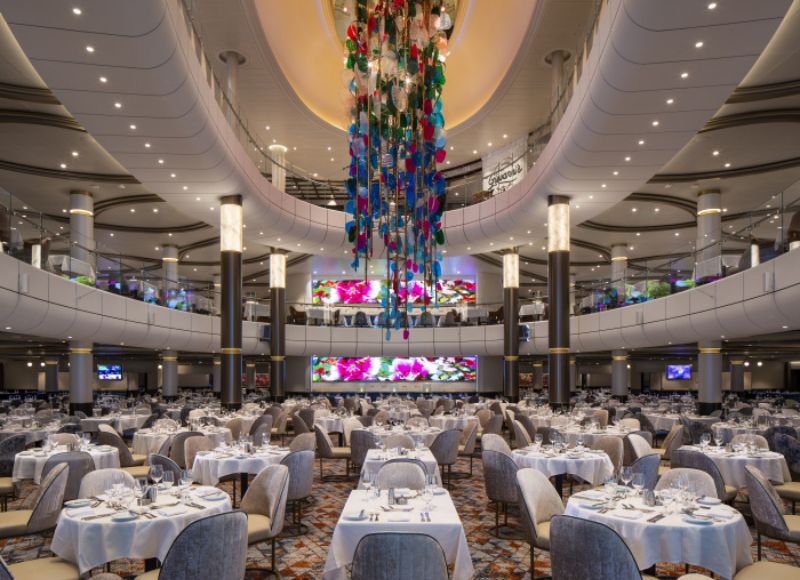 What Is the Dress Code for My Time Dining?
There is no special dress code for My Time Dining – it has the same dress code as traditional dining. Aside from formal nights, there is no enforced dress code except that bare feet and tank tops are not allowed in the Main Dining Room.
Suggested read: 6 Things You MUST Know About Formal Night on a Royal Caribbean Cruise.
The recommended dress code for the Main Dining Room – for traditional dining or My Time Dining – is smart casual. But it's not strict. However, a lot of people do uphold the dress code, so if you turn up in a t-shirt and shorts then you may look out of place.
Some people assume that, because My Time Dining offers more flexible dining, it has a more flexible dress code. However, the suggested dress code remains the same.
How Do I Reserve My Time Dining?
You can reserve My Time Dining when you first book your cruise, or by logging onto the Royal Caribbean website to amend your booking. You'll be asked to pre-pay your gratuities. If you want to reserve it on-board, then visit Guest Services.
You can then make reservations for your restaurant or just turn up at the restaurant between 6 pm and 9.30 pm and wait for a table to be available.
How Do I Change My Dining Time on a Royal Caribbean Cruise?
You can change your dining time on your Royal Caribbean cruise using the Cruise Planner on Royal Caribbean's website. You can do this before the cruise, or during your voyage. There's also a dining hotline you can call from the phone in your stateroom to make changes to your reservations.
If you want to change to My Time Dining, you'll need to speak to Guest Services within the first two days of your cruise. The same applies if you want to switch from My Time Dining back to traditional dining. However, spaces may be limited so it may not be possible if you leave it too late.
To Conclude
Traditional dining is great for anyone who enjoys the classic cruise dinner experience, meeting new people, and enjoying a dedicated waiter for the duration of your sailing. But it's definitely not for everyone.
Royal Caribbean does make it easy to enjoy flexible dining with My Time Dining, so just make sure you sign up for it if you want to decide when you eat each day. It's much better if you're someone who likes to play it by ear for dinner, based on how hungry you are.
Still, reserve a table if you can – otherwise, you might be waiting with a grumbling stomach until a table becomes free if you just walk in.
NEW DEALS JUST RELEASED!
Don't miss the latest Royal Caribbean offers…
Related Posts: