Whether you're a cruise first-timer or have cruised many times already, packing for a cruise can be stressful. Get it wrong, and you could find yourself packing way too much, or leaving important items behind.
It can be hard to find the right balance between making sure that you don't forget any of the essentials and bringing so much stuff that you can't move inside your cabin.
I've collated all of the best cruise packing tips and tricks, including some from professional organisers and pro cruisers into this article. Now, packing for your next cruise will be so much easier!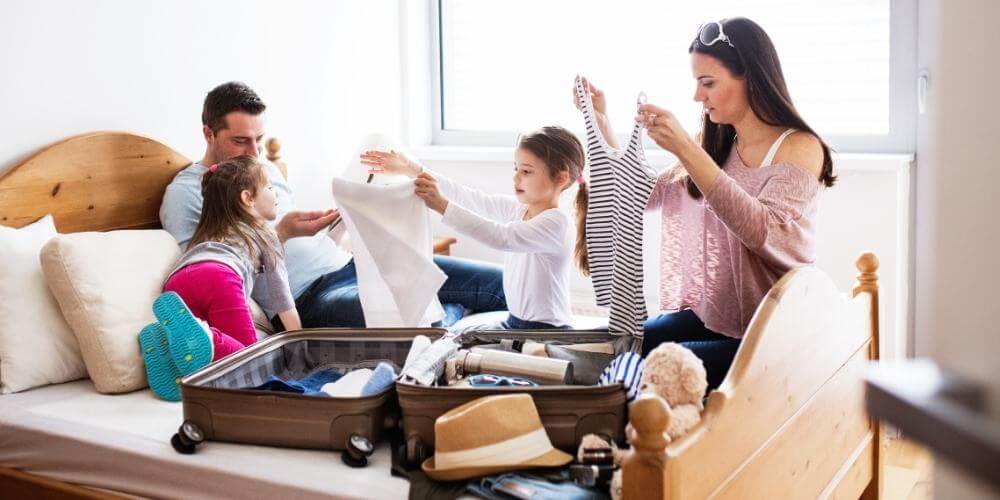 1. Check your luggage allowance
Most cruise ships allow guests to bring an unlimited amount of luggage on board. But that doesn't necessarily mean that there are no packing limits for your cruise. For example, the Carnival luggage restrictions specify that suitcases must be below a certain size.
If you're taking a flight, your airline will have super-strict luggage allowances, so make sure that you know what they are and adhere to them.
2. Invest in packing cubes
Many cruisers swear by packing cubes to allow them to squeeze more in, stay organised and keep their clothes wrinkle-free. But beware, not all packing cubes are equal.
Cruise YouTuber Emma Cruises tested out the top brands of packing cubes for durability, strength, price and overall quality. She recommends PRO packing cubes as the best brand to buy on Amazon.
3. Pack magnetic hooks
Magnetic hooks are probably only ever useful on a cruise ship, but they are so handy! You see, all of the walls on cruise ships are made of metal, and these strong magnets allow you to hang up your coats, handbags and wet swimwear – giving you loads more storage space in your cabin.
Make sure you get the ones listed as strong. These hold up to 100lbs so you'll have no problem with them falling off under the weight of your handbag.
4. Check what laundry facilities are on your ship
If you're cruising for more than a week, you may want to wash some clothes during your holiday. While most cruise ships offer a laundry service, this can be very expensive. However, many ships also have self-service washing machines and tumble dryers, which are free to use.
I have a full list of the laundry facilities on every cruise ship for you, so you can find out if there are washing machines and whether you need cash for them.
If your ship has self-service washing machines, be sure to pack some 2-in-1 laundry tablets.
On cruise ships that don't have laundry facilities, I like to use my Scrubba wash bag. It's the easiest way to wash your clothes in under five minutes.
5. Load the cruise line app onto your phone
Cruise line apps are getting better and better. You can now use them to do all sorts of things such as finding your way around the ship, making reservations for dining and shows, reading menus and ordering food.
You'll want to download the app for your cruise line before you set off. Once you step onboard, be sure to turn your phone onto 'airplane mode' so that you don't rack up any data charges while at sea.
Suggested read: How to Avoid Roaming Charges on a Cruise
6. Pack more than one pair of flip flops
You might think that one pair of flip flops is enough. I'd say otherwise!
The problem with flip flops is that they can break easily and if that happens on your ship, you'll probably pay much more than you'd like for a new pair from the onboard shop. Flip flops are so small and light, that you can easily fit two or three pairs in your suitcase.
7. Pack closed-toe shoes, socks and long pants
Many of the activities that you can do on cruise ships require you to have your legs and feet covered. So, if you plan on trying rock climbing, ice skating, laser tag, zip-lining, a high ropes course, trampolining or anything like that, you'll need the correct shoes, socks and trousers to take part.
8. Check what you're not allowed to bring
From water to extension cables, there are a lot of things that you might not be able to bring on your cruise. If you bring any prohibited items, they'll be confiscated and you may not get them back. Sneaking alcohol on a cruise ship could even lead to you being thrown off the ship, so it's not worth the risk.
Suggested read: What can you NOT bring on a cruise?
9. Pack everything you need for the first day in a carry on bag
When you board the ship, your luggage will be delivered to your stateroom, but that can take some time. With literally thousands of bags to deliver, your suitcases may not arrive until around 6 pm.
In your carry on bag, be sure to pack everything you might need, especially things like sunscreen and sunglasses and all of your valuables. You may even wish to pack a swimsuit so that you can get straight in the pool.
10. Make your luggage stand out
When you disembark at the end of your cruise, you'll collect your luggage from a huge hall with thousands of other bags. Plain black suitcases can be hard to find, so invest in some brightly coloured ones or some eye-catching luggage covers.
11. Bring some cash for tips
You won't need any cash onboard your ship, but it can come in very handy at other times, particularly when cruising from the United States. Tipping porters and taxi drivers is expected, so be sure to bring some small bills to avoid embarrassment.
Suggested read: How Much Cash To Bring On A Carnival Cruise
12. If you don't have the same surname as your kids, bring their birth certificates
When boarding a cruise ship, kids' names will be checked against the parents on their passports. If your children have different surnames to all of the adults that they're travelling with, you could be denied boarding.
The best way to get around this issue is to bring a copy of their birth certificates and/or a letter from a parent. Be sure to check that the parent's name on the birth certificate matches your passport, otherwise you may need to bring some extra documentation such as a marriage certificate to prove that they're your kids.
13. Bring a battery-powered tealight for the bathroom
It's virtually impossible to go to the toilet in the night without flooding the bedroom with light and waking everybody up. Some cruisers like to place a small battery-powered light in the bathroom so that they don't need to turn the light on.
An alternative would be to use a plug-in nightlight just outside the bathroom.
13. Leave your beach towels at home
Your cruise ship will provide you with white towels to use in the bathroom and coloured towels to use by the pool. You can also take these ashore with you and you'll spot lots of cruisers with their ship towels on nearby beaches.
If you'd rather not carry towels on day trips, a beach sheet is a nice lightweight alternative that's large enough for the whole family to sit on.
14. Pack towel clips
One thing you need to know about cruising is, it can be very windy! The wind can easily sweep your towels off your sunloungers and into the sea. To avoid this, I recommend using towel clips to keep everything in place.
When everyone has the same towel that's provided by the cruise line, it can be hard to find your sunlounger. Choose bright or novelty towel clips to make this easier.
Towel clips are also handy to attach your towels and swimsuits to the chairs on your balcony while they dry.
15. Consider vacuumed seal bags
Vacuum sealed bags are a great way to pack much more into each suitcase. But what do you do when you need to pack on the last day of your cruise? Well, you need to get the ones that have a small hand pump to vacuum seal the bags.
If you don't have a pump, you can always call your cabin steward and they will vacuum it closed for you. Some cruisers like to bring an extra vacuum bag to offer to their cabin steward as a thank you.
16. Check if you can bring your own booze
Bringing your own alcohol on a cruise can be a great way to save money, but not every cruise line allows it.
Disney Cruise Line has one of the most generous alcohol policies, as each passenger is allowed to bring on two bottles of wine on embarkation day and more in each port. Some cruise lines, however, prohibit guests from bringing any drinks at all, even water.
You can check the policy of each cruise line here: Can you take drinks on a cruise ship?
17. Join in the fun with door decorations
If you're cruising with Disney Cruise Line or Carnival, you'll see that many cruisers like to decorate their stateroom doors. This can be a great way to celebrate your cruise and make finding your room easier.
There are some important do's and don'ts though, so be sure to read about those here: Everything you need to know about cruise door decorations.
18. Pack highlighter pens
Each evening you'll receive a programme with all the information about what's happening the following day on your ship. Highlighters can come in really handy here.
I like to highlight the times and venues of each of the activities we might be interested in doing, then I can just pop the sheet in my bag and easily see at a glance where we need to be and when.
Another great thing about highlighter pens is that they're a bit more exciting than normal colouring pens for children who aren't used to them.
19. Don't rely on the toiletries that are provided
Even if your cruise ship provides you with shampoo and body wash, it's worth bringing your own. The free stuff usually isn't great, especially if you've got longer hair.
Bring your own toiletries, just make sure that they're packed in a waterproof bag in case anything leaks.
20. Bring an over-the-door organiser
Often used to hold shoes, an over-door organiser is really handy for keeping all your little bits together, especially when cruising with kids.
If you know exactly where to find your sunglasses, jewellery, playing cards, sun cream, books, chargers and everything else, then getting ready to leave your room will be so much quicker and easier.
21. Check which plug sockets are on your ship
Your cruise cabin may have a mixture of US, UK and European sockets, but not necessarily all three. If you struggle to find out which type of power outlets will be on your ship, then it makes sense to invest in a universal adaptor.
This will not only ensure that you can plug your devices into whatever socket is available, but it will also mean that you can plug more than one appliance into each outlet. Just make sure that anything you use does not have a surge protection feature, as these are not allowed on cruise ships.
22. Pack wrinkle release spray
Irons are not permitted on cruise ships. While there are some alternatives such as paying for your clothes to be ironed, using your hair straighteners or hanging your clothes in a steamy bathroom, the simplest method to remove creases from clothes is wrinkle release spray.
23. Pack reusable straws
Many cruise ships have now banned single-use plastic items such as drinking straws. Where paper straws are provided, they just don't work for frozen cocktails!
Instead, you should pack your own reusable straws that you can use throughout your cruise.
24. Size up your clothes
The average person gains five to six pounds in weight during a seven-night cruise. So, if you're cruising for a week or more, you may find that your clothes are a little snug by the end!
Elasticated waistbands and floaty dresses are easy solutions for women. For men, you might just need to bring a pair of trousers in a larger size for the end of your cruise!
25. Consider a lanyard
Your cruise card is the key to everything. You'll use it to open your room, pay for drinks and check into venues. If you don't have pockets in every outfit, you may find yourself constantly misplacing it.
A lanyard is the easiest way to keep your cruise card handy. Plus, there are some really cool ones.
26. Split your clothes between your cases
Airlines lose almost 25 million bags per year. If you're flying to take a cruise and your bag goes missing, there's a slim chance that you'll get it back before your cruise.
To avoid being left out in the cold with no clothes, you may wish to split each person's clothing between several suitcases. That way, if one goes missing, each person will still have something to wear.
27. Research any themed nights that will be on your cruise
White night, tropical night, 80s night, formal night – There may be several different themed nights on your cruise. While you don't have to take part, they can be a lot of fun, so find out what the dress codes are beforehand.
28. Pack twice as much underwear as you usually wear
After a full day of sightseeing, when you return to the ship and take a shower, you're not going to be putting that same underwear back on. I always pack at least two pairs per day to be sure I have enough!
29. Leave some space in your suitcase
You'll see so many tempting trinkets and souvenirs in the port cities that you visit during any cruise. Be sure that your suitcase has some extra space in it so that you've got room for anything that you buy during your trip.
30. Pack sticky notes
Sticky notes or 'Post-Its' can also come in very handy. When the ship is at sea, you won't be able to use your phone without it costing an absolute fortune, so there may be times when you need to leave a note in the cabin to let the other members of your family know where you are or what time you'll be back.
You can also use them to make notes of important information, such as where to go when you arrive in each port. Or even for silly games, like the one where someone sticks the name of a celebrity to your forehead and you have to guess who it is!
31. Pack some warmer clothes
Even on the warmest cruises, you should bring a cardigan or jumper. Your ship's air-conditioning can mean that it's sometimes a little cool indoors. Even on the hottest days, it can be chilly on the top deck or on your balcony in the evening due to the wind.
32. Check the dress code
The dress code can vary quite a lot for different cruise lines, so you'll want to research this if you want to fit in.
The most formal cruise line is Cunard, where there are two dress codes – smart and Gala (very smart!)
By contrast, on more relaxed cruises such as with Royal Caribbean, you may find yourself wondering 'is it actually formal night tonight', as many cruisers opt for jeans and t-shirts even on the nights when there's an opportunity to dress up.
33. Pack mix and match outfits
Each day you'll wear at least two outfits – one for the daytime and one for the evening. So you don't need fresh clothes every single day. Instead, pack some plain and some patterned clothes that you can mix and match to create a different look each day.
34. Be aware of pineapples
On a cruise ship, the pineapple has a secret meaning. If you have any clothing with pineapples on, this is something to be aware of.
I must admit, I completely forgot about this when I wore these pineapple shorts on a cruise. Once I remembered, I was very paranoid that people were looking at me! (I'm not into the pineapple lifestyle, before you ask.)
Suggested read: What do pineapples mean on a cruise?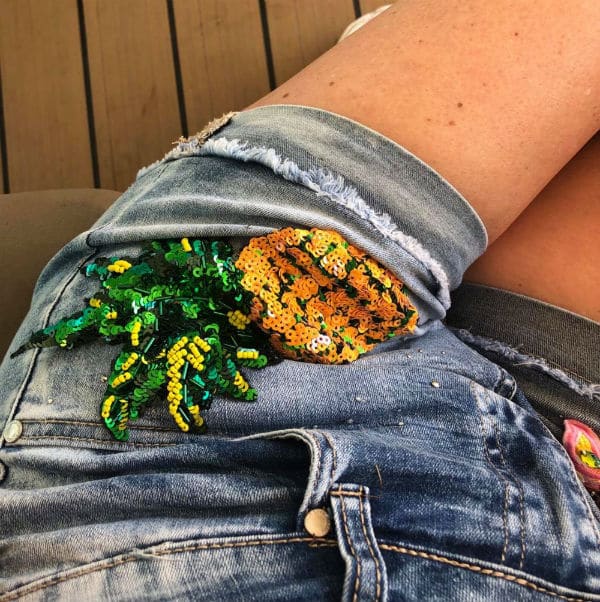 35. Don't overpack
Probably the most important cruise packing tip of all is to not overpack! Your luggage allowance may be unlimited, but cruise cabins are generally smaller than hotel rooms and there's not a lot of storage space.
Lay out what you think you need for your cruise, then aim to put half of it back in the wardrobe!
36. Use a collapsible clothes rail
As part of her role as a professional super packer for MSC Cruises, Nicola Lewis suggests starting off your packing by using a collapsible clothes rail. She says: "This will allow you to plan your holiday wardrobe and coordinate what shoes and accessories to pack with your clothes."
37. Don't pack books and magazines
Cruise travel writer Jeannine Williamson suggests that you download your reading material to a device. She says: "The busy daily programme of activities, shore excursions, entertainment and never-ending food and drink means there is hardly time to read a newspaper, let alone War and Peace!"
When I go on a cruise I rarely ever take books. Instead, I head to the ship's library and choose one from there for free.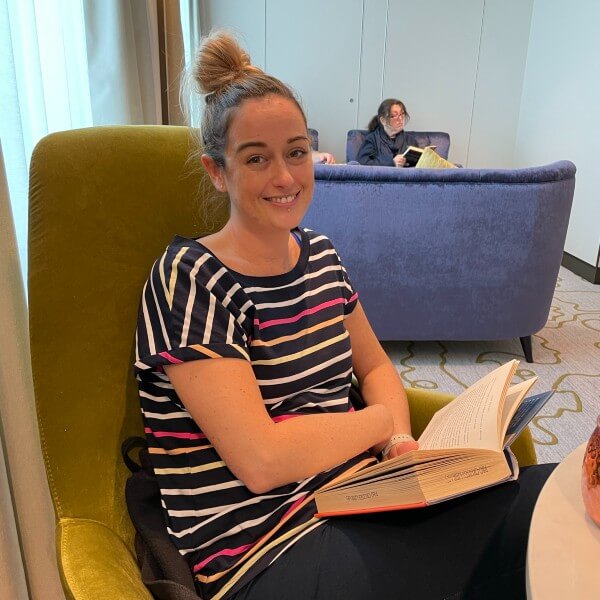 38. Use a pill organiser for jewellery
Family packer Emily Norris suggests using a pill organiser box to separate small items of jewellery and prevent them from getting lost or tangled together.
39. Stuff your sunhat with clothes
Another valuable cruise packing tip from Emily is to pack your sunhat tightly with clothes before placing it into your suitcase so that it keeps its shape. Genius!
40. Get professional help
Knowing what to pack for a cruise can be tricky, but MSC Cruises has an excellent solution. If you book a cruise on MSC Virtuosa from Southampton, you can book a 1-2-1 video consultation with an expert 'holiday prep' who will help you pack for the trip!
Any more cruise packing tips?
If you have any more cruise packing tips and tricks that I haven't covered here, I'd love it if you'd consider adding them in the comments below to help other cruisers in the future.
Related posts: