With cannabis being legalized in many US states and other countries, you may be wondering whether you can bring weed on a cruise. Perhaps you have a medical marijuana card or just want to bring some legal THC like Delta 8?
Even if recreational marijuana is illegal in the places where your cruise departs from or sails to, you may be wondering how easy it is to sneak weed on a cruise ship. After all, some weed vape cartridges don't really smell and edibles can be pretty inconspicuous too.
In this guide, I'll give you all the info you need, including the official rules as well as what actually happens in reality at cruise terminals, on cruise ships and during shore excursions.
Then, you can make your own decisions about smoking, vaping or eating weed on a cruise.
Can you bring weed on a cruise?
It is forbidden to bring marijuana on a cruise ship. Most cruise lines follow US Federal law which prohibits possession and use of marijuana. So, even if your cruise ship departs from and calls at ports where weed is legal, it will still be banned from the cruise ship.
Can you cruise with medical marijuana?
Medical marijuana is not allowed on cruise ships, even if you have a prescription for it. This includes pot, edibles and cartridges. If you use medical marijuana, the cruise lines suggest that you speak to your doctor to discuss an alternative to use during your cruise.
Can you take Delta 8 on a cruise?
A less intoxicating form of THC, Delta 8 is legal in many places, including most states in the US. However, just like regular marijuana, Delta 8 is banned from cruise ships.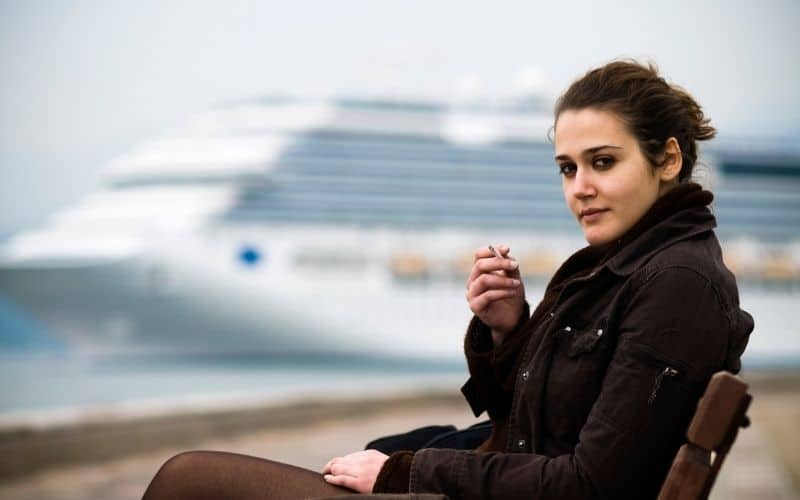 Cruise Lines Marijuana Policies
It's not just on board the cruise ships that you're forbidden from possessing or using marijuana. The cruise line's policies also state that it's not allowed in the cruise terminals or during shore excursions.
Basically, you can't use weed at any time during your cruise. Here are some examples of cruise line policies concerning recreational and medical marijuana…
In no event shall any Passenger bring on board the Vessel any illegal controlled substances (including medical marijuana). Marijuana possession and/or use, including medical marijuana, and possession or use of any illegal drugs, is strictly prohibited in many jurisdictions visited and on the Vessel at all times, as well as in terminals, during shore excursions or any other part of the cruise, regardless of any local, state, or other laws which might permit use or possession of marijuana.

Royal Caribbean
Carnival recognizes that some states in the U.S. have fully legalized the use of recreational and/or medical marijuana. However, cruise lines are required to follow U.S. federal law, which strictly prohibits possession and use of marijuana and other illegal, controlled substances. Since all cruise terminals in the U.S. are federal facilities, the terminals and our ships are drug-free zones.

Carnival
No illegal drugs or other illegal substances including but not limited to medical marijuana are allowed onboard or may be utilised during a Norwegian Cruise Line holiday, including during transfers to and from ships, inside terminals, during shore excursions or at our private island.

Norwegian Cruise Line
What happens if you get caught with marijuana on a cruise?
The cruise lines' policies also lay out what you can expect to happen if you're caught with weed during your cruise vacation. There's a range of actions they could take, including confiscating the weed, kicking you off the ship, banning you from ever cruising again, giving you a fine and reporting you to the local police.
Of course, that's not to say that all of those actions will definitely happen if you're caught with weed, but it could do. Many people have reported in online forums that they've seen other guests being arrested after being caught with substances when boarding cruise ships.
Here are what some of the cruise line policies say…
Passengers who violate the laws of any jurisdiction are subject to being reported to law enforcement or customs authorities, arrest and prosecution. Passengers who bring on board dangerous items, marijuana in any form, or any illegal drugs or controlled substances are also subject to immediate disembarkation or denial of boarding.

Royal Caribbean
Any illegal substances will be confiscated and the guest will be reported to the appropriate authorities. Additionally, the guest may be subject to a $500 charge, risks being disembarked from the ship and may not be allowed to sail with Carnival in the future.

Carnival
Illegal drugs or substances will be confiscated and appropriate action taken,which may include removal from the ship and involvement of appropriate authorities. In addition, foreign governments at Norwegian Cruise Line ports of call have strict laws that address drug possession. Guests found in violation of such laws are subject to arrest and prosecution by the foreign jurisdiction (and perhaps United States or other authorities as well) and may be prevented from re-boarding the ship.

Norwegian Cruise Line
If we look at news reports, there are several examples of people who have been arrested, fined or even jailed for using marijuana during a cruise.
In countries like the Bahamas, possessing marijuana is particularly dangerous for cruise ship passengers. According to Jim Walker from Cruise Law News, cruise passengers make easy targets for the police.
Cruise passengers may be harassed by locals to buy small amounts of weed at the cruise port, then busted by the police. They are typically fined between $300 and $2000 in cash, with the threat of a jail sentence if it's not paid immediately. For the Bahamian government, targeting wealthy tourists is an easy way to get revenue into the country with very little effort.
While overseas police teams may turn a blind eye to locals smoking and selling weed, they might be keen to bust a tourist and make some quick cash, either as a bribe or an official fine.
Cruising to ports where weed is legal
In countries like Jamaica where marijuana is legal, you're much less likely to get in trouble for smoking weed ashore, although it may still be forbidden, according to cruise line policies.
While the official line from cruise lines is that you must not smoke weed during shore excursions, Royal Caribbean and Carnival have in the past offered excursions such as the 'Bob Marley Experience' and the 'Zion Bus Tour' where cruise ship passengers have reported buying and smoking weed during the trip.
If you step of your cruise ship in Amsterdam, walk into a coffee shop, eat a space cake and then walk back onto the ship a few hours later, it would be virtually impossible for the cruise line to know. So long as you appear to be in a sober state, that is.
How to bring weed on a cruise
Despite the possible consequences of getting stoned during a cruise, many people still seek out information on how to sneak weed on a cruise ship.
My advice would be not to do it. While it may seem easy to sneak weed on a cruise and you may think that there's little chance of being caught, it's just not worth it if you are.
Do you really want to spend your cruise worrying about what might happen if you're caught smuggling drugs into a foreign country? You can never rule out a stint in jail.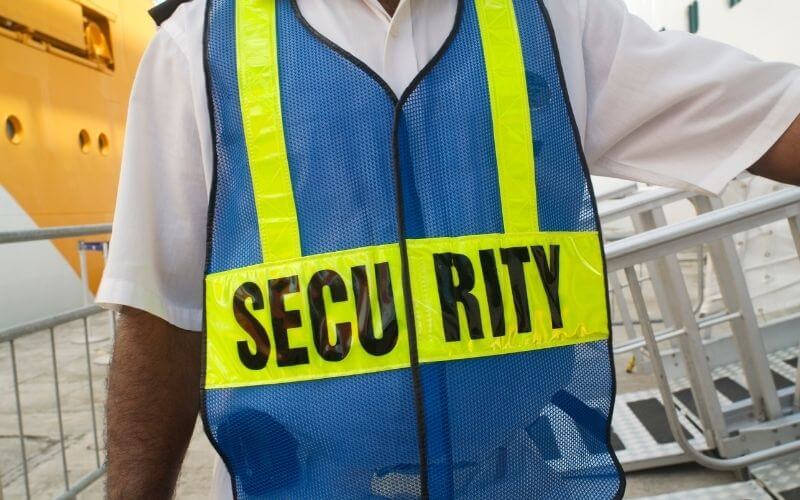 If you're sure that you really do want to bring weed on your cruise, here's some information about how others have reported doing it according to forums like Reddit and Quora…
Bringing edibles on a cruise
While bringing edibles on a cruise ship is not allowed, people have reported that this is one of the easiest ways to get high on a cruise. Some people mix THC gummies with regular gummy sweets in a bag so that it just looks like a snack or mix THC pills with vitamins tablets.
Homemade edibles like space cakes and brownies give off more of a smell than gummies and pills, so they're more likely to attract attention in your luggage.
Bringing cartridge vapes on a cruise
THC oil vape pens and cartridges don't smell, so some people are able to bring them on a cruise in their checked luggage. A common trick is to bring some nicotine vape cartridges and mix your weed cart in with those so it doesn't look suspicious.
While some people have reported vaping weed in a cruise ship casino without arousing suspicion by using a fruity smelling pen, it's probably better to do it in a quiet outdoor smoking area when nobody else is nearby.
Smoking weed on a cruise
Bringing dry herb, flower or bud on a cruise is one of the riskiest ways to sneak weed on a cruise ship because it smells so strongly. Smoking joints, blunts or pipes on a cruise ship is super risky because people will almost certainly be able to smell it.
Some people have reported using a Smoke Buddy to smoke in their cabin, while others have used a one hitter in the smoking area when nobody is around. But honestly, if you smoke weed on a cruise ship you're asking for trouble.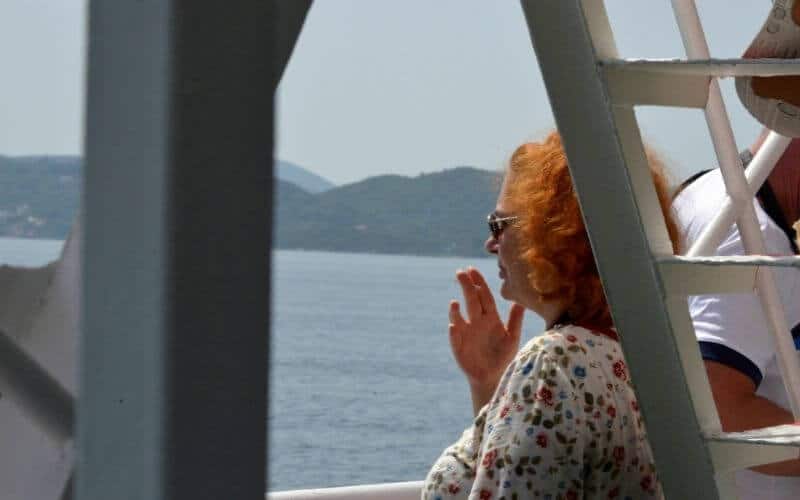 Do cruise ships check for weed?
Cruise ship security teams have various procedures to check for weed and other things that are banned from cruise ships.
If you want to know exactly how cruise ships check for drugs, I recommend that you read this article.
Weed-friendly cruises
As far as I know, there's no such thing as a weed-friendly cruise. Although if you know otherwise, please do let me know in the comments section below!
In some places like Alaska and Amsterdam, you may be able to take an organised boat cruise with a cannabis culture theme. In cities like Chicago and San Francisco, you may see cannabis cruises advertised, but these are usually cruise tours in a minibus or limo.
Related Posts