Before you go away on a Carnival cruise there are so many things that you need to prepare in advance. One of the most important could be how much cash to take with you. Carnival cruises are not all-inclusive, so you'll need to budget for any extras you'll want to enjoy during the trip.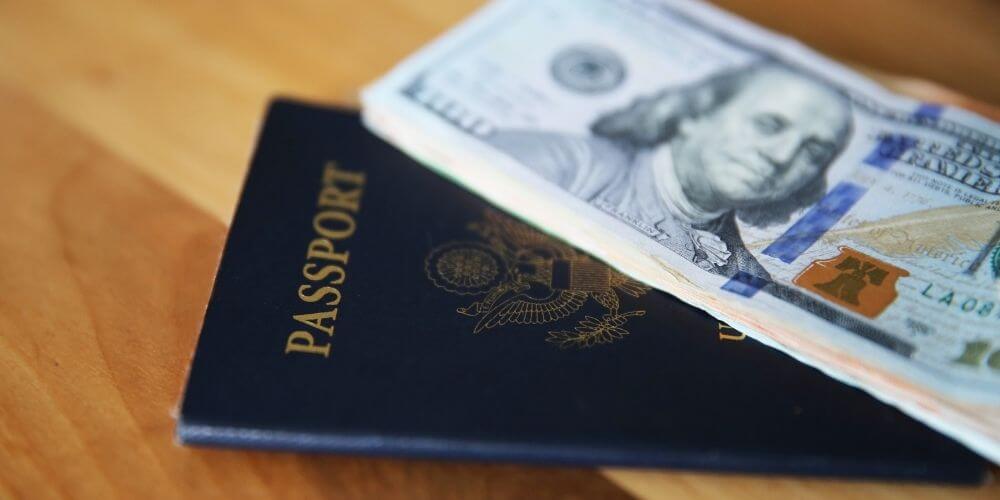 These days, cash is not as essential as it was a few years ago, so you may be wondering whether you even need to take any money away with you at all.
To help you figure out how much cash you need to take on your Carnival cruise I've put together this handy guide.
How Much Cash Should I Bring On a Carnival Cruise?
On a Carnival cruise, you should bring around $100 cash per person for each day in port and nothing for the sea days. Obviously, people's spending habits vary a lot but this is a good guide for first-time cruisers and should mean that you have around the right amount of cash with you.
It's wise to carry some small bills and coins, as much of the cash you'll need will be for things like tips, vending machines and public toilets on land.
Suggested read: Where To Get $2 Bills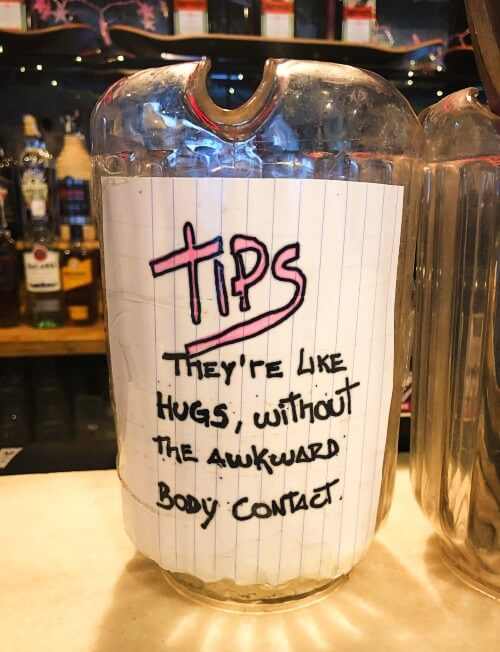 Can You Use Cash on Carnival Cruise Ships?
On cruise ships, you can't pay for things with cash. But, you will need to take some cash with you to pay for taxis, tip porters at the cruise terminal and to pay for things like meals and souvenirs when you're exploring ashore.
On a Carnival cruise, all of your onboard expenses will need to be paid for using your cruise card, which is known as a Sail & Sign card. I'll explain more about how that works later in this guide.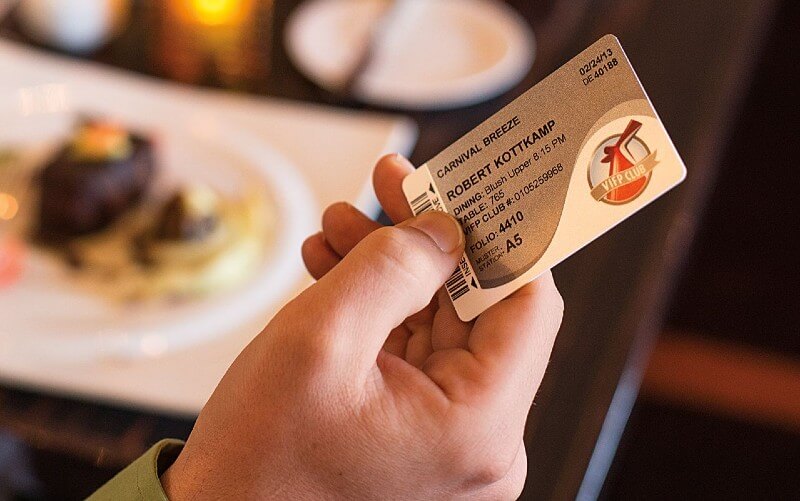 Things like drinks at the bar, off-ship excursions and souvenirs from the onboard gift shop will all be paid for with your cruise card. This is actually a super convenient way of paying which means all of your expenses are tied to your account and your room number. You don't need to worry about carrying cash with you, having enough of it, or worrying about losing it.
Gratuities are also paid with your onboard account, so you don't need to worry about having cash to tip waiters or room stewards as tips are automatically added to your bill each day.
Some people prefer to give tips in cash a the end of the cruise so that they can be sure that it gets to the right person and so that they can easily alter the amount given based upon the quality of service.
While this is fine to do, you should make sure that any cash tips are given on top of automatic gratuities. You don't want to remove automatic gratuities and tip in cash as this takes money away from staff who work hard behind the scenes.
Aside from handing out tips, the only other place you can use cash on a cruise ship is in the casino. You can buy chips with cash and if you win, you'll be paid out in cash, even if you use your cruise card to play.
So, does this mean that you don't need to take any cash with you? Well, you might be able to get away with it if you don't plan to leave the ship. But, almost all cruises include some days ashore.
Cash To Spend Ashore on A Cruise
When you head to shore, you should take some cash with you. Sure, you might get away with just using your credit or debit card, depending on where you are, but it is much easier to have a bit of cash on you.
Here are some of the things you might need cash for:
Taxis, buses and trains
Entrance to attractions
Souvenirs
Food and drink
Tips
Public toilets
Street entertainers
Your biggest expenses will be for taxis, meals and entrance fees to attractions when you're on land. I have taken the cost of these to be $20, $30 and $50 to give the $100 dollar budget, but of course, this can vary widely depending on where you are and what you're doing on your days ashore.
If you like to plan ahead you should be able to get a clearer idea of costs by looking at your destinations and preferred activities. If you plan to book lots of cruise line excursions, you'll need less cash with you since your transport, entrance fees etc will be covered.
Conversely, if you like to arrange things yourself once onshore then you might want to budget a bit more cash per port.
When you're on land you may be paying for taxis to get you from the port to the city centre or to see the sights. This is definitely a time when having cash can make things run smoother, particularly if you're in a place where Ubers aren't so common. How much you need will obviously depend upon the distance covered, but you are probably looking at about $20 at most ports.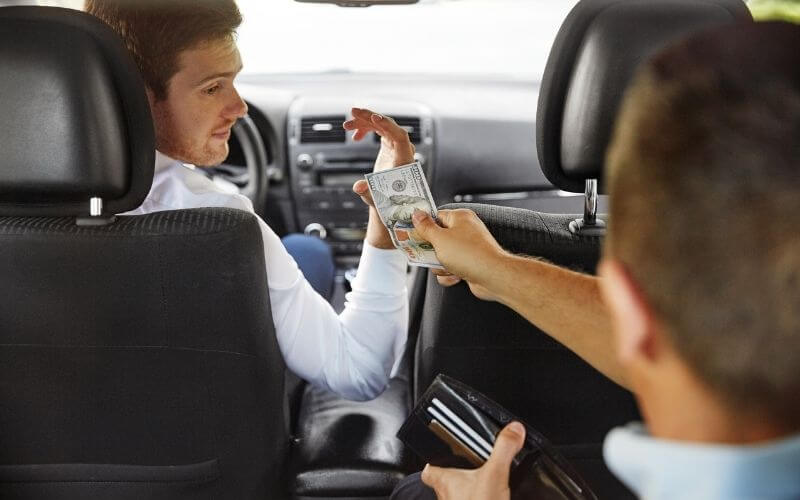 You may well need to use the toilet whilst you explore the sights. In most countries, this will involve a small charge which will always need to be paid in cash.
You may also want to buy some souvenirs to remind you of where you have been. There will probably be shops where you can pay for things by card, but if you like to pick up little trinkets from market stalls then it is likely that the vendor will only accept cash.
Other things that you may want to pay for whilst on an excursion include meals, attractions and tipping, so I definitely recommend that you take some cash with you for times when you are off the ship.
What is a Carnival Sail & Sign Card?
Carnival's Sail & Sign card is the cashless way to pay for everything whilst you are on your cruise. It's also the key card to open the door to your room and your ID when you get on and off the ship.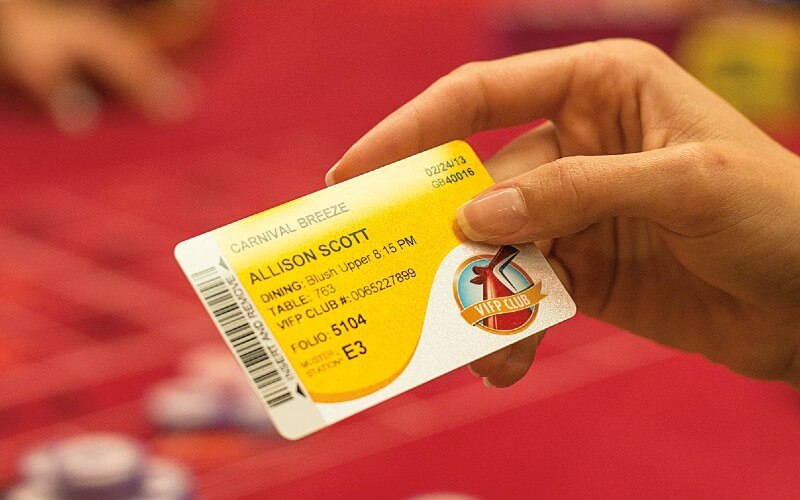 On your first Carnival cruise, your Sail & Sign card will be blue, on your second cruise it will be red and then as you take more cruises and earn more VIFP Club points, the cards will be coloured gold, grey (platinum) and silver (diamond) to show loyalty status.
As cash is not accepted on board the Carnival cruise ships, all purchases and services onboard are paid for with the Sail & Sign Card, from drinks to souvenirs to excursions. 
Suggested read: Carnival Drink Package Tips
You set up your Sail & Sign card by linking it to a credit or debit card and then all purchases will be charged to your onboard account. A hold will be put on your bank account during the cruise and the final balance will be requested from your bank at the end of your trip.
What Is Carnival Cruise Cash?
Carnival Cruise Cash is the cash credit to your Sail & Sign account. You can add this credit to your onboard account up to two days before your cruise. This can then be used against any charge made on your account, including taxes and gratuities.
To buy Cruise Cash you can visit The Fun Shops website, once you have a cruise booked.
It is worth noting that when you add money to your Cruise Cash credit it is non-refundable and is only valid for a single voyage.
Honestly, there's no need for you to add Carnival Cruise Cash to your account. It's better to just rack up a bill and settle it at the end.
The main use of Carnival Cruise Cash is for people who want to give a gift to someone who's going on a cruise. For example, if you're going on a Carnival cruise for your honeymoon, then friends could add Cruise Cash to your onboard account as a wedding gift.
Do Carnival Cruise Ships Have ATMs?
Carnival Cruise Ships do have ATMs onboard so there is no need to panic if you find that you haven't brought enough cash with you. It is worth noting that there is a $6.50 charge to use the machine. This is per transaction so it is worth getting out larger amounts at one time.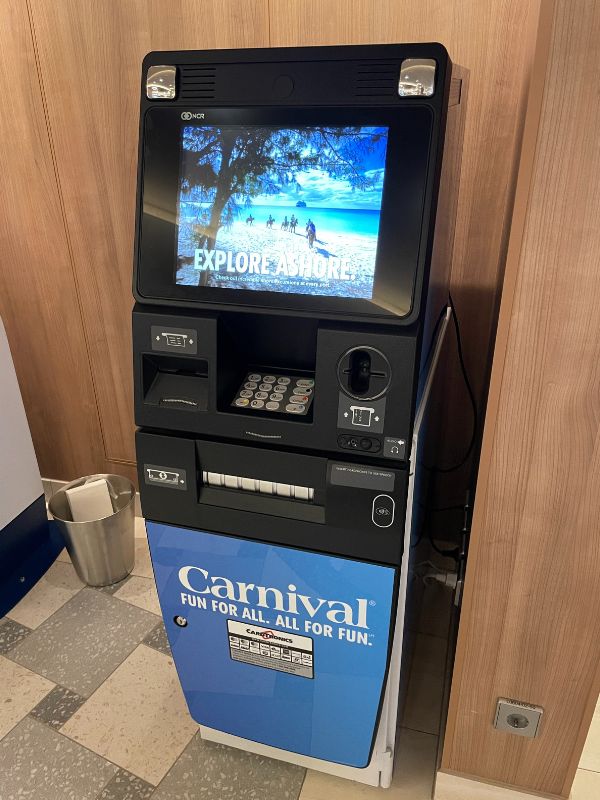 The most that you can withdraw in one transaction is $500. Sometimes Carnival ATMs may run out of cash during the cruise, but there are a couple of other ways to get cash while at sea…
You can get a cash advance at the Casino Cashier's Window using a credit or debit card. Or you can cash a cheque at the same location. For both of these options, there is a 5.5% charge on this (with a minimum of $5.50 on advances under $100).
On Carnival cruises from Australia, it's also possible to cash US Dollar Traveller's cheques, and there is no fee for this.
What Currency Should You Bring On A Cruise?
What currency to take on a cruise largely depends upon where you are going since most of the cash you spend will be off the ship. In many countries that you visit in the Caribbean or South America, the local vendors are likely to accept US dollars in addition to their local currency so it would be worth having some dollars with you.
Cruise ship staff are also always likely to be happy with dollars if you plan to tip in cash. If you are cruising around Europe, it is probably better to take Euros as these are accepted in most countries (not Norway or the UK though).
Can I Put Cash On My Sign and Sail Card?
You can add cash to your Carnival Sail and Sign card on a cruise once you are onboard. Just visit the Guest Services desk on the first day of your cruise to add the cash that you want to spend on the ship.
A lot of people prefer to do it this way as it helps to control their spending – instead of linking a credit card, they only have the cash on the card to spend. Of course, if you then run out, you'll need to link a credit card in order to keep spending.
Suggested read: Is The Carnival Mastercard Credit Card Worth It?
Final Thoughts
I hope that this guide has helped you to decide how much cash to take on your Carnival cruise. When you are actually on the ship you won't need any cash but, in most cases, you will need some when you are in port.
Don't worry too much about taking the exact right amount though, if you don't have enough there are ATMs on board the ship and around most cruise terminals.
NEW DEALS JUST RELEASED!
See the latest Carnival cruise offers…
Related Posts: