When you're on a cruise, it's important to keep your cruise card safe with you at all times.
A lot of people like to wear a lanyard – if you've been on a cruise, you've probably spotted a lot of lanyard-wearers walking around the decks.
Do you need a cruise lanyard? How do you get one? Let's find out.
What Is A Cruise Lanyard?
A cruise lanyard is an accessory worn around the neck during a cruise. It typically holds a cruise card, which serves as a room key and onboard payment method. The lanyard keeps the key card easily accessible, allowing passengers to navigate the ship effortlessly and enjoy a hassle-free cruise experience.
Everyone who boards a cruise ship is given some kind of key to access their room. But this key does more than just that, as it's also what you'll use to pay for anything onboard, such as your drinks or spa treatments.
Usually, it's a card, although it can be different – on Princess Cruises you get a medallion.
But the responsibility is then on you to keep your cruise card or medallion safe. And a lanyard is a handy way of doing that.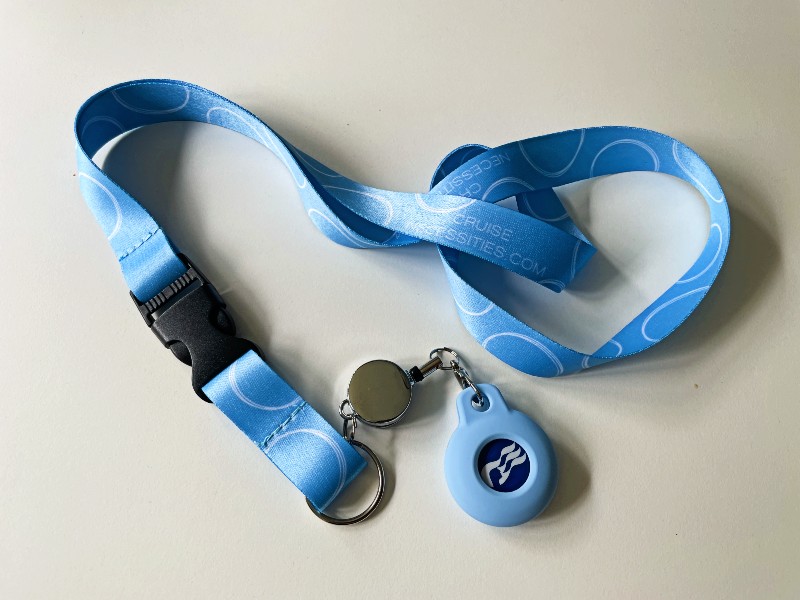 Do You Need A Lanyard On A Cruise?
While not necessary, a lanyard can be helpful on a cruise. It keeps your key card easily accessible, making cabin access and onboard activities more convenient. It's a practical accessory that adds to the ease of your cruise experience.
If you're someone who likes to have everything tucked away in a pocket, then you may not need a lanyard. But that means every time you're going to order a drink, you'll need to pull out your wallet or purse, find the card, and remove it before you can use it.
With a lanyard, you always know where it is.
Most cruise lines don't provide lanyards. You'll need to buy your own, so it's a good idea to sort it before you travel.
And if you grab a Cruise Necessities lanyard, you don't even need to take it off, most of the time – they come with a retractable steel cable that lets you just pull the cruise card to where you need to scan it.
They also have a waterproof card holder, so you can relax by the pool, and a medallion holder for Princess sailings. They come in attractive beach-themed colours, and they have a clickable clasp so you can easily remove the card from the lanyard in a second.
Should You Bring A Lanyard On A Cruise?
It's a great idea to bring a lanyard with you on your cruise. It helps to keep your room card accessible at all times, so whenever you want to buy a drink or just get into your room, you aren't having to search for your card.
The only downside to a lanyard is that you might not be able to wear one during some activities of your cruise. Anything that is particularly active might mean that you have to take the lanyard off.
Examples would be the FlowRider surf simulator or iFly skydiving simulators with Royal Caribbean, or the Bolt roller coaster at sea on Carnival. Anything where a lanyard may be considered a hazard, you'll be asked to remove it and tuck it into a bag or your pocket.
Do Kids Need A Cruise Lanyard?
While it's not essential, having a cruise lanyard for kids can help them to keep it safe without losing it. Kids need their cruise card if they're ordering their own soft drinks.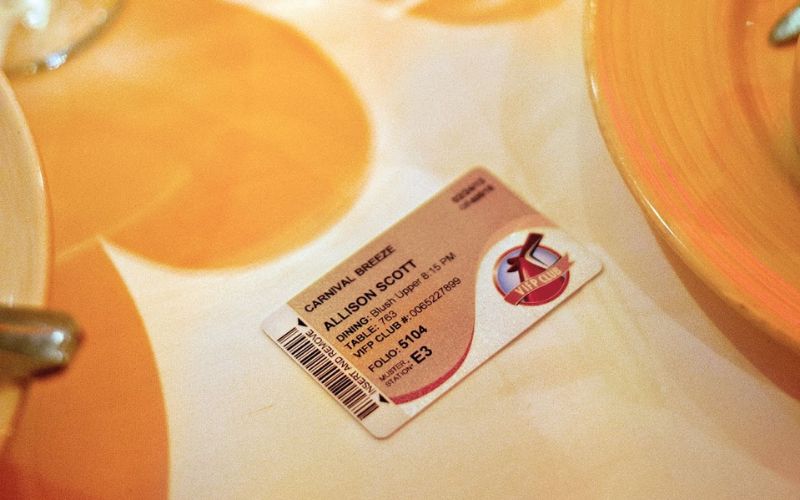 Most cruise lines give kids under 12 a wristband to wear, so that if there's an emergency, they crew members can take them to the correct muster station to meet their parents.
Unless you have super-organised kids, you'll know they can often lose things easily. Some adults can, too, of course. But kids do seem to have a knack for making important things vanish at inopportune times.
Their cruise cards are important though, so you'll want to keep them safe. You could keep them on you, but why not get the kids their own colourful lanyard they can wear?
Then, they can keep their cruise cards with them while they're in the kids club, and they won't have to worry about forgetting where they've put it down.
If you get the Cruise Necessities lanyards then you'll have a four-pack perfect for many families, with fun colours that the kids will love.
Does Disney Cruise Line Give You A Lanyard?
On a Disney cruise, you'll get a free lanyard once you're a member of the Castaway Club loyalty program – basically, from your second cruise onwards. The lanyards are coloured silver, gold and platinum to reflect your level in the Castaway Club.
You don't get a lanyard for your first cruise. Wearing a Disney lanyard isn't essential, so if you don't want to show off your Castaway Club status, you can just wear any lanyard you choose.
Do They Sell Lanyards On Disney Cruises?
Lanyards are sold onboard Disney cruise ships. You can't buy the silver, gold or platinum lanyards used for Castaway Club loyalty members, but you can choose from other Disney-themed lanyards. You can also order them from Disney's website in advance.
Another reason to wear a lanyard on a Disney cruise – whether it's a Disney one or a Cruise Necessities one – is pin trading.
Pin trading is a fun activity onboard Disney cruise ships (and in Disney theme parks) where you wear pin badges on your lanyard and then trade them with other guests and with the crew on the ship.
You can buy a cheap starter pack of pins and then trade them for others that you prefer, provided the other person is happy to trade with you of course!
Does Carnival Cruises Give You A Lanyard?
You don't get a free lanyard when you cruise with Carnival, but you can buy them from the gift shop on the cruise. Carnival recommends bringing a lanyard of your own, if you have one, to keep your Sail & Sign card safe.
How Do You Get Free Lanyards On A Carnival Cruise?
There is no guaranteed way to get a free lanyard on a Carnival cruise. Some guests have had success asking for one from the casino, but normally you'll be told that you can only buy them from the gift store on the ship.
Don't avoid buying one before you sail just because you hope you can get one for free from the Carnival casino. Instead, buy one before you travel so you know you've got one sorted.
Does Norwegian Cruise Line Provide Lanyards?
NCL doesn't provide lanyards with your cruise card. They are sometimes sold in the onboard stores, but if you want to use a lanyard on your Norwegian cruise then you're recommended to buy one before you travel.
Final Word
Cruise lanyards are really handy, and I'd recommend buying one for your whole family. You'll never have an issue finding your cruise card, and swiping for drinks or getting into your cabin is super easy.
Make sure you choose a durable, reliable lanyard like those from Cruise Necessities though – cheap lanyards you can sometimes find on Amazon won't last very long, and can be uncomfortable to wear too.
Related Topics