Carnival Cruise Line's luggage limits are a little different from some other cruise lines, so it's important that you know what you can bring before you start to pack for your cruise.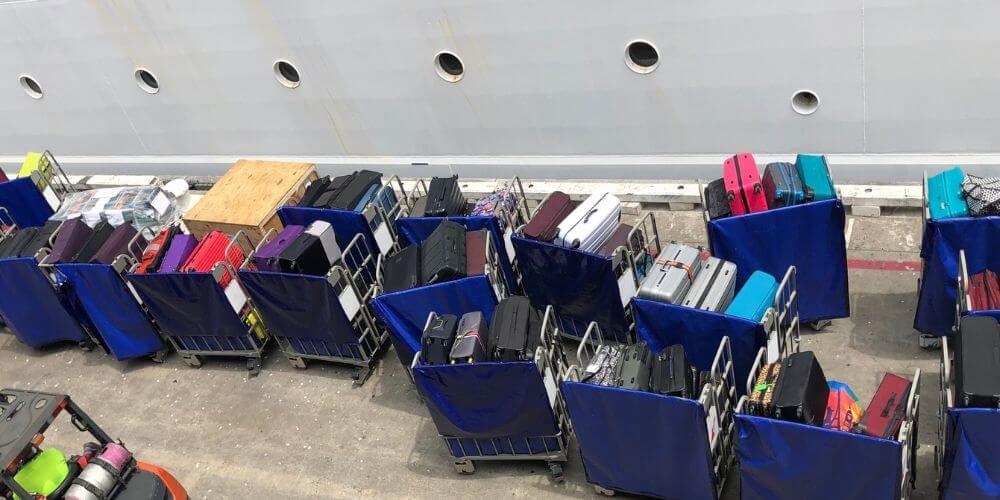 While the Carnival luggage policy has no restrictions on how many bags you can bring, there are some weight limits and suitcase size requirements that you must follow.
In this guide, I'll go over all of the Carnival luggage restrictions, so that you know exactly how much luggage you can bring, as well as what items are allowed and not allowed on Carnival cruise ships.
Carnival Cruise Luggage Limit
On a Carnival cruise, there's no limit to the amount of luggage that you can bring, but each bag must weigh less than 50 pounds, and it must be small enough to fit through the x-ray machine and to be stored under the bed in your stateroom.
Any bags that you check in will be taken from you outside the port and delivered to your stateroom. You can also bring carry-on bags with your essentials and valuables.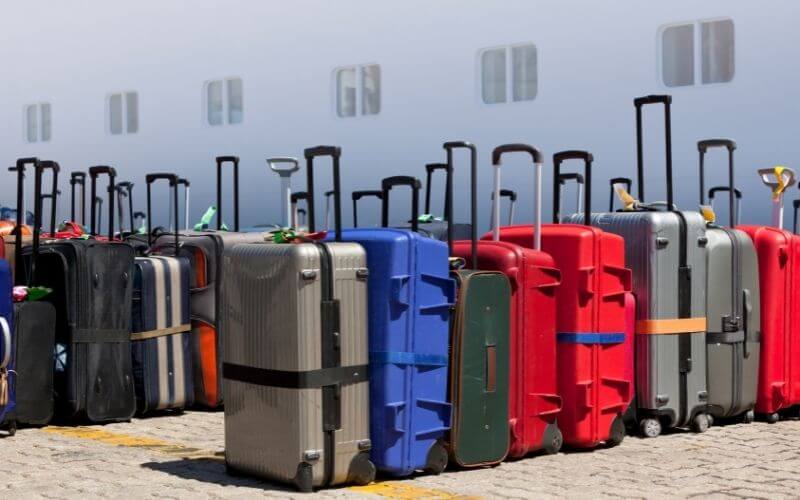 Three Carnival Cruise Luggage Rules You Must Know
1. You Can Take as Many Bags as You Want
Carnival Cruise Line suggests that guests check in only one bag per person for 3- to 5-day cruises and no more than two bags per person for longer cruises. This is just a suggestion though – you can actually bring as many bags as you like, since there are no Carnival luggage limits.
As you won't need to bring any formalwear on a Carnival cruise, two bags per person should be more than enough for even the longest cruise. If you bring more bags than this, you may struggle to store them under the bed.
If you need to bring a lot of luggage on a cruise, having suitcases of different sizes will allow you to store the smaller bag inside the larger one.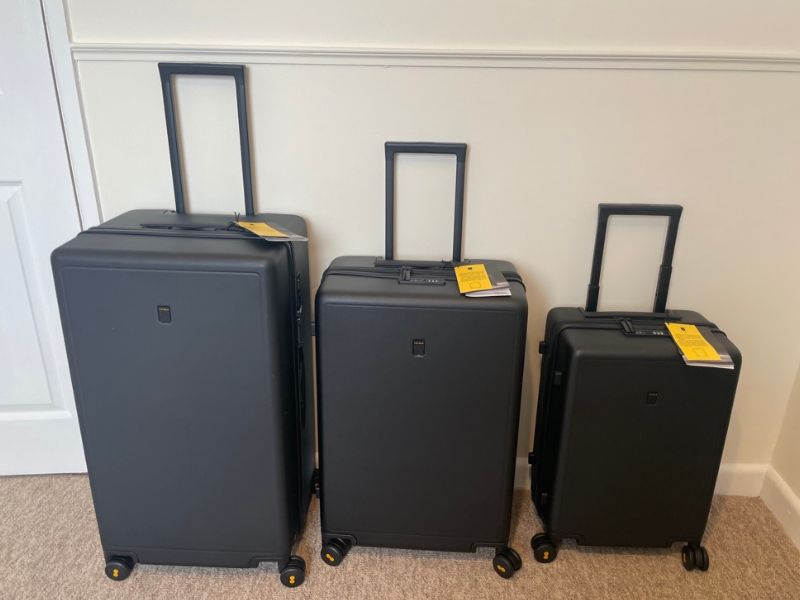 2. Each Bag Must Weigh Less Than 50 Lbs
Each bag that you bring on a Carnival cruise should weigh no more than 50 pounds (22kg) because porters must be able to lift them safely. If you need to bring more than this, you should split your luggage into two smaller bags.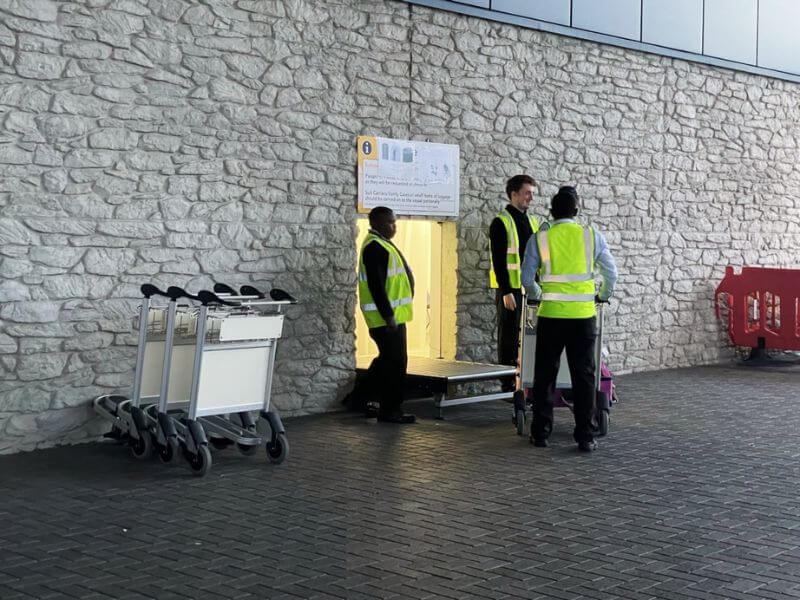 If you are flying to join your cruise, you should also be aware of any luggage weight restrictions that the airline may have.
3. Bags Must Not Be Too Large
On a Carnival cruise, checked and carry-on bags must be small enough to fit through the x-ray machine and to be stored under the bed in your room. The maximum allowed Carnival luggage size is 16 inches high and 24 inches wide. Length does not matter.
How To Measure Luggage For A Carnival Cruise
Sometimes, people can get confused when measuring luggage for a Carnival cruise because 16 inches high doesn't sound like a lot. However, you need to ensure that your suitcase is laid flat as it would be when stored under the bed, not standing tall as it would be when you pull it along.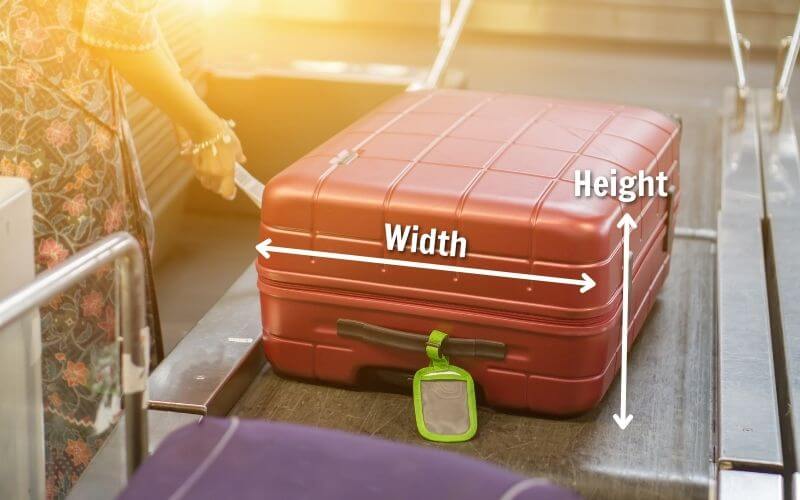 Here's how to measure your luggage:
Lay your bag flat
Measure the height from bottom to top
Measure the width from left to right
The longest measurement, the length, isn't needed
Remember to include any wheels or handles
Make sure that the height is less than 16 inches and the width is less than 24 inches
Don't Forget To Affix Your Luggage Tags!
Luggage tags will enable the cruise ship porters to deliver your luggage to your stateroom.
After you have completed the online check-in for your Carnival cruise, you will receive your personalised luggage tags within your electronic documents. You can access these here: www.carnival.com/BookedGuest.
You should print out your luggage tags at home. Black and white is fine – you don't need to print Carnival luggage tags in colour.
Before you arrive at the port you should fasten your luggage tags to your baggage. If you don't have enough tags, don't worry, you can get extra ones from the curbside porters.
If the cabin number on your luggage tag says TBA, the porters will retag your luggage with the correct cabin number.
How to Put on Luggage Tags
After printing your luggage tags you should fold them according to the instructions on the paper. You can affix the luggage tags to your bags using staples or tape.
Because luggage tags are made of paper, there's a risk that can come off, particularly if you're flying to the cruise port or if it is raining. For this reason, it's a good idea to wait until you're at the port to attach the tags.
If your luggage tags come off, there could be delays in getting your luggage. If your luggage doesn't arrive in your stateroom, you'll need to head down to guest services to find out what happened to it.
Carnival Cruise Luggage Tag Holders
A great solution to the problem of paper cruise luggage tags coming off is to buy luggage tag holders. These are pretty cheap and a good investment as you can use them on every cruise that you go on in the future.
Luggage tag holders mean that you don't need to bother with tape or staples. They're waterproof and durable, so you'll know that your luggage tags are always secure.
Different cruise lines have different-sized luggage tags and Carnival luggage tags are generally wider than Royal Caribbean and Celebrity Cruises.
I like these luggage tag holders because they will fit the tags for all cruise lines, including Carnival…
Can You Carry Your Own Luggage on a Carnival Cruise?
You may carry your own luggage on a Carnival cruise if you wish, but it makes much more sense to let the porters deliver it to your stateroom for you. If you arrive less than two hours before the ship's sailing time, you will miss the baggage service and will have to carry your own bags onto the ship.
Read more about carrying your own luggage on a cruise.
How Much to Tip Cruise Luggage Porters
When you take a cruise, it's customary to tip curbside porters $1 per bag for helping with your luggage. Curbside porters don't work for the cruise line, they are employed by the port.
Suggested read: How Much To Tip Cruise Staff
What Can You Bring On A Carnival Cruise?
Carnival Cruise Line has strict requirements about what you can and cannot bring onto its cruise ships. Knowing what you can not bring on a Carnival cruise is important as they do check luggage and they will confiscate any prohibited items.
Snacks
You are allowed to bring food and snacks on a Carnival cruise as long as they are pre-packaged and unopened. Homemade food is not allowed to be brought onto Carnival cruise ships. Candy and potato chips are fine to bring.
Drinks
You are allowed to bring only one 750ml bottle of wine and 12 cans or cartons (not bottles) of soft drinks or soda per person on a Carnival cruise. You are not allowed to bring any other drinks.
Alcohol
On a Carnival cruise, each guest aged 21 or over may bring one 750ml bottle of wine or Champagne. Beer and liquor are not allowed. You must bring the wine in your carry-on luggage and drink it in your stateroom. If you wish to drink it in a dining room or bar, you will be charged a corkage fee of $15 per bottle.
Read more: Can You Bring Alcohol On A Cruise?
Wine
On a Carnival cruise, each adult may bring one 750ml bottle of wine or Champagne to be consumed in your stateroom. Pack this in your carry-on luggage, not your checked bag.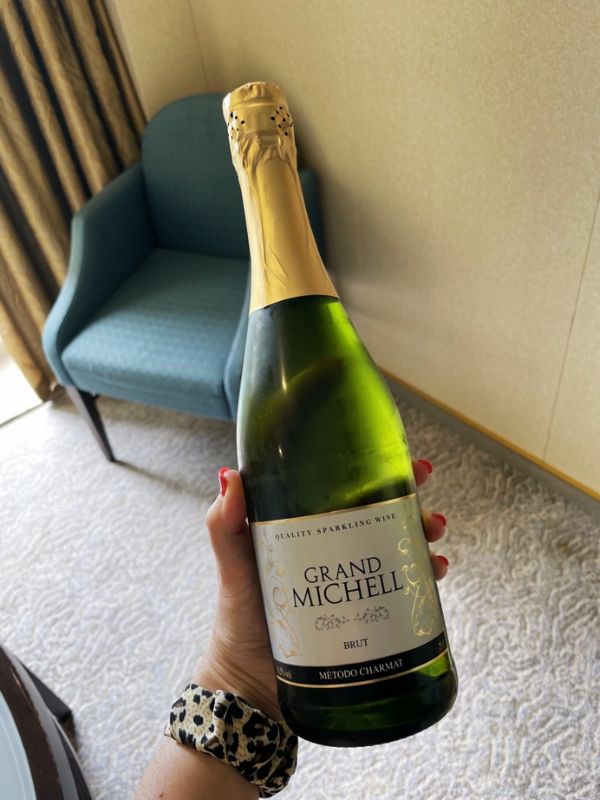 Soda
Each guest may bring a 12-pack of soda on a Carnival cruise. This must be in cans or cartons up to 12 ounces (350ml) in size. Instead of soda, you could bring other non-alcoholic drinks like sparkling water, juice or milk.
Red Bull
Carnival Cruise Line treats Red Bull and other energy drinks as soft drinks. This means that you can bring 12 cans on Red Bull with you in your carry-on luggage when you board the ship. You can consume it in your stateroom.
Water
You cannot bring bottled water on a Carnival cruise, but you can buy 12 bottles which will be delivered to your stateroom for $4.95. If you need distilled water for medical reasons or for babies, you can bring this in your carry-on luggage or purchase it from room service for $3.00 per gallon.
You can buy bottled water here: www.carnival.com/funshops.
A Cooler
On a Carnival cruise, you may bring a small cooler, no larger than 12 inches x 12 inches x 12 inches to store non-alcoholic beverages or medications. You must bring this as carry-on luggage.
Your Own Cup
You are allowed to bring your own personal cup, such as a Yeti cup, or reusable water bottle on a Carnival cruise. Any size is fine and you can use it to drink whatever you like.
If you plan to fill your cup from a public water or coffee machine, please use a clean drinking vessel first and then decant it for public hygiene reasons.
A Vape
Vape pens are allowed on Carnival cruise ships. Vaping is treated the same as smoking, so you're only allowed to vape in designated areas and not in your stateroom or on your balcony.
Read more: What You Must Know About Vaping On A Cruise
A Fan
You are allowed to bring a fan on a Carnival cruise. The rooms have good air conditioning and your room steward will be able to provide a fan on request. But, if you prefer to bring your own fan from home, that's okay too.
An Iron
Clothing irons and travel irons are not allowed to be brought onto Carnival cruise ships. However, flat irons for straightening and curling hair are allowed. There's no reason why you can't use this to remove creases from your clothing.
There are also laundry rooms on Carnival cruise ships where you can go to iron your clothes should you need to.
Read more: How To Do Laundry on Cruise Ships: The Ultimate Guide
A Steamer
Clothes steamers are banned from Carnival cruise ships along with any other electrical appliance that produces heat. If you need to steam you clothes, you can iron them in the laundry room or send them for speciality cleaning.
A Corkscrew
You are allowed to bring a corkscrew on a Carnival cruise and it's recommended that you do indeed bring one if you plan to bring a bottle of wine with a cork to drink in your stateroom. If you forget to pack a wine opener, you can also request one from your room steward.
A Pocket Knife
Carnival Cruise Line no longer allows guests to bring knives on board, even if the blade is small. The only exception is scuba diving knives. These must be checked into the security department and checked out when you visit a port.
A Drone
Since May 2022, Carnival has completely banned drones from their cruise ships. It used to be the case that you could bring one in your luggage to use outside of the ship and port area. But now, you must check it in with the Chief Security Officer.
Weed
Carnival Cruise Line prohibits marijuana of all kinds, including medical marijuana with a prescription and CBD. Passengers get lifetime bans if they try to bring CBD products onboard.
Read more: What You Need To Know About Bringing Weed on a Cruise
Carnival Cruise Prohibited Items
The following items are not allowed on Carnival cruise ships:
Illegal drugs, kava, CBD and medical marijuana
Weapons and ammunition
Explosives and fireworks
Compressed gases (except for personal grooming)
Alcohol (except for one 750ml bottle of wine per person)
Non-alcoholic drinks (except for 12 cans or cartons per person)
Electrical appliances that produce heat (except for hairdryers and hair irons/curlers)
Knives, scissors and open razors
Handcuffs or restraints
Hoverboards and footwear with wheels, including Heelys
Emergency radio beacons, communication scanners and satellite phones
Lasers
Boomboxes and large radios
Candles and incense
Helium balloons
Inflatable paddling pools
Hookahs
Surfboards, boats and canoes
Fish
You can see a full list of Carnival prohibited items and other Carnival cruise packing rules here.
What To Put In Your Carry-on Bag
In your carry-on bag you should pack:
Passport or ID
Travel documents
Mobile phone
Medication
Valuable items like jewellery and laptops
Wine
Swimsuit
Sunscreen
Lip balm
Sunglasses and/or reading glasses
Camera
Hand sanitiser
Kids essentials
You may not receive your main luggage until later in the afternoon, so be sure to pack everything that you might need on the first day of your cruise, including your swimsuit if you might want to go swimming.
Suggested read: The Best Carry-On Bags For A Cruise
Does Carnival Search Your Luggage?
All luggage going onto a Carnival cruise ship will go through an X-ray scanner. This is primarily to check for alcohol, weapons and explosives It could also be checked by sniffer dogs. Any luggage that looks suspicious will be opened up for a full check, so it's important that you leave your bags unlocked when checking in.
You'll find more info on when and how luggage is searched here.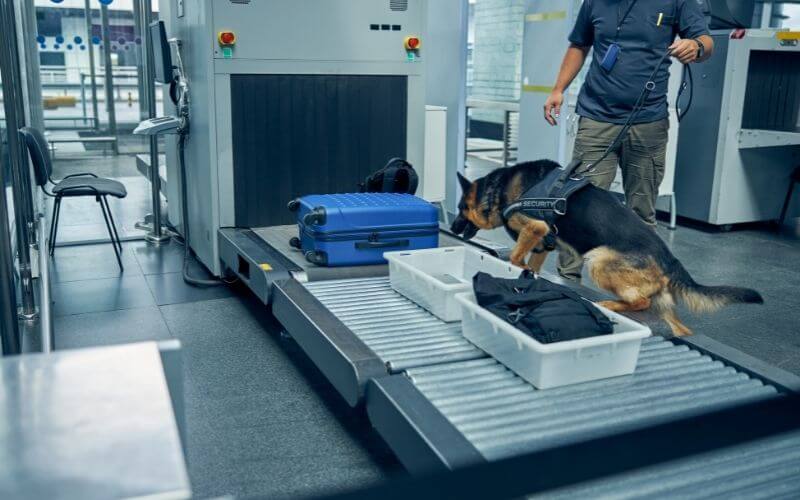 NEW DEALS JUST RELEASED!
See the latest Carnival cruise offers…
Related Posts: