Are you wondering what to pack for a baby on a cruise? I've cruised with babies and toddlers and know the perils of both overpacking and underpacking!
That's why I've created this free printable baby cruise packing list – so you know exactly what to pack for your family cruise, and what to leave at home.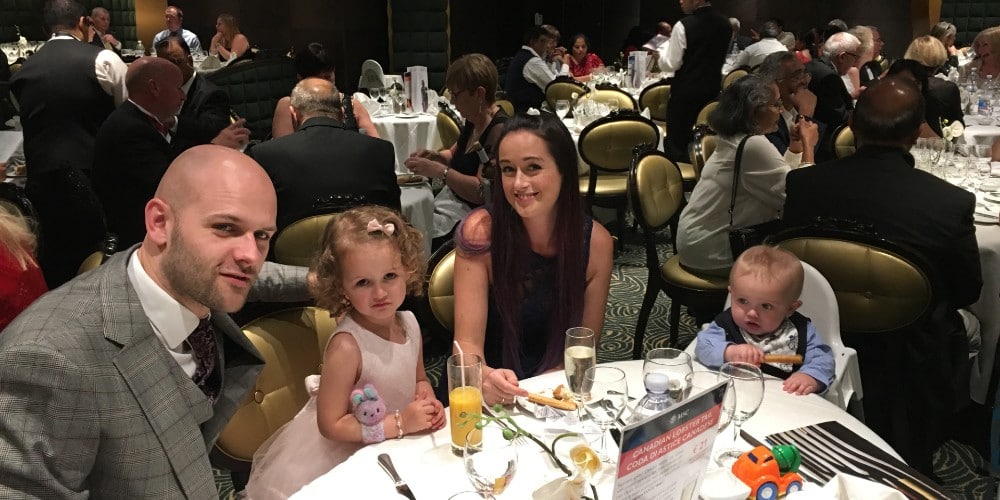 I've listed all of the items that you need below, including links to buy some really handy things that I found online and then bought myself when we cruised with both a baby and a toddler.
Get the free printable pdf
Just enter your email address and you'll immediately be sent the free baby packing list which you can print off or save on your phone.
When packing for a cruise with a baby, you'll want to pack quite light, but not too light! If you can get to your cruise ship without flying, you won't have any restrictions on how much luggage you can bring.
But, that doesn't mean you should bring all the baby equipment you own! Cruise cabins are generally a bit smaller than hotel rooms so if you bring too much, your stateroom will feel very cramped.
Here are my recommendations for things to bring on your cruise with a baby….
Documents
Passport
Whilst US citizens can sometimes cruise without a passport, in most cases, you'll need a passport to cruise.
The passport rules for babies are just the same as those for adults, so don't forget to pack your baby's passport.
Birth certificate
If your child has a different surname to his or her accompanying parents, then you'll also need to bring their birth certificate to prove that you're the parent.
If the parents' and child's passport surnames don't match, then you'll be asked for a birth certificate at embarkation and won't be allowed to board without it.
Visa
Most cruises don't require a visa, but depending on where you're going, you may need one. Be sure to check because if you need a visa, then your child will probably need one too.
Getting around
You'll need to be able to transport your baby or toddler safely and securely not just onboard your cruise ship, but also in port and on your journey between home and the ship. This may require more than one mode of transport, so think about what will work best for you.
Pushchair
Pushchair, stroller, pram, buggy – whatever you call it, you're definitely going to need to bring it with you.
When it comes to pushchairs, the smaller and lighter the better. Some ships will let you leave your pram in the corridor, but you may be asked to leave it in your cabin. If your usual stroller is bulky, you might want to invest in a cheap umbrella stroller which you can easily fit under the bed.
">
Sun shade or rain cover
Unless your pushchair has a huge hood, you'll benefit from bringing a sunshade that you can clip on, to keep your baby in the shade at all times.
Depending on the weather, you may also wish to bring a raincover.
Car seat
If you plan on using a taxi at any point before, after or during your cruise, you'll need to bring a car seat.
When you're off your ship for excursions, carting around a car seat and a pushchair can be cumbersome. One solution is to invest in a travel system where the car seat attaches to the stroller.
Alternatively, you may wish to plan to use alternative modes of transport like buses, trains or ferries that don't require a car seat.
Baby carrier
Baby carriers are particularly handy when flying, for when you get off the plane and have to walk to the arrivals area to collect your pushchair.
If you usually use a baby carrier a lot, then pack it for your cruise. If you don't, a cruise isn't the time to get your baby used to one and you'll probably be better off using your stroller in most situations on-board.
Backpack
As well as transporting your baby, you'll also need something to transport all their stuff, both around the ship and when you explore ashore.
Now could be the time to ditch your traditional over-the-shoulder baby changing bag and instead use a standard backpack. Not only will you fit more stuff in there, but it also leaves you hands-free for when you have to manoeuvre luggage, a pushchair and possibly chase a toddler around too.
Toddler reins / backpack leash
A toddler harness, reins or a backpack leash can be great for those tots who love to wander around on their own.
I tried a backpack on my toddler at Disneyland, and he just spun around like a confused puppy and whined until I took it off. So this is definitely something you want to test out at home before you travel!
Clothing
Your baby or toddler will likely wear several outfits per day on a cruise – something for during the day, a clean change of clothes for the evening, swimwear and nightwear. This can add up to a lot of clothes so if you don't have that many, you might want to wash some part-way through your cruise.
Suggested read: How To Do Laundry on Cruise Ships
As well as the usual t-shirts, cardigans, hoodies, trousers, shorts, skirts and dresses, you'll also need to pack…
Formal outfit
A cute formal outfit like a dress or suit is a must. Even if you don't particularly enjoy formal evenings, you could do it for the photos if nothing else. Here's my baby and toddler in formal outfits on their first cruise…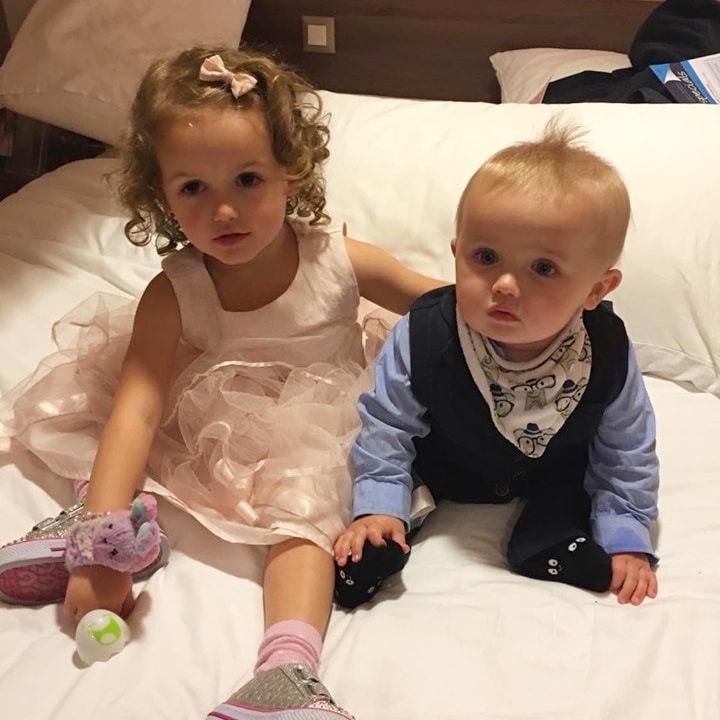 Shoes and sandals
If your little one has started to walk you're going to need their shoes and, if the weather is warm, a pair of sandals. Waterproof sandals are preferred. If there's a baby splash area on-board, the surrounding floor could be hot, so they'll definitely need something on their feet.
Swimwear
The best swimsuits for babies and toddlers offer full-body coverage from the neck to the elbows and knees. I'd recommend choosing a swimming costume with UV protection – it's much easier than applying sunscreen every few hours.
Hat
For warm-weather destinations, a sunhat is a must. I usually pack two or three as they tend to go missing easily and it's good to have a spare to hand..
Underwear and socks
Don't forget to pack lots of socks. Wearing socks with sandals may be a fashion nono for adults but for toddlers, it can make their sandals so much comfier.
Bringing an extra five-pack of vests is always a good idea as these can be used as day wear, a base layer or for sleeping.
Pyjamas
You'll want to pack enough pyjamas for a clean pair each evening. Spills and leakages can happen at any time.
You may want to change your baby into their pyjamas after your evening meal, so that they can sleep in their pushchair or in the onboard nursery while you enjoy the evening entertainment.
Feeding
Whether you're breastfeeding, formula feeding, using pureed food or baby-led weaning, you'll need to make sure that you have everything you need for your baby.
Read more: How to feed your baby on a cruise
Baby milk
If your baby is used to formula milk, you should bring this with you. You can often buy it on board, and some cruise lines such as P&O Cruises offer it for free, but it might not be the same brand that your baby is used to.
For babies of 12 months and older, you'll be able to request whole cow's milk in any bar or restaurant or have it delivered to your stateroom free of charge each day. You can also get plant-based milks like soya, oat or almond on most ships.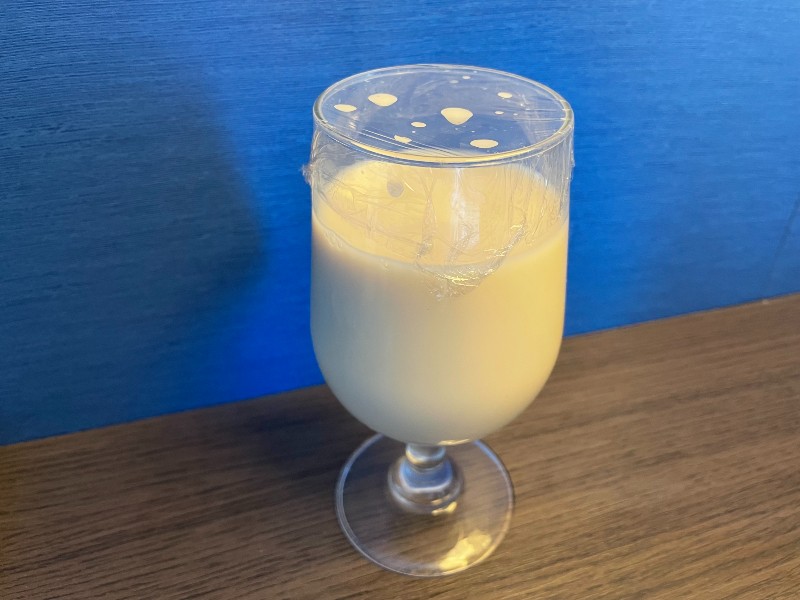 Powdered formula is cheaper and takes up less space, but the ready-to-feed version is more convenient.
I found that taking a mixture of the two worked best. We used powdered formula mixed with boiled water where possible, and also had some ready-to-feed bottles for in the middle of the night or when out on excursions.
Breast pump
Breastfeeding is welcomed in all public areas on cruise ships. However, if you want your partner to share the feeding duties, or perhaps you fancy having a few drinks one evening, then you may wish to bring your breast pump as well as milk storage bags.
Most cruise cabins have a fridge. If yours doesn't, or if it isn't cold enough to store breast milk, you can request to have it stored in a fridge elsewhere on the ship.
Baby bottles
Bring enough baby bottles for at least 24 hours, and you can wash them in the sink in your cabin once per day.
Sterlising equipment
If you usually sterilise your baby's bottles, the easiest way to do this is on a ship is with a collapsible bucket and sterilising tablets. You can soak the bottles overnight so that they'll be ready for the next day.
Cups, bowls and spoons
It's a good idea to bring your own plastic or bamboo plates and cutlery for your baby or toddler. The bowl and spoons you'll find on board may be limited to the ceramic and metal varieties.
Plastic containers
Food containers are essential for transporting snacks. It's perfectly fine to help yourself to items from the breakfast buffet and store them for your child to eat later on.
If you plan to take snacks off the ship, check if this is allowed in the port you're visiting.
Read more: Can you take food off a cruise ship?
Baby food and snacks
Most cruise ships are able to provide pureed baby food, either in jars or will make it fresh for you. You'll also find lots of items for baby-led weaning in the buffet, such as fruit, vegetables, boiled eggs, bread and cereal.
It's a good idea to bring some of your own baby food and snacks as well, which you can use for convenience or when you're off the ship in the ports.
Bibs
Disposable paper bibs can be great for travel as you can just throw them away. Alternatively, choose the solid plastic bibs at mealtimes and you can wipe them clean with a baby wipe before washing them properly in your cabin sink.
Burp cloths
You can never have too many muslin cloths. As well as burping, they're so handy for mopping up spills, covering skin in the sunshine or as a comforter at night.
Table mat
Some cruisers like to bring a silicon placemat to ensure that the place where your little one puts their food is clean. If the buffet is busy, you can't guarantee that the table has been wiped after the people before you have used it. You may find this to be more convenient than bringing plastic plates and bowls with you.
Cleaning
Cruise ships are always super clean and your cabin will be cleaned twice per day. Still, you'll need to think about washing clothes as well as any baby bottles or cups.
Travel wash liquid or laundry detergent
Some cruise ships have washing machines you can use and others don't. If your ship doesn't, you can wash clothes in the sink in your bathroom.
Bringing your own washing tablets for the machine is recommended. You can buy them on-board but they're expensive and you may have to trek all the way to the onboard shop to get them.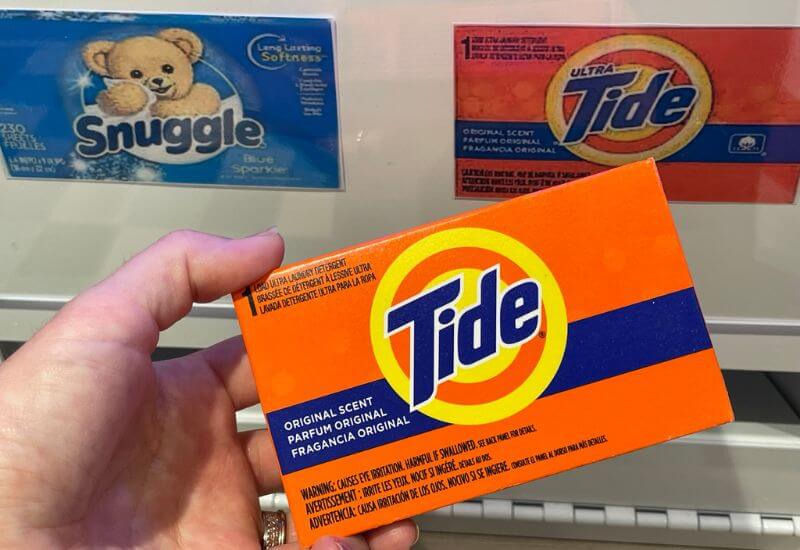 Washing up items
When travelling with a baby you won't be able to avoid the washing up. Dishwashing equipment isn't provided so be sure to pack washing-up liquid, a sponge and a bottle brush.
Antibacterial surface wipes
High chairs will be sterilised by cruise ship staff after each use. Just to be on the same side, I usually carry anti-bac wipes just for the peace of mind that comes with knowing you've also wiped it yourself!
Hand sanitiser
There'll be hand gel provided throughout the ship. It's still a good idea to bring your own to use when you get back to your cabin or when you're off the ship on excursions.
Buy one with a keychain attachment so that you don't have to go rummaging through your bag to find it. You can even get refillable hand sanitiser bracelets, which are a great idea for parents who always have their hands full.
Sleeping
Travel cots are provided for babies on cruises. If yours isn't there when you arrive in your cabin, just call your stateroom attendant and they will set it up for you.
Sheets and blankets
Whilst you will be provided with a travel cot for your baby or toddler to sleep in, the bedding provided is often limited to just a sheet. It's a good idea to bring your own bedding with you.
Blankets often aren't provided for babies for safety reasons, so you'll need to bring your own. Baby sleeping bags are a great alternative to traditional blankets. You should also bring a toddler pillow if your little one usually has one at home, as well as their favourite comforter.
Night light
If you choose an inside cabin, your stateroom will be completely dark at night. To avoid waking everybody up when you use the bathroom or tend to your baby in the night, invest in a plugin nightlight that emits a dim glow.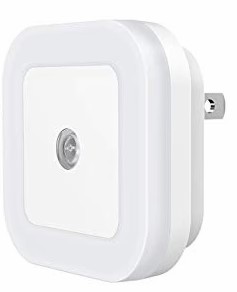 Changing
You'll find plenty of baby-changing facilities on board your cruise ship. It's not always clear where they are, but if you ask at guest services, they may be able to provide you with a map so that you can always find your nearest one.
Nappies / diapers
Packing enough nappies for a week or more can take a lot of space in your luggage. When we took a two-week cruise from the UK, we simply put them in a black bin bag and attached a luggage label. If you're flying and have limits on luggage, you may wish to stock up after you fly but before you embark.
Don't rely on being able to buy nappies on board your ship. They're incredibly expensive and don't always have all the sizes available. If you run out, you can usually buy more when you call at a port.
If you normally use cloth nappies, you'll probably find it easier to switch to disposables whilst travelling.
Swimming nappies / swim diapers
Many cruise ships do not allow children who aren't yet toilet trained into the swimming pools and Jacuzzis. However, you should probably still pack swimming nappies. There may be a toddler splash area on board or you may need them for swimming in the sea.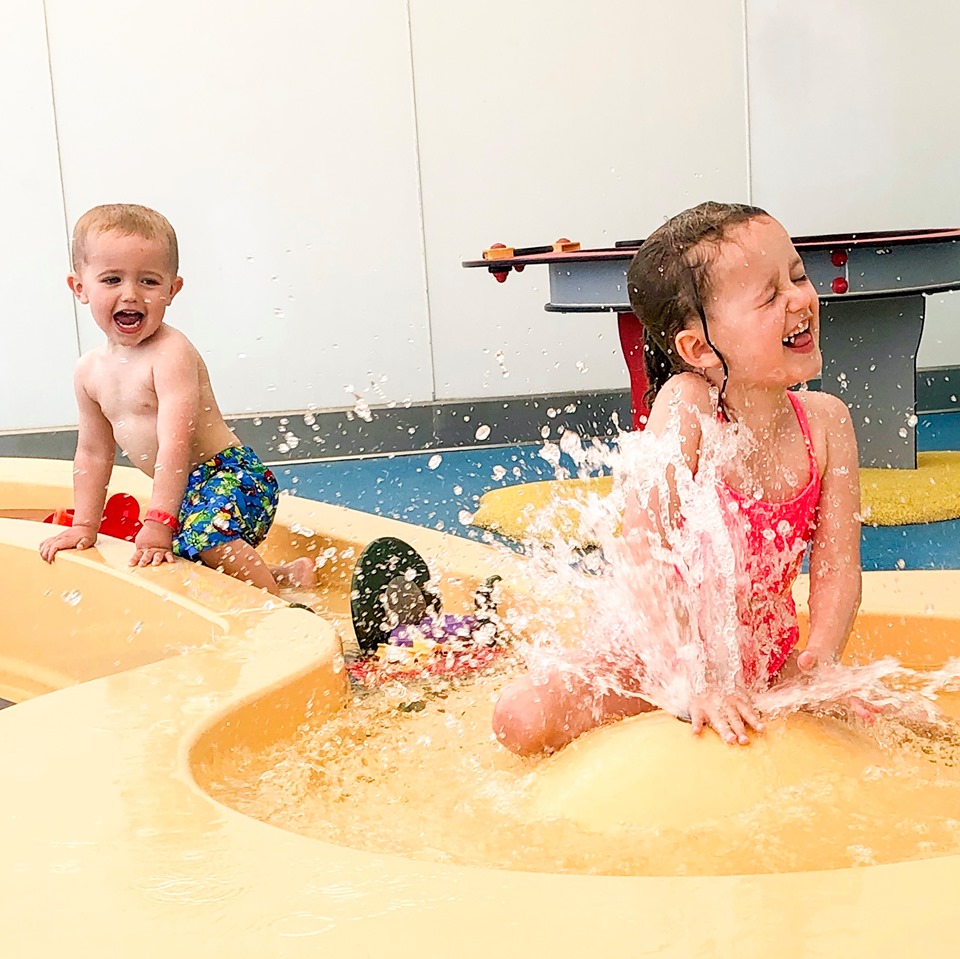 Folding changing mat
A fold-up changing mat is a must, whether it's for changing your baby on the bed in your room or on a changing table in a public toilet. In some countries, baby changing facilities aren't available as regularly as they are at home, so if you have to change a nappy on a beach, you'll definitely need the mat.
Baby wipes
Imagine how many baby wipes you might need, then double it! As you'll know, these can be used for cleaning hands, faces and everything else as well as bottoms, making them one of the handiest and most versatile items of baby stuff to pack for a cruise.
Nappy / diaper disposal bags
The bin in your cabin will be emptied twice per day. However, it's still a very good idea to bring some scented nappy bags to keep the smell of waste contained.
Toiletries
As well as packing your own toiletries bag, it's handy to have a separate bag with everything that you need to keep your baby clean and healthy.
Baby wash, shampoo and sponge
Whilst shower gel and shampoo will be provided, it's often not the best for baby's delicate skin so you'll probably want to bring your own toiletries from home.
Sun cream
Baby sun protection with SPF 50+ is essential. Yes, you can buy sunscreen onboard, but it's going to be expensive and options may be limited, so bring your own.
Baby toothbrush and toothpaste
Don't forget your baby's toothbrush! And the same brand of toothpaste that they're used to at home.
First aid kit and medicines
There will be a fully-stocked pharmacy on your ship, but it won't be cheap and is unlikely to be open around the clock. Be sure to pack a small bag with infant paracetamol, nappy rash cream, teething gel, a thermometer and anything else which you use at home.
Everyday items
Here are some more miscellaneous things to add to your baby cruise packing list…
Comfort items
Some babies have dummies or pacifiers, some have muslin cloths, blankets or a favourite toy. Whatever you baby uses to soothe themselves at home, you'll want to bring several of on your cruise.
Toys
I'd recommend bringing a couple of favourite toys and a few new ones. Stacking cups, a book and something to stick on the tabletop are good travel toys to add to your list.
Inflatable baby pool
Your own baby pool can be a good place for your baby to cool off on a hot day. Not all ships allow them, so check before you pack it.
Most cruise cabins only have showers rather than bathtubs so another use for a baby pool is to create a baby bath in the bottom of your shower cubicle. Failing that, the lid of a Pringles tube placed over the drain can function as a plug to enable you to fill the shower tray with a couple of inches of water.
Baby swim ring
If your ship allows babies to use the pools, then it's worth bringing a baby swim seat, ring or armbands.
We cruised on P&O Cruises' Britannia and kids were allowed in the Beachcomber pool with swimming nappies. However, the pool was at least six-feet deep all over, so some kind of baby floatation device would be essential.
Spray bottle
If there are no swimming or splashing areas for babies on your cruise, it's a good idea to have some other way of cooling them off on a hot day. Filling a spray bottle with water can be one solution to this dilemma.
Over the door organiser
Cruise ship cabins don't usually have a lot of storage. The easiest way to not lose any of your important baby paraphernalia is to use an over-the-door organiser to store all the smaller bits and pieces.
I take this on every cruise, even when I'm travelling without the kids and it's just so handy to have and takes up no space in your luggage.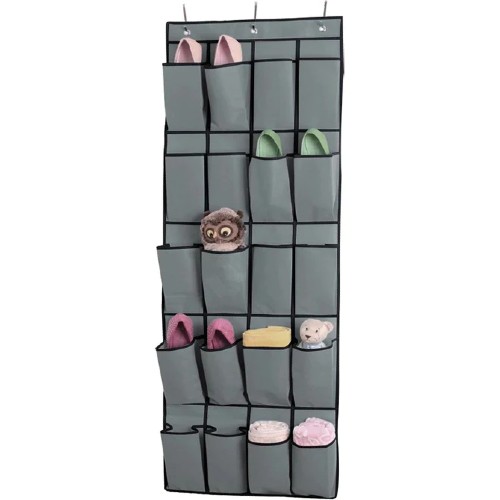 THINGS TO LEAVE AT HOME
So now you have your list of what to pack for a cruise with a baby or toddler. There are some things which you should almost certainly leave at home. These are:
Travel cot / pack and play
A travel cot will be provided for you so there's no need to bring your own.
High chair
High chairs are always available in every dining venue on the ship.
Baby bath
Some cruise ships, such as P&O Cruises family-friendly ships, provide baby baths on request. Even if yours doesn't, a baby bath is such a bulky item that you're better off not to bring it. Instead, you can wash your baby in the sink or in the shower.
Side-by-side pushchair
If you have twins or a baby and a toddler, don't be tempted to bring a side-by-side double pushchair. I saw a family do this and it was awful for them as it was too wide for the corridor leading to their room so they had to fold it up and carry both babies every day.
We've used a double pushchair with one in front of the other on a cruise ship and it was okay, but it took up a lot of room in the lift and was a bit tricky to manoeuvre around tight corners.
We've also used two single pushchairs for our baby and toddler and this was the best idea. As we only owned one single pushchair, we borrowed one from onboard the ship, which is a good option if you're cruising with MSC Cruises.
---
Packing for your family cruise
Before you go ahead and pack, it's worth researching what's already provided for you on the ship. Free-to-hire baby equipment will vary depending on whether you're cruising with P&O Cruises, MSC Cruises, Royal Caribbean, NCL, Carnival, Disney Cruise Line, Princess Cruises or some other cruise line.
Once you know what you need, I'd recommend starting to pack quite early. Packing for a cruise with a baby or toddler can be a tough job, so you'll want to give yourself plenty of time to avoid getting stressed out and overpacking.
Related posts: