Decorating your cruise cabin door can be a fun way to make your room stand out from the rest amongst a long corridor of identical stateroom doors.
Whether you want to show that you're celebrating a special occasion, need help with recognising your cabin number, or just want a bit of fun, cruise cabin door decorations are becoming increasingly popular.
Cruise lines have some rules you'll need to follow when decorating your cabin door. There are also some things you should make sure you know – Like what pineapple door decorations mean on a cruise ship.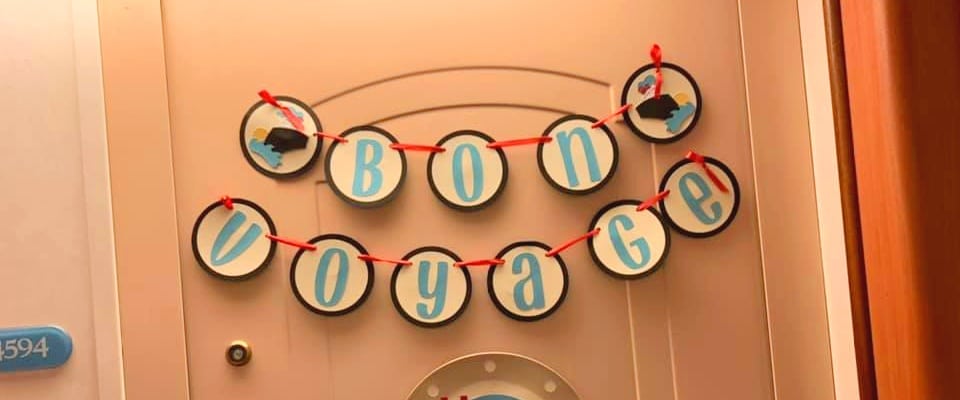 In this article, you'll find lots of cruise door decoration ideas, including kits to buy on Amazon, in stores and cruise decorations you can make yourself at home.
Do People Decorate Cruise Ship Doors?
The prevalence of cabin door decorations varies quite a lot depending on the cruise line. Here's what to expect on each ship, from the most popular for decorations to the least…
1. Disney cruises
Disney cruisers love to decorate their cabin doors more than anyone else. Door decorations are really popular on Disney Cruises and if you don't do it, you might feel a little left out of the fun. Each door has a round port-hole shape with the cabin number on which can easily be transformed into a Mickey Mouse head with the addition of ears.
2. Carnival cruises
Carnival refers to its ships as 'fun ships' and Carnival cruisers of all ages love to decorate their doors with funny signs and pictures. If you're going on a Carnival cruise, decorating your door is a great idea!
3. Royal Caribbean cruises
Most doors aren't decorated on Royal Caribbean ships, but you will see the occasional one, mostly belonging to frequent cruisers who are celebrating birthdays or anniversaries.
Other cruise lines
Door decorating is not as common on cruise lines such as P&O Cruises, Princess Cruises, MSC Cruises, Celebrity Cruises and Cunard. You may see the occasional cabin door with decorations on it, probably more so at Christmas than at other times of the year.
Here's a door decoration that we saw on P&O Cruises' Arvia on our Christmas cruise. There really weren't many doors decorated at all though. On a Disney or Carnival cruise you would see many more!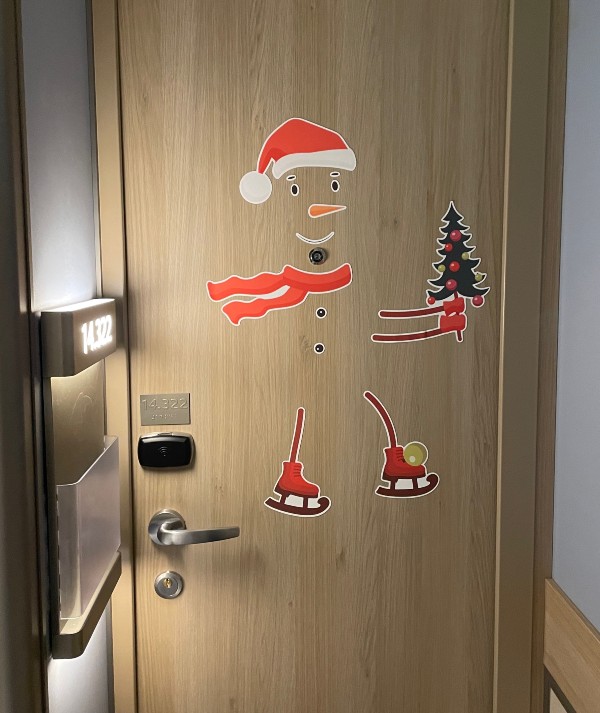 Norwegian Cruise Line – Banned!
Norwegian Cruise Line has banned all door decorations. You must not decorate your doors on NCL ships or the decorations will be taken down.
Cruise Door Decoration Ideas
If you're thinking of decorating your cabin door on your next cruise, take a look at these photos to come up with some ideas as to what you could do.
Funny Cruise Door Decorations
There are so many funny cruise puns that you could use on your cabin door banners. Like this one, which is straight to the point and perfect for a stag do, hen do, bachelor party or bachelorette party!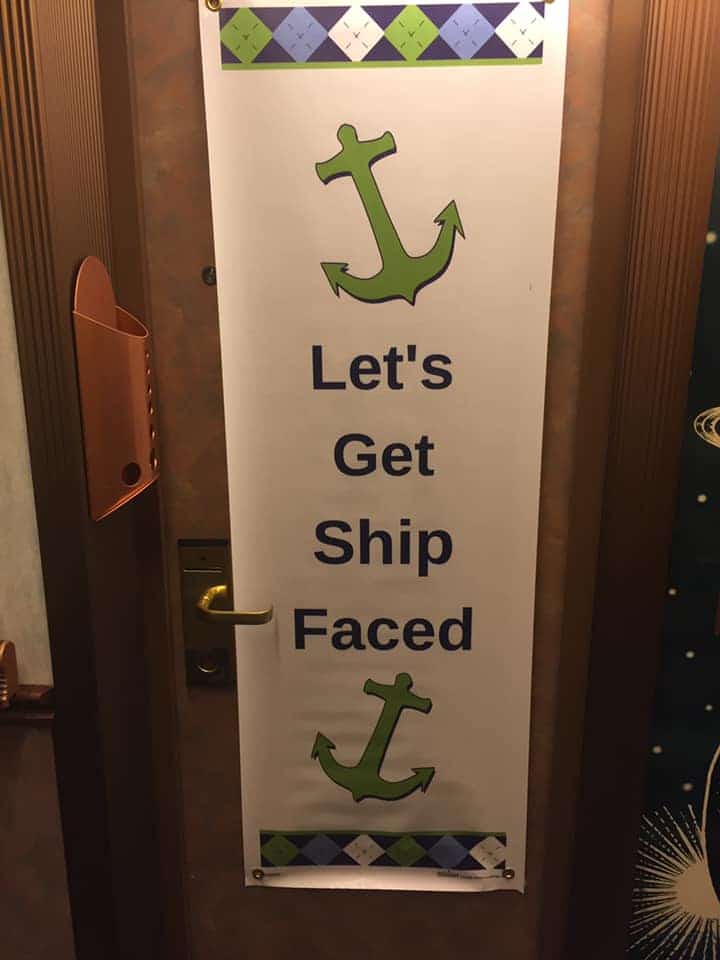 Personalised Cruise Door Decorations
Adding your names to your door is a great way to make your stateroom feel like home. And you'll always be sure you have the right door!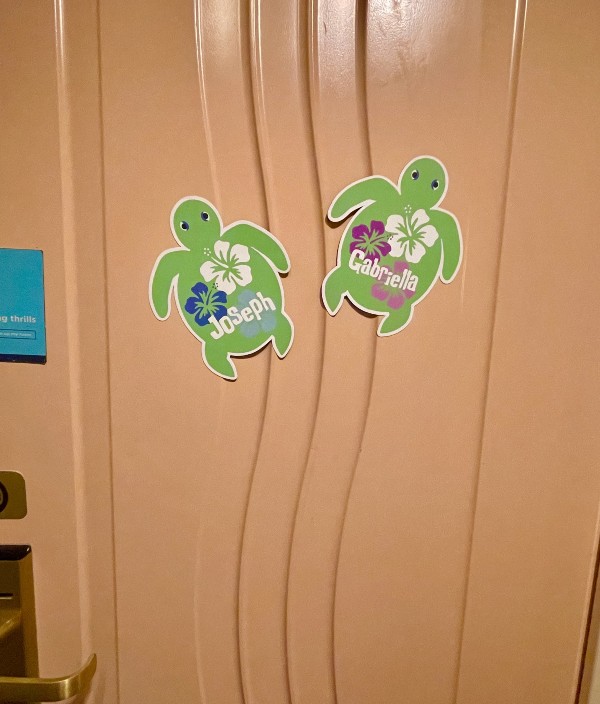 Birthday Cruise Door Decorations
Celebrating a birthday is always a good time to break out the funny door signs…
Swinger Cruise Door Decorations
If you see an upside-down pineapple on a cruise ship door it will mean one of two things. Either the couple staying there are swingers and this is an invitation to knock… Or someone is playing a cruel trick on them by sticking this on their door!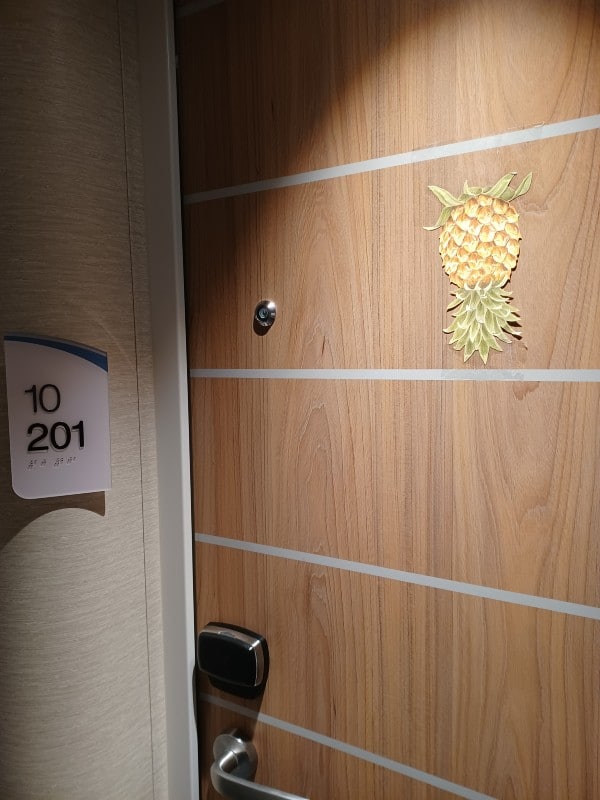 Halloween Cruise Door Decorations
If you love to decorate your home for Halloween, why should your cruise be any different? Halloween door decorations are easy to make.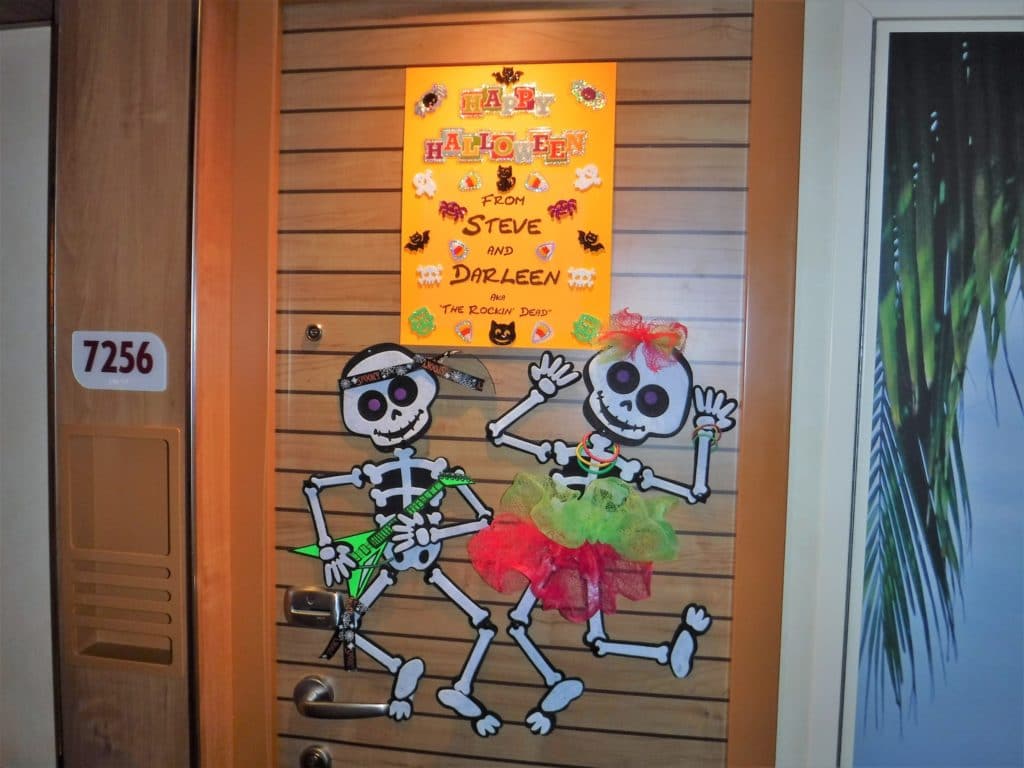 Christmas Cruise Door Decorations
A full Christmas door wreath like this one looks amazing, although it might take up quite a lot of room in your luggage! Christmas cruise door magnets are always an option if you're short on space.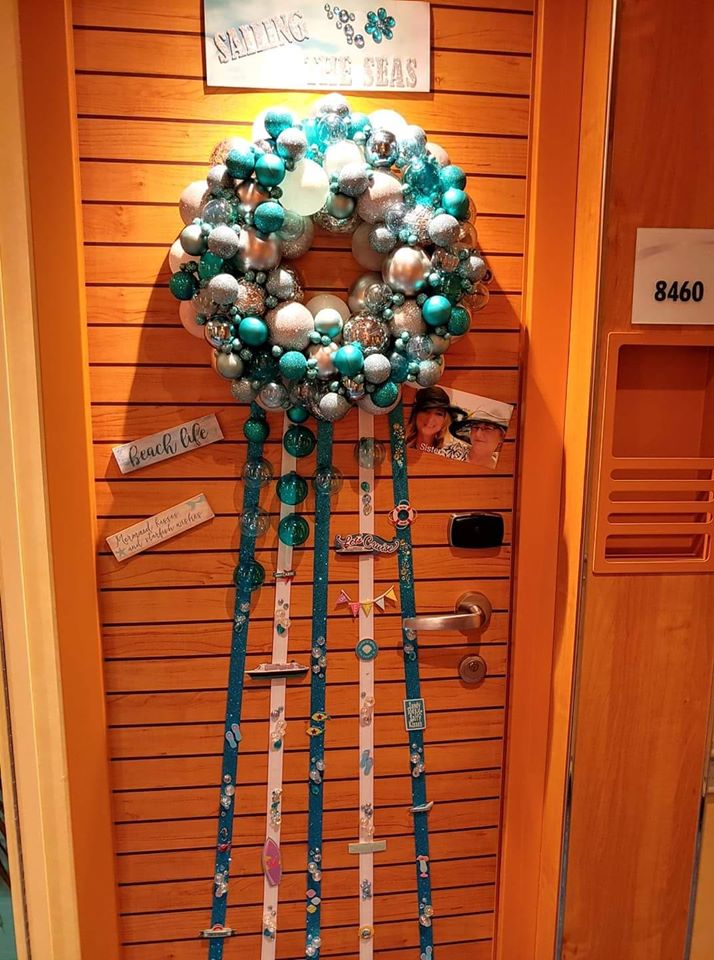 To celebrate a Christmas cruise, how about attaching Christmas stockings to your door? Who knows what Santa might leave inside?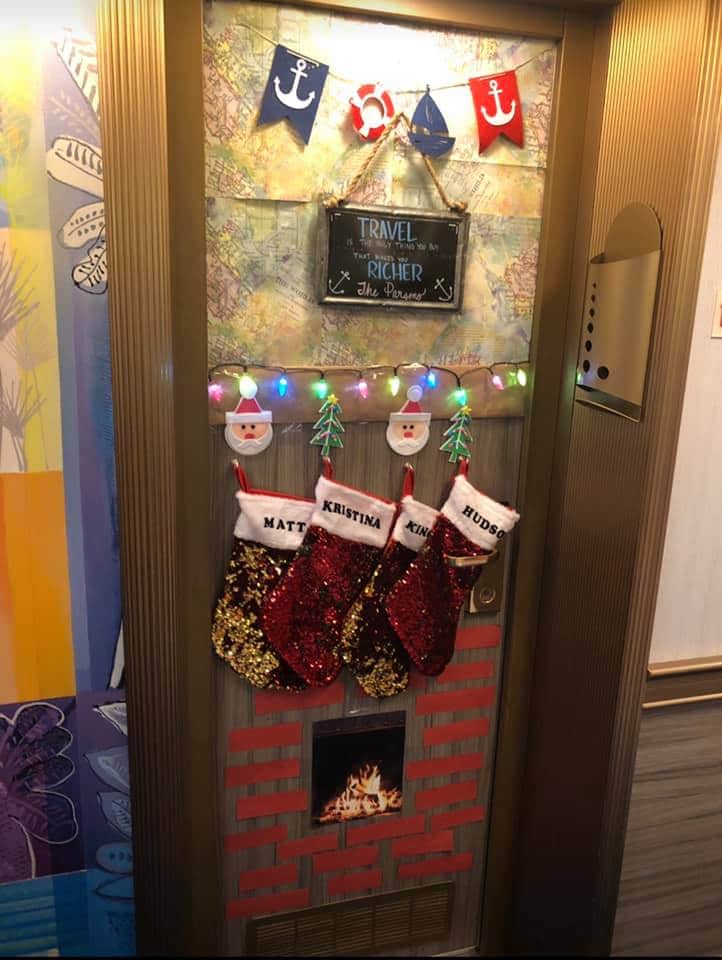 St Patrick's Day Cruise Decorations
Whatever the holiday, you can buy or make cruise door decorations to match, like these fun St Patrick's Day signs.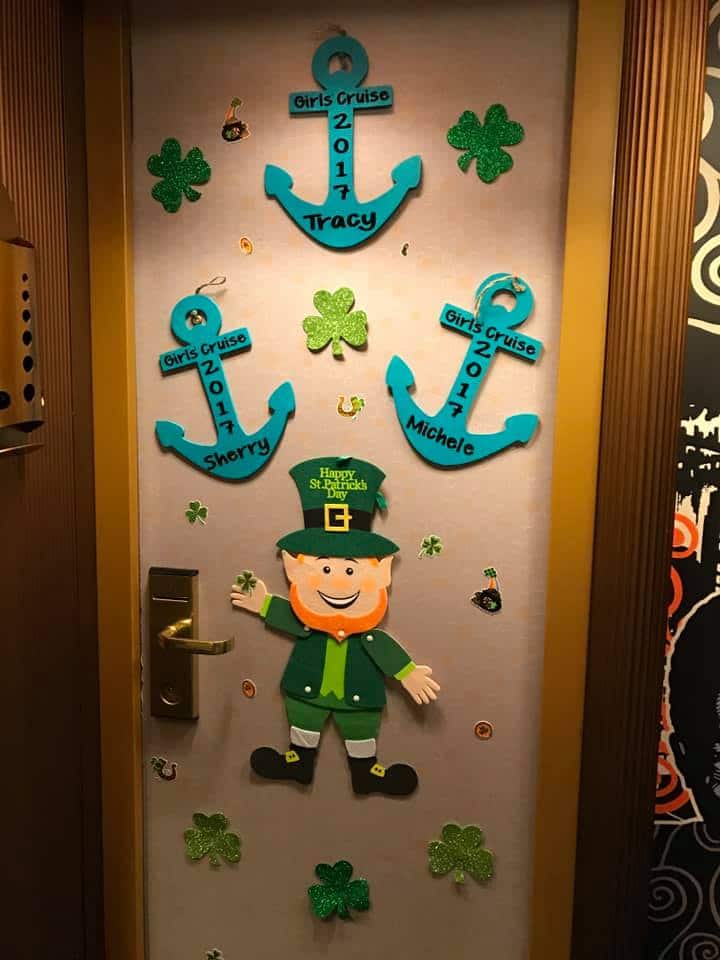 Easter Cruise Door Decorations
This Easter wreath is so cute. Again, you may wish to opt for card and magnets rather than something so bulky for your cruise.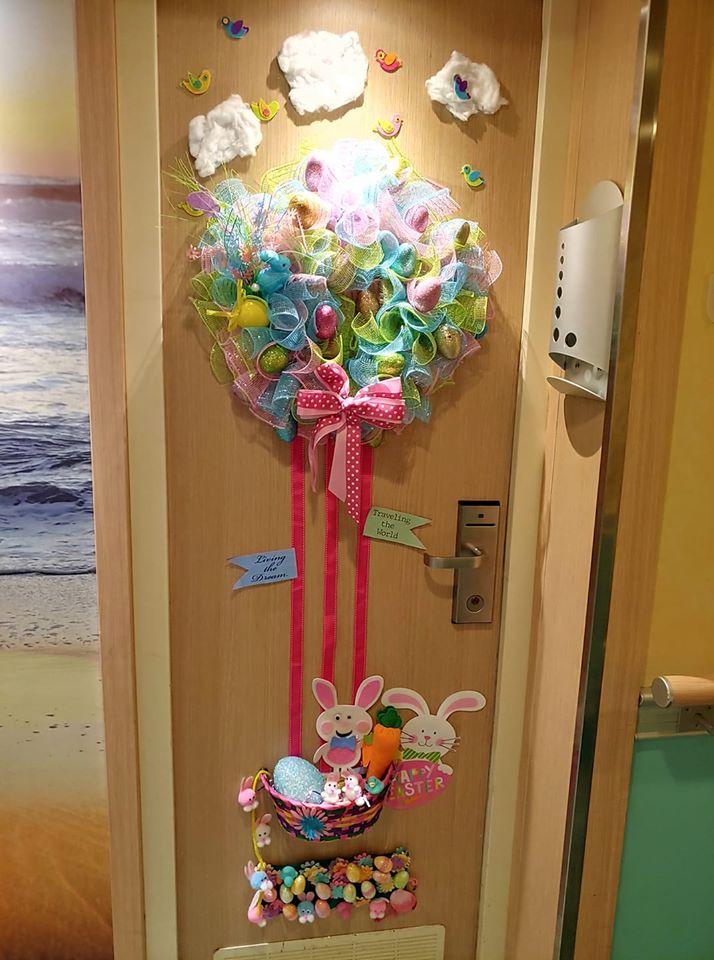 Disney Cruise Door Decorations
Disney cruisers are often the kings of cabin door decorations. Turning that round door number into a Mickey is a common theme, and people often like to add more magnets with their own interests.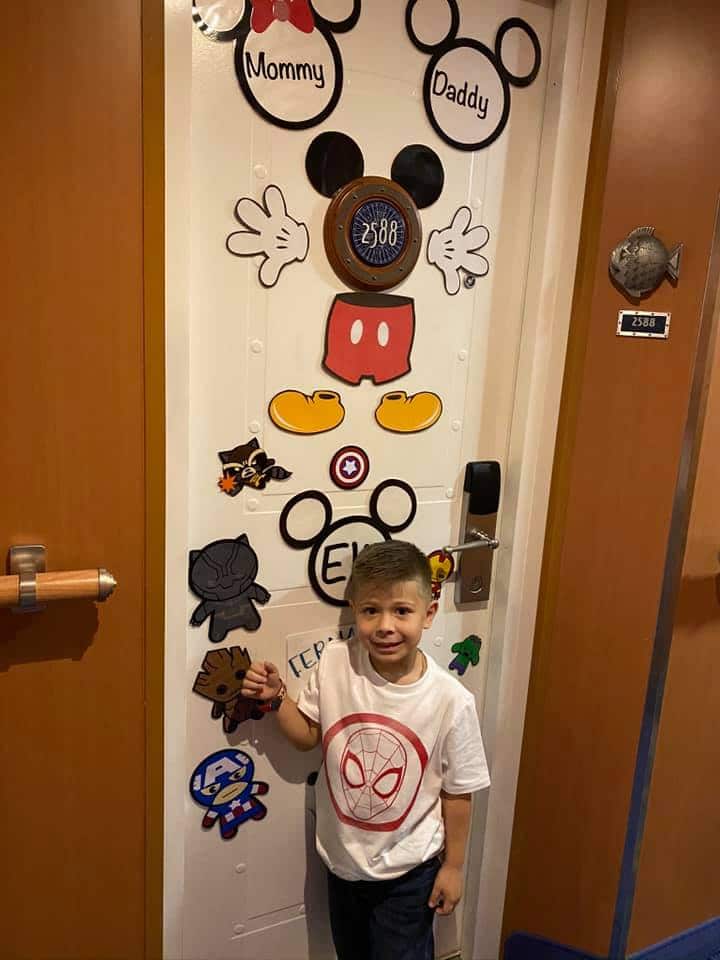 As well as Disney cruise door magnets in Mickey Mouse shapes, Disney cruisers often decorate their cabin door with whatever they fancy to make them unique.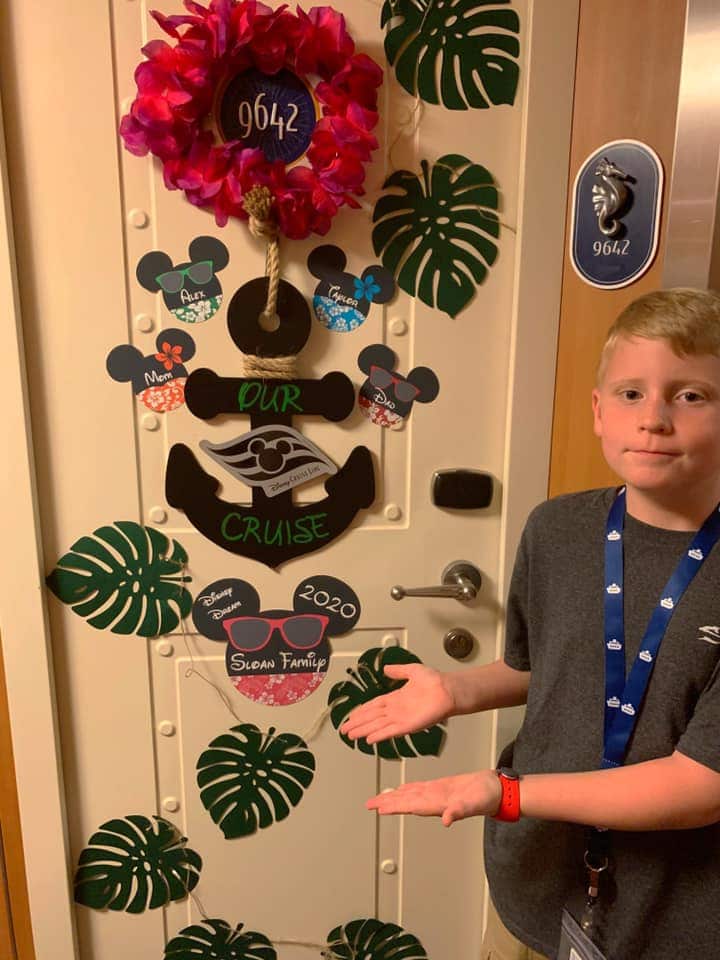 Some Disney cruisers also add fish extenders to their cabin doors. These are gift bags you use to receive small gifts from other cruisers as party of a fish extender gift exchange. Sounds cool? You can read more about Disney fish extenders here.
Message Boards For Cruise Cabin Doors
Whiteboards, chalkboards, dry erase boards and magnetic letters can all be used to create messages on your door which you can change as often as you like.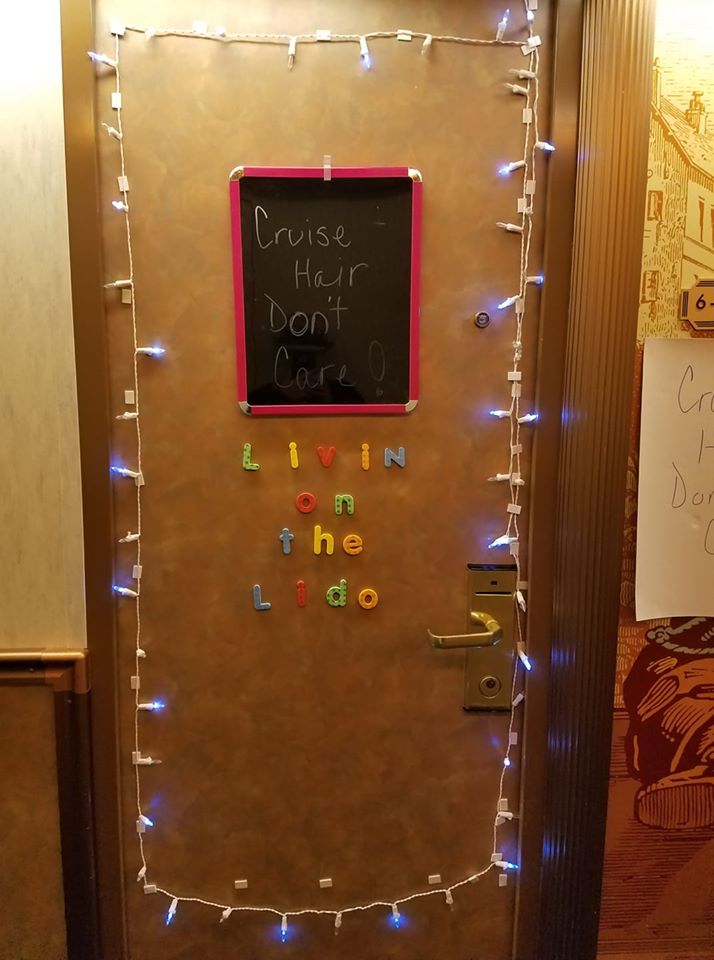 You could even attach pens and paper to create a guest board for fellow passengers to sign.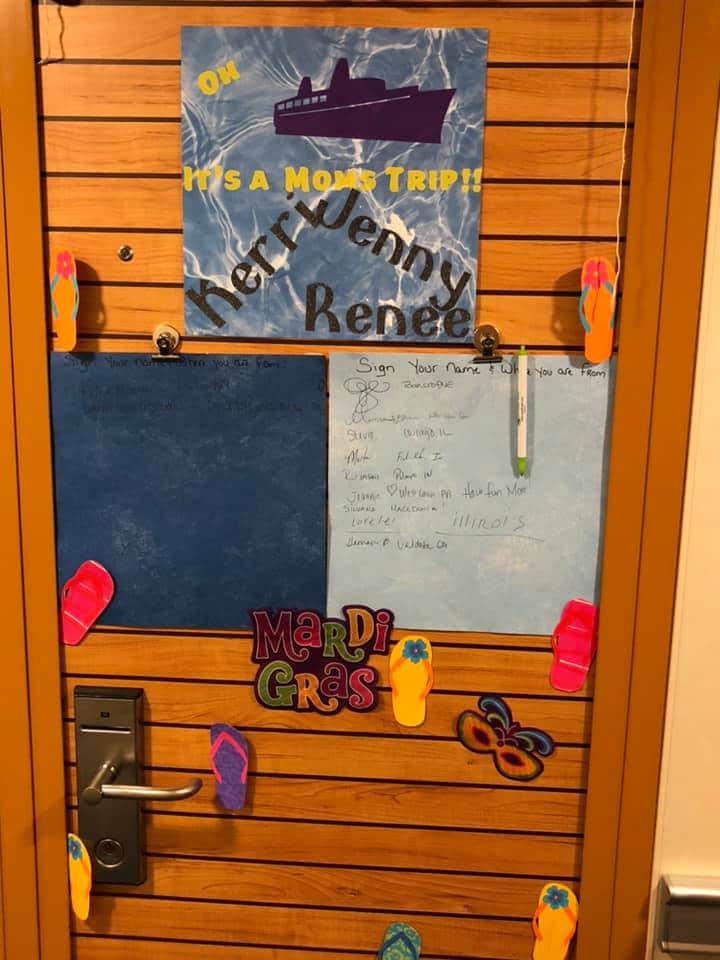 Why Decorate Your Stateroom Door?
Some of the reasons people choose to put up cruise stateroom door decorations include:
1. It helps you to recognise your room
Stateroom doors all look the same except for the number and corridors can be incredibly long. It can be quite tricky to spot which door is yours and it's easy to walk straight past your cabin if you're distracted and chatting.
For people with poor eyesight or learning disabilities like NVLD, cruise door decorations can be incredibly valuable. Many cabin numbers are five digits long and so having something unique, bright and colourful on your cabin door can make it much easier to recognise.
2. To celebrate a special occasion
Taking a cruise is a great way to celebrate a special birthday or anniversary. Whether you want to let everyone know that you're celebrating twenty years of marriage or embarrass your husband on his 40th birthday, cruise door decorations are a great way to celebrate.
This also lets your stateroom stewards know that you're celebrating too, which is a good idea as they might even leave a little surprise for you in your cabin.
3. You can leave messages on your door
Adding a magnetic whiteboard to your cabin door can be a handy way to leave messages for others. If your group is spread across two or more nearby cabins, you could leave a note to let people know where you'll be. Using your mobile phone at sea can be incredibly expensive, so having a way to pass messages can be very handy.
You could also encourage strangers to leave notes for you on your whiteboard, which can be fun. Just remember that if you're on a family ship, not to leave any notes or pictures that you wouldn't want little eyes to see.
4. Meet like-minded people
If you've read my post about pineapple on a cruise ship door, you'll know that this tropical fruit is a secret symbol that swingers use to let others know what they're into.
If wife-swapping isn't for you, then you'll want to make sure that you don't decorate your door with pineapples to avoid any unwanted attention. On the other hand, if you're not shy and are looking for some adult fun on your cruise, a pineapple magnet on your cruise cabin door could be the way to attract it!
Read more: The Best Cruises For Swingers
Cruise Line Rules About Decorating Cabin Doors
The rules about door decorations are different for each cruise line. Be sure to read these carefully before you make the decision to decorate.
General Rules (for all cruise lines)
Any decorations must not be offensive, vulgar or otherwise inappropriate
Decorations must not leave a mark or damage the door. If they do, you'll receive a fine
Decorations mustn't extend beyond the door. Cruise ship corridors are narrow and so any decorations shouldn't block service carts from passing
Carnival Cruise Door Decoration Rules
Decorations may consist only of fire-retardant materials. Items sprayed with fire retardant spray are not acceptable
Decorations may only be placed on the stateroom door and not the surrounding frame, walls or railings
You may use magnets or Command Strips but no adhesives such as tape or glue
Over-the-door hanging organizers must hang inside the stateroom, must also be of fire retardant material and cannot damage the door
No decorations of any kind are allowed on balconies
No decorations or items may be placed over light fittings or fixtures
No string lights of any kind are allowed
Flame Retardant Cruise Door Decorations
If you're cruising with Carnival there's a requirement that your cruise door decorations are fire retardant. Paper and card decorations are likely to go against this rule and be taken down so you may be better off using decorations made of flame-retardant plastic or laminated in glossy plastic.
Disney Cruise Line Door Decoration Rules
You may not affix items to your stateroom doors using tape or any adhesive, including removable gel adhesives
Using over-the-door hanging organizers is prohibited
Light bulb strings are not permitted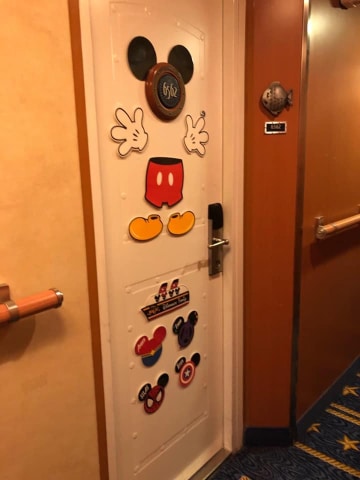 Norwegian Cruise Line Door Decoration Rules
In 2019, Norwegian Cruise Line updated their policy on cruise door decorations to no longer allow any decorating of doors whatsoever.
As per safety requirements, all stateroom door decorations are strictly prohibited on Norwegian Cruise Line. Stateroom stewards have been instructed to remove all decorations and place them inside the room.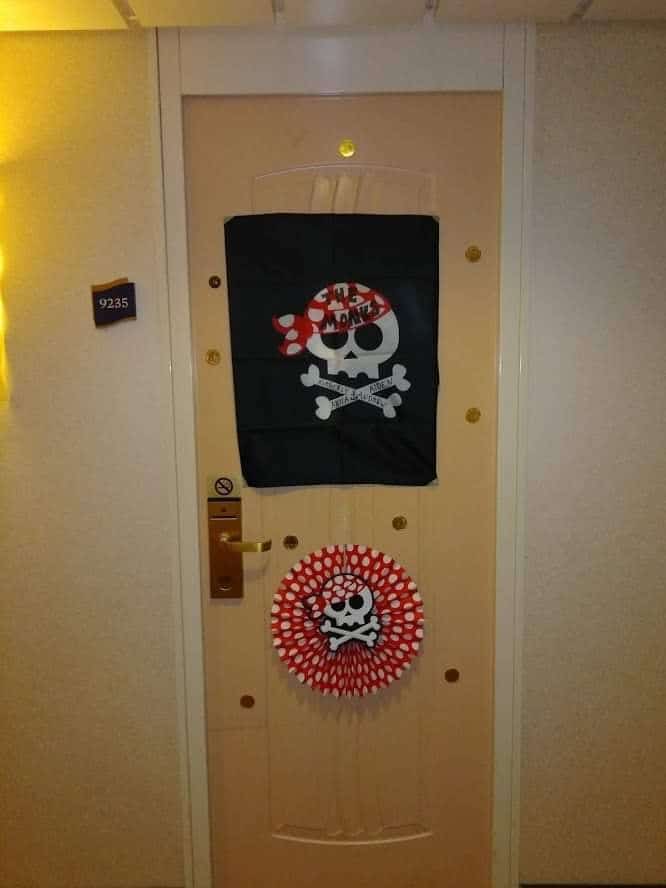 How To Attach Cruise Door Decorations
Glue, tape and gel adhesives are banned on cruise ships. Almost all cruise ship cabin doors (and walls) are made of metal. Therefore, the best way to attach decorations to your door is with magnets.
Sometimes metal cabin doors are painted but sometimes the metal door is covered with another surface. This can mean that sometimes, magnets don't stick too well. It's wise to go for the strongest magnets to be sure that they stick. These strong sticky magnets are a great choice.
Occasionally, cruise ship doors have a wooden veneer, for example, the Concierge staterooms on the Disney Dream and Disney Fantasy. If you're staying in one of these, you'll need to use extra-strong neodymium magnets to get anything to stick.
Read more: Are All Cruise Ship Stateroom Doors & Walls Magnetic?
Where To Buy Cruise Door Decorations
The easiest way to decorate your stateroom door is with ready-made decorations that you can just buy and stick up. Here are some of the most popular places to buy them…
The online store that sells everything also stocks some interesting cruise door decorations, including a good selection of full-length cabin door covers.
The online marketplace for unique homemade crafts, Etsy, has thousands of cruise door decorations to choose from. Many decorations can be custom-made with your names, ship name and sail date if you wish.
3. Craft stores
If you live in the United States, have a look in shops like Hobby Lobby and Oriental Trading as they often have ready-made nautical decorations.
Unfortunately, British equivalents such as Hobbycraft and The Range don't seem to have the same stock of cruise decorations.
4. Dollar stores and pound shops
If you're on a budget, head to Dollar Tree (in the US) or Poundland (in the UK) and see what they have in store. What you'll find can be hit and miss and depends very much on the time of year, but this is certainly worth a look.
5. Buy them from the cruise line
Carnival Cruise Line offers a stateroom decorating service with two horizontal banners, one centrepiece magnet, one door magnet/photo frame with dry-erase marker, two luggage tags and two standard queen pillowcases. These aren't cheap at $70.95.
The cruise line also offers various themed door magnets for $19.95. You can buy these on the Carnival website.
How To Make Your Own Cruise Ship Door Decorations
1. Print a design on your computer
The easiest way to make your own cruise door magnets is to print a design off onto paper using your computer and home printer. You can then laminate it using a self-stick laminating sheet and attach stick-on magnets or magnetic tape. This is such an easy thing to do and you can personalise your design however you like.
See an example below…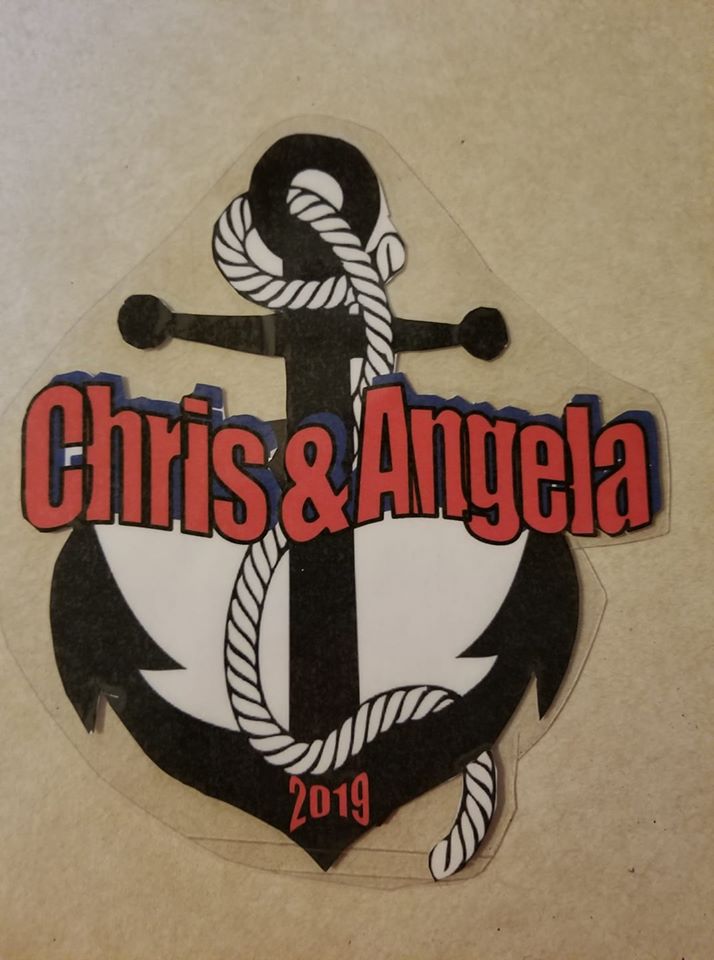 As an alternative to stick-on magnets, you can also buy magnetic paper. This incredible stuff goes into your printer just like normal paper. You can print whatever you link onto it and it will strick straight to your metal cabin door with nothing else required!
2. Draw your own design
Handmade cruise decorations are so cute and this is a project that the whole family can get involved in. Getting your kids to design their own cabin door decorations will not only keep them busy for an hour, it should also get them really excited about your cruise.
3. Think outside the box
Virtually anything can be used to make door decorations and the more unique they are, the better!
Take a look at this cruise door wreath which one clever cruiser made using cheap flip-flops, strong glue and stickers.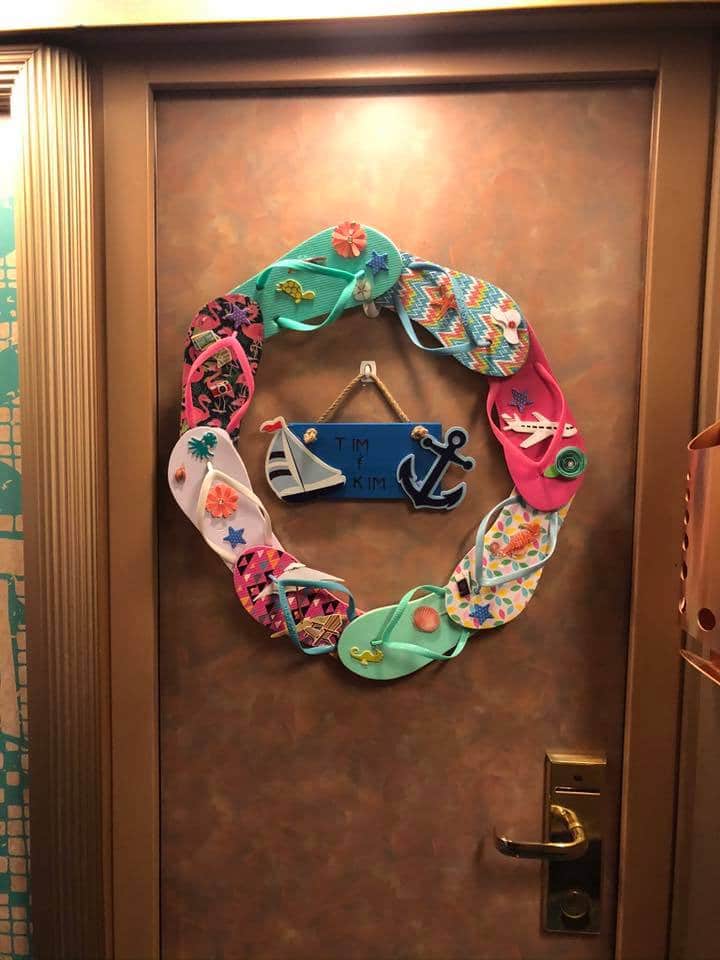 FAQs About Decorating Cruise Doors
Can you decorate your cruise door?
Most cruise lines allow you to decorate your stateroom or cabin door. It's a fun way to celebrate a special occasion and it makes it easier to find your room. Adding personalised decorations means you don't need to check for room numbers.
Can I decorate my door on a Norwegian cruise?
Norwegian Cruise Line is one of the few cruise companies that does not allow you to decorate your stateroom door. The cruise line banned decorations on doors in 2019, claiming that decorations could be an additional fire hazard.
Why do you decorate your door on a Disney cruise?
Decorating your door on a Disney cruise is part of the fun of making your room feel extra special. Guests are encouraged to use magnetic decorations as tape and other adhesives are banned. Be careful, as damaging a door can incur a $100 cost.
What is a fish extender?
Every Disney Cruise Line stateroom has a fish outside that acts as a mailbox. A fish extender is a hanger to allow for more space in the fish mailbox. Guests often take part in organised gift exchanges, leaving small presents in fish extenders.
Are Carnival stateroom doors magnetic?
Carnival's stateroom doors are magnetic, so you are able to decorate your door with magnetic decorations. You can also use Command Strips, but no other tapes or glues are permitted.
Can you bring balloons on a cruise?
Most cruise lines do not permit helium on-board, as floating balloons can become a safety hazard if they are let go on a deck. You'll need to check with your chosen cruise line on regulations around balloons that you blow up yourself.
Are cruise ships decorated for Christmas?
Most cruise lines decorate their ships for Christmas. Decorations tend to be added around Thanksgiving time, and so anyone cruising in late November or December can enjoy a Christmas theme, usually with a large tree in the atrium.
How wide are the cabin doors on a cruise ship?
Cruise ship cabin doors are the standard door width, similar to your doors at home. However, accessible cabins have wider doors so that wheelchairs can easily fit through.
What does a unicorn on a cruise door mean?
The meaning of a unicorn on a cruise ship door depends on personal interpretation. Some may consider it a symbol of uniqueness, while others may see it as a representation of magic and fantasy. Ultimately, it is up to the individual to decide what the unicorn signifies to them.
The Bottom Line
There are lots of ways that you might decorate your cruise ship door. If you're feeling crafty, making your own cruise door decorations is a great way to get excited about your cruise with your kids.
If you're short on time, you'll also find lots of ready-made cruise door decorations that you can buy for your cruise.
Whether you're decorating for Halloween, Christmas, a birthday, or just to celebrate being at sea, you can have a lot of fun by personalising your door.
Just be sure to follow any rules that are set out by your cruise line and avoid anything like tape or glue which may leave a mark.
Related posts: