Cruise holidays are a bit different than other types of travel, and if you've never been on a cruise before, it's easy to feel overwhelmed by the information and choices that you're faced with when you come to book one.
The first thing you should decide, before anything else, is whether or not a cruise holiday would be a good idea for your family.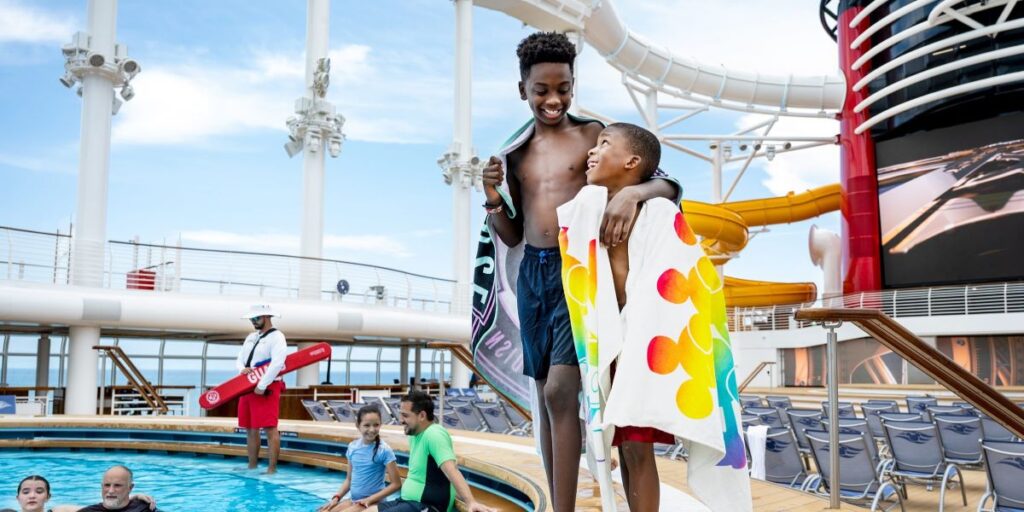 First, let's talk about all the reasons why cruise holidays are brilliant for families. Then, to keep things balanced, we'll address any reasons why a cruise might not be right for you.
First, the fun stuff. Here are the top reasons why cruises can make the perfect family holidays…
1. Nobody Will Ever Be Bored – Guaranteed!
Swimming pools, water slides, splash parks, rock climbing walls, laser tag, surfing simulators, ice skating, bumper cars, trampolines, escape rooms, arcades – the list of activities available on board today's modern cruise ships is seemingly endless!
And if you're wondering how much all that is going to cost you, you'll be pleased to know that the vast majority of on-board activities are included on typical cruise ship holidays. Yay!
Plus, with a different destination to explore each day that the ship docks, you can take your pick from the best theme parks, water parks, animal attractions, museums and beaches in each port of call.
If there's one thing that you will never ever hear on a cruise holiday, it's "Mummy, I'm bored."
2. You Don't Have To Spend The Whole Holiday With Your Kids
Do you feel guilty at the thought of dumping your kids in childcare whilst you sunbathe by the pool with a book? Well, quite frankly, there's no need to.
Cruise ship kids' clubs offer the world's best holiday childcare, so you can relax knowing that your children are well-cared for by qualified staff… and that they're having loads of fun.
Open from early morning until late in the evening, some parents hardly see their kids for the whole cruise! And this isn't because they don't want to, but because they can't prise their brood away from the activities of the kids' club.
Split into several age groups, from pre-schoolers to teens, kids' clubs offer safe, supervised activities which are both fun and educational.
Activities include arts and crafts, cookery classes, treasure hunts, sports and games, dancing, circus skills, games console tournaments, board games, competitions, movie nights and themed parties. And the best bit? It's all free of charge.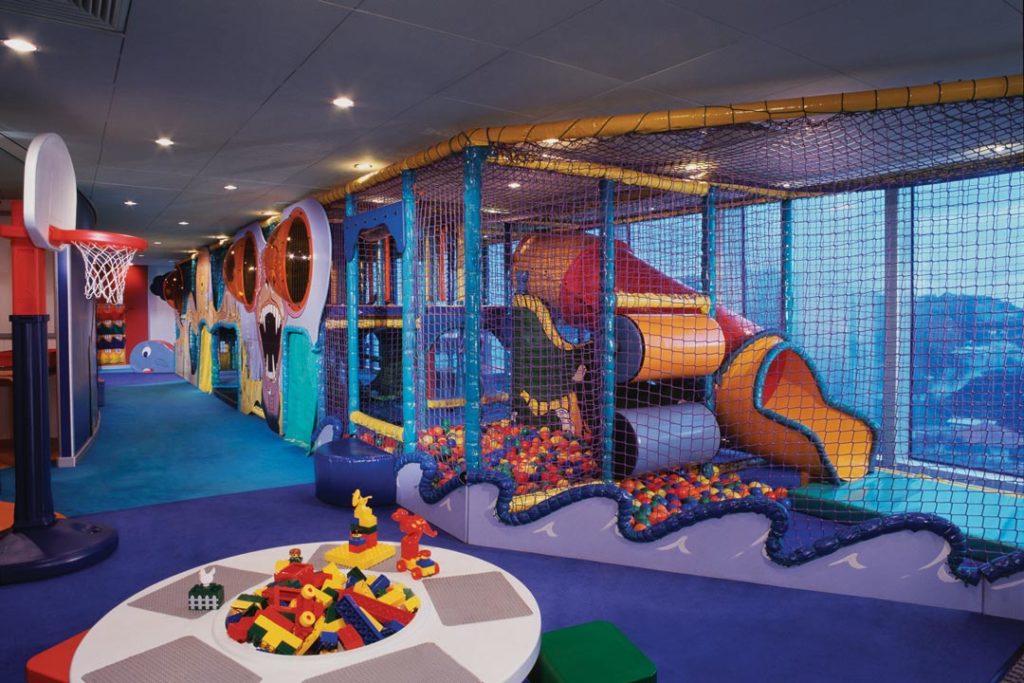 3. Fussy Eaters Are Well-Catered For
Cruise ship food is so delicious – you're pretty much guaranteed to put on half a stone in a week. Included in the price of your cruise is dining at a number of venues, such as the main dining room, the buffet restaurant, snack bars and sometimes even room service.
In case that isn't enough, additional restaurants are also available for a small supplement. Here you can enjoy Michelin-star cuisine with menus designed by celebrity chefs for a fraction of what the same dining experience would cost on land.
On many cruises, you'll find that the menu is inspired by the ports of call that your ship visits, with authentic local produce brought into the kitchen during the cruise. This is a great way to get kids to try new foods from around the world, without worrying about paying for a dish that they don't like!
In the main dining room, children can order the usual favourites off the kids' menu, or, a smaller portion of anything they like from the main menu. In the buffet, the options are seemingly endless and ever-changing.
Cruise ship buffets are open from breakfast right through to late evening, so if you fancy a snack between meals, there's always plenty to choose from.
4. Cruising Is So Much Easier Than Flying
Hands up who likes flying with kids? Are your hands down? Thought so.
There's parking the car, airport security, a cramped flight, sore ears, nappy changes in an aeroplane toilet, tired and cranky kids, more airport palaver and then getting to your hotel at some ungodly hour. Urgh!
With a cruise holiday, UK cruisers can sail from Southampton. Other local ports are available, but this is the main one where most of the family ships sail from.
You can park your car by the ship, and a member of staff will come and take your cases from your car boot and deliver them straight up to your cabin for you. Then you just check-in and walk onto the ship to start your holiday.
Now, tell me again why you were considering flying?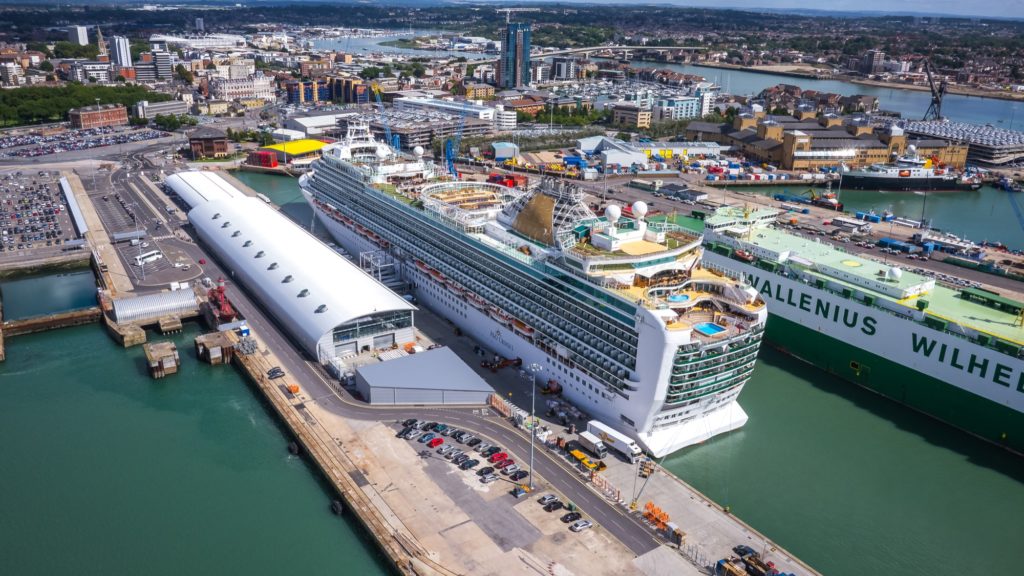 5. You Can Say Goodbye To Luggage Limits
Another great thing about not flying is that you have no limit on the amount of luggage you can take with you.
As someone who's cruised with a baby and a toddler and is all too familiar with how much crap they need, this is a massive plus point. Some cruise lines will even let you shove a litre of gin in your suitcase if you want!
Prefer to pack light? You'll find free-of-charge laundry rooms on many ships, should you need to wash anything.
6. There's A Choice Of Accommodation To Suit Every Budget
There's a huge choice of different accommodation types on board each ship, from inside cabins, cabins with windows and balconies, inter-connecting cabins and family staterooms, right up to the most luxurious of suites.
From a small double room with extra beds that pull down from the ceiling, to huge multi-storey suites with private hot tubs on the balcony, you'll find accommodation to suit every taste and budget.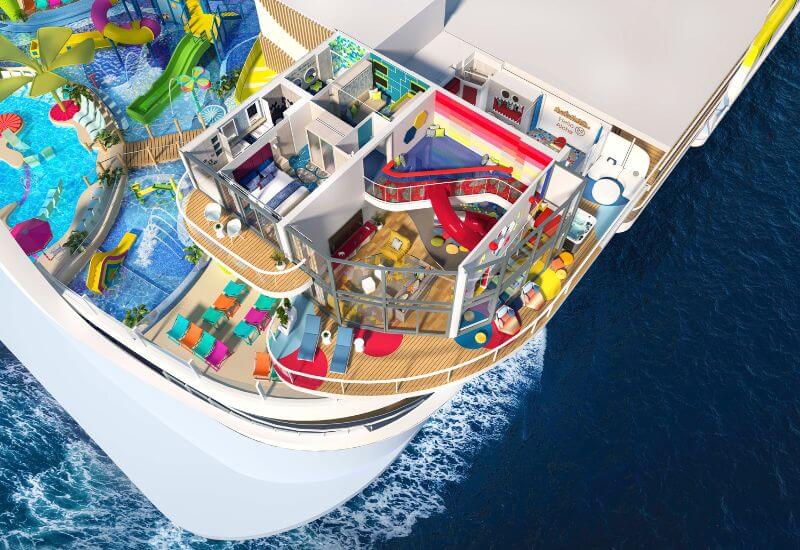 7. The Evening Entertainment Is Fantastic
I must admit, I never really enjoyed the evening entertainment that I've found in many of the European hotels I've stayed in. Kids' discos, quiz nights, bingo, singers, yawn! I've often found myself in bed by 9pm.
On a cruise ship, it's so different.
Each night there'll be a show at the theatre. These shows are of a standard easily as high as the West End or Broadway. And they're free! There's also lots of live music as well as comedians and other acts, so you have a choice of entertainment each evening.
If you want a bit of couple-time in there whilst the children are enjoying a pyjama party in the kids' club, head to the casino, nightclub, or enjoy a late-night hot tub under the stars.
8. Cruises Offer Great Value For Money
The price of your cruise ticket includes accommodation, meals and snacks, selected non-alcoholic drinks, kids' clubs, activities and entertainment.
You don't have to pay for anything else if you don't want to. A travel agent can also arrange flights, transfers and hotels to create you a package deal.
Extras that you may pay for if you wish to include drinks, dining in speciality restaurants, spa treatments, guided excursions and WiFi. Policies on whether or not you're expected to tip the ship's staff vary by cruise line.
You might think that, as you're a captive market, the cruise lines could take the mickey with the price of things like drinks. But they don't tend to, and on many ships you'll find the drinks prices to be similar to those in your local pub. Plus, if you'd prefer to go all-inclusive, drinks packages are available.
If you add up how much you spend on a land-based holiday compared to cruise holidays for families, then you'll most likely find that the cruise holiday comes out cheaper.
Some destinations such as Norway, Belgium and Iceland can be eye-wateringly expensive once you get there. So, if you're planning on visiting any of these, a cruise is likely to be the most cost-effective way to do it. Plus, on a land-based holiday, you probably won't budget for watching Broadway-standard shows almost every night!
Is A Cruise Holiday Right For You?
With so many great reasons to book family cruise holidays, it's no wonder that cruising is so addictive. And it really is addictive!
So are you raring to go ahead and book your first cruise? Or do you have some niggling doubts? Perhaps you're worried about seasickness, hidden charges or the effect of the buffet on your waistline.
I've addressed these issues, and more, in part two of this post:
Read more: 8 Reasons to Not Cruise with Children
Have you cruised as a family before? How did it compare to other holidays you've taken?
Related Posts: