With its dramatic glaciers, beautiful waterfalls and incredible volcanoes, Iceland is a country that deserves to be pretty high up on anyone's bucket list. If you're considering a cruise to Iceland, you'll be pleased to know that taking a cruise is one of the best ways to visit this incredible country.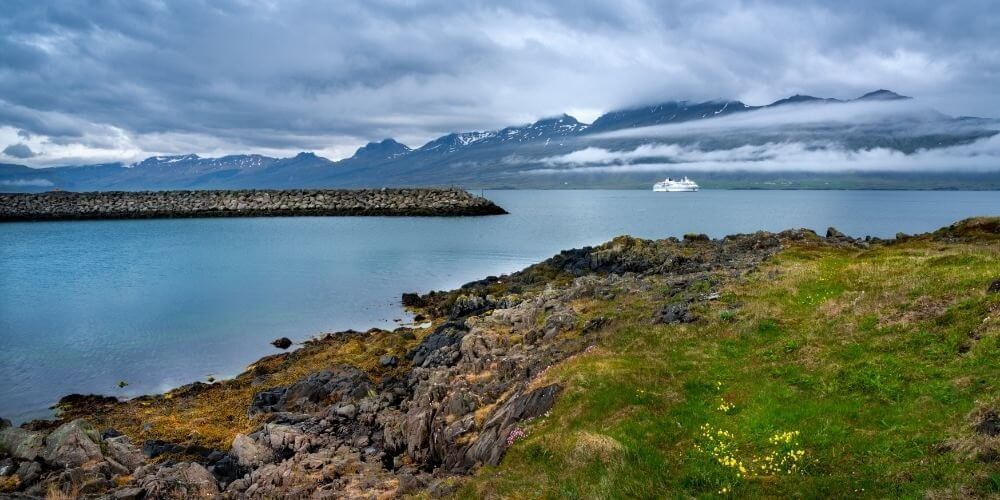 In this article, I'll tell you everything you need to know to plan your cruise to Iceland. You'll learn which cruise ships go to Iceland, which ports you can begin your cruise from and what there is to see and do in Iceland on a cruise.
Cruising to Iceland
Travelling by cruise ship is a popular way to take a holiday to Iceland, particularly for anyone who prefers not to fly. In 2019, 84 different cruise ships visited Iceland on 190 visits, carrying a total of 188,630 passengers.
Iceland is a popular cruise destination for people of all nationalities. In 2019, people from 121 different nations enjoyed cruises to Iceland. Of those passengers, 25% were German, 20% were American and 19% were British. [Source]
Why cruise to Iceland?
There are so many reasons to visit Iceland as it offers so much to see and do. Here are the top five reasons why you simply must explore Iceland at least once in your lifetime…
See the Midnight Sun in summer or the Northern Lights in Winter
Bathe in Iceland's hot springs and toasty geothermal pools
See whales, dolphins and puffins in the wild
Experience harmless earthquakes and volcanic eruptions
Go snorkelling between tectonic plates
Which cruise lines go to Iceland?
You can cruise to Iceland with most of the mainstream cruise lines including:
AIDA
Azamara
Carnival
Celebrity Cruises
Costa Cruises
Cunard
Fred. Olsen Cruise Lines
Hapag-Lloyd
MSC Cruises
P&O Cruises
Princess Cruises
Royal Caribbean
As well as the mainstream family-friendly cruise ships, Iceland is a popular port of call for ultra-luxury cruise lines like Crystal Cruises, Seabourn, Silversea and Viking and expedition cruise lines such as Hurtigruten, Aurora Expeditions and Lindblad.
NEW DEALS JUST RELEASED!
Don't miss these hot cruise offers…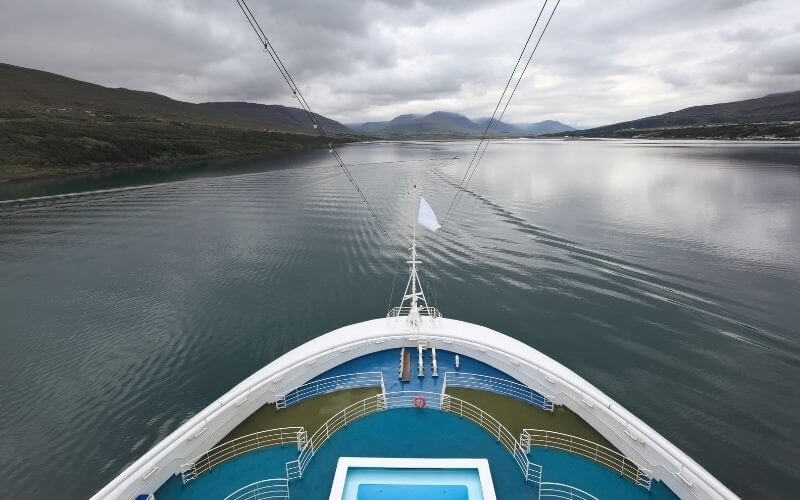 Where to start your Iceland cruise
Located in the North Atlantic Ocean between The UK, Greenland and Norway, you can reach Iceland on cruises departing from various countries. Many Iceland cruise itineraries will also include stops in Norway, Ireland, Scotland as well as Iceland.
Let's take a look at some of the best Iceland cruise itineraries for 2023 and 2024…
Cruises to Iceland from the UK
Most Iceland cruises from the UK depart from Southampton, but you may also be able to find occasional regional departures from other UK ports such as Dover and Liverpool.
Cruises to Iceland from Southampton
There are several round-trip no-fly cruises from Southampton to Iceland each year. These last between 12 and 30 nights.
Round-trip cruises to Iceland from Southampton will be on the following ships in 2022:
Celebrity Cruises – Celebrity Silhouette & Celebrity Apex
Cunard – Queen Victoria & Queen Anne
Fred. Olsen – Balmoral
NCL – Norwegian Prima
P&O Cruises – Aurora & Arcadia (both adults only)
Princess Cruises – Caribbean Princess, Island Princess & Sky Princess
Cruises to Iceland from Dover
If you're aged over 50 you can take a 12-night round-trip cruise from Dover to Iceland with over-50s cruise line Saga. Another option is a cruise on the family-friendly Carnival Price, which is also 12 nights from Dover.
There are also a series of cruises with Seabourn, for those who prefer a more upmarket experience.
Cruises to Iceland from Liverpool
You can cruise to Iceland from Liverpool scheduled in 2023 onboard Fred. Olsen's ship, Borealis. There are several itineries available this summer.
Anotehr option would be to cruise from Liverpool on Ambassador Cruise Line's new ship, Ambition.
Cruises to Iceland from London
You can cruise to Iceland from London Tilbury wioth Saga and also with Ambassador Cruise Line, depending on your age and budget. The ultra luxury Silversea ship, Silver Wind, also has a cruise from London Tower Bridhe to Reykjavik in 2024.
Cruises to Iceland from Scotland
Departing from Leith, Edinburgh, you can cruise to Iceland on a selection of luxury cruises with Windstar Cruises and also with Oceania Cruises. The expedition cruise line, Hurtigruten, also has an itinerary that departs from Edinburgh in 2023.
Cruises to Iceland from Newcastle
There are currently no cruises scheduled from Newcastle to Iceland for 2023. Fred. Olsen did have one scheduled in 2021, so we hope to see a return to cruising to Iceland from Newcastle in the future.
Cruises to Iceland from Hull
The cruise line Cruise & Maritime Voyages used to offer cruises from Hull to Iceland. However, since the company went out of business in 2020, there are no more cruises to Iceland from Hull scheduled at this moment.
Cruises to Iceland from the US
If you live in the United States, it's possible cruise to Iceland without flying. However, most cruises to Iceland from the US are one-way trips. It may actually be easier to fly to Europe and cruise from there.
Cruises to Iceland from Boston
There are several cruises to Iceland from Boston, Massachusetts in 2023 and 2024. These are available with Holland America Line onbaord their ships Volendam, Zaandam and Zuiderdam.
Cruises to Iceland from New York
It's not possible to take a round-trip cruise from New York to Iceland. However, you can cruise one-way from New York to Iceland as a segment of a world cruise, as part of a transatlantic crossing to Southampton or on a one-way cruise from New York to Reykjavik.
There are several cruise lines to choose from, including Norwegian Cruise Line, Princess Cruises, Celebrity Cruises, Regent Seven Seas, Silversea and Oceania Cruises all cruising one-way from New York to Iceland in 2023 and 2024.
Cruises to Iceland from Europe
People travel from all over Europe to cruise to Iceland. When choosing a cruise ship that departs for Iceland from mainland Europe, you should take care to ensure that your language will be spoken on board. Although the German cruise lines welcome English speakers, you may struggle to get by if you can't at least read signs and menus in German.
Cruises to Iceland from Germany
You can cruise to Iceland from the German ports of Hamburg, Kiel and Bremerhaven. These cruises are all with German cruise line AIDA so you may need to brush up on your understanding of the German language for this option.
Cruises to Iceland from Holland
There are several cruises to Iceland from Amsterdam available. You can choose from Royal Caribbean, Celebrity Cruises and Holland America Line and itineraries between 12 and 21 nights. If you don't mind flying to Amsterdam to start your cruise, this could be a good option to consider.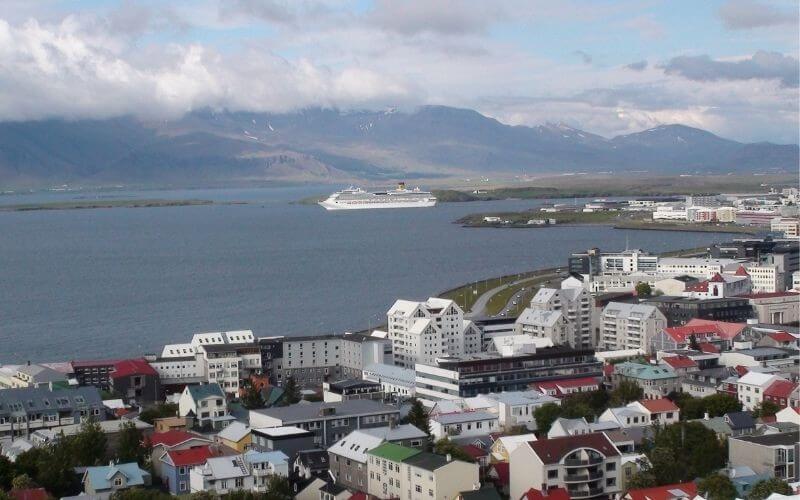 Where do cruise ships dock in Iceland?
Iceland has 17 ports but most of these aren't big enough for cruise ships to dock. There are just three cruise ports in Iceland where medium and large cruise ships can dock. These are Akureyri, Reykjavik and Isafjord.
Some of the smaller ports in Iceland can be visited by small cruise ships, most of which offer an adults-only ultra-luxury or expedition cruising experience.
A list of the top Icelandic cruise ports and the number ships scheduled to call there in 2023:
Akureyri – 96 cruises
Reykjavik – 95 cruises
Isafjordur – 75 cruises
Seydisfjordur – 36 cruises
Heimaey – 22 cruises
Grundarfjordur – 20 cruises
Djupivogur – 11 cruises
Husavik – 11 cruises
Patreksfjordur – 7 cruises
Siglufjorour – 7 cruises
Eskifjordur – 4 cruises
Grimsey – 1 cruise
Things to See on an Iceland Cruise
Here are some of the top sightseeing attractions to visit in the main ports of call in Iceland…
Top 5 things to do in Akureyri on a cruise
Take an excursion to Lake Myvatn to visit the Nature Baths
See the 12-meter tall Godafoss Waterfall
Take a whale-watching cruise from Downtown Akureyri
Take a horse riding tour of Akureyri
Experience the festival of arts and culture in July and August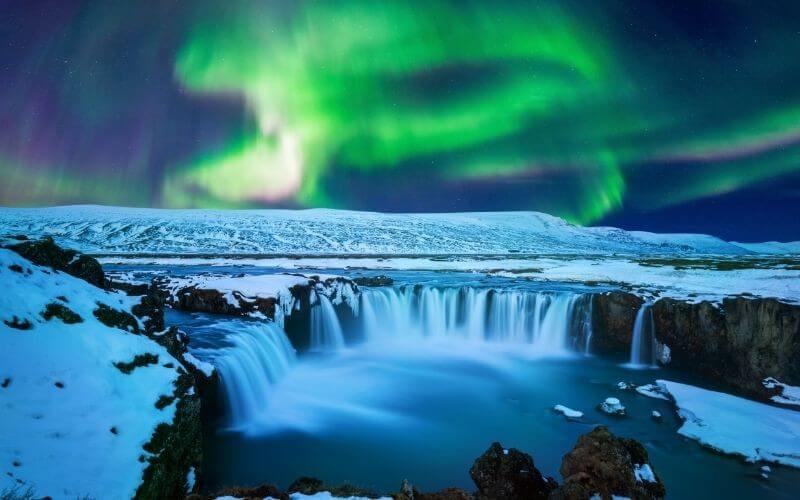 Top 5 things to do in Reykjavik on a cruise
Ride on the hop-on-hop-off sightseeing bus
Take a coach tour of Iceland's Golden Circle sights
See the 'Game of Thrones' filming locations
Bathe in Iceland's famous Blue Lagoon
Visit the Thingvellir National Park for a close-up view of a glacier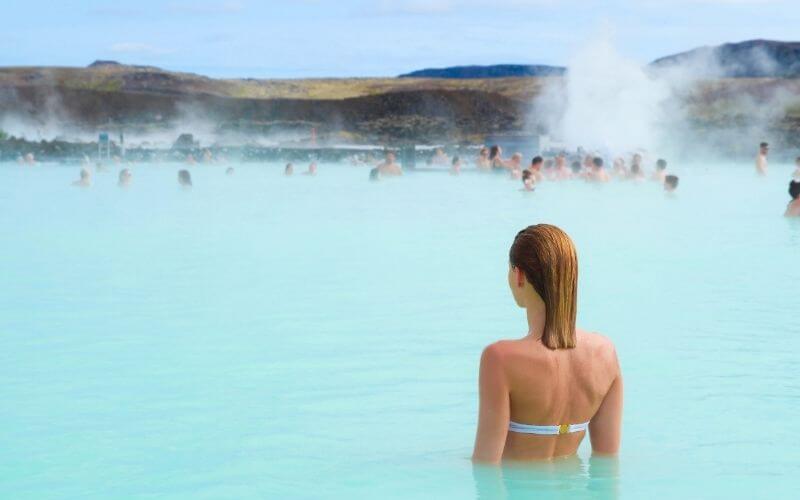 Top 5 things to do in Isafjordur on a cruise
Take a boat tour to the island of Vigur to see puffins
Take a thrilling 4X4 sightseeing tour of the Svalgovar Circle
See the Duynjandi Waterfall and the stunning landscapes of the Westfjords
Visit the Maritime Museum
Take a whale-watching boat trip around Isafjardardjup Bay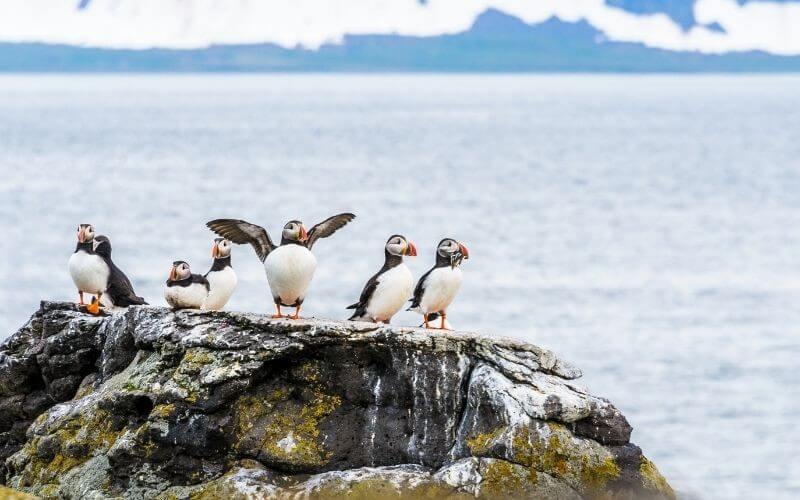 What to Pack for an Iceland Cruise
Iceland enjoys a milder climate than its name might suggest with the weather in Iceland averaging 14°C (57°F) in July, although it can be as warm as 25°C (77°F). Almost all Iceland cruises take place between May and September so there's really no need to pack snow boots and thermals for your cruise.
When you're in Iceland you'll probably hear the joke 'if you don't like the weather, just wait five minutes'. Iceland's weather changes many times each day due to the combination of warm air coming in on the Gulf Stream from the Caribbean and cold Arctic air from the north.
Packing light layers is the key to staying comfortable on your Iceland cruise. You'll also want to make sure that you have a waterproof jacket, comfortable walking shoes and an umbrella. Celebrity Cruises has a good packing list for Iceland.
To conclude
Iceland is a wonderfully scenic destination to visit on a cruise, so you'll probably want to upgrade to a balcony cabin if you can afford to. Most cruises to Iceland include two, three or four ports of call in Iceland as well as some other destinations like Norway or the British Isles.
With so much to see and do in Iceland, it's a good idea to plan your trip in detail before you go, booking guided excursions either with your cruise line or with a trusted company such as Viator.
Related posts: