Such is my love of cruising, that when considering having a third baby, one of the points I thought about in great detail is "Could we go on a cruise as a family of five?"
Whilst many people consider a bigger house or a bigger car, I also wanted to know, "Can we have a bigger cruise cabin?"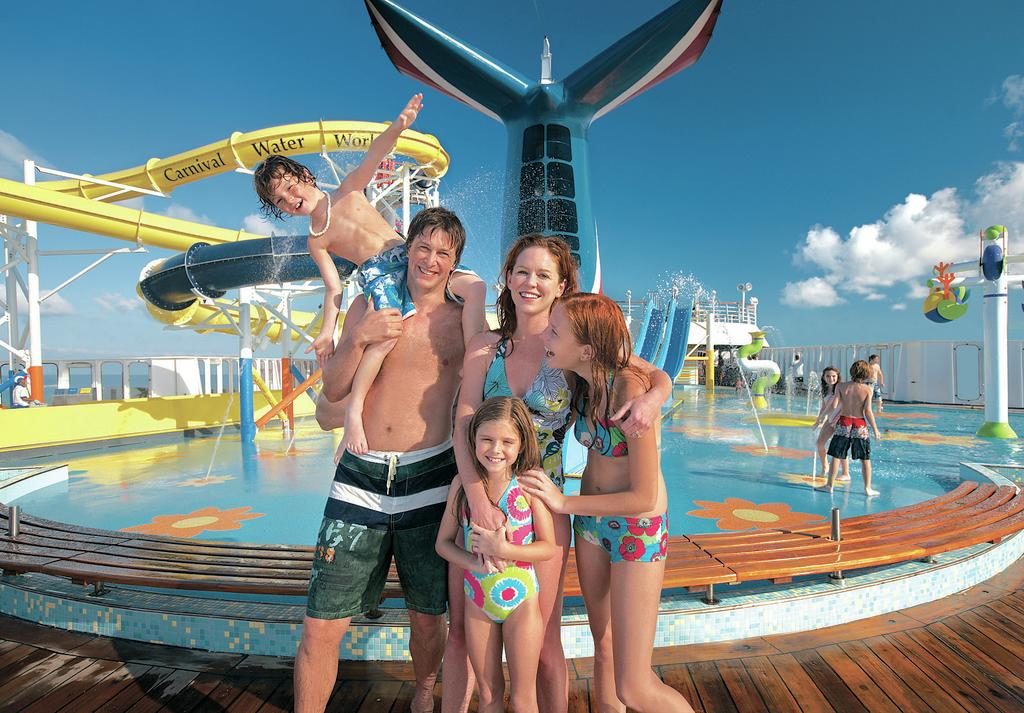 Whilst every family-friendly cruise ship has staterooms that sleep up to four people, once you add a fifth passenger, it can get more complicated, and potentially, much more expensive.
That's not to say that families of five or more should cross a cruise off their list – far from it! It just means that you need to plan a little more carefully and book a little earlier, to get the best cruise deals for a family of five.
Cruise for Family of 5 – Accommodation Options
1. Standard Staterooms That Sleep Five – (the Cheapest Option)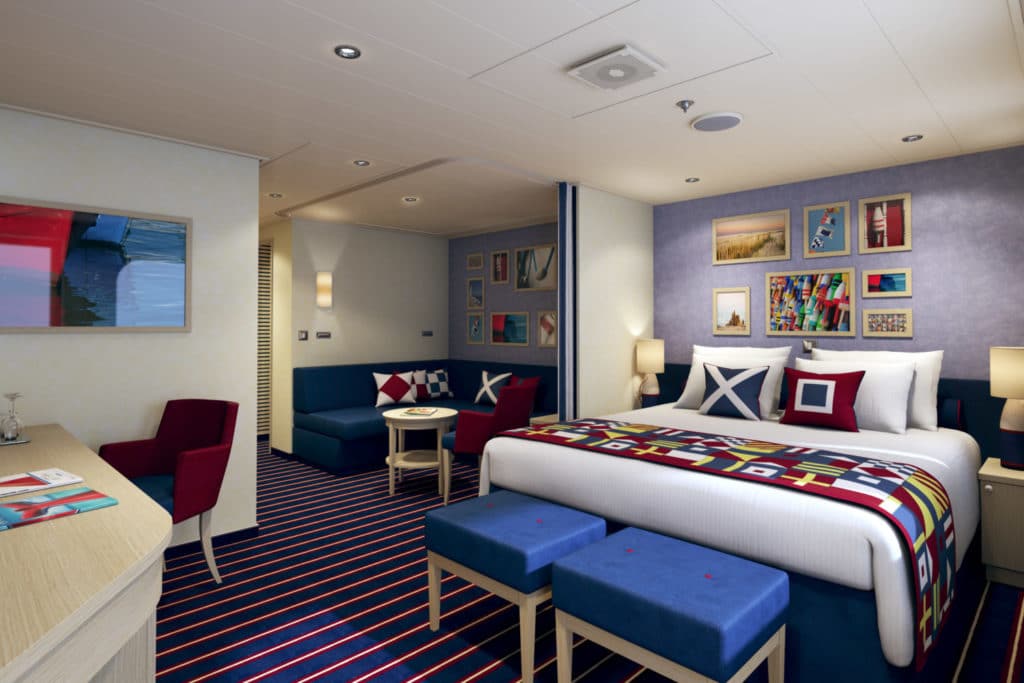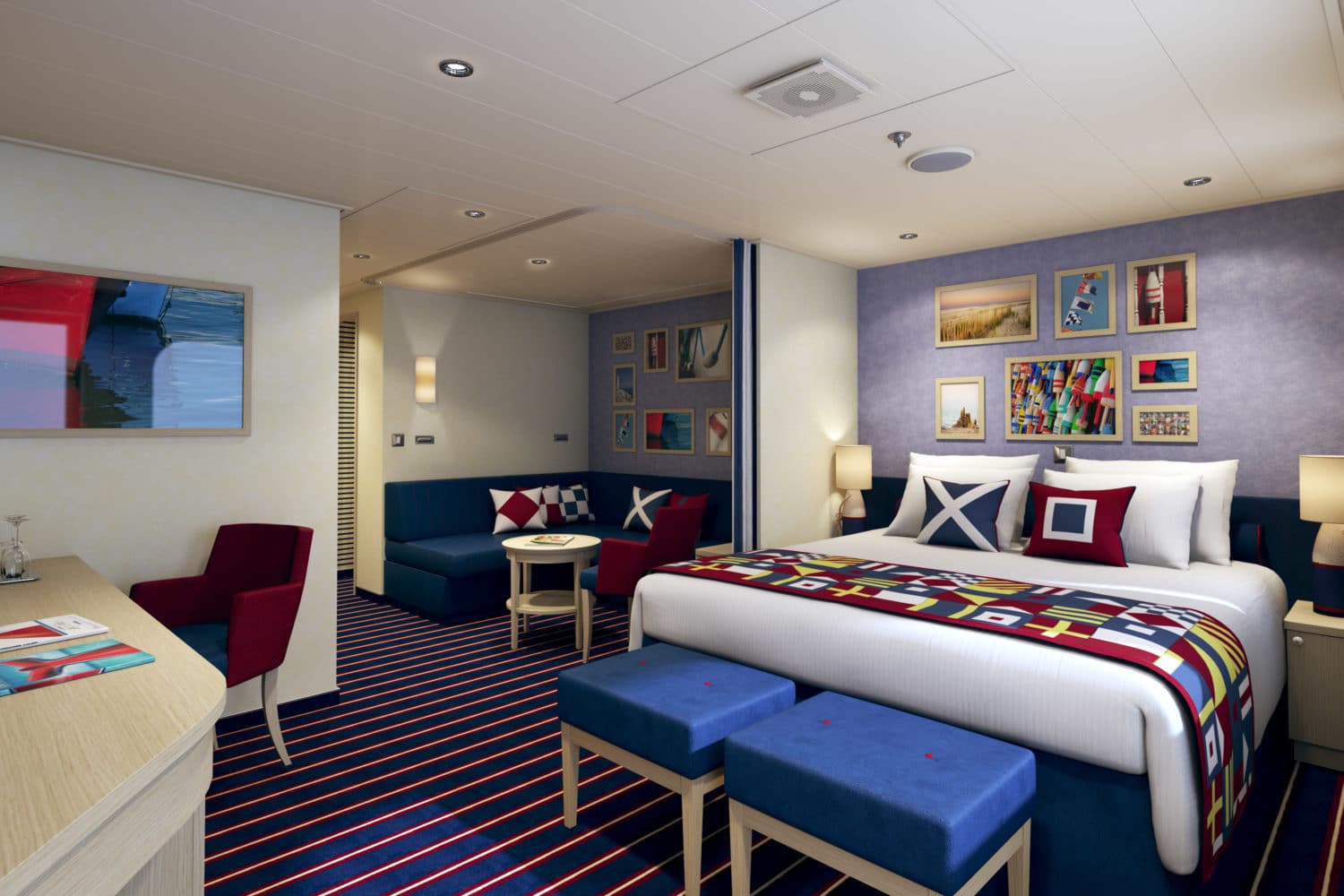 Cruise ships cabins that accommodate five people do exist, but only on certain cruise lines. Even then, you'll only find them on some of the ships, and they may be very limited in availability.
Examples of the best cruise lines with cabins that sleep five include:
Carnival Cruise Line
Celebrity Cruises
Costa Cruises
Disney Cruise Line
Marella
Norwegian Cruise Line
Royal Caribbean
2. Family Suites – (the Most Spacious Option)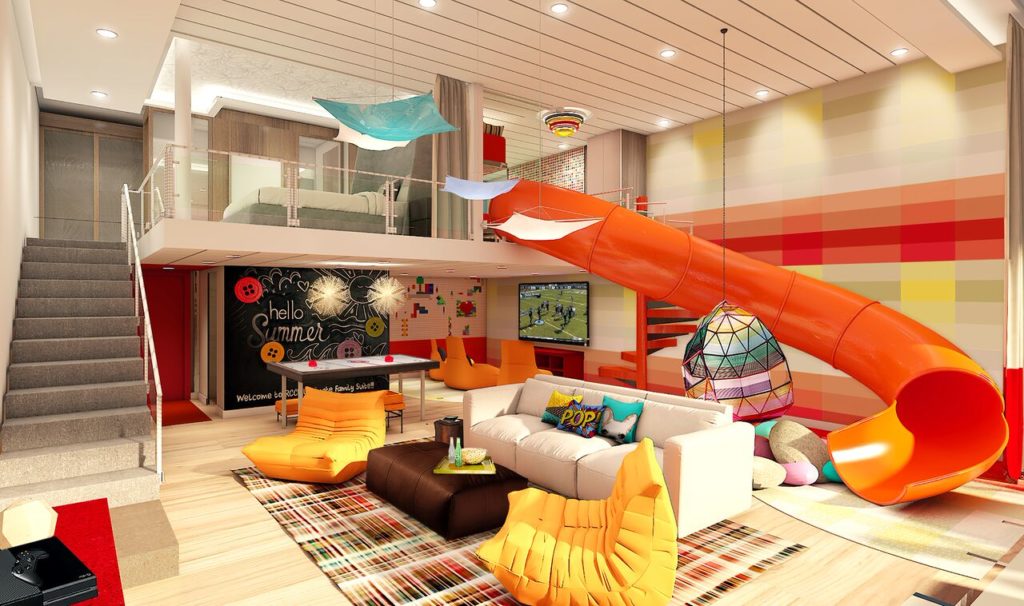 If money's no object, there are some absolutely stunning family suites available.
For example, Royal Caribbean's Ultimate Family Suite onboard Symphony of the Seas is a two-storey apartment that sleeps up to eight people. It features a 3D cinema room with a popcorn machine, a balcony hot tub and even a slide from upstairs to downstairs!
A seven-night cruise for a family of five would cost upwards of £30,000. However, cheaper family suites are available. These tend to have two bedrooms and a living room with a sofa-bed.
Examples of cruises lines with family suites include:
Carnival Cruise Line
Costa Cruises Disney Cruise Line
Disney Cruise Line
Marella
MSC Cruises
Norwegian Cruise Line
P&O Cruises
Princess Cruises
Royal Caribbean
3. Inter-connecting Cabins – (the Most Popular Option)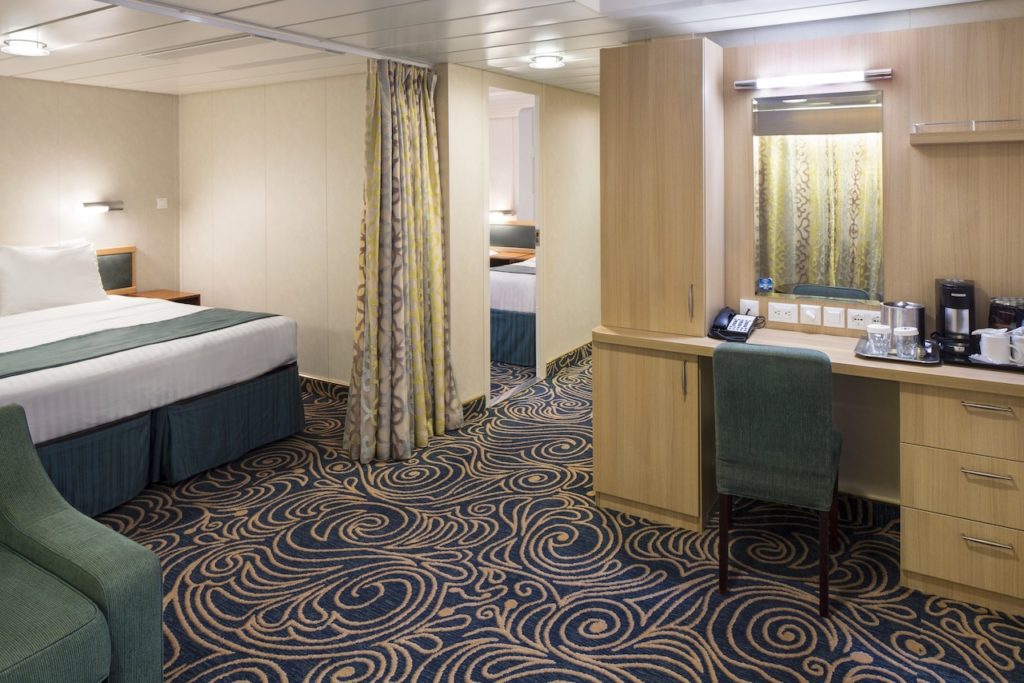 The easiest way to cruise as a family of five is top book two cabins with a connecting door between them. These are available on most family-friendly cruise ships and, unlike staterooms and suites which sleep five, there are usually lots of them available.
The great thing about connecting cabins is that you'll have lots of space, with two bathrooms and privacy for the adults at night.
One of the downsides, however, can be the price. The first two people in a cabin are always charged the full adult fare, regardless of their ages, as any reductions are only made for the third and fourth passengers in each cabin.
Examples of cruise lines offering inter-connecting cabins include:
Carnival Cruise Line
Celebrity Cruises
Disney Cruise Line
Marella
MSC Cruises
Norwegian Cruise Line
Princess Cruises
Royal Caribbean
How to Find Cruise Ship Cabins That Sleep 5
Cruise line's websites aren't the best when it comes to searching for cruise cabins for five people. Often they'll just say 'call us to make your booking'. And travel agents' websites are often even worse.
The best resource I've found online for listing the cabins that sleep five on each ship is this one from militarycruisedeals.com. It also gives you a rough idea of the price of each which is really handy. Other than that, your best bet is to call your travel agent and ask what is likely to be available around the dates you want to travel.
Tips for Booking a Cruise for a Family of 5
1. Book Early
This is so important – definitely my top tip if you want to know how to book a cruise for a family of 5!
If you look at cruises departing in the next 12 months, you're going to struggle to find family staterooms or suites that sleep five. Your choice of connecting staterooms may be limited too, particularly if you're looking to travel in the school holiday period as many families do.
For the largest choice of family-friendly accommodation, you'll want to book as soon as the itineraries go on sale, which can be around 18 months to two years before the departure date. I would recommend doing some research, finding out which ship you want and where you want to cruise to, then when it goes on sale, book it quick!
2. Use a Travel Agent
Booking any cruise independently can be tricky, but when you have a family of five to consider, it's definitely worth using a travel agent to make things easier.
Choose a specialist cruise travel agent and they can look up all the accommodation options for you and offer expert advice to make sure that you book the best cruise for your family of five, at the very best price.
3. Consider Taking the Grandparents
If you need to book two cabins but are a bit put off by the cost of paying full adult fare for the children, then consider taking two more adults with you. This way, you can have two adults and two children in one cabin and two adults and one child in another.
If you do this, you won't be tied to interconnecting cabins – you can have cabins nearby or across the corridor, which hugely increases the availability of accommodation for your family.
If you're lucky enough to find an offer of 'kids sail for free', then bringing along their grandparents as well would cost you virtually nothing!
Aside from the cost savings, there are lots of reasons why cruises are a great option for multigenerational travel. I'm sure you'll all have a fantastic time together.
Have you sailed as a family of five, six, seven or eight? Which accommodation option did you choose? Let me know in the comments below…
Avoid These Cabins
Whoever you cruise with, you'll want to make sure that you pick a good cabin. To make this easier, I've created a handy checklist that shows you exactly what to look out for when choosing a cabin.
To get instant access for free, just enter your email below…
Related posts: