Planning a cruise can be a daunting task, especially when it comes to figuring out where to park your car in Southampton. That's why I've put together this guide – to make choosing the best Southampton cruise parking as simple and stress-free as possible!
I've cruised from Southampton countless times and tried various options for parking. Some have been much better than others! And it doesn't help that there are so many different car parking websites that all want to tell you they're the best.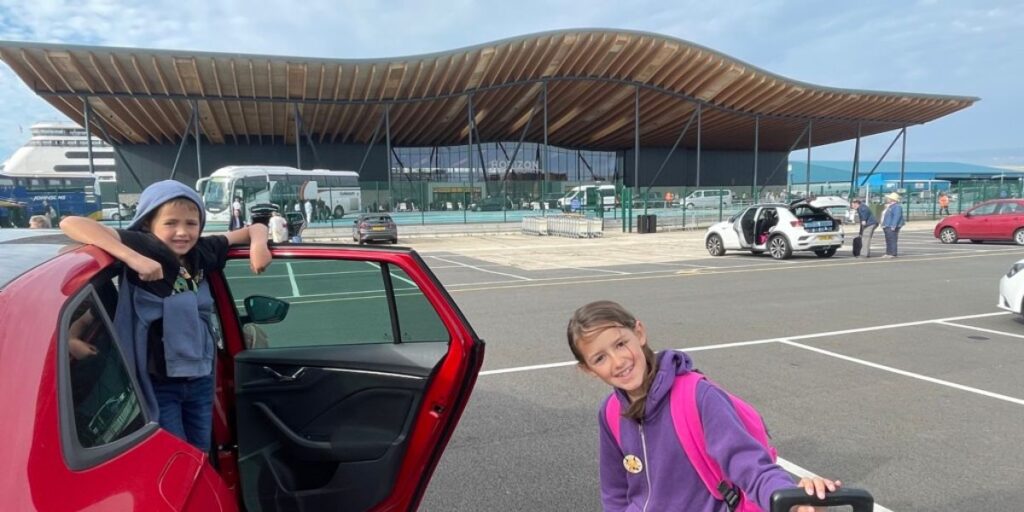 As well as parking at lots of different car parks, I've spent a further 20 hours doing in-depth research and reading other people's reviews to create this unbiased guide to Southampton cruise parking.
So, whether you want the most convenient car park that's right by the ship, the cheapest parking spot or a great value Southampton hotel and parking deal, I'm here for you.
The 4 Best Places To Park In Southampton For Your Cruise
These are my top picks…
| Car Park | Type | Transfer | Price |
| --- | --- | --- | --- |
| Triangle | Park By The Ship | 4 minutes walk | Check Price |
| Portside Meet & Greet | Valet Parking | 1 minute walk | Check Price |
| Airlynx | Park & Ride | 3-5 minutes free shuttle | Check Price |
| DoubleTree By Hilton | Hotel & Parking | 10 minutes taxi included | Check Price |
But if you want more information before you decide, read on and I'll show you all of the options for parking your car in Southampton for your cruise.
I've also included a couple of alternative cruise parking options that you might not have heard of…
The Best Car Parks For Cruises From Southampton
There are many different long-stay car parks in Southampton that are suitable for a cruise. As a rule, the further you park your car from the cruise terminal, the cheaper your parking will be.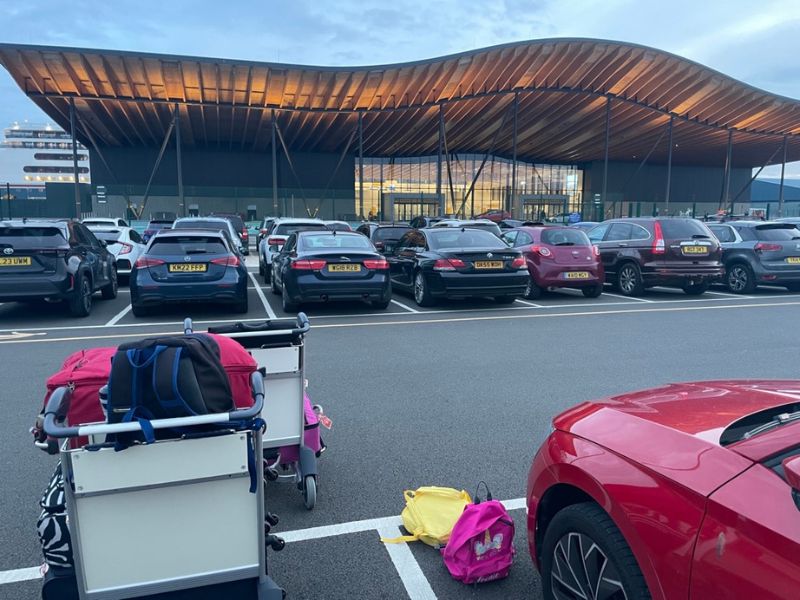 Many off-site cruise car parks include free shuttles, although some options which require you to take a taxi to the ship are also worth considering because what you'll save in parking charges will pay for your taxi and more.
You can find parking for a fraction of the price if you're willing to park further away. But if you want the most convenient option, you can drop off your car right by the ship and have a porter take care of your luggage for you so that you never need to touch it between your car boot and your stateroom
Car Parks Within Southampton Cruise Terminal
The most convenient option for cruise parking in Southampton is to park your car within the cruise terminal itself. This is only an option if you cruise from Ocean, City or Horizon Cruise Terminal.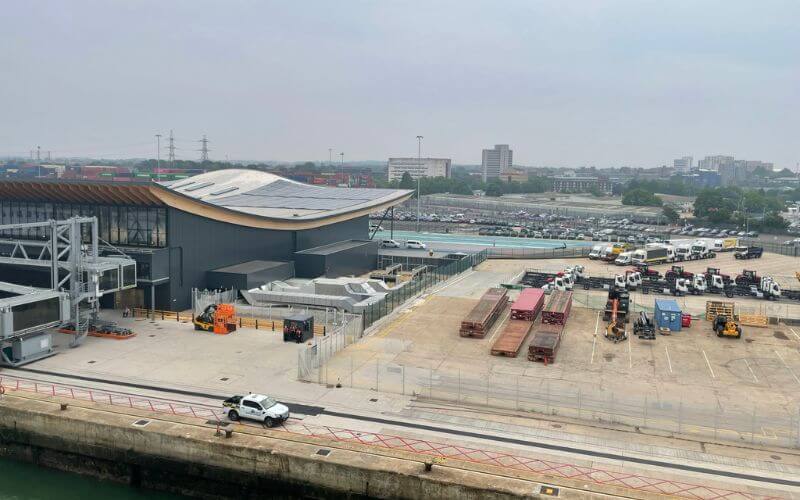 The following companies offer parking at Southampton cruise port…
Triangle Car Park
🏆 Most Convenient for Ocean Terminal
Address: Town Quay, Southampton, SO14 2HJ
Triangle Car Park is the most convenient option for Ocean Cruise Terminal. It offers self-parking, which means that you find a space, park your car and then walk to the Ocean Terminal to join your ship.
You can book parking in Triangle Car Park for other terminals besides Ocean, and these come with an included taxi from Ocean Cruise Terminal to the terminal that you depart from.
BE AWARE
Only Ocean Cruise Terminal is walkable from here
AB Parking
🏆 Most Convenient for Horizon/City Terminals
Address: Ocean Gate, Atlantic Way, Southampton, SO14 3QN
AB Parking is an official cruise parking provider that's owned and operated by the Port of Southampton.
The car park is located next to the City Cruise Terminal and Horizon Cruise Terminal. It's only available if you are cruising with certain cruise lines. These are Royal Caribbean, Celebrity, Fred. Olsen, NCL, MSC, Disney and Saga.
You can also read my full AB Parking Review.
BE AWARE
City & Horizon Terminals only
Certain cruise lines only
If your cruise ship departs from Southampton's Mayflower Cruise Terminal or Queen Elizabeth II Cruise Terminal, you cannot park by the ship as there are no car parks here. You can, however, leave your car by the ship and have a valet driver park it safely for you.
So, read on for the best valet parking options for Southampton cruises…
Southampton Cruise Terminal Valet Parking
Valet parking is also known as 'meet and greet' parking. If you choose this option you will leave your car by the ship and hand your keys to a parking attendant who will move it to a secure car park for you.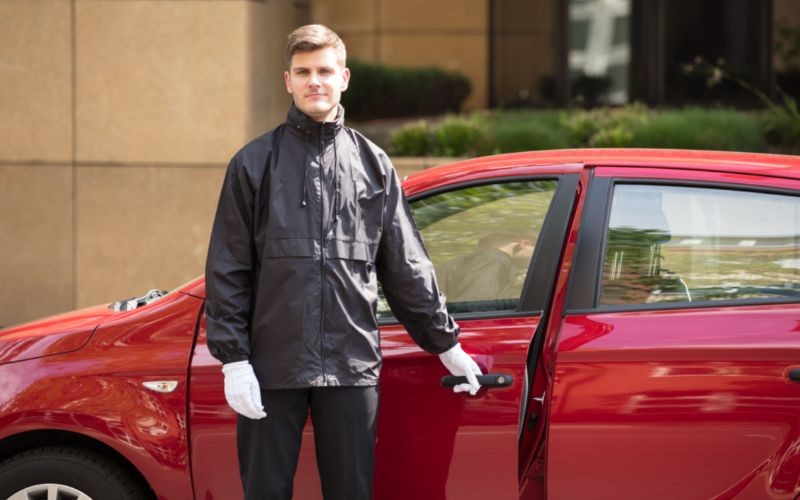 Some people dislike valet parking because they have no idea where their car will be parked and may worry that it is parked at the roadside or some other unsecured location. For this reason, I have only included trusted cruise parking providers with secure compounds.
The following companies offer valet parking at Southampton Cruise Port…
Portside Meet & Greet
🏆 Great Value
Portside Meet & Greet is a family-run business that prides itself on exceptional customer service when it comes to Southampton port parking.
You can drop off your car at any Southampton cruise terminal and it will be parked in a secure, fenced area with CCTV and returned to you when you disembark the ship. Electric cars can also be charged for you.
BE AWARE
Price may differ depending on which website you use to book
CPS Meet & Greet
Cruise and Passengers Services (CPS) offers valet parking at Southampton cruise port as well as other port handling services such as mooring, cargo loading and baggage handling for all types of ships.
CPS parking offers car parking only for passengers cruising with P&O Cruises, Princess Cruises or Cunard.
When you arrive at the port, you will be met by staff who will book in your vehicle and take it to the secure compound for you. You can then make your way to the cruise terminal to check in.
FEATURES
Car cleaning and repair service for extra cost
BE AWARE
P&O Cruises, Princess Cruises & Cunard only
Both on-site parking and cruise terminal meet and greet parking can be very expensive. Plus, it's not available for every cruise.
If you'd like to save money on your parking, I recommend that you consider parking a little further away and getting a free shuttle bus or included taxi.
Southampton Cruise Park & Ride
There are many car parks in Southampton that offer a 'park and ride' service for cruise passengers.
These are located a few miles from the port and usually come with a free coach or minibus shuttle service that will take you from your car to the cruise terminals.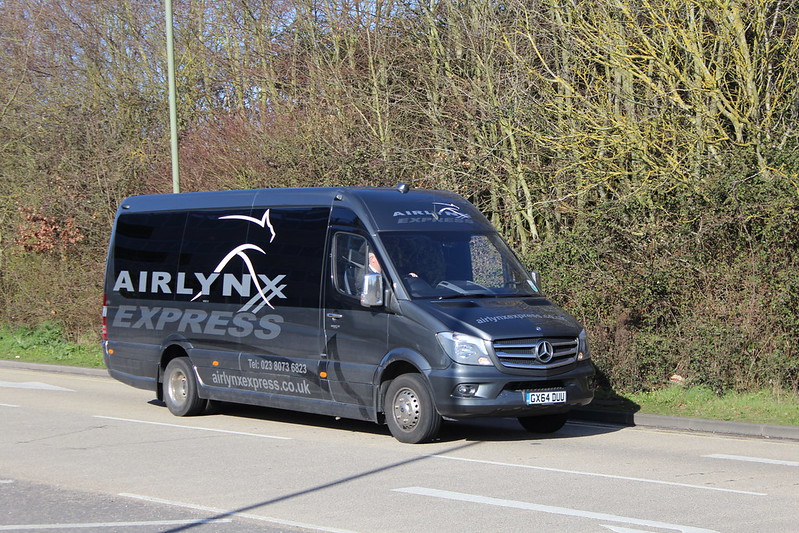 Booking off-site cruise car parking can save you a considerable amount of money compared to on-site self-parking or on-site valet parking.
The following companies offer off-site parking for cruises from Southampton…
Airlynx Britannia Wharf
🏆 Fastest Transfer
Address: Britannia Wharf, Belvidere Road, Southampton, SO14 5JF
Airlynx Cruise Parking offers the best value park-and-ride service for Southampton cruise passengers.
The company has two car parks. The first, located in Britannia Wharf, is the closest off-port cruise parking venue in Southampton. The shuttle journey takes as little as three minutes.
When you arrive at the car park, you hand your keys over to the staff and take the free shuttle bus to your ship.
BE AWARE
Transfers take up to 5 minutes
Address: Wrens Farm, Castle Lane, North Baddesley, Southampton SO52 9LY
Airlynx's second car park is located at Wrens Farm, North Baddesley. This is really convenient for anyone arriving via the M3 motorway.
The shuttle takes a little longer, but you if you're coming from the north, this is often easier than driving into Southampton city centre yourself.
BE AWARE
Transfers take up to 20 mins
These specialist cruise parking providers are all great. But, there are cheaper options available if you know where to look…
Alternative Car Parks in Southampton
There are lots of private car parks in Southampton that belong to hotels, shopping centres and businesses. You can even arrange to park on private driveways or inside lock-up garages.
It's simple to find these if you use a specialist parking comparison websites. You can even filter your search to look for facilities like CCTV, disabled access or electric vehicle charging.
You'll need to make your own way to the port though, so be sure to factor in the cost of a taxi or Uber.
The following websites will show you the cheapest cruise parking in Southampton…
Just Park
Just Park is a website that lets you easily find parking spaces anywhere in the UK.
Perfect for cruise parking in Southampton, this service also does a great job of connecting drivers with people who have driveways that they are willing to rent out.
You can see a photo of the parking space to help you decide. Many driveways have a CCTV camera to give you added peace of mind.
FEATURES
Shows the cheapest and closest parking spaces
BE AWARE
You may need a taxi transfer
Your Parking Space
Your Parking Space has hundreds of car parks in Southampton, including some hotels with cheap car parks that are within easy walking distance of the cruise terminals.
All you need to do is enter your dates to see available car parks close to where you need to be. Then, you can book your parking online and just turn up.
FEATURES
Show spaces with CCTV, covered parking or disabled access
Find spaces with electric vehicle charging
BE AWARE
You may need a taxi transfer
With these parking comparison sites, the further in advance you can search for parking, the more options will be available to you.
Southampton Hotels With Cruise Parking
If you'll be driving for more than a couple of hours to reach Southampton, then it's a good idea to travel down the day before your cruise. This is much more relaxing than getting up early in the morning and worrying about traffic jams that could potentially make you miss the ship!
Many Southampton hotels have special offers for a pre-cruise stay and parking. This could actually work out cheaper than port parking!
Some hotels include a free shuttle bus as part of the deal, but with others, you would have to get a taxi at your own expense.
List of Southampton Hotels with Parking for Cruises:
Southampton B&Bs with cruise parking
It's usually the big chain hotels that have large enough car parks to offer parking for cruise travellers. However, if you prefer to stay at a B&B or guest house in Southampton with cruise parking then I recommend that you take a look at Hunters Lodge and Twin Oaks Guest House. Both have stay-and-park deals for cruisers.
I also have a full guide to Southampton hotels with cruise parking if you'd like more info.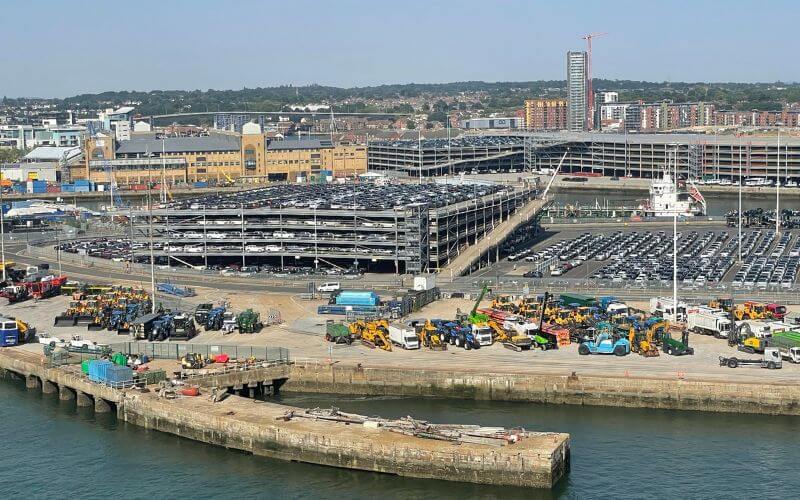 Which terminal will your cruise depart from?
Southampton has five cruise terminals that are spread over a mile of docks, so it's important to know which one you need to get to before you book your car parking.
If you book parking at the wrong terminal, you'll face the stress of a last-minute taxi to the ship (or a long walk with your luggage).
To find out which terminal your cruise will depart from, check your tickets or cruise documents. Alternatively, you can check the Southampton Port website as that will list which ships depart from which terminals.
Southampton Cruise Terminals
Ocean Cruise Terminal: Berth 46, Cunard Road, Southampton, SO14 3QN
City Cruise Terminal: Berth 101, Western Docks, Southampton, SO15 1BS
Mayflower Terminal: Berth 106, Dock Gate 10, Southampton, SO15 1HJ
QEII Cruise Terminal: Berth 38/39, Dock Gate 4, Southampton, SO14 3GG
Horizon Cruise Terminal: Berth 102, West Bay Road, Southampton SO15 1AW
The following map shows the location of the five Southampton cruise terminals…
While cruise ships usually dock at the same terminal each time, this isn't always the case. Sometimes, a ship can depart from one terminal and return to another.
So, even if you've cruised on the same cruise ship before, you should still check your documents carefully for details of which terminal your ship will sail from.
My Recommendation
The best place to park in Southampton for a cruise depends on what's important to you.
When I've cruised from Southampton with a baby, a toddler, two pushchairs and more suitcases than we could pull, I opted to park at the Triangle Car Park at the cruise terminal. It was so convenient!
As soon as we parked, staff were there to take our cases from the boot and we didn't see them again until they were delivered to our cabin! It was really easy, but not cheap.
Now that the kids can walk, I prefer to use Just Park and Your Parking Space to find the cheapest parking within a couple of miles of the port. I then request an Uber which usually arrives in under five minutes and costs only a few pounds. This saves us so much money!
If you're considering staying over the night before, I haven't tried it myself, but I know that a lot of cruisers have mentioned that Doubletree by Hilton does one of the best stay-and-park deals with a free shuttle.
Southampton Cruise Parking With A Blue Badge
Most Southampton cruise parking services offer special assistance for people with disabilities. Blue badge holders are not entitled to free parking at Southampton cruise port, but you will get a space in a more convenient location and assistance with luggage.
To ensure that your needs are accommodated, I recommend that you telephone your chosen parking providers before booking.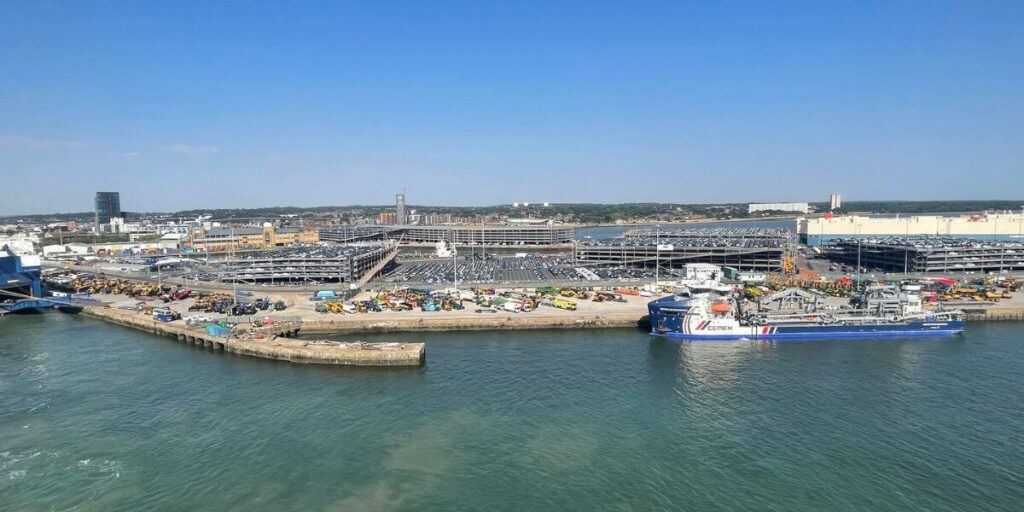 Southampton Cruise Parking FAQs
In this section, I aim to answer some of your most-asked questions about parking in Southampton. If you have any more questions, please add them in the comments below and I will do my best to help.
What is the nearest car park to Southampton port?
The nearest car park to Southampton port is the Triangle car park which is located within Southampton's Ocean Cruise Terminal. If your ship departs from Southampton's City Cruise Terminal then the nearest car park is the ABP Parking car park.

For cruises departing from Southampton's Mayflower, Queen Elizabeth II and Horizon Cruise Terminals, there are no car parks within walking distance of the ship.
Is there parking at Southampton cruise terminal?
Southampton Cruise Terminal offers car parking within walking distance of the ships. The cost for seven nights starts at around £69. Cheaper off-site options are available, some with free shuttles to the terminal.
How much does it cost to park at Southampton Cruise Terminal?
Parking at Southampton Cruise Terminal costs between £10 and £20 per day, depending on demand and how far in advance you book. Alternatively, you can park your car in an off-site car park for as little as £5 per day and take a free shuttle or get a taxi.
Is there free parking in Southampton?
There is no free parking at Southampton Cruise Terminal. Some free parking may be available in residential streets, but many require a permit, and you will have no way of knowing that your car is safe during your holiday.
Can you park on the street in Southampton?
There are designated streets in Southampton where parking is available but not usually for long-term stays. If you're booking a cruise you should book a car park – they are safer and are designed for stays over multiple nights.
What time do cruise ships leave Southampton?
Most cruise ships depart from Southampton between 4.30 pm and 6 pm, although some may wait until the evening. Exact timings vary by itinerary – check your cruise documents for your specific departure time.
Which cruise terminal Does Royal Caribbean use in Southampton?
Southampton's cruise terminals are managed by the port authority, and the terminal used by cruise ships can change. Royal Caribbean ships often use the Ocean Terminal as it's the most modern, although the new Horizon Terminal is also designed for larger ships.
What dock does Princess use in Southampton?
Cruise lines don't have a fixed terminal at Southampton, and your departure and arrival terminals can vary. Usually, Princess Cruises uses the Ocean Terminal but check your cruise documents to be sure.
Related posts:
More cruise parking guides: