If there's one thing that's guaranteed to keep children entertained on a cruise, it's a good water slide!
Cruise ship water slides in 2023 are bigger, faster and wetter than ever before. In fact, the water slides you'll find on ships from cruise lines like Royal Caribbean and Norwegian Cruise Line aren't just for kids – you'll find plenty of adults lining up to take their turn too.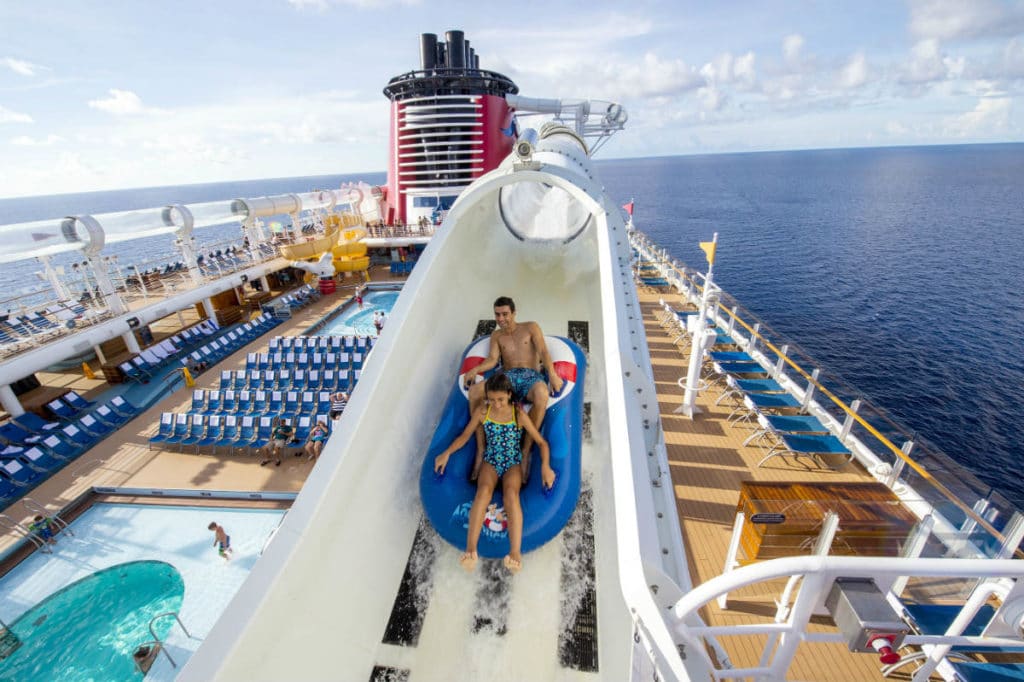 If you're a water slide lover, the slides can be an important factor in choosing a ship for your next cruise. If you're looking to sail on a cruise ship with the best water slides, read on…
1. Navigator of the Seas
Cruise Ship with the Biggest Water Slide
The longest water slide on a cruise ship is The Blaster, which you'll find on board Royal Caribbean's Navigator of the Seas. This whopping 800-foot-long slide was added to the ship as part of an £88 million refurbishment in February 2019.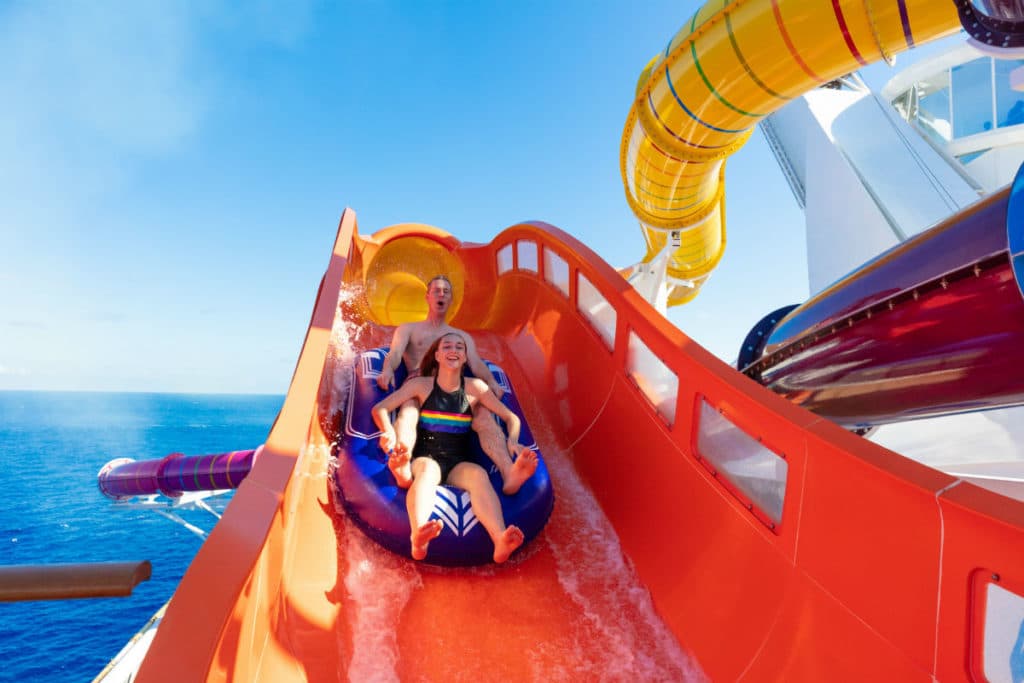 To ride The Blaster, you'll use an inflatable raft, either alone or with a friend. This is a really fun slide with twists and turns through different coloured sections. Some parts of the slide are enclosed and others are open, there's even an uphill section and a clear part that extends over the side of the ship!
As if that wasn't enough, Navigator of the Seas also has another amazing slide. Right next to The Blaster, you'll find The Riptide. This multi-coloured tube slide is a head-first mat racer waterslide – the first of its kind at sea. This slide is lots of fun – as long as you don't mind getting your face wet!
Restrictions for Royal Caribean's Blaster slide:
Minimum height – 45 inches
Minimum weight – 110lbs for one rider
Maximum weight – 400lbs for two riders
Restrictions for Royal Caribean's Riptide slide:
Minimum height – 42 inches
Maximum weight – 300lbs
2. Norwegian Breakaway
Cruise Ship with the Fastest Water Slide
The fastest water slide on a cruise ship is the Free Fall slide which can be found on three of Norwegian Cruise Line's ships – Norwegian Breakaway, Norwegian Getaway and Norwegian Escape.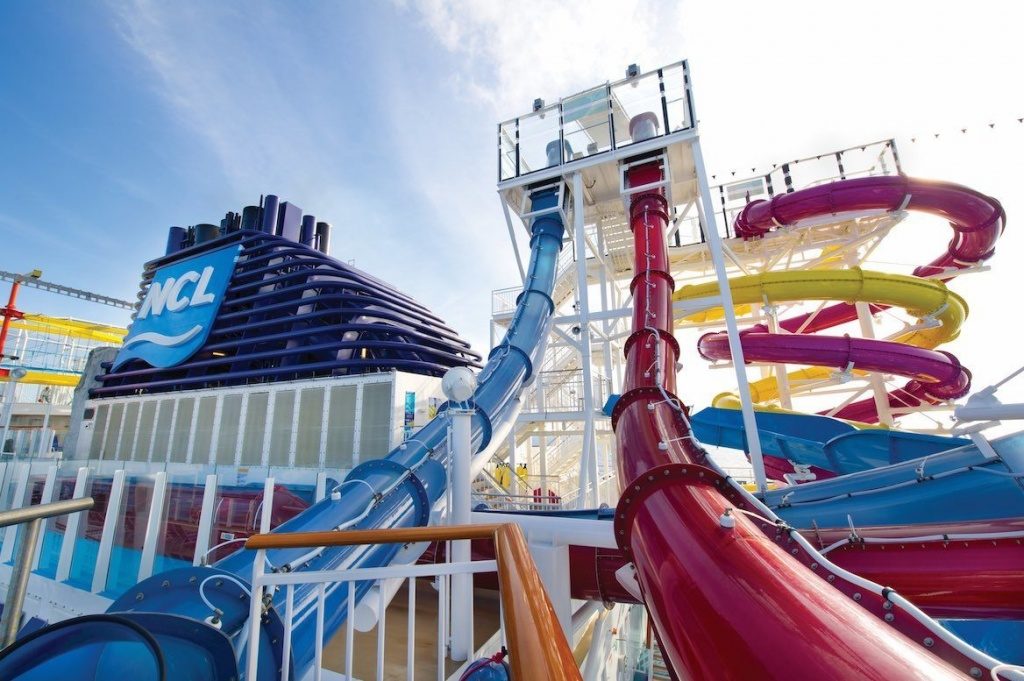 This slide looks cool as it's shaped like a big loop – you drop down it and whizz upwards again. Once you ride the Free Fall, you'll know why it's shaped like that – the uphill part of the loop is to slow you down!
The ride starts when you step into a chamber and stand with your arms crossed as a voice counts down from three. Then, suddenly, the floor drops away and you free fall down the slide, experiencing a g-force of 4 gs. (To help you understand g-force, zero gravity is no g-force, normal gravity is 1g and 5 gs will cause some people to pass out.)
The Free Fall is made up of two identical side by side slides, just in case you need moral support but can't agree who will go down first!
Restrictions for NCL's Free Fall slide:
Minimum height – 48 inches
Minimum weight – 99lbs
Maximum weight – 300lbs
3. Disney Wish
The Best Cruise Ship Water Slide for Younger Kids
Not everyone likes to get splashed in the face or to feel like they might die when they ride a water slide. If you'd prefer a gentler ride, or your children aren't tall enough for some of the bigger and faster slides at sea, then Disney Cruise Line's AquaMouse is just perfect.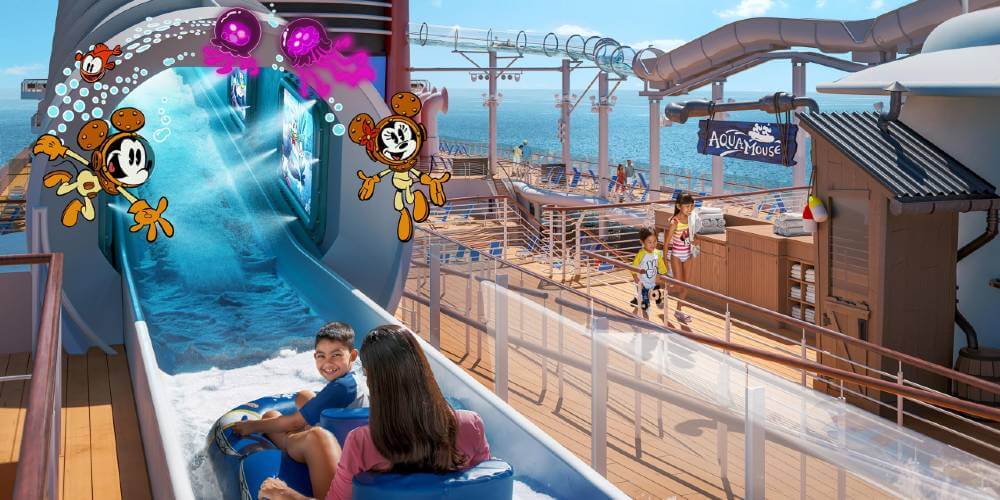 The AquaMouse is considered the first proper Disney Attraction at Sea – meaning it has all the immersive entertainment you'd expect from one of the rides at the Disney theme parks.
The AquaMouse can be found on Disney Wish, and is coming to Disney Treasure too, with different theming/a different story.
This slide is not much shy of being the longest waterslide on a cruise ship, with a length of 760 feet. Riding solo or in a pair, riders use an inflatable raft to coast along, down dips and over uphill blasts whilst enjoying lights, sounds and a story.
Restrictions for the Disney's AquaMouse slide:
Minimum height – 42 inches
Minimum height to ride alone – 54 inches
You can read more about how the waterslides compare on each Disney cruise ship here: Disney Cruise Water Slides.
4. Norwegian Epic
The most fun water slide on a cruise ship
One more water slide that I couldn't possibly leave out of this article about the best water slides on cruise ships is Norwegian Cruise Line's Epic Plunge.
Epic Plunge, which can be found only on NCL's Norwegian Epic cruise ship, is unique in that it has a large bowl where you whizz round and round before plopping out the bottom.
This is my favourite kind of water slide – it's just so much fun. To make this slide even more interesting, guests can choose whether they want to ride with or without an inflatable ring. MSC Virtuosa also has a similar slide but without the option of the ring.
This slide is 200 feet long but feels much longer as you're never quite sure how many times you'll spin around the bowl before slowing down and falling through the middle.
Restrictions for NCL's Epic Plunge slide:
Minimum height is 42 inches
5. Icon of the Seas
Icon of the Seas is the newest cruise ship in the Royal Caribbean fleet, and she's going to be one of the top options for a cruise ship with water slides.
That's because her waterpark includes the following:
Frightening Bolt – the tallest drop slide at sea
Storm Chasers – the first duo mat-racing slides at sea
Hurricane Hunter – the first family raft slide at sea
Storm Surge – the first suspended family raft ride at sea
Pressure Drop – the first open freefall slide at sea
Sound exciting? Read more with my guide to Icon of the Seas waterslides.
Which Slide Would You Like to Try?
So now you've heard about the biggest water slides on a cruise ship, the fastest water slides, and a few which are just really fun. Have you been lucky enough to try any of these? Please share your experience in the comments below. I'd love to know if you found the Free Fall as terrifying as I did!
And if you're looking for a cruise with water slides, now you know some of the best ships to look for. There are lots of options for a cruise ship with water park facilities, though not all cruise lines have slides – so be careful to check when you book.
Related Posts: