Nobody wants their cruise to be spoiled by a bout of seasickness. And while it won't affect most people, there are an unfortunate few who are just a little more susceptible to it, and who may want to take some preventative steps in order to fully enjoy their cruise.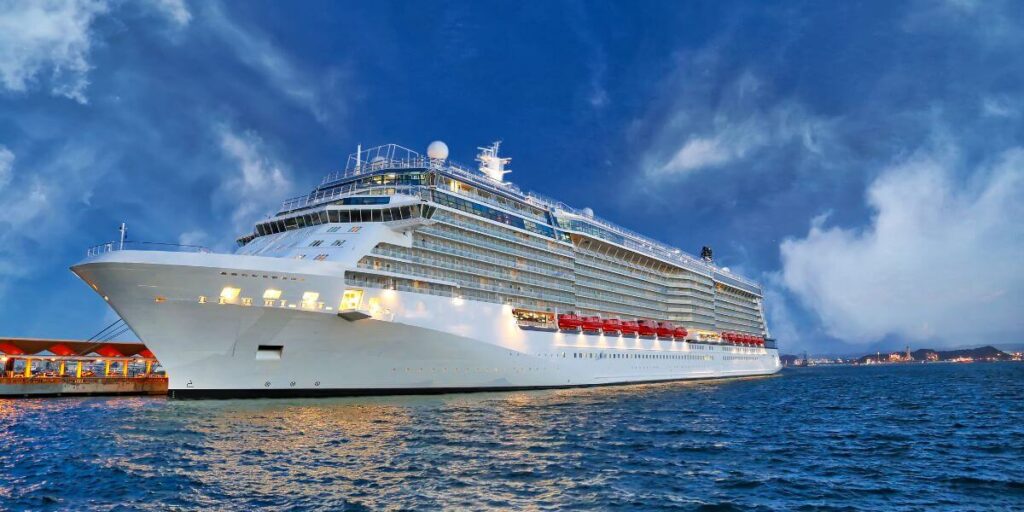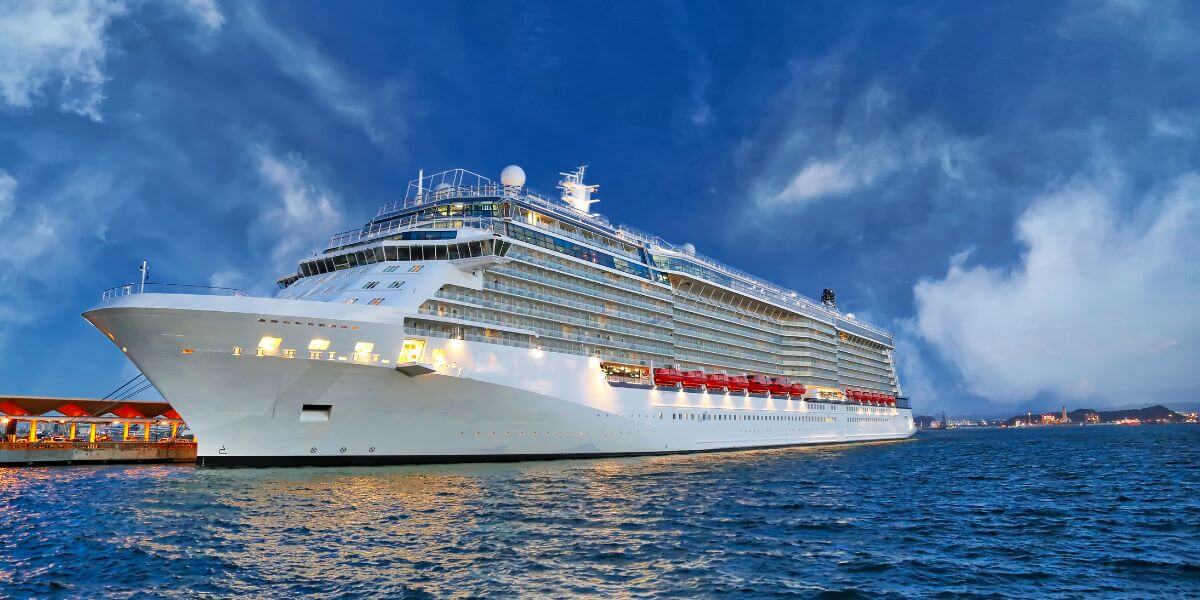 Thankfully, there are a lot of things you can do to help stave off any nausea and allow you to relax and enjoy the holiday you've been waiting for. If you think you're someone who would get seasick on a cruise then make sure to use these tricks and tips to minimise the risk.
And then you can enjoy all the food and drink you've paid for without having to worry!
How to Prevent Seasickness on a Cruise
1. Choose a large ship
Seasickness is caused when you feel the ship moving on the ocean. And it's a simple scientific fact that the larger the ship, the less likely you are to feel the motion.
It takes a lot longer for a wave to rock a larger ship, slowing down that sensation of movement. And so for a person standing on a ship, you'll feel the actual movement a lot less.
If you've never cruised before, it's definitely worth choosing one of the bigger ships as your first one. You'll be more likely to enjoy it without worrying about nausea, and if you don't feel any bad symptoms then you can try a smaller ship on your next holiday.
Read more: Do big cruise ships rock less?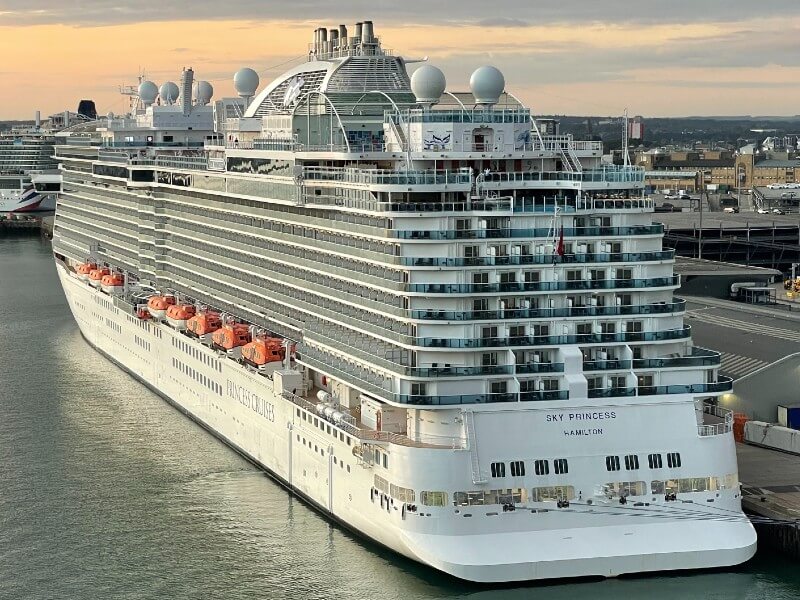 2. Choose a modern ship
Going hand-in-hand with choosing a larger ship, it's better to choose one of the newest ships for your first cruise too. Ships have stabilizers that help to cut down on how much you feel the motion when you're on the ship, and on more modern ships these are a lot more effective and efficient.
Older ships do have stabilizers but they're not as technologically advanced, so do yourself a favour and book yourself on the largest and newest ship that you can afford to, and then you'll be able to test your limits in comfort. Plus, you'll also enjoy all the other benefits of being on a modern, large ship packed with exciting features too!
Read more: New cruise ships for 2023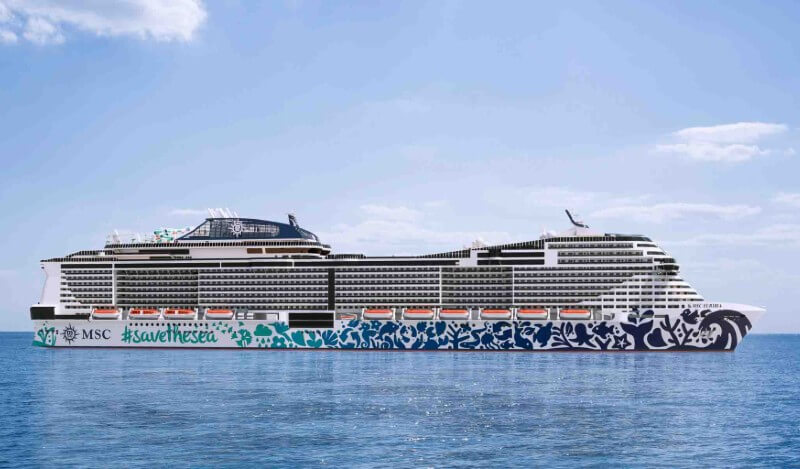 3. Choose a lower deck midship stateroom
The location of your stateroom plays a huge part in how much you'll feel the motion of a ship on the waves. A ship, when travelling forwards, almost pivots from its center – moving up at the front of the ship before dropping back down.
So you can counter this by booking a stateroom as close to the middle of the ship as possible. Also, aim for a lower deck too – the ship moves the very least at the bottom, so the lower and more central you are, the least you'll even feel it moving.
Read more: The best deck on a cruise ship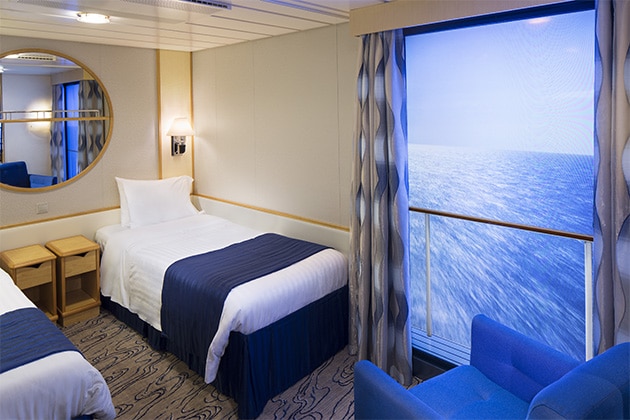 4. Choose a balcony or verandah stateroom
When it's the ocean causing you to feel sick, you might feel like you don't want to look at the water. But a balcony or verandah stateroom can actually be really beneficial if you're feeling seasick.
It's been proven that being able to focus on a fixed point – in this case the horizon – can help to steady you and get your senses in check. Also, fresh air is known to help calm any sickness feelings and make your stomach settle. So even if you're just sitting on your balcony, you can breathe fresh air and focus on that horizon line – you'll feel better before you know it.
One important tip – if you're choosing a lower mid-ship stateroom with a balcony because you're worried about seasickness, make sure you opt out of upgrades. Otherwise, you might get an 'upgrade' that you don't want to a room that's more likely to make you feel sick.
Read more: How to upgrade your cruise cabin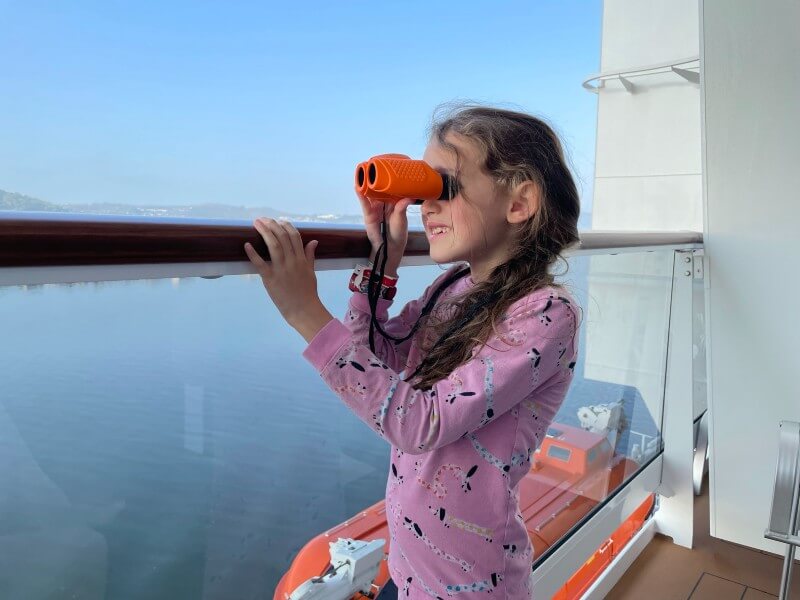 5. Choose your destination carefully
There are some cruise destinations which are more notorious than others for choppy waters, and no matter how well you prepare, if the waves are rough then you are more likely to feel sick.
If you're concerned, avoid booking cruises that cross an ocean – they're more exposed and so waves aren't broken up by land. The Bay of Biscay off the west coast of France and north of Spain also has a reputation, as does the Gulf of Alaska. One of the worst is the Drake Passage off the southernmost tip of South America.
Read more: The 8 roughest seas for cruise ships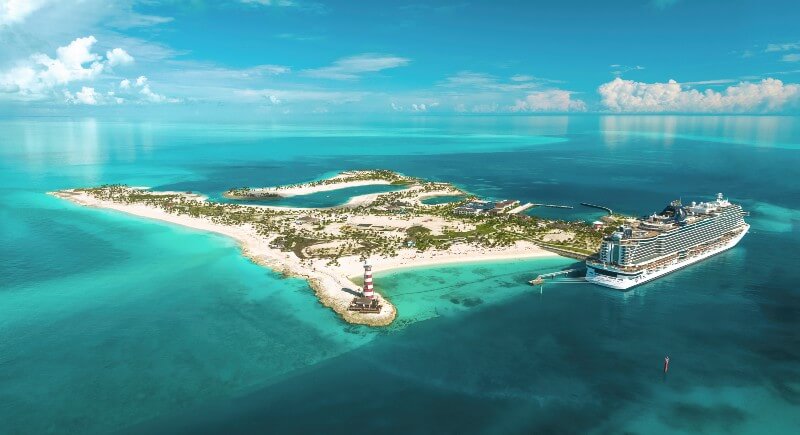 6. Choose the best time of year for your cruise
Even cruise destinations that are normally fine can sometimes have seas that are a little rougher at the wrong time of year. Choosing your itinerary carefully is a good way to minimise the risk of seasickness.
Avoid the Mediterranean during the autumn and winter months when storms are more likely, while hurricane season in the Caribbean (June to November) can also be a little more action-packed than you'd like. Aim for calmer seasons and you should find calmer waters – simple, really.
Read more: What happens if there's a hurricane while on a cruise?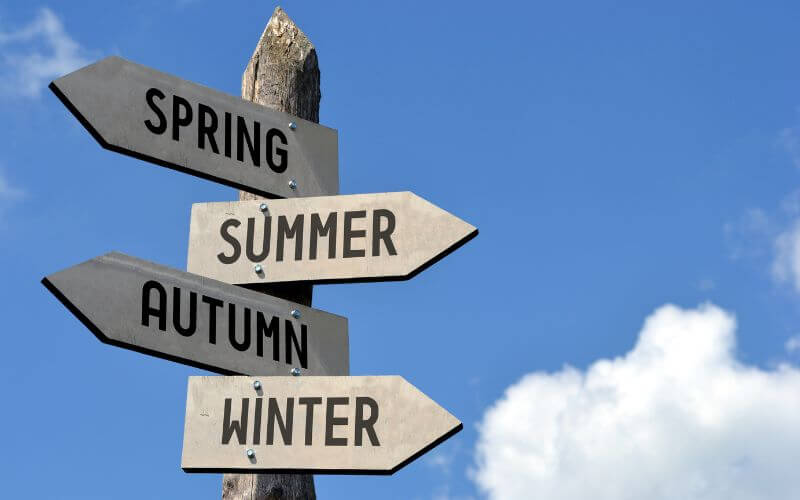 7. Rest
One of the biggest causes of seasickness is simply not having enough rest, and while that can be hard when you're already sick, it's on you to make sure you're well rested before the seasickness kicks in.
While it's exciting getting ready for your cruise, make sure you do sleep the night before embarkation. When you're on board, if you think you might suffer from nausea then don't stay up until the early hours partying. And take a nap if you need to. The better rested you are, the more comfortable you'll feel.
Remember that seasickness is caused by your senses being imbalanced. Being tired makes that all the more likely as they become less effective.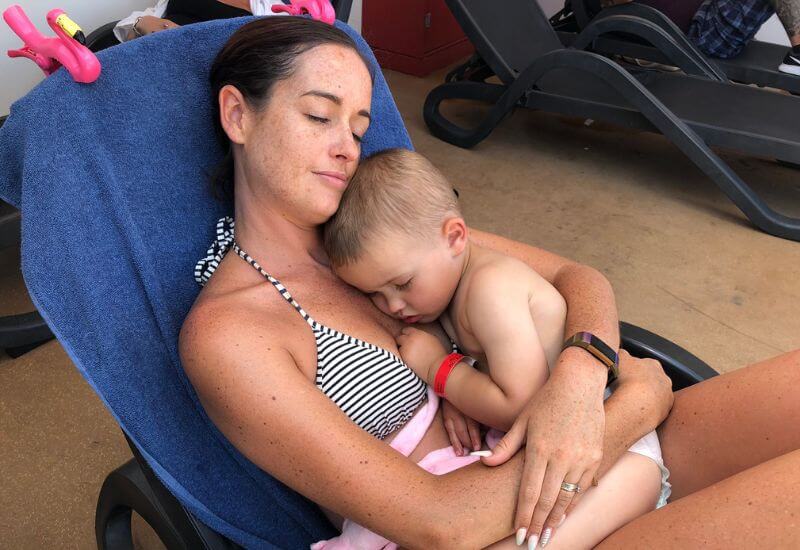 8. Take medication with you
There are various over-the-counter medications that you can buy before you travel which can help to cut down on sickness feelings. They aren't strong, but they can help to calm any feelings of nausea before they properly kick in.
Be careful to check the side effects and that they don't clash with other medications you're taking, as they sometimes can. But most importantly – buy them before you travel. They cost a lot more from the doctor on your cruise ship, believe me.
Seasickness patches are handy as they can be used for kids as well as adults and they don't make you feel drowsy like some tablets do.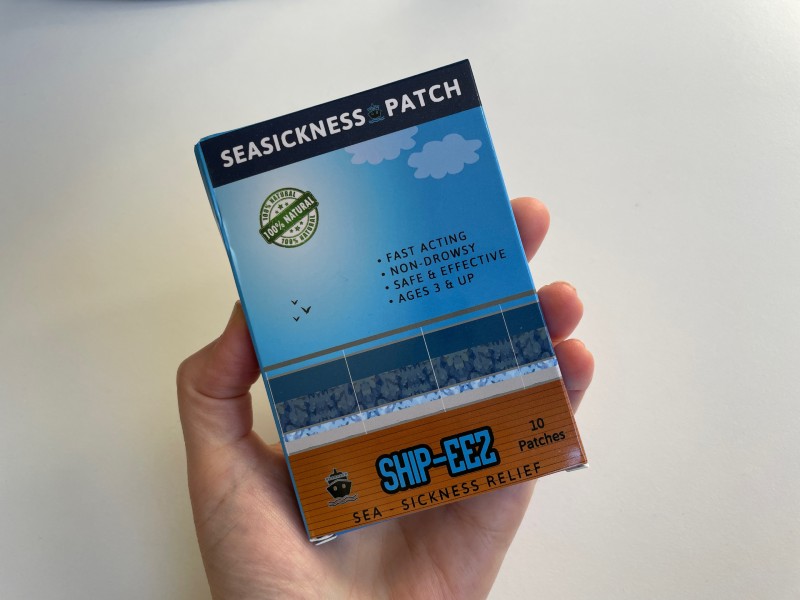 9. Use a Seaband
Acupressure has been known to help calm some of the feelings associated with seasickness, and so the Seaband has become one of the best preventative tools for anyone that worries they may suffer.
These simple wristbands apply pressure to you to help counter any sickness feelings even before they start, and they can even help with morning sickness – so definitely worth checking out if you're pregnant and about to cruise!
10. Book an acupuncture treatment
What's one step up from acupressure? Acupuncture. And depending on your cruise ship, the spa may offer acupuncture treatments that can help to relieve any sickness symptoms you're experiencing.
It's one of the most expensive tricks on this list, I'll admit, but it can be very relaxing at the same time. You may walk out of the treatment not only feeling free of sickness but also feeling a lot healthier in general.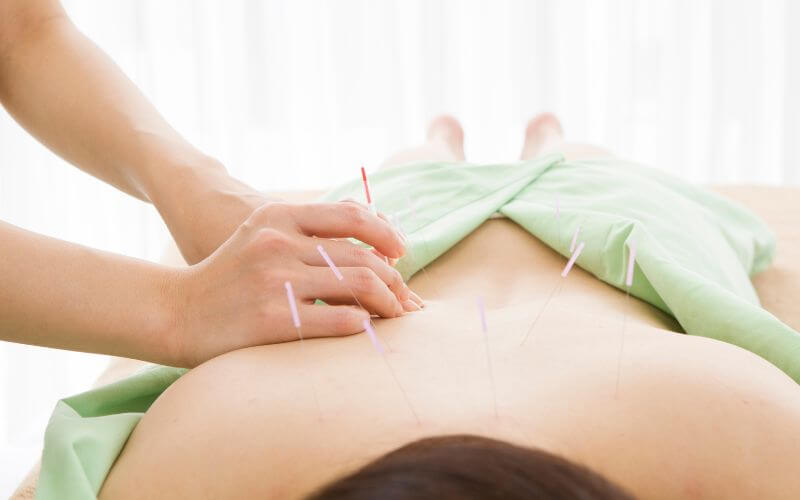 11. Get some fresh air
When you're feeling seasick, you often feel like you want to curl up and hide away but that's counterproductive. So if you don't have your own balcony, you need to force yourself to get to an open deck, even if you just sit there for 30 minutes or so.
The fresh outdoor air will offer some improvement and help to settle your stomach, and it can also sharpen your senses to get them aligned so that you don't have queasy feelings in the first place.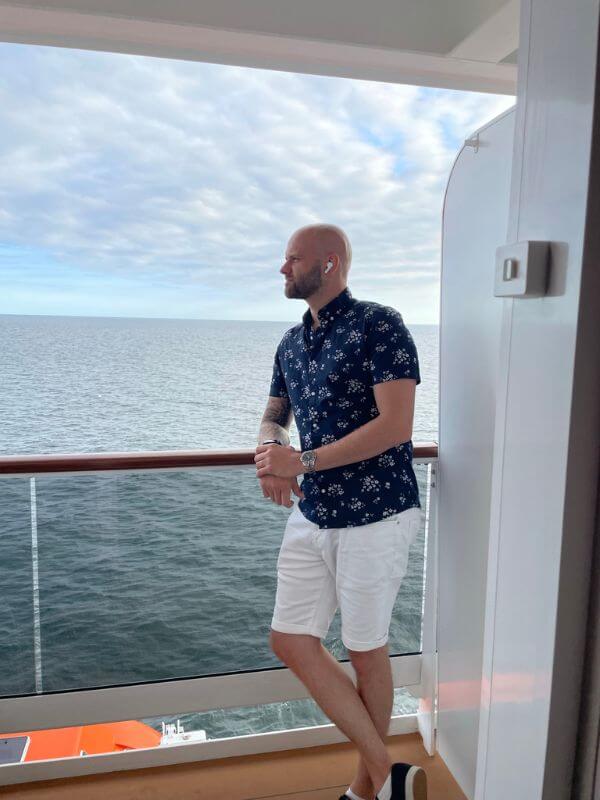 12. Eat regular small meals
Seasickness can also make you want to avoid eating food, but that's not the solution. A stomach that is full is more likely to settle than one which is empty.
Don't go crazy and stuff yourself full of every snack imaginable, but instead take on light meals – foods that are filling but not too dense. Eat smaller portions but keep yourself full and you should see an improvement. And then once the symptoms subside, that's when you can go to town on the missed desserts and pizza.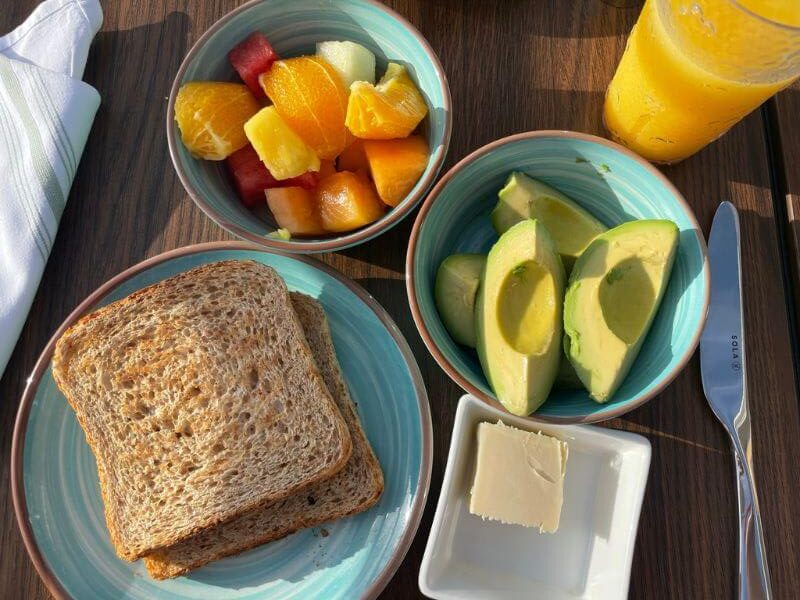 13. Stay hydrated
Similar to the point above, you absolutely have to stay hydrated when you're on a cruise if you're worried about seasickness. Water will help to keep you feeling full, while staying hydrated ensures that you stay sharper and more refreshed.
This again contributes to those senses in your brain and nervous system that have to stay aligned to keep you from suffering from motion sickness.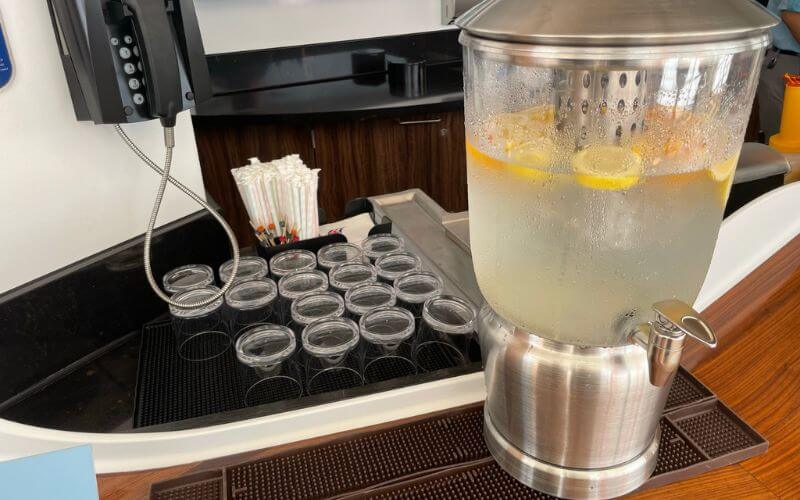 14. Avoid alcohol
If staying hydrated helps you to avoid seasickness, you won't be shocked to learn that alcohol can cause problems. Yes, it dehydrates you, but the alcohol will also cause more disorientation in your body, which can amplify the motion sensation and make your sickness even worse.
Plus, as alcohol is a toxin, it can also make you feel sick on its own. That's a triple-threat reason why alcohol is a terrible idea when you're trying to avoid seasickness, even if you just want to get tipsy and forget your worries.
Suggested read: How To Cruise Alcohol-Free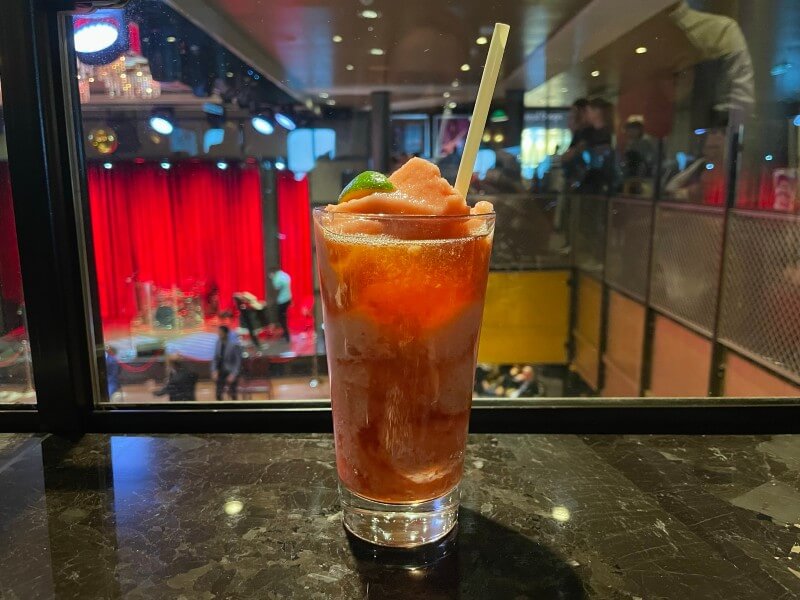 15. Drink ginger beer and eat crackers
A lot of people recommend drinking ginger beer and eating crackers when you're feeling sick. Crackers are a light food that will help your stomach feel more full without causing any reactions due to their neutral pH.
Meanwhile, the ginger in ginger beer has properties that can help to alleviate feelings of nausea and stop you from vomiting. It's also got other health benefits too, being anti-inflammatory. So crack open a can.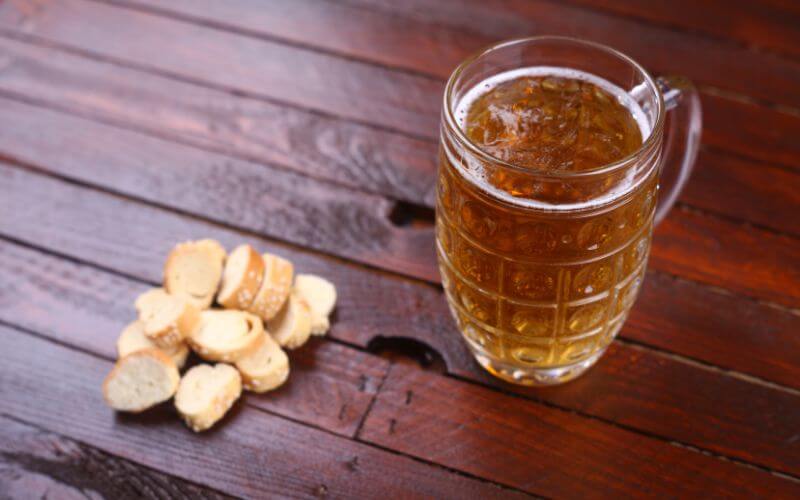 16. Get an anti-sickness injection
As a last resort, you can visit the ship's onboard doctor and ask them for an anti-sickness injection. This will likely work since the medication is quite powerful, but it can also leave you feeling tired and dehydrated, so you're not going to be able to get the injection and then get right on with enjoying your cruise.
The treatment can also be expensive too – so again, make sure to try all of the other tips on this list first.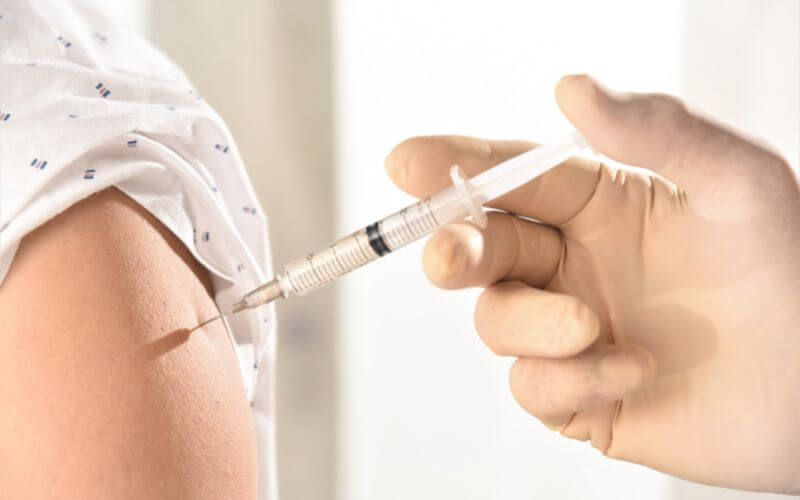 The Bottom Line
Most of these tips and tricks are designed with prevention in mind, although some will work once you've started suffering from seasickness too.
Prevention always beats the cure and so don't wait until you're feeling sick before consulting this list. If you've suffered from seasickness before or think you might be vulnerable, be proactive and get these tips lined up. That way you'll waste none of your cruise and can just enjoy it from the moment you step onboard.
NEW DEALS JUST RELEASED!
Don't miss these hot cruise offers…
Related Posts: