Many people ask, "Can babies go on P&O Cruises?" and the answer is yes! Not only can babies sail on board P&O Cruises' family-friendly ships, but this is a great cruise line to choose for babies and toddlers for so many reasons…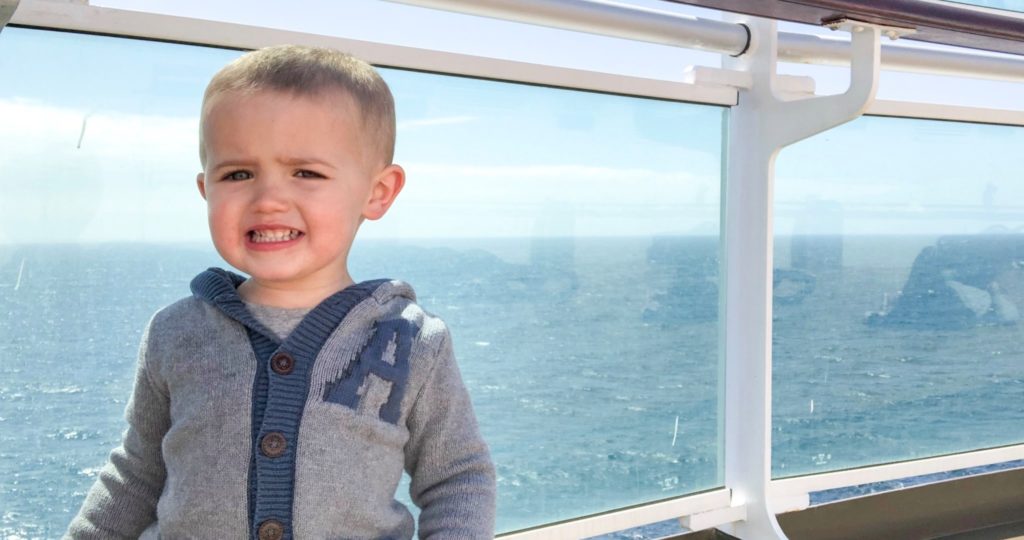 P&O Cruises Baby Policy
Babies must be at least six months to sail with P&O Cruises and at least 12 months for exotic fly-cruises. If you want to cruise with a baby who is younger than six months old, you should look into other cruise lines such as MSC Cruises.
P&O Cruises Infant Pricing
Infants under two years old sail at a 'reduced rate' with P&O Cruises. Exactly how much you'll pay for your baby varies depending on the cruise – the P&O Cruises infant prices do vary. According to online forums, people have paid between £50 and £300 to bring a baby on their cruise.
From time to time, P&O Cruises have promotions where the third or fourth passenger in a cabin can sail for as little as £1. So booking your cruise whilst one of these promotions is live can be a great way to save you money on your cruise.
NEW DEALS JUST RELEASED!
Don't miss the latest P&O Cruises offers…
Click to see P&O Cruises baby prices compare to other cruise lines.
Accommodation for Babies
P&O Cruises provides travel cots free of charge. There is space in even the smallest of inside cabins for a travel cot but if you do require a bit of extra space in your cabin, your cabin steward will be happy to take down the travel cot in the morning and put it back up for you in the evening.
The travel cots come with a thin mattress and a sheet. Guests are requested to bring their own cot bedding such as duvets, pillows or sleeping bags as required. It might be a good idea to bring a thick blanket or small quilt to create some extra padding if your little one is used to a softer bed. If you forget to bring your own bedding, you may request a thin blanket from your cabin steward.
If you'd prefer for your toddler to sleep in a bed, you can request a bed guard to make sure that they can't fall out. Some cabins have sofa beds and others have Pullman beds that come down from the ceiling like bunk beds. When you book, you can request a cabin with a sofa bed if you prefer this option.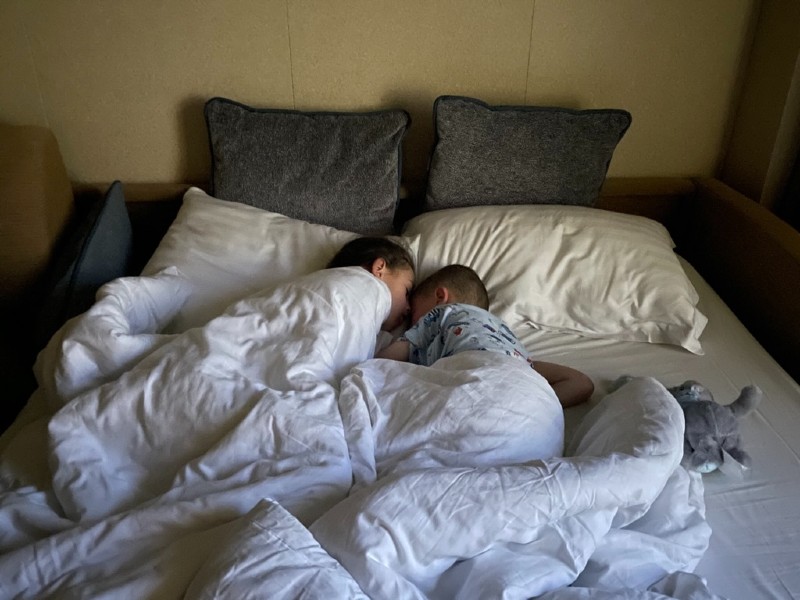 Read more: What is a Pullman bed on a cruise ship?
A variety of cabin types are available. Budget-conscious travellers might be best to opt for an inside cabin. But if your baby will only sleep in a cot and you're likely to be confined to the cabin at nap times or in the evening, then it's probably worth considering upgrading to a balcony cabin so that you can relax on the balcony while your child sleeps.
Suggested read: Are Cruise Ship Balconies Safe for Toddlers?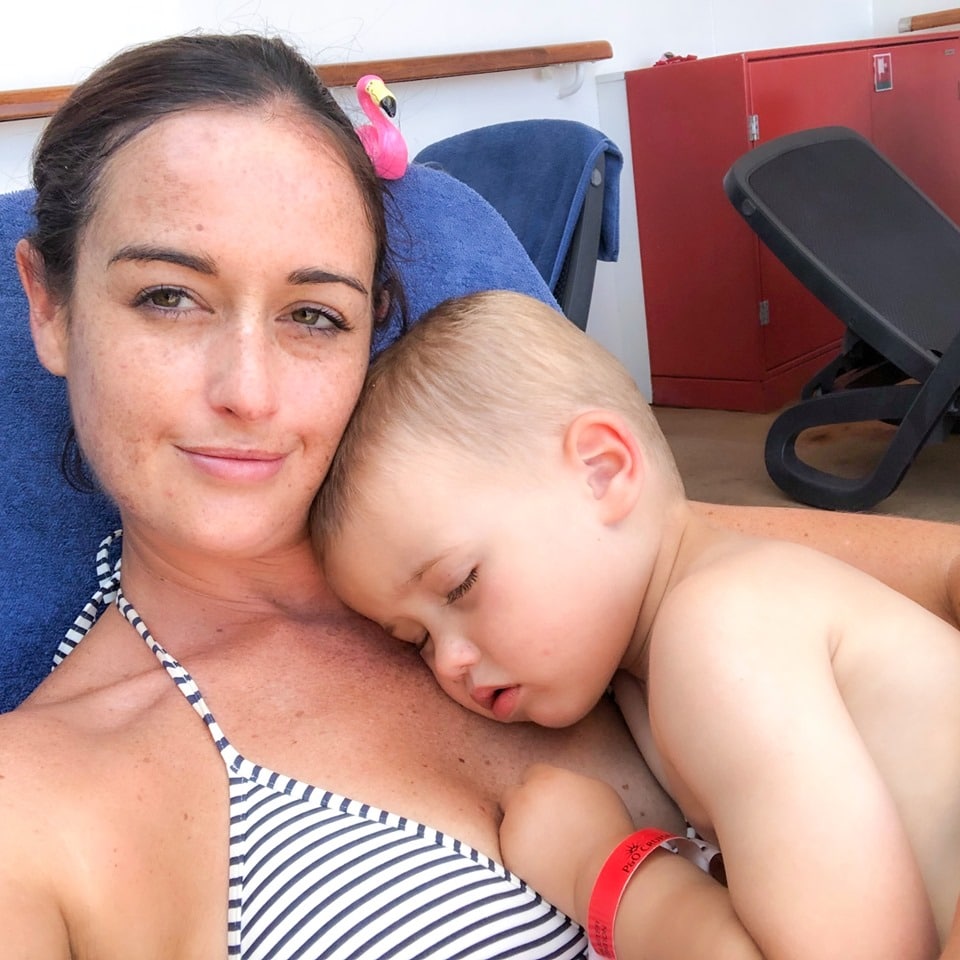 On-board Activities for Babies and Toddlers
You'll find lots to keep tots entertained on board P&O Cruises' family-friendly ships. One of the best things about P&O Cruises is that children wearing swimming nappies are allowed in designated pools. On many other cruise ships swimming nappies are completely banned from all pools.
We sailed on P&O Britannia and our two-year-old loved splashing in the shallow paddling pool in between the two main pools. He also loved the splash area which has a fountain and flowing water that can be stopped with various levers and wheels.
This area is a little bit hidden on the ship between the shuffleboard court and The Reef kids' club, so make sure you don't miss it if you sail on Britannia.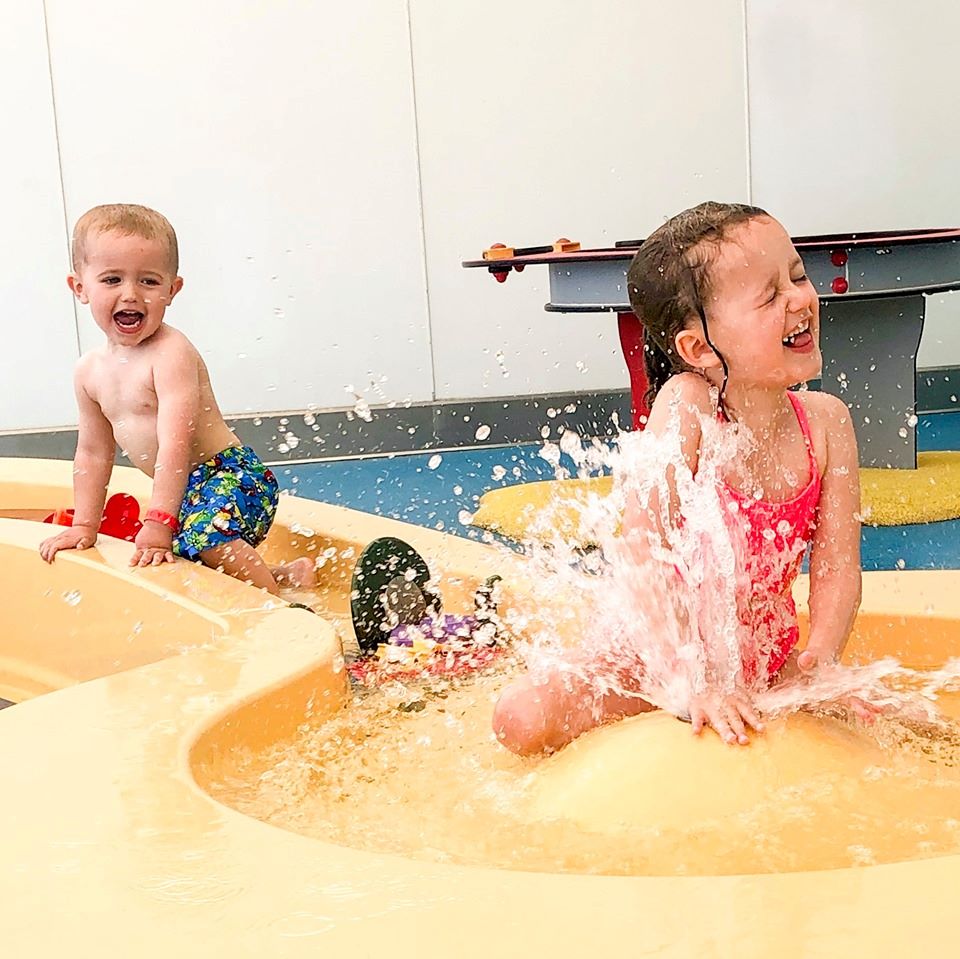 P&O Cruises ships are very spacious and your little ones will love crawling around the open decks. Railings are either high with a double hand-rail or made of glass walls, which makes the decks a very safe environment for little ones to roam as long as you keep an eye on them.
Although under-twos aren't permitted to be left in the kids' club, they can attend with parents for supervised play sessions. You'll also find a variety of family events on board such as discos and magic shows.
Babysitting
Although there is no in-cabin babysitting, P&O Cruises offers a Night Nursery for free-of-charge group babysitting.
The Night Nursery is a dark, quiet room with beds and cots where under-fives can sleep under the supervision of two qualified members of staff. This is open from 6 pm until midnight and extended until 2 am on request.
Places are available on a first-come, first-served basis. Parents are given a pager so that they can be contacted should their children wake up.
Baby Food
P&O Cruises provide baby food free of charge. Hipp Organic baby food jars are available in an assortment of savoury and dessert flavours in stage 1 (4 months +) and stage 2 (7 months+).
Alternatively, you can request that any food from the main restaurant menu is pureed or mashed. There are also always plenty of foods on offer which are suitable for baby-led weaning such as bread, fruit and vegetable sticks.
Read more: How to feed your baby on a cruise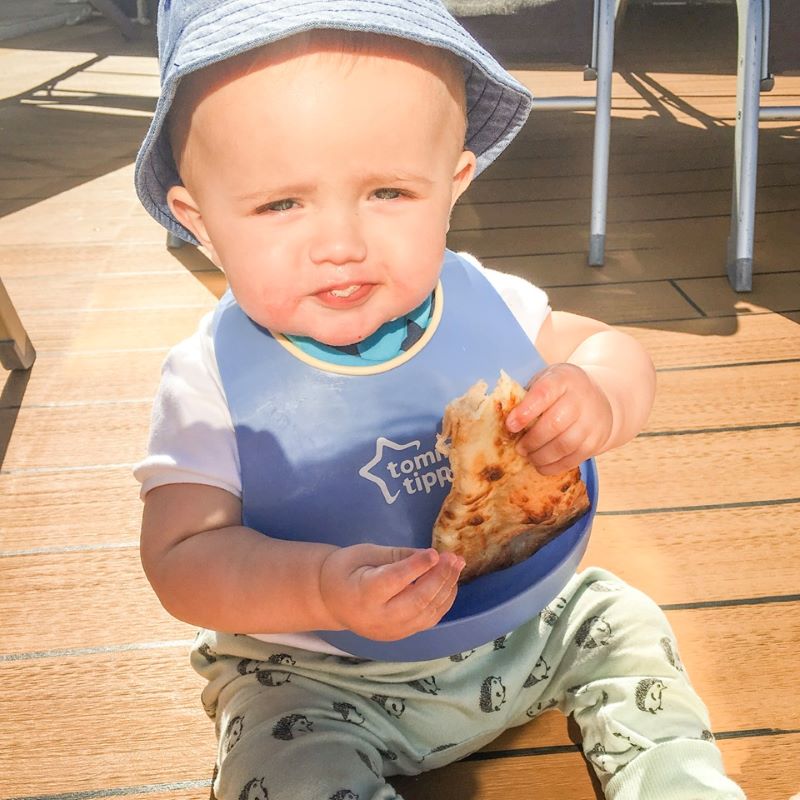 Children and babies can dine in any of the dining areas on board. In addition, there is a special children's tea at around 5pm each evening (the exact time varies by ship).
Here, you'll find a variety of kids' favourites on offer in a relaxed atmosphere – perfect for parents who'd like to eat a little later in the evening than the children.
Toddlers can choose from the extensive children's menu or try a small portion of any dish on the main menu. You'll also find plenty of high chairs available in the restaurants.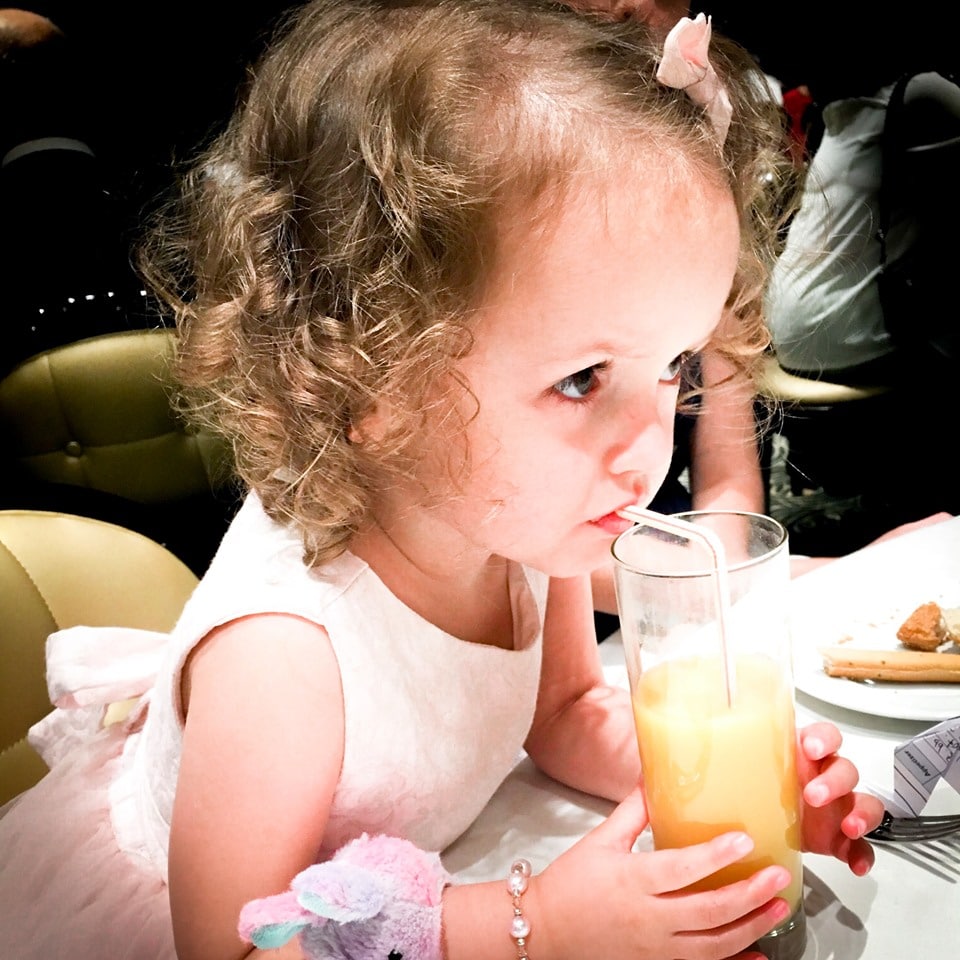 Baby Milk
P&O Cruises can provide baby milk powder free of charge on request. The brand offered is SMA progress. If you prefer an alternative brand, you should bring your own baby milk.
Whole cows' milk or plant-based milks can also be provided. Just call your cabin steward to place your request for warm or cold milk to be delivered to your cabin.
If you ask for a large jug or carton of milk, this can be kept in the fridge in your cabin. Alternatively, you can help yourself to milk from the buffet restaurant.
Breastfeeding is also welcome in all areas of the ship.
Read more: How to feed your baby on a cruise
Pushchairs
You are welcome to bring a pram or pushchair on board. The only restriction on this is that they are not allowed to be left in the corridor outside your room as they are with some other cruise lines.
If your pushchair is collapsible, you'll find plenty of storage space under the beds, should you wish to keep it out of the way.
For those travelling with two children, side by side pushchairs are not recommended as they can be too wide for some of the corridors. Instead, opt for a narrower style or take two pushchairs or a buggy board.
Baby Paraphernalia
Babies come with a lot of equipment, but luckily, much of what you need is available to borrow free of charge, which means you can cut down on your packing list substantially.
Items available on request include:
Travel cot
Baby bath
Bottle/food warmers
Sterilisers
Nappy disposal units (although normal bins are emptied twice daily too)
Bed guards
Just mention if you would like any of when you book and you'll find them waiting in the cabin for you.
For a full list of baby items to pack on a cruise, get the free printable checklist that I use. Just enter your email address below and it will be sent to your inbox.
Laundry
On board P&O Cruises you'll find self-service launderettes with washing machines, tumble driers and irons which are free of charge.
You needn't worry about packing lots of clothes for your children, as you'll be able to do washing during your cruise should you need to. I'd recommend bringing your own washing tablets, as they cost £1 each to buy in the on-board shop.
If you prefer someone else to do the washing for you, there is also a laundry service available for a fee.
NEW DEALS JUST RELEASED!
Don't miss the latest P&O Cruises offers…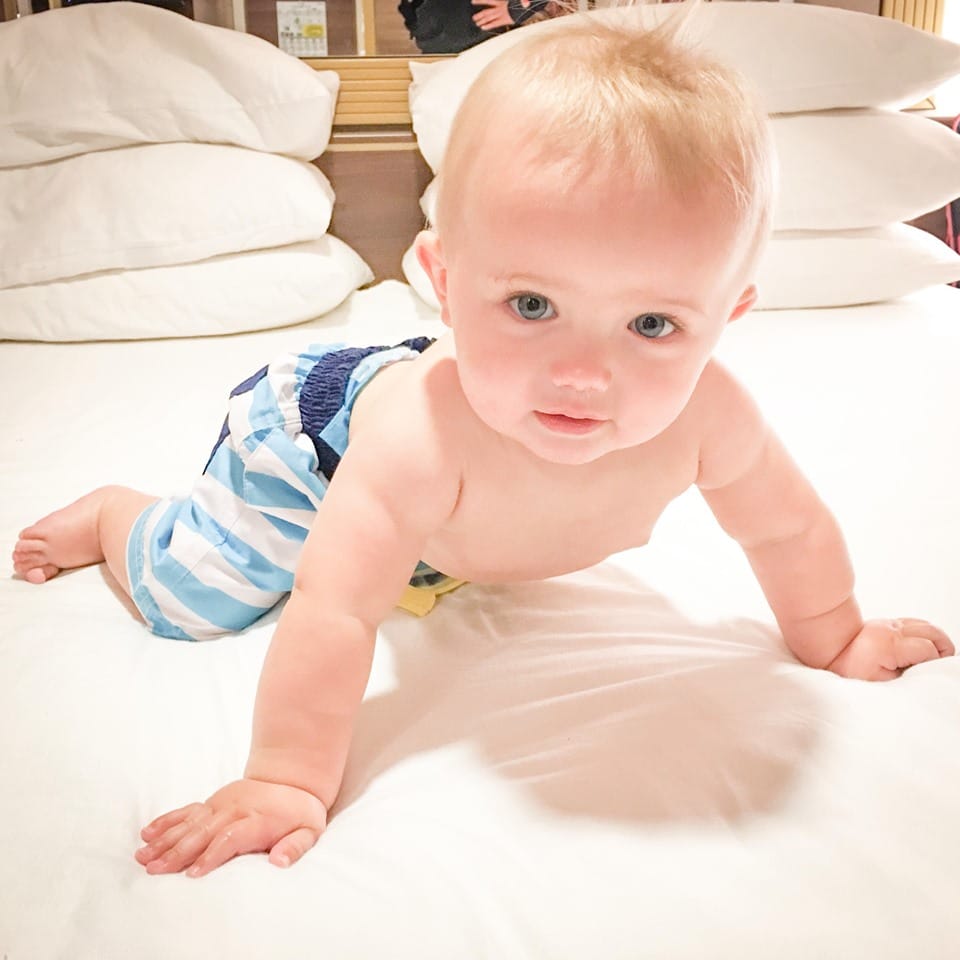 Summary
Whilst many cruise lines cater very well for babies and children, the P&O Cruises baby policy is one of the best and you can't go wrong. The staff are all very friendly and on-hand to help wherever they can to make your family holiday as stress-free and enjoyable as possible.
Do you have any more tips for cruising with young children on board P&O Cruises? Please share them in the comments below. Or if you have any questions, let me know and I'll do my best to answer them for you.
Related Posts: