Cruise forums and message boards are a great way of learning more about cruising in general, connecting with other passengers, or getting involved in lively discussions about cruise-related topics.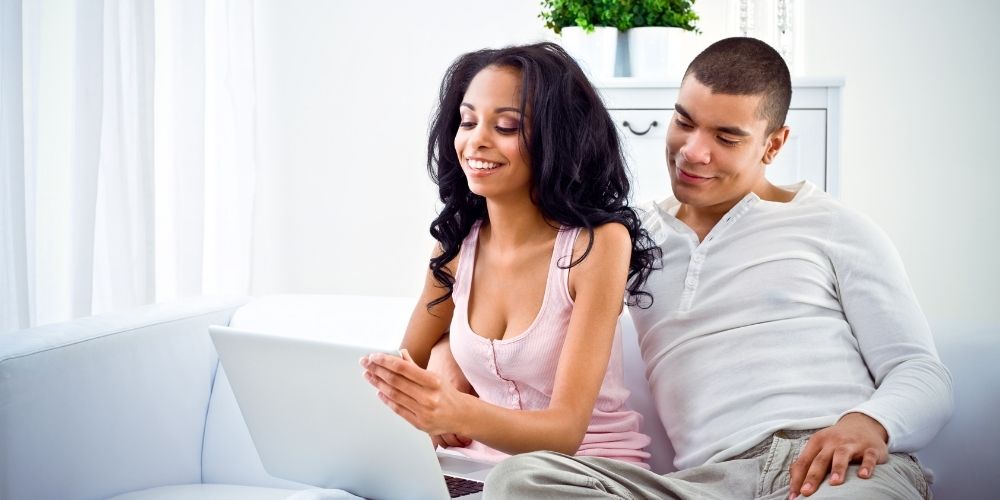 You can also join Facebook groups, but they can be a little more difficult to navigate since posts aren't organised in any way.
Forums are normally organised into sub-forums and then threads, which makes it easier to find what you're looking for, with useful information grouped together.
Some forums also have roll calls – dedicated threads to a particular sailing, where you can chat to other people who will be on the same cruise that you've booked. It's a great way of learning more about the cruise from more experienced passengers or even making friends in advance, so you have a group you could dine with.
Here are the best cruise forums to join: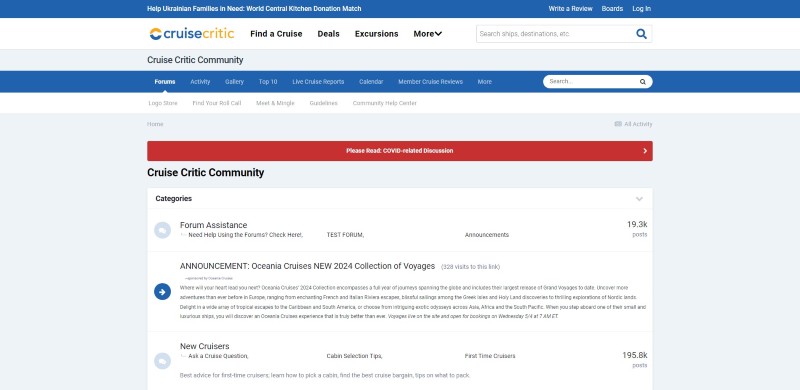 The main Cruise Critic website offers reviews and cruise tips of various ships, but the site is much more famous for its forum – it is absolutely massive.
Cruise Critic claims to be the originator of the roll call thread. At the time of writing, they have around 20 million posts just for roll calls alone, which is frankly staggering. They have another 23 million posts with questions about cruise lines in general.
There are other sub-forums too, including those where new cruisers can have their questions answered, and those about particular destinations or special cruises.
The Cruise Critic forum is popular internationally, so while most users will be from the US there are plenty from the UK and elsewhere.
The only real downside to Cruise Critic is the scale of it – which could be a little overwhelming since there's so much information. But, it's well organised and you should have no trouble finding people to chat to, though don't expect a tight-knit community – it's just too busy.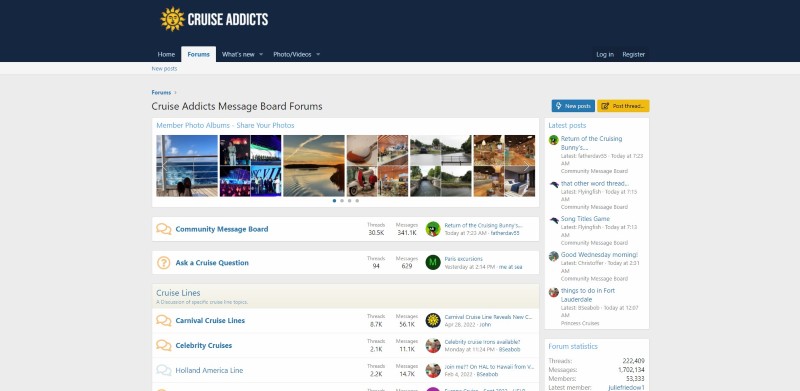 Cruise Addicts is a forum that's popular in the US. While it's a lot smaller in scale than Cruise Critic, you might find that you prefer the closer-knit community. In total there are over 1.7 million posts on the site, so there's still a lot of information.
You can ask a general cruise question, or visit the sub-forums for cruise lines or destinations. But these are quite limited. The destination sub-forums only cover Europe, Alaska & the Pacific Northwest, and the Caribbean. While these are the more popular cruise destinations for US travellers, there's no mention of Asia or Australasia.
The Cruise Lines sub-forums are also quite narrow in focus, only covering 8 of the bigger cruise lines. Notable absentees include any of the six-star luxury cruise lines, P&O Cruises, Virgin Voyages and any smaller cruise lines.
I'd say this is a site that's better for anyone in the US who wants to chat, rather than find information.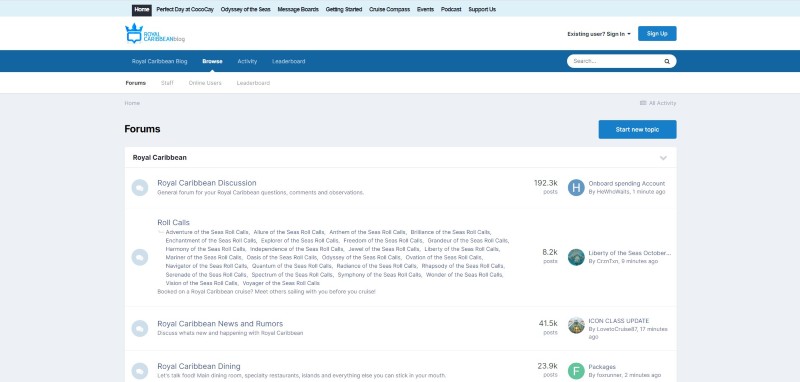 The Royal Caribbean Blog is an unofficial site dedicated to all things Royal Caribbean, and their forum – while not huge – is a great place to meet other people who love the cruise line.
There are sub-forums dedicated to general Royal Caribbean discussion, rolls calls, news and rumours, dining and shore excursions as well as a sub-forum dedicated to sister cruise lines Celebrity and Silversea, although this is small with less than 3,000 posts.
But, if you want tips on Royal Caribbean then there are a quarter of a million posts to run through, and you can use the Roll Calls to find passengers on your upcoming Royal Caribbean cruise.
It's a forum that's best for the specifics though – not many places will have over 40,000 posts just on news and rumours about Royal Caribbean, or almost 25,000 just on dining. If you want to get into the finer details of Royal Caribbean, this is the place to do it.
The Tripadvisor site in general is a great place to find reviews of all kinds of attractions, accommodations and cruise lines, but they also have forums. The cruises forum is pretty active and has over 20,000 topics of discussion on all kinds of topics from cruising to travel agents and more.
The biggest drawback to Tripadvisor's forum is that there's very little organisation. With no sub-forums, you just instead have a long list of topics to browse through. There is a search bar, but that's a little hit and miss when you want specific information about a subject.
However, it's not one to disregard completely. There's a list of the top questions about cruising that people from the forum have answered, so you can browse those to see if the information you're looking for is covered. And there's also a section highlighting the top cruise experts from the forum, so you can browse their replies to other people.
It does seem to have a little more of that Tripadvisor vibe of negativity though – a quick glance shows that there are more topics related to complaints than on other forums. That's Tripadvisor for you though.
Cruise.co.uk is a British travel agent, but they have their own forum that's (in their words) the largest UK cruise forum. With over 125,000 members they're likely right though, I've not found any UK forums that are bigger.
It's well organised, with a lot of sub-forums tailored to specific topics. There are 12 sub-forums just for river cruise lines alone, as an example.
The site layout is a little lacking in terms of design, but that's a minor quibble. You can still use the (small) links to navigate around and find the information you need.
It's really active as well, with most sub-forums having posts in the last few days at the time of writing this. Some of the more popular sub-forums include general Cruise Chat, Roll Calls and News, while you can also enjoy Cruise Rants or watch webcam footage of cruise ships being built.
There's a lot to explore, and if you're a UK cruiser it's good to get the perspective of other similar passengers.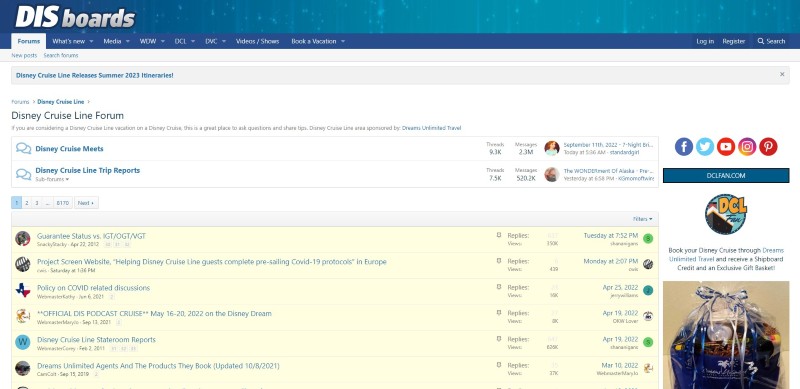 DIS boards is a massive community of Disney fans, with millions of posts to do with everything Disney, including resorts, theme park tips, news and more.
One of the sub-forums is dedicated to Disney Cruise Line, and it's also massive. It has 5.7 million posts for you to browse already and a thriving community that you can engage with.
The biggest drawback is that there aren't many sub-forums within this area to help make it easier to navigate. There's a general forum for the cruise line, one for roll calls (called Meets) and one for trip reports, but that's it. If you want to learn about a particular ship or restaurant, then you'll need to search.
The benefit of DIS boards is that it's a great place to get tips if you're planning a cruise and stay holiday. You can get all the info about the cruise line and about your chosen Disney hotel, and there's a lot of useful information on getting the most out of your time at the parks.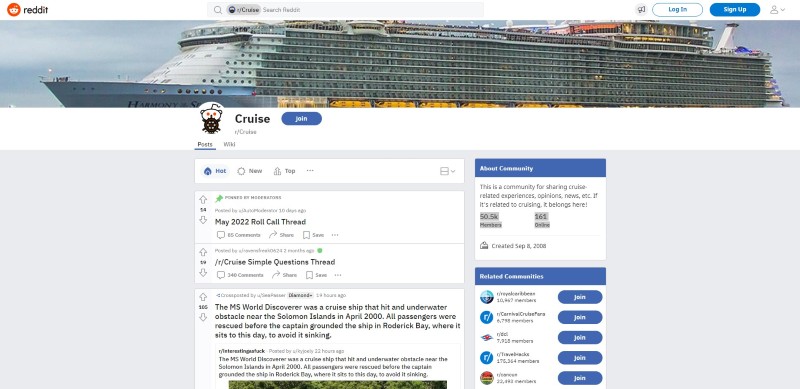 If you know about Reddit already, you'll know that it's a massive site that has separate boards (called subreddits) about all kinds of topics. The subreddit for general cruising isn't massive compared to others but it does have 50,000 users signed up, and there are a lot of new topics posted daily.
One of the benefits of r/Cruise is that it's one of the easiest to follow from your phone. Most other forums don't have an app, but Reddit's app is one of the easiest to use, so you can monitor the latest posts and interact with cruisers on the go.
There are other subreddits you could explore too, including r/RoyalCaribbean or r/CarnivalCruiseFans. If there's a particular topic you want to know more about, just try searching Reddit and you might find an entire subreddit dedicated to the answer.
My Recommendation
Here's a recap of the top cruise forums:
There are a lot of different options for cruise forums, and depending on what you're looking for I would say that there's not a single one I would recommend above all others.
If you want pure information or you want to use a roll call to find other passengers, then Cruise Critic is pretty much unrivalled in terms of size. Dedicated forums for cruise lines can also help if your question is specific, or if you're someone who's just really passionate and loyal to one cruise line.
But other people use forums to make online friends and enjoy a thriving community discussion. On Cruise Critic that's hard because there are so many users – you'll get drowned out.
I'd recommend Cruise.co.uk for UK cruisers, or a smaller site like Cruise Addicts for US-based cruise fans. These are great if you like the idea of getting involved regularly and chatting with others who share your love of cruising.#
Here's a recap of the top cruise forums:
Related Posts: