When I cruised on P&O Britannia, we stayed in inside cabin number A121. We are a family of four with, at the time, a child and a toddler, so our cabin had one Pullman bunk bed and a travel cot in addition to two single beds for the adults.
In the video below, I talk through every aspect of this cabin in detail…
My Review Of An Inside Cabin On Britannia For A Family
I was really pleased with the size of this cabin for a family of four. There was plenty of room for us all, and that's even with the cot in place and one of the Pullman beds lowered down from the ceiling. Without a cot, you can have both Pullman beds down, which would give even more floor space.
Read more: What is a Pullman bed on a cruise ship?
Twice-daily Turndown Service
Our cabin steward came twice per day. In the morning, he folded the cot and raised the Pullman bed, which gave us much more space. When we went out for our evening meal, he put the cot back up and lowered the bed.
Our cabin steward was fantastic and always cleaned and tidied the cabin thoroughly. Even if we were in a rush and left clothes on the floor he would pick them up and fold them for us!
Cabin Amenities On Board Britannia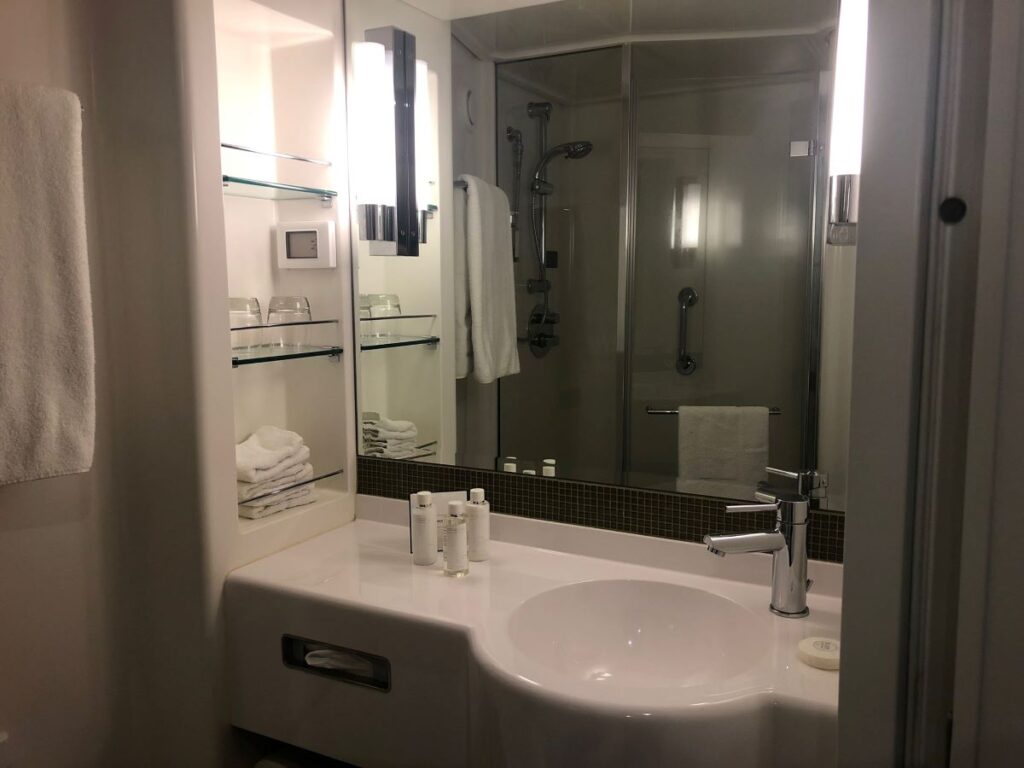 I was pleasantly surprised by all the complimentary little extras in our cabin.
Britannia cabin amenities include:
White Company toiletries
Daily chocolates
Tea and coffee-making facilities with biscuits
A small vase of fresh flowers
A huge selection of TV channels, films and radio stations
Hairdryer
A guide and map of each port of call
There was also a mini-bar which was chargeable. Room service breakfast, however, is free of charge, as are extras such as ice and large jugs of milk for the children.
Cruising With A Baby Or Toddler
The cot was not in our room when we arrived, so we called reception and it was brought to us. It came with a mattress and sheet but no other bedding.
P&O Cruises do not generally provide cot bedding for health and safety reasons, so I would recommend that you bring your own baby sleeping bag or blanket and a small pillow if needed. We didn't have anything, so they did provide us with a thin blanket in the end, which was suitable.
If you require whole or semi-skimmed milk for your child you can request this, and it will be delivered to your stateroom at no cost. We asked for a large jug every day, which was enough for both of our children to have a cup before bed and in the morning.
Read more: How to feed your baby on a cruise
Inside cabins have showers. If you require a baby bath you can request one. Other items of baby equipment which you can request should you need them include electric bottle sterilisers and bottle warmers.
Suggested read: 10 essential tips for cruising with a baby or toddler on P&O Cruises
Storage
Pushchairs can be stored under the bed, in the wardrobe area, or by the door. There is lots of storage for clothes, although you may wish to ask for extra hangers or bring some of your own.
Choosing A Cabin On Britannia
I loved everything about our P&O inside cabin onboard Britannia and would definitely book this cabin type again.
The cabin was located at the opposite end of the ship to the kids' club, which meant several long walks to drop off and collect the children. This was mildly inconvenient, but I wouldn't pay more to be nearer – in my opinion, more walking means burning more calories so that you can enjoy more of the buffet!
If you're planning a cruise on Britannia, be sure to take a look at the list of Britannia cabins to avoid before you book.
And if you're still browsing P&O Britannia reviews to learn more about the ship, I've got a full video tour you can check out, as well as a guide to all cabin grades, in case you're not interested in an Inside.
I've also created a handy checklist to help you know which cabins to look out for and which to steer clear of. Just enter your email address, and a copy will be sent to you straight away.
NEW DEALS JUST RELEASED!
Don't miss the latest P&O Cruises offers…
Related Posts: