In cruise ship cabins that sleep more than two people, the third and fourth beds may be sofa beds or Pullman beds. But what is a Pullman bed, exactly?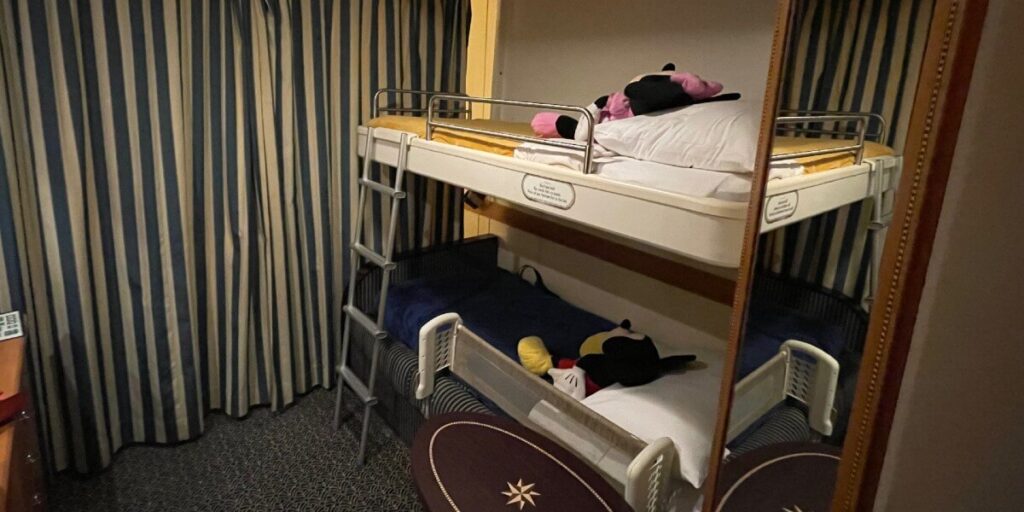 What Is an Upper Pullman on a Cruise Ship?
An upper Pullman bed is a top bunk bed that pulls down from the ceiling or comes out of the wall of a cruise ship cabin. Pullman beds are most often used for children but may also be used by adults, provided that they meet the weight requirements.
Pullman beds take their name from inventor George M Pullman who designed the concept for the sleeper cars of trains in the late 1850s. Pullman beds are also known as 'upper beds', 'bunk beds' or 'pull down beds'.
Cruise ship cabins can have either one or two Pullman beds. Underneath the Pullman bed may be a single bed, a double or queen-sized bed or the floor.
A Pullman mattress for cruiseship staterooms won't be super thick but it'll be comfortable enough.
What Does a Pullman Bed Look Like?
When they are not in use, Pullman beds may be folded up against the wall or hidden away in the ceiling so that they are barely visible at all.
The photo below shows Pullman beds folded up against the wall…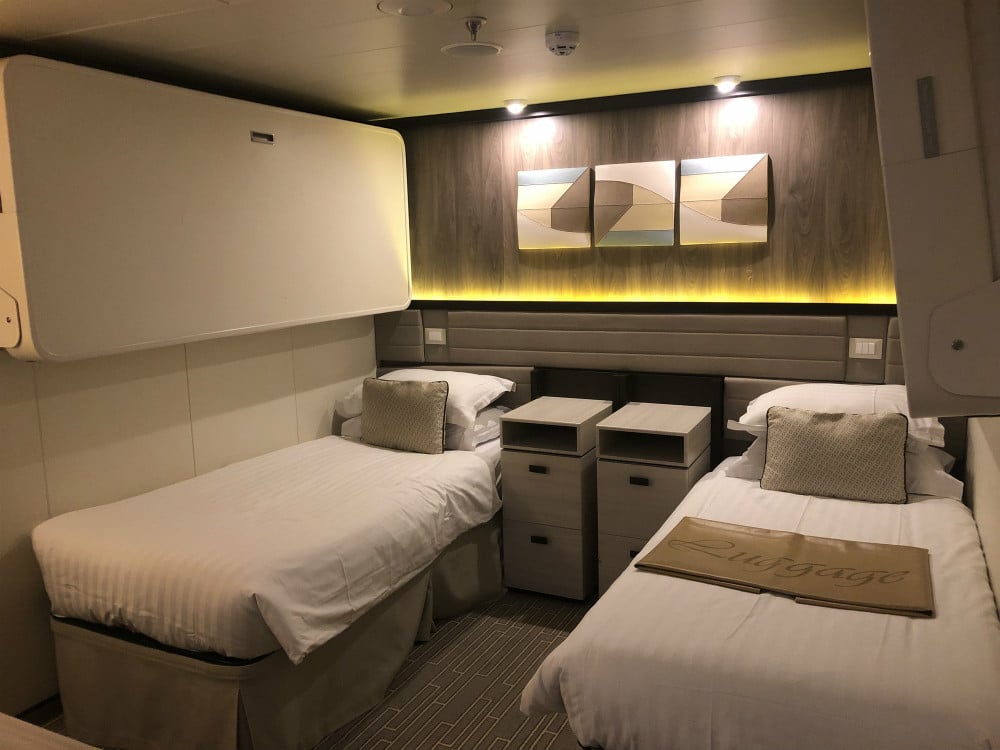 The photo below shows one Pullman bed which has been lowered and one which remains hidden in the ceiling…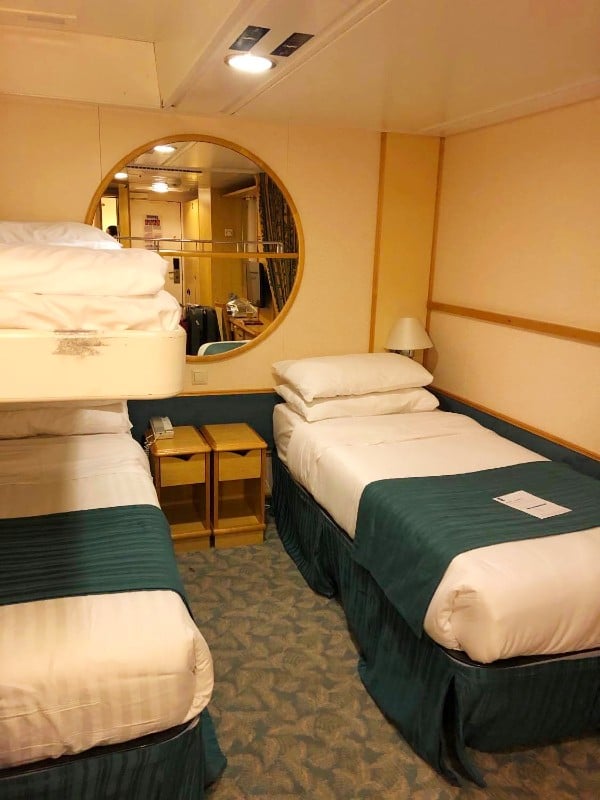 I made a video of our cabin on Britannia, which shows the Pullman bed upright and lowered along with footage of the ladder and the extra railing to prevent young kids from falling out of bed. See it here: P&O Britannia Inside Cabin Review
Can Adults Use Pullman Beds?
Adults are allowed to use the Pullman beds on cruise ships. This means that it's possible for up to four adults to share a cabin. If your child is too young to use the top bunk, you can put them in the bottom bed and take the top bunk yourself.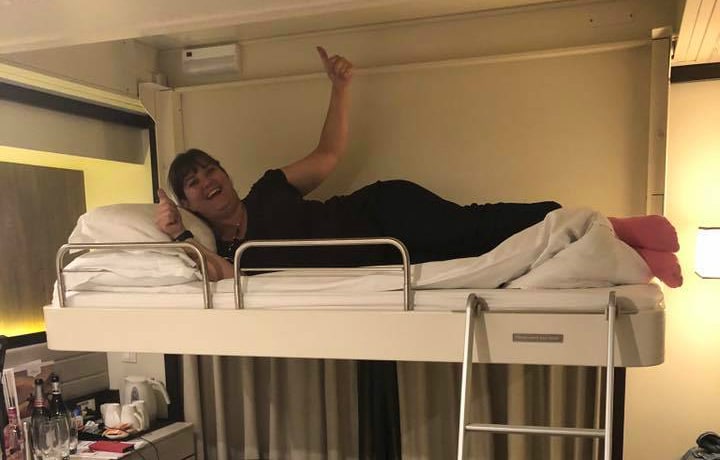 What Is the Weight Limit on a Pullman Bed?
As upper Pullman beds are attached to the wall or ceiling, there are limits to the weight that they can hold safely. Pullman beds are suitable for most adults but are not recommended for particularly heavy people. The table below shows the maximum Pullman bed weight limit for each cruise line.
Cruise Line
Pullman max weight
(kg)
Pullman max weight
(lb)
Carnival
113 kg
250 lbs
Celebrity Cruises
90 kg
200 lbs
Cunard
130 kg*
287 lbs
MSC Cruises
150 kg
330 lbs
Norwegian Cruise Line
163 kg
360 lbs
P&O Cruises
130 kg*
287 lbs
Princess Cruises
113 kg
250 lbs
Royal Caribbean
136 KG
300 lbs
*On P&O Cruises and Cunard, the restriction of 130 kg applies to the bunk ladder. There is no restriction on the bed itself, and it has been 'shock tested' to 300 kg.
Is There a Height Limit for a Pullman Bed?
On Royal Caribbean cruises, the maximum height to use an upper Pullman bed is 6 feet 6 inches. The other cruise lines don't specify a maximum height. Pullman beds are usually the same length as a standard single bed.
What Age Can Children Use Pullman Beds?
Most cruise lines do not have any age limits on who can use a Pullman bed on a ship. However, on Royal Caribbean cruises and Celebrity Cruises, children must be at least six years old to use a Pullman bed. This is not monitored, however. I let my five-year-old sleep in a Pullman bed with no issues.
When deciding who should sleep in the Pullman bed – you or your child – it's important to think about the sleeping habits of your own child and the bed they sleep in at home. If your older child or teenager is prone to sleepwalking, then a Pullman bed probably isn't the best option. It really depends on the child.
I allowed my daughter to use the top Pullman bed on MSC Preziosa when she was two years old. The bed was positioned over a double bed so if she were to jump out, the fall would only be a couple of feet onto the bed below, rather than further on to the hard floor.
If you would prefer your child not to use a Pullman bed, there are some beds available for third and fourth passengers in a cabin that are at floor level. These include sofa beds (where a sofa converts into a bed) or pull-out beds (also known as trundle beds, where a bed rolls out from under another.)
Usually, when there is a sofa bed, it's a single sofa bed for the third passenger. If you have four people in your room, the fourth may have a Pullman bed above the sofa.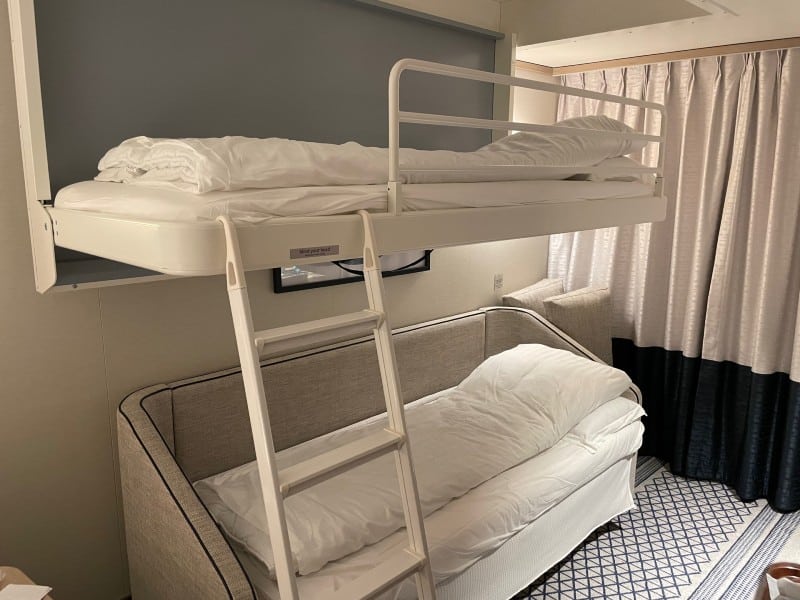 You'll need to make sure that you're happy with the bed type when you book your cruise, as you won't be able to change it once you're on-board.
Read more: How To Upgrade Your Cruise Cabin After Purchase
NEW DEALS JUST RELEASED!
Don't miss these hot cruise offers…
Do Pullman Beds Have Guard Rails?
Pullman beds have guard rails to prevent people from falling out. However, the size of the guard rail can vary considerably depending on the ship.
The photo below shows the Pullman bed on Royal Caribbean's Mariner of the Seas with a very small rail. I asked the cabin attendant if there was any option to have a larger rail but he said no.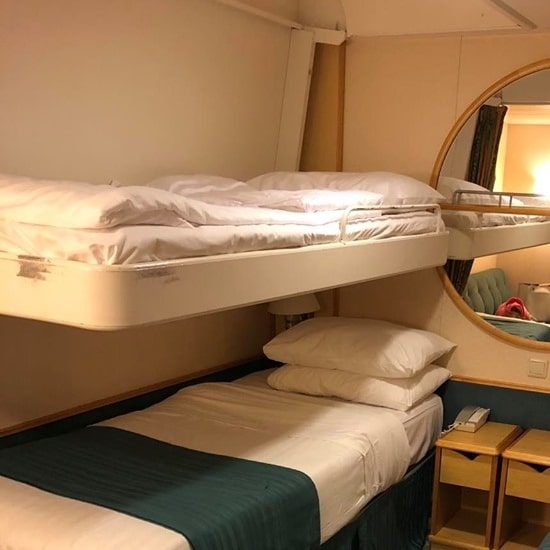 The photo below shows the guard rail on Allure of the Seas which is a little larger.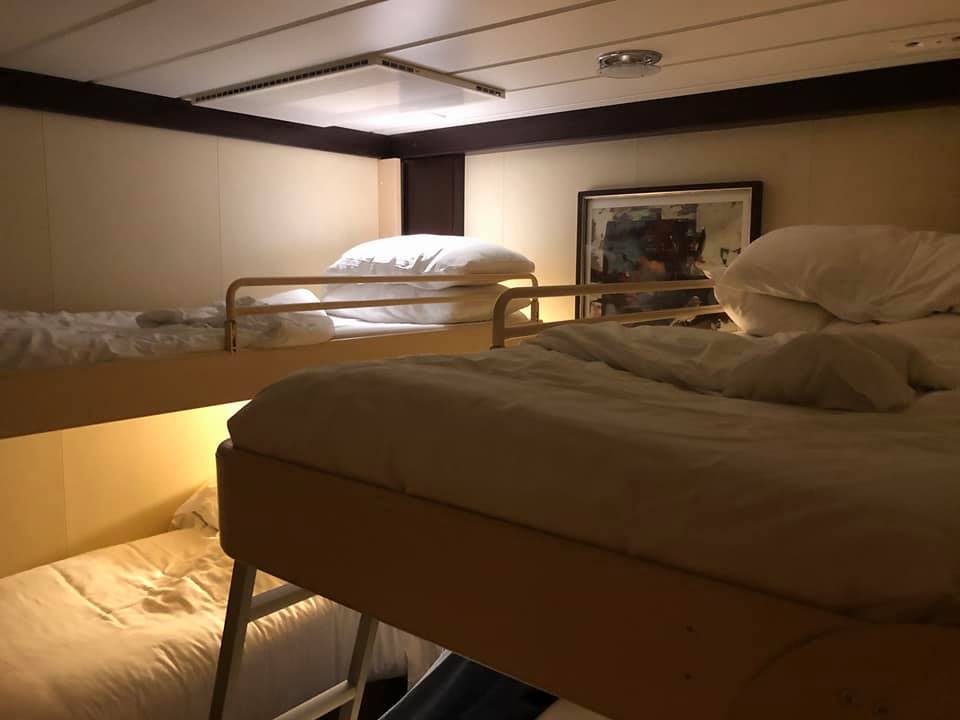 The photo below shows an ocean view cabin on Liberty of the Seas which has large guard rails and a double bed beneath.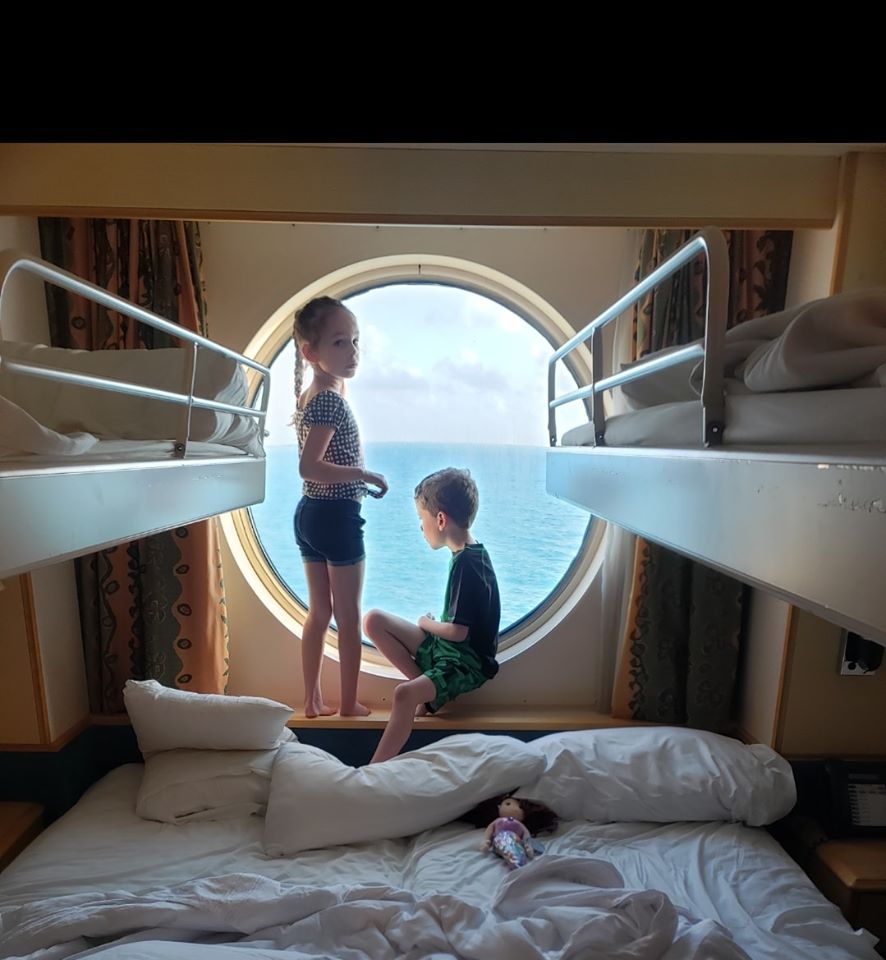 The photo below shows the standard guard rail on P&O Cruises Britannia (the silver one) with the additional guard rail which was provided on request by our stateroom attendant.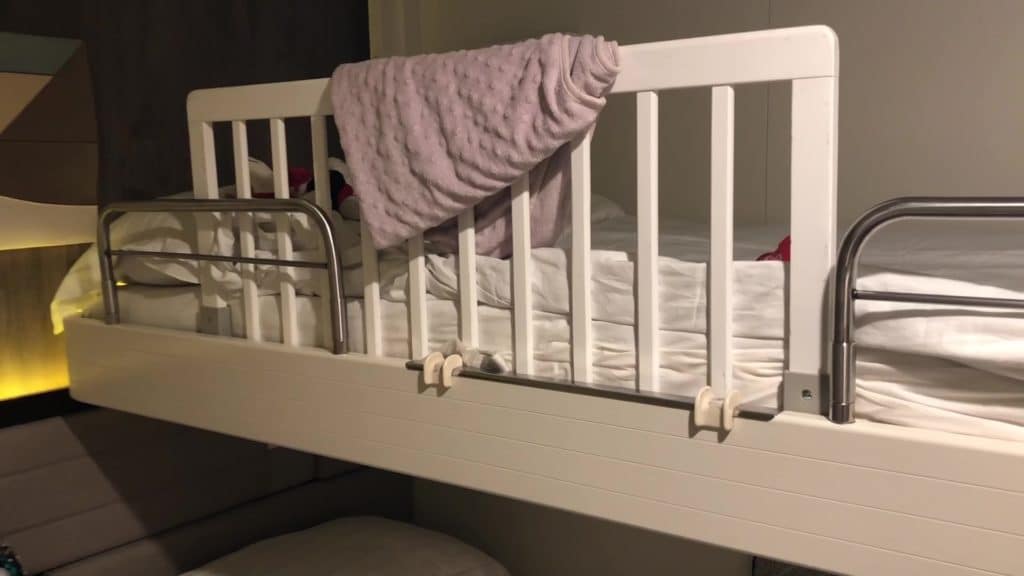 If your Pullman bed has no guard rail at all, lift up the mattress and you'll likely find it under there. If you're in any way concerned, just call your cabin attendant and they'll be happy to help in any way they can.
How To Stop Your Child From Falling Out of Bed on a Cruise
If you're at all worried that your child may fall out of bed on your cruise, there are some things you can do to prevent this. These are:
Ask for an extra guard rail. This is available on some ships but not others.
Bring your own guard rail. Inflatable guard rails are available to buy from Amazon.
Ask for an extra blanket. You can roll this up to create extra padding between your child and the edge of the bed.
Put your child in the lower bed. This may mean that an adult has to sleep in the upper Pullman bed.
Place the mattress on the floor. Some cabins have enough space to do this, but not all do.
Allow your child to sleep on the sofa. Some cabins have a small sofa which can be turned around so that kids can't fall off it.
Bring your own inflatable bed. Ready beds are available to buy on Amazon.
Whilst a Pullman bed might look like a safe place for a child to sleep, it's important to pay attention to the weather. If the ship passed through a storm in the night, this could increase the chance of your child being rocked out of bed.
It's also important to think about what they would fall onto if they did fall out. Would it be onto a double bed below, or onto the floor?
Can You Put the Pullman Beds Up and Down?
On a cruise, your cabin steward will raise the Pullman beds during the day and lower them again while you're out for the evening. It's usually not possible to do this yourself.
How Big Is a Pullman Bed?
Pullman beds vary in size but are generally the size of a single bed or slightly narrower. Space above the bed is limited so an adult may not be able to fully sit up in bed.
Pullman beds are generally best suited to children and smaller adults. If you have three of four adults in your cabin, it would probably make sense for the smaller adults who are most capable of climbing a ladder to use the top bunk.
What Is a Convertible Bed?
A convertible bed on a cruise ship is two single beds that can be joined together to create a queen size bed. An extra thin mattress is placed on top so that you don't feel the join in the middle. Convertible beds enable cruise ship cabins to be used by people who prefer double or twin beds.
A lower convertible bed usually means a sofa that converts into a bed. These are suitable for children or adults.
Disney cruise ships don't have convertible beds, they are always Queen beds. However, there is a sofa that converts into an extra single bed for friends who don't wish to share a bed.
Related Posts: