Cruising with a baby is one of the best ways to travel, but it's important to plan ahead and know exactly what and how you're going to feed your baby during your cruise.
Whether you're breastfeeding, bottle feeding or have moved on to pureed or solid food, feeding your baby on a cruise is easy, as long as you plan ahead.
Breastfeeding On A Cruise
Breastfeeding in public is welcomed on all cruise ships, and there's no need to cover yourself unless you prefer to. Most cruise lines have breastfeeding policies that explicitly state that it's acceptable to breastfeed without a cover anywhere on a cruise ship.
Depending on the countries that your cruise visits, you may need to check the attitudes toward breastfeeding in your cruise destinations.
If you plan to visit one of the few countries where public breastfeeding isn't widely accepted, it might be a good idea to take something to cover yourself with. (I like this cute nautical cover-up, which also doubles as a sun-shade!)
As well as being best for your baby's health, breastfeeding is the most convenient way to feed your baby while you cruise. It does, however, mean that you might have to turn down the option of an alcoholic drinks package!
If you plan to enjoy a couple of drinks, leave your baby with on-board babysitters, or like your other half to do their share of the night feeds, then you might want to express some milk during your cruise. In this case, don't forget to pack your breast pump, baby bottles, and anything you need to sanitise them.
You'll also need to think about where you will store any breast milk. Some cruise ship cabins have a mini-fridge, but it isn't always cold enough for milk.
If you don't have a fridge, or it feels too warm, then just ask your stateroom attendant to store the milk for you. There's a main fridge that they use to store people's medication, so you can keep your milk in there.
Formula Feeding On A Cruise
Bottle feeding your baby on a cruise is pretty straightforward; you'll just need to do some planning to make sure that you have all the equipment you need.
I've cruised with a six-month-old formula-fed baby and found that it was no different to staying in a hotel.
Here are my top tips for bottle-feeding your baby on a cruise:
1. Pack Plenty Of Formula
Some cruise ships carry baby formula, and P&O Cruises actually offer it free of charge! However, it might not be the brand that your baby is used to, and it may be expensive to buy onboard.
I'd definitely recommend packing enough formula to last your whole cruise rather than relying on being able to get it on the ship or in ports.
2. Take Powdered And Ready-To-Drink Formula
Powdered formula is good because it's relatively cheap and doesn't take up a lot of space in your luggage. However, it's also a good idea to pack some of the pre-mixed bottles for convenience.
I would generally make up powdered formula on the ship. But once you head ashore for your excursions, popping open a carton of the ready-made stuff is super fast and easy.
3. Cruise Ship Water Is Safe
Cruise ship water is safe to drink for children and adults, but you should boil it if giving it to babies or using it to make up formula milk.
Of course, using bottled water to make baby formula is an option too, but you'll still need to boil it, so you might as well use the tap water.
Some bottled water contains too much salt or sodium for babies, so be careful if you choose this option.
Read more: Can You Bring Bottled Water On A Cruise?
4. Check What Baby Equipment Is On The Ship
The following cruise lines allow you to hire bottle warmers and sterilisers free of charge:
Costa Cruises
Cunard
Disney Cruise Line
P&O Cruises
If you'd like to hire any baby equipment, be sure to let the cruise line know before you sail.
If you're cruising with a different cruise line, you'll need to bring your own bottle warmers and/or steriliser if you need these.
NEW DEALS JUST RELEASED!
Don't miss these hot cruise offers…
5. Check If Your Cabin Has A Kettle
The general rule is that if you're cruising from the UK, you can expect to find a kettle in your room on most ships. Cruise lines know how much us Brits like a cup of tea first thing in the morning!
You won't be allowed to bring a travel kettle on your cruise ship, so if you'll need hot water to make baby milk, then it's definitely worth asking your cruise line if they can provide you with one.
As a last resort, you can get boiling water from the buffet or from room service.
6. Don't Forget Bottle Cleaning Equipment
As a minimum, you'll need to pack a bottle brush (I like this travel bottle brush with a built-in drying rack) and some dishwashing liquid. If you usually sterilise bottles at home, then you'll probably want to do so on your cruise.
I've always found that a cold water steriliser with tablets is the best for travel. But if you prefer to bring a travel steam steriliser then these are generally allowed, but you might want to confirm this with your particular cruise line first.
If your baby is a little older, you may opt to sterilise bottles using boiling water from the kettle.
Suggested read: What can you not bring on a cruise?
Toddler Milk On A Cruise
Once your child is over 12 months old, you might want to give them whole cow's milk instead of baby formula. If you do, then you'll always be able to get this free of charge on your ship.
Whole cow's milk is available in the buffet and any of the ship's restaurants. You can also request it via room service and keep it in the fridge in your cabin if you have one.
When we cruised on P&O Britannia when Adam was a toddler, we asked for a jug of milk for our room. After the first couple of days, it appeared in our fridge each day without us having to ask, which was lovely.
If your toddler has an afternoon bottle of milk, I'd recommend filling the bottle at the breakfast buffet, then placing it in a cool bag so that it's ready when they need it, even if you're off on an excursion.
Can I Bring Milk On A Cruise?
Cruise line policies normally only specifically mention water and soda for beverages that guests can bring onboard. But generally, if a cruise line allows you to bring water, they'll let you bring milk as well – as long as you follow the same rules for water.
Some cruise lines don't allow bottles, but will allow cartons and cans – so milk cartons should be OK. Always check with your cruise line on what drinks you can bring onboard, if you're not sure.
Baby Food On A Cruise
If your baby eats pureed food, then you have three options on a cruise:
Ask the restaurant staff to puree some food for you
Bring your own pre-packaged baby food jars or pouches
Use pre-packaged baby food provided on the ship
On almost any cruise ship, the restaurant staff will be happy to make up some mashed baby food for you using fresh fruits, vegetables and rice. MSC Cruises even has a special baby food menu for babies aged six to twelve months!
Although the freshly-prepared mashed food is great, you'll probably want another option too, for when baby wants to at a different time of day to you, or for when you're off the ship.
Suggested read: Can you take food off a cruise ship?
The following cruise lines provide baby food jars or pouches free of charge:
Cunard
P&O Cruises
Princess Cruises
On other cruises, baby food may be available to buy in the on-board shop. It's probably best to bring your own, though.
Baby-led Weaning On A Cruise
If you've decided to skip the pureed food and go straight to solid food, then a cruise is food heaven for a baby!
We cruised when my son was six months old, and he absolutely loved trying all the different fruits, vegetable sticks, rice, and potatoes, and he even had his first slice of pizza!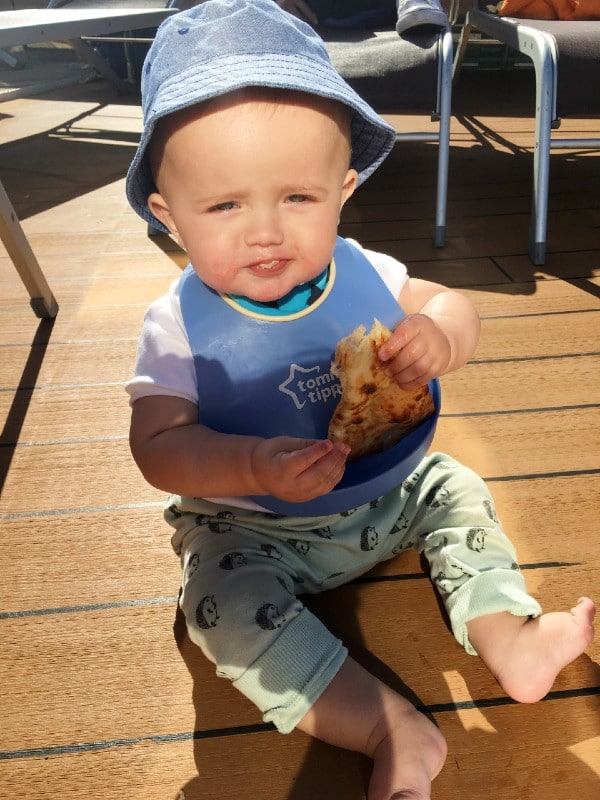 Of course, baby-led weaning can be messy, but you really don't need to worry as the cruise ship staff are incredibly friendly and do a great job of cleaning the floor! If you feel guilty about all the sweeping up, you could always slip them an extra tip at the end of your cruise.
Don't forget to pack some food-catching bibs. The disposable bibs can be handy as an alternative to washing plastic bibs in your cabin sink.
Whilst cruise ships are kept scrupulously clean, if you're concerned about your child eating food that's touched the table, you might also want to take some disposable stick-on placemats.
For a full list of things to pack for a cruise with a baby, I recommend that you get my free baby packing list. You can save it on your phone or print it off and tick off items as you pack.
Cruises Can Be Fantastic For Babies
However you choose to feed your baby, you'll be able to do that on a cruise. What's available on the ship and whether it's free or you have to pay for it varies depending on the cruise line and also on the ship.
If you have any unanswered questions about what to expect on your particular cruise, then you should get in touch with your cruise line as they will be able to give you the best answer.
If you'd like to borrow any baby equipment, you should be sure to give your cruise line at least three weeks' notice so that they can ensure that it's ready for you when you board the ship.
Suggested read: Taking a baby on a cruise ship? Read this first!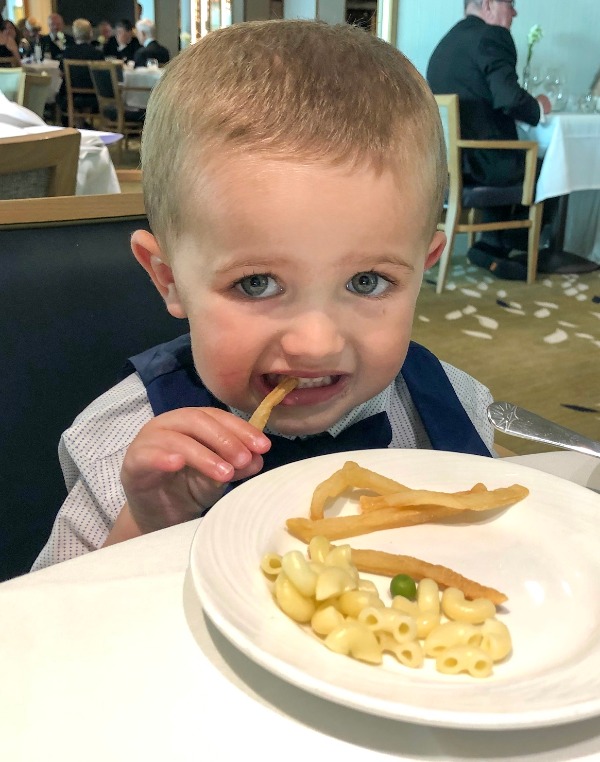 Related posts