If you're planning a cruise with your toddler, then one of the biggest concerns is their safety. And if you're constantly worrying about your little one, you're simply not going to have fun.
I've been cruising since my son was six months old and I've done it plenty of times with toddlers in tow. So I know exactly how you feel.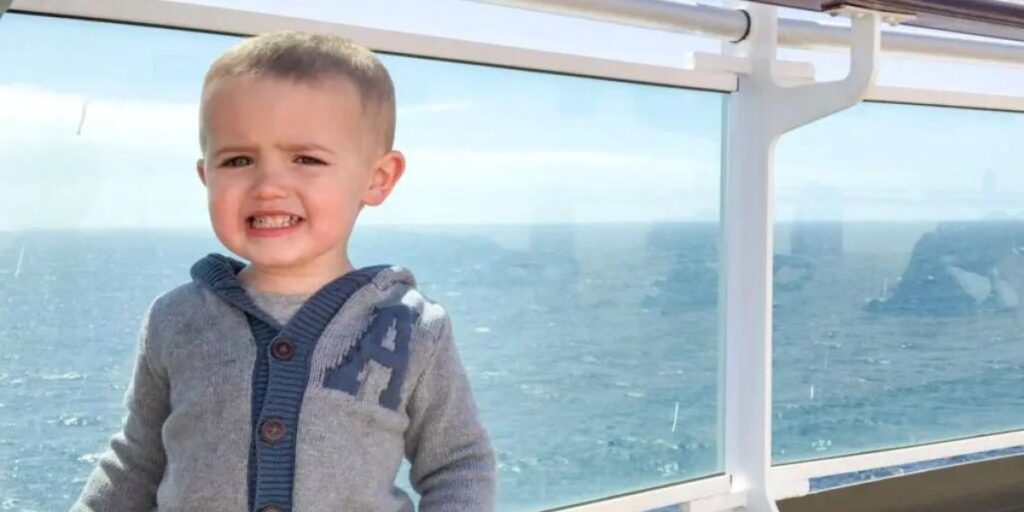 I'm not saying you can't have a cabin with a balcony with young children. But if you do, you'll have to be as vigilant as a hawk. So, read on and I'll help you decide which is the best stateroom to choose for your family.
What Are Cruise Ship Balconies Like?
Cruise ship balconies are usually pretty small, with just enough space for two chairs and sometimes, if you're lucky, a little table or footstool. The side is made of glass that comes up to waist height, and if you look down, the drop will be between four and 20 storeys, either into the sea, or onto a promenade deck.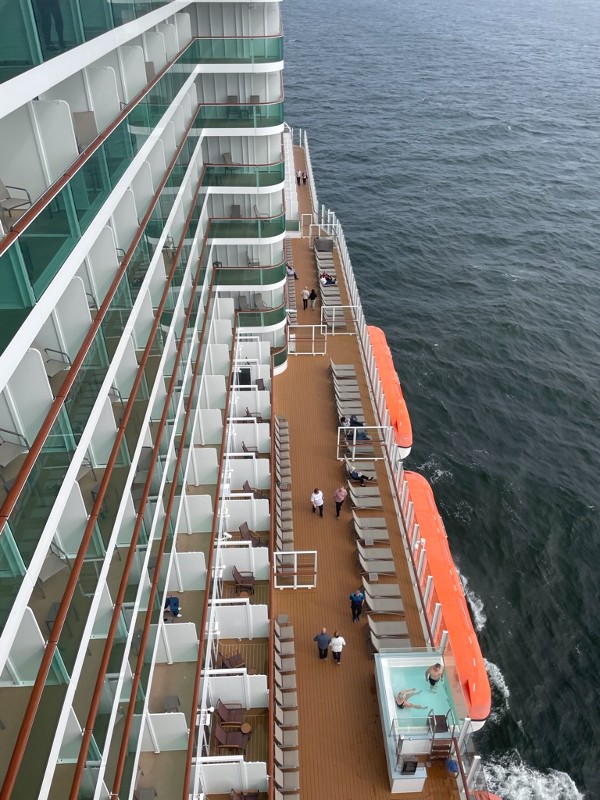 People do go overboard from cruise ship balconies several times per year, and it's almost always fatal. It's important to note, though, that these instances are pretty much always caused by passengers who jump on purpose, or are doing something silly, like climbing.
You can't fall off a cruise ship balcony by accident. But If you're standing up holding a toddler near the edge, or letting them climb up on furniture, then the risk of them falling overboard is very real.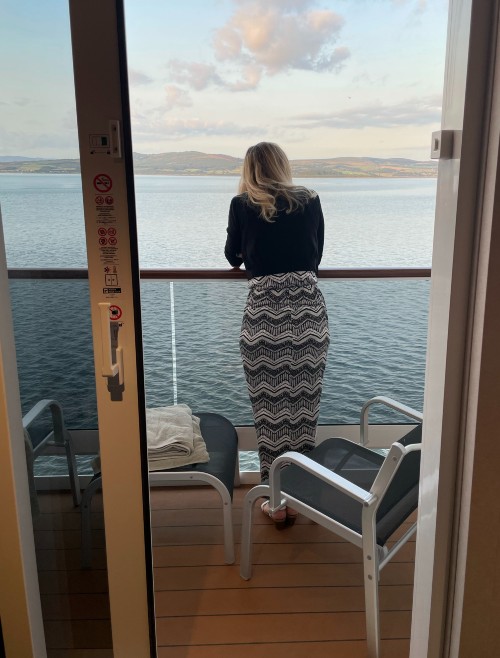 What Parents Need to Be Aware Of
Cruise lines go to great lengths to ensure the safety of their guests, but their measures are not foolproof. And as you'll know, toddlers, are as nifty as they come. Here are the things that you need to know about cruise ship balcony rooms, so you know what to expect if you book one…
1. The height of balcony rails
Waist-heigh glass barriers may seem impossible. But that's not always the case, and you should never assume that your child won't be able to climb over. Toddlers are very curious as you'll know, and they may find a foothold somewhere that you haven't spotted.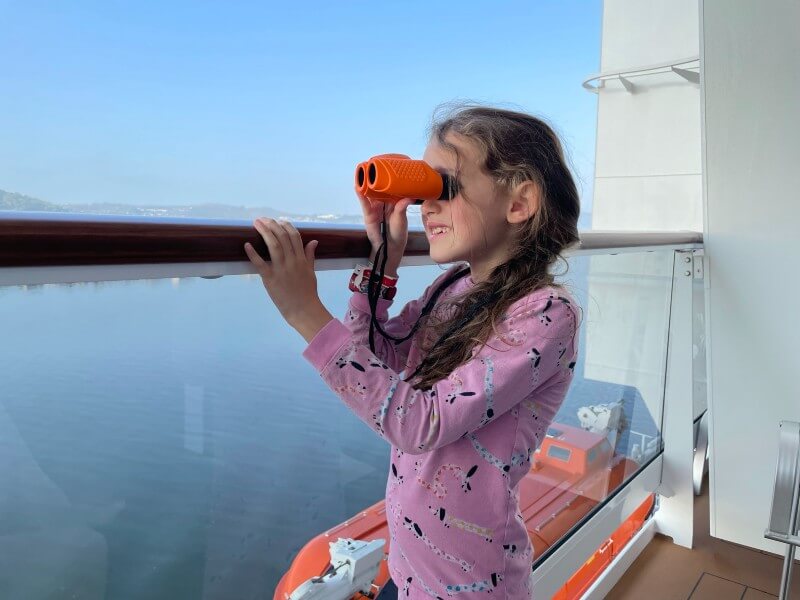 While most modern cruise ships have balcony barriers made of glass, some do have either solid metal or metal railings. The solid metal balcony fronts usually have a ledge that a child could use to step up, and the metal bars of a railing make them the easiest to climb.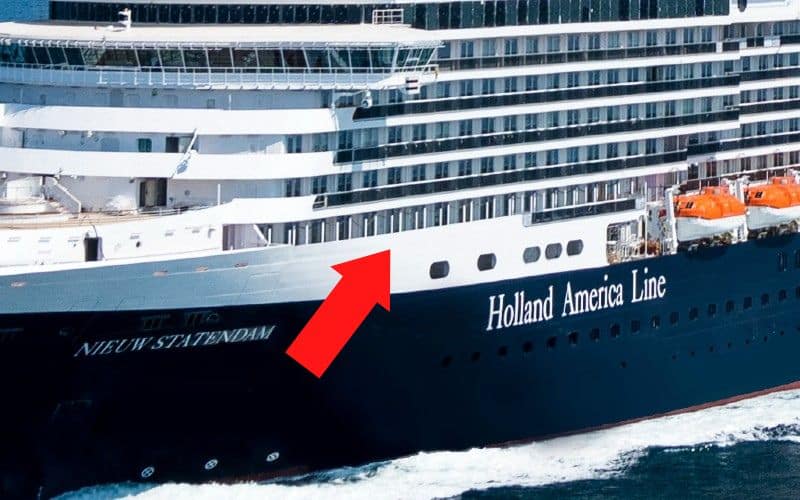 2. Balcony furniture
A chair or a table may seem like an exciting climbing frame to our little explorers. But once a child has that added height, it becomes all to easy for them to go overboard.
You can ask your cabin steward to remove the furniture from your balcony, but this isn't always possible. On our cruise on P&O Cruises Iona, we tried to bring the chairs in from the balcony, but they were simply too wide to fit through the door.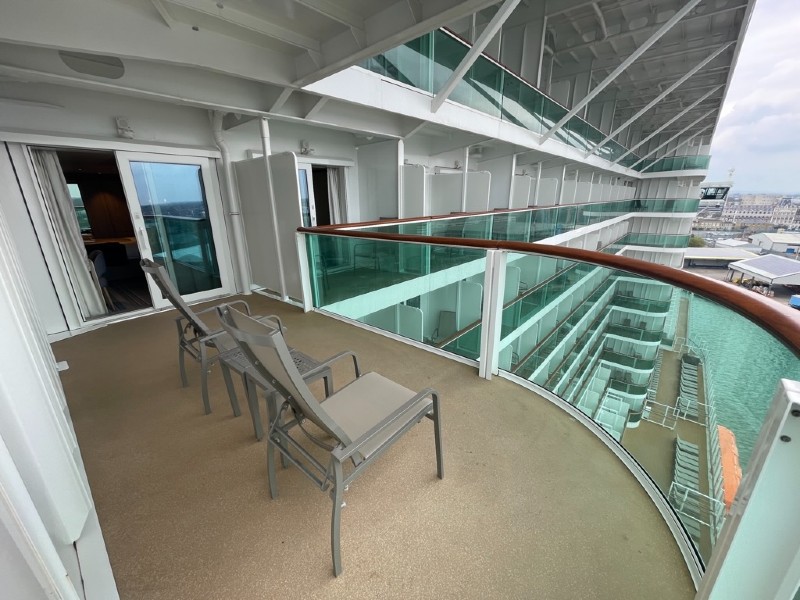 3. Balcony doors
Cruise cabins usually have glass doors that open onto the balcony. Most have a lock at the top of the door that's tough for a toddler to reach unless they get creative with a chair.
However, the locks aren't always at the top, sometimes they're much lower. As you can see in this photo that I took onboard MSC Virtuosa, my six-year-old was able to open the balcony door lock with ease.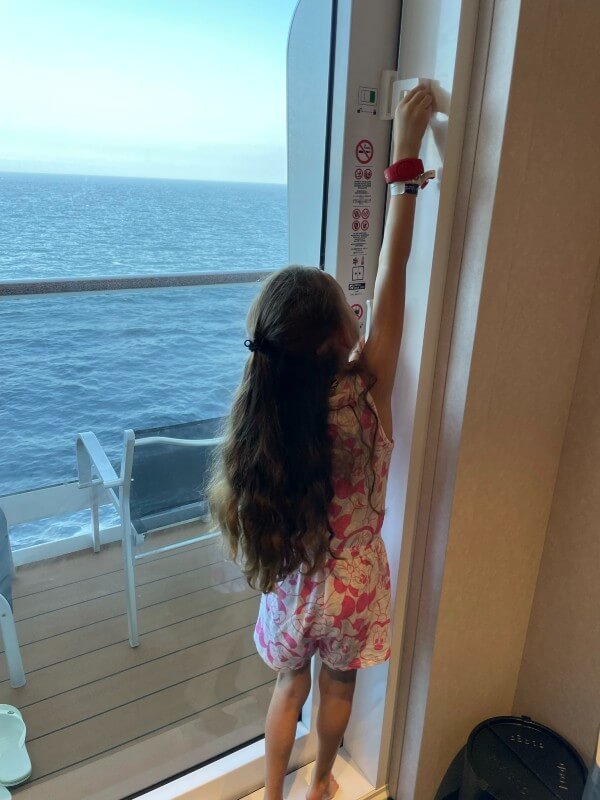 The Golden Rule
There's a golden rule you've got to stick to when you're cruising with your little ones. Never, ever leave a young child unattended with access to a balcony. Even if you use the bathroom, make sure that there's another adult watching your child so they can't sneak out there.
Of course, the exact age at which you can trust your child to behave sensibly on a balcony depends on the child. I could trust my eight-year-old daughter not to do anything dangerous with 100% confidence. But when I remind my six-year-old son not to climb on the balcony footstool, he'll likely forget five minutes later and do it anyway.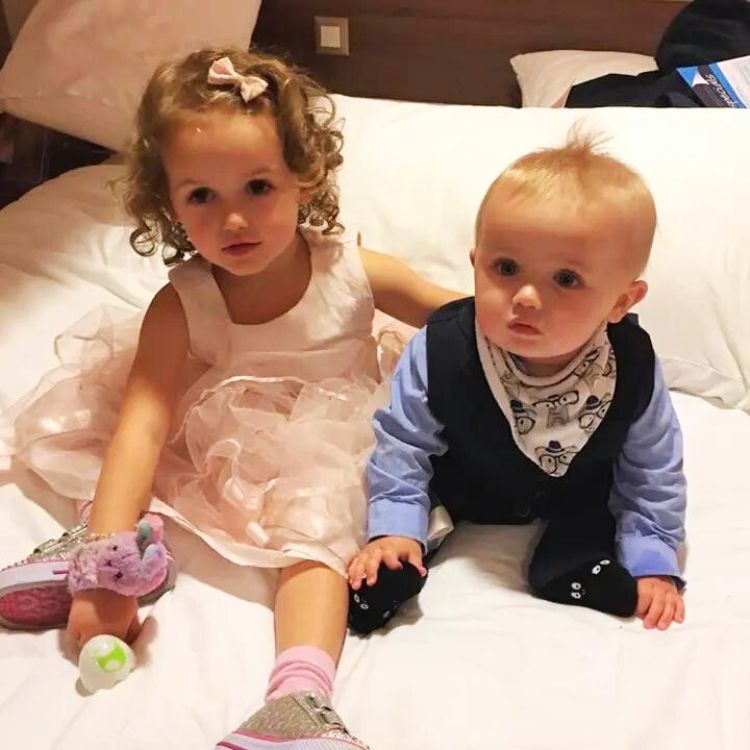 Other Areas of Cruise Ships That Can Be Dangerous For Toddlers
Aside from your cabin, there are several public areas that could prove to be hazardous for your child. It's important to be aware of these and take necessary precautions.
1. Railings in Public Areas
Out on deck, the barriers are usually chest height to an adult and made of glass. Sometimes, they're over head height. This makes them impossible to climb, unless there's furniture involved.
However, many older cruise ships also have horizontal metal railing instead of glass, making it much easier for small adventurers to climb.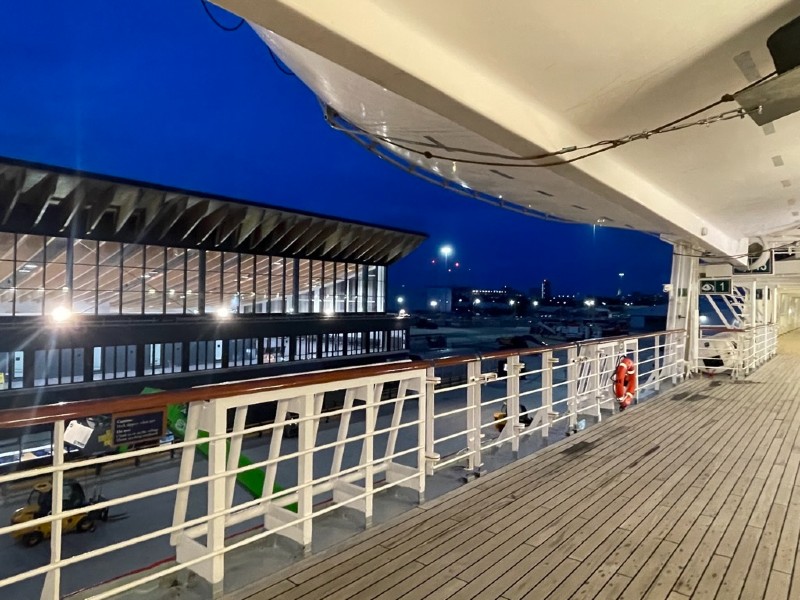 River cruise ships are probably the most dangerous, with metal guardrails only reaching an adult's waist height. These would be very easy to climb, and this is one of the reasons why most river cruise lines do not allow children under five on board.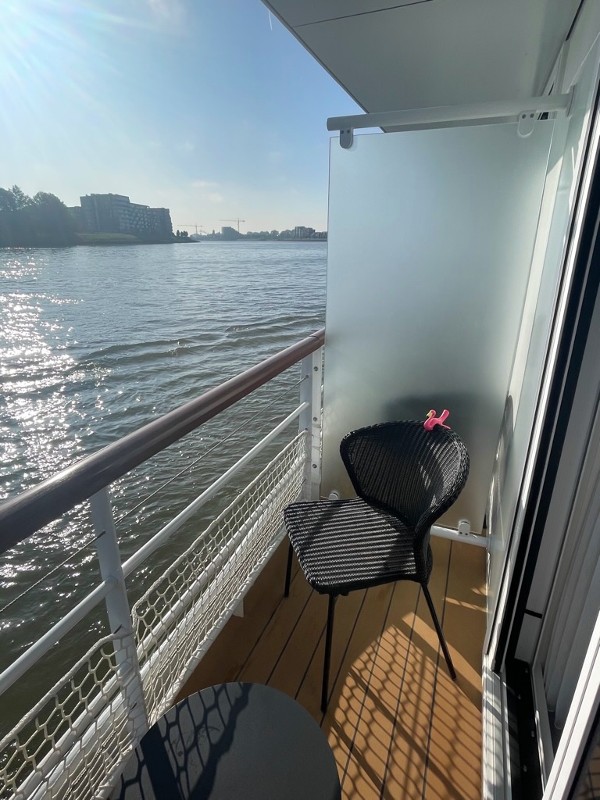 You may remember the horror story when a grandfather accidentally dropped his grandchild through an 11th-storey window on a Royal Caribbean cruise ship in 2019. He lifted the 18-month-old toddler up to what he believed was a wall of glass, but it was actually an open window. The child fell through his hands and sadly died.
2. Swimming Pools
Most cruise ships don't allow toddlers who aren't yet toiletry trained to use the pools. But that doesn't mean that they aren't dangerous to young kids.
When my son was two, he was walking around the edge of a very deep swimming pool on P&O Cruises' Britannia. I was walking right behind him. In the blink of an eye, he dove head-first into the water and immediately sank down to the bottom. I had no idea that a child would sink so fast!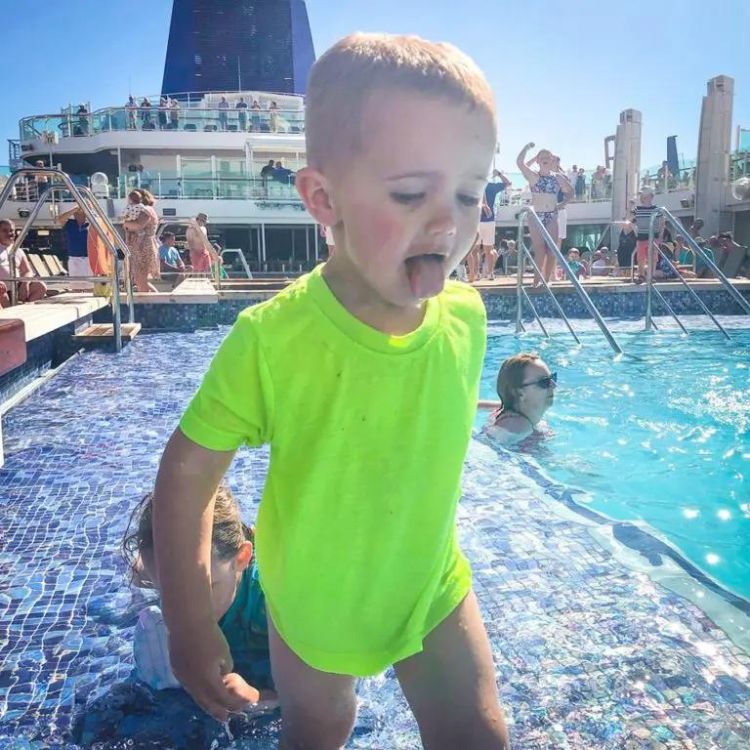 Frantically, I reached down and plunged my whole arm into the water to grab his ankle and haul him out.
Luckily, my son was absolutely fine and somehow not upset at all. But I was very shaken, and also felt very lucky that he was underwater for just a couple of seconds.
Depending on the cruise line, the pools on your ship may or may not have lifeguards. But even if they do, the pools are often very busy, so you should always keep a very close eye on your toddler near the water.
3. Bars and Restaurants
Your little one might think it's all fun and games at the bars and restaurants on a cruise ship, but it could be a recipe for danger. People come and go, toting trays laden with food and drink. One unexpected toddler dash could lead to someone tripping and spilling a hot drink or smashing a glass in the vicinity of your child.
While you're enjoying your food and drinks, it's vital that you don't let your children run around. Be sure to pack some tabletop toys and activities that will keep them entertained between courses.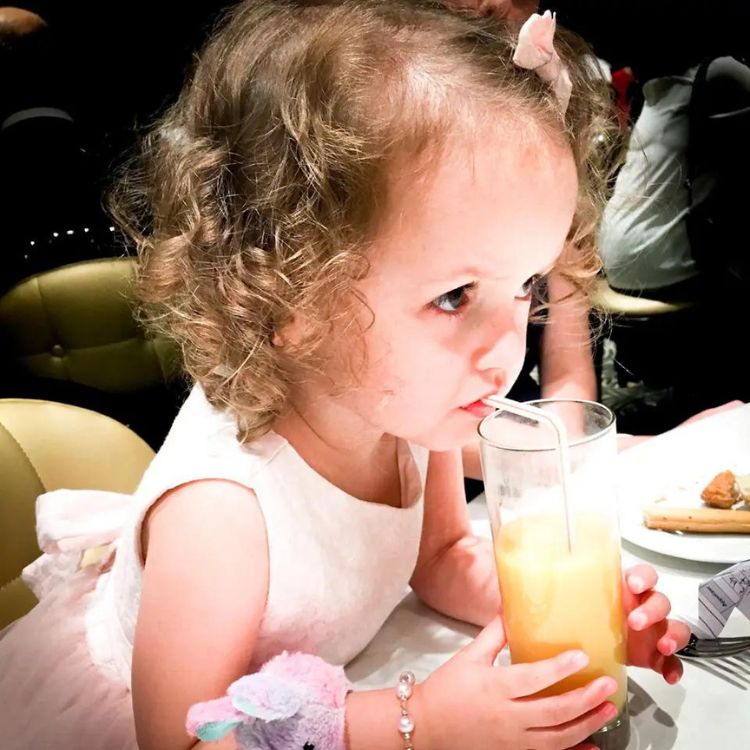 4. Stairs
The stairs on cruise ships can be incredibly dangerous for little ones. The problem is that they often have gaps in between each step. While these gaps may be small to an adult, they could be huge to a toddler, so they could fall through.
As each deck is quite heigh, a flight of stairs may have 15 or more steps, and they're sometimes made of marble, crystal or other materials that won't give a soft landing.
5. Elevators
Ready for another tale from my accident-prone son?
A couple of years ago we were in the elevator on an MSC Cruise ship when he let out an almighty shriek. As the elevator doors opened, his finger had got sucked into the side and trapped.
We frantically pressed the button to close the doors in an attempt to free his finger, but they didn't move. All that was left to do was to pull his finger out with force. Luckily, it wasn't too badly damaged, but it was red and swollen for a few days. It could have been much worse.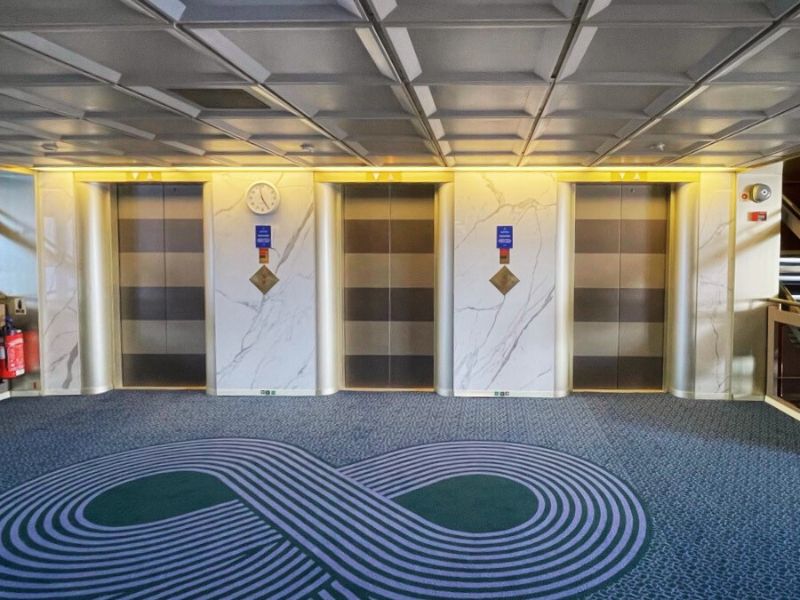 6. Falling out of bed
Most cruise lines allow you to borrow a travel cot for your baby. But once they're over a year old, you may find that they're simply to big for it, or they try to climb out, which can be dangerous.
At that point, you'll have to put them in a full-size bed. So it's important to know what kind of beds are in the room when you book. Your best option would be a sofa bed.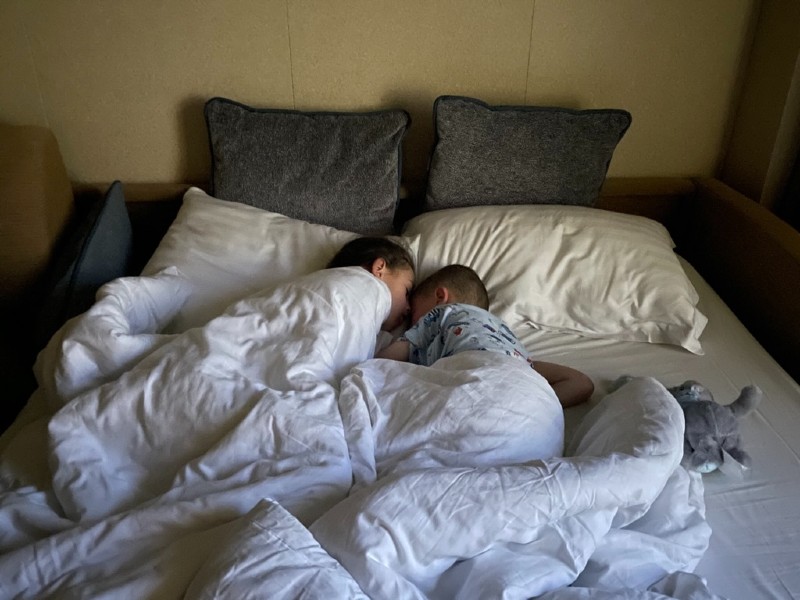 If they're likely to fall out you should bring your own bed guard from home, tuck a pool noodle under the sheet, or place some spare pillows on the floor. Alternatively, you could bring an inflatable 'Ready-Bed' for them to sleep on the floor.
Some cabins have Pullman beds that come down from the ceiling. These sometimes have age restrictions, but not always. When we cruised on MSC Virtuosa, our two-year-old slept up on the top bunk.
That bed had a large guard rail, but not all do. Here's an example of what extra beds may look like on a cruise…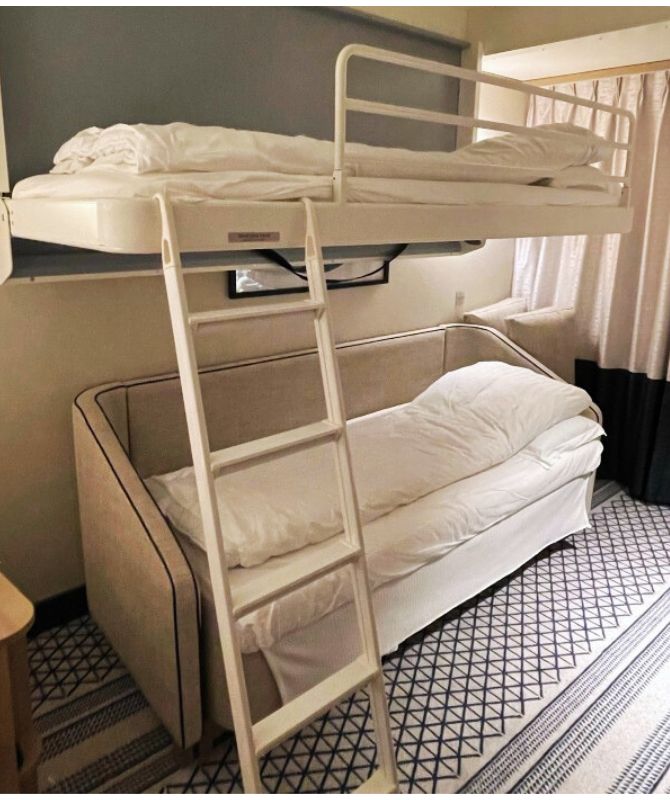 If, when you arrive, you're at all concerned about the safety of where your toddler sleeps, you should be sure to let your stateroom attendant know.
Should You Book A Balcony Stateroom With A Toddler?
Cruise ship balcony staterooms do have their advantages for parents with young kids. It's a private space where you can relax while your kids nap, with the fresh air from the sea making you feel alive.
But, if you feel that you wouldn't be able to relax with a balcony, then an ocean view stateroom might be a better bet. As well as being safer, they're more affordable and come with enough room and amenities for a comfortable stay.
The lure of a balcony stateroom can feel strong, but remember, the child's safety comes first. Logically, an Ocean View stateroom might just hit that right balance of budget and safety.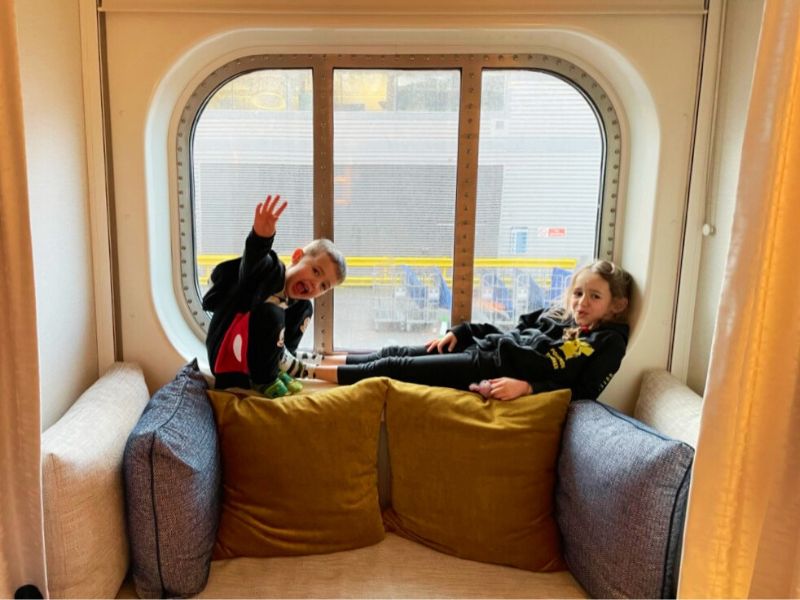 My Recommendation
When it comes to cruising with kids, it's all about ensuring they have a memorable time while staying safe. If you're torn about which type of room to book, then make sure you read my article about why I (almost) always choose an inside cabins for a family cruise.
Choose your accommodation wisely, keep a keen eye on your kids, and you're good to go. After all, a safe cruise is a happy cruise. And as a parent, that's all we truly want.
Related Posts: