There could be many reasons for seeking out the best cruises for singles over 40. Searching for solace and relaxation after a divorce? Or just want to time away by yourself? Looking to meet new friends with shared interests? Plotting a romantic fling or true love on the seven seas?
No matter the reason, cruises are a great option for solo travellers over the age of 40.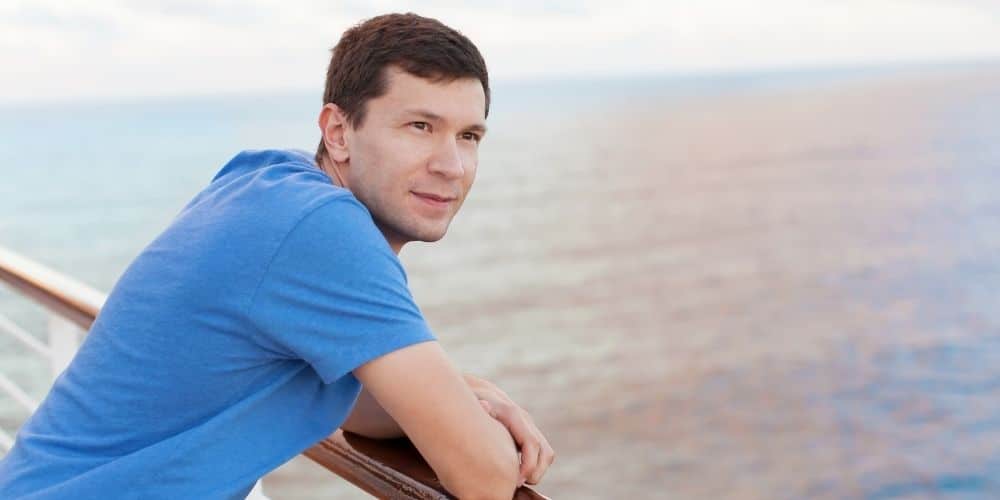 The thought of cruising solo might seem daunting at first, but the ships offer thought-out plans, daily programmes and evening entertainment to keep you occupied. Not to mention visiting multiple destinations in one trip without having to keep packing up your suitcase!
The average age of a cruiser is 45, so you're sure to be amongst passengers your own age. One of the main benefits of a cruise is that they take the hassle away of researching places to stay, eat and drink while travelling as it's all there for you on your ship.
Read on to find out the best cruise lines to choose if you're over 40 and planning a singles cruise.
Are There Cruises For Singles Over 40?
There are lots of cruise options for singles over 40. While any cruise is well suited for this demographic, there are some organised group cruises for singles. These are ideal for finding friendship and romance at sea.
If you want to know more about organised singles cruises, take a look at my guide: Single Cruises – How They Work & Best Options.
However, you don't need a dedicated singles only cruise – sometimes it's better to choose a regular cruise. You'll still get a lot of arranged events where you can meet other singles in your age group. Singles only cruises are good, but not the only option.
Some people may be considering a singles cruise as an easy way to hook up with fellow guests. With social spaces such as bars and restaurants, as well as nightclubs, there are lots of places on a cruise ship you can meet a love interest. Take a look at the best cruises for singles to hook up to read more.
In general, whether you're seeking platonic or romantic relationships or just a passing travel partner, all cruises will welcome you aboard as a solo traveller over 40.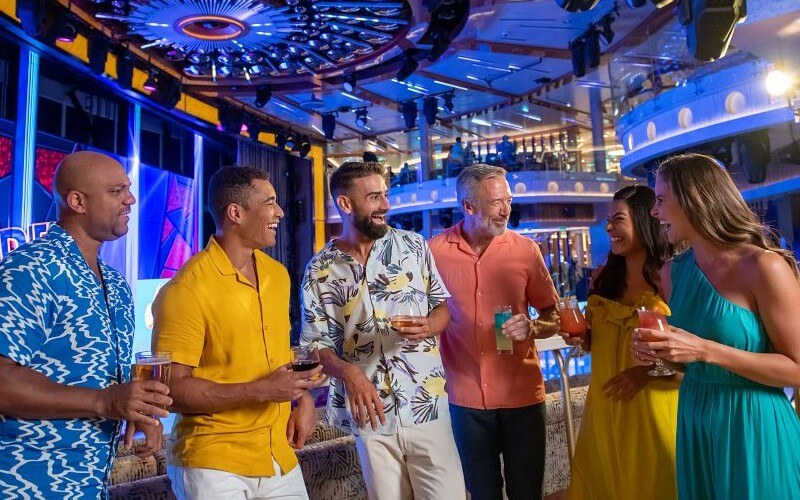 The Best Cruise Lines For Singles Over 40
Here are the best cruise lines to choose as a 40+ single traveller:
1. Royal Caribbean
Energetic and fun, Royal Caribbean cruises bring you plenty to keep you occupied and then some. Surfing and sky-diving simulators, dodgems, rock-climbing walls, zip lines, laser tag, escape rooms, circus schools and more are the ideal antidote to the hustle and bustle of a busy life 40-somethings can often get caught up in. It also means there's a good chance to be a big kid again!
Life onboard a Royal Caribbean cruise as a 40-year-old needn't be all fun and frolics. If you prefer relaxation, there's also an adult-only Solarium on every ship in the fleet, as well as and a range of bars, lounges and a casino for grown-ups to hang out and socialise.
Single cabins feature on selected Royal Caribbean ships, with a mixture of inside, balcony and virtual balcony staterooms, which include no single supplements. It's a good idea to book these as soon as you know you're planning a cruise with Royal Caribbean as they can get booked up very quickly!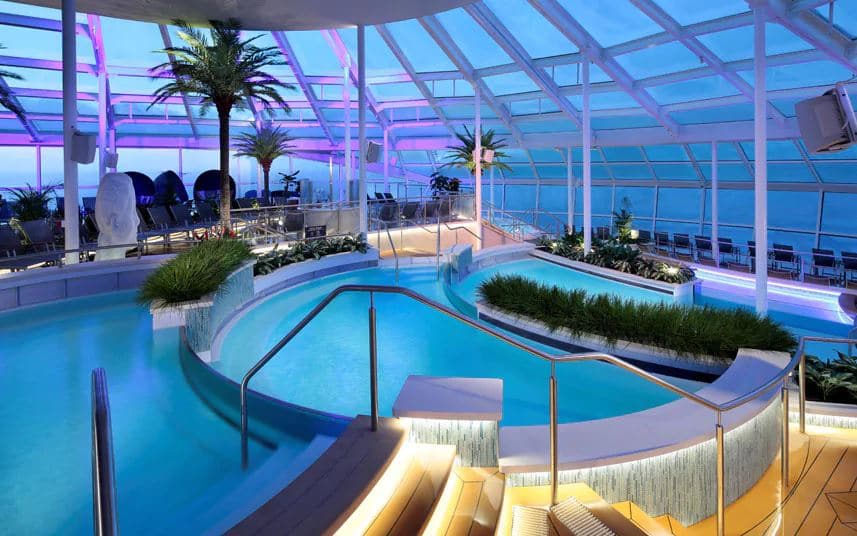 2. AmaWaterways
Another option for active solo cruisers is a river cruise with AmaWaterways. Instead of cruising the ocean, this cruise line features ports along European waterways such as the Rhine, Seine and the Danube.
With a smaller guest capacity, there isn't as much to do on the ship, and you will find yourself bumping into the same people – but that makes for great mingling opportunities!
Not only can you cruise right into the heart of the destinations you visit with AmaWaterways – think Budapest, Cologne, and Paris – but you can enjoy cycling along the riverbanks and enjoying food and drink-themed tours that will ensure you fully experience the regions you visit.
With a great price point and service, the cruise line is a top choice for those over 40 travelling alone and seeking an active and busy holiday experience.
Suggested read: AmaWaterways Vs Viking River Cruises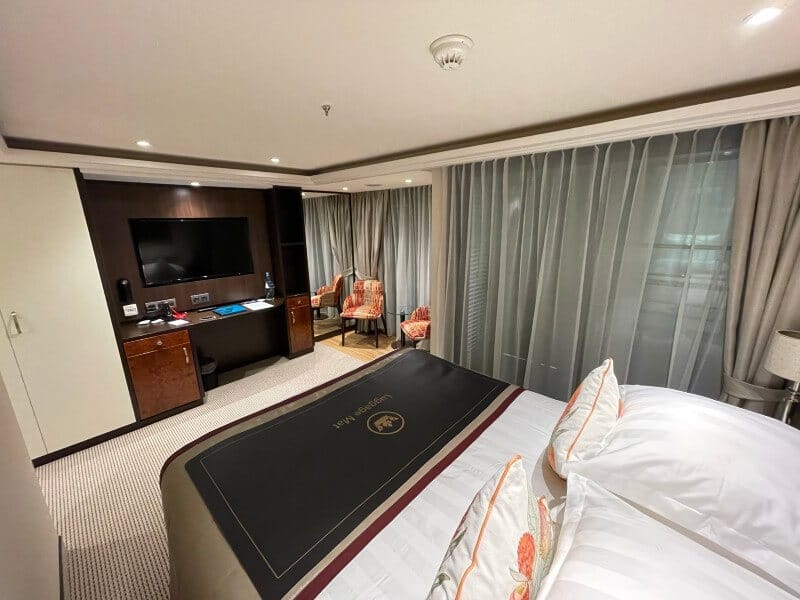 3. Silversea
When it comes to luxury cruises for solo travellers aged 40 and over, Silversea is one of the best options.
Bringing fellow passengers onboard with similar views and interests, guests can enjoy smaller ships where activities are adult-oriented and offer educational benefits. Just one of the ways Silversea creates this is with their resident photographers who offer tutorials on wildlife and nature photography, as well as how to edit digital images in the onboard lab.
Each cruise offers a program centred around a certain field of interest, so you already have a great talking point with other passengers to break the ice.
Be aware that aren't any solo cabins on Silversea cruise ships. Instead, solo travellers will pay between 25 and 75% supplement charge, so it's wise to keep an eye out for promotions or deals where this might be waived!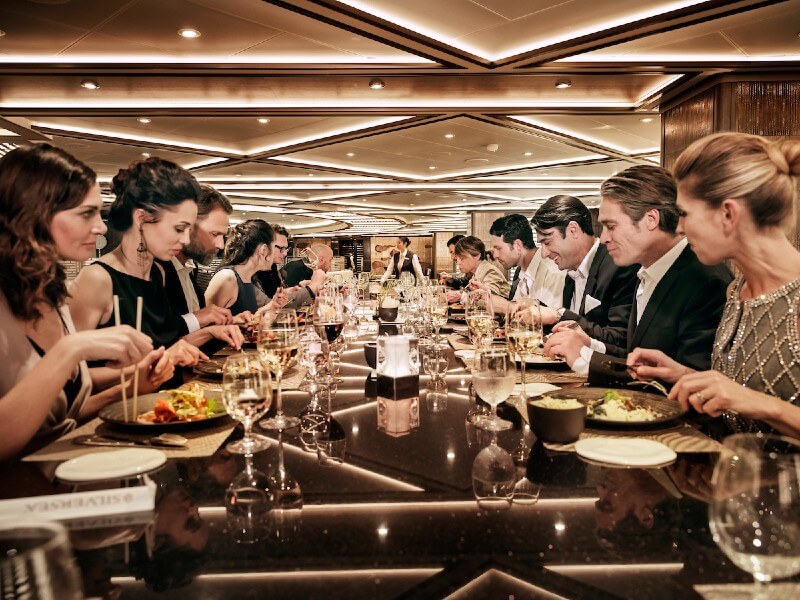 4. Norwegian Cruise Line
One of the best solo cruise lines overall is Norwegian Cruise Line. It was the first major cruise company to create studio cabins specifically for single cruisers as well as the exclusive Studio Lounge only for solo travellers.
These solo cabins offer a chic décor set in 100-feet of space and can be found on board Norwegian Getaway, Norwegian Encore, Norwegian Escape, Norwegian Epic, Norwegian Bliss, Norwegian Breakaway and Pride of America.
As well as the Studio Lounge where solo travellers can enjoy their own space to drink, have a snack and meet other travelling singles, there are many other spaces where guests can mingle including the varying bars, lounges and adult-only areas for events and live music that runs right into the early hours of the morning.
From 2024, there are more NCL solo cabins than ever before. The cruise line has said that, because they're so popular, they want to expand the number of cabins available to single travellers.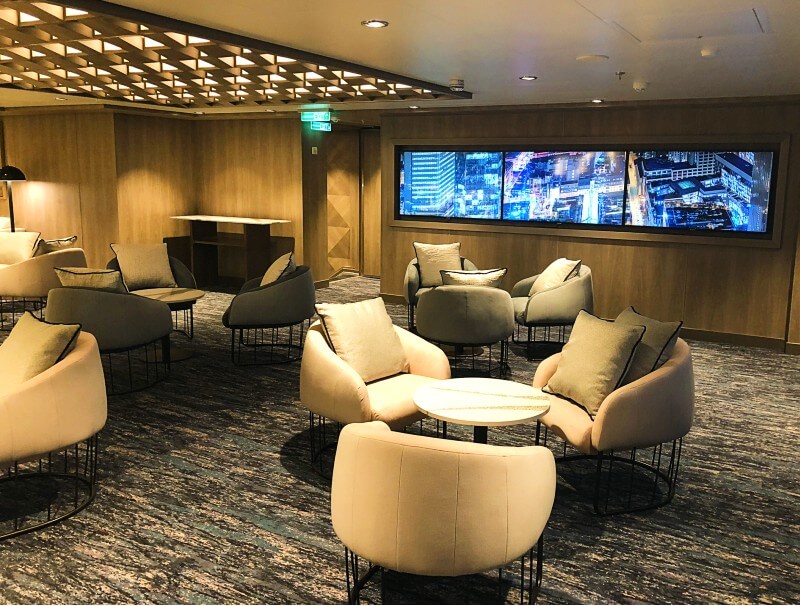 5. Regent Seven Seas Cruises
Another luxury cruise line to consider is Regent Seven Seas Cruises. Though the demographic for customers is closer to 60 years, sorter and 7-night sailings still bring a younger audience in their 40s and 50s, so choose your itinerary carefully.
Despite this, the cruise line is proud of the emphasis it places on creating an environment and community for solo travellers to feel welcome. Dedicated hosts, butlers and concierge will ensure you have all you need both in your suite and around the ship. They will also plan activities for singles including gathering at dinner or over cocktails and excursions, so you needn't worry about going ashore along.
The cruise line consistently offers discounts for solo travellers too, with up to 75% saving on single supplements in some cases. Regent Seven Seas Cruises are the most inclusive cruise line at sea including Wi-Fi, alcoholic drinks, shore excursions and gratuities in your package. So although the cruises can seem very expensive, they offer great value for what you get.
6. Holland America Line
With over forty activities available purely for solo travellers to meet one another during a cruise, Holland America Line is rightly prepared for the mingling and ice-breaking a singles cruiser might be craving.
This cruise line is one of the top choices for those travelling alone and the cocktails, games, team trivia, and line dancing planned into the sailing speak for themselves.
Guests who love live music will enjoy the range of musical events and shows on offer during their Holland America cruise. Dance the night away at the B.B. King's Blues Clue or rock out in the Rolling Stone Rock Room, created in collaboration with Rolling Stone magazine.
For a more chilled vibe, you can test your kitchen skills in America's Test Kitchen with demonstrations or enjoy some yoga and book club with the Oprah Magazine-branding activities. There's certainly a wide range of activities to keep you active and likely to meet new friends onboard.
Only selected ships in the Holland America Line fleet offer solo cabins, including the biggest and newest ships in the fleet: Koningsdam and Nieuw Statendam. So, it's best to book as soon as you can to ensure you don't miss out on securing your very own room, supplement free!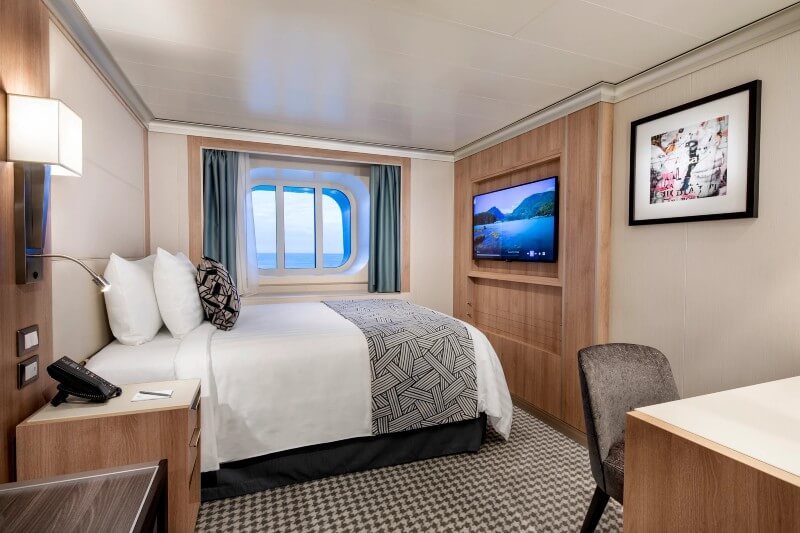 To Conclude
It's always wise to book your stateroom early, no matter which cruise line you choose. Solo staterooms, or studios as they're often called, are in high demand and are usually the first options to sell out. Keeping an eye on which cruise lines are offering reduced or 0% single supplements is key to making sure you can save some money on your overall cost too.
There are so many cruise lines to choose from when it comes to cruising as a solo traveller, and more cruise lines are working to cater to these groups more widely.
The best recommendation is to go for a cruise line that is appealing to what you would like out of your cruise.
Luxury and educational activities? Silversea and Regent Seven Seas Cruises are perfect!
Looking for an energetic and active cruise, both on the ship and ashore? Royal Caribbean, Norwegian Cruise Line and AmaWaterways are for you!
Related Posts: