Silversea is one of the world's premium cruise lines, offering "all-inclusive ultra-luxury" cruises to some amazing destinations around the world. If you want that classic VIP feel of an elegant cruise ship, and you don't mind paying a higher price, then Silversea could be the ideal choice.
But not every Silversea ship is the same. Some are newer, while there's also the Silversea Expedition class of ship that offers a slightly different experience altogether. So let's take a look at the various Silversea ships and how they compare.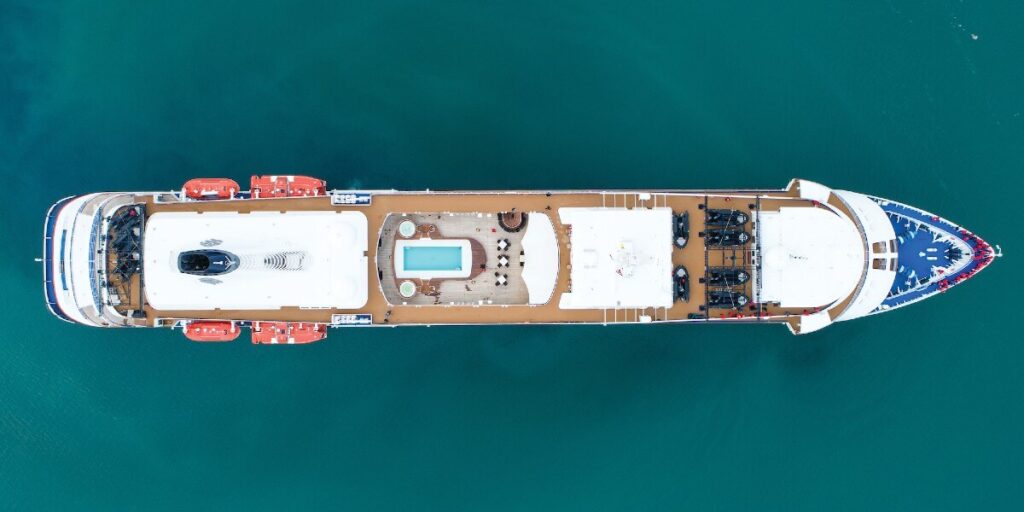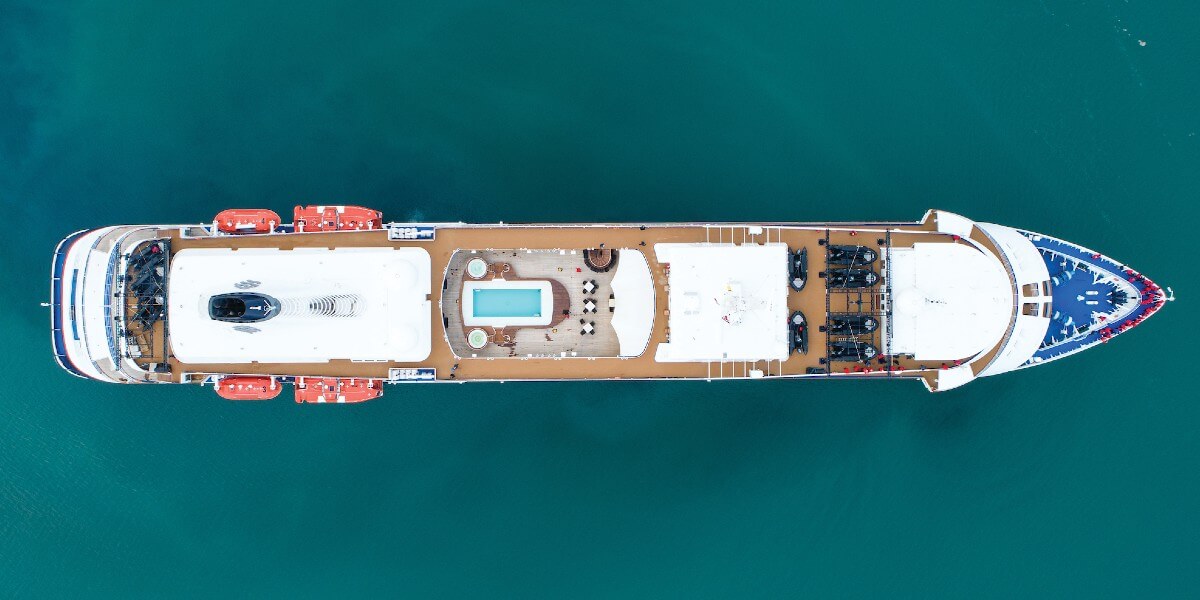 How Many Ships Does Silversea Have?
Silversea currently has 12 cruise ships in its fleet, with another ship due to join – the Silver Ray in 2024. Of the current fleet, five are Expedition ships and seven are ultra-luxury cruise ships.
There are two main types of Silversea ships – the standard ships that offer a classic ultra-luxury experience, and Expedition class ships.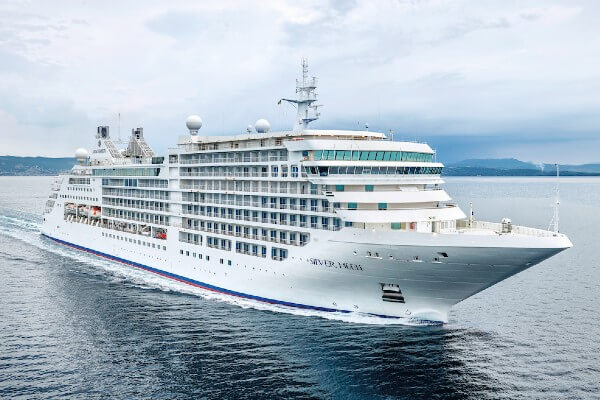 Silversea Expedition Vs Ultra-Luxury Ships
Expedition class vessels are smaller than regular cruiser ships as they are specifically designed to be able to access ports of call that larger ships can't.
They still provide a luxury cruise experience, but being smaller they don't have the same range of facilities – you'll have fewer choices for dining venues, and there won't be as many public areas to relax. They're an adventure ship, rather than one designed around sumptuous pool decks and classy bars.
With Silversea expeditions, the focus is very much on the destinations, with the chance to visit some of the world's most beautiful and untouched locations including the north and south polar regions, the Galapagos Islands and more.
Silversea's larger cruise ships won't even offer tenders to these locations due to logistical issues, but the smaller expedition ships are able to anchor much closer. They're also better equipped to deal with icy polar weather conditions.
Many Silversea expedition cruise ships have Zodiac boats, which are much smaller than a typical tender and allow guests to get onto land at destinations like the Antarctic where a regular tender can't get close.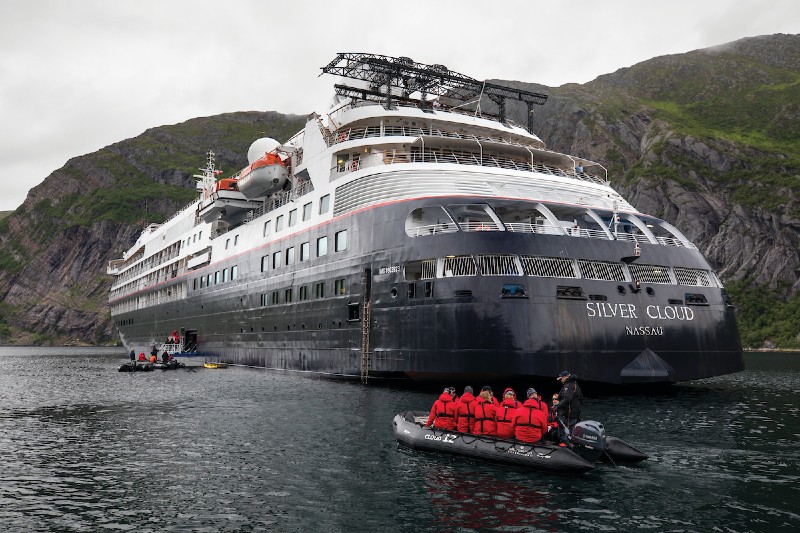 If you've ever wanted to see penguins in their natural habitats, rather than zoos, then a Silversea Expedition ship can get you there.
They're ideal if you like the idea of cruising with a much smaller number of passengers too – the largest Silversea expedition ship accommodates just 274 passengers, while the smallest has just 100. You could almost learn every passenger's name by the end of your voyage!
Read more: Advantages and Disadvantages of Silverseas Cruises
Silversea Ships By Size
How Big Are Silversea Ships?
Silversea cruise ships are all relatively small compared to many other cruise lines, with a maximum guest capacity of 728 on the largest ships (and many accommodating fewer).
A cruise with Silversea is not one where you're going to be overwhelmed with crowds. It's a more intimate and relaxed experience, where the crew are able to give a more personalised service.
It wouldn't be possible for a ship with 6,000 passengers to be able to give each guest the same luxury that Silversea offers.
The table below compares all of the Silversea ships by size from largest to smallest…
| Ship | Type | Volume (gross tons) | Length (feet) | Number of decks | Passenger capacity | Crew capacity |
| --- | --- | --- | --- | --- | --- | --- |
| Silver Ray | Ultra-luxury | 54,700 | 801 | 11 | 728 | 556 |
| Silver Nova | Ultra-luxury | 54,700 | 801 | 11 | 728 | 556 |
| Silver Muse | Ultra-luxury | 40,700 | 698 | 11 | 596 | 411 |
| Silver Moon | Ultra-luxury | 40,700 | 698 | 11 | 596 | 411 |
| Silver Dawn | Ultra-luxury | 40,700 | 698 | 11 | 596 | 411 |
| Silver Spirit | Ultra-luxury | 39,519 | 691 | 11 | 608 | 411 |
| Silver Shadow | Ultra-luxury | 28,258 | 610 | 10 | 392 | 302 |
| Silver Whisper | Ultra-luxury | 28,258 | 610 | 10 | 392 | 302 |
| Silver Endeavor | Expedition | 20,449 | 538 | 10 | 200 | 209 |
| Silver Cloud | Expedition | 17,400 | 514 | 9 | 254 | 212 |
| Silver Wind | Expedition | 17,400 | 514 | 9 | 274 | 239 |
| Silver Explorer | Expedition | 6,072 | 354 | 7 | 144 | 118 |
| Silver Origin | Expedition | 5,800 | 331 | 8 | 100 | 90 |
NEW DEALS JUST RELEASED!
Don't miss the latest Silversea offers…
There are a couple of ships that need a little bit of extra detail here.
Silver Explorer
While Silver Explorer did join the Silversea fleet in 2008, it was first built in 1989, so it's technically the oldest ship that Silversea currently operates. However, it is leaving the fleet in 2023, having been sold to the expedition cruise line Exploris.
Silver Endeavor
The Silver Endeavor is a recent acquisition by Silversea cruises. It was first built in 2021 for Crystal Cruises and was seen as the new expedition flagship for that cruise line, but the cruise line was closed down in early 2022 after its parent company became insolvent.
Silversea bought the Crystal Endeavor and is in the process of repurposing it for their Expedition class. The passenger figures given above are based on the Crystal Endeavor and may change.
Silversea Ships By Age
What Is Silversea's Newest Ship?
The current newest ship in the Silversea fleet is the Silver Nova, the first of the Evolution-class of ships. She'll be joined by the Silver Ray in 2024.
Silversea maintains the highest standards in its ships, and so they go through regular refurbishments to ensure that they offer the luxury that the cruise line demands.
Here's a look at each ship in the fleet, when it was launched, and when it was last refurbished:
| Ship | Type | Year built | Year joined the fleet | Last refurbished |
| --- | --- | --- | --- | --- |
| Silver Cloud | Expedition | 1994 | 1994 | 2017 |
| Silver Wind | Expedition | 1995 | 1995 | 2021 |
| Silver Shadow | Ultra-luxury | 2000 | 2000 | 2019 |
| Silver Whisper | Ultra-luxury | 2001 | 2001 | 2018 |
| Silver Explorer | Expedition | 1989 | 2008 | N/A |
| Silver Spirit | Ultra-luxury | 2009 | 2009 | 2018 |
| Silver Muse | Ultra-luxury | 2017 | 2017 | N/A |
| Silver Moon | Ultra-luxury | 2020 | 2020 | N/A |
| Silver Origin | Expedition | 2020 | 2020 | N/A |
| Silver Dawn | Ultra-luxury | 2021 | 2021 | N/A |
| Silver Endeavor | Expedition | 2021 | 2022 | 2022 |
| Silver Nova | Ultra-luxury | 2023 | 2023 | N/A |
| Silver Ray | Ultra-luxury | 2024 | 2024 | N/A |
The refurbishment of the Silver Endeavor is not a major update – it is purely making sure that it is ready for Silversea guests, removing any Crystal-specific features and branding. And the Silver Explorer hasn't been refurbished due to the plans to sell it.
Life On Board Silversea Cruise Ships
Is Silversea a Luxury Cruise Line?
Silversea is considered to be an ultra-luxury cruise line. With smaller ships, a crew-to-guest ratio that's often close to 1:1, and butler service for all guests, everyone enjoys a personalised VIP experience, with fine dining restaurants, beautiful suites and public areas to enjoy.
All the finer details are taken care of, so you can expect the staff to greet you by name, remember your favourite drink, and even offer you a cool towel while you sunbathe by the pool!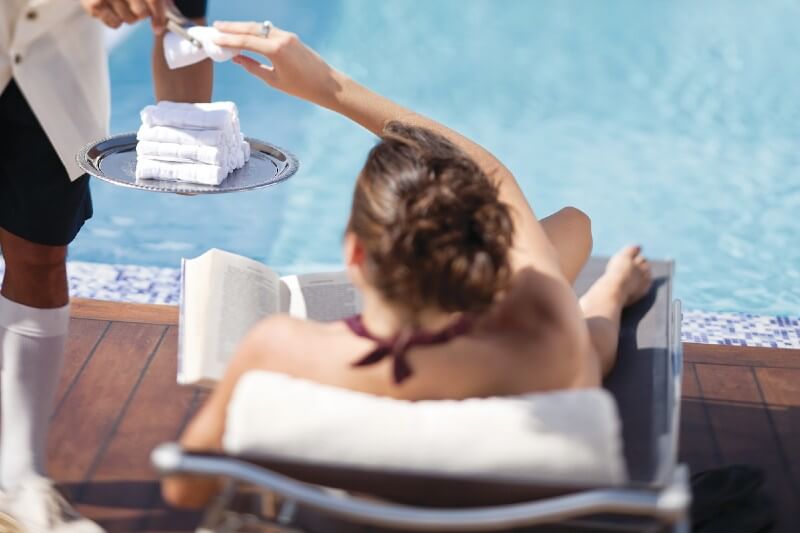 What Makes Silversea Different?
What sets Silversea apart – as well as the all-inclusive luxury – is the choice of itineraries available. Across their entire fleet, they sail to over 900 ports of call on all 7 continents, meaning guests can explore more of the world from the comfort of a luxury vessel.
Are Silversea Cruises Stuffy?
Silversea's ships aren't stuffy. They're luxurious, but it's more understated and chic. Guests are treated as if they are VIPs and everything is about giving the guest the best cruise. There aren't a lot of formal expectations placed on guests to behave in a certain manner.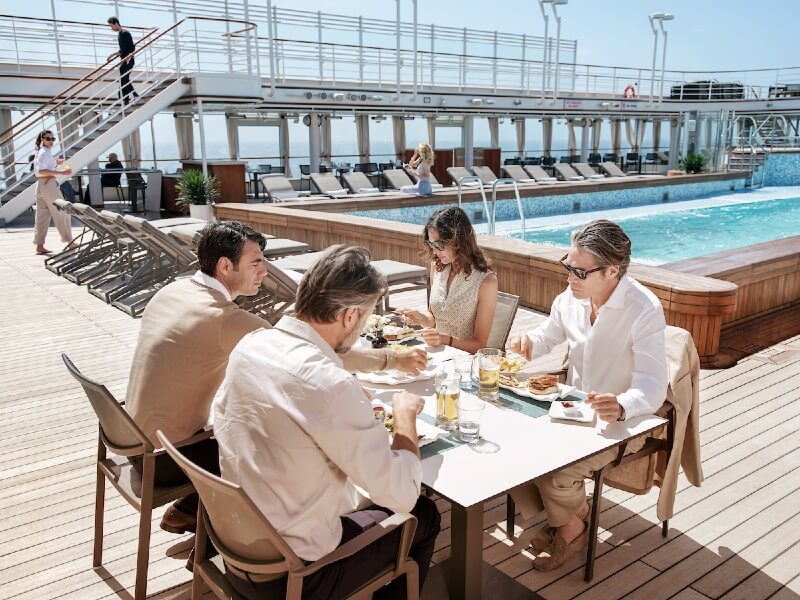 Does Silversea Have Formal Nights?
There is at least one formal night on every Silversea cruise. They're optional, with some restaurants on board allowing guests to still dress casually. If you do wish to attend a formal night, men should wear a dark suit or tuxedo and women are asked to wear an evening gown.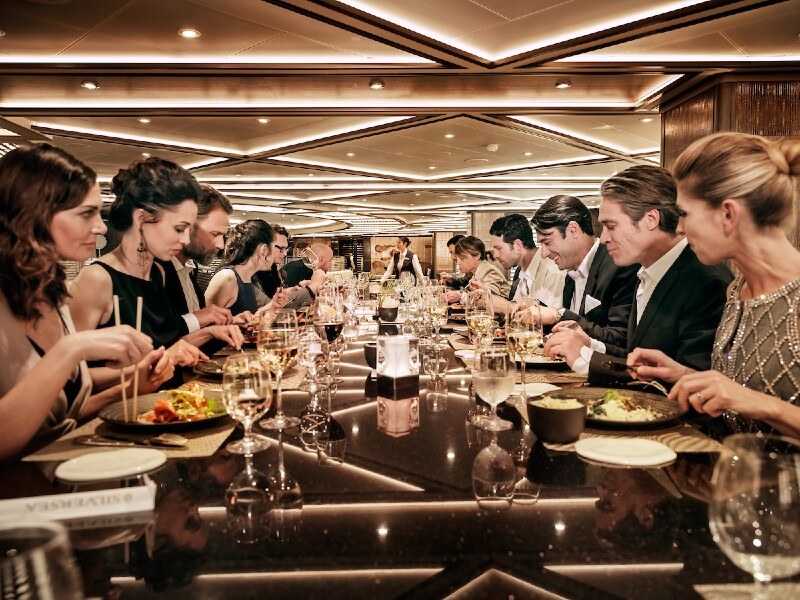 Are Silversea Cruises Adults Only?
Despite their ultra-luxury atmosphere, Silversea ships are not for adults only. Children as young as six months are permitted to travel. Guests under the age of 18 must be travelling with an adult, either in the same or an adjoining suite.
That said, you'll rarely find any children on board Silversea cruises. As there are no facilities for children, families often choose more family-friendly cruise lines with activities for children.
Are Drinks Included on Silversea?
All drinks are included on a Silversea cruise, even Champagne. Whether at a bar, a restaurant or in your own suite, all drinks on board are complimentary, and your butler will make sure that your own mini-bar is constantly stocked with your favourites, though you can also make special requests.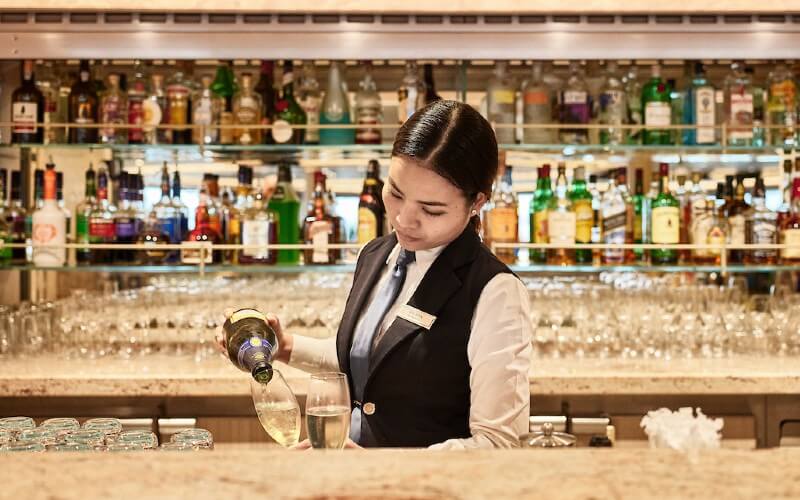 Is Airfare Included in Silversea Cruises?
Since the launch of the 2022 cruise itineraries, all Silversea cruises are now inclusive of roundtrip airfare. Previously, guests would have to book their air travel separately or pay a premium to have it included. Transfers are also included in the fare.
What Is Not Included in a Silversea Cruise?
Some of the things not included in a Silversea cruise fare include selected shore excursions and on-board dining experiences, any on-shore dining, fuel surcharges, laundry and valet services, casino gaming and purchases from the on-board shops. Personal care services, including spa treatments and medication, are also not included.
Which Silversea Ship is the Best?
There's no single answer on which is the best Silversea ship, because they all offer different types of experience.
If you're more concerned with the quality of the onboard experience, then you will likely find one of the classic ultra-luxury ships to be more to your tastes. They offer a wider range of dining venues and more deck space where you can unwind.
But even within these ships, you have the choice of one of the 'larger' ships in the fleet that can accommodate up to 728 passengers or a smaller one that has a capacity of around 400 guests. Those smaller ships still have plenty of spaces to unwind in luxury, and they have a better crew-to-guest ratio that's close to 1:1 for even more attentive service.
Or, you could choose an Expedition ship. These are smaller again, and while they don't have the same range of restaurants or public areas where you can unwind, they still offer Silversea's ultra-luxury experience.
Plus, you get the chance to explore a much broader range of destinations, including some incredibly exciting ports in parts of the world that most other cruise ships simply can't reach due to their size.
That's why it's impossible to say which is the best. It all comes down to whether you want a ship with more places to relax, or a smaller ship where the destination matters more.
Whichever of the Silversea Cruises ships you choose though, you will be made to feel very comfortable and very special, thanks to their outstanding service across the entire fleet.
Book Your Silversea Cruise
I recommend Panache Cruises as the ideal expert to help you book your perfect Silversea Cruise.
Panache Cruises are specialists in luxury ocean cruises
Their expert Cruise Connoisseurs will tailor your trip to your exact requirements
I love their motto – "Nothing is too much trouble"
To Conclude
Silversea's fleet isn't the largest (both in terms of ship size and the number of ships), but they have a very specific target market in mind. These aren't cheap cruises – these are the pinnacle of ultra-luxury holidays, offering you the equivalent of the finest hotels whilst also taking you to some of the most exotic and fascinating places in the world.
Expedition cruises are more suited to the adventurous types, but each ship is something special, and definitely worth checking out if you want the cruise holiday of a lifetime.
Related Posts