If you're travelling alone, a cruise can be one of the best ways to do it. But, there are some things that you'll need to know to make sure that you pick a cruise that matches what you're hoping for.
In this guide, I'll show you the various options that are available to people looking to take a singles cruise. So, whether you're looking for love or just want to make new friends, you can avoid any pitfalls and have a fantastic time at sea.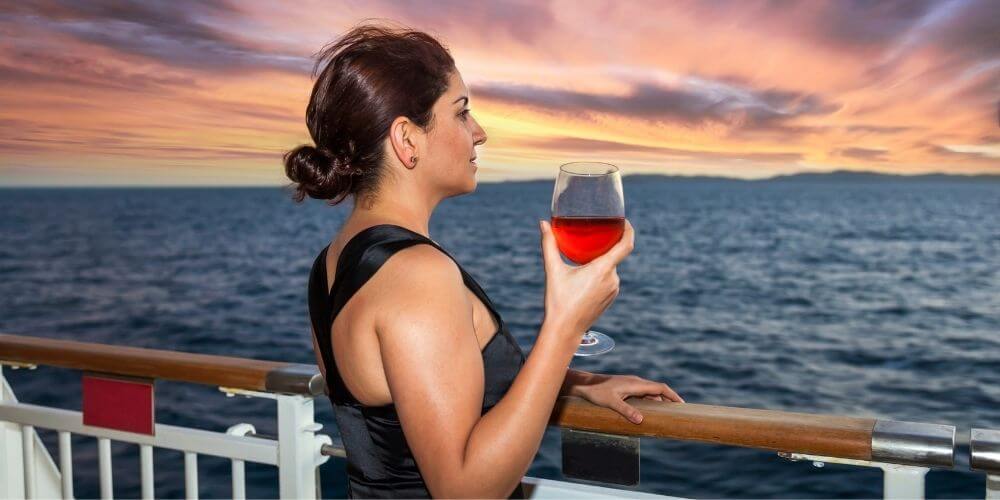 What Is A Singles Cruise?
Singles cruises are organised events onboard cruise ships that are hosted by travel agencies. Singles cruises very rarely charter a whole ship, instead, they will share the ship with regular guests who aren't booked on to the singles cruise.
So, if you're looking for completely singles only cruises, I'm sorry to say that you'll be unlikely to find those. Cruise ships generally accommodate between 1,000 and 6,000 guests, so there's just not enough demand to fill a whole ship with just solo travellers.
That said, some singles cruises do have up to 500 people in the group, so singles can make up a good chunk of the guests on board.
How Do Single Cruises Work?
When you book a singles cruise, you'll often be able to meet other solo travellers before you step aboard the ship. You'll be invited to a private Facebook group where you can say hello to the others and there's usually a pre-cruise mixer with everyone is staying in the same hotel on the night before the cruise.
Most singles cruises have an optional roommate matching program. You can save money by choosing to share a room with someone else (usually someone of the same sex). Or, you can pay a little more and enjoy the privacy of a room to yourself.
Once you board, you'll have a program of events to follow, so it'll always be easy to meet up with the rest of the group. These events might include meals together, cocktail parties, exercise classes, dance classes, games tournaments or even water slide races.
You don't have to follow the schedule of course, but it helps to know that you can head to the ice cream parlour at 4 pm, for example, and other singles will be there.
Each activity will be led by a dedicated cruise director who will create a fun environment and make sure that everyone is happy.
In each port of call, you'll be able to attend organised shore excursions with the group. These cost extra, so you can always do your own thing and explore independently if you wish.
How Are Singles Cruises Different From Normal Cruises?
The main difference between a singles cruise and a normal cruise is the organised meetings and activities. While almost all cruises will have some solo travellers on board, on a singles cruise there will be more of them, and you will have more opportunities to get to know each other.
Of course, single travellers can, and do, also take normal cruises. You can take pretty much any cruise you want and book a room for one person, whether that be a single cabin or a double room for single occupancy.
Most cruise ships will sit single travellers together on a large table in the main dining room, so you'll never have to eat alone, unless you want to of course.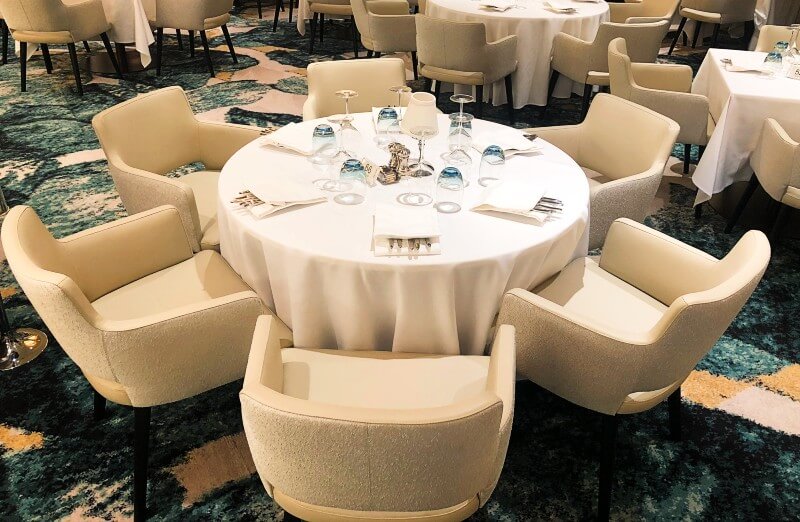 Is A Singles Cruise For Me?
Singles cruises are popular with people of all ages and tend to attract an equal number of men and women. While most people who take singles cruises tend to be between 35 and 55 years old, there are some single cruises that are only for people in their 20s and 30s and some that are only for people over 40 and seniors.
Suggested read: The Best Singles Cruises For Over 50s
Some people who take singles cruises are looking to make a romantic connection and prefer to meet people in person rather than the awkwardness of online dating. But many are just looking to make friends – they don't like travelling alone and prefer to be part of a large group.
If you like the sound of organised fun and spending most of your cruise in the company of others, then a singles cruise could be for you. But a word of warning… Not all singles cruises are the same.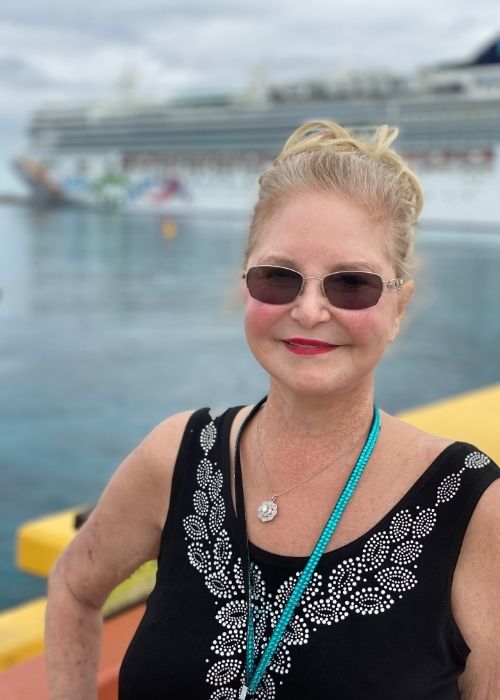 What To Look For In A Singles Cruise
So far in this guide, we've looked at organised singles cruises. These are probably the best cruises for singles – in most cases. If this is what you want, then be sure to check that the cruise you're considering will have a host on board and that there will be plenty of other singles and events to attend.
Unfortunately, some cruises that are marketed as singles cruises are just regular cruises. The guests are left to their own devices and could end up spending much of their time alone.
However, if you don't mind the lack of organised activities or the fact that there may be only a few other single travellers on board with you, then you could book a regular cruise with a cruise line that's popular with solo travellers. I'll let you know which are the best ship to choose a little further along in this guide.
Who To Book Your Single Cruise With
The biggest company offering singles cruises is SinglesCruise.com. On their website, you'll find over 25 cruises to choose from, with destinations including the Caribbean, Bahamas, Mediterranean, Hawaii, Alaska, Scandinavia, the British Isles, Mexico, South America, Antarctica and South Africa.
There are special cruises for Halloween, Christmas and New Year too. So, whether you want just a short 3-night cruise to the Bahamas to test the water or want to jump right in to a 14-night transatlantic adventure, they have something for everyone.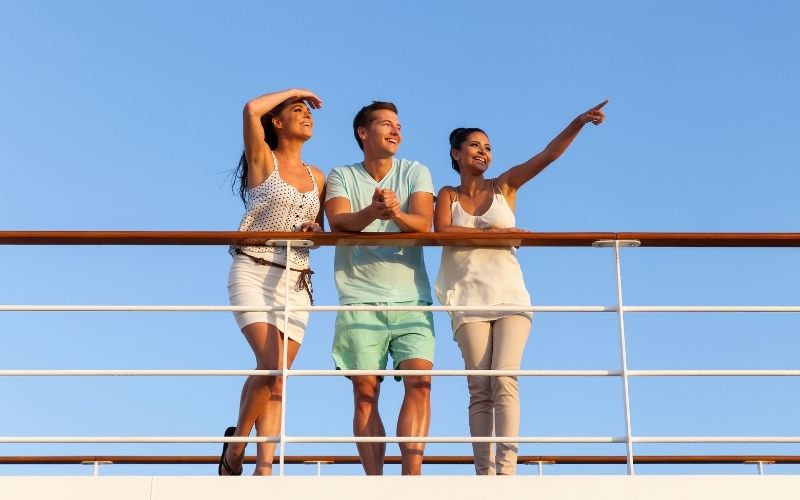 What Cruise Lines Do Single Cruises?
Organised singles cruises are available with the following cruise lines:
Carnival
Celebrity Cruises
Norwegian Cruise Line
Royal Caribbean
You'll need to book these with a travel agent such as SinglesCruise.com to make sure that you get the singles package. If you book independently, you won't be able to join in any of the group activities.
Which Cruise Line Is Best For Singles?
For some, the idea of an organised singles cruise seems a bit too much. Maybe you just want to cruise solo while having the opportunity to enjoy dinner or drinks with other solo travellers should you feel like it? In that case, you should book a regular cruise with a cruise line that's known for being accommodating to single travellers.
The best cruise lines for singles are:
1. Norwegian Cruise Line
Norwegian Cruise Line has been awarded the 'Best Cruise Line for Solo Travellers' by Porthole Magazine for six years in a row and has also won awards from the likes of Cruise Critic.
On the newest NCL ships, you'll find cosy studio cabins for one as well as the Studio Lounge which is only accessible to single travellers. All this is located on a single corridor, which makes it easy to meet up with your new friends.
However, you should be aware that these trendy studio cabins can be pricey. In some cases, it's actually cheaper to book a much larger double stateroom for single occupancy and to pay the supplement!
Plus, in my experience, while the Studio Lounge sounds cool and has free coffee, pastries, and a wine vending machine, it's actually quite a small, windowless room, so you're unlikely to spend much time here.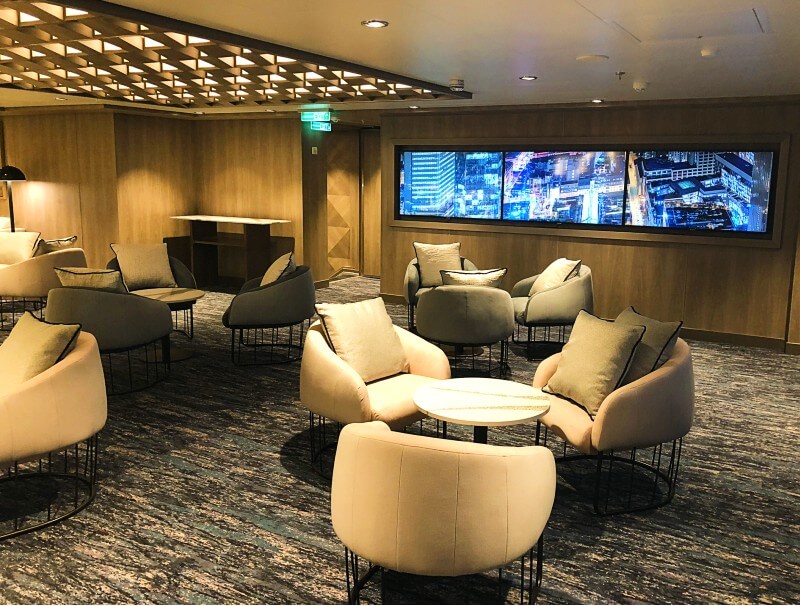 2. P&O Cruises
All P&O Cruises ships have single cabins, with a choice of inside, outside and balcony rooms. If you'd rather avoid other people's children, then choose Arcadia or Aurora as these are adult-only ships.
If you're British and like to cruise on a ship that's made up almost entirely of other British people, then P&O Cruises is a good choice. You'll find lots of cruises departing from Southampton, as well as some more exotic options. There are organised coffee mornings for solo travellers and everyone is pretty friendly, on the whole.
Suggested read: P&O Cruises With No Single Supplement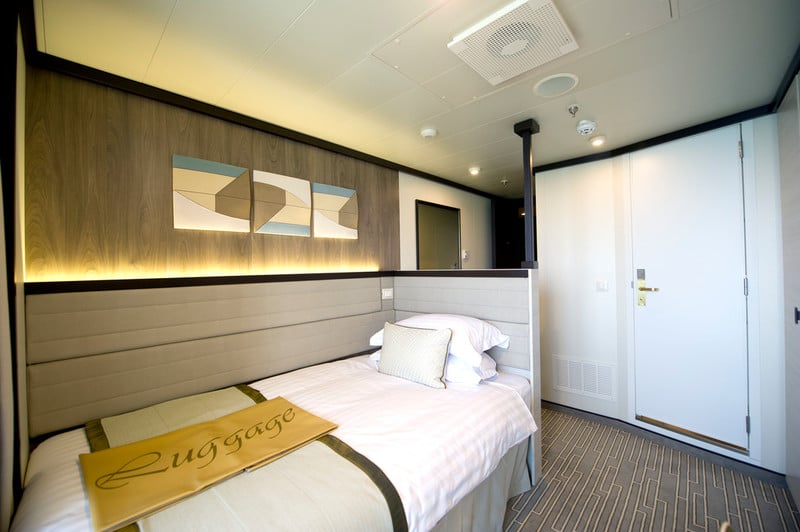 3. Carnival
Carnival cruise ships are known as 'fun ships', so if you like to party, then this could be a great choice for your cruise. There are 'singles mixers' on every sailing, making it easier to find out who else is travelling alone. Carnival tends to attract a younger crowd than some other cruise lines, although there can be a lot of children on board during the school breaks.
Carnival doesn't offer any single staterooms for solo cruisers, so you'll have to pay a supplement. There are soon cool options though, including Havana staterooms which have private access to the VIP Havana pool and bar area and Cloud 9 Spa staterooms which offer a pampering experience for one.
Suggested read: Things To Know About Carnival Singles Cruises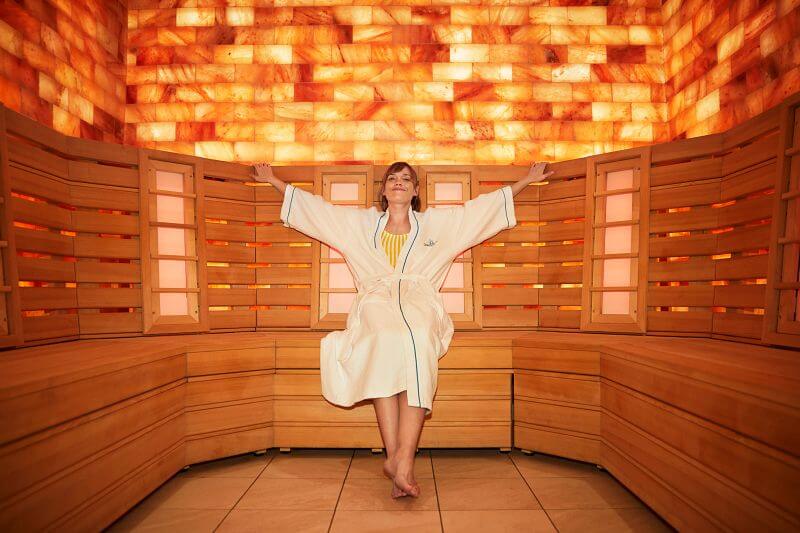 4. Cunard
All Cunard ships have solo cabins and there are plenty of coffee mornings and daytime activities so that solo travellers can meet up with like-minded people. If you love to dance but don't have a partner, every voyage has gentleman dance hosts so you don't need to miss out on the joy of gliding across the dance floor.
Cunard cruises are most popular with those over 50, so if you'd rather spend your time in the company of other seniors and enjoy ballroom dancing, the theatre and relaxing with a good book in the library, then Cunard could be the best option for you.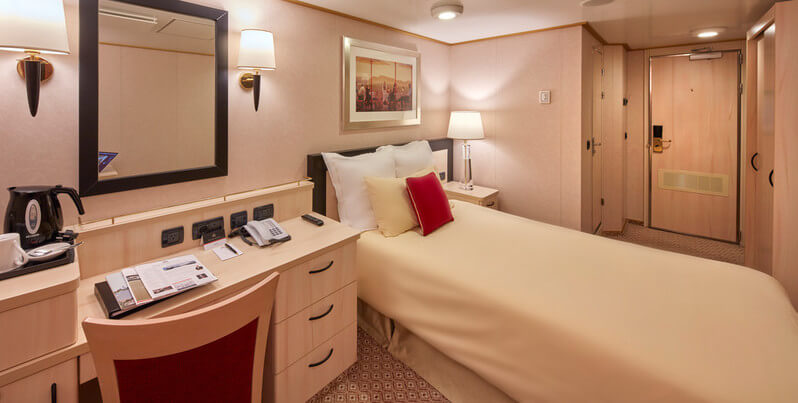 5. Holland America Line
Holland America Line cruises offer a Single Partners Program with a fantastic program of activities including a Solo Travellers Party, and a selection of games and classes.
The newer Holland America Line ships all have single staterooms. However, there's also the option of a room-sharing program that can help you to cruise for less. You can opt to share a stateroom with another non-smoking guest of the same sex and pay only the per-person double occupancy rate.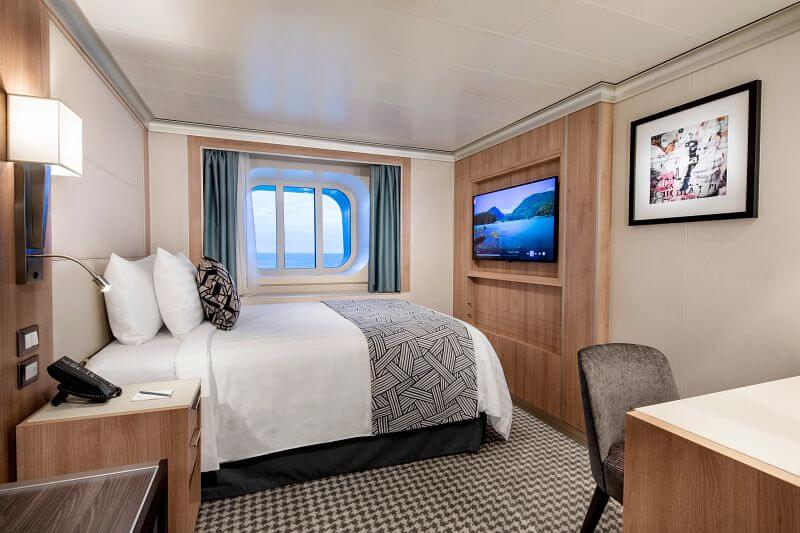 Is Cruising Alone Fun?
Most people who take cruises alone have a fantastic time and find cruising alone to be a lot of fun. In fact, SinglesCruise claims that 60% of their guests are repeat bookers.
You might think that you need to be an outgoing person to take a cruise alone, but that's often not the case at all. Some single cruisers are introverts who like the peace and quiet of being alone and the freedom to set their own schedule, or have no schedule at all!
Many of the people who take singles cruises enjoy the company of others, but just don't have anyone to travel with. They may be divorced, widowed or just find that all of their friends are already coupled up.
Then there are those people who are single and looking to meet people for casual encounters. If that's you, be sure to check out my guide to The Best Cruises for Singles to Hook Up.
Whatever your situation, a singles cruise can be a lot of fun, as long as you pick the right one and know what to expect.
The Cruise Dating App
If you're taking a regular cruise, not a special singles cruise, but would like to find people to make a romantic connection with, then you should try the Cruise Ship Mingle app. This dating app has been specially developed for cruisers so that you can message or chat with other single people before and during your cruise.
Solo Cruising FAQs
Which cruise ships have single cabins?
There are single cabins on the following cruise ships:
Celebrity Cruises – Celebrity Edge, Celebrity Apex and Celebrity Beyond
Costa Cruises – Most ships
Cunard – All ships
Fred. Olsen – All ships
Holland America Line – Koningsdam, Nieuw Statendam, Rotterdam
MSC Cruises – MSC Virtuosa, MSC Grandiosa, MSC Bellissima and MSC Meraviglia
Norwegian Cruise Line – Norwegian Prima, Norwegian Encore, Norwegian Escape, Norwegian Bliss, Norwegian Breakaway, Norwegian Getaway, Norwegian Epic and Pride of America
P&O Cruises – All ships
Royal Caribbean – Most ships
Saga – All ships
Virgin Voyages – All ships
Are Singles Cruises Safe?
Cruises are a very safe option for solo travellers. The crime rate on board cruise ships is much lower than on land and when you're ashore you can join organised excursions and guided tours in the safety of a group.
Is It Weird To Go On A Cruise Alone?
It's definitely not weird to go on a cruise alone. Lots of people take cruises by themselves, which is why cruise ships have solo cabins and organised events where all of the solo travellers can get together to enjoy drinks or a group dinner.
How Much Is A Cruise For One Person?
When you cruise alone, you'll often have to pay a supplement which can be 50-100% of the cruise fare – so it could cost you double. Single studio rooms are a good option, but they're not always cheaper than a twin room for solo occupancy. Expect to pay around $150 to $300 per day for a singles cruise.
What Are Single Cruises Like?
Single cruises don't feel much different from a regular cruise. In fact, anyone who isn't a single person who is on a singles cruise probably doesn't even realise it! But there are just more events aimed at solos, and a lot of chances to meet people.
Related Posts: