There are a lot of people I know that don't feel comfortable drinking water that comes from a tap, especially somewhere like a hotel or a cruise ship.
They have this nagging feeling like maybe the water isn't properly clean – it's OK for brushing your teeth but you wouldn't want to drink it.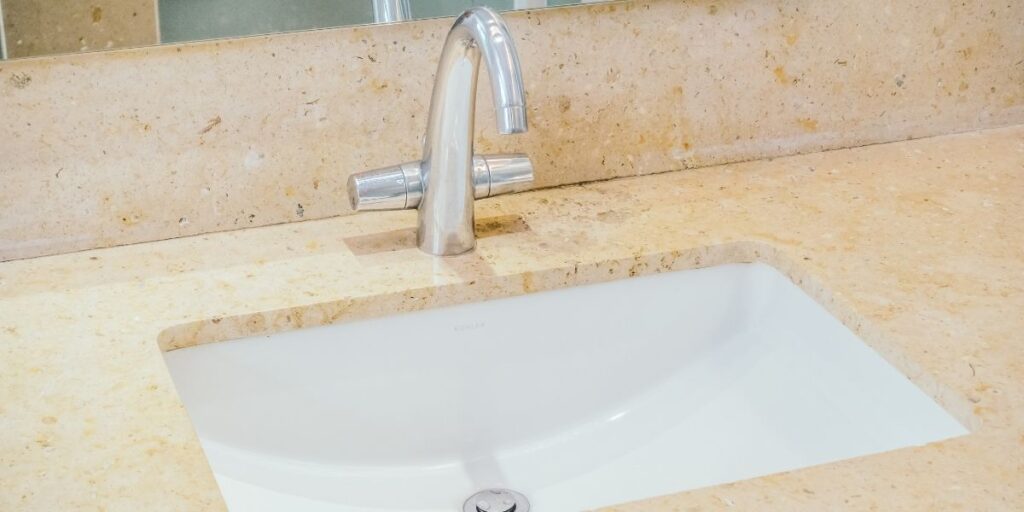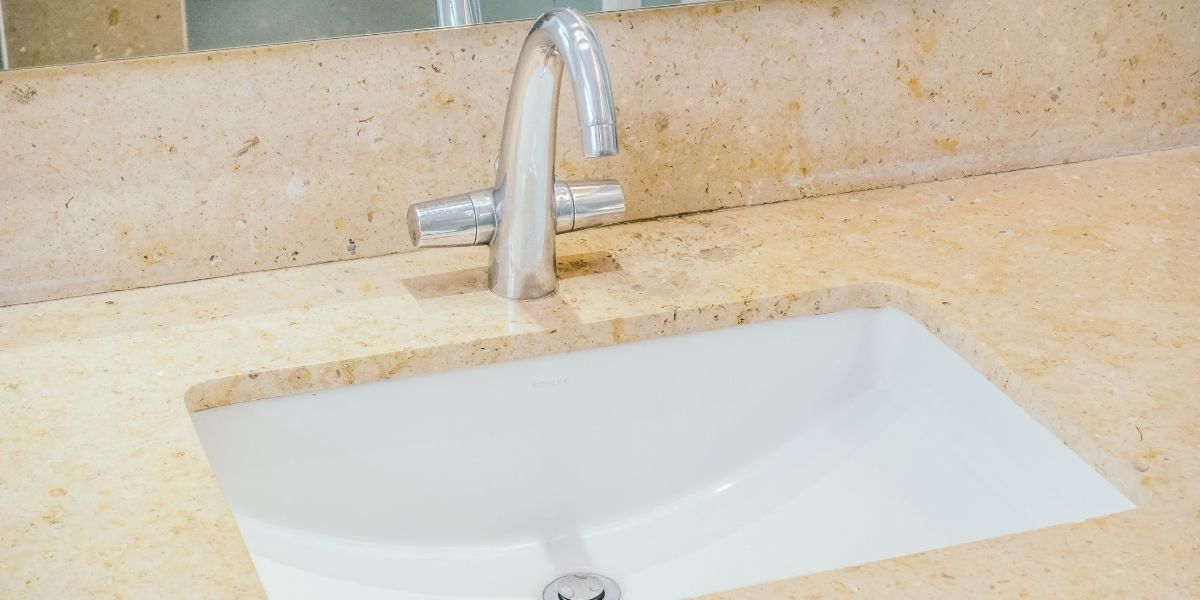 Are they right? Is cruise ship tap water safe to drink? And how about the other water sources around the ship?
I've got some good news.
Can you drink the water on a cruise ship?
You can safely drink the water on a cruise ship, including the water from your bathroom tap. The only water you would probably want to avoid is the water from hand washing stations or public bathrooms, and only then because it may be warm and other people may have left bacteria behind.
The actual water though? Clean as you'd like. And so you shouldn't worry about drinking it.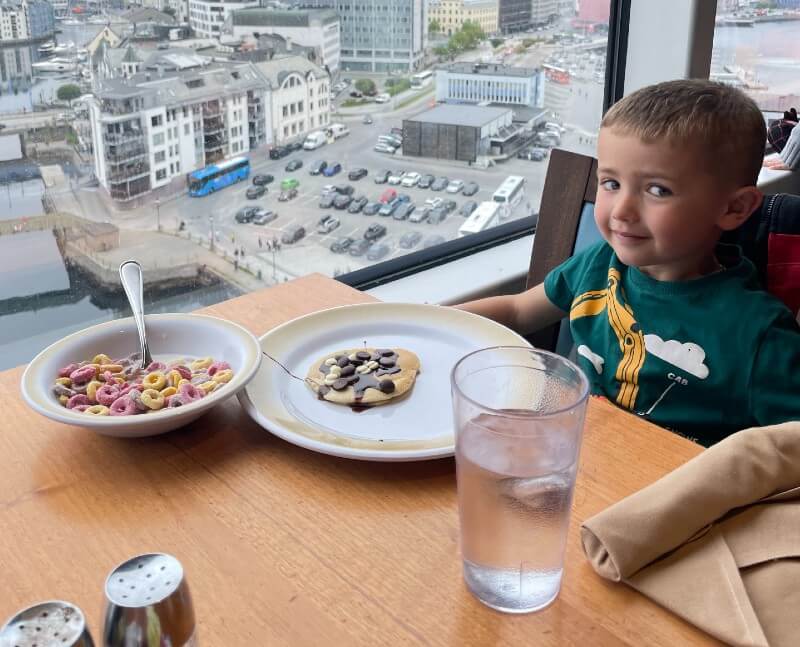 Here's a look at where you can find water on a cruise ship, and whether or not it's suitable for drinking:
Bars & Restaurants
The water you're served in the bars and restaurants on your cruise ship is absolutely fine for drinking. Only filtered water is served as tap water in a restaurant, and this water has added ice so it's extra refreshing.
In poolside bars, the water may have lemon slices too. Just what you need to cool down om a hot day!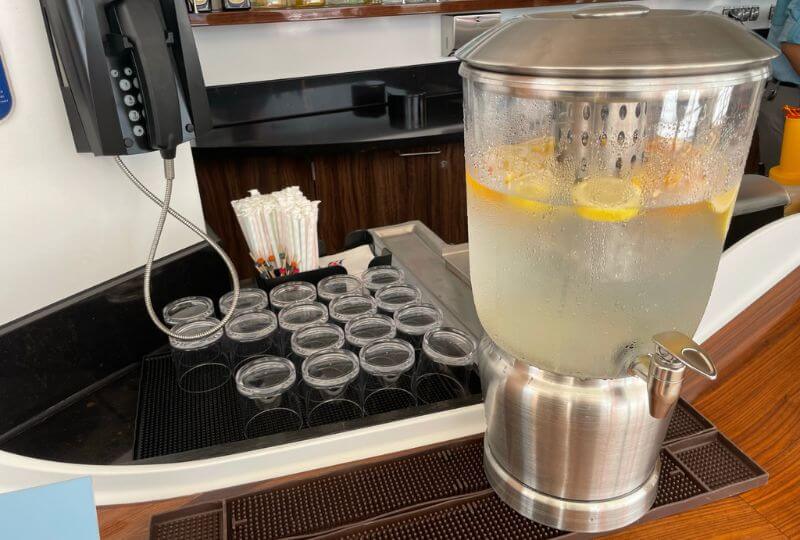 If you're eating in the Main Dining Room, this water is likely to be your only free option if you don't have a drinks package, or at least one of just a few free options. It's a good choice for keeping costs down!
You can ask for a glass of water with or without ice for free in any bar and you can also help yourself to water from the buffet.
The only exception is if you're cruising with Costa Cruises – this is the only cruise line that doesn't provide free drinking water in bars and restaurants. You can get it in the buffet, though.
Cruise ships generally filter their own water for guests to drink, so there's always plenty available even on longer itineraries, and it is properly treated to make sure it is safe.
Water Dispensers
Your ship will have water dispensers in the buffet restaurant, and potentially other locations around the ship too. Again, this is another excellent place to drink water from, as it is clean and cool.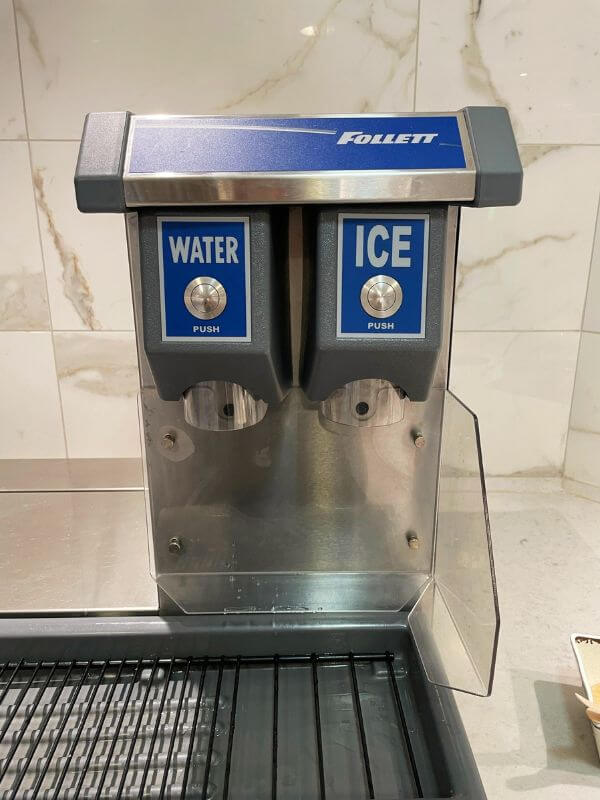 Some dispensers are designed to let you refill water bottles, while others aren't, so just be aware you might not be able to carry a bottle around with you – you might be limited to grabbing a cup of water when you need one instead.
Also, some dispensers may seem like they fit a water bottle, but you're not allowed to. It's for hygiene reasons. What you can do instead is fill a cup and then pour that into your bottle – that's fine.
As long as you aren't putting the part of the bottle where you've been drinking next to the water dispenser, you should be OK.
A refillable water bottle is definitely a must-pack item for any cruise though. You can fill it up before you go to bed to drink in the night, take it to the gym or running track and also take it with you on excursions.
I love this Iron Flask water bottle because it's made of double-walled stainless steel to keep your water cold (or coffee hot) and comes with three different lids – a straw lid, flip lid and metal lid.
The Bathroom Tap In Your Cabin
Cruise ship tap water in your stateroom is perfectly safe to drink. It likely won't be as cold as the water you'd get in the restaurants or from the dispensers around the ship, and since it isn't filtered as heavily it may not taste the same, but there's nothing wrong with it.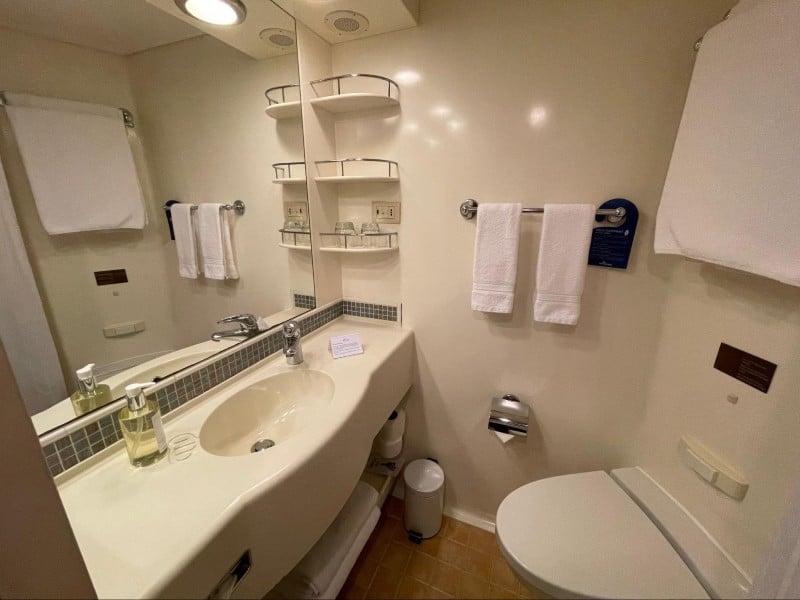 I find that the taste of the bathroom water really varies on cruise ships. On some it's lovely. But on others, it's warm and tastes funny.
Don't worry if you wake up in the middle of the night and you feel thirsty – you don't need to get dressed and trek to the nearest dispenser just to grab a drink. It might not be the best water, but it'll do when you're desperate.
Handwashing Stations and Public Bathrooms
The one place on a ship where I wouldn't recommend drinking the water is the taps in the handwashing stations and public bathrooms.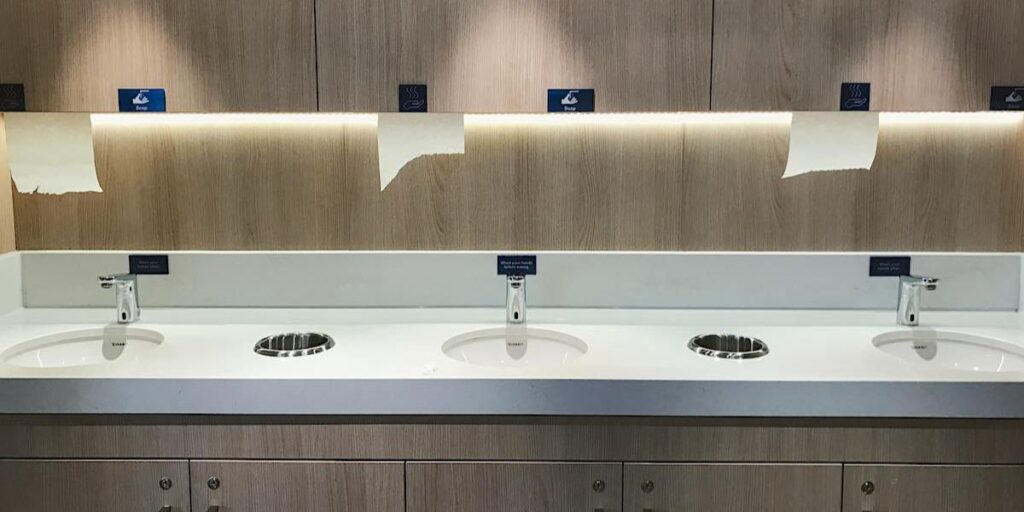 The actual water is clean enough to drink, but the taps themselves may not be – this is where everyone is washing their hands after all, so there may be bacteria around the taps.
Not only that, the water will be warm too – and nobody likes to drink warm water, do they?
The Spa
The best water on cruise ships can be found in the spa. Here, you'll usually find a selection of water dispensers, each ice cold and flavoured with tropical fruits or cucumbers.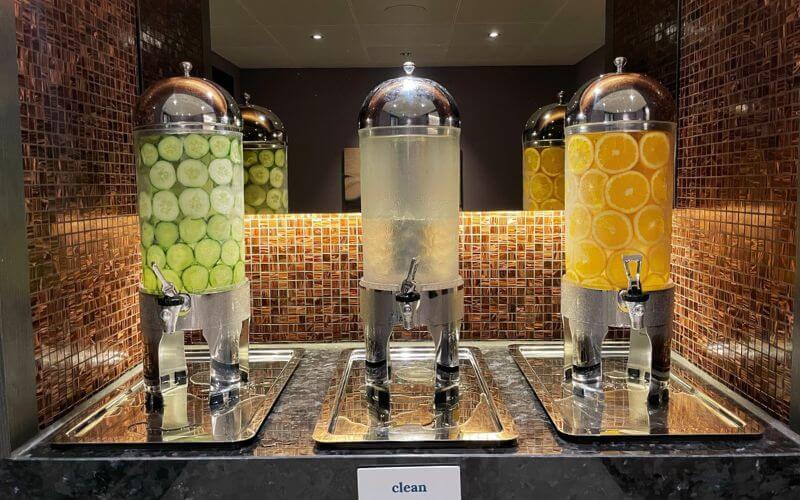 The same can also be found in any private retreat areas that you have to pay extra for. These don't have so many guests so you get extra special treatment and the most refreshing water.
Should you buy bottled water on a cruise ship?
You don't need to buy bottled water on your cruise ship, but it's always an option if you prefer it. You may have a particular brand that you like, or you might just prefer to have a bottle of water with you in your cabin at night.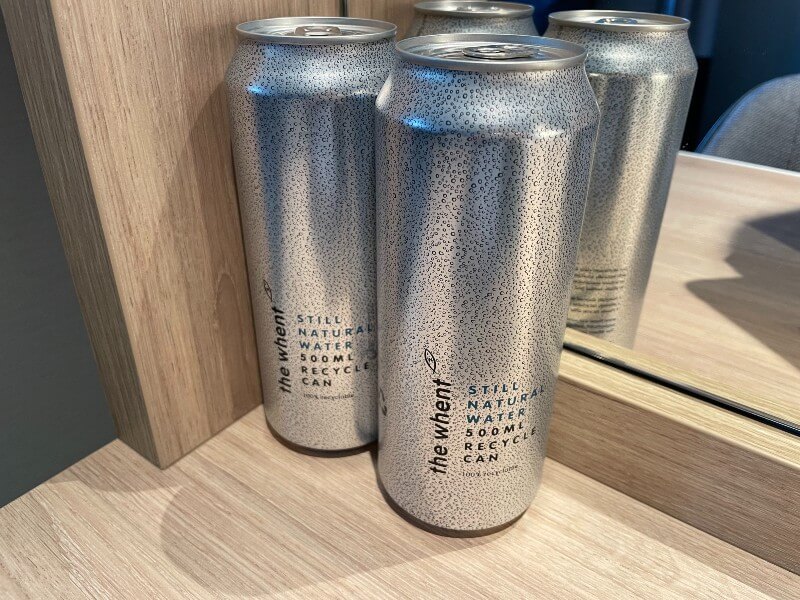 And if you like sparkling water, then the only way you're going to get it is by buying a bottle, or possibly in the restaurants at dinner time. They don't dispense that at the buffet, unfortunately!
Some cruise lines like Azamara and Virgin Voyages will include bottled water in your stateroom for you already, while there are some cruise lines which are all-inclusive – Silversea and Regent Seven Seas are two of the most well-known. These will also have bottled water available in your cabin at no charge.
With other cruise lines, you may get bottled water included when you buy a drinks package.
It's worth pointing out that some cruise lines, like Carnival and Disney, will also let you bulk-buy bottles of water for your cabin. They tend to be pretty good value too – Disney's is $39 for a 24-pack of water, which is just over $1.50 a bottle.
Carnival's is even cheaper though – 12 bottles for $9.95. That's less than $1 a bottle, and probably less than you'd pay ashore in some places! So if you're determined to drink bottled water, rather than drinking from the tap, it's worth checking this out.
Of course, the cheapest way would be to bring your own. But are you allowed? The answer varies by cruise line.
Some cruise lines will let you bring as many soft drinks and bottles of water onboard with you as you want, while others have limitations in place.
| Cruise Line | How much bottled water you can bring onboard |
| --- | --- |
| Carnival | 12 x 330ml cans or cartons (no bottles) per passenger |
| Celebrity | Unlimited |
| Costa | None – unless it is for medical purposes (distilled) |
| Cunard | Unlimited |
| Disney | Unlimited |
| Fred. Olsen | Unlimited |
| Holland America Line | 12 x 500ml or 6 x 1-litre cans or cartons (no bottles) per stateroom |
| MSC Cruises | None – unless it is for medical purposes (distilled) |
| NCL | None – unless it is for medical purposes (distilled) |
| P&O Cruises | Unlimited |
| Princess Cruises | Unlimited |
| Royal Caribbean | 12 x 500ml bottles, cans or cartons per stateroom |
| Virgin Voyages | 12 x 12oz (350)ml cans or cartons (no bottles) per passenger |
Read more: Can You Bring Your Own Drinks on a Cruise?
Some cruise lines will have cheaper drinks packages focusing on fountain sodas. These won't include bottled water, but might be worth considering if you're just looking to avoid tap water and want something with flavour.
One other thing to consider – if you don't like the flavour of tap water in general, and you're cruising with a line that lets you bring soft drinks onboard, why not bring some cordial?
You don't have to lug a heavy bottle around in your carry-on luggage – buy one of the small concentrated squeezy containers that fits in the palm of your hand and makes 20+ drinks. It's small, so will barely take up any packing space, but will improve the flavour of the tap water with every drink.
Final word
Cruise ship water is fine to drink. They're hardly pumping the sea water around the ship! Just be aware of the rules around refilling bottles at public water stations, and consider buying bottled water or squash if you don't like the idea of drinking plain, unfiltered tap water.
Related Posts: