One thing that Royal Caribbean is known for is its outstanding customer service. Many cruisers claim to be 'loyal to Royal', choosing Royal Caribbean above other cruise lines for this very reason.
On our recent cruise on Mariner of the Seas, Leonie asked for Nutella or chocolate spread for breakfast in the main dining room. Our waiter apologised that they didn't have any, but said that he would go and check. Five minutes later, he returned with a bowl of melted chocolate which he had made especially for her!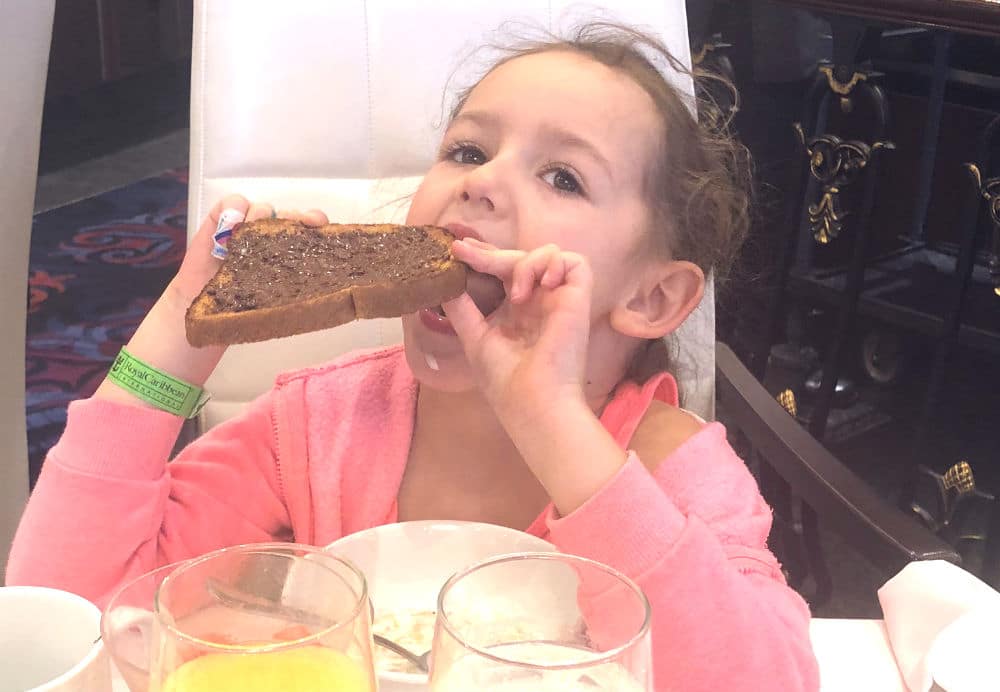 We were so blown away by this lovely gesture, that I decided to gather some more examples of times that Royal Caribbean staff have gone above and beyond to provide exceptional customer service.
These reviews, submitted by Royal Caribbean cruisers, have melted my heart…
Royal Caribbean Staff Are Great With Kids
We had the most amazing servers on the Harmony this past September! They remembered the kids names after the first night and would have their favorite appetizers waiting when we arrived. They cut my sons steak and my daughters chicken. They even taught them to fold animals with their napkins. They truly went above and beyond!

Kelly Clancy Williams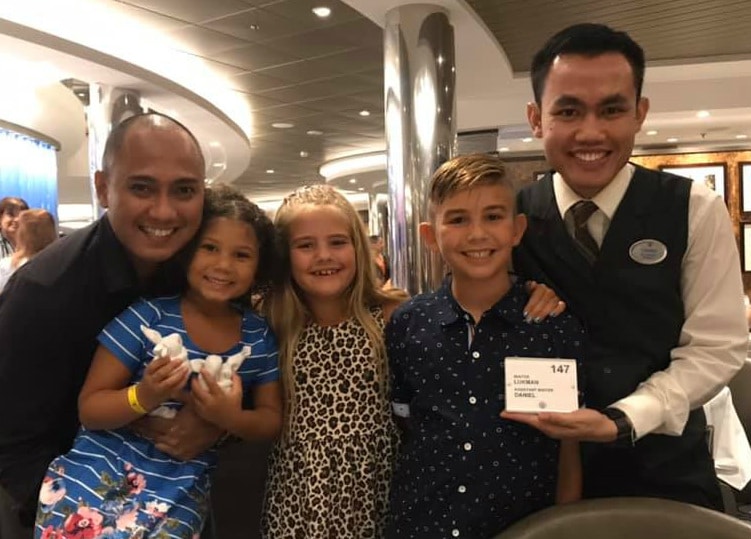 We had a waiter Leonardo, and met him in the MDR on a cruise. 9 months later, we cruised again. We turned the corner to get on the ship from the gangway and THERE HE WAS!!! OMG. He dropped his clipboard and my kids dropped their backpacks so fast. They all ran to each other and cue hugest hug in the history of hugs. I cried. He got us at his table for my time that week. All the love, dances with the kids and best memories!

Sarah Samantha Goodman
We took our daughter on her first cruise in October at 14 months old. One of the waiters (who wasn't even our assigned waiter), chose to be her personal assistant. He got her food, cut her food, fed it to her, made her napkin hats, danced with her, got her buckled in her high chair, etc.

He was our hero!! Dinners are usually stressful for us with a toddler, especially one who likes to scream in the middle of restaurants and throw her food. But he made it so much more enjoyable for all of us!

Jennifer McLachlan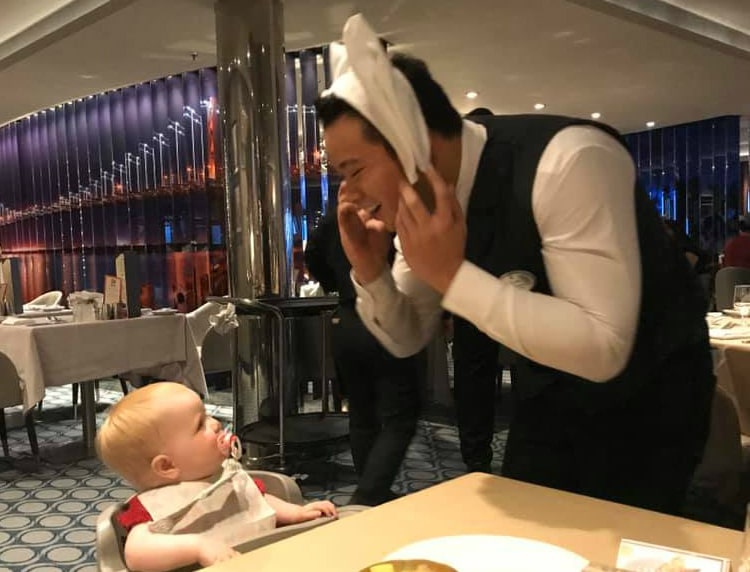 Our waiter cut her meat for her. This was the last evening and we teased her that she would have to cut her own meat now. He posed for this silly picture with her. She is so spoiled by Royal that we don't even book specialty dining because she forms such a bond with our servers in the MDR.

Christine DelRossi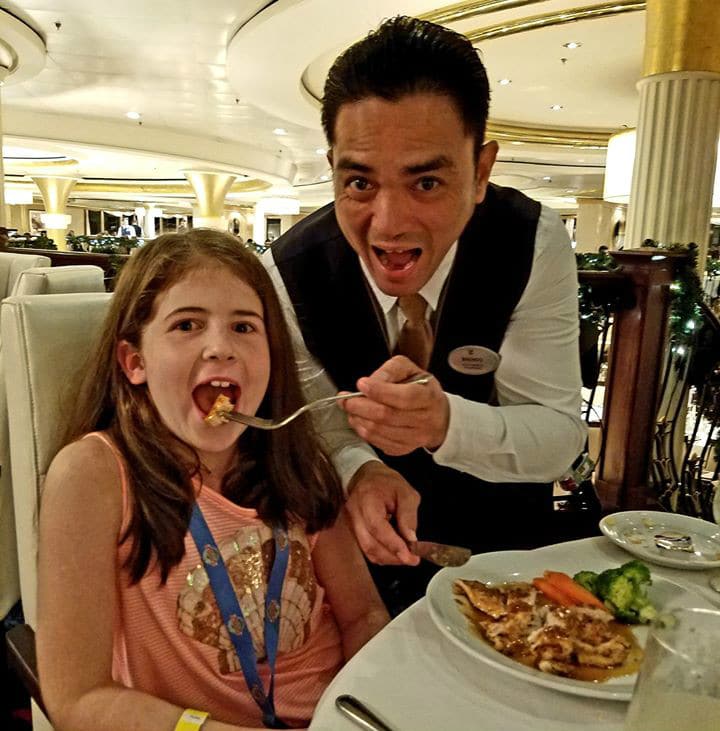 We cruised Mariner last weekend, our 3 boys first cruise. The assistant waiter formed a bond and kept them entertained throughout dinner with riddles. They went well over and above with our youngest. He has a brain injury and eats a special diet. Every evening they always delivered what he was wishing for.

Tiffany Tatro
Our server was beyond amazing! He cared so much for our entire group but paid special attention to my little sister! She struggles with some behavioral needs along with having some other special needs but Jeffrey made sure Piper had everything she needed at all our meals!

He also gave her an opportunity, that most servers don't, and let her order for herself. She took some time to get her words out but he was so patient and made sure she had what she needed! The last night they had a celebration for all the guests and servers and Jeffrey danced with my sister during this time! Truly helped make the experience AMAZING!

Kaitlyn Wanamaker
My son loved our head waiter so much that he became his "best friend".

Sarah Bradshaw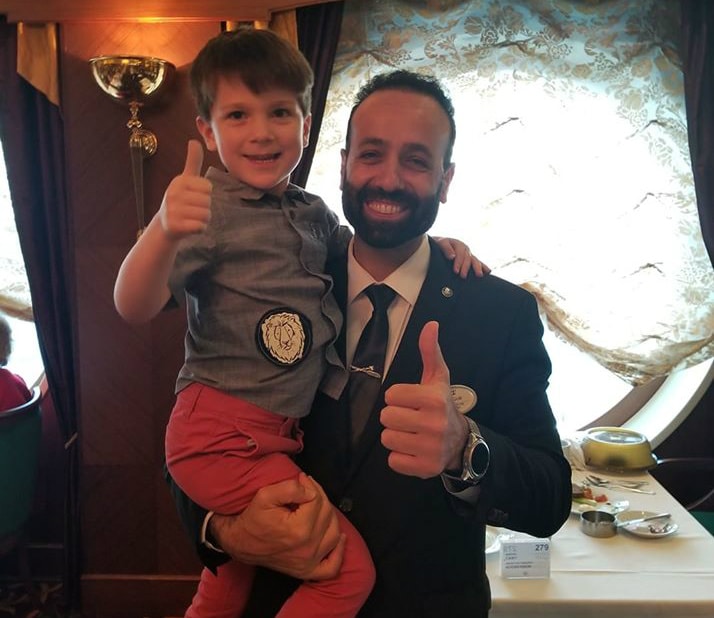 Aboard Harmony of the Seas last month, My Grandsons (8 & 3) were bored with the long wait at the Main dining room dinners. Our head waiter preformed tricks and told jokes to them to keep them entertained.

The 2 final nights we had 3 head waiters trying to outdo each other to entertain the boys. We were eternally grateful to the Wait staff for keeping the boys from fussing and not disturbing the other cruise diners. The last night, our head waiter bought the boys a nice mylar balloon and brought it out to them. That is above and beyond service in my estimation.

Deborah Elrod
My baby girl who was disappointed that she wasn't old enough to do bumper cars received a personal, solo ride.

Tiffany Spooner-Banks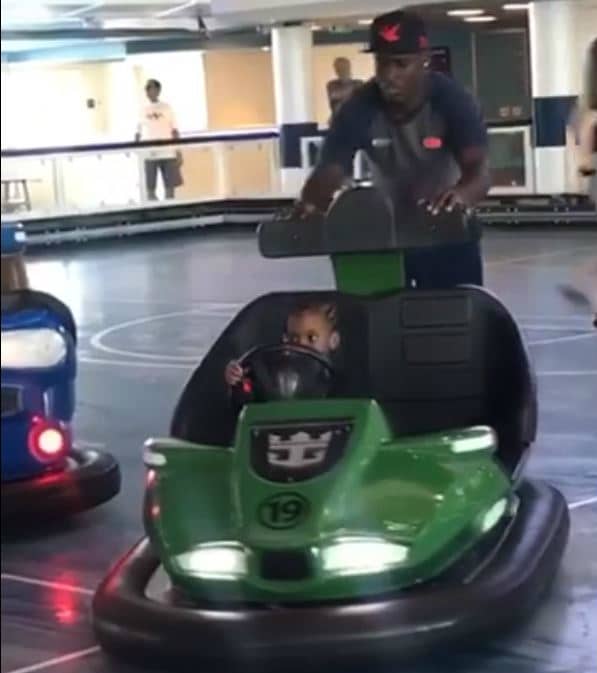 When my daughter was 8 years old (she's now in her 20s) we were on the Grandeur and she was rushing through dinner so she could return to Adventure Ocean. The waiter asked her what she wanted for dessert and she said "Nothing". He insisted she have dessert, asked her what she wanted and once again she replied "Nothing".

When the waiter returned to the table with the desserts everyone else had ordered he stopped in front my daughter and placed a covered plate in front of her, telling her it was her dessert. He lifted the lid on the plate to reveal the word 'NOTHING' written in fancy blue letters with gel icing. Many years later it is still one of her favorite memories of her first cruise.

Sharon Sosa
A Royal Caribbean Cruise Is The Perfect Place To Celebrate Your Birthday

My daughter's 7th birthday was the last day of our last cruise on Oasis. Our wait staff had been phenomenal all week anyway, but we arrived to our table to find a gorgeous balloon flower for her to celebrate. Then at the end of dinner they brought out a piece of cake for her, and serenaded her while our waiter PLAYED THE VIOLIN! It was so over and above, we were blown away.

Jana Solomon Hennessy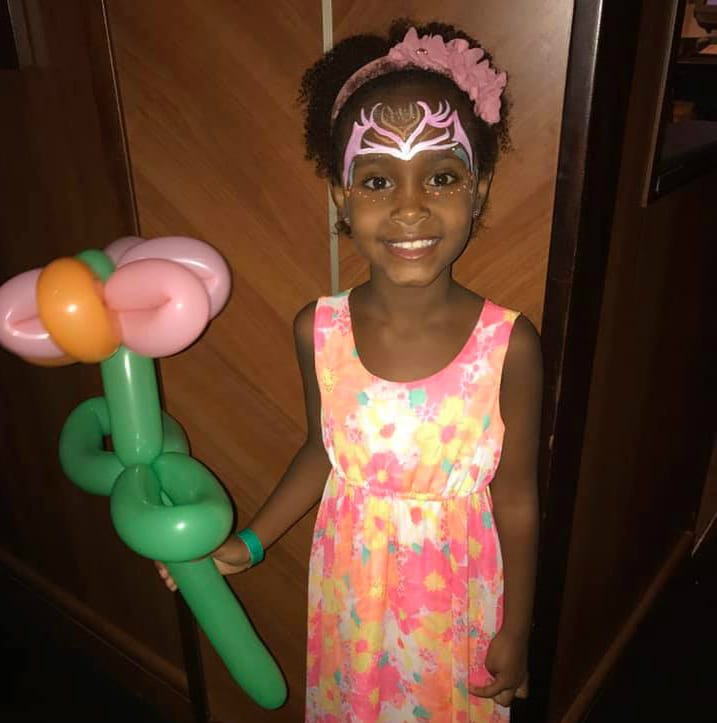 We were on Anthem last month and is was my son's Birthday on day 2. Well every night we were in the MDR he got a piece of cake and they sang to him. Oh he loved it!!

Pattyanne Langston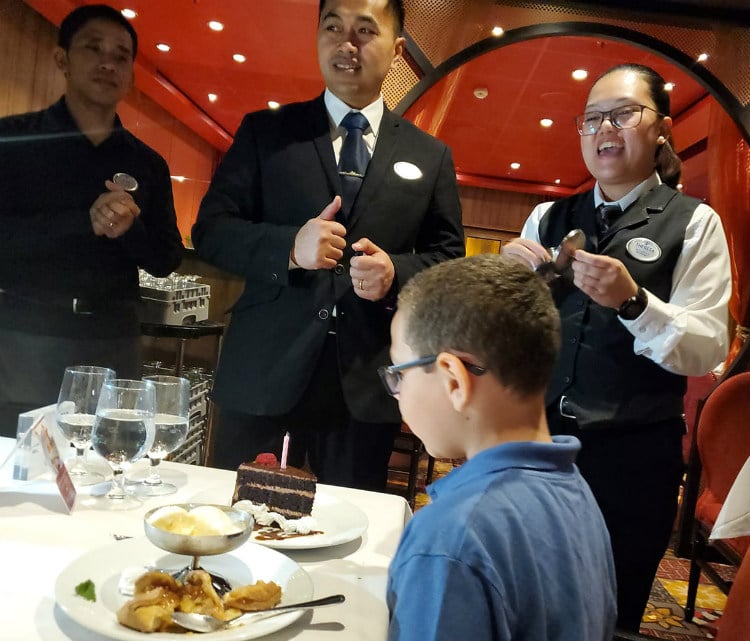 Earlier this year I developed issues with gluten. No longer can consume. Went on Freedom first week in Nov. Hubby secretly ordered a birthday cake. It was chocolate and in our room when we arrived. I was excited for 2 min. Then realized I could not eat.

When we hit the Windjammer on our first night I asked the head baker if I could bring it back. He asked why, I mentioned the allergy. He told me to bring it to my dinner table and let others eat it. Was a great idea. Next day, BAM, totally unexpected, there was a gluten free, much larger, chocolate cake and it was super moist.

Jeaninne Roy Singleton
The person who cleans your room – for my son's birthday she decorated our room for him. And no we didn't pay for that package or anything. So sweet.

Esperanza Dodge
Or Any Other Special Occasion

My husband and I were celebrating our 25th anniversary. A cake was brought out to us at dinner & room steward set out room up for a romantic night. He even put our wine on ice.

Tina Watson-Green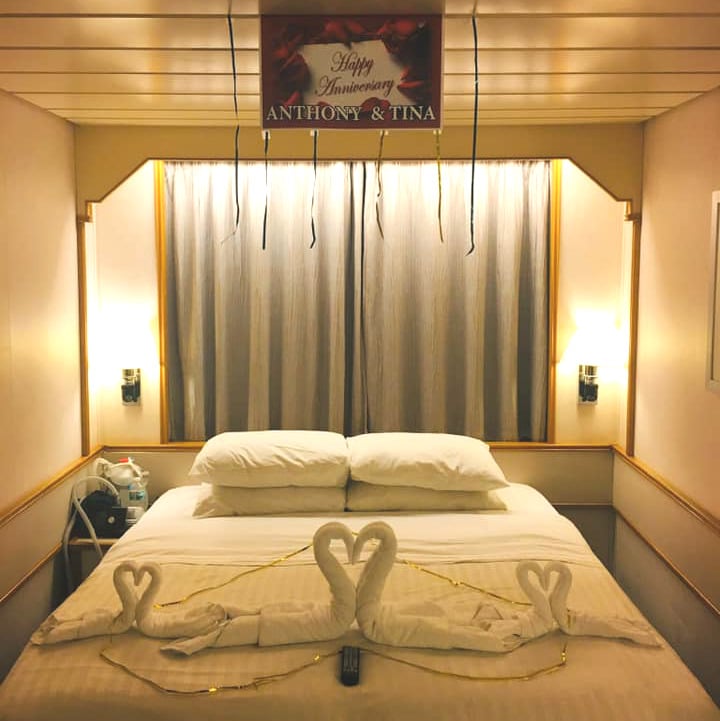 Royal Caribbean made a gender reveal cake for us! The cruise had already been booked when my husband and I found out, "suprise", we're adding to our family again! My fingers were crossed when the doctor revealed our due date, because I knew it was going to be close to the 6 month cut off date. I turned 6 months pregnant a day AFTER the cruise. Talk about cutting it close. As soon as we found out that I would still be able to travel, we knew right away we wanted to do the gender reveal on the ship as all of our immediate family was going as well.

On the second night on the Liberty of the Seas, we spoke to our head waiter, Banzil. He was a little baffled as to what we were asking. He explained, in India, it is illegal to find out a babies gender before they are born but he would see what he could do. The next night at dinner he said he "googled it" and now knew what we were talking about. He had a cake prepared and even videotaped the gender reveal! We were so thankful to have such an amazing head waiter.

Ashley Garcia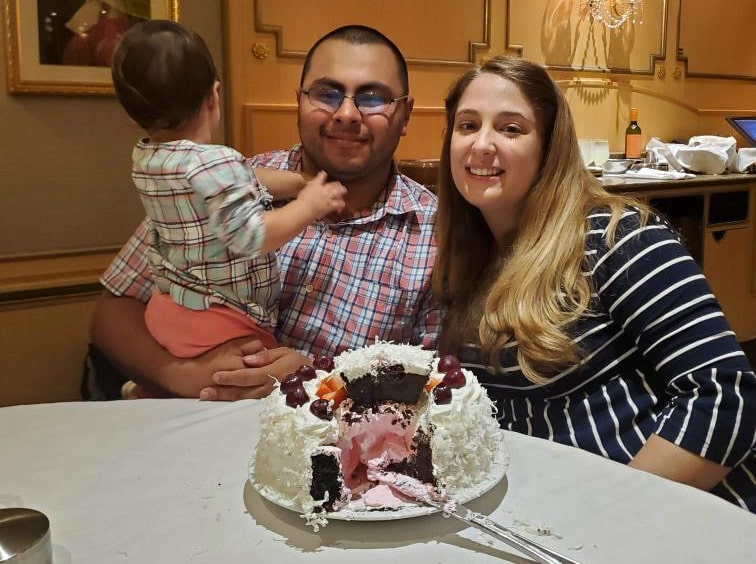 Fussy Eaters Are No Problem At All For The Royal Caribbean Team
Dining with an 8yo picky eater, I mentioned to the head waiter that she was a picky eater and joked that she would always eat French fries and cheese. Every night there were cheese platers on the table and a side of fries with her meal, even if she ordered pizza.

Ian Willis

When my son was little he was super picky about what he would eat. He ordered off the kids meal but decided he only wanted the grapes from the fruit salad. When they asked what was wrong why he wouldn't eat we just told him that he was picky and it was fine. After that they would have this waiting for him every night when we got in.

Jessica Chambers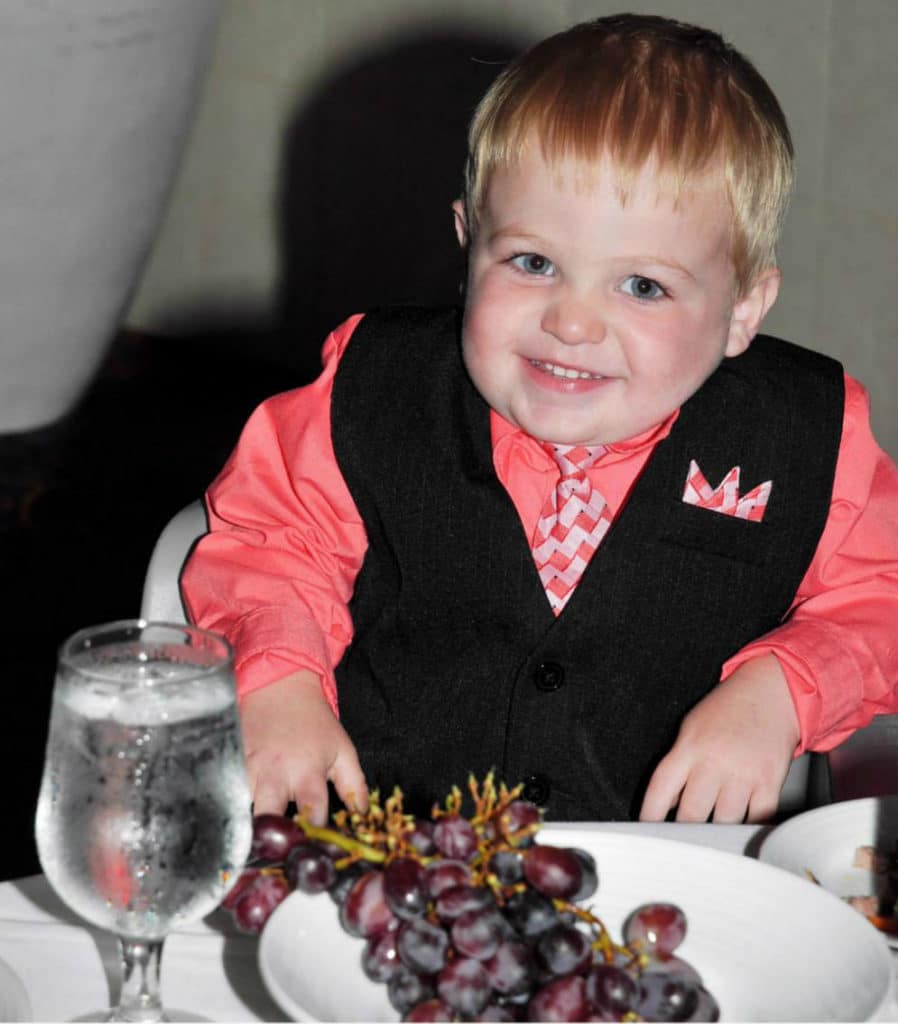 My husband is a very picky eater and ate the same thing for dinner every night- Caesar salad, steak and French fries. By the third night our waiter knew what he wanted and just brought it right out. He also remembered what we were drinking and had our drinks waiting for us every night when we got to dinner. Not that exciting compared to some other stories but still excellent service and very impressive!

Sam Markiewicz


My 8 year old couldn't decide on a dessert, so was served all of them!

Melina Mims Anderson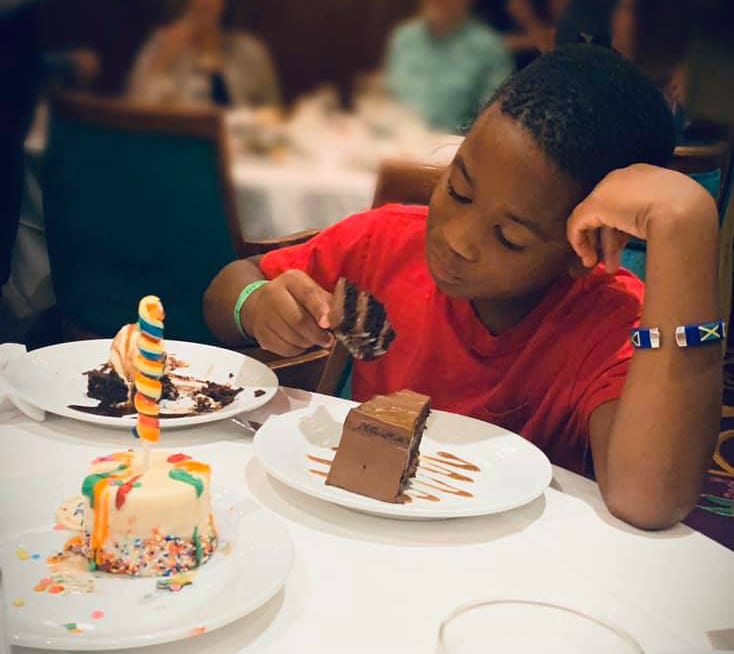 When we went our kids always ordered fruit cocktail at dinner but only ever ate the strawberries and grapes out of them. Our waiter must have taken notice because everyday went they ordered it he would bring out just strawberries and grapes for them!

Tiffany Bosley
Our waiter always remembered my son, had our drinks as soon as we sat down and brought my son new things to try the chef even came out to see what he thought. This was on Mariner and my picky kid rarely tries anything new but if our waiter gave it to him he tried it.

Jennifer Vukicevic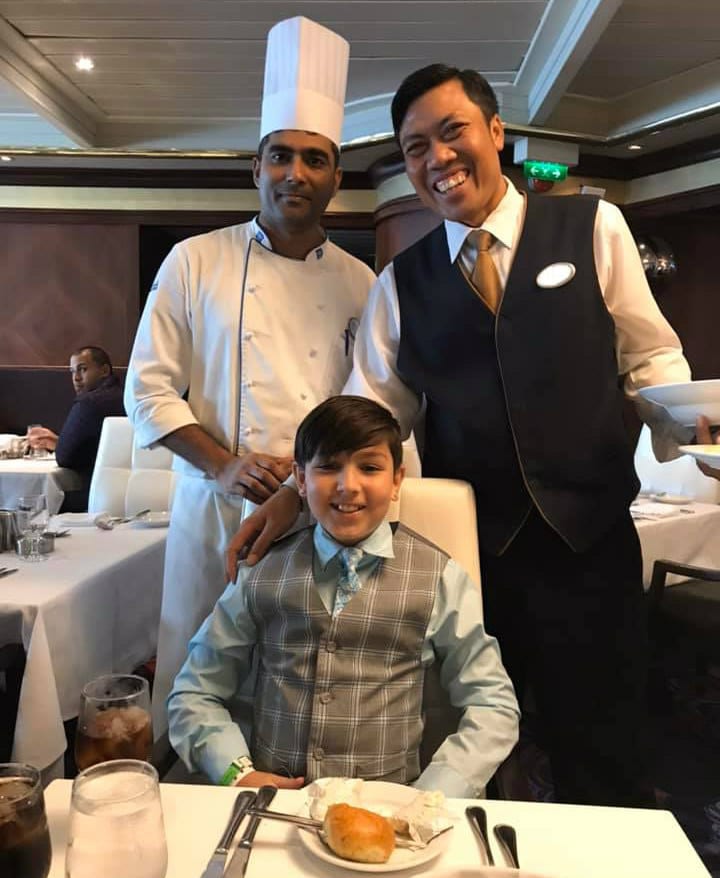 I have one very picky eater and my sons first cruise he was almost 4 and wasn't the greatest eater either, but required yogurt every evening to take medications. That cruise on Freedom the staff went out of their way to make sure we had yogurt on the table when we sat down in order to give my son his meds with dinner and hunted down pizzeria style (from Sorrentos) parm cheese for my oldest to put on her pasta (very picky eater). They've always gone above and beyond. We're going on cruise #7 in a couple months on RCCL.

Marina Morritt
In Fact, Royal Caribbean Chefs Will Make Whatever You Fancy
My friend complained one night that there was no Caribbean food. Next night our waiter said 'Jerk chicken for four is ready for you'. Our first cruise on Navigator of the seas and an unforgettable moment.

Sue Greaves

We were having drinks in Boleros, and my wife wanted a drink she had enjoyed in the Schooner bar. Our bartender friend at Boleros didn't know this drink, and when he called Schooner bar he didn't get an answer. So he ran across the ship to the Schooner bar to get the recipe and needed ingredients. That was truly amazing service.

Nicholas Puila
Wife and I were in San Francisco, on Explorer of the Seas. Our head waiter asked us how our day went and we said we went to Boudin and had chocolate raisin sourdough bread, which was amazing. The next night and every night after when we arrived for dinner, we had warm chocolate raisin sourdough rolls waiting for us

Duke Spiker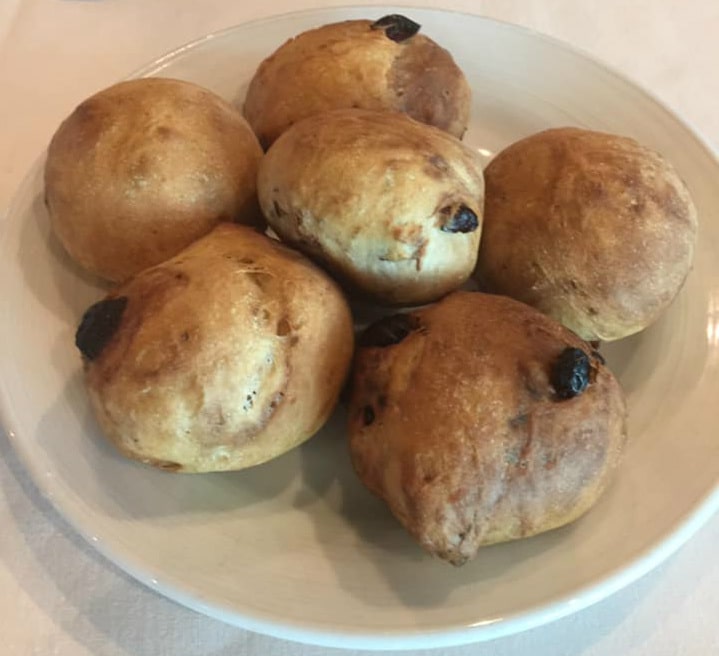 An offhand comment about M&M's, and there was a bowl of them waiting for us in the MDR each night. Thoughtful and very much appreciated. Love RCL!

Nancy Rideout

I had a 3-day dining plan and became addicted to the brownie with vanilla ice cream. Fast forward to my last day in the Windjammer and i was craving it… I saw the manager and said how I wished they had that there. He stopped what he was doing and called up to Chops to order one for me. Then was about to send the assistant manager to go get it for me.

I was so excited I said thank you SOOOOOO much I will get it myself. I went up there and they had TWO of them waiting for me. I took them to my cabin and ate them both on my balcony. Best memory. Maybe a little glutinous, but when a girl craves chocolate and someone indulges it… it's magic.

Lorraine Weil

One night I was so stuffed I declined dessert! My husband said to me you are going to wish you had some later! After a late night of dancing and casino we returned to our stateroom to a plate of delicious desserts!

Diane Murray Flores
My daughter asked for watermelon and chocolate milk with a straw the first night and we got it every night after without asking.

Sue Moriarty Caro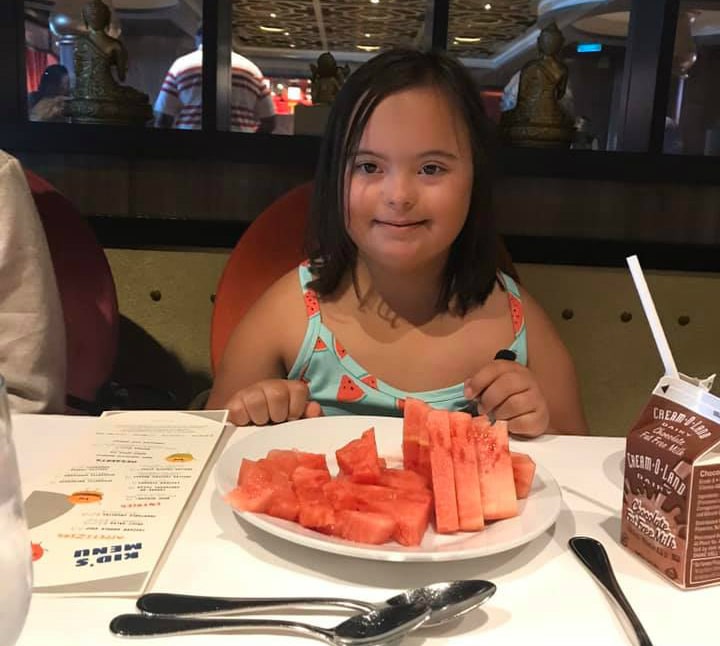 We went on the Freedom of the Seas on October 2019. I ask for the strawberry cold soup. They told me that they take out from the menu. But the next day they prepared us the soup, had two for my husband and two for me. On Saturday, the day before we finish the cruise, they prepared us the soup again. I'm in love with Royal Caribbean.

Julissa Martinez
On Majesty, I really wanted orange sherbet and they only had lemon on 3rd Floor MDR. Our waiter Lambok went all the way to Windjammer to get me orange.

Amy Schmidt
We were on a New England cruise with friends and we asked if they had French onion soup. We were told that they did not have it on this particular itinerary. The next night our waiter brought us the best French onion soup we have ever had.

We requested to see the chef and thanked him personally for his efforts. Our waiter said he had to make it on his own time because the regular menu was already set. We ordered the soup every night until there wasn't any left. He probably had to make a pot big enough to feed an army.

Bonnie VanGorder Parks
My daughter asked for a fruit plate as her appetizer the first night. She had one waiting for her every night after that. They also remembered her doll's name and would ask about her if we didn't bring her to dinner!

Keri Evans Marlar

In the MDR of Majesty 2 yrs ago, I asked my waiter for a glass of milk and told him that I like milk with my meals. Everytime I sat down at the table even when I did lunch. I always had my milk there without even having to ask. I love that kind of remembrance

Pete Riva
On my last cruise they made me a special dish that I had on one of my very first cruises but have not been able to find it again. I described it and the chef made it special just for me

Nancy White
On the second night, the MDR was out of chocolate milk, so the waiter made some for my daughter – and put extra chocolate syrup to decorate the glass. She told him she liked his much better! Each night he had one waiting for her more and more chocolate. The head waiter also saw her struggle to cut her steak, so each night she ordered it he would stay and cut it for her! She also lost an earring during one of the parades during dinner on our last night and she was heartbroken because she bought them during one of our port stops. The waiter searched the entire dining room while we were looking too and he found it!

Teresa Bargman Bothell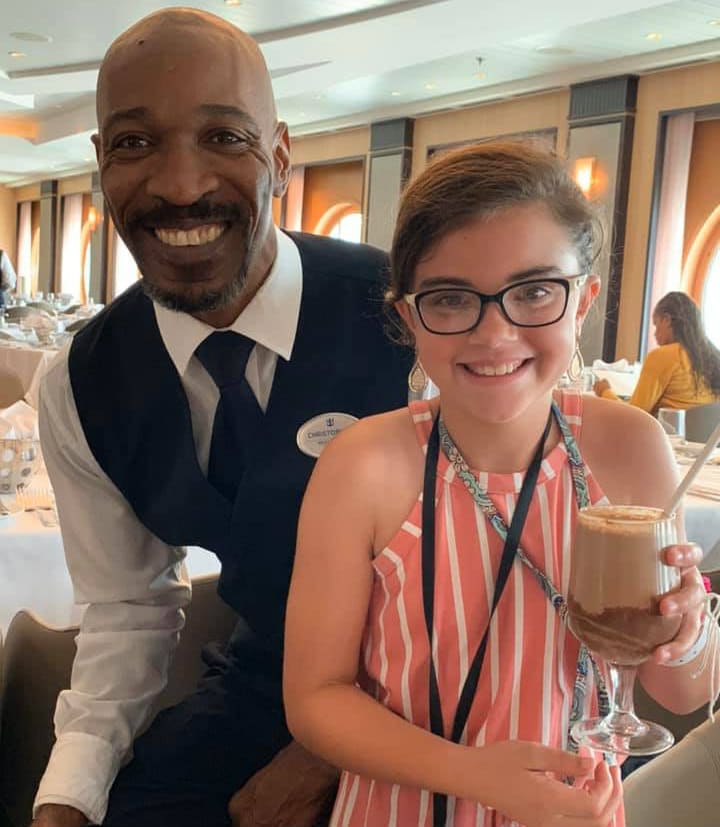 Our head waiter made toasted peanut butter and jelly sandwiches every night at dinner in the MDR for our three granddaughters last year on Anthem. He really made their nights special.

Kathy Smith Buckles
When we went on a cruise 2 years ago, my daughter wanted orange jello for dessert with dinner. They didn't have any. But later that night we received a (unexpected) room service delivery with a tray (I think it was 6 cups) of orange jello. We are going on our next cruise soon and my daughter is still talking about the jello.

Joy Silverman Gralnick
Royal Caribbean Staff Will Even Get Off The Ship To Get Things For You!
On our 2nd cruise one of the people at our table really wanted a Diet Mountain Dew, they didn't have any on the ship. Unknown to us our assistant waiter bought some at the next port and had it on the table waiting for her the next evening. That was awesome!

Mike Colaizzi
One year out kids wanted crayons to color in Mdr and our waiter got off on port day and got them crayons and had them on our table along with coloring books he had purchased!

Cortni Peterson
My husband loves oxtail and mentioned it to the server. She tried to find him some that night but they didn't have any one the ship! The next day they brought him ox tail for dinner! Like where did that even come from we are on a boat in the middle of the ocean… Our minds were blown.

Ashley McIlrath
I will never forget our steward, Edwin from Honduras, who treated us royally when we were on the Freedom of the Seas. On Day 2, my previously injured knee began to hurt out of the blue, and it sidelined me immediately because I could barely walk. When I woke up on Day 3, I was basically immobile and had to stay in my cabin since walking was so painful.

My indomethacin, which seems to be the only medication that works for me, was back home in Connecticut. When Edwin came to clean my room, he asked me why I wasn't enjoying the island, and I explained to him my predicament. Four hours later, he returned with indomethacin that he himself had purchased – he left the ship during his break and ran to the nearest drugstore. By the next morning, I could move again and enjoy the rest of my trip. Edwin was a lifesaver!

Peter Gouveia
Royal Caribbean Staff Will Take Care Of You If You're Unwell
On our cruise to Alaska I got sick one day. In our religion we do healing blessings with a drop of oil on the top of your head but we didn't bring any with us. We mentioned it to the waiter when he asked how I was doing, he left and came back with a little bowl of olive oil from the kitchen. It was so sweet and I felt better after the blessing.

Ashlee Heron Malloch

My friend wasn't feeling well and missed dinner. The server noticed she was absent, asked where she was. When I mentioned she was sick, at the end of dinner, she brought over a small bowl of chicken soup. "This is usually for babies, but it's good for when people are sick, too. Take this to your friend." Our MDR server was so sweet.

Alex Wallace
Once my hubby went to dinner in MDR without me as I had a sore throat. Our waiter asked where I was and when my hubby told him about my throat he went and got and made my hubby bring me back some ice cream.

Hayley Nash
One of our cruises I had some sinus issues, our cabin stewardess brought me some essential oils to use! Helped tremendously! On our last cruise on Symphony, my youngest was ill and when he felt better near dinner time, all he wanted to eat was fruit loops… Someone in the windjammer went in the back and brought him out two little boxes and some milk! I've always been impressed with RCCL service!

Jennifer Brothers

Last week I had an accident while on an excursion… The medical staff on Liberty was top notch… Never once did they hurry me through, they were tentative and truly concerned. Honestly, they were better than most doctors and staff we go see while at home. Checking on me each day… Guest services brought ice, checked on me each day and gave me a wheel chair so I would not be stuck in my room. I will be back soon… I hope.

Any Lynne Adams
I was pregnant and experiencing morning sickness, so when I didn't touch my lamb shank one night they were worried something was wrong. When I explained they asked me what I wanted. One night crackers and cheese and another night omelette and chips. It's the exemplary service that makes us come back year after year.

Helen Townsend
Suggested read: Cruising while pregnant – Everything you need to know
On our last cruise the sea was really rough and my 10 year old had pretty bad motion sickness. He ended up throwing up right before dinner so he wasn't looking so hot when we arrived at the dining room. As soon as our waiter found out that he wasn't feeling well he said he would be right back with something to help. He brought ginger ale, a plate of jello cups, sliced green apples, and a plate of dinner rolls (peanut free since my son is allergic). He also packed up a tray of all those things to take back to our cabin and keep in the fridge in case the motion sickness came back.

He also made sure that my son didn't miss out on anything because of his peanut allergy. One night he tried to order the chocolate cake but he couldn't have it because they couldn't guarantee that it was safe. The next night he had a huge slice of chocolate cake ready for him and said it was even better than the one he couldn't eat. They are so great at making sure everyone is taken care of

Julia Penman
They'll Be There For You Through The Toughest Times
My husband and I loved to cruise. He was diagnosed with stage 4 cancer and was given a few years at best. We made a pact with each other that we would spend as much time doing what we loved as we could. Due to his compromised immune system we had to have things very clean for him.

We did 8 cruises before he passed away. On everyone of them the housekeeping and food staff met with us to ensure they were doing everything they could. Our room was disinfected at least twice a day and his food was always brought to him very hot. This always made him feel safe. After he passed RC helped me to do an amazing burial at sea for him.

Gail Yantis
Royal Caribbean's Staff Are Pretty Handy At Fixing Things
On the Ovation, we were packing our last night and the wheel was about to fall off our suitcase, I found our room attendant about to leave for the evening and asked for any kind of tool for my husband to fix. He brought a small pack and got down on his knees with my husband and they fixed it!

Cynthia Moss

My daughter's glasses broke. They sent someone up from engineering to try and fix them.

Karen Downs
We traveled on the Independence of the Seas in 2017. I'd brought two pairs of flip flops with me. One windy day, one pair went flying off the side of the ship! We laughed about it – I had my other pair. The next day I tripped and the toe part of the shoe broke. I'd left them in my cabin in the evening and when we arrived back our cabin steward had fixed them and left a note saying "I hope you don't mind me fixing your shoes!" I was speechless!

Helen Lawlor
If Ever A Mistake Is Made, They Certainly Make Up For It
We take our employees every March. Last March, Royal goofed (very rare!) and did not seat all 8 of us together upon entering the first night in the MDR. They seated hubby and I across the room. I nicely, yet firmly dealt with the guy at check-in at MDR. They gathered us up, walked us up to the next level. Sat us all together. The waiters were throwing Champagne bottles at us like it was nothing due to the mistake. They did this the next final two nights also! It was amazing! Of course, my husband tipped them well due to how they were treating us.

Autumn McClellan-Matthews
Royal Caribbean Bosses Take Care Of Their Staff Too
I'm a guest entertainer and got approval to bring my family with me on a Christmas cruise one year. I was just gonna have them stay with me in my entertainer's stateroom. The hotel director gave us a stateroom upgrade. This was my families first time ever being on any ship. They cried as we sailed away from port.

Angel Machado
Have You Cruised With Royal Caribbean Yet?
Have you experienced the customer service Royal Caribbean is famous for, that made you say 'wow'? Please share your experiences and leave a review in the comment section below!
Thank you to everyone who contributed to this article including the many members of the Facebook group Royal Caribbean Moms at Sea.
NEW DEALS JUST RELEASED!
Don't miss the latest Royal Caribbean offers…
Related Posts: