Royal Caribbean cruises include certain drinks for free. But, if you like to drink cocktails, beer, wine, soda or other drinks, you can either pay for them or buy an all-inclusive drinks package.
To work out if the drink package is worth it, it's a good idea to take a look at the Royal Caribbean drink menus to see how much drinks will actually cost on your cruise.
This article lists the Royal Caribbean drink prices, along with photos of Royal Caribbean drinks menus, to help you to work out how much you will likely to spend on drinks during your cruise.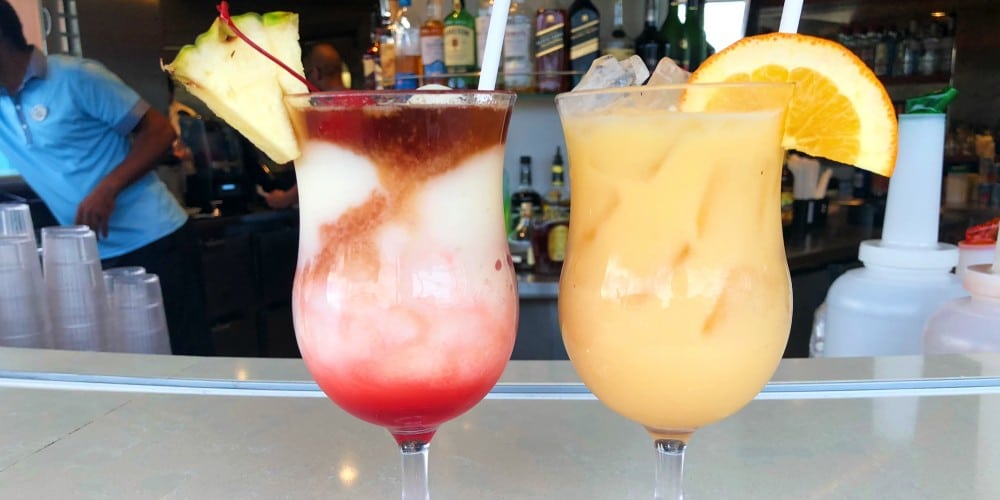 If you're wondering whether a drinks package is worth it, I have an article that answers that in detail.
Read more: Royal Caribbean drink package – Is it worth it?
Or, to do a quick calculation, you can use my drinks package calculator tool. Just pop your details in the form below and it will be sent straight to your inbox, for free.
Royal Caribbean Drink Prices
The cost of drinks on Royal Caribbean cruises is in the mid to high range compared to other cruise lines. Drinks are priced in US dollars no matter where in the world you cruise.
Unfortunately, if you're used to pub-priced drinks on P&O Cruises, you might be a little disappointed to find that drinks on Royal Caribbean ships cost a little more than you would pay in your local pub at home.
Royal Caribbean alcohol prices vary slightly depending on the ship, with drinks on the newer ships costing up to $1 more per drink.
How much are drinks on Royal Caribbean cruises?
These are the average Royal Caribbean drinks prices:
Beer – $7.49
Glass of wine – $8 to $16+
Cocktail – $13
Spirit and mixer – $9 to $11+
Soda – $3.50
Coffee – $4
Bottle of water – $3
What drinks are free on Royal Caribbean cruises?
These beverages are included for free on Royal Caribbean cruise ships:
Tea and coffee
Iced tea
Hot chocolate
Lemonade
Flavoured water
Water
Milk
Fruit juices with breakfast
The flavoured waters are really good, more like cordial or squash than water. There's certainly enough choice to keep most kids happy with the free drinks without paying extra for fizzy drinks, freshly squeezed juices and mocktails.
The free drinks aren't available in all venues and at all times, but you can find out exactly where and when to get them here: Guide To Royal Caribbean's Free Drinks.
Tip: I like to take a tiny bottle of super concentrated cordial and add it to tap water for the kids
Royal Caribbean Drink Menus
To see a detailed Royal Caribbean drink prices list, take a look at these photos of Royal Caribbean bar menus which I took onboard Mariner of the Seas in the Bahamas in December 2019.
I've compared the prices on these menus to those on Royal Caribbean'sfleetwide beverage menu for 2021 and the prices are pretty much the same.
The only real difference is that the new menus don't appear to have the $10.99 Classic Cocktails, so all cocktails are $13.
Good to know: US cruises Vs UK cruises
On most cruises, including cruises departing from the US, an automatic gratuity of 18% is added to the cost of each drink when you receive the bill.
On cruises departing from the UK, the gratuity is included in the price of each drink as shown on the menu, so the menu prices may appear higher.
These photos of Royal Caribbean drinks menus are from the US, so there will be a gratuity automatically added on top.
The Main Royal Caribbean Drinks Menu
This is the drinks menu which you'll find at many of the onboard bars such as the Pool Bar and the Viking Crown Lounge.
The menu has a focus on cocktails, with a different page for each spirit – rum, vodka, gin, tequila and whiskey. This makes it a bit easier to narrow down your choice. It also has a wine list at the back.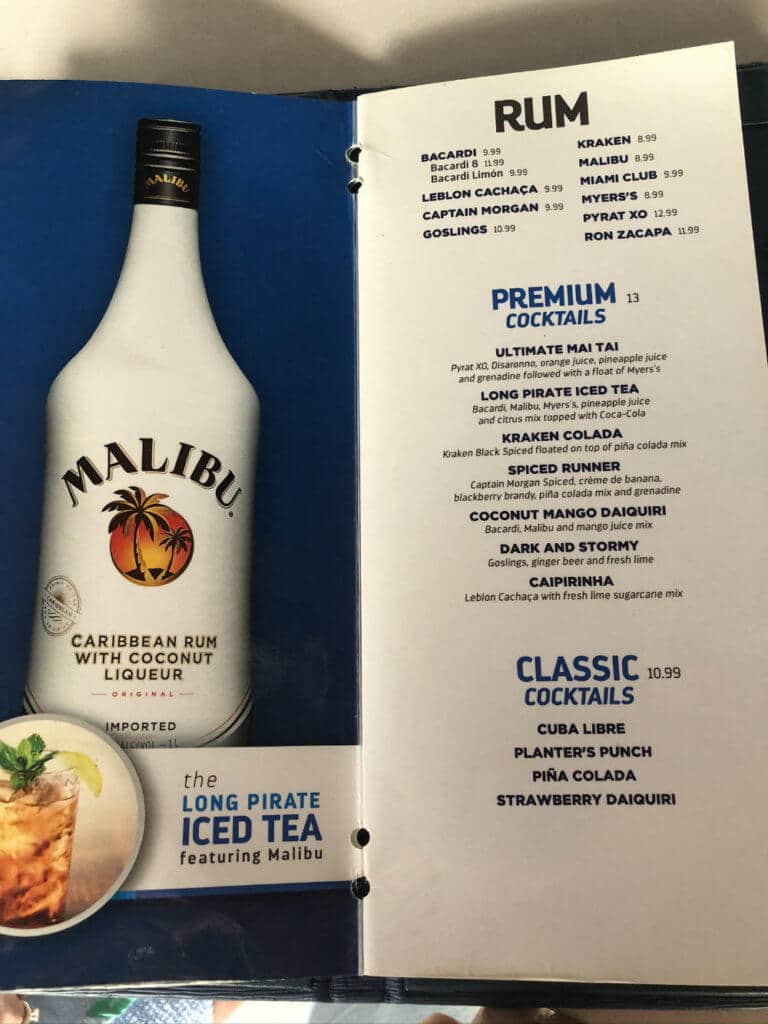 Despite the huge choice of cocktails, the bar staff on Mariner of the Seas always seemed keen to conjure up something new and often said: "What do you like? Tell me some flavours and I'll make up something."
Schooner Bar drinks menu
The Schooner Bar is a cosy nautical-themed bar with a piano at the centre. You'll find this bar onboard all Royal Caribbean ships. The Schooner Bar also offers a large choice of cocktails, as well as beers and lots of wines by the glass or bottle.
Here is the Schooner Bar drinks menu and wine list…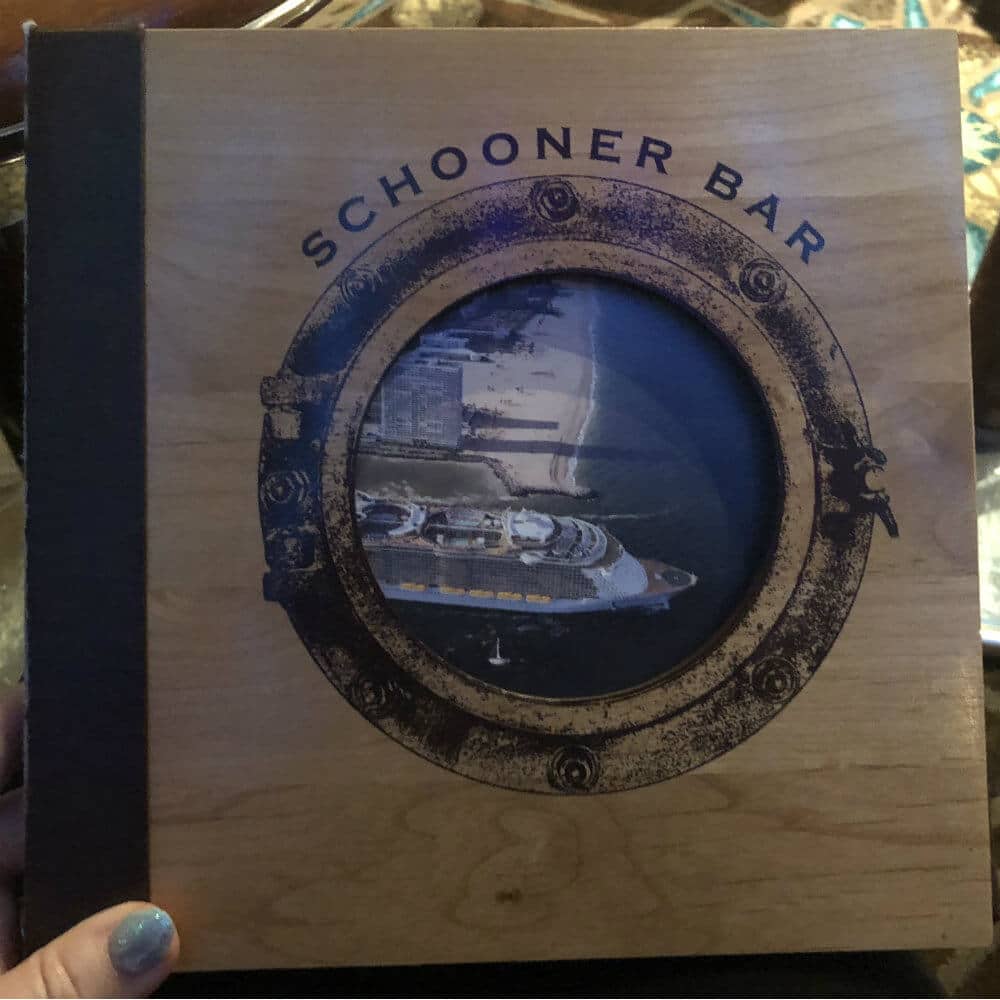 The Bamboo Room menu
The Bamboo Room is a quirky Polynesian-themed cocktail bar that was added to Mariner of the Seas and Navigator of the Seas when they were renovated as part of the Royal Amplified program.
The menu has cocktails, beers and wines.
Royal Caribbean's English pub menu
Most Royal Caribbean ships have an English-style pub on the main promenade featuring expansive beer collections and live music. If you want a good draft beer, this is the place to go.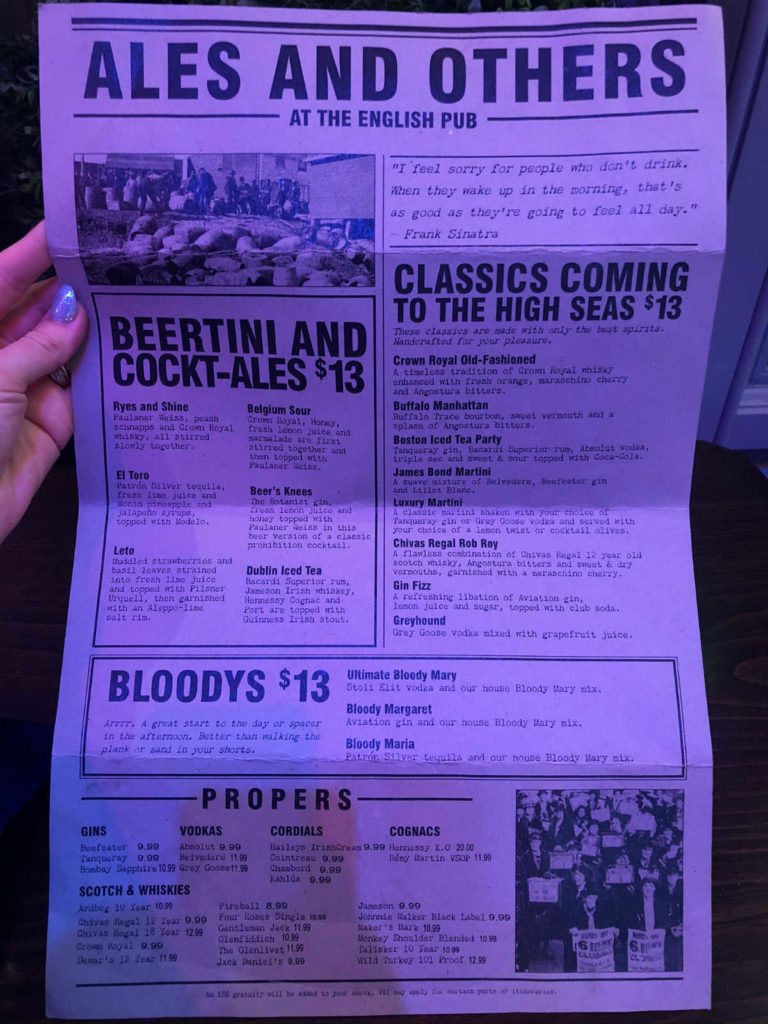 Cafe Promenade menu
Most Royal Caribbean ships have a Cafe Promenade which offers complimentary food as well as complimentary basic teas and coffees.
Speciality teas, coffees and hot chocolates have an extra charge, as can be seen from the menu below…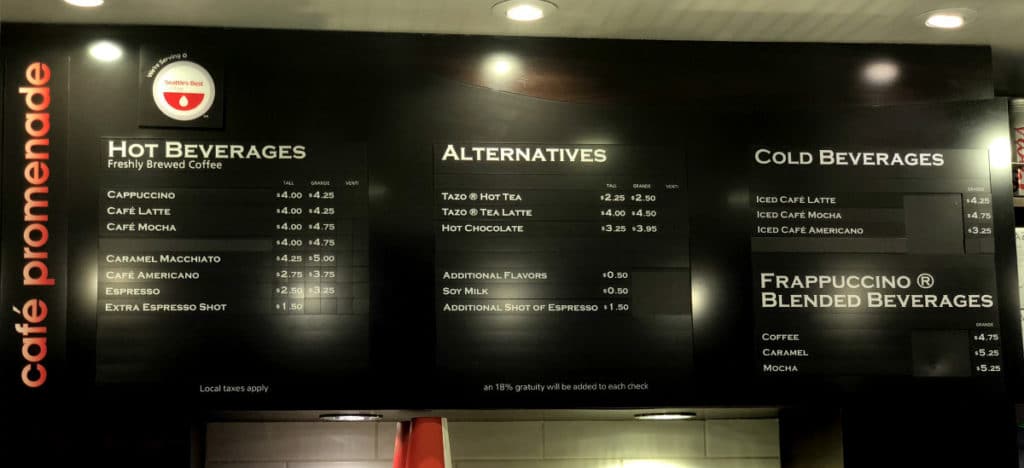 Royal Caribbean Starbucks menu
Some Royal Caribbean cruise ships also have Starbucks cafes onboard. Coffees are priced between $4 and $6.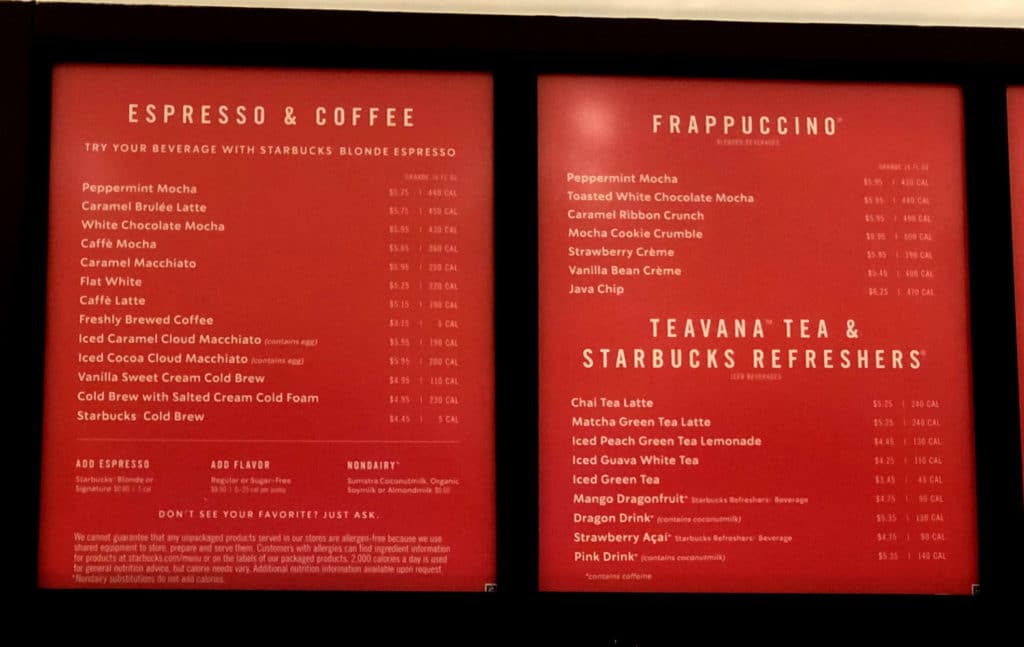 Playmakers bar menu
Playmakers is a sports bar that can be found onboard Mariner of the Seas, Independence of the Seas and Symphony of the Seas.
Here you'll find a great selection of beverages including craft ales, draft and bottled beers, ciders, cocktails and wines.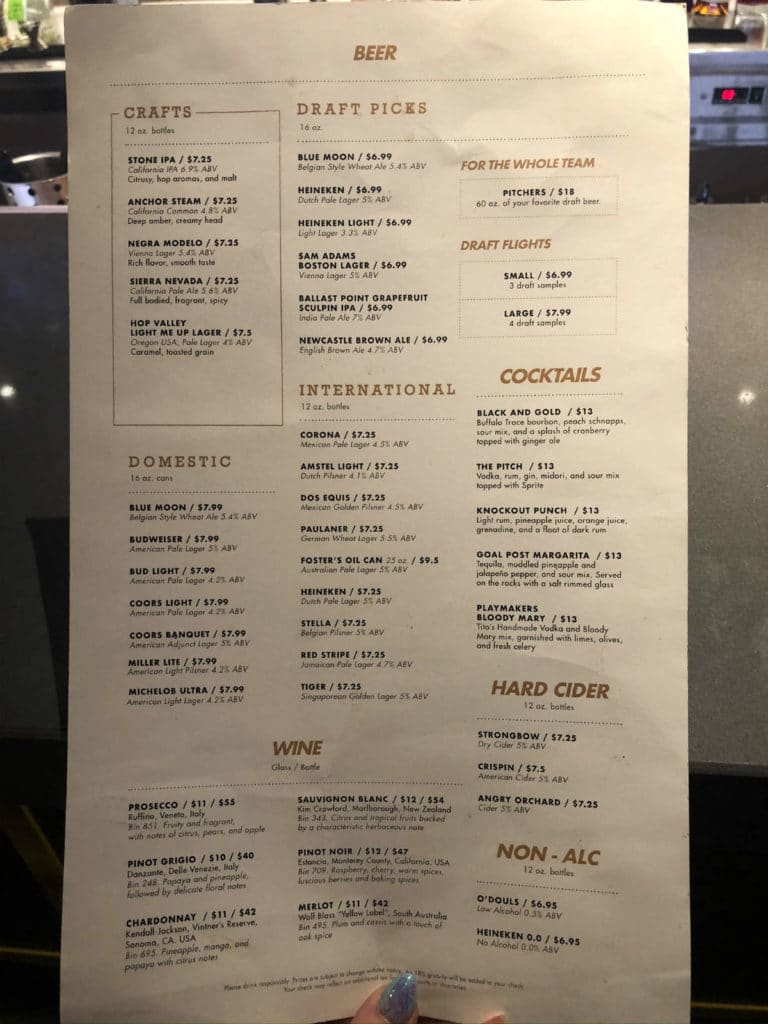 Each Royal Caribbean ship has different bars and lounges, and there are lots to choose from on each ship. Favourites include Boleros, R-Bar, Two70 and the Rising Tide Bar which moves between decks on Oasis Class ships. Many bars will have their own unique menu.
Royal Caribbean mini-bar menu
Royal Caribbean also has a mini-bar menu. Rather than arriving to a fully-stocked mini-bar, you'll find that your mini-bar is empty and you can request what you like in it via a menu that you tick off and hang on your door handle.
As someone who doesn't use the mini-bar except to store my own drinks and children's milk, I love having an empty mini-bar.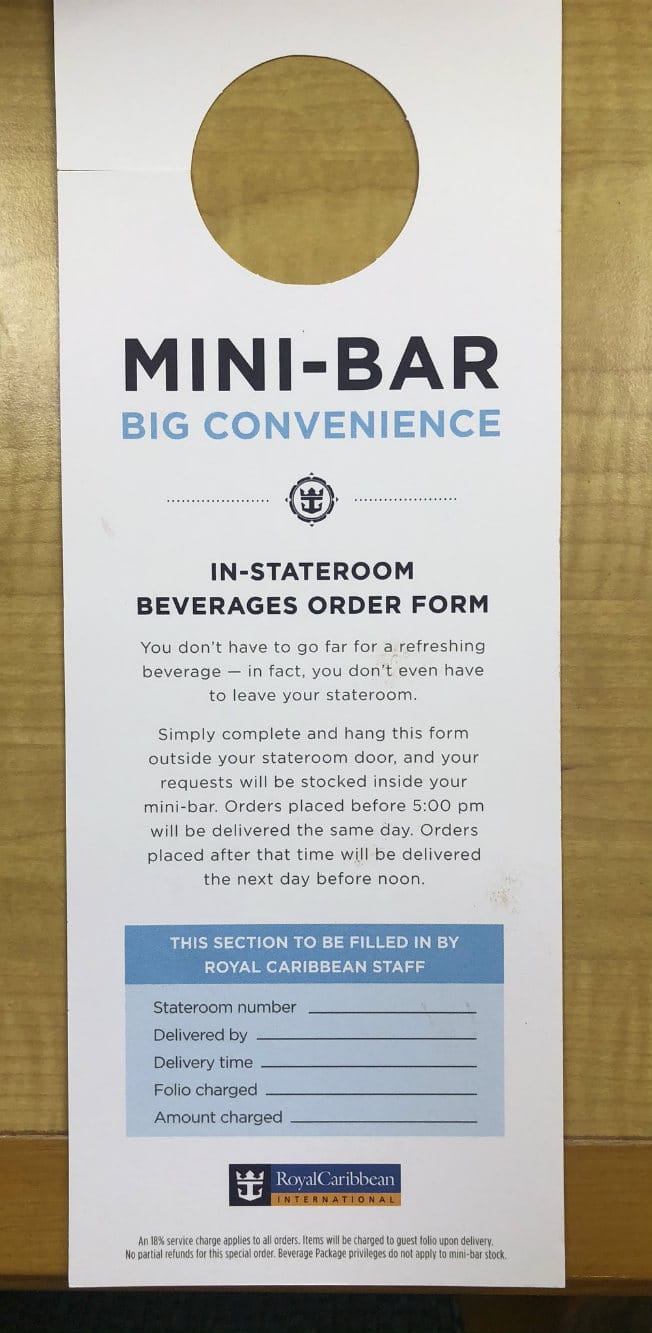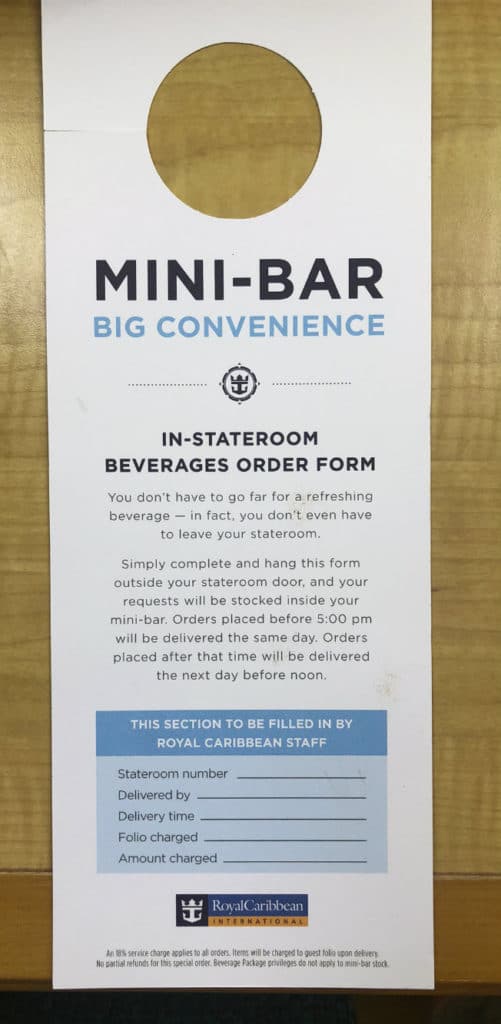 Can you buy bottles of liquor on Royal Caribbean?
Some cruise lines such as P&O Cruises allow you to buy bottles of spirits such as vodka, rum or whiskey to drink in your stateroom.
Unfortunately, Royal Caribbean does not allow guests to buy bottles of liquor to drink on board the ship. If you buy duty-free liquor from the onboard shop, it will be delivered to your stateroom on the final evening of your cruise.
Can you bring your own drinks on Royal Caribbean cruises?
Royal Caribbean carry-on rules state that Each stateroom may bring up to two 750 ml bottles of wine or champagne to drink in your stateroom.
If you wish to drink your wine in one of the public areas, a corkage fee of $15 per bottle will be charged.
Guests may also bring non-alcoholic drinks on board. The limit is 12 cans, bottles or cartons per stateroom. You may also bring milk and water for babies or medical use.
If you're doing a fly-cruise, it's probably not worth the hassle of bringing your own drinks on-board. But, when we cruise from the UK and don't have a drinks package, we'll definitely be bringing two bottles of wine and 12 cans of Pepsi Max to drink in our room to save a bit of money.
If you do plan to bring your own wine on a cruise, then I'd recommend that you buy an inflatable bottle protector from Amazon to make sure that it arrives in one piece and doesn't smash in your suitcase.
How awful would it be to open your suitcase to find broken glass and wine all over your clothes?
How to sneak alcohol on a Royal Caribbean cruise
Sneaking alcohol on a Royal Caribbean cruise is a bad idea because if you are caught you could be kicked off the ship. Royal Caribbean's alcohol policy states:
"Guests who attempt to conceal alcoholic items at security and or luggage check points may be disembarked or not allowed to board"
That said, many people do successfully sneak alcohol on to cruise ships. You can find out how they do it here: How to sneak alcohol on a cruise ship
Royal Caribbean drink packages
Royal Caribbean offers alcoholic and non-alcoholic drinks packages. When you buy a drinks package, you pay a set price and then all your drinks are included free of charge.
Before you buy a drinks package, it's important to work out whether it offers god value, or whether you would save money if you buy drinks individually.
My next article gives you all the info on Royal Caribbean drink packages to help you decide whether to get one or not.
Read more: Royal Caribbean drink package: Is it worth it?
Alternatively, you can use my drinks package calculator tool to work out whether the drinks package is good value based on how many drinks you're likely to have. Just pop your details in the form below and I'll email it to you right away.
Related posts: