Choosing the right room can make a huge difference to your enjoyment of a cruise, so it's a good idea to find out exactly what you're letting yourself in for when you opt for an unusual room type like a cove balcony.
I've done all of the research for you, so read on to find out exactly what a cove balcony is, and whether you should book one or not.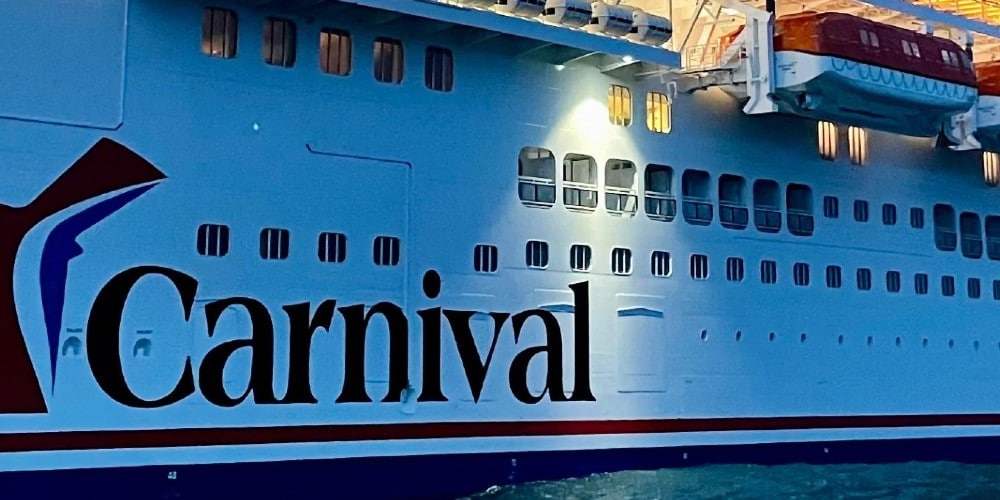 What Is A Cove Balcony on Carnival?
A cove balcony on a Carnival cruise ship is more enclosed than a standard balcony. The sides and bottom half of the balcony rail are made from a solid steel panel and it has a smaller opening than a normal balcony. These factors mean that cove balconies provide greater privacy, but there are some downsides too.
Cove balconies are found on the lower decks – that's either deck 2 or deck 5, depending on the ship.
Suggested read: The Best Deck on a Cruise Ship (to Avoid Seasickness and Noise)
As they are less open than standard balconies they feel much more private and have a more secluded and cosy feel than the normal balcony. This is despite the fact that they are actually quite a lot bigger than a regular balcony.
NEW DEALS JUST RELEASED!
See the latest Carnival cruise offers…
The Different Cove Balcony Rooms
Cove balconies can be found in category 7C staterooms on Carnival's Excel-class, Vista-class and Dream-class ships. That's basically every ship that has been built since 2009.
The room itself is exactly the same as a normal balcony room – the only difference is the balcony outside.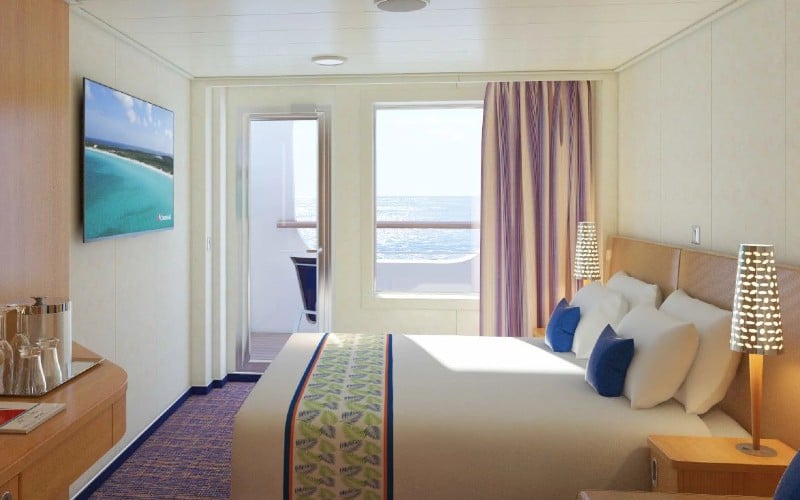 The Excel-class ships (Mardi Gras, Carnival Celebration and Carnival Jubilee) also have some Cloud 9 Spa Cove Balcony rooms. These category 7S rooms are located near to the spa and come with a pass for unlimited use of the thermal suite facilities.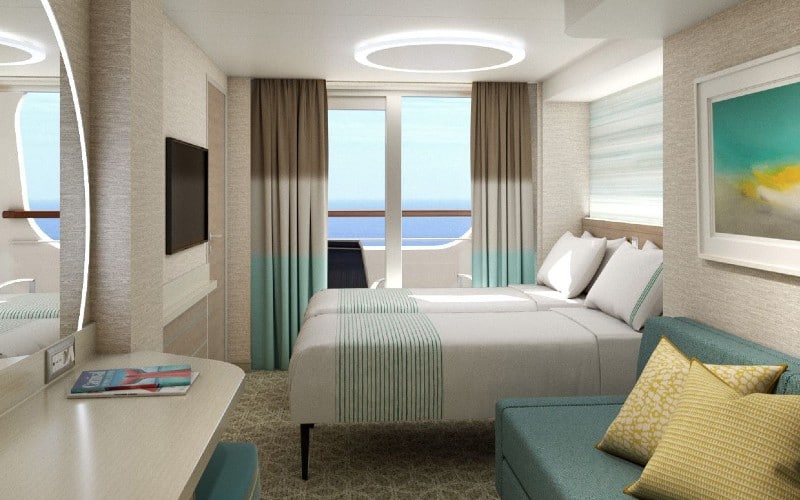 Families cruising on Carnival's Vista-class ships (Carnival Vista, Carnival Horizon and Carnival Panorama) also have the option of a cove balcony with the FM and FS categories of Family Harbor Suites.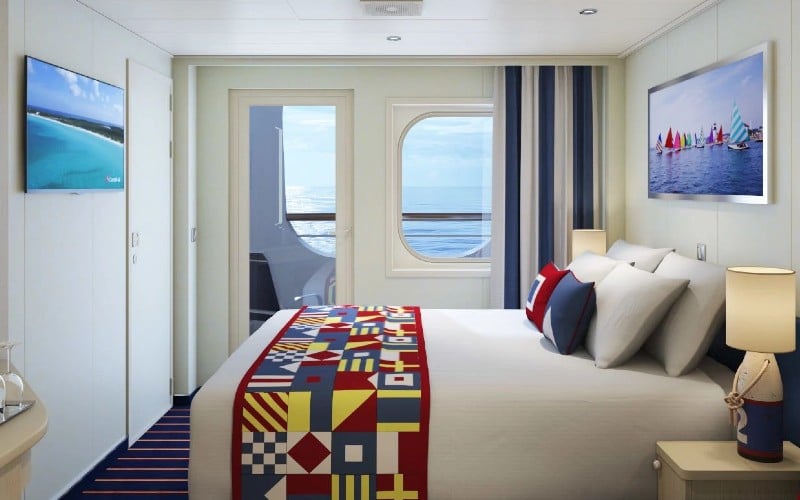 On Carnival Ecstasy, Carnival Elation and Carnival Paradise, the GS category Grand Suites also have cove-like enclosures where the bottom half of the balcony rail is solid steel.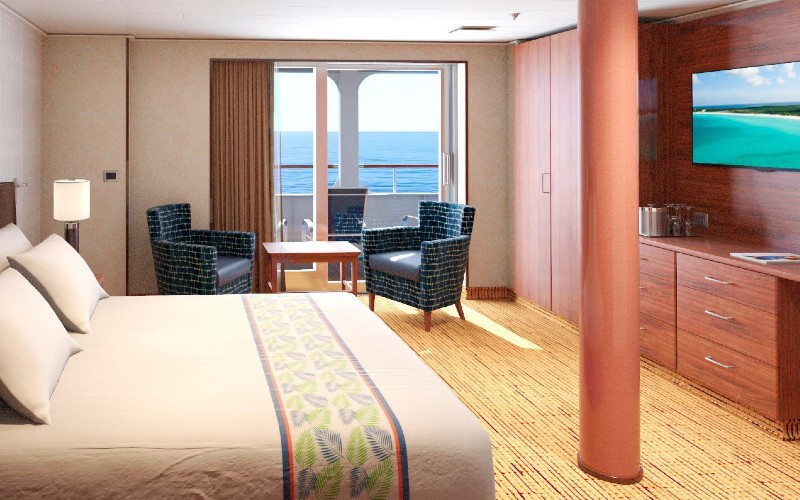 List of Carnival Ships with Cove Balconies:
Carnival Breeze Cove Balcony
Carnival Celebration Cove Balcony and Cloud 9 Spa Cove Balcony
Carnival Dream Cove Balcony
Carnival Horizon Cove Balcony and Family Harbor Suite Cove Balcony
Carnival Jubilee Cove Balcony and Cloud 9 Spa Cove Balcony
Carnival Magic Cove Balcony
Carnival Panorama Cove Balcony and Family Harbor Suite Cove Balcony
Carnival Vista Cove Balcony and Family Harbor Suite Cove Balcony
Mardi Gras Cove Balcony and Cloud 9 Spa Cove Balcony
Cove Balcony Vs Balcony
The biggest difference between the two standard balconies and cove balconies on Carnival ships is that the cove balcony is far more enclosed with a smaller opening and more solid walls between you and your neighbour.
Privacy
Many of the cove balconies are underneath the suspended lifeboats. This provides another layer of privacy. The regular balconies have much less of a barrier between you and the cabin next door and also vertically so you a more likely to come into contact or hear your fellow passengers when on the balcony.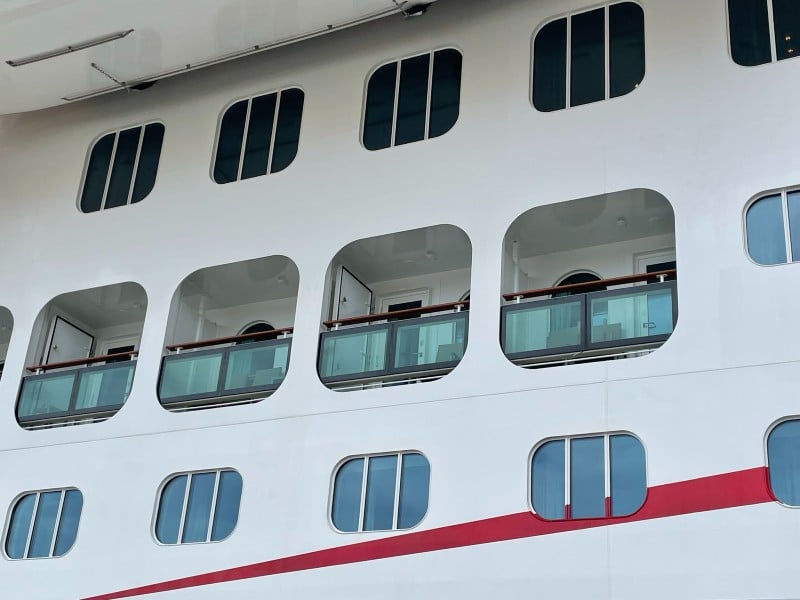 Shade
As well as offering extra privacy, Carnival's cove balconies also provide a more shaded area for sitting in on sunny days. Some people will like the shade whilst others will miss the sun. Of course, the time of day and direction of travel will also have an impact on this.
Size
Another big difference is that the cove balcony is quite a bit bigger, it is 45 sq ft compared to 35 sq ft for a regular balcony. This is quite a big difference (28% bigger), so it definitely gives you a bit more space to relax.
Views
Cove balconies are on deck 2 or 5, depending on the ship. They are the lowest possible balconies to the water so they provide fantastic views out to sea. Some guests have enjoyed great close-up views of dolphins swimming alongside the ship.
It does also mean that they can get wet at times and have a hatch that can be closed during bad weather and rough seas. It is worth getting a cabin that is not too near the front of the ship as then the spray from the movement of the ship will be less of an issue.
Access
If the weather on your cruise gets so bad that the open decks of the ships are closed, then you probably won't be allowed to use your cove balcony either as it could be dangerous to be outside so close to high waves.
If this happens, a steward will close a metal storm door over your glass balcony door and you won't have access to your balcony until the next port of call. You will, however, still be able to see out of the window.
Getting On and Off the Ship
The position low down on the ship is excellent when you are getting on and off at ports of call, as you'll be right near the gangway. It's also a better place to be in rough seas with a lower risk of motion sickness.
It is worth noting that the actual cabins for cove balcony rooms and regular balcony rooms are the same, so there is no need to factor that into your decision.
Pros and Cons of Cove Balconies
Pros:
Cove balconies are bigger than normal balconies
More private thanks to solid sides and lifeboats above
They are more shaded
Low deck position gives close-up views of the sea
Quick to get on and off the ship
Can be cheaper
Cons:
Some people might not like the enclosed nature of cove balconies and the smaller opening
Can get wet and salty
Might be too shady for some
Further from the action on-ship
Balconies may be off-limits in bad weather
Are Cove Balconies Better Than Regular Balconies?
Many people do think that cove balconies are better than regular balconies but it does partly come down to personal preference.
If you are looking for a cosy, private space then you are likely to enjoy having a cove balcony. The close views of the sea are also generally enjoyed by most people that have stayed in a room with a cove balcony but there may be times when it is too wet and windy to be used.
It is worth noting that cove balconies are generally shadier than other balconies so if you are hoping to sit in the sun then you might be better off looking at other types of balconies, although you can always head up to the Lido deck to catch some rays.
The real risk with booking a cove balcony comes if the weather is rough. You may find that the crew members close the storm door over your balcony door, leaving you with just the window to look out of. For this reason, you should probably avoid cove balconies on cruises during hurricane season.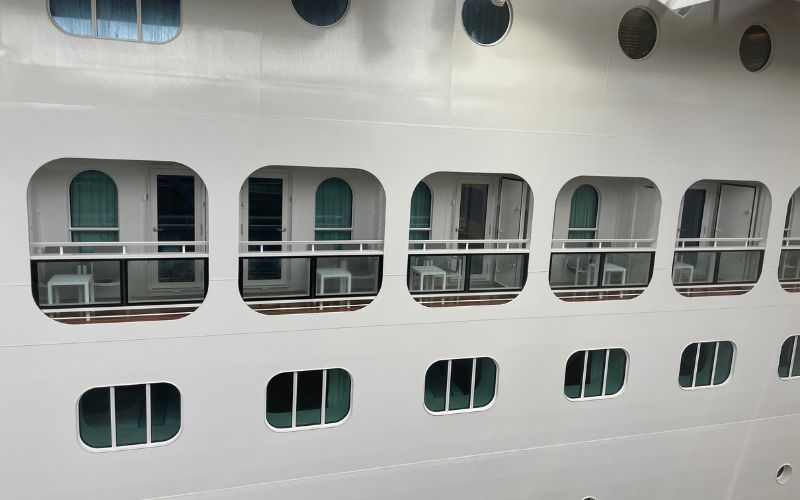 The Bottom Line
I hope that reading this post has helped you to understand what you are getting if you book a cove balcony on a Carnival cruise.
By far the majority of people that choose them are happy with their choice and the cosy cove balcony helps to make their cruise even more enjoyable.
If you're looking for a cheaper alternative to a balcony, then you should consider an Ocean View room with a window. Some of these rooms are incredible, so they're definitely worth looking into.
You can learn more about the different types of Ocean View rooms in my Guide to Carnival Ocean View Rooms.
NEW DEALS JUST RELEASED!
See the latest Carnival cruise offers…
Related Posts: