When you book a suite on a cruise, it's not really about the extra space. That is nice to have, but it's something you can probably get by without.
Instead, it's about the perks that you get by booking a suite. Not just the location on the ship, but all the extras that are included to make your cruise feel even more special.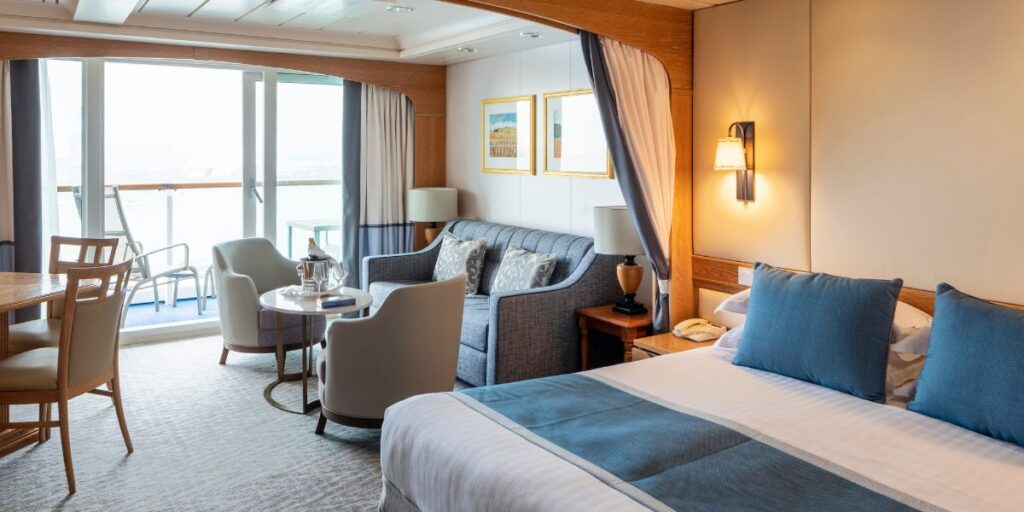 In this guide, I'll take you through the different types of suites offered on P&O ships, and the perks you get both for full suites and mini-suites. And then I'll explain whether they're worth it.
P&O Cruises Suite Types
There are five main types of suites on P&O Cruises ships, although they aren't identical from ship to ship either. Some are larger than others, but they offer a broadly similar experience when you're on-board.
Here's a quick guide to the suites you can book on a P&O Cruise:
| Ship | Mini Suite | Conservatory Mini-Suite | Suite | Family Sea View Suite | Penthouse Suite |
| --- | --- | --- | --- | --- | --- |
| Arvia | N/A | 274 square feet | 434-530 square feet | 330 square feet | N/A |
| Iona | N/A | 274 square feet | 434-530 square feet | 330 square feet | N/A |
| Britannia | N/A | N/A | 382-689 square feet | N/A | N/A |
| Azura | N/A | N/A | 449-451 square feet | N/A | 590 square feet |
| Ventura | N/A | N/A | 449-451 square feet | N/A | 590 square feet |
| Arcadia | 388-480 square feet | N/A | 530-843 square feet | N/A | N/A |
| Aurora | 382 square feet | N/A | 534 square feet | N/A | 935 square feet |
Now, let's take a closer look at each of the different types…
Mini Suite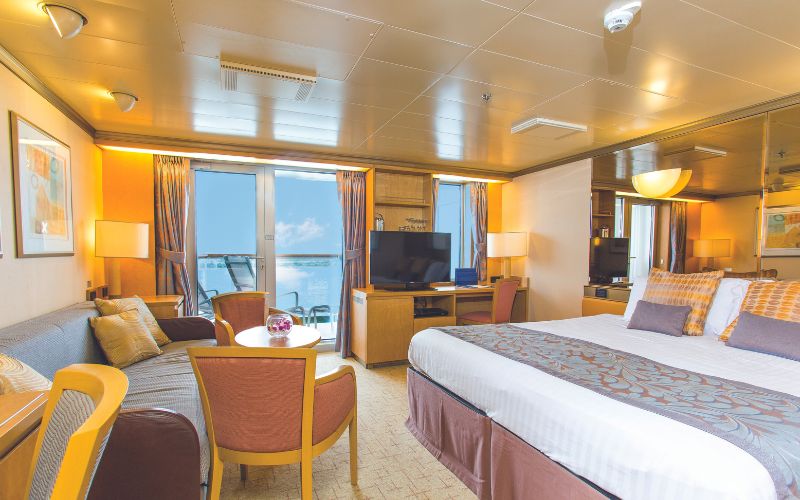 The standard Mini Suites are found on the adults-only ships Arcadia and Aurora.
These are rooms that are a middle ground between a balcony cabin and a full suite. They have a more spacious lounge area and a larger balcony too, but they're not quite as big as a suite. You still get a lot of the suite benefits though, which I'll cover in detail below.
Whereas with most cruise lines, a Mini Suite tends to be a minor upgrade over a balcony cabin, with P&O it's treated more like a full suite, just in a smaller space.
Conservatory Mini Suite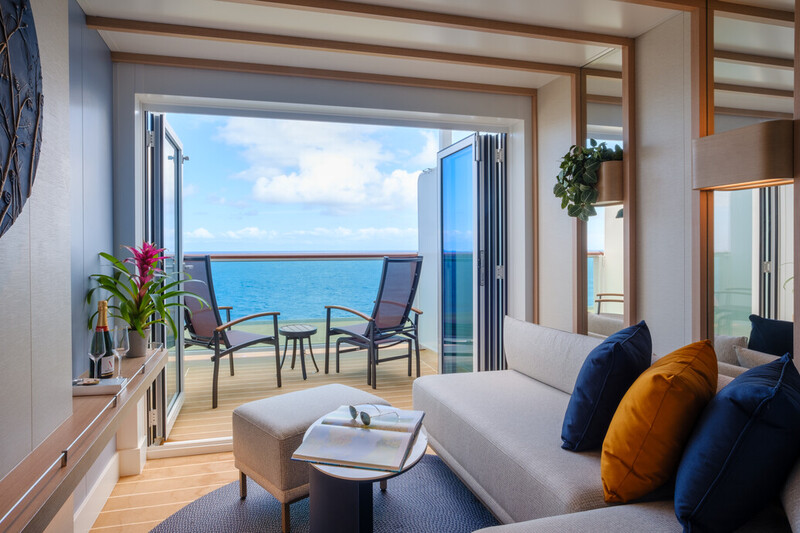 Conservatory Mini Suites are some of the newer cabin types with P&O Cruises, available on Iona and Arvia.
They have bi-folding doors instead of sliding doors, so you can completely open up to the outdoor space of your balcony. And because there's an extra lounge area between the bed and the balcony, you can create a beautiful space to unwind.
Again, Conservatory Mini Suites get most of the benefits of a full Suite.
Suite
A standard Suite option is available on all P&O Cruises ships. The smallest suites are some of the options on Britannia, whereas the biggest are some of the suites on Arcadia.
With a suite you get much more room than you would in a regular balcony cabin, meaning you can relax a little easier in your lounge, or enjoy a dressing area where you can get ready for your glamorous formal night.
All of the standard suites have a balcony, usually a lot more spacious than you'd get with a balcony cabin.
Family Sea View Suite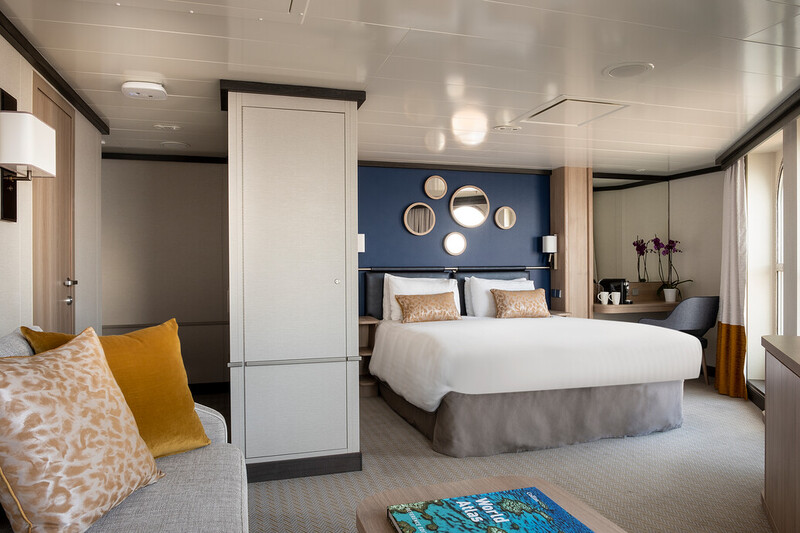 The Family Sea View Suite is another exclusive cabin type for Arvia and Iona. Situated towards the front of the ship, these suites are designed for families, capable of sleeping up to 4 guests.
They aren't huge, but they are right-angle rooms with a curved wall, so you do get a spacious bedroom and lounge area, along with a good-sized bathroom. You're also right next to the Epicurean restaurant where suite guests can enjoy an exclusive breakfast.
There are two of these suites on each ship, on the Promenade deck. This means there's no balcony, as the name suggests – instead, the promenade is right outside your window. So bear that in mind, since you are quite exposed if people are walking around the ship.
Penthouse Suite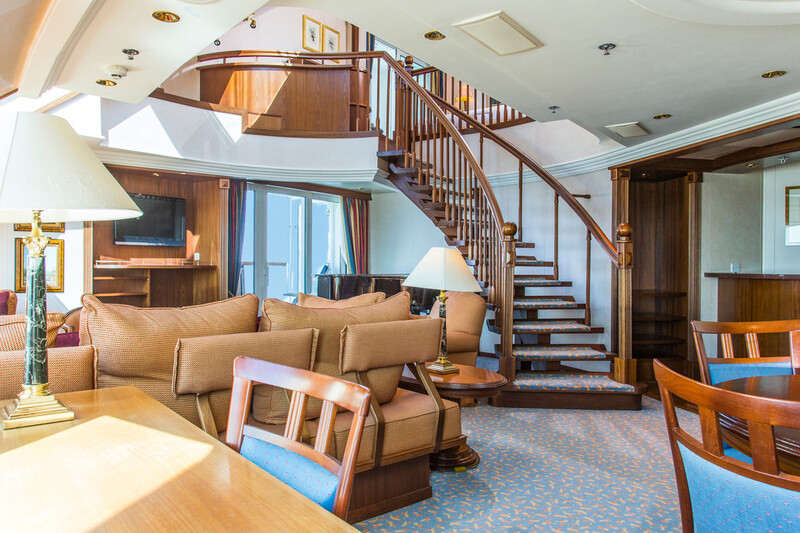 Penthouse Suites are available on Azura, Ventura and Aurora, with the Aurora Penthouse Suites being the biggest suites in the entire fleet. 
These are much more spacious, with the Aurora's suites being split over two levels – lounge and balcony on the lower level, along with a small bathroom, and the bedroom and main bathroom upstairs with a second balcony.
Penthouse Suites don't come with extra perks but just offer a lot more space.
P&O Cruises Suite Perks
Here's a full look at all of the perks you'll get as a suite guest when sailing with P&O.
Butler service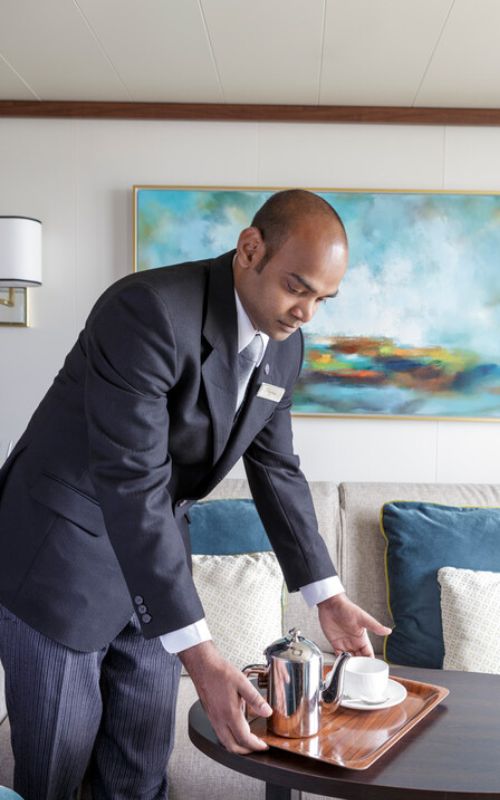 All guests in a full Suite with P&O have access to a butler service. You don't have to use them (some people aren't comfortable with it), but they are there to help in any way that they can.
Some of the services that your butler can provide include:
Unpacking or packing for you
Running you a bath
Providing extra towels or hangers
Making reservations for you at speciality restaurants
Shining your shoes, or arranging laundry services
Help with booking excursions
P&O's butlers also serve daily canapes in your suite from 4pm until 6pm, if you want them.
Whirlpool bath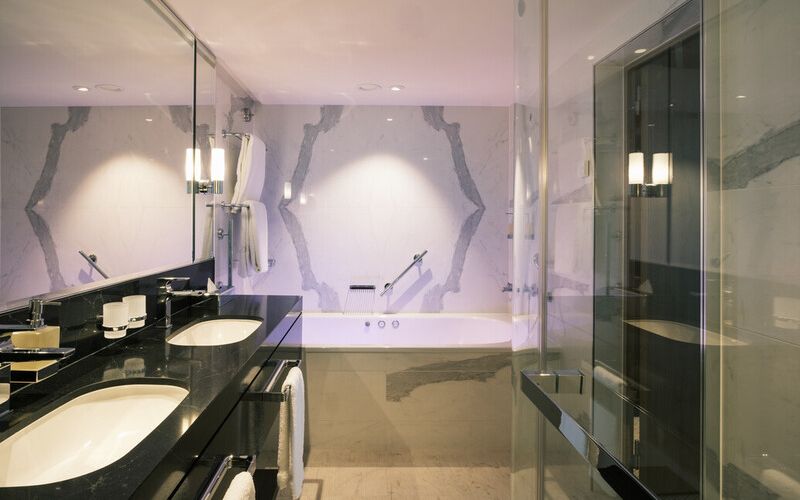 Most (not all) suites on a P&O Cruises ship come with a whirlpool bath in the bathroom. You'll need to check your specific suite to make sure.
It's quite luxurious to have a whirlpool bath every evening. If it's something you enjoy then why not ask your butler to make sure it is ready for you at the same time every day?
Free room service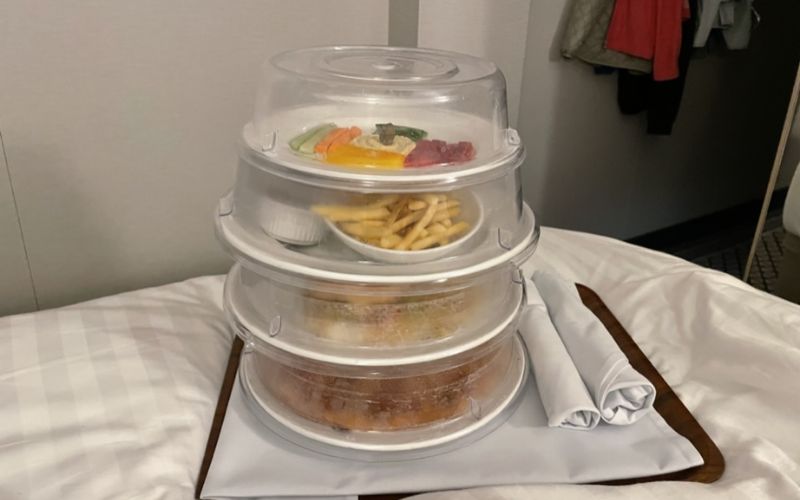 When you're staying in a regular cabin on a P&O Cruises ship, some of the room service items have a charge associated with them. Not so if you're in a suite – everything is included. You can order from the main dining room too, and have it delivered to your suite for no extra charge.
Exclusive breakfast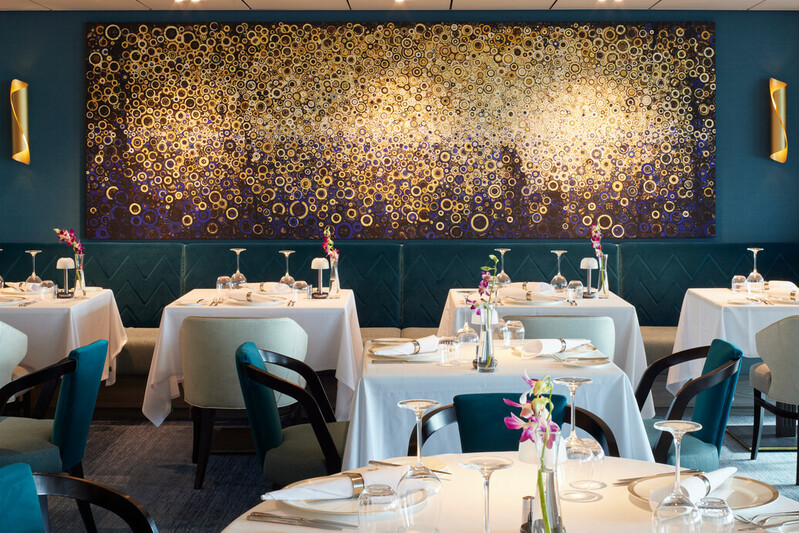 Suite guests are welcome to dine at the Epicurean Restaurant for breakfast (Glass House for Aurora and Arcadia guests). Here guests can enjoy a range of delicious breakfast items in a calmer atmosphere, away from the crowds in the main dining room or the buffet.
Canapes on Celebration Nights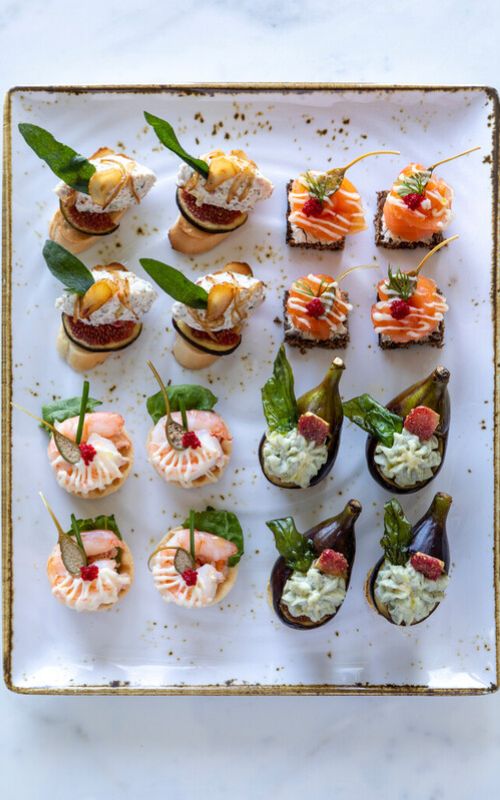 As well as the welcome reception, suite guests are invited to events on Celebration Nights on the ship, where canapes will be served once again. It's a good chance to enjoy some fine dining treats before dinner and meet your fellow suite guests.
Daily fresh fruit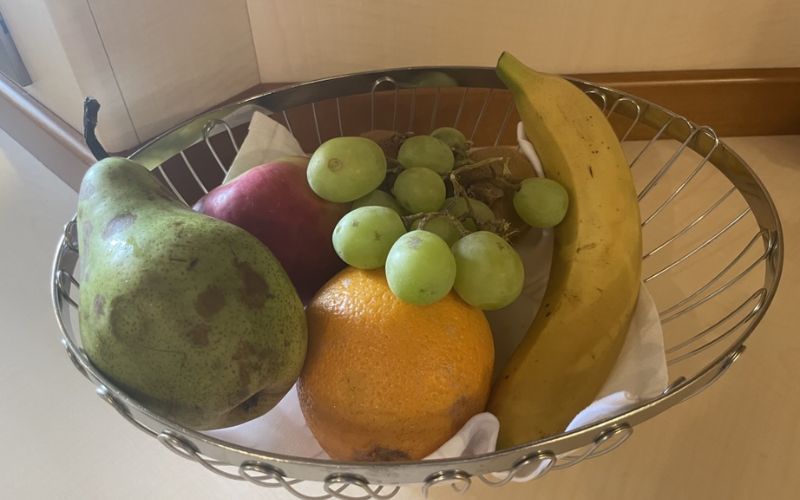 Every day, fresh fruit will be provided in your suite for you. It's a small touch but it's nice to be able to enjoy a healthy snack each day, and the fruit quality is pretty good too – no brown bananas or soggy oranges here.
Priority check-in and boarding
When you arrive at the cruise terminal to check-in for your cruise, there's a priority line for suite guests. This means you can bypass the waiting and get your suitcase checked, and all of your details confirmed.
Later, when it's time to board, suite guests are the first to be invited onto the ship, alongside those in the highest loyalty tier. Basically, there's a lot less waiting around at the port, which is always a good thing. However…
Access to an exclusive hospitality lounge
While you are waiting at the port to board the ship, after you've checked in, you will have access to an exclusive hospitality lounge. It may not always be a separate room, but it might be a section of the room that only suite guests are welcome to sit in.
Here you'll be served complimentary teas and coffees along with a selection of biscuits – don't eat too many or you'll spoil your cruise appetite! Just be aware that priority boarding can be pretty quick so you may not be able to make much use of this perk, since you may be on the ship before you know it.
Priority disembarkation
When it's time for your cruise to end, suite guests get priority disembarkation too. This might not sound like a great perk, if you're new to cruising – why would you want your holiday to end sooner?
But when you're dealing with thousands of people leaving the ship at once, trying to get their cars out of the car park, or trying to order a taxi, then you'll realise why this is such a valuable perk to have.
Welcome reception with canapes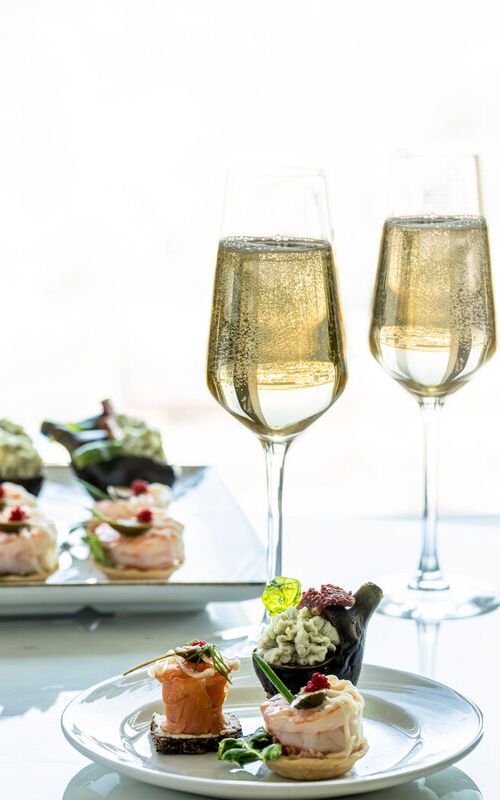 Suite guests, along with those in the higher ranks of the cruise line's loyalty club, will be invited to a welcome reception when they are onboard. This will usually be held in one of the dining areas.
Here guests can enjoy a selection of canapes along with some complimentary drinks. The reception tends to run until mid-afternoon so you've time to then go and settle into your cabin before dinner on the first night.
Champagne, mineral water and chocolates on arrival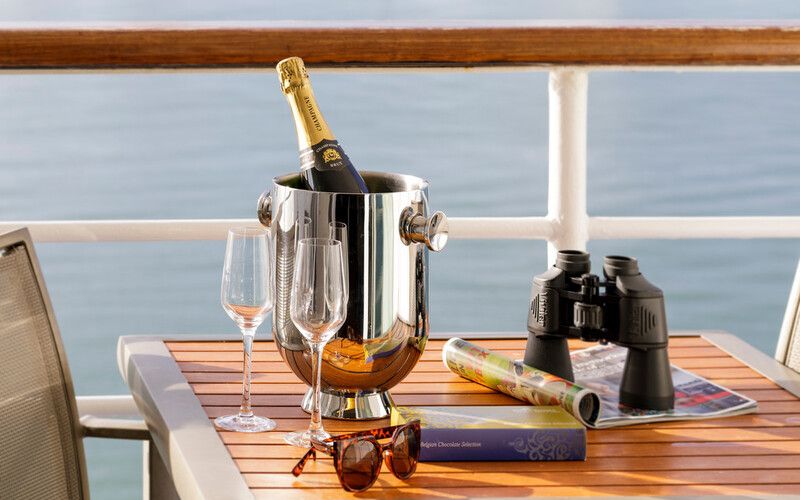 When you do get into your suite for the first time, there will be a few little treats left to welcome you. The first will be a bottle of Champagne, specifically Baron de Marck. It'll be on ice, and there will be Champagne flutes (along with a selection of other premium glasses) ready.
As well as the champers, you'll also have some bottles of mineral water and a small box of Belgian chocolates.
Luxury toiletries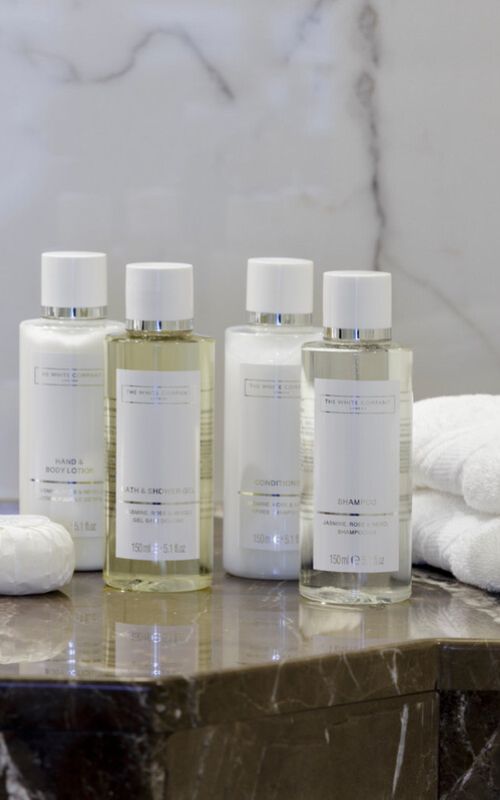 The White Company is a luxury toiletry brand that P&O Cruises has partnered with. Every guest will get a beautiful box of toiletries that includes shampoo, conditioner, bath and shower gel, hand and body lotion, and two small luxury soaps.
You get toiletries in any cabin on the ship, but not to this same standard. Either use them for the cruise or keep them to take home with you later if you prefer.
Coffee machine
Every suite has its own Senso coffee machine, with a selection of coffee pods provided. These are topped up throughout your cruise, and you can ask your cabin steward or butler for more if you're a caffeine addict.
It's not the luxury coffee you'll get at some of the bars on the ship, but it's a step-up from the basic coffee sachets included in the rest of the cabins on the ship.
Pillow menu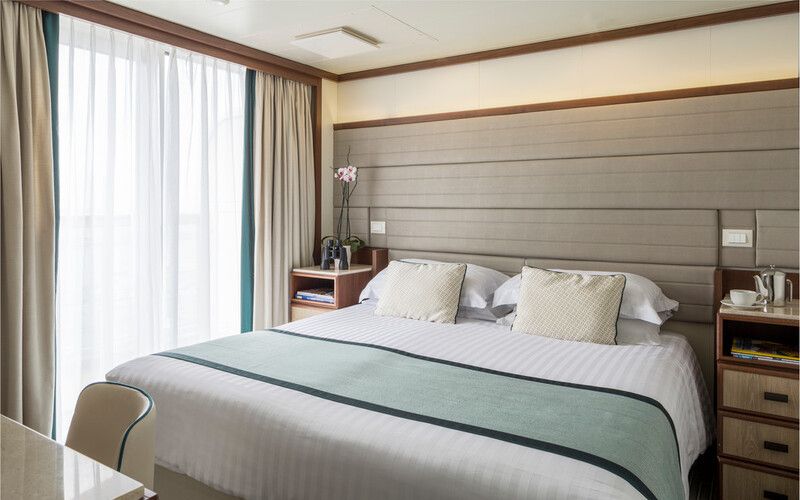 Guests will be able to choose from a pillow menu on their cruise. If you're someone who likes a particularly soft pillow, or a firmer one, just ask the butler or cabin steward and they can swap it out for you.
Indeed if there's anything the butler can help you with, just ask – they're employed to make your cruise as special as possible.
Other small touches
There are a selection of other small touches always provided for Suite guests, including a bathrobe and slippers – you can't keep them, but you can use them for the duration of the cruise.
You'll also get an atlas and some binoculars, so you can enjoy the view better from your balcony or window. And there's also a selection of magazines provided so that you'll have something to browse through if you finish your holiday novel (because everyone takes a holiday novel, right?).
P&O Mini Suite Benefits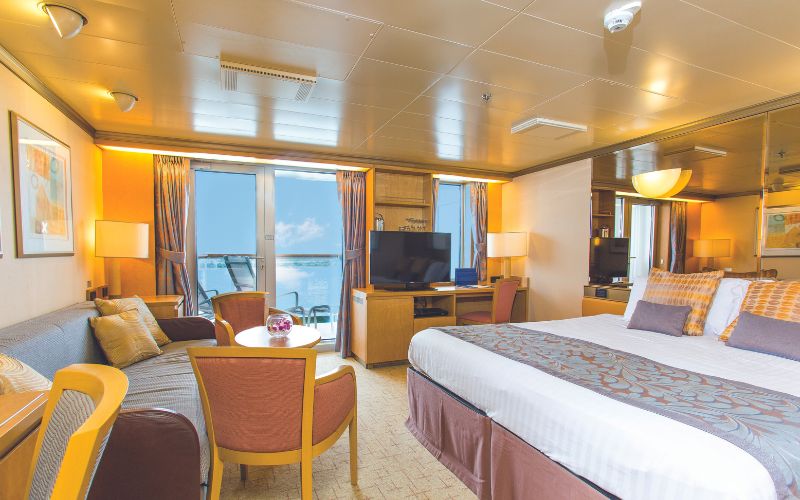 Mini Suites on a P&O Cruise (including Conservatory Mini Suites) get a lot of the benefits that full Suites get. They just tend to have smaller space, and they're missing some of the more exclusive benefits.
The only benefits that you're missing are the butler service, the whirlpool bath, the free room service, the exclusive restaurants, the canapes on Celebration Nights and the daily fresh fruit.
This means you still get:
Priority check-in and boarding
Access to an exclusive hospitality lounge
Priority disembarkation
Welcome reception with canapes
Champagne and chocolates on arrival
Luxury toiletries
Coffee machine
Pillow menu
Bathrobe & slippers
Atlas and binoculars
A selection of magazines
A lot of cruise lines will only give you a couple of basic benefits for booking a Mini Suite, so this is much better. It makes a Mini Suite definitely worthy of consideration when booking a P&O cruise.
P&O Cruises' family ships don't have Mini Suites (only Conservatory Mini Suites on Arvia and Iona), but they do have Superior Deluxe Balcony rooms which are basically the same thing, with a few less perks.
You do still get the sparkling wine, chocolate, fruit, bathrobe, slippers, atlas and binoculars. Plus a bathtub, two TVs and some extra space.
We stayed in one of these cabins on Azura and we loved it! Take a look at my video below for a closer look…
Is a Suite worth it?
There's no simple answer to the question 'Is a Suite worth it?' when booking a cruise because it depends on your budget, and how much use you would get out of the perks offered.
I've done a few price checks on some P&O Cruises, and as a guide, a Mini Suite is around twice the cost of an Inside Cabin, and costs around 50% more than a Balcony Cabin.
Whereas a Suite, on average, is around 250% more than an Inside Cabin, and around 80% more than a Balcony Cabin.
So bearing that in mind – would you rather book one Suite cruise and get all the perks listed above, or would you prefer to book two cruises in an Inside Cabin, with money left spare?
The perks list with P&O is pretty good when compared to some other cruise lines, but only you can determine whether that makes it a worthy investment. If those perks will make-or-break your cruise then go for it, but otherwise consider downgrading your cabin and putting the savings towards speciality dining, or a second cruise.
NEW DEALS JUST RELEASED!
Don't miss the latest P&O Cruises offers…
Related Topics