Finding the best cabins on Britannia isn't straightforward. Whilst most cabins on this ship are fantastic, there are some that you may wish to avoid.
Britannia cabin reviews show that the vast majority of cruisers were very happy with their cabins and suites on P&O Britannia. I wouldn't say that there are any bad cabins on Britannia, but as with any cruise ship, some cabins are less desirable than others.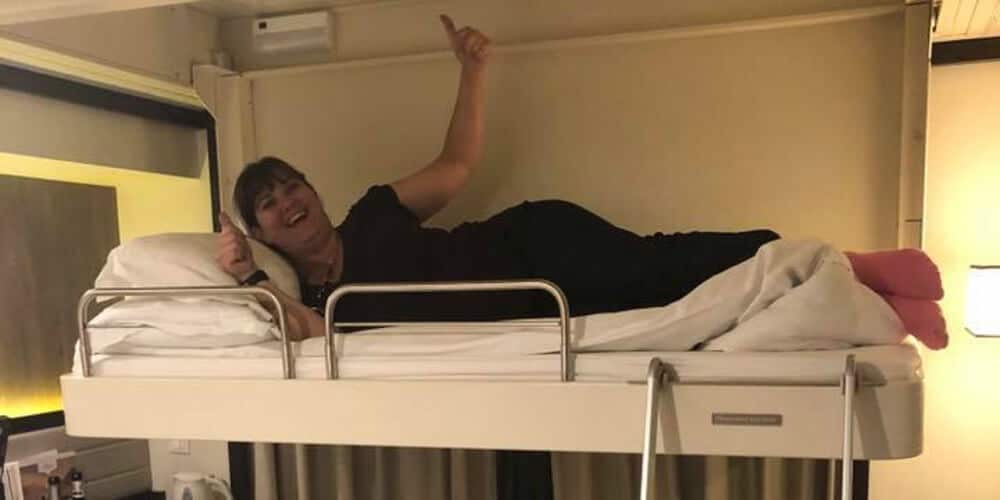 Read on to find out which cabins to avoid on P&O Britannia. And, what you can do to make sure that you get one of the best cabins when you book your cruise.
P&O Britannia Cabin Types
P&O Britannia has 1,837 cabins (also known as staterooms). These are located on decks A, B, C, D, E, F, G, and the Lido Deck.
These are the cabin types on Britannia:
Single Inside – 134 sq. ft.
Standard Inside – 170 sq. ft.
Single Balcony – 134 sq. ft. with a 36 sq. ft. balcony
Fully Obstructed Balcony – 205 to 212 sq. ft. with a 36 sq. ft. balcony
Standard Balcony – 212 sq. ft. with a 36 sq. ft. balcony
Superior Deluxe Balcony – 281 sq. ft. with a 36 sq. ft. balcony
Suite – 382 to 689 sq. ft. with a 72 sq. ft. balcony
38 of the above cabins are accessible (adapted) cabins. Of these, two are suites, two are superior deluxe balconies, 24 are balcony cabins and ten are inside cabins.
Britannia Cabin Grades
As well as cabin types (e.g. inside, balcony), P&O Cruises also assign a grade to each cabin. You can read more about what this means here: P&O Britannia Cabin Grades Explained
Outside Cabins on Britannia
Britannia is unusual compared to other cruise ships in that every outside cabin has a balcony. There are no cabins that have just a window on this ship.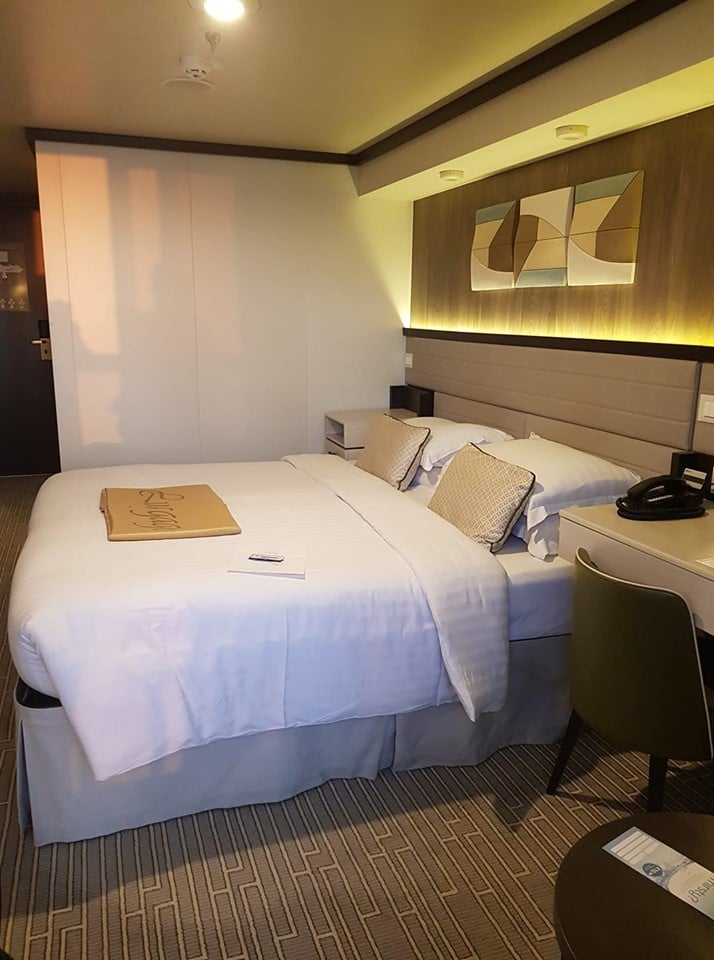 7 Cabins You Shouldn't Book on P&O Britannia
Like every ship, there are some cabins on Britannia which you might want to avoid if possible. These may be noisy, smelly, have a poor layout, or be in an awkward location.
To help you avoid these dodgy cabins, I've created a cabin checklist that you can get for free. Just enter your email address in the form below and you'll receive it in your inbox.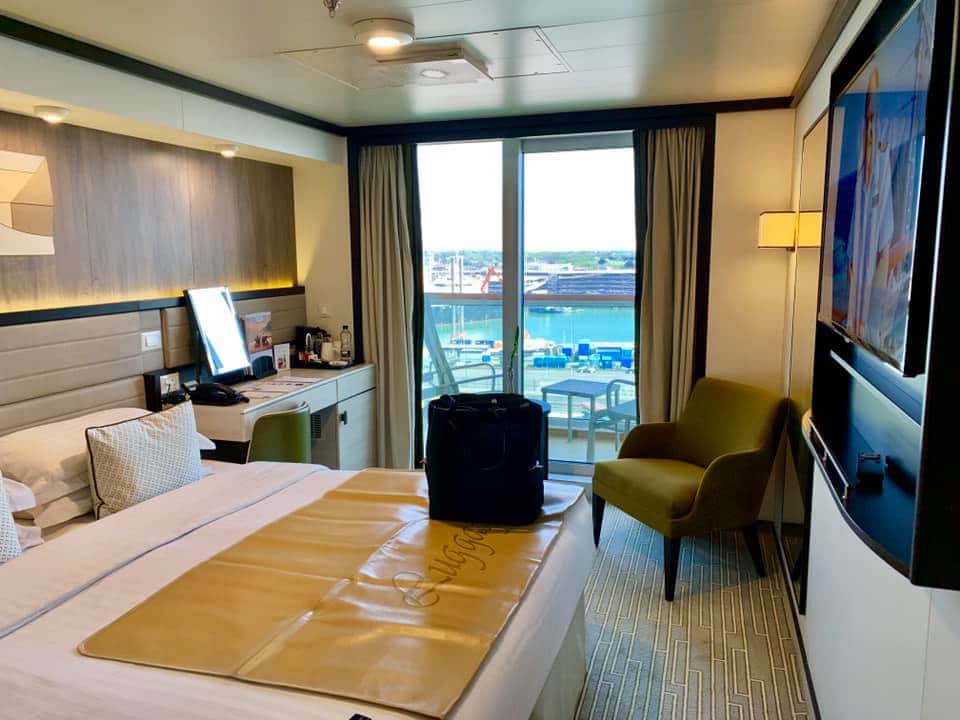 Read on to learn which cabins to avoid on Britannia…
1. Noisy Cabins on Britannia
One of the things that cruisers complain about when reviewing a cruise cabin is noise, and certain locations are likely to be noisier than others.
However, this is, of course, subjective. For example, if you like to party into the small hours yourself, you're much less likely to be disturbed by a cabin near the nightclub, than someone who likes to get an early night.
The Noisiest Cabins on P&O Britannia
A702, A704 A706 A708, A710, A712, A714, A716: These balcony cabins are directly below the smoking area of the Sunset Bar. In the early hours of the morning, people go outside for a cigarette and sometimes drag chairs across the floor, which can be heard in the cabins below. If you're a light sleeper, you may want to avoid booking these cabins.
G201 to G225: These balcony cabins are directly above the Headliners Theatre and music can be heard in these rooms during performances. Shows are on until around 11.30 pm most evenings, so if you like an early night, you should avoid these cabins. If, however, you don't tend to be asleep before 11.30 pm on holiday, you will have no problem here.
A612: This balcony cabin is opposite a service door. The deck plan doesn't show what exactly is behind this door, but it has been reported that it is can be noisy.
E714 to E717, E722 to E725, E730 to E733 These inside cabins are at the back of the ship. Passengers have reported that a lot of vibration can be felt in this area.
If you prefer to sleep in silence, don't forget your earplugs, just in case.
These earplugs on Amazon are hightly recommended for sleeping.
2. Cabins with Smoky Balconies
Smoking on Britannia is permitted in designated outdoor smoking areas. If you book a cabin directly above a smoking area, you may sometimes be able to smell cigarette smoke on your balcony.
However, this very much depends on which way the wind is blowing – some people who have stayed in cabins directly above smoking areas have reported that they never smelled any smoke, but others have been able to.
If you want to make sure that you never smell cigarette smoke on your cruise, avoid these cabins to be safe.
Cabins Above Smoking Areas on Britannia
G401, G403, G405, G407, G409, G411, G415, G417, G421, G425, G429, G433, G437: These balcony cabins are directly above the smoking area outside the Java coffee shop. This smoking area is likely to be in use for much of the day and cigarette smoke could drift up to the balconies above.
Important Note: There used to be a second smoking area on Deck 7 near the rear of the ship at the Live Lounge, and it used to be on the port side with even-numbered cabins. A reader then emailed me to tell me it had moved to the starboard side.
I spoke to P&O to confirm and they said that the only smoking area on Deck 7 was at the Java bar, with those staterooms listed above. If you want to play it safe, then avoid cabin numbers G630 to G727 on both port and starboard side, in case the smoking areas move again.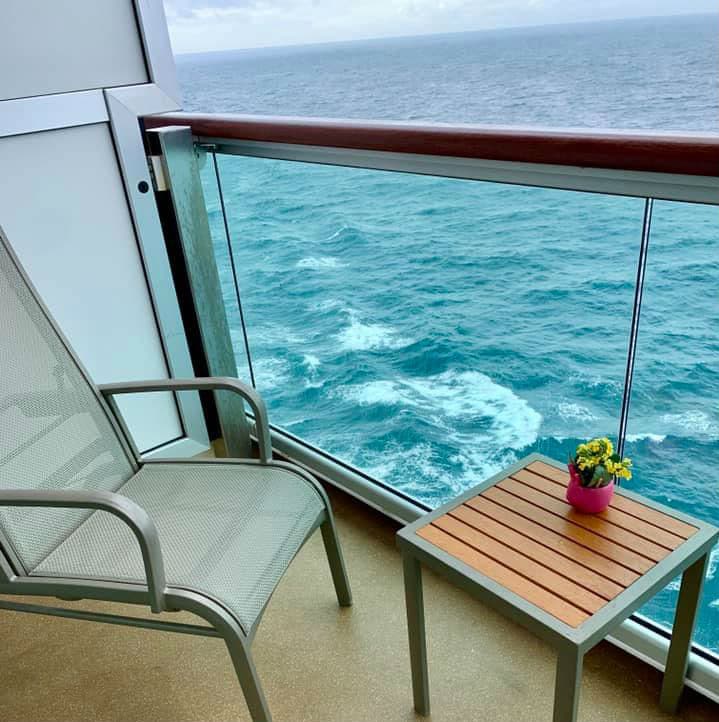 Smoking isn't allowed on your cabin balcony. If you're a smoker, check out the deck plan to find cabins which aren't too far from a designated smoking area.
3. Cabins with an Annoying Layout
Many cabins on Britannia sleep three or four people. In addition to the standard twin beds (which push together to convert to a king-size bed), extra beds can take the form of single sofa beds, double sofa beds or Pullman beds.
Read more: What is a Pullman bed on a cruise ship?
In certain three-berth cabins, when an extra bed is in use, it can give the room an awkward layout.
Cabins with Beds Across the Balcony Doors on Britannia
A118, A119, A122, A123, A248, A253, A536, A539, C111, C112, C116, C117, C129, C121, C230, C231, C540, C543, C703, C704, D252, D253, D540, D543, D628, D629, D720, D721, E252, E253, E518, E519, E532, E535, E628, E629, E728, E729, F228, F229, F528, F533, F607, F608, F610, F609, F707, F708, G334, G335, G602, G601, G709, G710: These balcony cabins all sleep three people, with the third bed taking the form of a Pullman bed, which is lowered from the ceiling. Oddly, when the bed is down, it is positioned right across the balcony doors!
Also, the kettle is located in the corner of the room under the bunk bed. This would make going out on to the balcony for a cup of tea before bed or first thing in the morning very tricky.
These cabins are noted with a square symbol on the Britannia deck plan.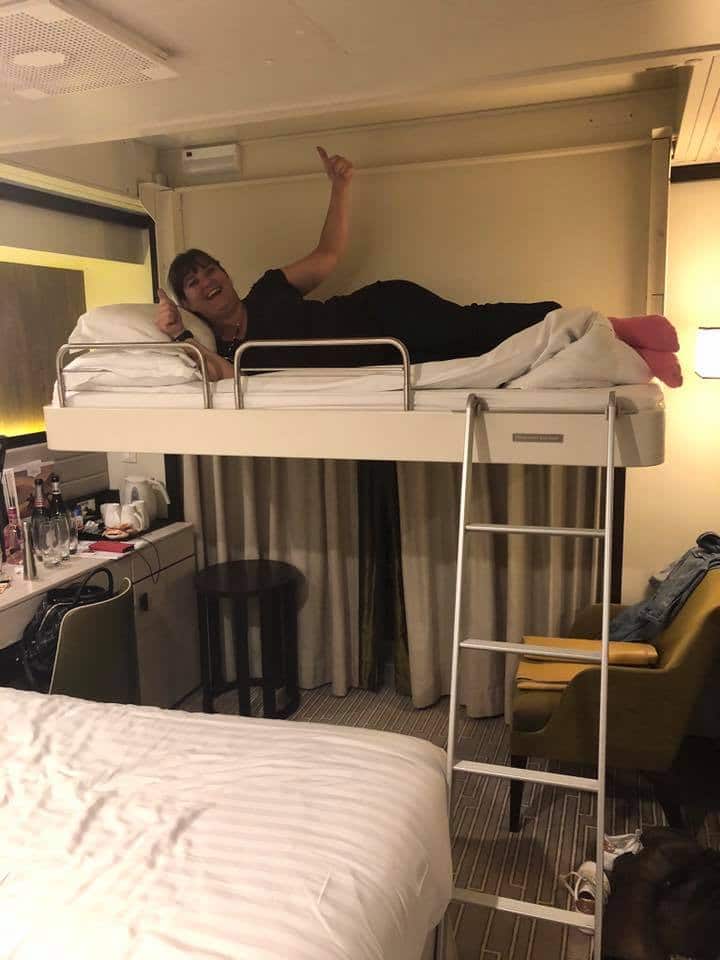 Don't worry about putting Pullman beds up and down. Your room steward will visit several times per day and will put the bed away when you go for breakfast and set it up when you go out for the evening.
4. Cabins that Might Make You Seasick
If you're prone to seasickness, you'll want to avoid cabins where motion can be felt the most.
These cabins tend to be at the front of the ship and on higher decks. For the most stable cabin, choose a low, mid-ship cabin instead.
Worst Cabins for Seasickness on Britannia
A101 to A110: These balcony cabins and suites are located on deck 15, right at the front of the ship. This is the worst position on the ship for someone who suffers from seasickness as the movement of rough seas can be felt the most. However, if the seas are calm, you won't feel any movement at all, even in this location.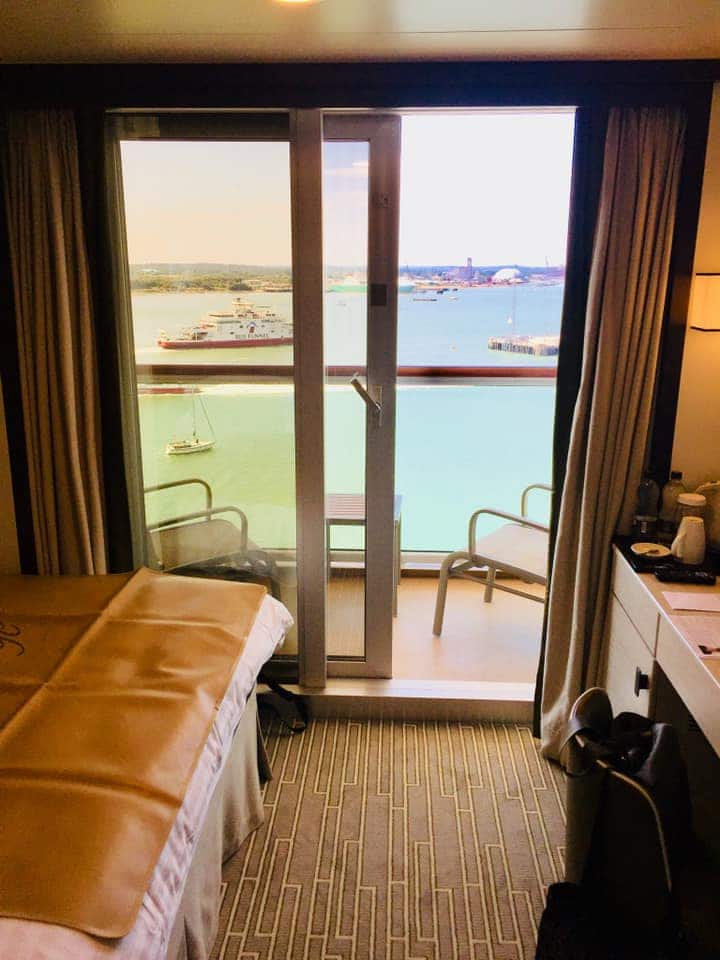 If you get car sick, you might be more likely to get seasick. Be sure to pack tablets, patches or wristbands just in case you need them.
You can buy all kinds of seasickness remedies on Amazon.
5. Cabins that are a Long Walk From Anything
Britannia is a large cruise ship and anyone with limited mobility or young children will benefit from booking a cabin close to places they are likely to go several times per day, such as the buffet, pool or kids' club.
Worst Locations for Families on Britannia
Anywhere in the forward part of the ship: The Reef kids' club on Britannia is located at the aft (back) of the ship on deck 17. Lifts are plentiful, so it doesn't really matter how many decks below the kids' club you are, but it's advisable not to choose a cabin at the front of the ship, as you will face a very long walk to the kids' club. This is particularly important if your children are likely to fall asleep watching a movie at the end of the night and then need carrying to bed! Look for cabins numbered 600 and above for the best locations close to the kids' club.
Furthest Cabins from the Lifts on Britannia
Cabins A-G 100-139: There are three banks of lifts on Britannia, located mid-forward, midship and at the aft (rear). Cabins right at the front of the ship (numbered 100-139) are the furthest from any lifts. These cabins are also at the opposite end of the ship from key areas such as the Horizon buffet, the Sunset Bar and smoking area, The Reef kids' club, the Live Lounge and the main dining rooms.
You aren't allowed to leave pushchairs in the corridor. Take an umbrella-folding one so you can store it under the bed.
I've always used this pushchair from Amazon which has a huge hood to keep the sun off and a good rain cover too.
6. Cabins with Balconies Behind Lifeboats
Britannia has a category of cabins called 'obstructed view cabins'. These are all on G Deck and are just above the lifeboats.
An important thing to know about obstructed view cabins is that the view from some is much better than others, but there is no difference in price.
It's not advisable to book a cabin with a fully-obstructed balcony on Britannia, because you could choose one that's positioned in between the lifeboats, with a near perfect view, for the same price!
To see what I mean, take a look at this video which shows a 'fully-obstructed balcony cabin with the lifeboat blocking some of the view…
Now, take a look at this video, which shows the same type of cabin, but this one is positioned in between the lifeboats…
Fully Obstructed Balcony Cabins on Britannia
G310 to G308, G314 to G325, G330 to G402, G442 to G504, G510 to G517, G522 to G535, G603 to G615, G618 to G627: These cabins are all directly behind the lifeboats. Take a look at the deck plan and move a few cabins down to find a much better view for the same price.
7. Cabins with Windy Balconies
When a cruise ship is moving, the windiest part of the ship will be right at the front. For this reason, most cruise ships do not have forward-facing balconies. Britannia is an exception.
There are six P&O Britannia balcony cabins with forward-facing balconies, all on A Deck. These are located just above the bridge, so offer spectacular views, if you're able to actually sit on your balcony to see them.
Cabins with Restricted Access to the Balcony when the Ship is at Sea
A101 to A106: These cabins come with a warning that says 'restricted access to balcony (when at sea).
This means that, if it gets too windy, you will not be able to use your balcony. You are also not permitted to use the outside light at night time. Plus, the balconies have steel fronts, rather than glass, so you need to stand up to see the sea.
Whilst you might not get as much use out of the forward-facing balconies on Britannia, compared with the ones that face towards port or starboard, one advantage of the forward-facing balconies is that they are three or four times as large.
---
Great Cabins to Book on Britannia
On the whole, most reviews show that cruisers were very happy with their cabins on Britannia, praising lots of different aspects of all different cabin types.
If you manage to avoid all of the cabins mentioned in this article, then you can be confident that you have chosen one of the best cabins on Britannia.
NEW DEALS JUST RELEASED!
Don't miss the latest P&O Cruises offers…
These are the positives that people often mention about their cabin:
Storage – Lots of storage in the separate wardrobe area and in the bathroom
Showers – The showers have glass doors rather than those shower curtains which stick to your leg
Toiletries – The toiletries provided are White Company and smell amazing
Huge beds – The beds are slightly larger than a UK king size
Obstructed balcony views – Sometimes these are hardly obstructed at all, and much cheaper than standard balcony cabins. Just take care not to pick one that's directly behind a lifeboat.
Solo cabins – These are all located together on a corridor by the Crow's Nest bar and the library
How to Secure a Good Cabin on P&O Cruises
So now you know which cabins to avoid on P&O Britannia, but how do you make sure you get a good one? Well, it's actually really easy!
Choose a Select Fare
P&O Cruises have three fares – Early Saver, Saver and Select.
The Select fares enable you to select which cabin number you want when you book.
With a Saver fare or Early Saver fare, your cabin number is allocated to you at some point between booking and departure. This is also known as a 'guarantee cabin' as you are guaranteed a cabin of the grade which you select (or sometimes better, in the case of free upgrades).
When you book a Select fare cruise with P&O Cruises online or over the phone, you'll be given some cabin numbers to choose from. Look at the P&O Britannia deck plan here, and choose one which suits you best.
Other Select Fare Benefits
Booking a Select fare gives you other benefits too in addition to choosing your cabin number. There may be free extras like car parking, a coach transfer to the port or free on-board spending money. Those booked on Select fares can use shuttle buses in port free of charge and have the first choice of dining times.
Of course, Select fares cost a little bit more than Saver fares and Early Saver fares, so you'll need to weigh up how important it is to be able to choose your own cabin as well as calculating the value of any added extras.
Are Saver Fares a Good Idea?
The vast majority of cruisers on P&O Britannia are very happy with their cabin, so even if you choose a guarantee cabin, chances are, you'll be just fine.
On our cruise, we booked a Saver fare and were allocated cabin A121 which was about as far away from the kids' club as you can get
Did I moan about carrying a sleeping child the full length of a 300-metre corridor whilst wearing heels and a ballgown? Yes, I did. Would I pay an extra £100 to be nearer? No way!
As I see it, that's more money in the pot for our next cruise!
NEW DEALS JUST RELEASED!
Don't miss the latest P&O Cruises offers…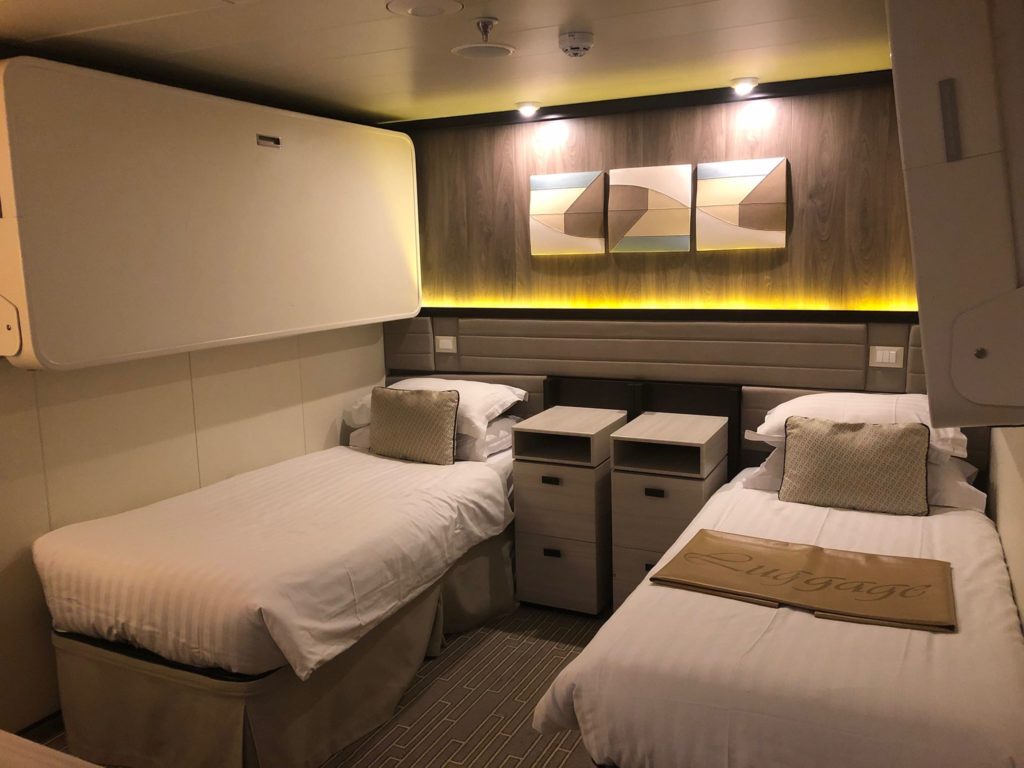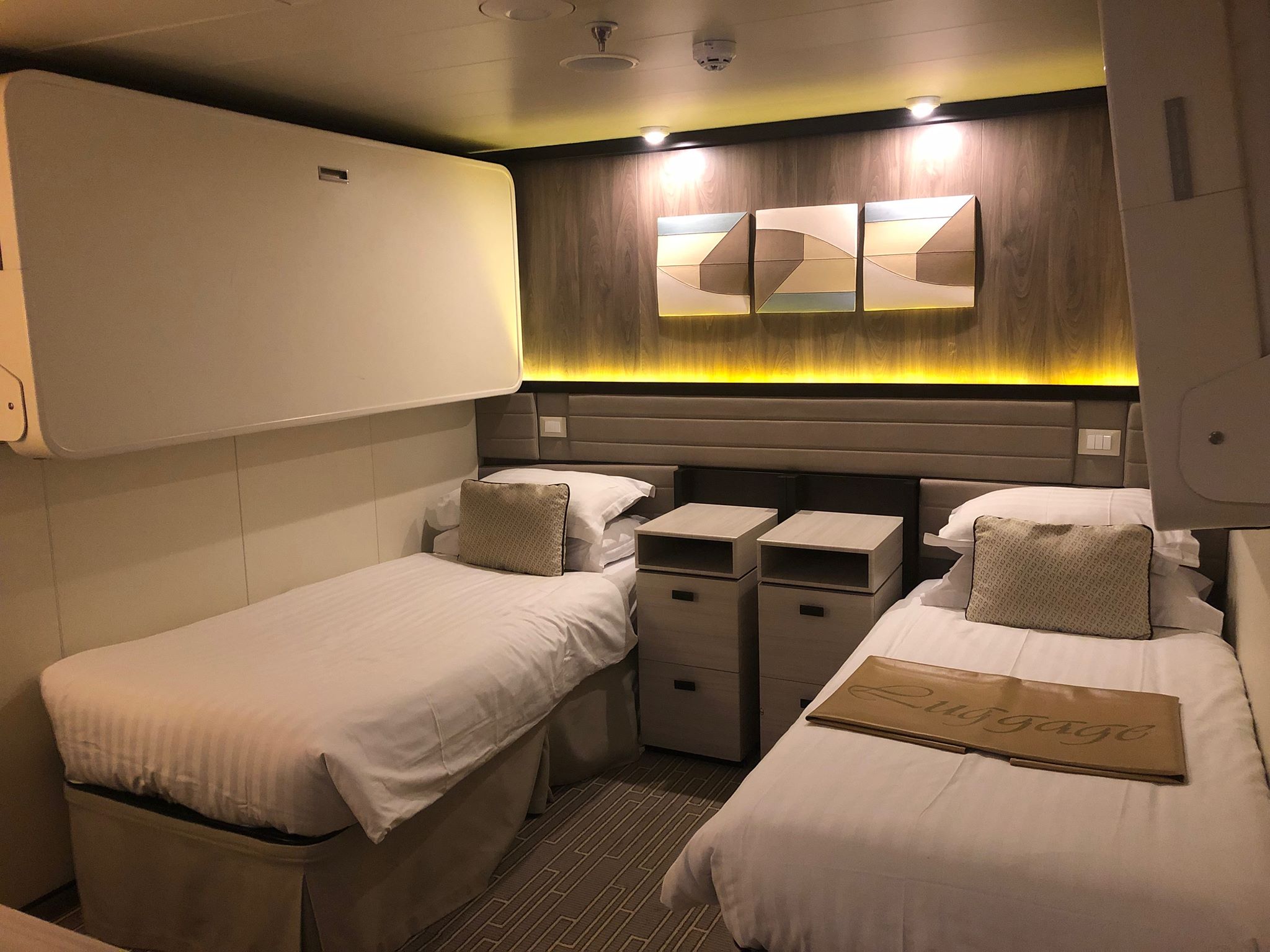 Britannia FAQs
Is Britannia a Good Cruise Ship?
Britannia may not be the flagship for P&O Cruises any more, but it is still an excellent choice. She is a contemporary and stylish ship, with a wide selection of excellent dining venues. Past guest reviews on major cruise line websites are overwhelmingly positive.
When was P&O Britannia Last Refurbished?
Britannia was refurbished in October 2019, only four years after she first launched. The refurbishment took place in France and saw an overhaul of the atrium, a new bar for Deck 7, and new luxury stores added, along with further upgrades to the Blue Bar and the Oasis Spa.
How Many Decks has Britannia Got?
Britannia has 18 decks, of which 13 are accessible to passengers and 8 feature cabins. The Main Deck is Deck 7 and is where you'll find the Headliners Theatre, the Crystal Room, The Live Lounge and other facilities.
How Many Cabins are on Britannia?
There are 1,837 cabins on Britannia, two-thirds of which are Balcony cabins. The other cabin choices include Inside, Superior Deluxe Balcony, Suites and Single cabins. The total guest capacity is 3,647.
Where are the Suites on Britannia?
There are four different locations for suites on Britannia. Forward Suites are at the front of the ship, with balconies to the side. Mid Ship Suites are all on B Deck and have double-width balconies. At the rear, you'll find Aft Suites and Wrap Around Aft Suites.
What Size are Balcony Cabins on Britannia?
Balcony cabins on Britannia have an interior of 212 square feet plus a 36-square-foot balcony. As a comparison, Inside cabins measure between 161 and 170 square feet, while Suites are 382 square feet with a 72-square-foot balcony.
What is a Fully Obstructed View on Britannia?
A fully obstructed view in a Balcony cabin on Britannia means that your balcony is behind a lifeboat. They're a good choice if you want somewhere to sit in the fresh air but you aren't too hung up on getting a great view from your room.
Related posts:
More Cabin Guides:
Check if Your Britannia Cabin is a Good One
Unfortunately, I am no longer able to respond to individual requests to check if particular Britannia cruise ship cabins are good or not. I loved doing this but it was just too time-consuming for me with so many requests.
If you'd like to check your cabin, I suggest looking up the number on the Britannia deck plan. Use the key to look up the meaning of any symbols. Then, you can use my free checklist to make sure that there are no issues with your cabin's location.