When booking a P&O Cruises holiday you've got three types of fare to choose from – Select, Early Saver, and Saver. If you choose either of the Saver options you'll be assigned your cabin, but if you choose the Select fare then you get to decide where you want to stay.
The chance to pick the best cabin number is great, but if you've never cruised on your ship then how do you know what to go for?
Well, if you're planning a cruise on P&O Cruises' Azura then I can help – here's a guide to the best and worst cabins on Azura.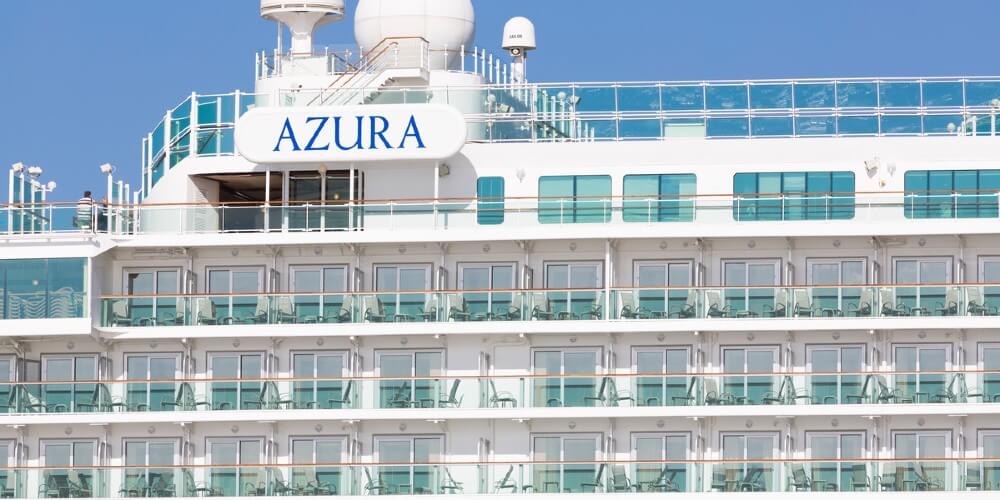 I think that the cabin we stayed in was one of the best! Read on and I'll tell you all about it.
Azura Cabins To Avoid
While I have cruised on Azura, I've obviously not stayed in every cabin. So, in preparing for this guide, I've spent a lot of time scouring the deck plans of Azura, as well as reading the reviews on Facebook and on some cruise forums as well. There's no better source of information on the best and worst cabins on Azura than those people who've sailed on her.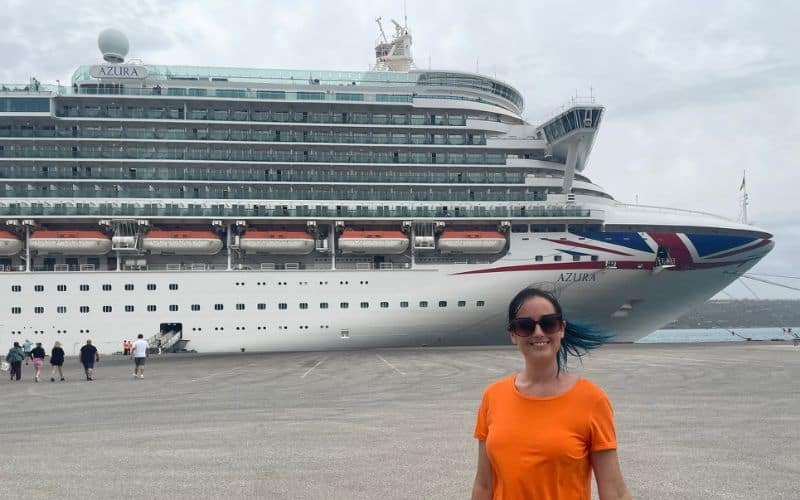 And you know what? Most people loved their time on the ship. The feedback is overwhelmingly positive. However, that doesn't mean every cabin is perfect and so I do have some tips on the ones you might want to avoid. But that'll depend on your own preferences too.
Firstly, let's take a look at the different types of accommodation that are available on this ship…
Azura Cabin Types
Azura has 1,557 cabins (two more than on her almost-identical twin Ventura) which can accommodate between 3,100 and 3,700 passengers. The normal capacity based on two people sharing each room is 3,100 but there are enough extra berths for an extra 600 passengers.
The ship has a range of different cabins including inside, outside, balcony and, of course, some really luxurious suites.
Of the 18 decks on the ship, the cabins are split between 9 of them. They are the Lido Deck, Riviera Deck, A Deck, B Deck, C Deck, D Deck, E Deck, F Deck and P Deck. Decks are also assigned numbers, with a lower number meaning a lower deck.
Here's a full breakdown of which cabin types are available on each deck:
| Deck Number | Deck Name | Cabin Types |
| --- | --- | --- |
| 5 | P Deck | Inside, Outside |
| 6 | F Deck | Inside (single), Outside (single) |
| 7 | Prom Deck | None |
| 8 | E Deck | Inside, Outside, Balcony, Superior Deluxe Balcony, Suite |
| 9 | D Deck | Inside, Balcony, Superior Deluxe Balcony, Suite |
| 10 | C Deck | Inside, Balcony, Suite |
| 11 | B Deck | Inside, Balcony |
| 12 | A Deck | Inside, Balcony, Suite |
| 14 | Riviera Deck | Inside, Large Inside, Outside, Balcony, Suite |
| 15 | Lido Deck | Inside, Outside, Balcony, Suite |
| 16 | Aqua Deck | None |
| 17 | Sun Deck | None |
| 18 | Ocean Deck | None |
| 19 | Sky Deck | None |
Azura Cabin Photos
Here are some photos of the different cabin types on Azura. Note that yours might differ slightly from these images, but it should give you an idea of what to expect.
Inside Cabins on Azura
Inside cabins are the smallest cabins on Azura. They're ideal for short cruises, winter holidays and for people who prefer to spend their time up on deck, rather than in their room. Budget cruisers can even squeeze four adults into one of these for the cheapest way to cruise.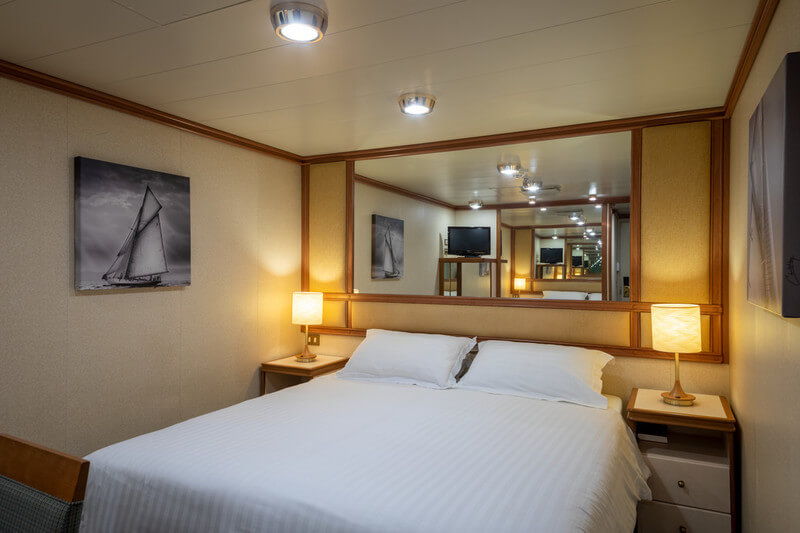 Sea View Cabins on Azura
The only real difference between an inside and outside cabin on Azura is the window. There aren't any seats by the window aside from the chair, so you can't really sit and enjoy the view. Many of the windows are obstructed by lifeboats too – more on that later.
Balcony Cabins on Azura
Balcony cabins on Azura are the most popular choice as many cruisers are willing to pay a little more to be able to step outside and enjoy the view, particularly in summer. They're not all equal though – some are much larger than others.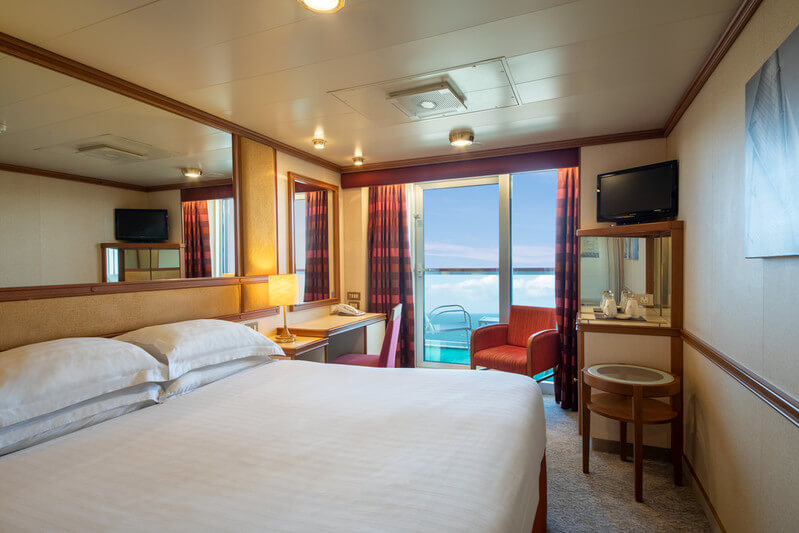 Superior Deluxe Balcony Cabins on Azura
50% larger than standard balcony cabins, Azura's Superior Deluxe Balcony cabins have extra furniture and a much larger balcony, offering lots of space to relax.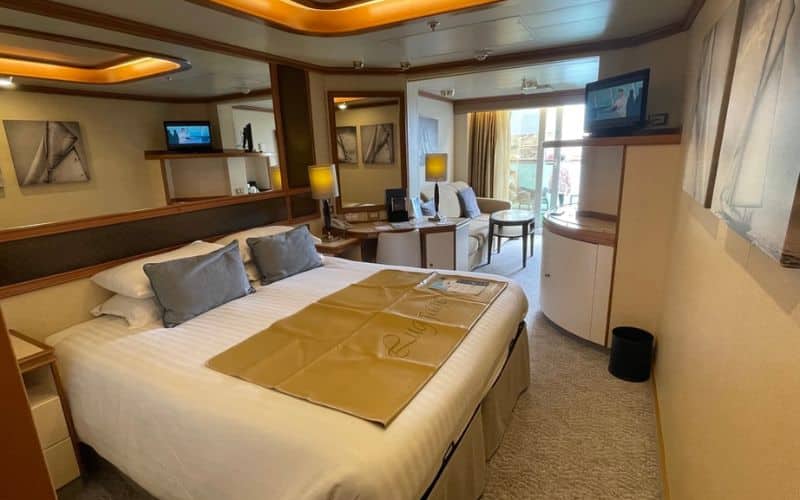 Suites on Azura
The best rooms on Azura are suites. As well as the standard suites with a separate living area and bedroom, there are also two Penthouse Suites. These come with the top price tag, but when you book a suite, you do get a whole lot of perks, not just extra space.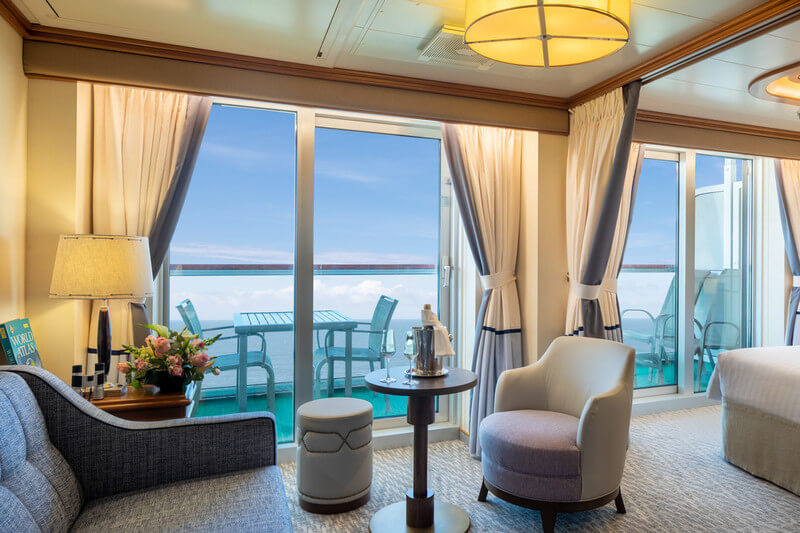 Azura Cabin Sizes
Here's a quick guide to how big the various rooms are on Azura:
Inside – 159-236 square feet – These rooms don't have any windows, and they sleep 2-4 people
Inside (single) – 130 square feet – These rooms don't have any windows and they sleep 1 person
Outside – 158-166 square feet – These rooms have a window, and they sleep 2-4 people.
Outside (partially obstructed view) – 155-261 square feet – These rooms have a window (with a view that's blocked in one area) and sleep 2-4 people
Outside (totally obstructed view) – 167-261 square feet – These rooms have a window (with a view that's blocked) and sleep 2-4 people
Outside (single) – 130 square feet – These rooms have a window, and they sleep 1 person
Balcony – 221-421 square feet – These rooms have a balcony, and sleep 2-4 people
Superior Deluxe Balcony – 314-466 square feet – These deluxe rooms have a large balcony, and sleep 2-4 people
Suite – 449-451 square feet – These large rooms have a separate lounge space, a dressing area, a large balcony and sleep for up to five people.
As you can tell, there's quite a lot of difference, even within a room category. Depending on which Inside cabin you get, you might get 50% more floor space.
Meanwhile, with an Outside cabin, there's a difference from 155 up to 261 square feet – that's over 66% more! It's even more pronounced in Balcony cabins which range from 221 sq ft to almost twice the size at 421 sq ft.
However, before you get excited at the thought of a double-sized room, you should know that the largest cabins are wheelchair-accessible rooms that are only available for people who really need them.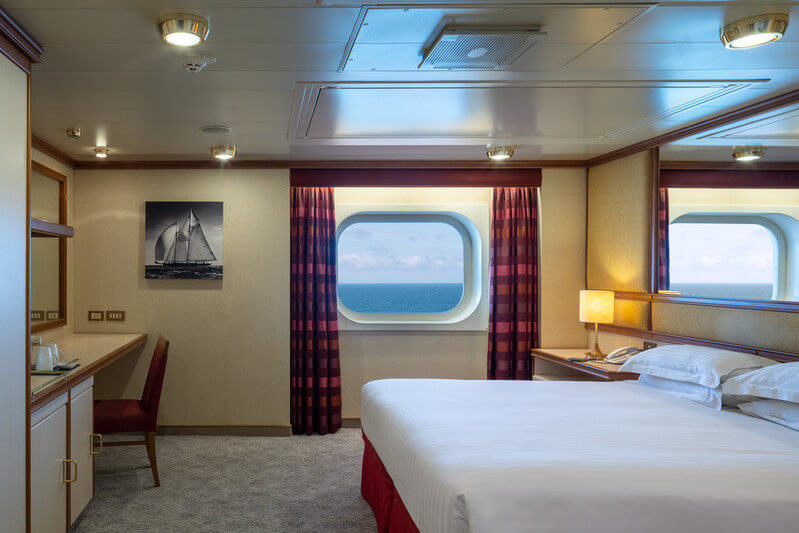 That said, some rooms are a little more spacious than others for the same price. More on that later.
One other thing that's important to note is that, near the front of the ship, some of the Outside cabins have a sloping wall – similar to what you'd see in a converted attic. This means that while you technically have the floor space, adults can't stand up everywhere in the room. But for kids who like to play, that extra space is valuable.
The Worst Cabins on Azura
It's extremely rare that there would ever be an outright 'bad' cabin on a cruise ship, but that doesn't mean they're all the same as each other. Some might have a little less space, or they might not be in the ideal location.
While I'll take you through some of the worst cabins on Azura now, I can also help you with a free checklist that tells you what you should always be looking for. No matter what ship you're sailing on, this checklist will help you find the perfect cabin. Just pop your email address in below and I'll send it straight to you.
Now, let's take a look at those cabins to avoid on Azura. If you're paying more to select your room, you really don't want to pick one of these. We can leave these for anyone choosing the Saver fare.
1. Noisy cabins on Azura
It seems to be that most negative reviews of the cabins on Azura – and on similar-aged ships in the P&O fleet – mention the noise in the cabin as being one of the main issues.
Azura isn't as old as sister ship Ventura, as she was built in 2010, but that does mean that she may not be quite as well insulated as the most modern ships.
To be clear, it's not a common complaint – most people are really happy with the volume level around their cabin – but there are a couple of locations on board where guests have found things to be a touch too loud at times.
But remember that any review is going to be subjective. Some people are more sensitive to quieter noises, and different people will have different preferences. Early risers may go to bed earlier and so be bothered more by nightclub sounds, while people who enjoy a lie-in might be more annoyed by the sounds of loungers being dragged across the deck above.
The noisiest cabins on Azura
E101-E204: These are the cabins located directly above the Playhouse Theatre. Live shows tend to run until around 11.30 pm on most evenings, and the music will often travel through the floor. It will be muffled, but you won't get silence. If you plan on staying awake until after this time anyway then no worries. If you're a lights-out-at-10 kind of person, then consider another location.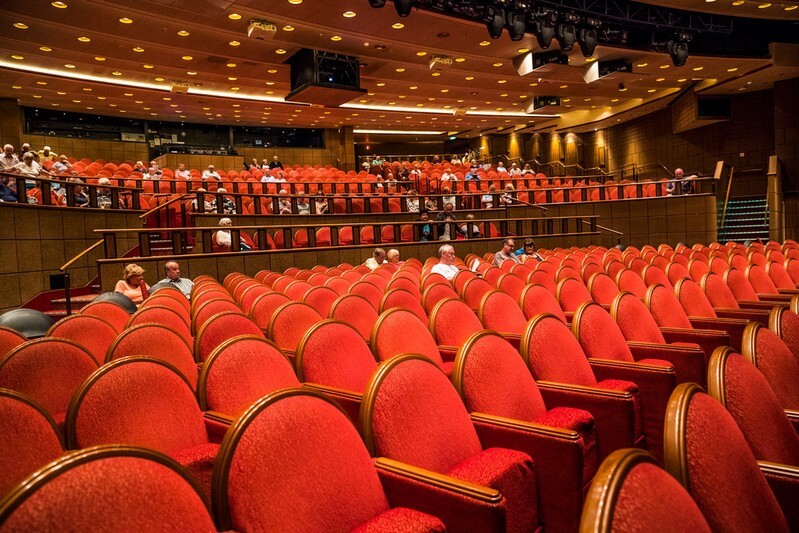 E720, E722, E724, E726, E728, E730: If you plan on being awake until midnight but then would expect a silent cabin in which to sleep, you should avoid these cabins. They're situated right above the Manhattan nightclub – or, more precisely, above the Manhattan nightclub's massive speakers.
Manhattan nights will run until 1 am or even 3 am on some cruises, and there have been reviews from passengers that have said the vibrations are so powerful that the coat hangers in the wardrobe will clatter into each other. Again, the floor will muffle things (and the speakers are directional, pointing down) but for absolute silence, book elsewhere.
Balcony cabins and suites R321 – R523: Anyone who values a good lie-in might want to think twice about booking these cabins. They're situated right below the Lido Deck and in particular, the sunbathing area. Loungers are very loud when dragged over the floor, and while staff know not to do this, passengers won't give it a thought. I'd recommend booking a room elsewhere if you want to sleep in a little longer.
2. Windy cabins on Azura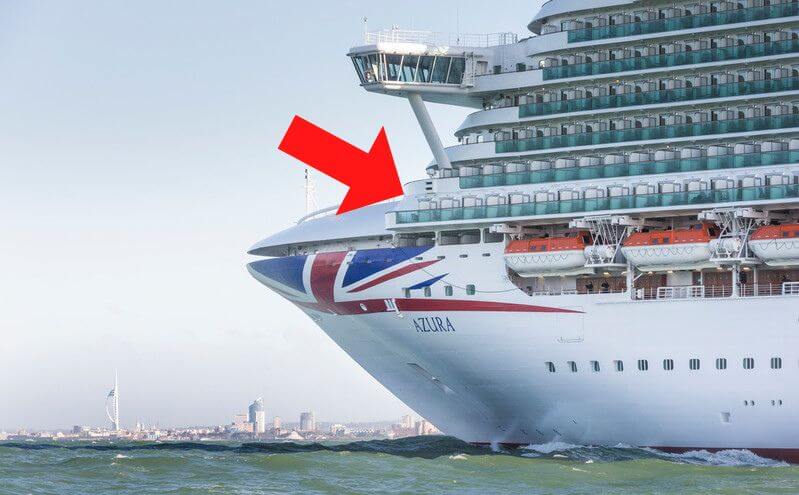 D105, D106, D109, D110: Most cruise ships don't have balconies that face forwards on a ship, and if they do, then they'll bar customers from using them while the ship is sailing. The speed that ships travel at generates some pretty high-speed winds. Now while these rooms aren't technically forward-facing, they are right at the front corners of the ship and so those wind speeds will definitely be felt.
3. Azura cabins with fixed twin beds
P211, P214, P217, P218, P221, P222, P225, P226, P229, P230, P233, P234, P323, P324, P325, P328: Most cabins on Azura (and on many cruise ships) feature twin beds that can be zipped together to form a double bed. But these cabins don't have that feature – the twin beds are fixed and can't be moved. If your partner is a duvet-stealer then this might work out OK for you! But if you want to sleep next to them, make sure to avoid these cabins.
4. Azura cabins with overlooked balconies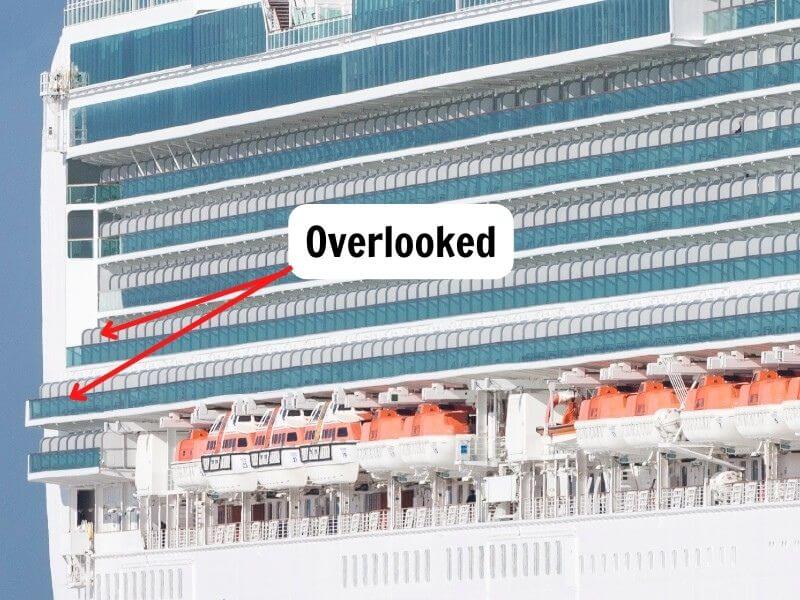 All Superior Deluxe balconies on D Deck: The Superior Deluxe balcony cabins on D Deck are much larger than standard balconies, but that's because they're positioned on an overhang that sits above the lifeboats. Because of that, anyone above you on C Deck (and higher) can look over the railing and see right onto your balcony.
That may be a dealbreaker for you, or you might not be too concerned. After all, you're not allowed to be doing anything you wouldn't want to be seen doing on a balcony anyway, so it's just dependent on how comfortable you feel knowing someone could see you relaxing.
I stayed in one of these cabins and it didn't bother me at all that people could see onto the balcony. I was out there in a bikini and in pyjamas – of people don't want to see that then they shouldn't be looking!
It's only the Superior Deluxe Balconies on D Deck with this issue. The ones on E Deck aren't overlooked and so you can take it easy knowing nobody is staring down at you from above.
A good tip is to choose one on the starboard side, since that's away from the noise of the nightclub.
Suggested read: Which Side is Port & Which is Starboard?
All balcony cabins on C Deck: The balconies on cabins on C Deck are partially overlooked by the decks above. It's not quite as bad as those Superior Deluxe on D Deck, because of the 9 feet of balcony you have, 5 feet of that has a ceiling as an overhang so it's only the last 4 feet that are exposed. This means you can still sit on your balcony and enjoy some privacy, provided you stick within that first 5 feet.
It's up to you whether you decide to go for a smaller balcony somewhere else on the ship that is completely private, such as on B Deck or above, or if you'd rather have the extra space but have some of it visible from other passengers on higher decks. You'll need to decide whether privacy or space is more of an issue for you.
5. Azura cabins with shaded balconies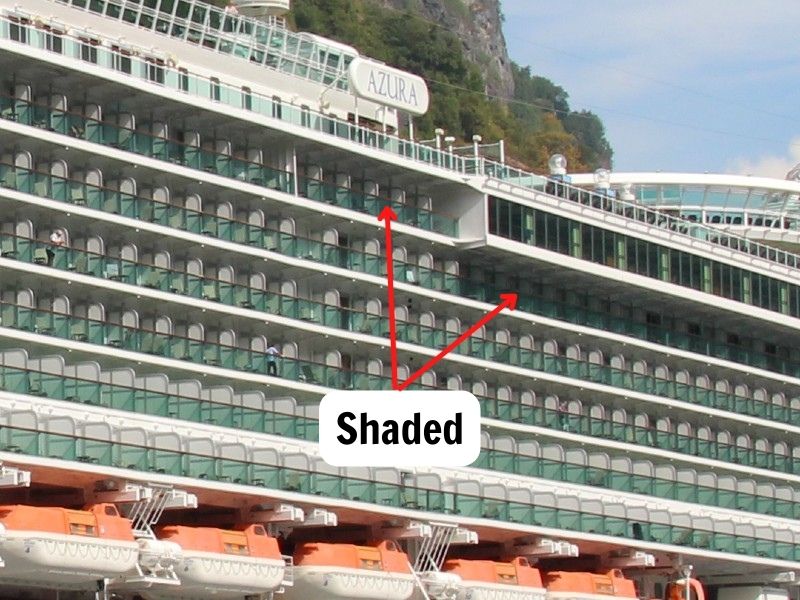 A101, A102, A103, A104: These cabins are shaded because of the deck above.
All balcony cabins and suites on Riviera Deck: The deck above overhangs on all sides of the ship, so all of the cabins on Riviera Deck are shaded.
Balcony cabins L218-L312: The deck above overhangs a lot of the Lido Deck, so these balconies will be in the shade.
This one is definitely down to personal preference. A lot of people prefer to sit in the shade – and so these balconies could be absolutely ideal.
But, for people who enjoy sitting in the sun and topping up their tan, you may want to look at alternative options. Bear in mind the season too – you'll less likely to care about a shaded balcony if the weather is cooler, and if it's raining then all the better to have a slightly sheltered balcony!
6. Azura cabins in awkward locations
Any number under 300: The definition of an awkward location depends on what you're looking for, but for families cruising on Azura then you'll likely want to avoid the low-numbered cabins. That's because they're at the front of the ship while The Reef (the kids' club) is at the aft.
If you plan on taking your child(ren) to the club multiple times a day then you probably want to be a bit closer. Plus if you're picking them up in the evening and they've fallen asleep, the less you have to carry them the better!
A lot of the leisure facilities are at the aft of the ship along with The Reef, including restaurants. But some are at the front too including the spa, theatre and gym. If you want to minimise walking time and make sure you're close to everything, aim for a mid-ship location.
7. Azura cabins that could make you seasick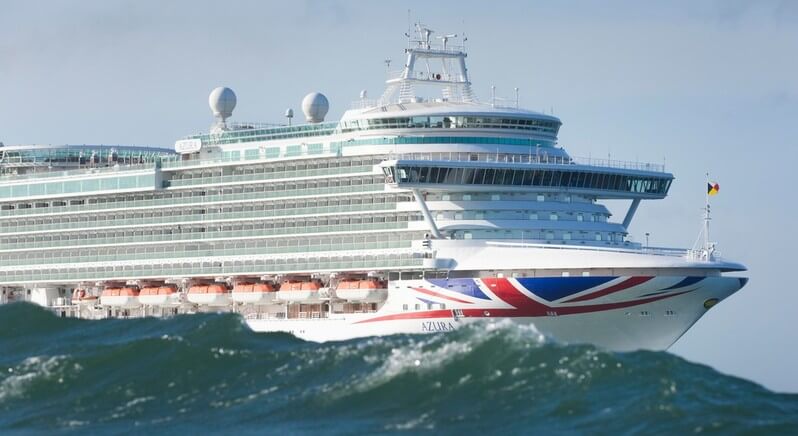 L101-L255, R201-R258, R718-R751, A102-A217, A746-A753: If you're someone who tends to get seasick, then it's best to avoid the cabins that could exacerbate this. That's the cabins on the highest decks at both the front and rear of the ship
It's in high places at the front or aft where you'll feel the most movement, whereas if you choose a mid-ship location lower down and you won't feel it anywhere near as much.
Don't worry if you think you might get seasick and your Saver fare puts you in one of these cabins though. It also depends on the time of year, the weather and the destination.
As an example, the waters in the Bay of Biscay (near France and Spain) have a reputation for being particularly choppy, but they're often calmer too. Being in one of these cabins doesn't guarantee you will be seasick, it just means that there's a slightly increased risk.
8. Cabins with extra beds that you don't need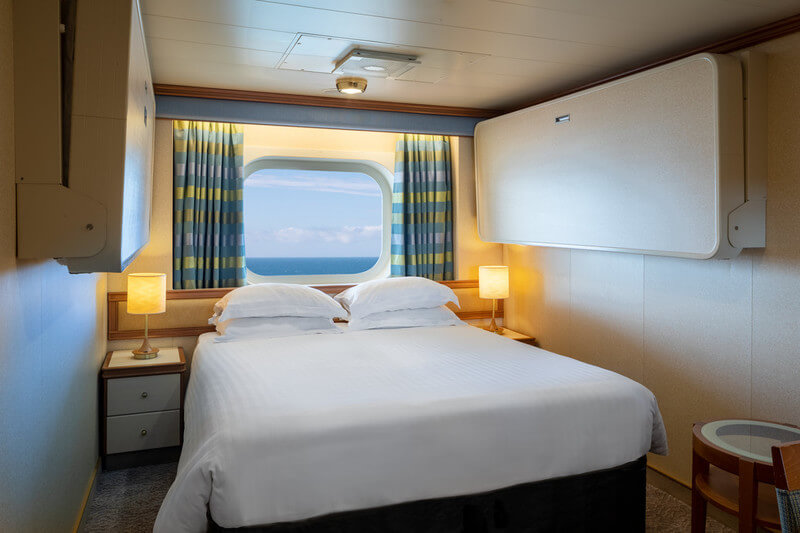 The extra beds on Azura are often Pullman beds that come down from the wall. While on some cruise ships, the extra beds become invisible when lifted into the ceiling, on Azura they remain against the wall, taking up space and creating a hazard for you to bash your head on!
If there are only two of you, be sure to check the Azura deck plan to make sure that your room only sleeps two. That way,you can be sure that you won't have any annoying beds in your way.
Plus, it leaves the four-berth cabins free for families who need them.
9. Single cabins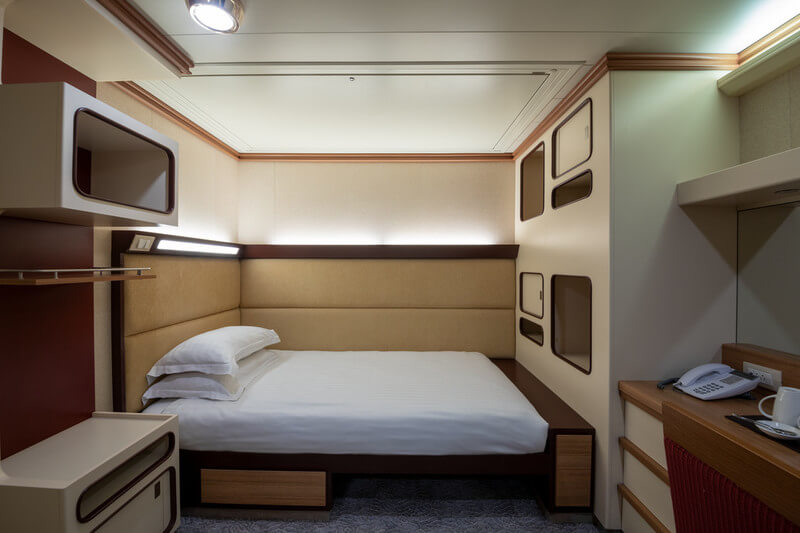 The single cabins on Azura are pretty small. While they are sufficient for one person, they aren't always the cheapest option. Sometimes, you may be able to get a better deal by booking a double cabin for solo occupancy.
This isn't always the case, but it's definitely worth comparing the price difference between a single cabin and a double cabin for one person on your cruise.
Suggested read: P&O Cruises With No Single Supplement
NEW DEALS JUST RELEASED!
Don't miss the latest P&O Cruises offers…
Do you need to be mindful of Azura's smoking area?
It's worth quickly pointing out that Azura does have smoking areas which are all outdoors. They used to be positioned where it could bother passengers who didn't smoke, but now they tend to be away from balconies.
It might be worth considering booking a cabin near a smoking area if you do smoke – that way, you don't have to traipse across the ship when you need one.
While the smoking areas can change, recently they have been:
Prom Deck – All along the starboard side, and port side between Malabar and The Blue Bar
Lido Deck – Starboard side of the Terrace Bar
Sun Deck – Starboard side of Breakers Bar
What about Azura's obstructed view cabins?
Cruise ships will often have cabins that have an obstructed view – where something is blocking your view of the sea. They can be either an obstructed window or an obstructed balcony. On Azura, there are no obstructed balcony cabins, only outside cabins with an obstruction.
The lifeboats on Azura are all stored around E Deck, so it's lifeboats and their rigging that could potentially block your view. You can choose between fully obstructed, where the lifeboat will take up the whole window, or partially obstructed where only part of your view is compromised.
However, sometimes, those partially obstructed views are barely obstructed at all – it might just be a pole on one side. You might still get a great view, and you'll have paid less for the privilege.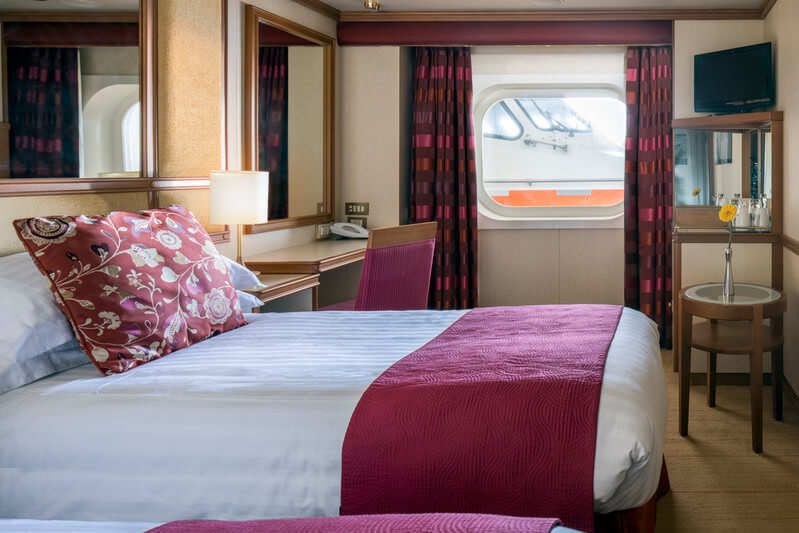 Is it a good idea to book an obstructed view cabin on Azura?
You might wonder why you would bother paying for an obstructed view that you won't enjoy, but in truth, they can sometimes be cheaper than an inside cabin, so it's always worth checking.
If you're not going to enjoy the view and an inside is cheaper then it might be a better bet, but often windows can help if you're worried about feeling claustrophobic. If you just want some natural light, then an obstructed window could be a cheap way of making you feel better.
Things to know about Azura's balcony cabins
Azura is unusual in that the balconies are different sizes depending on the deck you choose. This means that some are overlooked from above and some are shaded by the deck above.
With most cruise lines, a balcony will be a relatively standard size. Not so on Azura, which has different-sized balconies depending on your choice of deck. Some are overlooked and some are shaded too, so your choice of balcony really makes a difference.
Here's a quick rundown of the balcony cabins on Azura:
Lido Deck – Most balconies are shaded
Riviera Deck – All balconies are shaded
A Deck – The four balconies at the front of the ship are steel-fronted due to the high winds
B Deck – Standard balconies
C Deck – Larger balconies for the same price, but partially overlooked
D Deck – Superior Deluxe balconies, overlooked from above
E Deck – Superior Deluxe balconies, not overlooked
And here's a photo to demonstrate…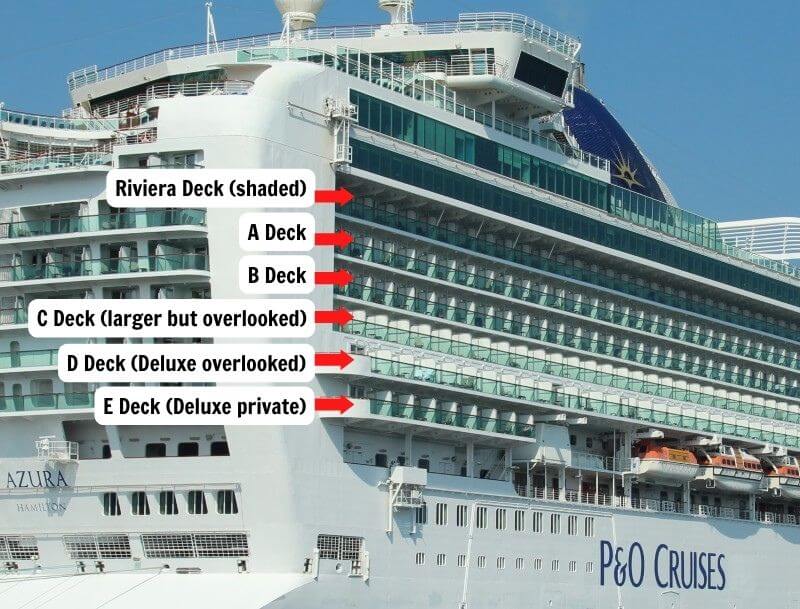 The Best Cabins on Azura
A lot of people who've booked on Azura have left very positive reviews on Facebook and forums. Here's a tiny sample of some of the feedback:
Best inside cabins on Azura
"Cabin B256 (inside on deck 11 just behind staircase) great position. No noise & very good size."

Kay Cargan
Best outside cabins on Azura
"Azura P332. Amazing location, the window is huge and lovely to look out of each day."

Chloe Jayne
Best balcony cabins on Azura
"Azura B754, true aft cabin overlooking the wake. Really spacious balcony, we had 4 people on there and it didn't feel crowded. It is quite shaded in the middle of the day but this means you don't get any rain either! It is a long walk when heading to the gangways, theatre or Spa but this also means it's super quiet."

Jo Evans
Best suites on Azura
"Suite E733 right above Manhattan bar. Have not heard a sound over the two weeks. It's on the back of the ship on the end so only one neighbour lol. Well worth paying for."


Sian Frank Taggart
My Opinion
I stayed in a Superior Deluxe Balcony cabin on Azura and I loved it! This is what would be called a Junior Suite or Mini Suite if you sail with other cruise lines.
It comes with a whole load of extras such as wine, chocolate, fruit, robes and slippers, an umbrella, binoculars and an atlas. The balcony is very large and you also get a full-size bathtub, which is great for kids and anyone who likes a soak after a long day of sightseeing.
I made this video of our cabin – take a look…
The Bottom Line
Azura is a fantastic ship and most people who cruise on Azura are very happy with their cabin as well as with the overall experience. None of the rooms on Azura are awful, so you may decide that booking a Saver or Early Saver is the best way to go for the best price.
However, if you really want to avoid certain cabins, then it can be worth booking a Select Fare and studying the Azura deck plan carefully to make sure that you choose a room that you'll love.
This cabin didn't cost us much more than a standard balcony and I think it's well worth it.
NEW DEALS JUST RELEASED!
Don't miss the latest P&O Cruises offers…
Have you cruised on Azura?
If you've sailed on Azura then please do leave a comment with your review so I can update this guide – it'd be great to get as many opinions as possible!
Related Posts:
More P&O Cruises Cabin Guides: