Aurora is one of P&O Cruises' adults-only ships (the other being Arcadia). She is much-loved by cruisers, many of whom return to this ship again and again. Choosing the best cabin for your cruise is important, particularly on an older cruise ship like Aurora which has some cabins that you may prefer to avoid.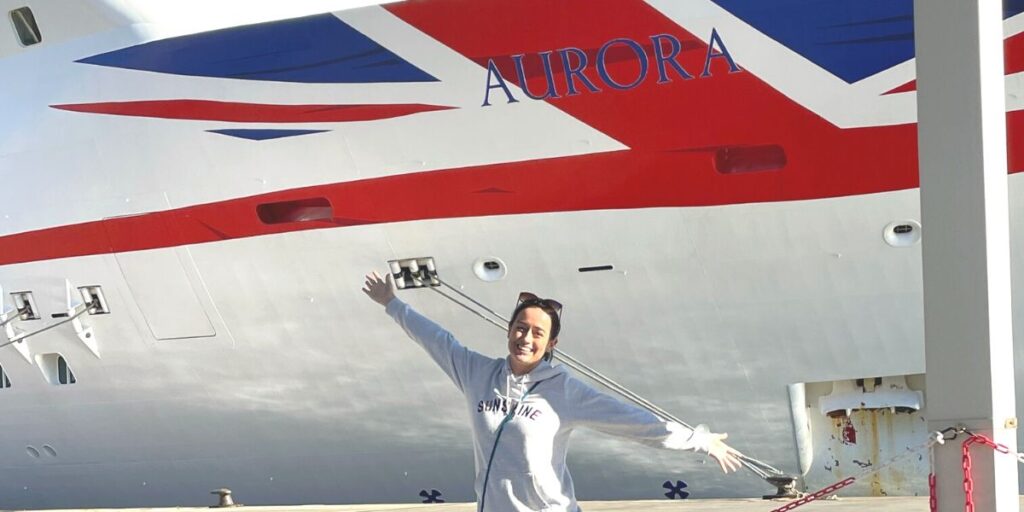 I've condensed all the information from Facebook groups, forums and Aurora cruise reviews into one easy-to-understand guide to help you to see which are the best and worst cabins on Aurora. I've also had a good look at the ship in person to spot any potential balcony issues.
Aurora Cruise Ship Cabins
Let's start with some information about the different cabin types on Aurora so that you know what there is to choose from.
Aurora has the following cabin types:
Inside: 150 sq. ft.
Larger Inside: 225 sq. ft.
Single Sea View: 150 sq. ft.
Standard Sea View: 150 sq. ft.
Fully Obstructed Sea View: 210 sq. ft.
Larger Sea View: 225 sq. ft.
Single Balcony: 179 sq. ft.
Standard Balcony: 211 sq. ft.
Deluxe Balcony: 250 sq. ft.
Mini-suite: 382 sq. ft.
Suite: 534 sq. ft.
Penthouse: 865 sq. ft
Please note that all sizes are approximate.
How to find the best and worst cruise ship cabins
You can easily spot the best and worst cabins with this free checklist which shows you exactly what to look for on the deck plan for any ship…
Cabins to Avoid on Aurora
According to the vast majority of Aurora reviews, people were very happy with their cabins. However, there are some cabins on Aurora which, depending on your circumstances, you may wish to avoid. These may be noisy or have poor sea views or something else to put you off.
The Worst Cabins on Aurora
1. Noisy cabins on Aurora
Soundproofing technology has improved since Aurora was built in 2000. Being an older ship, cruisers have reported that they have often been disturbed by things like neighbours opening and closing drawers loudly.
If you're a light sleeper, it's particularly important that you find one of the quietest cabins on this ship.
Avoid cabins under the gym
Inside cabins B184, B185, B186, B187 B192, B193, B194, B195, B200, B201, B202
Aurora has a fitness room in the centre of Deck 11 and if you choose a mid-ship inside cabin on Deck 10, then you could be directly below it.
It's never a wise idea to book a cabin below a gym, as you can often hear the sound of weights being dropped or people jumping around.
The gym on Aurora opens at 7 am and P&O Cruises have asked that guests do not use the free weights or the treadmills before 8 am. Early risers will have no problems, but if you like to sleep in, you should avoid these cabins.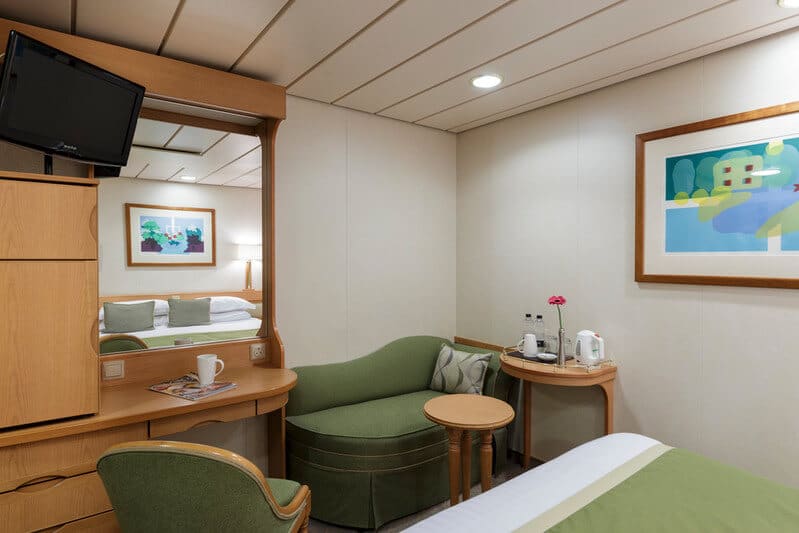 Avoid cabins above the theatre
Inside cabins: D110 to D151
Balcony cabins: D102 to D153
Above the theatre is always a risky location for a cruise ship cabin, as noise from theatre shows and rehearsals often travels upwards through the ceiling. Of course, if you don't go to bed until after the shows have finished, then this won't be a problem for you.
Balcony cabins: L119 to L132
Balcony cabins in the mid-forward section of the Lido Deck are directly below the Sun Deck. This means that you may be able to hear sun loungers being put out in the morning and noise from people outside. In foggy weather, the ship's foghorn will be quite loud in this location too.
Inside and balcony cabins: F100 to F149
If you choose a cabin right at the front of the ship on the lowest deck, you may hear noise and feel vibrations from the bow thrusters and anchor winch when the ship is entering and leaving port.
As cruise ships tend to arrive in port very early in the morning, this noise could start as early as 4 am and last for up to an hour.
2. Cabins with poor sea views
Avoid steel-fronted balconies
Deluxe Balcony cabins: D197, D199, D201, D203, D205
Balcony cabins: D200, D202, D204, D206, D208, D210
In 2019, Aurora became an adults-only ship and the kids club was converted into extra cabins. The balconies on these cabins have poor views due to the metalwork around them.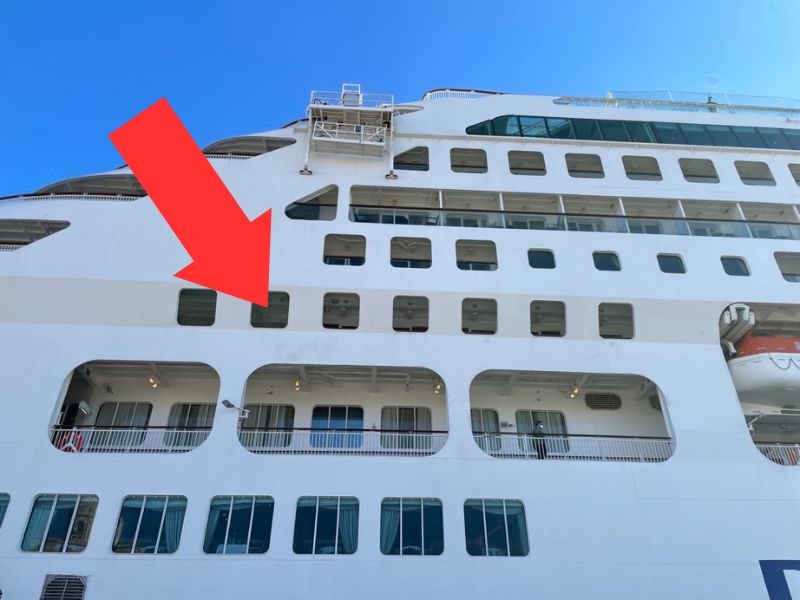 The steel frontage of these balconies means that if you want to see the sea, you'll need to be standing up. They are also shaded from the sun. If you prefer the shade and are happy to stand, then these could be perfect for you. But those who like to sit and sunbathe on their balconies should avoid these cabins.
Avoid steel-fronted balconies
Forward-facing sea view cabins: A100, A101, A102, A103, B104, B105, B107, C100, C101, C102 C103, C105
Aft-facing sea view cabins : A309, A310, A311, A312, A313, A314, A317, A318, C302, C304, C306, C321, C323, D209, D211, D212, D214
Forward-facing and rear-facing cabins on Aurora don't offer the best sea views. The design of the ship means that there is some deck in between the window and the sea. You can look out to sea just fine, but you won't be able to look straight down to the water. This isn't an issue for many cruisers who love these cabins all the same.
Note that this deck space at the front of the ship isn't publicly accessible, so nobody will be peering into your cabin.
The aft cabins have reflective glass so you can see out but nobody can see in during the daytime. At night though, people could see in, so you need to remember to close the curtains when you have the light on!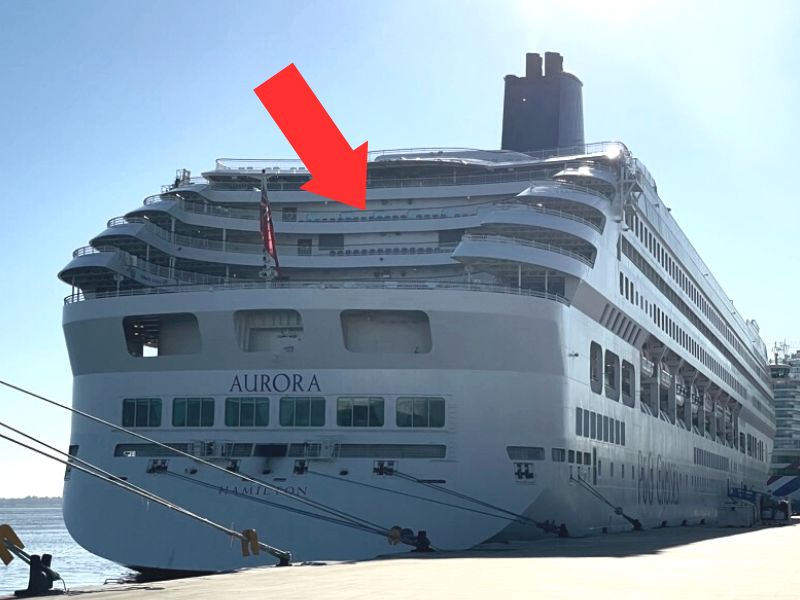 Avoid obstructed view outside cabins
Larger obstructed view cabins: D189, D191, D193, D195
An obstructed view cabin is one with a lifeboat blocking the view from the window or balcony. In general, the level of obstruction varies from total to barely any at all depending on the ship and the cabin.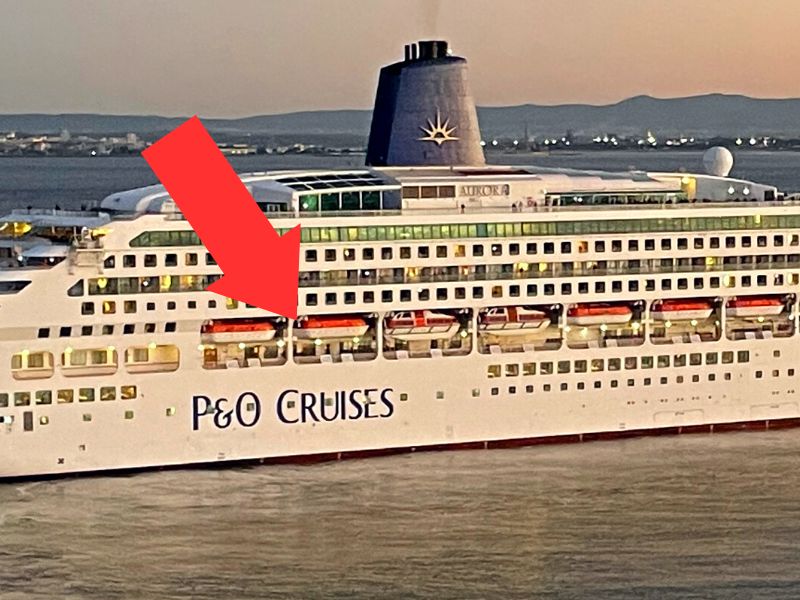 Unfortunately, the obstructed outside cabins on Aurora are right behind the lifeboats, so the view is very poor and probably not worth the extra money to upgrade from a large inside cabin.
To decide for yourself whether obstructed view cabins on Aurora are worth it, take a look at these photos:
3. Cabins with fixed double beds
Balcony cabins: C124, C127, C308, C325
Most cabins on Aurora have convertible beds which give you the option of a double or a twin. However, there are a few cabins on Aurora which have fixed double beds. If you're cruising with a friend or relative who you don't usually share a bed with, then you should avoid these cabins to make sure that you each get your own bed.
4. Cabins with overlooked balconies
Balcony cabins: A106 & A107
Almost all of the balconies on Aurora are private and not overlooked, with the exception of two. These two cabins, which are marked with a V on the deck plan, are located right below the bridge.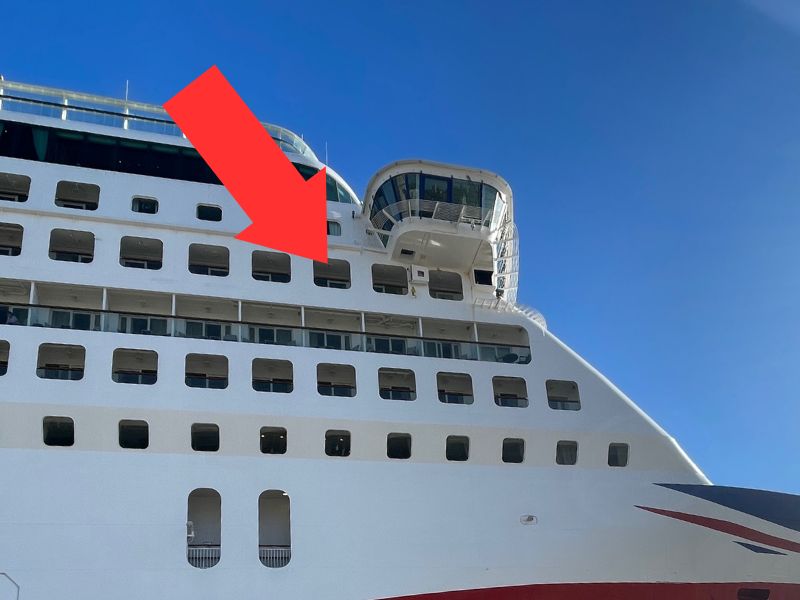 If an officer on the bridge were to look down, facing the aft, they would see straight onto your balcony. This is unlikely to be much of an issue, but if you book these cabins you might want to ensure that your curtains are closed before changing.
5. Cabins with interconnecting doors
If you have two cabins for your group, then interconnecting doors are great. But, if you just have one cabin, then you should avoid these if possible.
One reason, of course, is that you would be leaving the interconnecting cabins free for larger groups who might need them.
But a second, and very important, reason is that interconnecting doors hamper the soundproofing of the cabin. While you may not hear noises between the walls, you're much more likely to hear your neighbours chatting or watching TV if you have a door between your cabins.
6. Cabins with pull-down beds
D116, D117, D140-143, D148-151, D171-173, D178-181, E114-115, E118-121, E124-157, E159, E168, E173, F136-150, F156-167, F169, F171, F175, F178, F180-192, F194-199, F201, F203-212, F214-216, F218-221, F225-237
Pullman beds are also something that you should avoid if you only have two people in your cabin. These extra beds come down from the ceiling. But, rather than being hidden within the ceiling as on more modern ships, on Aurora they are always visible and you may find that you bash your head on them when getting in and out of bed.
If you do have three or four in your cabin and want extra beds, you also have the option of a room with a single or double sofa bed. You may find that these are more practical and comfortable than the pull-down beds.
NEW DEALS JUST RELEASED!
Don't miss the latest P&O Cruises offers…
The Best Cabins on Aurora
Now you know which cabins to avoid, here's a guide to the best cabins on Aurora.
Of course, you get what you pay for. You need to remember that whilst larger cabins and those nearer to the middle of the ship are generally considered to be better, they're also more expensive than standard-sized cabins and those at the front and aft of the ship.
If you're booking a long cruise or have limited mobility, then the upgrade to a larger room or better location is worth it. Otherwise, consider the cost of the upgrade and what else you could spend that money on when deciding.
The biggest cabins on Aurora
If you enjoy having a large cabin to spread out in, then you'll be pleased to know that Aurora offers a great selection of larger cabins. These are ideal for longer cruises such as world cruises where you may have a lot of luggage.
If you want a big cabin on Aurora, choose from:
Larger Inside cabins: On B Deck
Larger Obstructed View cabins: On D Deck
Larger Sea View cabins: On C Deck & D Deck
Deluxe Balcony cabins: On B Deck & D Deck
Penthouse suites: On B Deck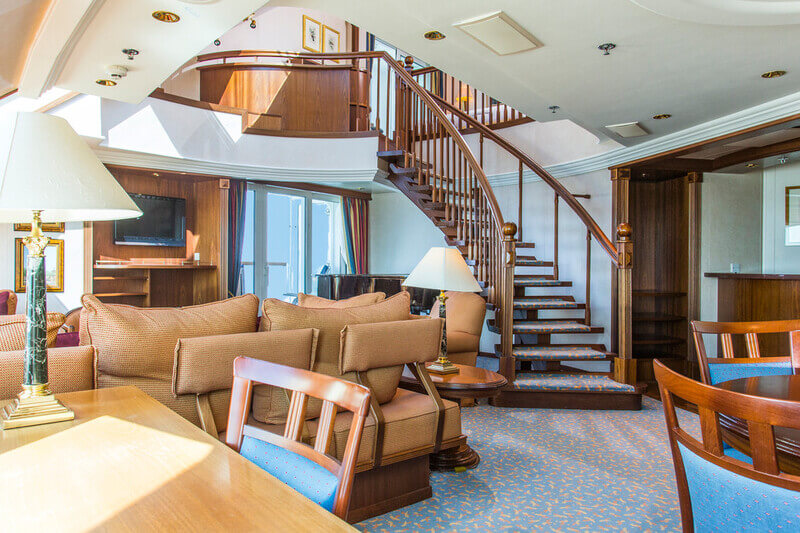 The best inside cabins on Aurora
The best inside cabins on Aurora are the larger inside cabins on B Deck. Of these, B200 would be the best one as this is the closest to the midship lifts.
Here's what a standard inside cabin looks like…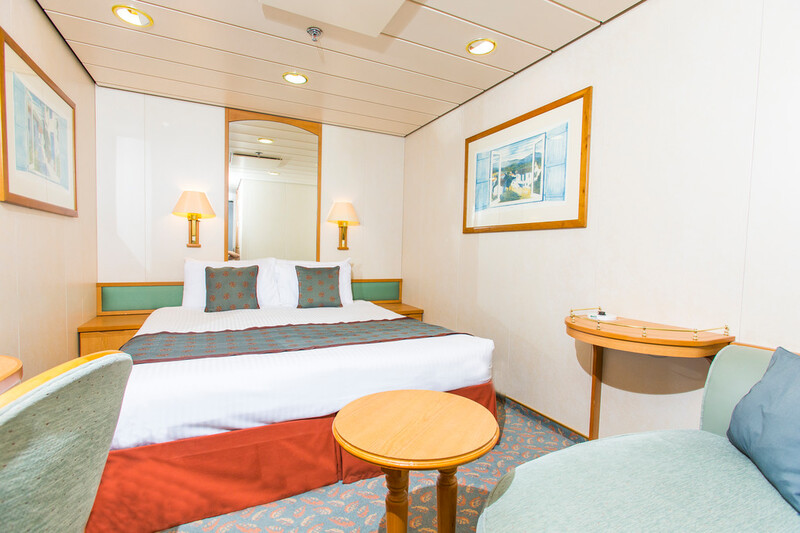 Now, take a look at this video from Jamie's Holiday Channel to see how spacious a larger inside cabin on Aurora is!
The best sea view cabins on Aurora
Aurora has standard-sized and larger sea view cabins. The larger outside cabins on C Deck are around 50% bigger than standard cabins and come with a double sofa bed as well as a double or twin beds.
Here's what a standard Sea View cabin looks like…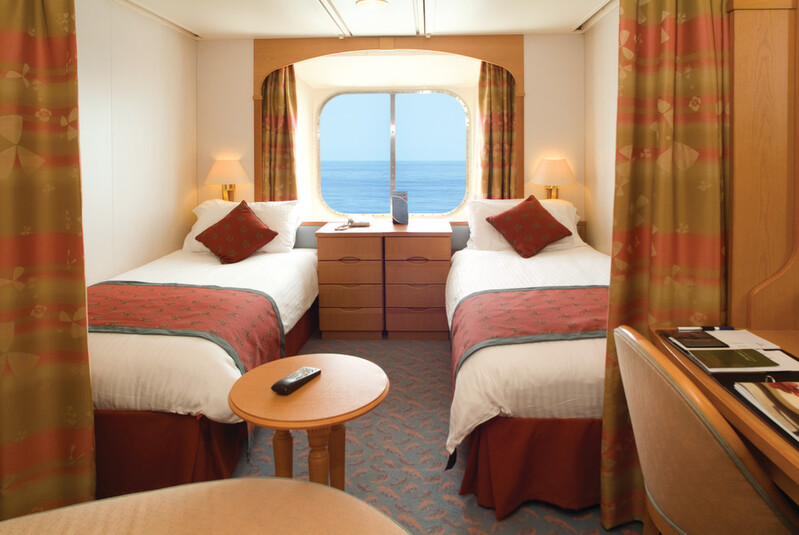 Now, take a look at this video from JB@Sea to see how much more space a larger sea view cabin has…
Of the larger sea view cabins, the ones in a mid-forward location are the best as they are the closest to the lifts and in a more central position on the ship.
The best sea view cabins on Aurora
The best balcony cabins on Aurora are the Deluxe Balcony cabins on B Deck. As well as being 18% bigger, the Deluxe Balcony cabins have a curtain between the sofa and the bed.
The best location for Deluxe Balcony cabins on Aurora is midship – those cabins are numbered B182 to B219. I find it best to be located close to the lifts, but not right outside them as being right outside the lifts can sometimes be a little noisy.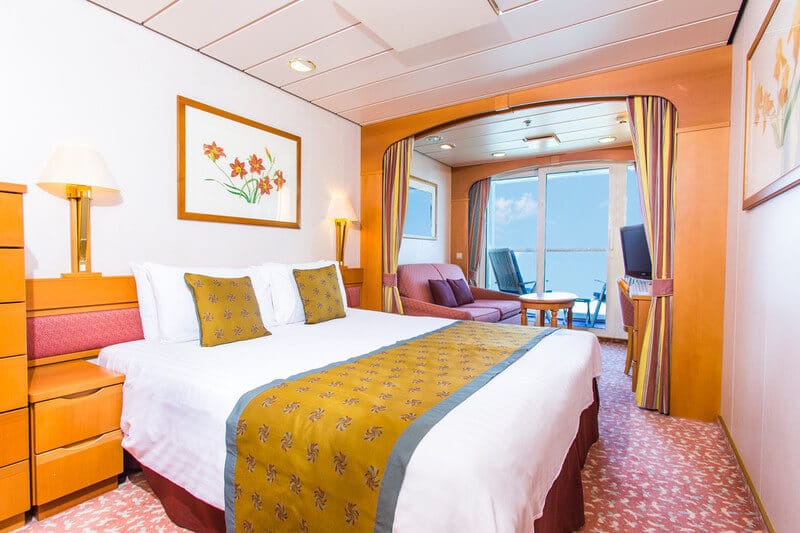 The best suites on Aurora
Aurora has several suites, including mini-suites, suites and penthouse suites. The top suites on Aurora are the penthouse suites – the Library Suite and the Piano Suite.
The Piano Suite on Aurora comes complete with an actual piano, whereas The Library Suite comes with your very own library of books.
Which to choose depends entirely on your personal preference. When deciding, be sure to consider the special suite benefits that come with each.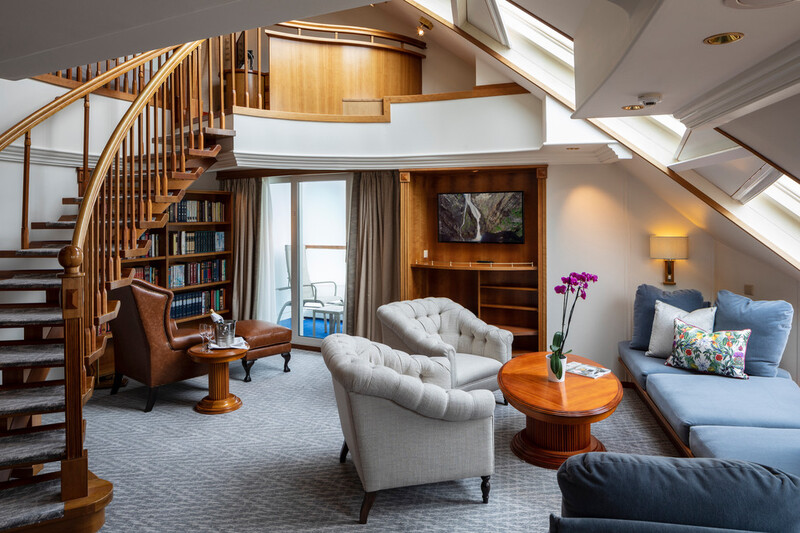 This video shows you what to expect in the Piano Suite on Aurora:
The best accessible cabins on Aurora
Aurora has a selection of cabins that are available for wheelchair and scooter users. These have wet rooms with a shower, wide doors, level entry and other accessibility features.
Accessible cabins are always popular and can sell out quite quickly so be sure to book in advance if you need one of these.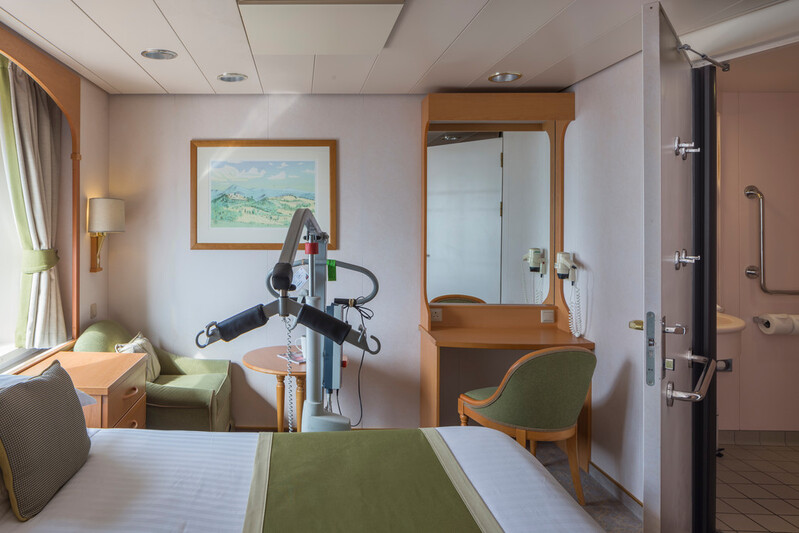 The best Aurora cabins for smokers
D196 to D214 are near a smoking area. D210 is the nearest.
P&O Cruises only permits smoking in designated smoking areas, not on your balcony, in the casino or in any other public area. So, if you like to smoke cigarettes, e-cigs, cigars or a pipe during your cruise, then it might be a good idea to book a cabin near one of the smoking areas.
The smoking areas can change from time to time, but cruisers have consistently reported that the smoking areas on Aurora are located in two places:
Lido Deck: Port side, forward, by the Riviera Bar
Prom Deck: Port or starboard side, aft.
Suggested read: 7 easy ways to remember port and starboard
NEW DEALS JUST RELEASED!
Don't miss the latest P&O Cruises offers…
Conclusion
P&O Cruises' Aurora is a much-loved cruise ship with a range of cabins and suites that can accommodate solo travellers, couples and groups of friends.
Choosing the best cabin is very much down to personal preference, as the best cabin for one person might be the worst for someone else. This guide to Aurora cabins should help you to make the right decision.
Of course, you may decide that you don't mind which cabin you get. In which case, you may be best to book a Saver Fare, where your cabin number is allocated to you. These are generally cheaper than the Select Fare.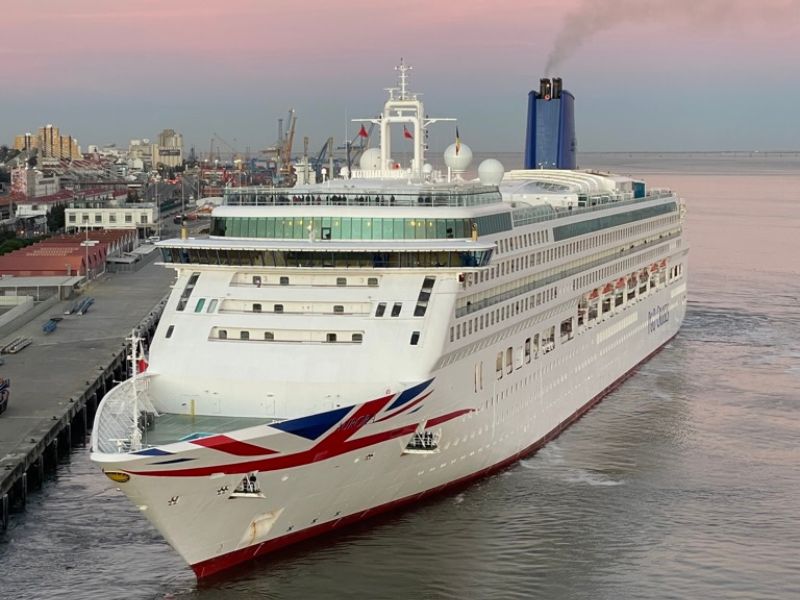 Related posts:
More cabin guides in this series:
Thank you to members of the following Facebook groups for sharing your insights and photos to help me to write this post: