Arvia is P&O Cruises' stunning new mega-ship. It has 2,610 cabins to choose from, and some of them are much more desirable than others.
I cruised on Arvia's maiden voyage. We booked an inside cabin, but when we arrived we had a look around it before heading to Guest Services and paying to upgrade to a balcony!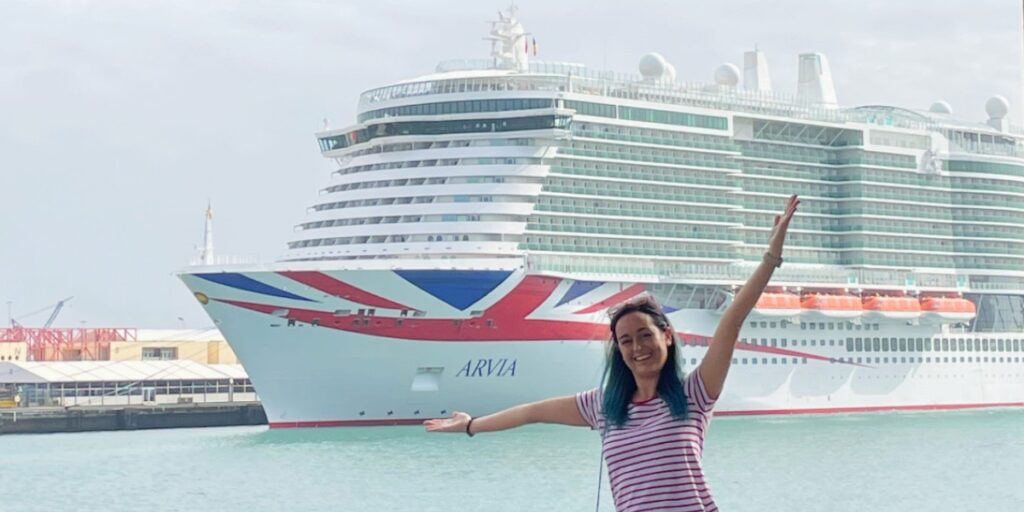 I've also stayed in Sea View cabins on sister ship Iona (the rooms are identical to Arvia). So, it's fair to say that I have more experience than most when it comes to accommodation on Arvia.
I'm also something of a deck plan geek and have spent hours looking for the best and worst cabins, as well as reading cruise forums and Facebook groups to see what others had to say.
In this guide, I'll show you which Arvia cabins to avoid and point out the best cabins that you'll want to snap up, should they be available when you book.
Arvia Cabin Types
Like most other cruise ships, Arvia offers four main cabin types:
Inside cabins – Single, standard or larger
Outside cabins – Standard
Balcony cabins – Single, smaller, standard or deluxe
Suites – Conservatory mini-suite, family sea view suite or suite
Arvia's inside cabins
The cheapest cabins on Arvia are inside cabins. Located in the interior of the ship, these cabins have no windows to let in natural light. If that doesn't bother you, inside cabins can be a great choice as they offer the best value for money.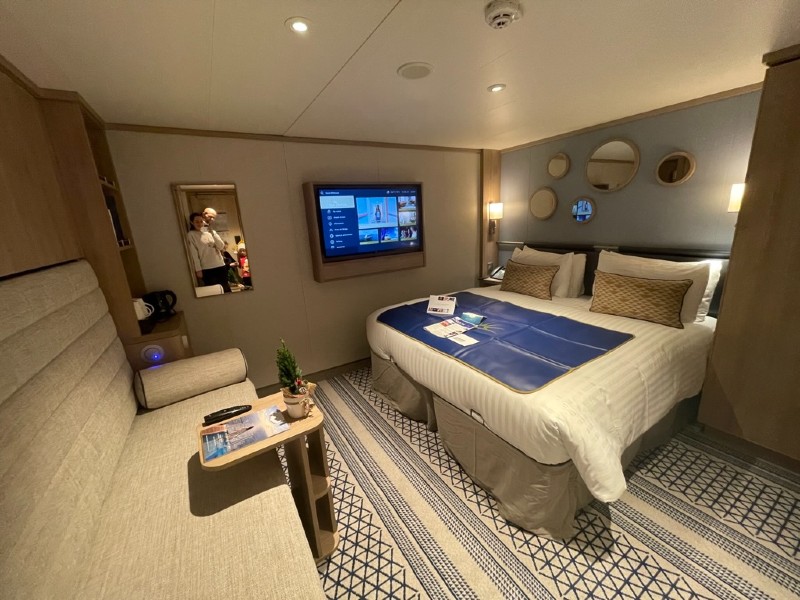 I booked an inside cabin on Iona, and while there was nothing wrong with it at all, we choose to upgrade while on board as we were cruising for two weeks at Christmas and we wanted to treat ourselves.
I'll give you more information about how to upgrade (and when's the best time to do it) later on in this guide.
Suggested read: Why I (almost) always choose an inside cabin for a family cruise
The standard inside cabins on Arvia are 135 square feet, which is a little smaller than average. If you'd like more space, you can upgrade to a larger inside cabin which is 40% larger at 190 square feet.
Most inside cabins on Arvia sleep two people, but there are some that can accommodate three or four. These have a sofa bed for the third passenger and some also have an extra bed that comes down from the ceiling (called a Pullman bed) for the fourth passenger.
Not all inside cabins are the same on Arvia as some are square and some are rectangular. If you have more than two people in your room you will be assigned a square one like in the image above.
Also on Arvia's maiden voyage with me were cruise YouTubers Tom and Dom. I had a drink with them and they explained how their rectangular inside cabin was quite different to mine.
They've made this video of their cabin which is worth a look if you're trying to decide between the square and rectangular options:
Arvia also has single inside cabins for solo passengers. Wheelchair or scooter users can book an accessible inside cabin, which is 213 square feet in size and features a wet room.
Arvia's outside cabins
An upgrade from an inside cabin on Arvia would be an outside cabin. Also known as sea view cabins, outside cabins have a window. But the natural light isn't the only bonus you get with an outside cabin onboard Arvia.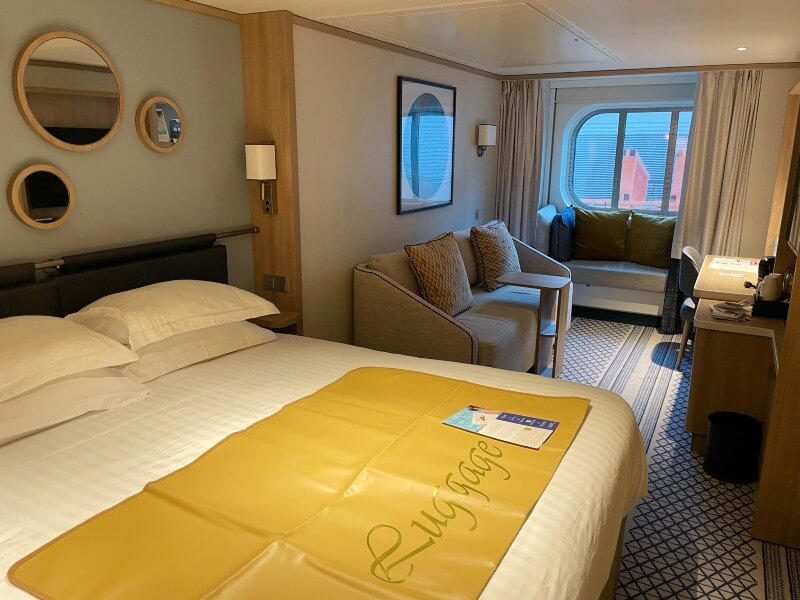 At 210 square feet in size, Arvia's outside cabins are 55% larger than inside cabins, and they're also noticeably larger than balcony cabins!
These cabins have the same amount of space as deluxe balcony cabins – making them one of the best cabin types for families, or for cold weather cruises where you may not want to sit out on your balcony.
The location on Deck 4 or 5 is pretty handy too. Midship on Deck 5 is the best spot as it's just one flight of stairs up to the atrium. There are only four of these though, so you'll have to be quick!
Outside cabins on Arvia can accommodate two, three or four passengers, depending on whether the cabin has a sofa bed or both a sofa bed and a Pullman bed.
Suggested read: What is a Pullman bed on a cruise ship?
This is my favourite cabin type on Arvia. I've stayed in two of these on sister ship Iona and would have also chosen it on Arvia if one were available.
Accessible outside cabins onboard Arvia are huge, at 307 square feet, which gives lots of space for those who need it to accommodate a wheelchair or scooter.
Arvia's balcony cabins
There are 1,334 standard balcony cabins on Arvia, making this the most popular cabin type on the ship.
As Arvia will be mostly offering warm-weather cruises, a balcony can be a great choice as it will enable you to enjoy your own private space in the sunshine. This is the cabin that we stayed in for two weeks…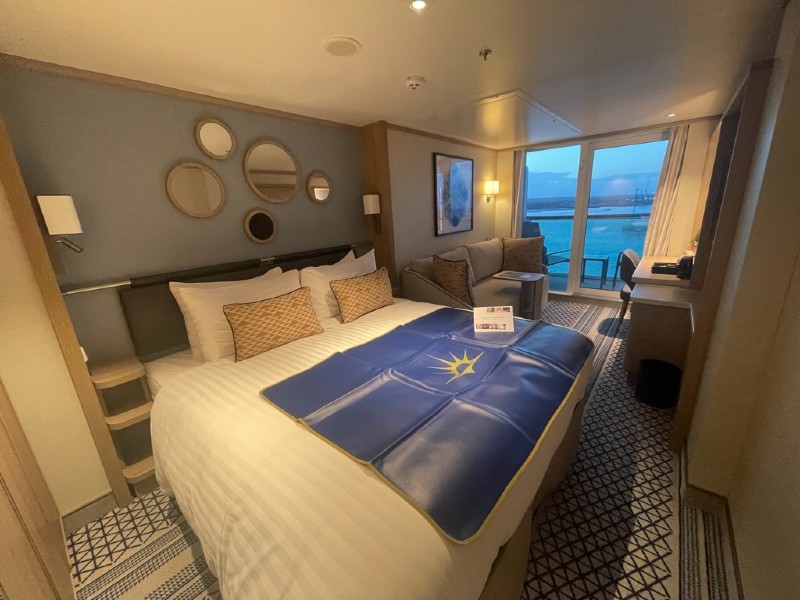 As well as the 170-square-foot standard balcony cabins, there are also 120 deluxe balcony cabins to choose from. These have a footprint of 210 square feet, making them 24% larger.
If there are only two of you, you may wish to opt for a smaller balcony cabin. At 150 square feet, these are only slightly smaller than standard balcony cabins but will be a little cheaper. The balcony itself will be the same size, you'll just lose a little space in the interior.
Some standard balcony and deluxe balcony cabins on Arvia are wheelchair accessible and these will be larger.
Whichever balcony cabin you choose, you'll enjoy sliding doors that lead out to your private balcony where you'll find two chairs and possibly a small table.
It's important to note that some balconies on Arvia are much, much bigger than others. You can read more about that later in the 'best cabins on Arvia' section below.
And you should also note that not all balconies have views of the ocean and not all are private. Take a look at this one below, which I would say is the worst balcony on Arvia…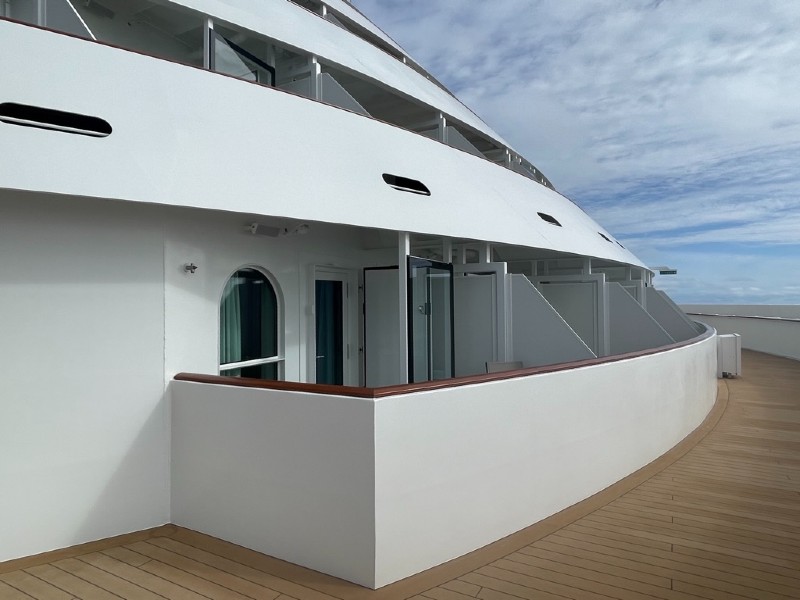 Be sure to read on to the 'worst cabins' section of this article for a list of rooms that you would do well to avoid if you can.
Arvia's suites
For those who like a little luxury, a suite can be the best choice with more space and, depending on which suite you book, some very special perks.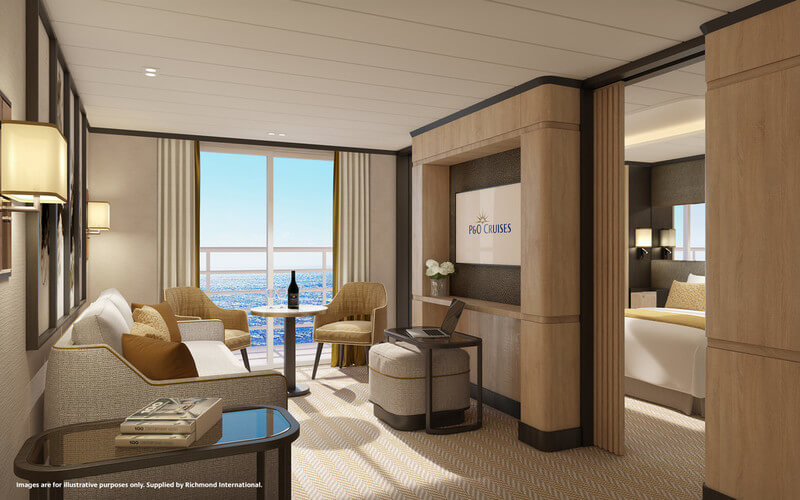 There are three types of suites to choose from on Arvia:
Conservatory Mini Suites
Family Sea View Suites
Suites
1. Conservatory mini suites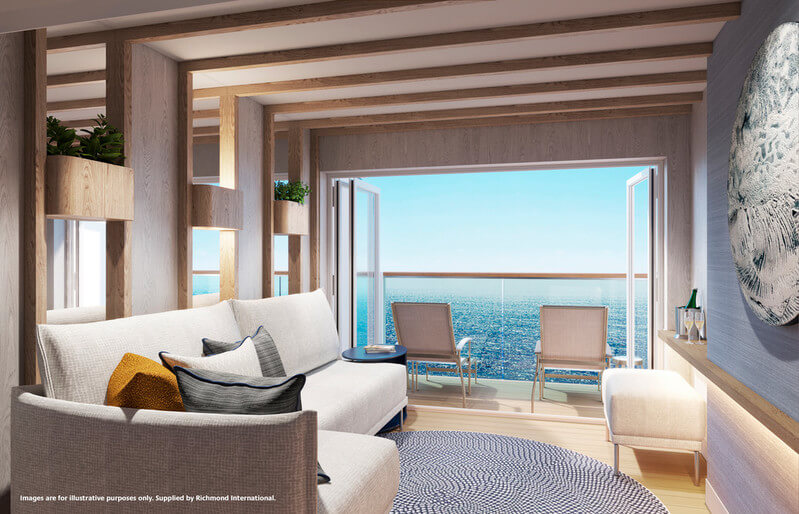 Conservatory mini suites are the cheapest suites on Arvia. These don't come with any of the extra perks that you get with a suite. I would say that conservatory mini suites are actually more similar to balcony cabins than suites.
What you do get with this type of accommodation is a conservatory area in between the bedroom and balcony. As well as the standard sofa (which converts into an extra bed in some cabins), you'll get another sofa inside the conservatory area. Here, you have bi-folding doors that lead onto the balcony.
At 255 square feet, conservatory mini suites are 50% larger than standard balcony cabins. This type of room is a good option for families, as you can leave the sofa bed set up as a bed, and still have the L-shaped sofa in the conservatory to sit on.
There are no wheelchair-accessible conservatory mini suites on Arvia.
2. Family sea view suites
There are only two family sea view suites on Arvia, but this rare type of accommodation offers a great option for families of three or four. The family sea view suites are located on Deck 8, which is the Promenade Deck.
These suites don't have a balcony, but instead have large windows overlooking the promenade.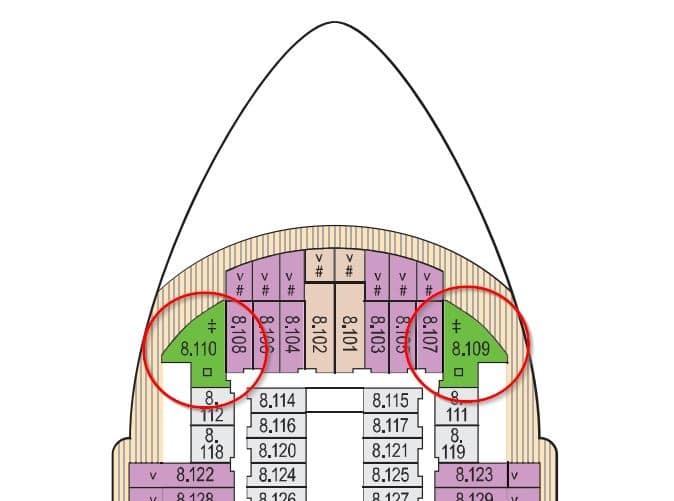 For parents of young children who want the space of a suite but would prefer not to have a balcony for safety reasons, family sea view suites are ideal. They're very spacious at 300 square feet. This is 43% larger than an oceanview cabin and more than twice the size of an inside cabin.
Family sea view cabins have a sofa bed and a Pullman bed. However, there's no reason why you couldn't book one of these for only two people if you desire.
3. Suites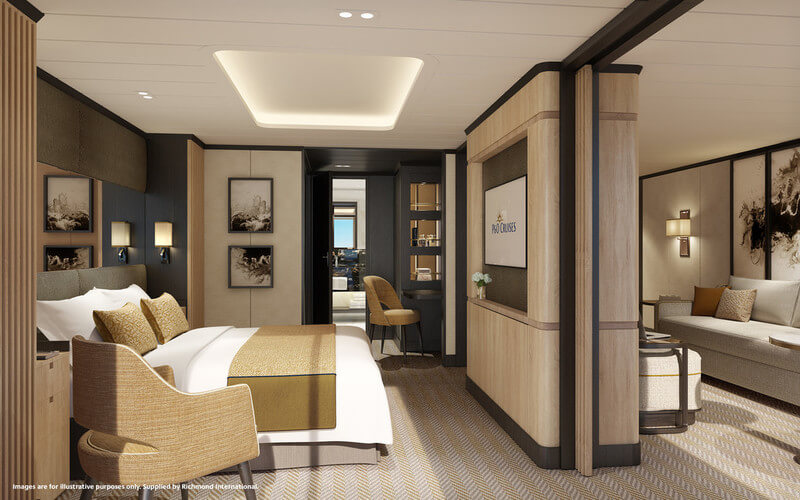 Arvia has 25 suites to choose from. These are the largest and most luxurious of all of the accommodation types on Arvia with at least 434 square feet of space. You'll get a separate bedroom and living room as well as a large wraparound balcony.
Arvia's suites can accommodate either three or four people, with a sofa bed and the option of an extra Pullman bed, depending on which suite you choose.
Suites on Arvia are located at the forward or aft corners of the ship on decks 9 to 15. These locations aren't ideal for anyone who suffers from seasickness, so if you're worried about that, you may be better off opting for a conservatory mini suite in a mid-ship location as you'll feel less movement here.
I would say that the aft suites (at the back of the ship) are better than the forward-facing suites because they are more sheltered from the wind and have glass balconies rather than steel, so you can admire the ocean views while sitting down.
There is one wheelchair-accessible suite on Arvia.
As well as the extra space, suites on Arvia come with a whole host of perks. These perks also apply to guests staying in family oceanview suites, but not conservatory mini suites.
Arvia suite benefits:
Priority check-in
Access to hospitality lounge with drinks and pastries while you wait to board
Get on the ship first
Welcome reception with canapes and drinks
Welcome Champagne, water, chocolates, fruit and flowers in your suite
Butler service
Daily canapes delivered
Use of bathrobe and slippers
Premier toiletries from The White Company
Breakfast in the Epicurean restaurant
Use of atlas and binoculars
Selection of magazines
Coffee machine
Pillow menu
Free room service
Option to enjoy the main dining menu in your suite
Read more: P&O Cruises Suite Benefits Explained
What can a butler do for you on P&O Cruises?
Some of the things you might ask your butler to do on your cruise would be to pack and unpack your suitcase, make reservations for dinner, bring room service, book spa sessions, book shore excursions or organise your laundry.
Choosing the best cabin on Arvia
I've made a checklist of everything that you should look out for and possibly avoid when choosing a cruise cabin. If you'd like a copy, just enter your email below and it will be delivered straight to your inbox for free.
Alternatively, read on for more information about the Arvia cabins, including the best and worst cabins on this ship.
Arvia Cabin Grades
The cabins on Arvia are grouped together into grades for pricing purposes. Cabin grades are two letters (e.g. PF) or a letter and a number (e.g. B4). Each grade is shown in a different colour on the Arvia deck plan.
To decode the cabin grades, you must know that the first letter refers to the cabin types (e.g. P = inside) and the second letter or number refers to the location on the ship (e.g. F = high or low deck, forward location.
Here's a table of the Arvia cabin grades and what they mean…
| Cabin Type | 1st Letter of Grade |
| --- | --- |
| Suite | B |
| Conservatory Mini-suite | C |
| Deluxe Balcony | E |
| Balcony / Smaller Balcony | G |
| Sea View | L |
| Larger Inside | O |
| Inside | P |
| Single Balcony | Q |
| Single Inside | S |
| Cabin Location | 2nd Digit of Grade |
| --- | --- |
| Mid decks. Midship location. | A |
| All decks. Mid-forward, mid or mid-aft location | B or V |
| High or low decks. Mid-forward or mid-aft location. | C or W |
| Mid decks. Aft location. | D or 4 |
| All decks. Forward or aft location | E, Y or 5 |
| High or low decks. Forward location. | F, Z or 6 |
NEW DEALS JUST RELEASED!
Don't miss the latest P&O Cruises offers…
Arvia Cabins to Avoid
Now that we know which cabin types are available on Arvia, let's take a look at those cabins which you may wish to avoid. Then, I'll list some of the best cabins on Arvia which you may want to look out for instead.
I'm not saying that there are any bad cabins on Arvia. What would be an undesirable cabin for one person, might be a wonderful cabin for the next. Everything is subjective and you should choose a cabin depending on your own priorities.
1. Noisy cabins on Arvia
One of the things that people complain about most often on a cruise is when their sleep is disturbed by noise either late in the evening or very early in the morning.
If you like to go to bed quite early, you may wish to avoid cabins numbered 8140 to 8235. These are located right above the Headliners Theatre. Shows may go on until close to midnight and there's a chance that you may be able to hear some noise from the speakers.
Another location you may wish to avoid is right above the nightclub. These cabins are numbered 9701 to 9744.
As Arvia has a retractable roof, if it's open at night then you may hear the noise from the shows if you stay in a midship balcony on Deck 14 or 15.
If you like to sleep in late it's generally wise to avoid any cabins that are located directly below sunbathing areas. When people start to move deckchairs around in the morning, if they drag them along the floor you may hear this from the cabins below. For this reason, you may wish to avoid all cabins on Deck 17.
Another location that you may wish to avoid is beneath the gym. This is because you may hear some noise from treadmills or weights being dropped early in the morning. These cabins are numbered 4201 to 4532 (odd numbers only).
2. Arvia cabins with balconies that are not private
Many cruisers prefer to have a balcony that other passengers cannot see onto. If this sounds familiar, then there are lots of cabins on Arvia that you'll want to avoid.
Just like sister-ship Iona, Arvia has an unusual design in that balcony cabins on the promenade deck have a public walkway between the balconies and the ocean.
This means that if you book a balcony cabin or conservatory mini suite on Deck 8, people will be able to walk past your balcony and see in.
In the image below, the brown area is the public walkway on the Promenade Deck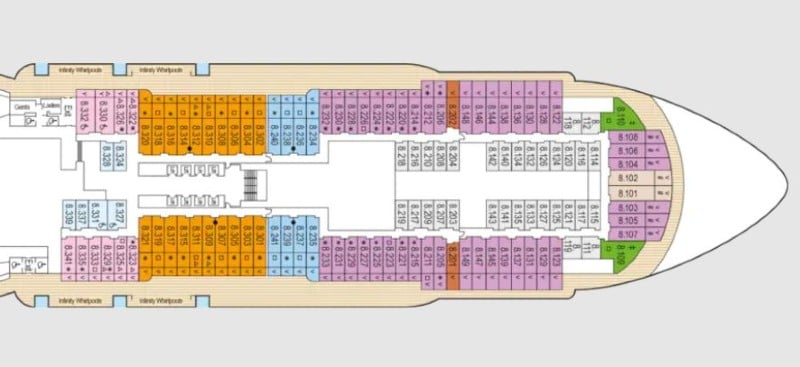 Deck on 8 on these ships has a really bad reputation. And yes, I would avoid choosing a balcony on this deck. The ones near the front of the ships are particularly undesirable. This is because the walkway gets higher as you walk to the front of the ship, meaning that the balcony rails are now at waist height rather than chest height.
Here's a photo of my eight-year-old daughter walking past one of the Deck 8 balconies on Arvia to demonstrate what I mean…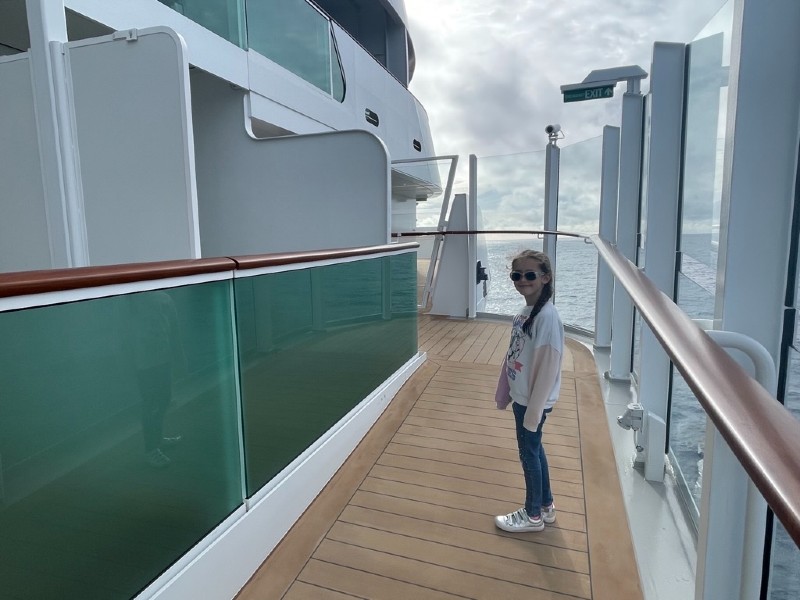 3. Balcony cabins with obstructed views
Lifeboats are a common cause of obstructed views on cruise ships. Arvia's clever design means that the lifeboats are located outside of the theatre and casino, where they don't block the view from any balcony cabins.
However, I would say that the obstructed view cabins on Arvia are possibly worse than any lifeboat obstructions, and they don't come with any discount in the price.
If you stay in cabins numbered 8309 to 8312 and 8322 to 8330, the obstruction is a hot tub which is located between your balcony and the sea!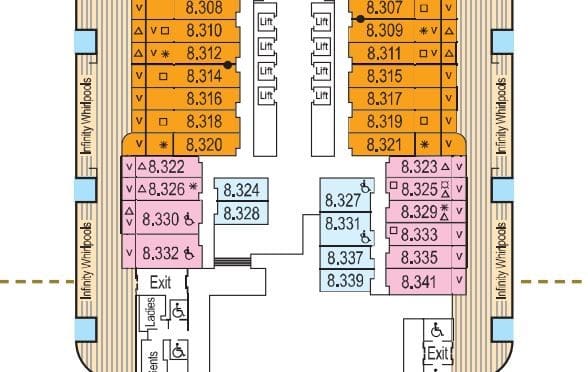 Instead of looking out at the ocean from your balcony, this could be your view…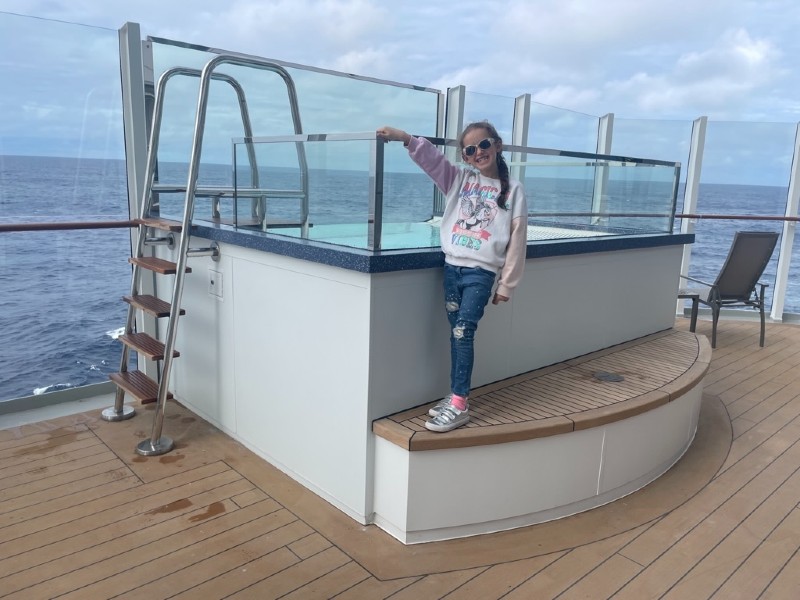 4. Cabins that might make you seasick
Anyone worried about motion sickness at sea should book a cabin on a low deck in a mid-ship location. When you're on a high deck or at the very front or back of a ship, you'll feel the movement more than you would anywhere else.
The worst cabins for seasickness on Arvia will be 17201 to 17217 and 16201 to 16240.
As Arvia is a very large and modern ship, any movement won't be felt as much as it would on a smaller ship that doesn't have the same stabilising technology.
Suggested read: Do big cruise ships rock less?
5. Cabins that are far away from amenities
Arvia is 345 metres long so it would take the average adult around three minutes to walk from one end of the ship to the other. Of course, if you have mobility limitations or are travelling with young children, this could take much longer.
If you're worried about walking long distances, cabins in midship locations are often the best choice.
The inside cabin that I originally had was right at the front of Deck 4. This is the worst location on the ship as it's so far from everything. It's one of the main reasons why we moved!
6. Cabins with balconies that you may not be able to use
Arvia has some forward-facing balconies. These are numbered 8101 to 8108, 9102 to 9109, 10101 to 10108, 11101 to 11108, 12103 to 12110, 14101 to 14110 and 15101 to 15108.
The problem with being forward-facing on any cruise ship is that it can be incredibly windy! In fact, most cruise ships don't actually have forward-facing balconies for this very reason.
If it gets too windy, a storm door will be closed across your balcony door and you won't be allowed to go outside. You'll still be able to see out of a small window, but most people would find this to be annoying.
Take a look at this video to see what one of these balconies looks like…
The balcony itself is a little larger than a standard balcony and some people do enjoy facing forwards and watching where the ship is going. But if you're cruising on Arvia in the Caribbean in hurricane season, then this is one to avoid for sure.
Best Cabins on Arvia
The best cabins for families on Arvia
The best cabins or families on Arvia are ones that offer a little more space. These are:
Larger inside cabins
Sea view cabins
Deluxe balcony cabins
Conservatory mini-suites
Family sea view suites
Suites
Each cabin on Arvia has a shower, except for suites (grades B4, B5 and B6), which also have a bath.
Families of five or more wishing to cruise on Arvia will need two cabins. As children aged under 16 cannot stay in their own cabin, you'll need to choose cabins that have interconnecting doors between them.
Most of the time, with interconnecting cabins, you'll need two of the same cabin type e.g. two insides or two balconies. However, some of the forward suites connect to inside cabins which can a good option for families with three or more children or those that are cruising with grandparents.
The best cabins for solo travellers on Arvia
Solo travellers cruising on Arvia have the choice of 10 single inside or 12 single balcony cabins. These cabin types offer a cost-effective way for single travellers to cruise, but you can still expect to pay more than you would if you were sharing a twin cabin.
Solo cabins always sell out very quickly. If you've missed out, don't worry. It's worth getting a quote for a double cabin for solo occupancy as sometimes this doesn't cost any more.
Suggested read: P&O Cruises with no single supplement
The best inside cabins on Arvia
For anyone who likes to cruise as cheaply as possible (like myself), the best inside cabins on Arvia are the PF grade cabins as these are the cheapest.
Deck 9 is a good spot to find cheap, quiet, inside cabins.
The best sea view cabins on Arvia
Sea view cabins on Arvia are located on Decks 4 and 5. These are all great cabins, although we don't yet know if there is any difference in the sizes of the windows.
If you like to go to the gym or spa frequently, I would suggest booking a cabin numbered 5301 to 5321 as these are right next door.
The best balcony cabins on Arvia
Some cabins on Arvia have much bigger balconies than others, for the same price. If you like to have a lot of space on your balcony, these are certainly worth looking out for.
In the example below, you can see that cabin 17219 has a huge L-shaped balcony. This is a GF grade balcony cabin, which is the cheapest grade of standard balcony cabins on Arvia. The price grade is based on the location of the cabin on the ship, not the size of the balcony.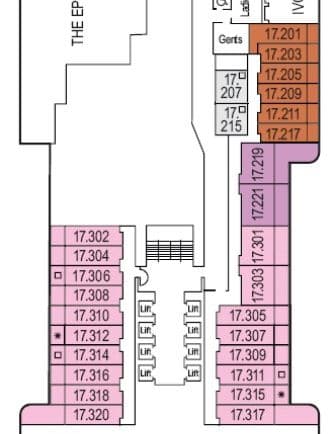 In the example above, the lilac-coloured cabins will be cheaper than the pink ones, just because they are located slightly further forward on the ship. So 17219 will be cheaper than 17305, even though it has a much bigger balcony!
You'll find cabins with large balconies on most decks on Iona, so it's worth studying the deck plan to choose one of these, particularly if you'd like more than two people to be able to sit out on the balcony together.
As I've studied the deck plan thoroughly already, here's a list to choose from:
The largest balconies on Arvia:
Deluxe:
9236
9239
9320
9321
10238
10245
Standard:
9714
9711
10320
10321
10525
10526
11242
11243
11320
11321
11711
11712
12242
12255
12320
12321
12711
12712
14242
14255
14320
14321
14524
14527
14711
14712
15242
15253
15316
15317
15526
15527
15711
15712
16242
16253
16320
16321
17219
17317
17320
The best suites on Arvia
The best suites on Arvia are the aft suites as they have huge wraparound balconies and the best views over the ship's wake. As you may feel the movement of the ship more in this location, aft suites on Decks 9 or 10 may be a better choice than those on higher decks.
How To Choose A Cabin On Arvia
P&O Cruises offer three fare types:
Select Fare
Saver Fare
Early Saver Fare
Only the Select Fare gives you the option to choose your cabin number.
With Saver and Early Saver Fares, you can choose the cabin type (e.g. inside, outside, balcony or suite) but the cabin number will be assigned to you at a later date depending on which cabins are left. This is known as a 'guarantee cabin'.
Booking the Select Fare costs a little more. However, as well as your choice of cabin number, you'll also get some extra benefits such as free shuttle buses in ports, some on-board credit, free car parking or even a coach to Southampton.
When I booked a cruise on Arvia we got a coach for four people for the 500-mile round trip. This alone was well worth the extra money for the Select Fare. The choice of cabin numbers was a nice bonus.
Arvia Cabin Amenities
In each cabin on Arvia you'll find:
En-suite bathroom
Wardrobe space
Desk and chair
Air conditioning
Toiletries from The White Company
TV
Telephone
Hairdryer
British plug sockets
Safe
Mini-bar (chargeable)
Kettle with tea, coffee and biscuits
Mineral water on arrival
Daily steward service
If you book a suite you'll also enjoy:
Separate bedroom and lounge area
Bathroom with a bath, shower and dual sinks
Walk-in dressing area
There are also lots of suite perks which are listed further up in this guide.
NEW DEALS JUST RELEASED!
Don't miss the latest P&O Cruises offers…
Related posts:
More P&O Cruises cabin guides: