This is a guest post by Lin Clark
According to mobility scooter user Lin, Iona is as good as it gets as far as accessibility goes!
In her experience, everywhere she went there was plenty of space to manoeuvre and the crew went out of their way to help without even being asked.
So, if you're thinking of taking a cruise with a scooter or wheelchair, read on to find out what it's like to cruise on Iona from Lin's point of view…
Spacious and Accommodating Cabin Features
We had an accessible balcony cabin and were pleasantly surprised at its size. Space to park the scooter without having to squeeze by. Super comfy bed, supportive but not hard, and soft and firm pillows.
Loads of hanging (dropdown) and storage space, and two chairs. Large TV on a bracket so you could alter the angle to suit you.
Impressive Accessible Bathroom Facilities
The bathroom was possibly the best accessible bathroom I have ever encountered. Lift off shower head, good strong fold-down shower seat, and so much space the curtains didn't cling to you! Loo at a sensible height, and loads of rails everywhere.
The bonus is a washbasin that you can have either low or high – my husband is very tall and fixed low basins are not good!
Push button electric doors into the cabin and bathroom. Rather a strange electric contraption on the door to the balcony, but we got used to it. No threshold onto the larger-than-normal balcony with two adjustable back chairs and a small table.
Convenient Location and Easy Navigation
We were in cabin 627 on deck 12. Felt this was a good place to be, as the balcony had clear views forward and aft, and it is conveniently right near the aft lifts.
We used the aft lifts as the midship ones seemed to get very busy. Roomy lifts with my scooter in the middle and people sharing on either side.
Out of the lifts and into the corridor, and the cabin was just there. We never suffered any noise. All we heard were chairs being moved on the balconies.
Accessible Entertainment Areas and Amenities
All the entertainment areas were easy to get to and around. I used the seating in the dome but some might have found it a bit low.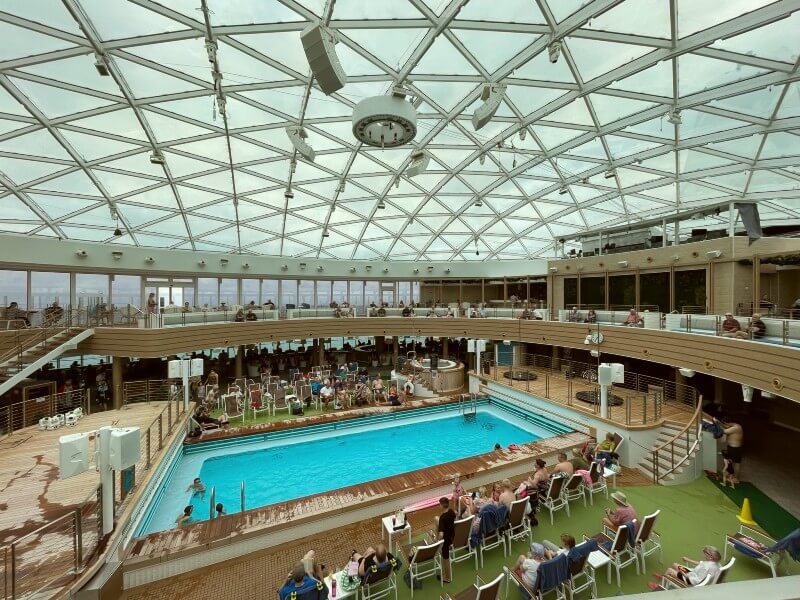 Plenty of space to pull up your scooter and stay in your own seat. The theatre has wheelchair spaces in the front row and at the back.
My one criticism is that these aren't actually marked and people just sat in the seat next to them meaning we couldn't sit there. (We just got there early.)
Plenty of loos with electric entry all around the ship. All are clean and well-equipped.
Dining Experience and Accessibility
The food was good in all four of the main (free) restaurants. Plenty of space between tables, and absolutely no problem to ride through and be seated with your scooter nearby. I would advise using the restaurants rather than the buffet, as the buffet area does get crowded at certain times.
When we did go to the buffet, a crew member was immediately by my side offering to get whatever I wanted, as a scooter doesn't exactly make a buffet easy!
We found it much more relaxing to go to the restaurant – it was especially nice sharing tables with other cruisers too.
Considering Port Accessibility and Limitations
So, I recommend IONA for accessibility. None of the crew made my scooter become a problem. I felt comfortable all the time and certainly didn't need to ask for help once.
So are there any cons?
I would recommend you ask yourself – will I want to get off in port? Will I be upset to have to stay on board? Our cruise was to Norway, and we had all portside moorings. The crew help you down and up the gangways so negotiating them is not a problem.
But there are a couple of things to be aware of. None of the coaches would take a mobility scooter. So no trips. (Some cruise ports of call you go ashore by tender, and this is not possible with a mobility scooter).
While we did go ashore independently, it was certainly not much fun. The pavements can be very rough and very narrow – and methinks they haven't heard of drop curbs! So you find yourself on the road in a place where scooters aren't commonplace.
Of course, the ports are ports and they are mostly – well "porty"! Nothing much to see and the shops can be closed. The prettiest place was on a road with no pavements and nowhere to head without a trip.
Overall Positive Experience on Iona
We were Iona bound, which in itself isn't a bad thing as there is so much to do. The ship is of course empty when you come into port as most people go ashore.
That can be nice. Although we checked on being able to go ashore when booking, we weren't made aware that we couldn't do any trips because of the scooter, and that things might not be ideal ashore in the port.
We had a great holiday as everything aboard was up to or beyond expectations. We wouldn't hesitate to go again, especially for a mini cruise as you get so much more for your money than a weekend in a hotel!
My first cruise and it won't be my last!
Lin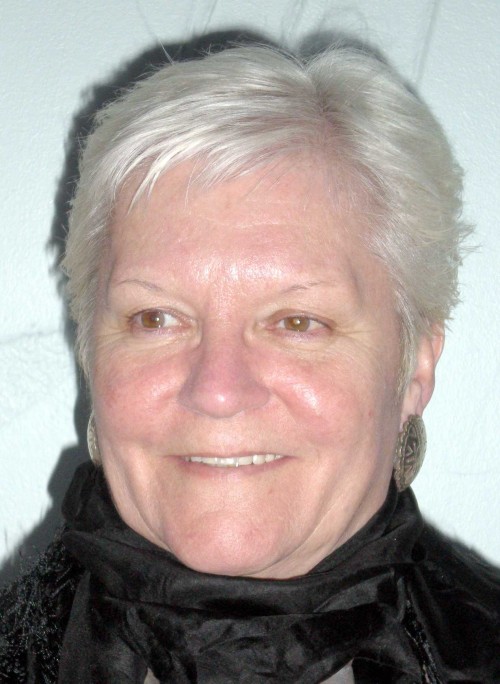 Related Posts: