Arcadia is one of P&O Cruises' adult-only ships, the other one being Aurora. If you're considering a cruise on Arcadia, it's a good idea to do some research before choosing a cabin. Whilst this ship has great reviews, there are some cabins on Arcadia that you may wish to avoid.
I've read every Arcadia cabin review and collated hundreds of comments from Facebook groups and forums into one simple guide to help you to choose the best cabins for your cruise on Arcadia.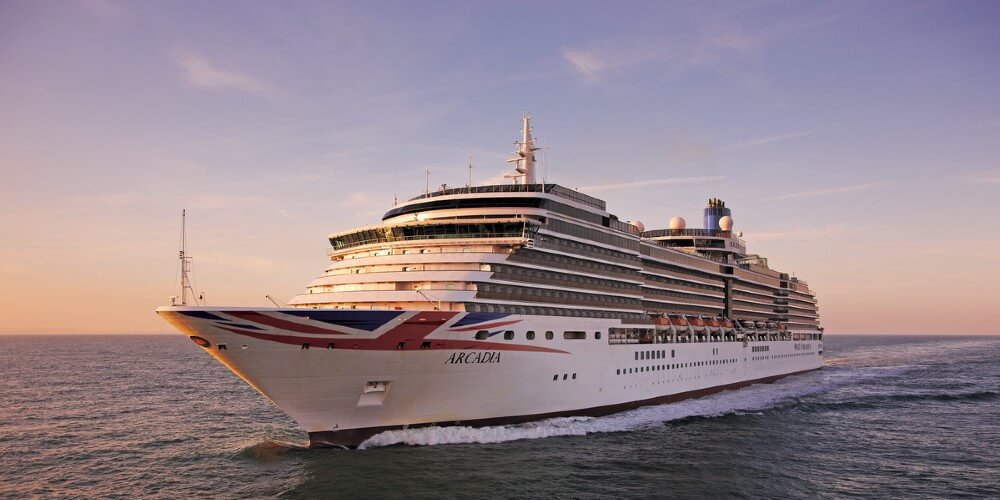 Arcadia Cruise Ship Cabins
There are four main cabin types to choose from on Arcadia:
Inside Cabins – Single, Standard or Larger
Sea view Cabins – Standard or Obstructed view
Balcony Cabins – Single or Deluxe
Suites – Mini-suite or Suite
In 2013, every cabin on Arcadia was refurbished with new carpets, curtains and flat-screen TVs. This refurbishment also saw 24 new cabins added to the Sun Deck of the ship. A further refit is scheduled for late 2024.
Cabin amenities on Arcadia include:
Television
Radio
Telephone
Hair dryer
Fridge
Safe
Tea and coffee making facilities
Air conditioning
Desk and chair
Soap, shampoo, conditioner and body lotion
Suite guests on Arcadia also get enhanced toiletries, a bathrobe, slippers and Champagne and chocolates on arrival, as well as the services of a butler.
Some cabins on Arcadia have only one British plug socket and that has the kettle plugged in it. However, there is also a European socket and a US socket, so be sure to bring a universal adaptor like this one from Amazon so that you can use these to plug in your devices.
Arcadia Decks
Arcadia has 11 passenger decks, which have letters or names as well as numbers.
Cabins can be booked on the following decks on Arcadia:
Deck 1 – G Deck
Deck 4 – E Deck
Deck 5 – D Deck
Deck 6 – C Deck
Deck 7 – B Deck
Deck 8 – A Deck
Deck 10 – Sun Deck
There are no cabins on F Deck, the Prom Deck, the Lido Deck or the Sky Deck.
How to Find the Best and Worst Cruise Ship Cabins
You can easily spot the best and worst cabins with this free checklist which shows you exactly what to look for on the deck plan for any ship…
The Best Cabins on Arcadia
Let's start with the best cabins on Arcadia. If you want to book a cabin that comes recommended by other cruisers, then these are some to consider.
The Best Inside Cabins on Arcadia
Some would say that the larger inside cabins on Arcadia are the best as you have more space. However, those on a tight budget may find the standard inside cabins to be better value for money.
The size of inside cabins on Arcadia varies from 157 to 208 square feet. The single inside cabins are very large for one person, at 189 square feet.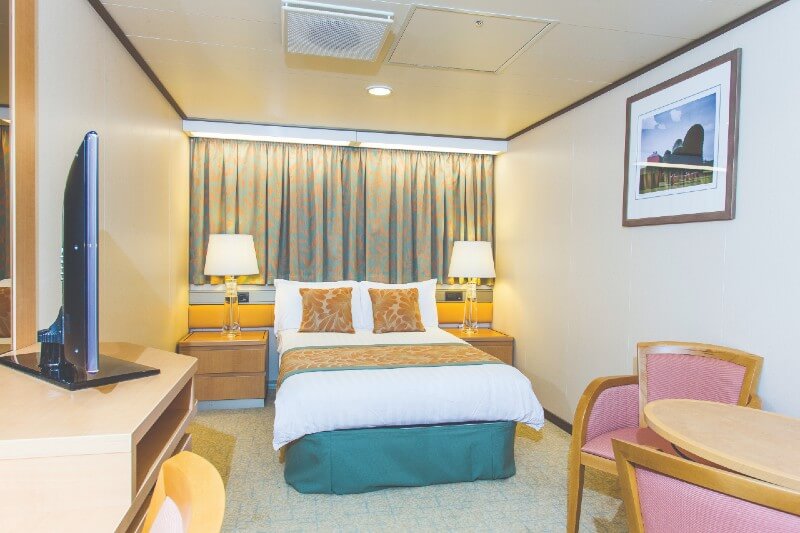 Many cruisers like the newer cabins that were added to the Sun Deck because these have walk-in showers rather than a shower over the bath.
However, Sun Deck cabins are high up towards the front of the ship, which is the worst position to be in if you suffer from seasickness. If you're worried about feeling the movement of the ship, you may prefer one of the inside cabins down on G Deck (Deck 1).
NEW DEALS JUST RELEASED!
Don't miss the latest P&O Cruises offers…
The Best Sea View Cabins on Arcadia
Cruisers have commented that the best balcony cabins on Arcadia are the two that are on C Deck. These are the most spacious, plus they are the only forward-facing cabins on the ship, so have great views out of the windows. These cabins are numbered C3 and C4.
Most sea view cabins on Arcadia, are located on G Deck, which is the lowest deck. It wouldn't be possible to have balconies at this level as they would be too close to the water.
There are also some sea view cabins on E Deck – these are hidden behind the lifeboats so have obstructed views. Finally, there are two sea view cabins on C Deck.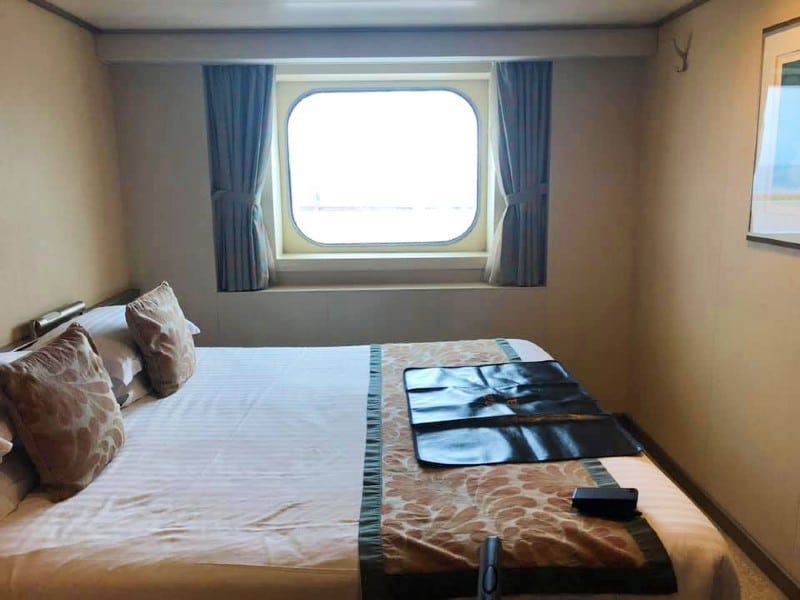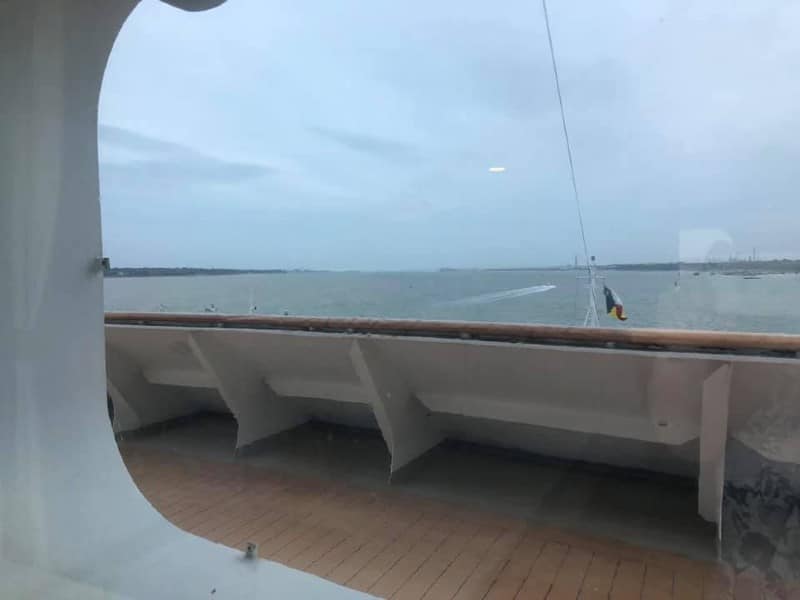 The Best Balcony Cabins on Arcadia
A close look at the deck plan shows that best balcony cabins on Arcadia are the aft-facing cabins on D Deck. These have huge balconies that aren't overlooked and fantastic wake views.
There are no standard balcony cabins on Arcadia – only Single and Deluxe balcony cabins.
Each of the P&O Arcadia Deluxe Balcony Cabins is fairly large, at 212 square feet, although the single cabins are bigger than double cabins on many ships at 206 square feet.
Take a look at a D Deck aft balcony in this video…
Another good contender for the best balcony cabins on Arcadia are those numbered E139 to E183. Located towards the back of E Deck, these all have larger-than-average balconies yet are usually cheaper than the equivalent cabins on D Deck.
We have had cabin 151 on E deck twice and have booked for our next cruise. The balconies on some E deck cabins are the largest on Arcadia. E151 is very spacious with plenty of storage for your longer than average cruise. We have tried other decks on Arcadia but find this deck/grade is our favourite and would recommend it.

Lorna Lee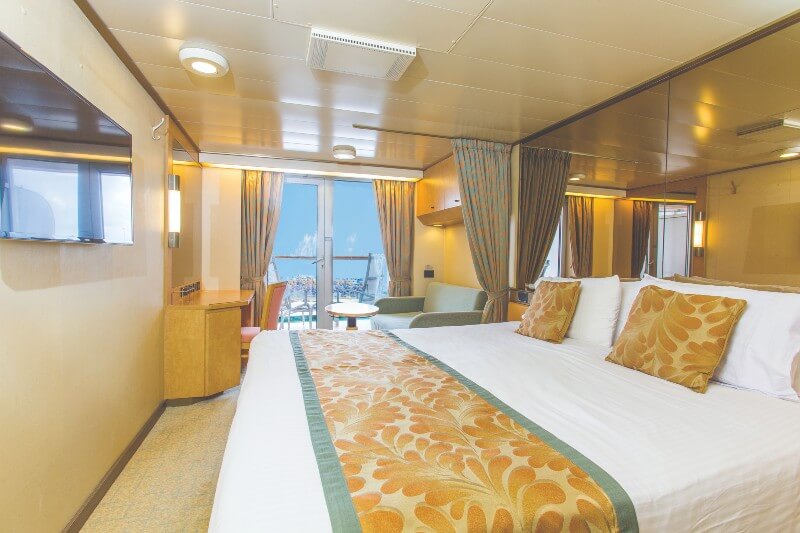 The Best Suites on Arcadia
The best suites on Arcadia are a matter of personal choice. If you like a wraparound balcony, then go for an aft suite on D Deck as these have the biggest balconies on the ship. However, the mid-ship suites on B Deck have a better layout.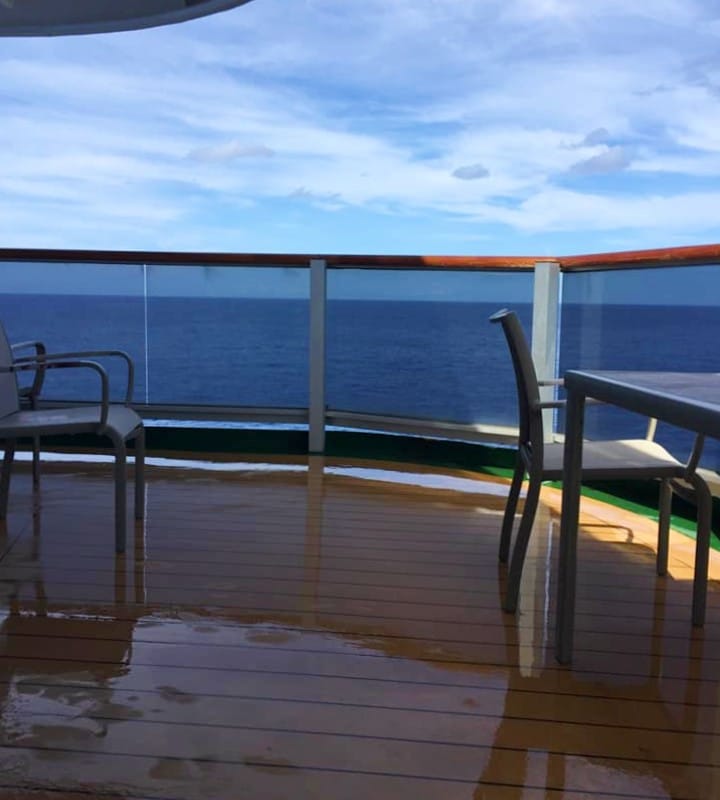 Suites on Arcadia all have names as well as numbers, with each suite named after a popular port of call somewhere in the world.
If you're looking for a full suite (rather than a mini-suite, which doesn't come with the same perks), then you'll have a choice of a mid-ship suite on B Deck or an aft suite on Decks A, B, C, D or E..
Most of the aft suites are at one of the rear corners of the ship so they have wraparound balconies for 180-degree views over the ocean.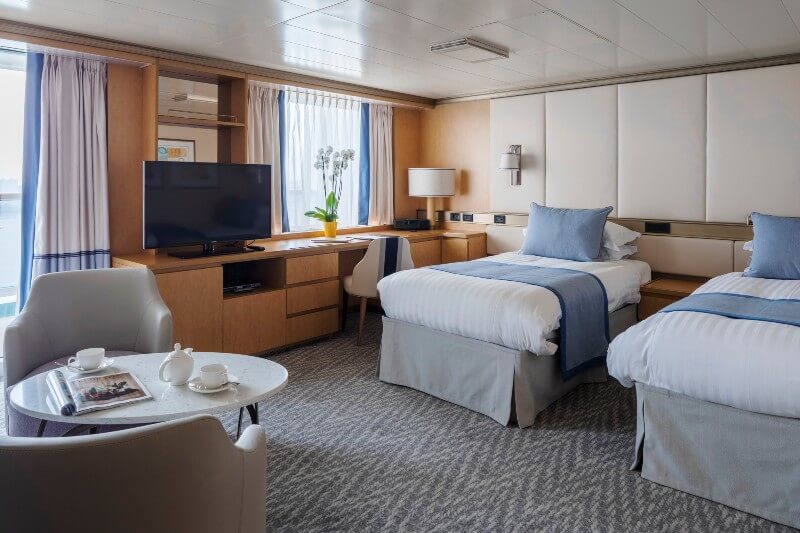 Arcadia Cabins to Avoid
Now, let's move on to the cabins to avoid on P&O Cruises' Arcadia. If you've already booked one of these cabins, please don't worry. Just because it's listed here doesn't mean that it's a bad cabin, just that some cruisers have found certain things that they disliked about these cabins.
Depending on your circumstances, these things might not be so much of an issue for you. For example, you won't be bothered by noise from the gym if it's you that's making the noise!
1. Overlooked Cabins on Arcadia
On the Arcadia deck plan, some cabins are marked with a V symbol or a π symbol. This shows that they are overlooked, meaning that people can see onto your balcony or into your room. If you value privacy on your balcony, you may wish to avoid these cabins.
Cabins overlooked by glass lifts:
Sea view cabins: E95, E96, E97, E98
Balcony cabins: A78, A80, A83, A85, C96, C98, C103, C105, D95, D97, D98, D100
Suites: B72, B74, B83, B85
Arcadia's midship lifts are on the outside which means that you can enjoy a fantastic sea view whilst you're in the lift. However, it also means that people in the lift can see on to the balconies, or through the windows of the cabins that are next to the lift.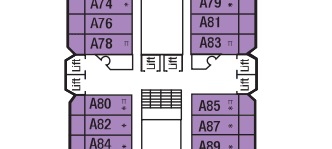 Choosing a cabin by the midship lift is a convenient option for those who aren't able to walk far, but you may hear a faint 'bing bong' noise as the lift doors open.
A better choice may be the next cabin along, rather than one right by the glass elevator.
Balconies visible from neighbouring balconies:
A31 to A35, A116, A118, A120, A212, A123, A125, B47 to B52, B96, B98, B109, B111, C49, C51 to C54, C56, C134, C136, C138, C141, C143, C145, D51, D53, to D56, D58, D133, D135 to D138, D140, E51 to E54, E135 to E138
Arcadia is narrower in the middle than at the front and the back. At the point where the ship narrows, some cabins have a diagonal-facing balcony. People on these balconies can see on to the balconies of their neighbours, and those neighbours can also see them.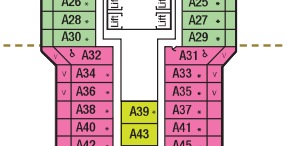 You might think that it's nice to be able to say hello to your neighbours, but if you prefer to keep yourself to yourself, then these balcony cabins might not be for you.
Balconies overlooked from above
A160, A162, A164, A166, A167, A169, A171, A173, B148, B150, B152, B154, B165, B167, B169, B171, C192, C194, C196, C201, C203, C205, D180 to D187, E180, E182, E184 to E191
Arcadia has a tiered design at the aft. This means that anyone looking down from the Lido Deck can see down onto each of the aft-facing balconies. People on these balconies can also look down on to the balconies between them.
Aft-facing balconies have the best views over the wake, but if you like privacy on your balcony then you may wish to avoid these balcony cabins and suites.
2. Cabins with Steel-Fronted Balconies on Arcadia
E1 to E42
The balcony cabins towards the front of E Deck all have steel-fronted balconies, whereas the balconies on the rest of the ship have glass fronts.
Many people dislike steel-fronted balconies because when you are sitting down you cannot see the sea – you would have to stand up. If you like to sit out on your balcony and admire the ocean, you should avoid these cabins.
3. Noisy Cabins on Arcadia
Like on any cruise ship, there are certain cabins on Arcadia where you may be able to hear noises or feel the ship's vibrations at certain times of the day.
Cabins below the gym
A1 to A8
These cabins are directly below the gym, so you may be able to hear people using the treadmills or dropping heavy weights.
The gym on Arcadia opens at 8am, so if you're usually awake by then, it won't be a problem. But, if you like to lie in during your cruise then you should avoid these cabins.
Cabins below the pool area
A40 to A70, A132 to A173
If you plan to book a cabin on A Deck of Arcadia, then you'll want to make sure that it's not below the pool area of either the Neptune Pool or the Aquarius Pool.
Cruisers have reported that the scraping sound of sunloungers being dragged across the deck can sound loud from the cabins beneath. Crew members will lift the loungers, rather than dragging, but most guests won't think about this.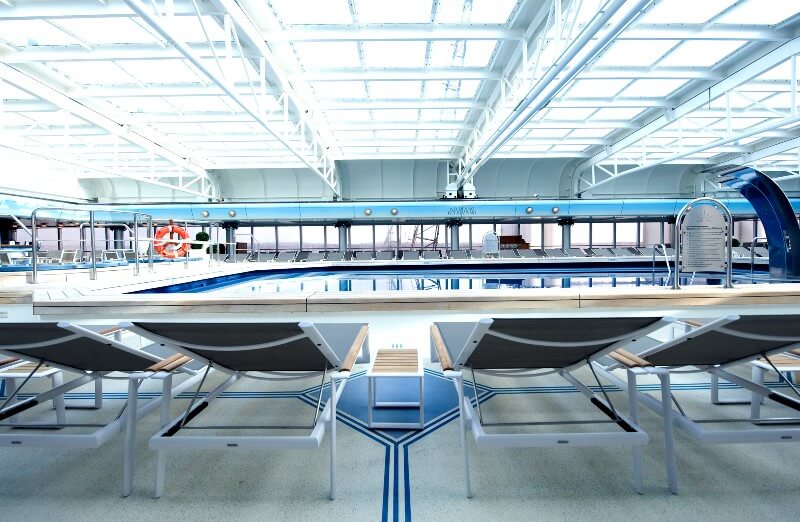 Cabins below the Belvedere buffet restaurant
A88 to A125
Breakfast preparations in the buffet restaurant start as early as 5.30 am. If you choose a cabin beneath here, there's a chance that you might be woken early by the sound of furniture being adjusted.
Cabins opposite the toilets
G81 and G82
These cabins are next to the lifts and opposite the public toilets. This area is also where you'll find the gangway to get on and off the ship so there will be a lot of traffic here at certain times.
If you plan to sleep in late on days when Arcadia is calling at a port, then you'll certainly want to avoid these cabins.
4. Cabins With No Bath on Arcadia
S1 to S24, C1, C2, C178, C180, C182, C185, C189, C191, D173 to D179, E1 to E8, E172, E176, E178, E179, E181, E183, G1 to G12, G74, G81, G82 – these cabins have a shower only.
Having a bath in your cabin is something of a luxury as on most cruise ships you can expect only a shower. On Arcadia, however, the majority of cabins have a bath with a shower over. Cabins that do not have a bath are the exception on Arcadia and these are marked on the deck plan.
Of course, you may never use a bath or struggle to step into one. If that's the case, then you may actually prefer one of these cabins that just has a shower.
5. Arcadia's Obstructed View Cabins
Obstructed view cabins can be great if you can find one that has only a minor obstruction, as they are usually pretty cheap. On some ships, you can find obstructed view cabins that have only a thin pole in the way, but alas, this isn't the case with the obstructed view cabins on Arcadia.
Firstly, these cabins are all 'sea view' cabins, with no balcony. They have patio-style doors that do not open. With a balcony, it's sometimes possible to position yourself to see around the obstruction, but this can be harder to do with a window.
Some of the obstructed view cabins on Arcadia are completely behind lifeboats, like this one, where you couldn't see anything at all. Even the least obstructed one like this one, have a lot of ugly equipment in the way.
If you are considering an obstructed view cabin on Arcadia, then you should look at these photos of the views so that you know what to expect.
NEW DEALS JUST RELEASED!
Don't miss the latest P&O Cruises offers…
Where to Find More Information…
If you've booked a cruise on Arcadia, then you'll find some helpful videos on YouTube that show what you can expect from the cabins. I particularly like this one by David from HowToCruise.co.uk which showcases one of the balcony cabins…
You may also find the following Facebook groups to be useful:
On these groups, past guests will share their experiences but also pictures of their specific cabin. So if you want to look at Arcadia Balcony Cabin photos, or find out any little quirks or nuances of the rooms, they're a great resource.
If you still need more help then check out some P&O Arcadia reviews on sites like Cruise Critic or TripAdvisor.
As well as this guide to cabins on Arcadia, I have written cabin guides for more P&O Cruises ships:
Related posts: