One of P&O Cruises' newest ships, Iona, launched in 2021 as the first new ship for the cruise line in six years, since Britannia launched in 2015.
These two cruise ships have their similarities, but they are quite unique. If you're considering booking a cruise with P&O Cruises, it's a good idea to do some research to make sure that you pick the best ship for your needs.
To help you decide, I've created this list of the main differences between the Iona cruise ship and the Britannia cruise ship.
So, it's Britannia vs Iona – let's take a look…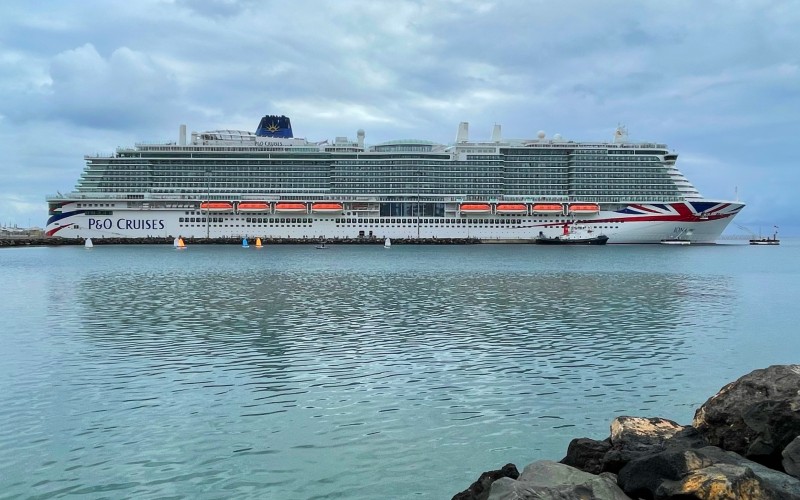 1. Iona is a Bigger Ship than Britannia
Iona can accommodate 43% more passengers than Iona, with space for 5,200 guests, compared to Britannia's guest capacity of 3,647.
The following table shows the size differences between Iona and Britannia:
| | Iona | Britannia |
| --- | --- | --- |
| Guest capacity | 5,200 | 3,647 |
| Crew capacity | 1,800 | 1,350 |
| Length | 344 meters | 330 meters |
| Tonnage | 184,700 tons | 143,000 tons |
| Guest decks | 15 | 13 |
Iona is currently the tenth biggest ship in the world, behind Royal Caribbean's five mammoth Oasis Class ships, MSC World Europa, sister Arvia and Costa Cruises' two newest addition, Costa Smeralda and Costa Toscana.
The P&O Iona capacity is so much bigger than on Britannia, which can be both a blessing and a curse. Because it's a bigger ship, you have more to do, but it can mean bigger crowds too.
2. Iona has No Set Dining Times
When cruising with P&O Cruises on all ships except Iona, guests have the choice of either Club dining or Freedom dining. Iona offers only Freedom dining, which means that there are no set dining times and you will sit at a different table each night.
Club Dining – Choose a set time of 6.30pm or 8.30pm. Sit at the same table with the same waiters throughout your cruise
Freedom Dining – Arrive at the restaurant at any time between 6pm and 9.30pm
Many cruisers prefer the set dining times of Club dining because they have the opportunity to get to know other cruisers over dinner each night and for conversations to progress past the initial stage. However, others enjoy the flexibility of Freedom dining and the chance to meet new people each night.
3. Iona is Better for Cold-Weather Cruises
With its glass-roofed SkyDome, Iona is the ideal ship for cooler weather. The ship also has a four-screen cinema complex offering movie screenings throughout the day.
In contrast, cruisers sailing on Britannia in cold weather may find that the indoor activities are somewhat limited in comparison.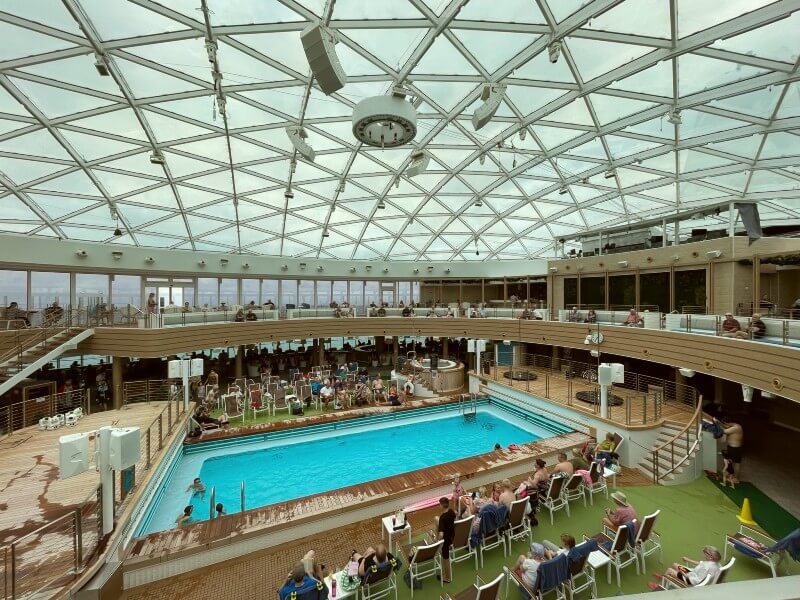 When you look at the itineraries that are on offer on each ship, you can see that Britannia offers more warm-weather itineraries than Iona.
Britannia Itineraries
Britannia cruises from Southampton in the summer, sailing to destinations such as Spain, Portugal, the Canary Islands. In the winter, she heads transatlantic to offer Caribbean cruises departing from Barbados and St Lucia.
Iona Itineraries
Iona cruises from Southampton all year round, heading to destinations such as Norway, Northern Europe, Spain, Portugal and the Canary Islands.
NEW DEALS JUST RELEASED!
Don't miss the latest P&O Cruises offers…
4. Britannia has More Formal Nights than Iona
Whilst Iona does have formal nights, where you can dress up in black tie attire, they are less frequent than on the other P&O Cruises ships. Britannia and the other ships in the fleet have twice as many formal nights than you'll have when you cruise on Iona.
The table below shows how many formal nights you can expect during your cruise:
| Formal nights | Iona | Britannia |
| --- | --- | --- |
| 2- to 4-night cruises | n/a | 1 |
| 5- to 7-night cruises | 1 | 2 |
| 8- to 10-night cruises | n/a | 3 |
| 11- to 14-night cruises | 2 | 4 |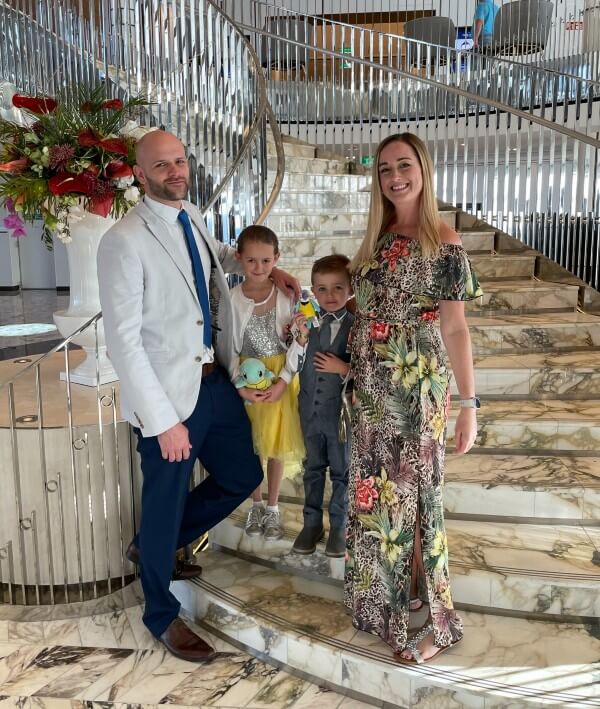 5. Britannia has No Sea View Cabins
A cabin with a window can be a good, cheaper alternative to a balcony cabin, whilst giving a nice view of the outside that you can't get with an inside cabin. Yet, rather unusually, outside cabins (also known as sea view) don't exist on P&O Britannia.
Suggested read: Guide to cabins on Britannia
Suggested read: Guide to cabins on Iona
Iona's sea view cabins are a great choice, because not only do they offer great value for money, they're also larger than both standard inside and standard balcony cabins.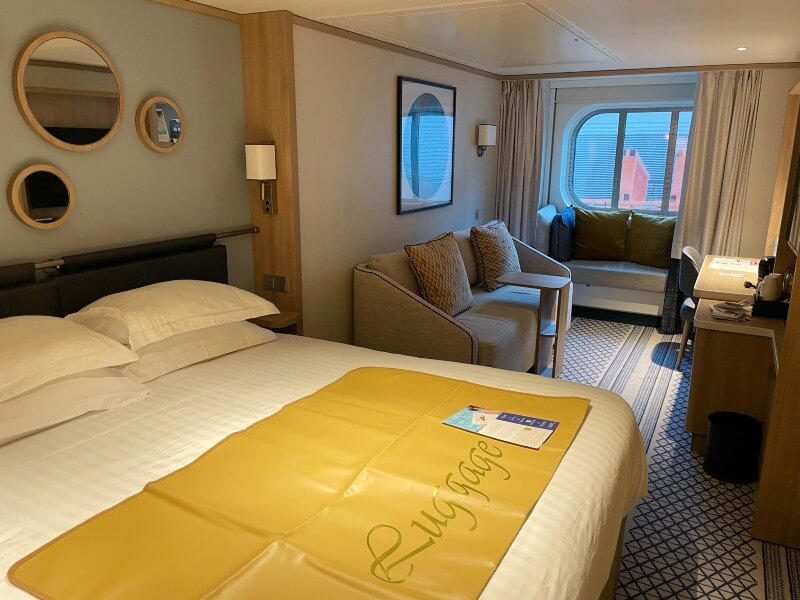 Another cabin type that you'll find only on Iona is the conservatory mini suite. These are akin to a larger balcony room, with an extra conservatory-style space that's ideal for admiring the views while staying out of the cold and wind.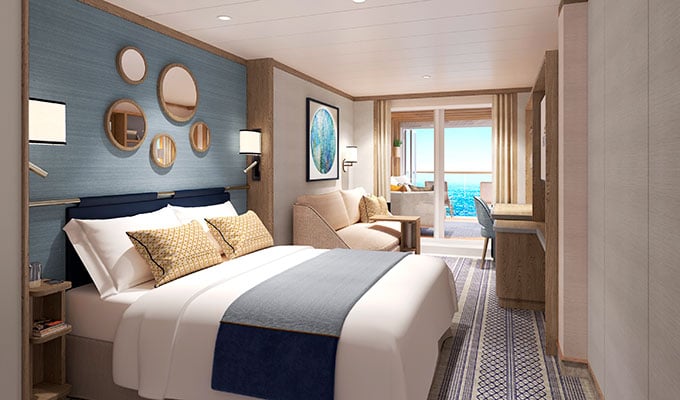 6. Iona has More Dining Venues than Britannia
Iona has 14 restaurants and 19 bars and cafes. This is more than Britannia, which has 11 restaurants and 15 bars and cafes.
Both cruise ships offer plenty of dining options that are included in the price of your cruise, so there's no need to spend any more money if you don't want to. However, both ships have plenty of alternative restaurants which are available for an extra charge for a special treat.
The table below shows the dining options on Iona and Britannia:
| Restaurant | Type | Iona | Britannia |
| --- | --- | --- | --- |
| Beach House | Relaxed | Cover charge – from £7.50 | Cover charge – from £7.50 |
| Epicurean | Fine Dining | Cover charge – from £28 | Cover charge – from £28 |
| Eric Lanlard's | Afternoon Tea | Cover charge – from £17.50 | Cover charge – from £17.50 |
| Glass House | Wine pairings | A La Carte – mains from £8 | A La Carte – mains from £8 |
| Grab and Go | Snacks | Included | Included |
| Horizon | Buffet | Included | Included |
| Keel and Cow | Gastro pub | A La Carte – mains from £5.50 | n/a |
| Limelight Club | Live music | Cover charge – from £25 | Cover charge – from £25 |
| Main Dining Rooms | Formal dining | Included | Included |
| Market Cafe | Coffee and cakes | n/a | Cakes from £2.95 |
| Olive Grove | Mediterranean | Included | n/a |
| Quays | Street food | Included | n/a |
| Sindhu | Indian | A La Carte – mains from £9 | Cover charge – from £20 |
| Taste 260 | Pizza and burgers | Included | n/a |
| Vistas Cafe Bar | Coffee and cakes | Cakes from £2.95 | n/a |
On Iona, you'll find The Quays – a vibrant food hall offering street food from all over the world. Here, you can dine indoors, outside or take food away with you. Within The Quays, there are three restaurants:
Hook, Line and Vinegar – A posh fish and chip shop which serves scampi, crab and other fancy seafood delights
The Boardwalk Diner – Serving American BBQ hot dogs, burgers and Southern soul food
Fusion – Offering a variety of Asian-inspired street food
Read more: P&O Iona restaurants and bars
7. Britannia Has No Promenade Deck
If you love a promenade deck where you can walk all the way around the edge of the ship, then you may be disappointed by Britannia. This ship has no prom deck, although there is a walking track up on Deck 18.
In contrast, Iona has a spectacular wraparound promenade deck on Deck 8. As well as lots of space to walk full laps of the ship, Iona's promenade deck features six infinity whirlpools, two large whirlpools with aft views, an al fresco dining area and the Sunset Bar.
8. Iona is More Environmentally Friendly than Britannia
Iona is one of the world's first LNG-powered cruise ships. LNG is liquefied natural gas which is a much cleaner fuel than diesel, which powers cruise ships like Britannia.
LNG engines produce up to 30% less carbon dioxide than diesel equivalents. Using LNG also dramatically cuts nitrogen oxide emissions and almost eliminates sulphur oxide pollution.
9. Iona has Way More Hot Tubs than Britannia
Speaking of whirlpools, if you've cruised on Britannia you'll know that there are only two hot tubs for public use, with another two in The Retreat which is a part of the spa that you have to pay extra to enter.
Clearly, two Jacuzzis just isn't enough for over 3,000 people, but luckily, Iona has a total of 18 whirlpool spas (6 infinity and 12 regular) which should be more than enough for everyone on board.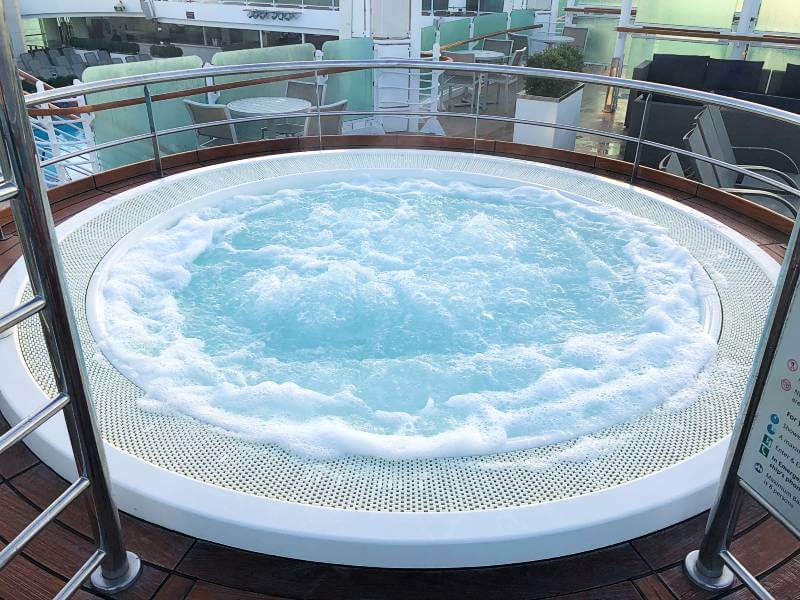 10. Swimming Nappies Are Allowed on Britannia But Not Iona
Those cruising with babies or toddlers should know that on Iona, children in swimming nappies are not permitted to use the swimming pools. However, there is a small baby pool within the kids' Splash Zone which is okay to use.
On Britannia, kids in swimming nappies can use the Lido pool and there is also a splash area next to The Reef Adventure Zone.
Iona has four swimming pools:
Beachcomber pool pool: Outdoor pool on the Panorama Deck
Panorama pool: Outdoor pool on the Panorama Deck, aft
SkyDome pool: Indoor pool on the Lido Deck
Infinity pool: Outdoor pool on the Lido Dec, aft
Britannia has four swimming pools:
Riviera pool – Outdoor pool on the Lido Deck
Lido pool – Outdoor pool on the Lido Deck
Serenity pool – Outdoor pool on the Sun Deck (ADULTS ONLY)
Terrace pool – Outdoor pool on the Sun Deck
The swimming pools on Britannia are very deep – 165cm at the shallow end and 225cm at the deep end. This means that you will be unable to stand up in the pools, even in the shallow end, unless you are over 6 feet tall. The exception to this is the Terrace Pool which is small and not so deep.
On Iona, the pools are 130cm deep at the shallow end and 140cm deep at the deep end, meaning that most people will be able to stand up. The water level is lowered further when the ship is at sea.
Suggested read: 10 essential tips for cruising with a baby or toddler on P&O Cruises
11. Iona has Unique Entertainment
Iona offers a huge choice of entertainment that you won't find on Britannia, including aerial performances, live DJs and a silent disco. Rather than being limited to the theatre and bars on Iona, you'll also be entertained in the SkyDome and the Grand Atrium.
Whilst both ships have lots of entertainment options and you'll never be bored, cruisers in their 20s and 30s will likely prefer the variety of entertainment on offer on Iona.
Iona Vs Britannia – Which is Best?
If you were struggling to decide between booking a cruise on Britannia or Iona, I hope that this post has helped you to make your decision.
Both Britannia and Iona are incredible ships and which one is the best depends very much on your individual circumstances. I can't speak highly enough of my cruise on Britannia. I've booked to sail on Iona several times and am looking forward to experiencing the ship for myself as soon as possible.
NEW DEALS JUST RELEASED!
Don't miss the latest P&O Cruises offers…
Related posts: