P&O Cruises newest ships, Iona and Arvia, are sister ships which means that they are virtually identical. However, there are some important differences between the ships, so you may prefer one over the other.
Read on to discover what the differences are between Iona and Arvia, so that you can decide which of these P&O Cruises ships is the best for your next holiday…
1. Swim-Up Bar
P&O Cruises newest addition, Arvia, will feature an incredible swim-up bar! Whilst you may be familiar with swim-up bars in some large all-inclusive hotels, this is a very rare treat to find on a cruise ship.
You can find swim-up bars on some Amawaterways river cruise ships, but those are much smaller, with only four seats. The swim-up bar on Arvia is of a decent size, with at least 12 water seats at the bar as well as more around the edge of the pool and on the deck.
2. High Ropes Course
New ship, Arvia, will feature an 'Altitude Skywalk' high ropes experience set 54 metres above the ocean.
These kinds of activities are popular on ships such as Carnival Horizon and Norwegian Breakaway, but the high ropes course will be the first time that P&O Cruises has offered any kind of adrenaline-rush activity.
3. Mini Golf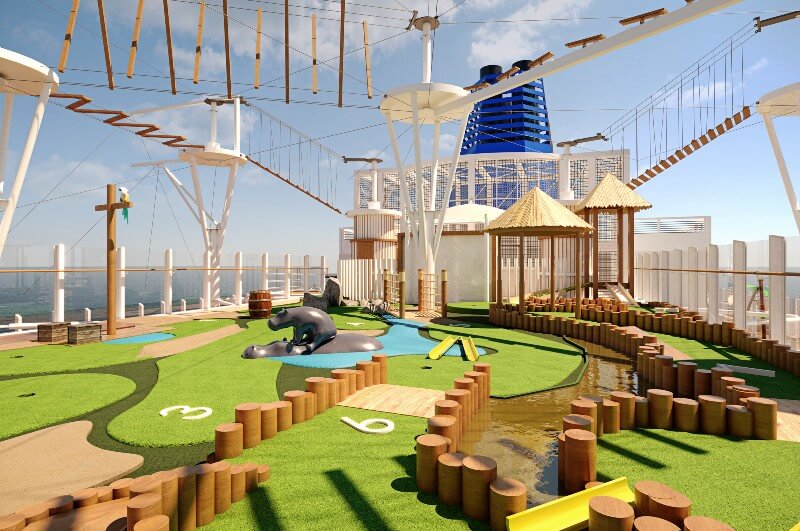 In another first for P&O Cruises, Arvia will feature a nine-hole mini-golf course.
Sister-ship Iona will feature two golf nets up on the Sky Deck where cruisers can practice their swing. But Arvia's mini-golf course, located beneath the Altitude Skywalk, is something that's sure to be enjoyed by cruisers of all ages.
4. Escape Room
Arvia will feature P&O Cruises' first escape room experience, Mission Control. Set underwater on board a fictional submarine named Arvia II, guests will have to complete challenging live-action puzzles to escape.
There are two one-hour experiences to choose form – one family-friendly adventure that's suitable for all ages and one that's designed for adults.
The realistic 3D surroundings will take guests into ocean canyons, encountering sunken cities and underwater creatures. Motion simulation and fully interactive consoles will put you at the heart of the action, while 3D surround sound completes the immersive experience.
Check out this video to see more:
5. SkyDome
Both Iona and Arvia will feature glass SkyDomes to protect guests from the weather while they take a dip in the pool or sip cocktails on sunloungers. However, Arvia's SkyDome is unique in that it has a retractable roof.
This would suggest that Arvia is the best ship to choose for hot-weather itineraries such as Caribbean cruises or summer holidays in the Mediterranean.
On both ships, the SkyDome will become a dining and entertainment venue in the evening. Here you can enjoy aerial performances, theatre productions and movies on the big screen.
6. The Aft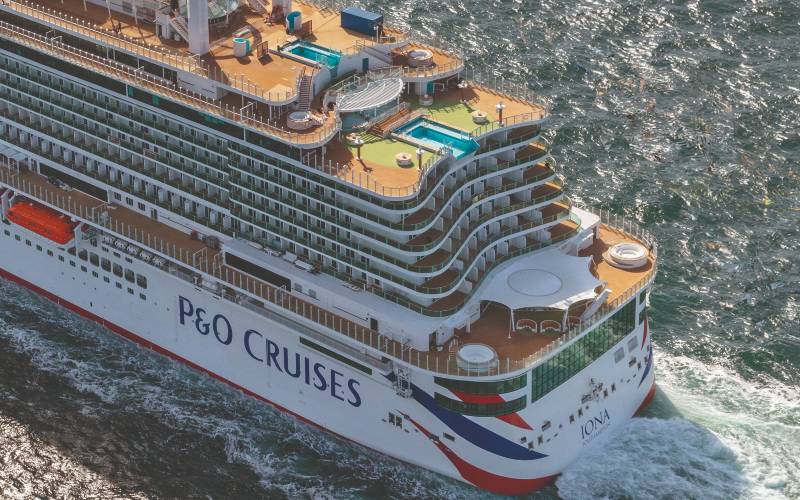 The aft (rear) of both ships appear to be similar, as far as we can tell from the designs that have been released. One major difference is, of course, the swim-up bar.
P&O Cruises also mentions a 'new' infinity pool on Arvia. I'm not sure exactly how this differs from the infinity pool on Iona, but it's something I'll be keeping an eye on as more information and photos are released.
7. New restaurants
There will be some differences in the dining venues on Arvia versus Iona. While we don't yet have a full list of restaurants on Arvia or a deck plan, there are some venues that are unique to this ship.
Arvia will feature a new restaurant called Green & Co. To cater for the increase in plant-based diets in the British population, this restaurant will have a plant and fish-led menu which will be developed especially for this ship.
Within Green & Co you'll find a new sushi bar by the name of Mizuhana. Here, guests can watch expert chefs prepare their food while they enjoy the sea views.
P&O Cruises president Paul Ludlow said: "New restaurant Green & Co featuring Mizuhana will have a plant-led menu reflecting the latest trends in vegan, vegetarian and flexitarian dining".
Another new restaurant for Arvia is the 6th Street Diner. This American-style diner will have retro styling, with a jukebox and an all-American menu featuring dishes like fried chicken and waffles.
A third new restaurant for Arvia will be Roast carvery. Located within the multi-venue dining piazza, this sounds like the perfect eaterie for Brits who enjoy a good old-fashioned Sunday Dinner with all the trimmings.
P&O Cruises' signature restaurants Epicurean, Sindhu, The Glass House, The Keel & Cow and The Olive Grove will be included on both Arvia and Iona.
Suggested read: P&O Iona restaurants and bars
8. Spa treatments
Both Iona and Arvia will feature the Oasis Spa – a haven of tranquillity where you can relax and unwind. However, the spa on Arvia will feature some exclusive new treatments.
When cruising on Arvia, guests can visit one of the spa's two 'couples suites'. Each has a Turkish bath, steam room, cool room, salt sauna and an invigorating Kneipp Walk which is a pebble foot massage with hot and cold water.
9. Destinations
When Arvia launches in December 2022, she will be based in the Caribbean, offering fly-cruise holidays from Barbados and Antigua.
Until March 2023, itineraries will feature Curacao, Martinique, St Kitts, St Lucia, St Maarten and La Romana (which will be a new port of call for P&O Cruises).
With its retractable roof and swim-up bar, it seems obvious that Arvia has been designed with warm destinations in mind. Iona, by comparison, is much more suited to cruises to cooler destinations like Norway and Europe.
P&O Cruises president Paul Ludlow commented: "Arvia will be the epitome of a sunshine resort sailing year-round to the warmest climates."
Launch dates
Arvia will join the P&O Cruises fleet in December 2022 and I've booked on one of the first cruises with my family. You can book your place on board now.
Where to find more updates about new ship Arvia
While much has been announced about what we can expect from the new ship, Arvia, we don't yet have deck plans to do a full comparison of the two ships. There will likely be some things that are present on Iona but missing from Arvia. I will keep this page updated with more differences between the two ships as information becomes available.
To keep up to date with P&O Cruises news, I recommend that you join my email list so that I can update you with the latest developments and special offers.
Related posts: