P&O Cruises newest ships, Iona and Arvia, are sister ships which means that they are virtually identical. However, there are some important differences between the ships, so you may prefer one over the other – I know I do!
I've cruised on Iona twice and Arvia once. In December, I actually had just 6 days between cruises on these two ships, so I couldn't help but compare!
Read on to discover what the differences are between Iona and Arvia, so that you can decide which of these P&O Cruises ships is the best for your next holiday…
1. Swim-Up Bar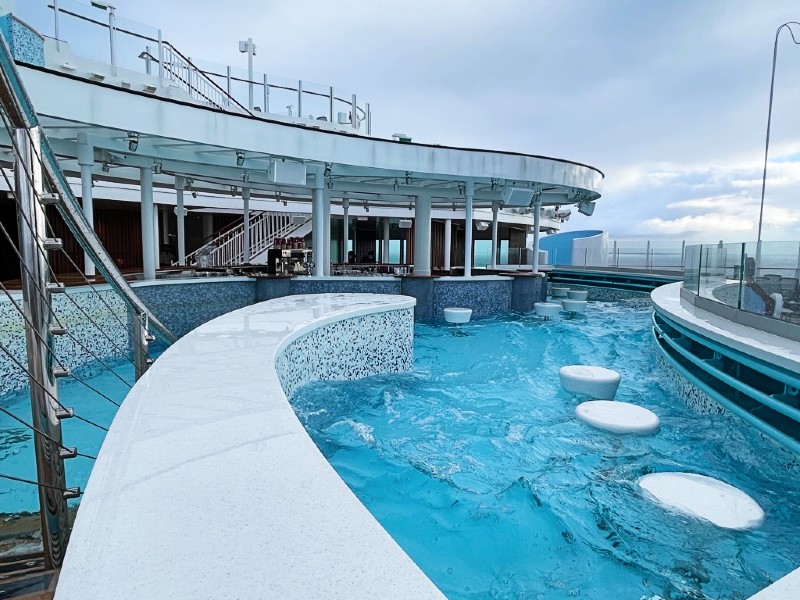 P&O Cruises newest addition, Arvia, features an incredible swim-up bar! Whilst you may be familiar with swim-up bars in some large all-inclusive hotels, this is a very rare treat to find on a cruise ship.
You can find swim-up bars on some Amawaterways river cruise ships, but those are much smaller, with only four seats. The swim-up bar on Arvia is of a decent size, with at least 12 water seats at the bar as well as more around the edge of the pool and on the deck.
When I cruised on Arvia for the maiden voyage, the first day that the weather was warm enough, about 10 kids got into the swim-up bar pool and spent most of their time underwater.
The problem with this was that even when the sea is calm, the water in the swim-up bar isn't! So they kept bashing into adults and hitting their heads on the bar stools.
After a while, the lifeguard ordered all of the kids to exit the pool and from that moment onwards it was adults only (even though the signage says otherwise – perhaps they will change that).
On Iona, the space has a small plunge pool instead. It's always cold and doesn't get used much, so I can see why P&O opted for a swim-up bar on Iona.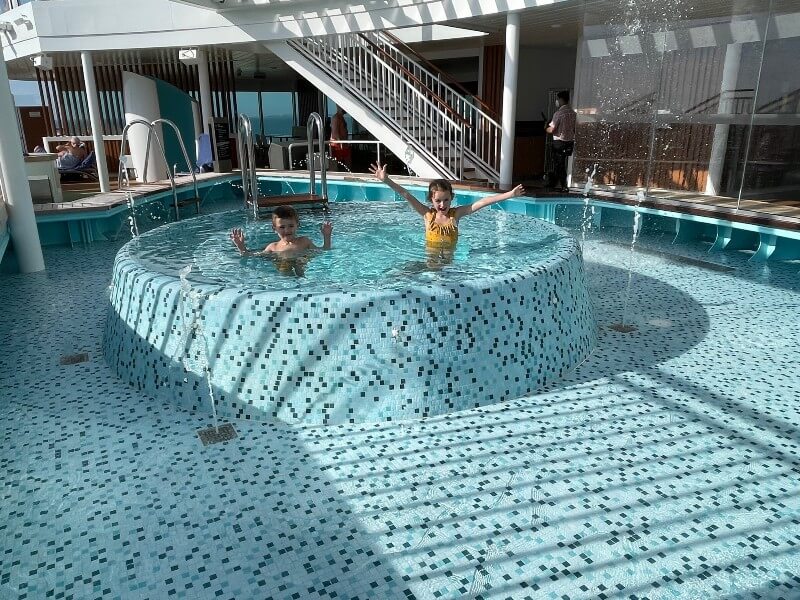 Annoyingly for parents of young tots, children in swimming nappies aren't allowed to use any of the pools on Iona or Arvia. They can only use the Splash Zone which is a spray park.
If you want to swim with your baby or toddler, then you would be better to choose Britannia, Ventura or Azura as those ships have several main pools that younger kids are welcome to use.
2. High Ropes Course
New ship Arvia featurea the 'Altitude Skywalk' – a high ropes experience set 54 metres above the ocean.
These kinds of activities are popular on ships such as Carnival Horizon and Norwegian Breakaway, but the high ropes course is the first time that P&O Cruises has offered any kind of adrenaline-rush activity.
I did the high ropes course and absolutely loved it! It's free of charge and there's no need to book. If you turn up early in the morning or on a port day, you won't have to queue either.
3. Mini Golf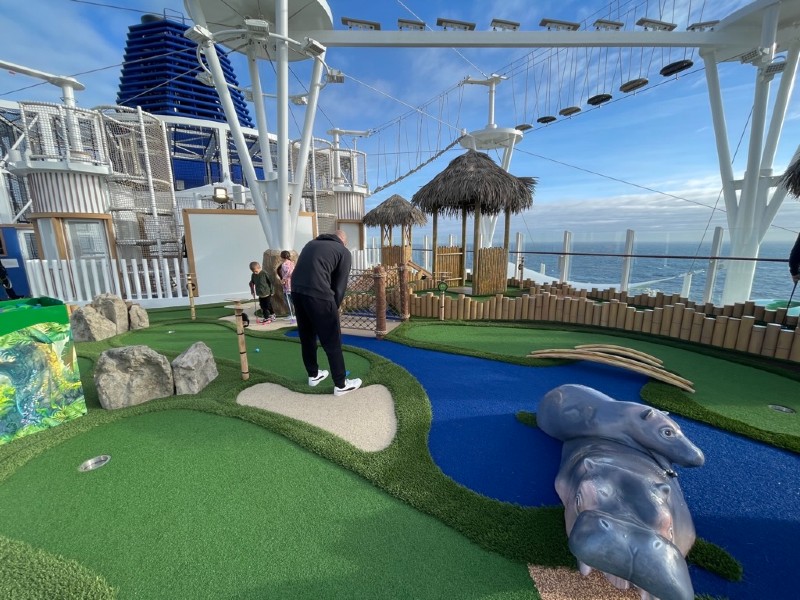 In another first for P&O Cruises, Arvia features a nine-hole mini-golf course. Located right beneath the high ropes course, this is a great addition that's popular with people of all ages.
Both Arvia and Iona also have two golf nets where cruisers can practice their swing.
On Iona, the space where the golf course and high-ropes course is located instead hosts a large sports court. This is never used that much aside from by a few teenagers who play football and basketball there.
If your teen is football or basketball mad, fear not, Arvia still has a smaller sports court so they won't miss out.
4. Escape Room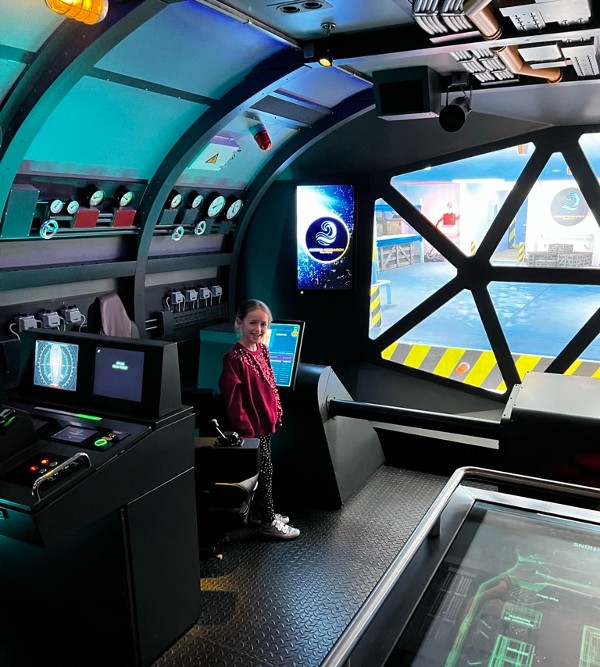 Arvia feature P&O Cruises' first escape room experience – Mission Control. Set underwater on board a fictional submarine named Arvia II, guests have to complete challenging live-action puzzles to escape.
There are two one-hour experiences to choose form – one family-friendly adventure that's suitable for all ages and one that's designed for adults.
The realistic 3D surroundings take guests into ocean canyons, encountering sunken cities and underwater creatures. Motion simulation and fully interactive consoles put you at the heart of the action, while 3D surround sound completes the immersive experience.
Check out this video to see more:
Mission Control costs £20 for adults and £10 for kids, so it's not cheap, but it is a lot of fun. Children must be six or over to participate.
Both Arvia and Iona have multi-screen cinemas. The difference is that Arvia only has three screens whereas Iona has four, with the fourth screen making space for the Mission Control experience.
5. SkyDome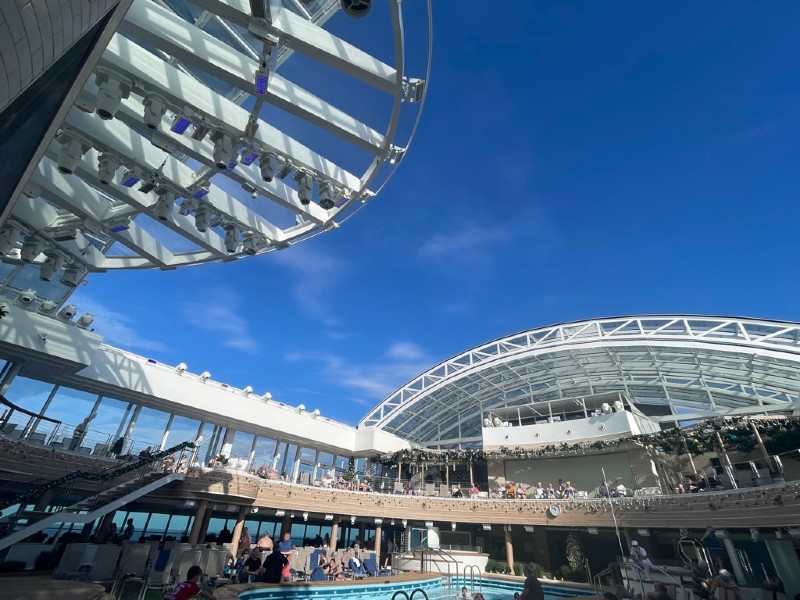 Both Iona and Arvia will feature glass SkyDomes to protect guests from the weather while they take a dip in the pool or sip cocktails on sun loungers. However, Arvia's SkyDome is unique in that it has a retractable roof.
Arvia is designed for hot-weather itineraries such as Caribbean cruises or summer holidays in the Mediterranean.
On both ships, the SkyDome becomes an entertainment venue in the evening.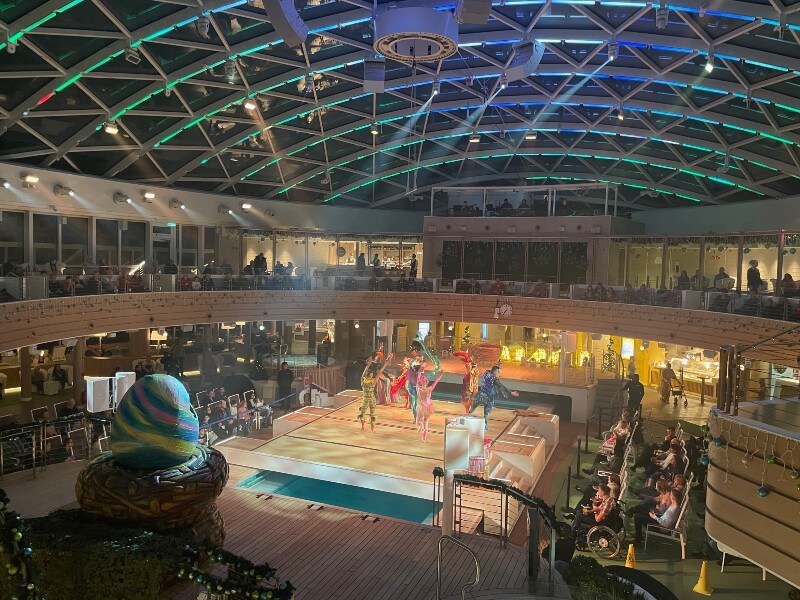 Aside from the roof, there are a few other key differences between the two SkyDomes…
On Iona, the stage is at both sides of the pool and it sometimes moves during performances to be over the middle of it.
On Arvia, however, the stage is fixed at one side and there's also a large screen that can be used to show movies under the stars.
6. New restaurants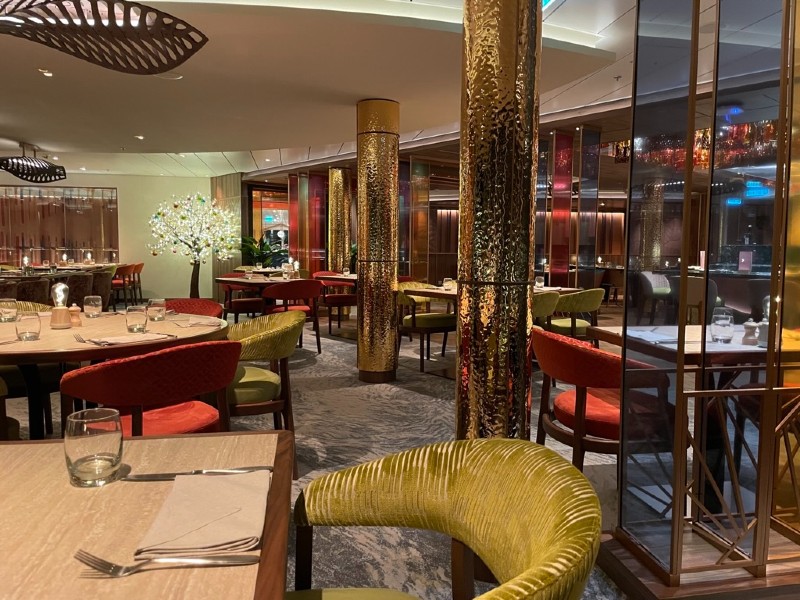 There are some important differences in the dining venues on Arvia versus Iona.
Arvia feature a new restaurant called Green & Co. To cater for the increase in plant-based diets in the British population and also the fact that some people will avoid a restaurant that's 100% vegan, this restaurant has both plant-based and fish menus.
Within Green & Co you'll find a new sushi bar by the name of Mizuhana. Here, you can watch expert chefs prepare your sushi in front of you.
I may be biased as I'm vegan, but the meals I had at Green & Co. were the best I've ever had at sea! The food is absolutely incredible!
There's a small charge of around £3 for starters and £5 for mains, but I think that this is well worth it. Especially when you consider that many American cruise lines charge $50 or more for speciality dining experiences.
Another new restaurant for Arvia is the 6th Street Diner. This American-style diner has retro styling, with a jukebox and an all-American menu featuring dishes like fried chicken and waffles.
6th Street Diner is included in the cruise fare, although it;s so good that it feels like it shouldn't be! You can enjoy all-day breakfast until 2 pm as well as evening meals.
A third new restaurant for Arvia is the Roast carvery. Located within The Quays multi-venue dining piazza, this is the perfect eaterie for Brits who enjoy a good old-fashioned Sunday Dinner with all the trimmings.
Roast on Arvia takes the place of The Boardwalk Diner on Iona. But, you won't have to miss out on burgers as you can still get them at Taste 360 by the pool as well as 6th St Diner.
P&O Cruises' signature restaurants Epicurean, Sindhu, The Glass House, The Keel & Cow and The Olive Grove are included on both Arvia and Iona.
Suggested read: P&O Arvia Restaurants Guide (With Menus)
7. Spa treatments
Both Iona and Arvia will feature the Oasis Spa – a haven of tranquillity where you can relax and unwind. However, the spa on Arvia features some exclusive new treatments.
Honestly, I didn't get chance to visit the spa so I can't say what they are – but this is something to check out if you enjoy being pampered on your cruise.
When cruising on Arvia, guests can visit one of the spa's two 'couples suites'. Each has a Turkish bath, steam room, cool room, salt sauna and an invigorating Kneipp Walk which is a pebble foot massage with hot and cold water.
8. Destinations
Arvia is be based in the Caribbean, offering fly-cruise holidays from Barbados and Antigua.
Until March 2023, itineraries will feature Curacao, Martinique, St Kitts, St Lucia, St Maarten and La Romana (which will be a new port of call for P&O Cruises).
With its retractable roof and swim-up bar, it seems obvious that Arvia has been designed with warm destinations in mind. Iona, by comparison, is much more suited to cruises to cooler destinations like Norway and Europe.
P&O Cruises president Paul Ludlow commented: "Arvia will be the epitome of a sunshine resort sailing year-round to the warmest climates."
NEW DEALS JUST RELEASED!
Don't miss the latest P&O Cruises offers…
Where to find more updates about new ship Arvia
To keep up to date with P&O Cruises news, I recommend that you join my email list so that I can update you with the latest developments and special offers.
Related posts: