On the vast majority of cruise lines, you are asked to pay gratuities to the crew that have been helping to make your trip special.
Well, I say you are asked to – the cruise line will add these gratuities to your account automatically, and you will be expected to pay them. In some cases, you may need to pay for them upfront if you want a particular type of dining service.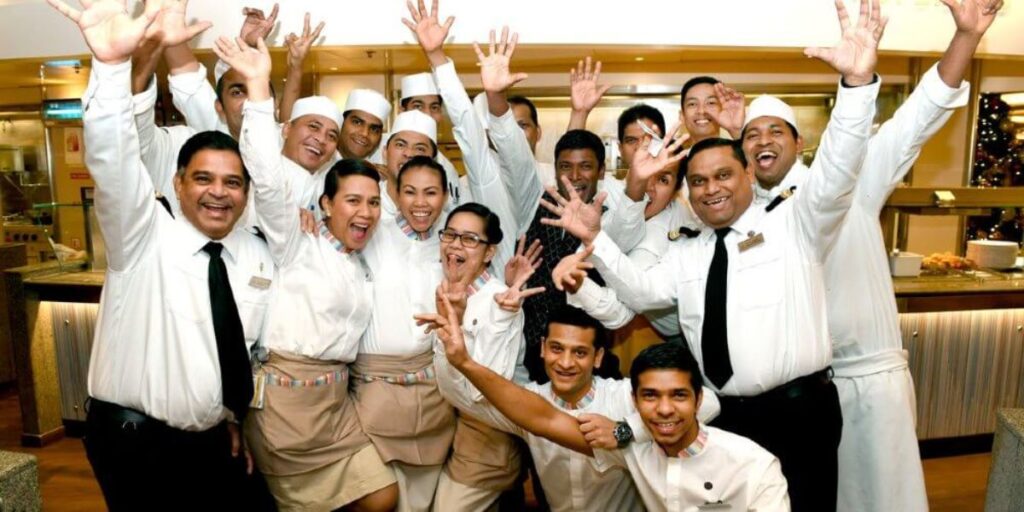 Yet what if you don't want to pay the gratuities? Is it right that cruises try to enforce this on you, and is it possible to refuse to pay them? And also, instead of having a lump sum added to your cruise fare, can you not instead pay tips directly to the people who have served you best, using cash?
In this guide, I'll explain why it's possible to opt out of paying gratuities on your cruise – and also, why you really shouldn't.
How much are cruise gratuities?
The cost of cruise gratuities varies by cruise line, but it is typically in the region of $6 to $20 per person, per day. That's per person as in per passenger, not for every single member of the crew on the ship! Some cruise lines include gratuities in the fare.
Your gratuities are worked out based on how many people are staying in your room, and how long you are sailing for. In some cases, especially on cheaper cruise lines like Carnival, you might find that your gratuities cost as much as 50% of your overall cruise fare, or potentially even more if you've managed to get a great deal.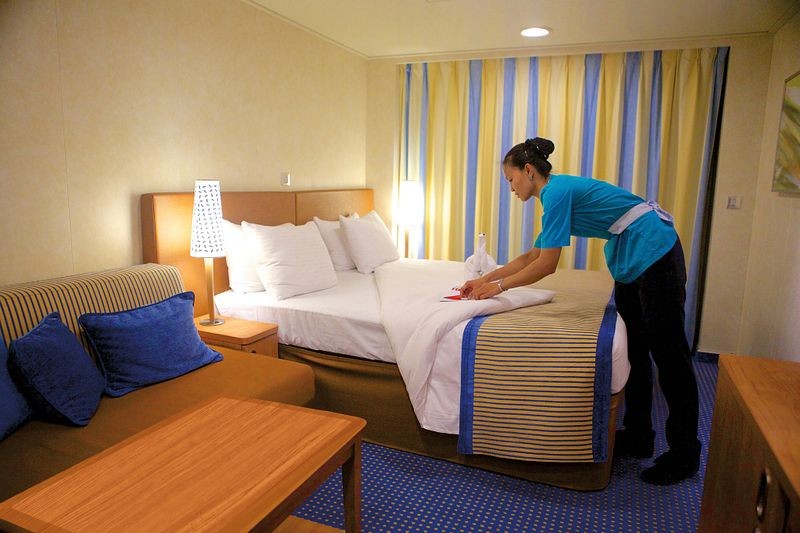 This can make the gratuities feel expensive. If you're only paying $400 per person for your cruise, and then you get another $200 or so added on top for the crew tips, your 'great deal' suddenly feels a little less great.
I could understand some frustration at paying the gratuities – especially if you're from a culture like that in the UK where tipping is not a big thing.
Here's a quick look at the cost of gratuities on some of the bigger cruise lines:
| Cruise line | Daily cost of gratuities | Depending on |
| --- | --- | --- |
| Ambassador Cruise Line | £5 – £6 | Cruise length |
| Carnival | $16 – $18 | Stateroom type |
| Celebrity Cruises | $17.50 – $21 | Stateroom type |
| Costa Cruises | €11 – $16.50 | Stateroom type and destination |
| Cunard | $11.50 – $13.50 | Stateroom type |
| Disney | $14.50 – $15.50 | Stateroom type |
| Fred Olsen | £5 | |
| Holland America | $16 – $17.50 | Stateroom type |
| MSC Cruises | $0 to $14.50 | Booking region and destination |
| NCL | $20 – $25 | Stateroom type |
| Princess | $16 – $18 | Stateroom type |
| Royal Caribbean | $16 – $18.50 | Stateroom type |
There are also a number of cruise lines which don't automatically add gratuities to your account, and instead include them in the cruise fare you pay.
Cruise lines that include gratuities in the fare:
Azamara
Celestyal Cruises
P&O Cruises
Marella
MSC (When booked in the UK)
Saga
Silversea
Regent Seven Seas
Virgin Voyages
Which crew members get gratuities? And which don't get a share?
Most of the crew that man the ship you're sailing on will be paid an hourly rate, which can be very low – just a few dollars an hour. The gratuities then top up this pay, and in some cases (such as that of the Royal Genies), it can represent as much as 95% of what the staff take home!
The crew that tend to get gratuities paid to them include your waiters, your room stewards, those working behind the scenes to do the laundry for your bedding or if you've paid for a laundry service, cleaners and so on.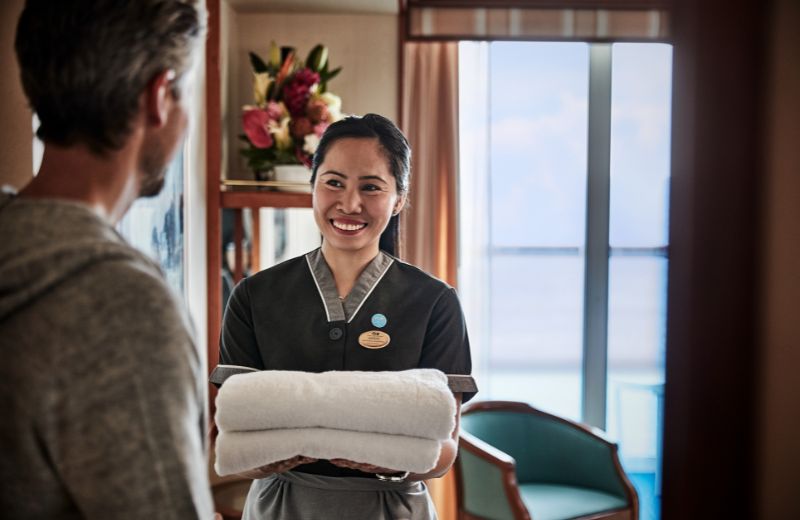 There are some crew who won't get a cut of the tips. Bartenders usually don't, because they're paid tips in a different way (more on that below). Crew who work in the stores on a ship, particularly if they are third-party stores that may be manned by someone working for the retailer, also wouldn't qualify.
Typically though it is the more senior positions on a cruise ship that are salaried, and therefore don't get included in the gratuity payments – so your officers, your doctors, and your hotel and cruise directors on-board.
But that still leaves the majority of the workers on the ship relying on gratuities to make up the majority of what they earn, and a large portion of those work behind the scenes.

"I will never take the gratuity off my bill. After a personal tour from Nelson the hotel director of the Gem, I saw first hand how the staff works behind the scenes. I also give my steward, wait staff and of course the best bartenders extra throughout the cruise. They Work hard!!!!!"

Anonymous cruiser
Are gratuities mandatory on a cruise?
Gratuities are never mandatory on a cruise, unless they are included in your cruise fare. When they are, you can't ask for them to be removed in order to get a discounted fare.
Where they are not included in your fare, they are still automatically applied to your account, but you can have them removed.
There may be some situations where gratuities become mandatory and can't be removed – usually, this is when you select a certain dining plan for the main restaurants, and gratuities must be included to guarantee this level of service.
One such example is My Time Dining with Royal Caribbean. If you want to avoid having a traditional dining sitting, giving you the option of visiting the Main Dining Room at a time that suits you instead, you have to prepay your gratuities in full.
Can you opt out of cruise gratuities?
When a cruise line adds gratuities to your cruise fare, you can usually ask for them to be removed. You would just need to visit the Guest Services desk and explain your decision, and the cruise line will remove them for you.
You may be asked for your reasoning. This isn't to apply pressure to you to retain them, but just so that it's clear you understand the impact that removing the gratuities has on the crew.
So don't be offended if you are asked – the team just want to make sure there's nothing they can do to resolve any issues, and that you're aware of what it means for all of the crew, including those behind the scenes.
There are some gratuities that you won't be able to opt out of, and these work differently to the main gratuities added to your cruise account. Some gratuities are added on a per-payment basis, for things like drinks bought at the bars or reservations for speciality dining restaurants.
These are typically a percentage gratuity, so it might be in the region of 15-18% for every purchase you make. And you can't have these removed.
If you don't like the idea of paying a tip every time you order a drink, you might prefer to get a drinks package – you'll still likely be charged a gratuity fee for the package, but at least it's a one-off payment and then all of your drinks will be included.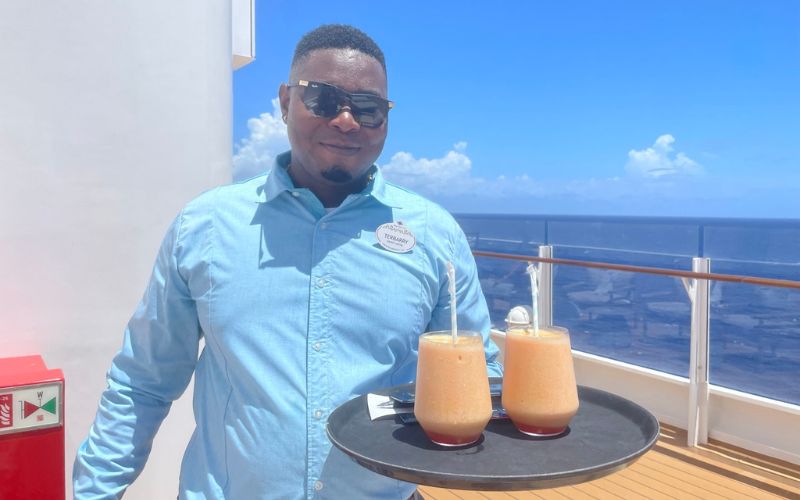 What happens if you don't pay gratuities on a cruise?
If you choose to have your gratuities removed from your cruise account, your cruise won't be impacted in any other way. The crew aren't told which passengers have refused to pay gratuities, and so the level of service you receive won't change.
However, what's more important is that members of the crew will lose out on money they really need to top up their hourly salary. And yes, on a ship with thousands of passengers, the impact of one guest removing gratuities won't be huge.
But as soon as it becomes commonplace for a guest to remove gratuities, it can become a domino effect and it can seriously impact the earnings of the people who have worked so hard to make your cruise go smoothly.

If you are looking to remove gratuities because you want to tip in cash…
It's important to remember that the gratuities that are added to your account are split between a large number of the crew, including many who work behind the scenes.
Choosing to remove them from your account and pay in cash means that a lot of people will miss out – people who you just won't see. And while some cruise lines might leave envelopes for you to leave cash tips, even those may not include all of the crew members who would otherwise receive your gratuities when paid on your account.
If you want to tip in cash then it's best to do this as well as paying your main gratuities. Rewarding excellent service (or encouraging a little bit of special treatment) is best done above-and-beyond the typical gratuities you pay.
If you want to remove gratuities because you feel let down by service…
It isn't possible to remove gratuities for one member of the crew, or one particular group of workers. So if you remove gratuities, you're punishing all of those other crew members just because you feel the service in one area wasn't good enough.
The best thing to do in this case is to speak to Guest Services about the issues you've had.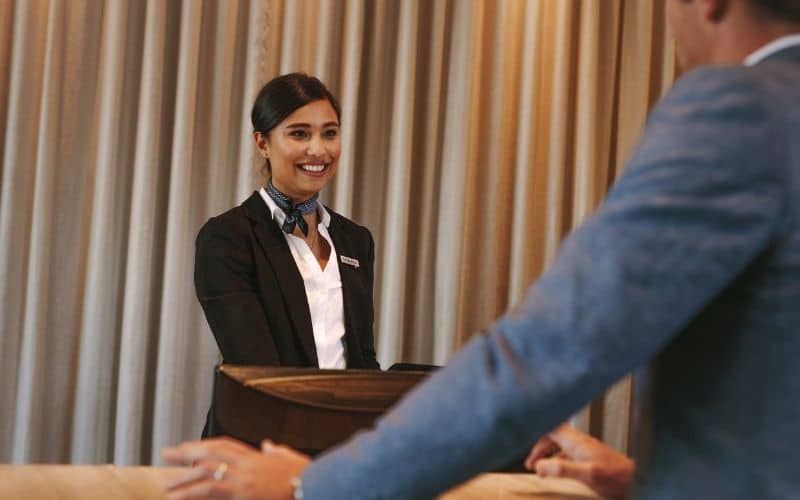 Don't complain, just raise the problems with the service and ask for ways in which they can be improved. That way, you should enjoy the service you feel you deserve and that can justify the gratuities, rather than removing them.
There are always people that disagree with automatic gratuities though.

Can cruise lines force you to pay gratuities?
Cruise lines generally can't force you to pay gratuities unless you decide to leave it too late to have them removed. Cruise lines will add the gratuities to your cruise account at different times, but it is often only added to your account on the second-to-last day.
You then have the time to ask Guest Services to remove them, but once you have disembarked the ship you can't challenge them and have the gratuities removed.
They will have likely been charged to your credit or debit card by this stage already – you generally get charged before you leave the ship – but in theory, you could get them refunded if you were still onboard.
However, once you leave the ship, the payment is considered final.
Before that, the only way cruise lines can force you to pay gratuities is by making them a mandatory part of your cruise fare. If they are charged separately, then you can't be forced to pay them unless the cruise line's terms state they can't be altered – which is rare.
What does prepaid gratuities on a cruise mean?
Most cruise lines will offer you the chance to prepay your gratuities. This means paying for them upfront, before you depart, instead of waiting for them to be added to your cruise account during your sailing.
There are a number of benefits to doing this – you lock in the gratuities at the lowest possible cost (because they typically do rise every year), and you can budget for your cruise more effectively since one more thing is ticked off in advance.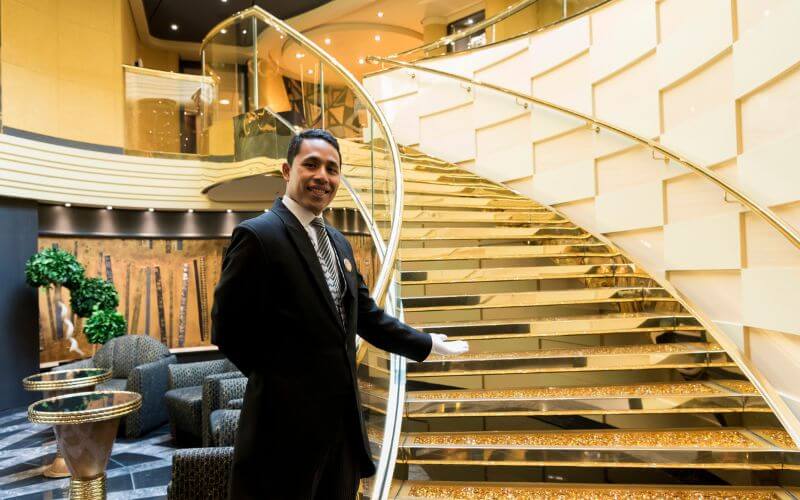 But it isn't always the best option, especially if you plan on using any onboard credit you have for your sailing to contribute to your gratuity charges.
Read more: Should You Prepay Gratuities On Your Cruise?
FAQs
Final word
I really can't state this enough – you shouldn't remove gratuities from your cruise, because it unfairly impacts many of the crew on the ship.
You may disagree with their salary structure relying on tips, again especially if you are from a country where tipping is not the norm. Yet this is how it works and so removing your tips will have a serious impact on how much the crew earn.
If you want to tip in cash, do that as an extra bonus. If you're unhappy with any service levels, speak to the Guest Services team to rectify problems. But make sure to pay the gratuities so that all of the crew – including those you don't see – get their fair reward.
Related Posts: