When you're booking a cruise holiday, you'll sometimes see the addition of fees and taxes onto your final price.
Don't be alarmed, these are perfectly normal, but they do sometimes sting you a little as they're often not included in the per-person rate as you're choosing your date and stateroom type. You might suddenly find that, when you're about to confirm your booking, your total cost is a little higher than you were expecting.
But what are these port fees and taxes, and do you have to pay them? Let's take a look.
What are port fees and taxes on a cruise?
Port fees and taxes on a cruise are extra charges levied against the cruise ship by the port, which the cruise line then passes onto the passengers. These fees and taxes cover a wide range of services at the port, and include fees from the ship's home port too.
All cruise ships are charged port fees, and all cruise lines then pass these fees onto the passengers. Fees vary but can be quite expensive, so cruise lines have to pass them onto the guests of the ship or they may stand to make no money.
This means they're mandatory for guests too – you have to pay them. Cruise lines won't hide them from you completely, but they might not advertise them as part of the fare you see when browsing their website to find a cruise.
Here's what the port fees can look like on a cruise website…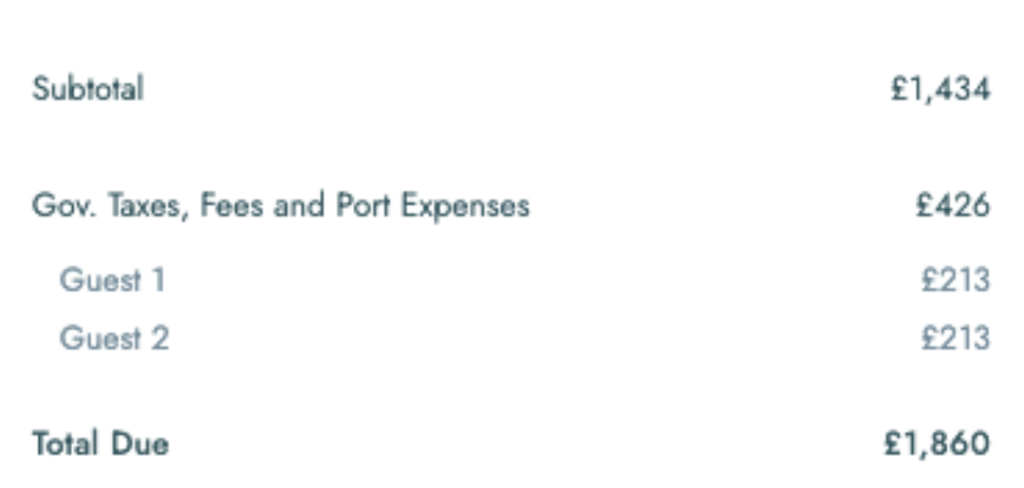 Some cruise lines will show the fees upfront, and others add it onto the final total once you've selected your date, ship and stateroom. Sometimes it's included in the fare already, so while you're still paying the fees, you don't have it separated out and everything looks included.
UK-based cruise lines and travel agents usually include port fees in the advertised price. But US-based cruise lines and agents often do not. So the price may appear higher than what you initially thought.
So, if you're deciding between cruises with different cruise lines, be sure that what you're comparing is actually like-for-like.
What are the types of port charges?
Port charges cover many different fees, and will vary depending on the ship, port, and point of the itinerary.
Port fees can include:
Docking tolls
Costs for ship inspections
Payment for harbour pilots
Security services
Baggage handling costs
The primary port charge is a port of call fee, and this is the levy charged to the cruise line every time they visit a port. This fee covers a range of costs associated with the ship docking, and will vary from port to port. Some ports are much more expensive than others!
Port Miami is one of the busiest, and also most expensive ports for a ship to call at, with a docking toll of $12.74 per guest. Great Lakes cruises are very expensive and the high port fees are one of the reasons why.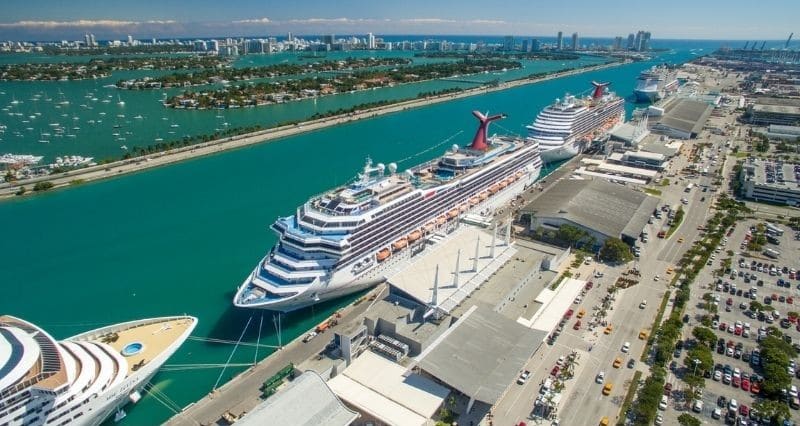 Then there's the pilot fee. Every time a cruise ship docks, it'll be boarded by a local harbour pilot to help direct it to the right place – even if the cruise ship's captain is super-experienced and has sailed to this port thousands of times. That pilot needs paying.
The pilot fee depends on the size of the ship and some other factors, but it usually costs several thousand dollars.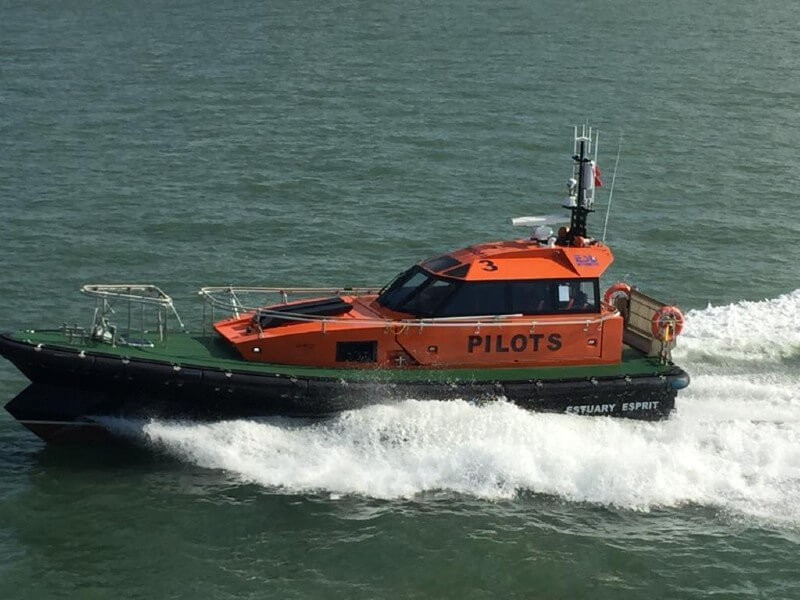 Cruise lines will also pay a head tax, which is a per-person tax to cover the costs associated with passengers heading to shore. So they might cover the costs of security shoreside, or maintaining the dock, that sort of thing.
The cruise line is charged for every passenger on the ship, even those that don't head ashore. The costs will be higher for embarkation and disembarkation ports, to cover baggage handling and extra security.
Your ship may also undergo an inspection, depending on the port/country you're docking in. Any ships that dock in the US need an inspection by the Centre for Disease Control (CDC) twice a year. If your cruise is scheduled when there's an inspection, expect those charges to be added to your cruise too.
How much are port fees and taxes for cruises?
Port fees and taxes vary depending on the destination of your cruise and the size of the ship. They typically start at around £10 per person, per night ($13) and go up to £35 per person, per night ($41) for the more expensive destinations and larger ships.
The cruise line isn't much of a factor when it comes to port fees and taxes, it tends to be more about the size of the ship (both in terms of gross tonnage and passenger capacity), and the destination.
Alaska is renowned as one of the more expensive destinations, while Europe tends to be cheaper. Caribbean ports will vary, as will those in the rest of the world.
As a rule of thumb, the larger a ship you're on, the more you can expect to pay. While some fees are split between the passengers on board, that doesn't mean you have to pay less of a share – because those fees will be higher since there are more people on board and the ship is larger anyway.
Here's a look at some example cruises and the costs you'll be asked to pay as taxes:
| Cruise line | Destination | Ship | Duration | Port fees & taxes (per person) | Port fees & taxes (per person per night) |
| --- | --- | --- | --- | --- | --- |
| Royal Caribbean | Norwegian Fjords | Anthem of the Seas | 7 nights | £74 / $89 | £10 / $13 |
| Royal Caribbean | Caribbean | Allure of the Seas | 7 nights | £115 / $139 | £16 / $20 |
| Carnival | Alaska | Carnival Luminosa | 7 nights | £199 / $241 | £28 / $34 |
| Carnival | Caribbean | Carnival Magic | 6 nights | £143 / $173 | £24 / $29 |
| Princess | Mediterranean | Enchanted Princess | 7 nights | £102 / $123 | £15 / $18 |
| Princess | Japan | Diamond Princess | 7 nights | £85 / $103 | £12 / $15 |
| NCL | Mediterranean | Norwegian Gem | 7 nights | £84 / $102 | £12 / $15 |
| NCL | Alaska | Norwegian Encore | 7 nights | £235 / $284 | £34 / $41 |
Again, this shouldn't be seen as a direct comparison of the cruise lines. The actual ports in question, and the ship sizes, are what matters more.
But this clearly illustrates just how much more expensive a cruise calling at ports in Alaska is. In fact, the Carnival Alaska cruise has fees that are almost 50% of your actual cruise fare.
One good thing is that, if there is ever a time when your cruise ship is unable to dock at a port, typically because of bad weather, the cruise line won't be charged for those port fees and so they will normally refund you to your cruise account.
Don't expect a lot though, because some fees may still apply, so you may not get the full "per night" amount back. It'll likely be a few pounds/dollars at most. At least you can buy a drink to commiserate the missed port.
Are port fees per person or per room?
Port fees are charged to the cruise ship based on a number of factors, including the per-person occupancy (not per room) and the gross tonnage of the ship. Cruise lines will pass this on as a per-person charge to passengers.
Here's an example of how Royal Caribbean displays port fees…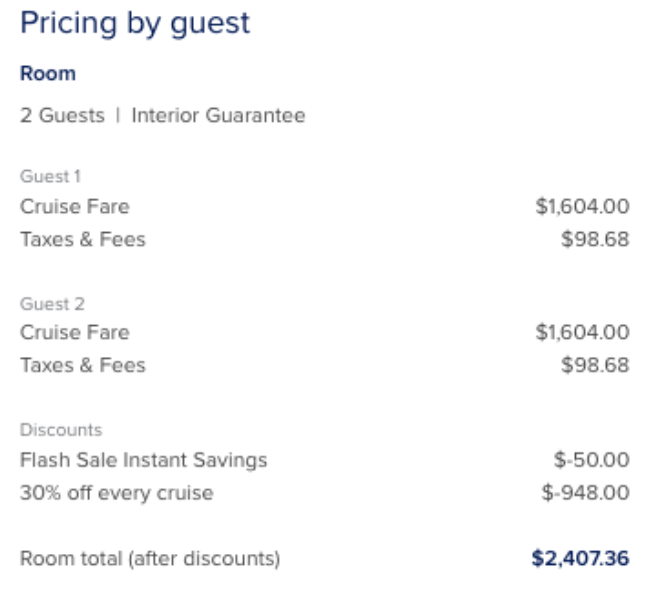 It's an important distinction to make, between how the cruise lines are charged, and then how they pass that charge onto you – the person sailing with them. Because there are some taxes that the cruise line is charged by occupancy, and those are easy for the cruise line to pass on.
But other charges are by gross tonnage, and so the cruise line will take that and divide it up by the occupancy of the ship.
They likely don't divide it by the maximum occupancy, since that means the cruise line is losing out every time they don't fill the ship, so instead, they probably divide it by their expected occupancy for that cruise, based on past sailing data.
Passengers are charged on a per-person basis. If you're sailing alone, you'll likely know about single supplements – where you pay for the full cost of a stateroom on many cruises, meaning your per-person rate is double that of a couple in the same room.
But that's not the case with port fees and taxes – there aren't single supplements on those, generally. You'll pay the same fees and taxes as one person sharing a double room would be.
Are port fees included in cruise prices?
Some cruise lines include port fees in their cruise fares, while others add it as a separate charge. You'll always be told about the fees and taxes at the point of booking if you are being charged separately, but at different stages of the booking journey.
Here's a look at some of the major cruise lines and their position on port fees – whether they include them in the fare or add them separately, and when you're told about them.
| Cruise Line | Port fees/taxes |
| --- | --- |
| Azamara | Charged separately – made clear upfront |
| Carnival | Charged separately – made clear upfront |
| Celebrity Cruises | Charged separately – made clear during booking in small print |
| Cunard Line | Included in the fare |
| Disney Cruise Line | Included in the fare |
| Fred. Olsen | Included in the fare |
| Holland America Line | Unclear* |
| MSC Cruises | Charged separately – added at last stage of booking |
| NCL | Charged separately – made clear upfront |
| Oceania | Included in the fare |
| P&O | Included in the fare |
| Princess | Included in the fare |
| Regent Seven Seas | Included in the fare |
| Royal Caribbean | Charged separately – added at last stage of booking |
| Scenic Ocean | Included in the fare |
| Seabourn | Included in the fare |
| Silversea | Included in the fare |
| Virgin Voyages | Included in the fare |
*I've had to mark Holland America down as unclear because it is – I've tried a few different test bookings online, and they only add on the fees and taxes at the end, but they lower the per-person cost of the stateroom at the same time. Except that the amount they've lowered the stateroom cost by doesn't match the taxes… so there's something odd about the way Holland America is costing their rooms.
As an example, I chose a test cruise for Norway and selected a room advertised at £1,019 per person. But then the final cost was £2,236 – half of which is £1,118. The taxes, ports and fees are listed separately as £180 total, so £90 each – but £1,019 + £90 doesn't equal £1,118.
How To Calculate Port Charges
There's no simple way to calculate port charges, because they vary by each port, the ship, and then by how the cruise line decides to break that down across each passenger.
You don't need to though, because your port charges will always either be included in your fare, or it'll be calculated for you.
If you want to know a detailed breakdown of what your port fees and taxes are paying for, you could ask the cruise line but don't expect the standard customer service rep to be able to give you an answer. If the cruise line is happy to break it down, they may take some time to provide an itemised list.
They'll all be legitimate fees that need to be paid though, and you can't decline some of them (say you didn't plan on leaving the ship in certain ports), so if you want to book the cruise you'll just have to pay up.
The Bottom Line
Anyone who is new to cruising might be a little confused or saddened to see extra fees added on when you go to book your holiday, but they're not a new thing and they aren't going away – it's just part of cruising.
It's even more disappointing when you see that your fees are a high percentage of your overall fare, but in those cases, you'll be paying for a really cheap cruise anyway. Taxes rarely go above £35/$40 a night, and are usually much lower.
Just make sure you factor all of these costs in when you budget before planning your cruise, and you won't be disappointed or surprised when it's time to book.
Related Posts: