Princess Cruises is one of the most popular cruise lines in the world, with a large fleet of ships that offer very different experiences.
If you're not familiar with the fleet, you might want to know which is the best ship, and which is the worst. So I've put together this guide that ranks all of the ships in popularity order.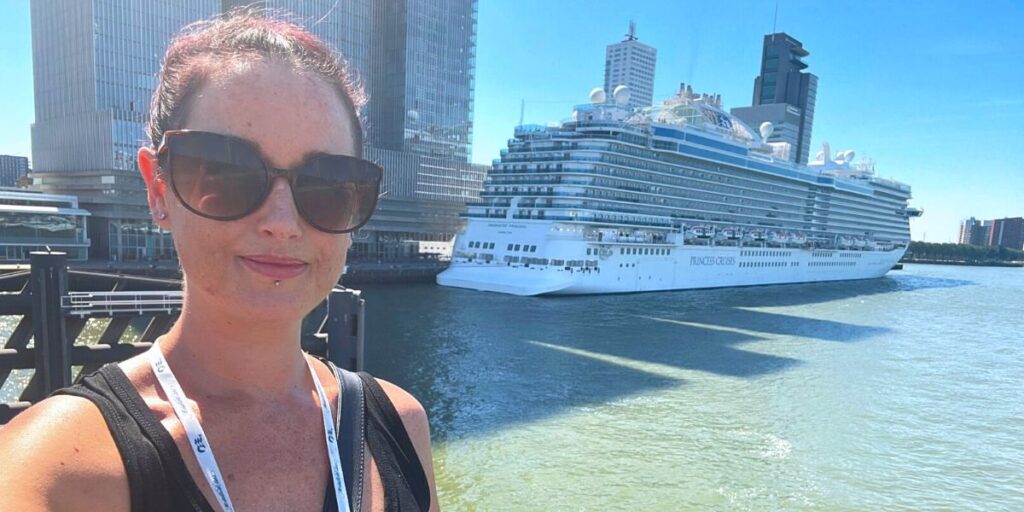 How I gathered the data
The only fair way to rank the Princess Cruises ships is to look at the overall popularity of each. It's not right if I just decide my own personal preference, because:
I haven't cruised on every Princess ship
I'm not you, and we might like different things!
So what matters to me is understanding an average review of the ships. Therefore I've taken the data from three of the biggest review sites on the internet for cruise ships – Cruise Critic, Cruiseline.com and TripAdvisor – and created an aggregate score for each ship.
(It helps that they all rank ships out of 5, so creating an average isn't too difficult!)
This list is ranked from the ship with the best average score, down to the worst. And whenever I rank ships in this way, I like to clarify that "worst" doesn't mean "bad".
To prove my point – the top-scoring ship on this list has an average score of 4.07 out of 5, while the "worst" ship still has a score of 3.53 out of 5 – so well above average.
With that in mind, let's take a look at all 15 ships in the Princess Cruises fleet, and see which is the best and which has been reviewed the worst. I'm pretty surprised by numbers 13 and 15, let me tell you!
Which Princess cruise ship is the best?
According to customer reviews, the best Princess Cruises ship is the Regal Princess, the second of the Royal-class ships to launch when she debuted in 2014. Her sister ship Enchanted Princess is actually rated the worst of the cruise line's ships.
The Best Princess Cruise Ships By Reviews
Here's the full list of all the ships in the Princess fleet, organised by average score.
1. Regal Princess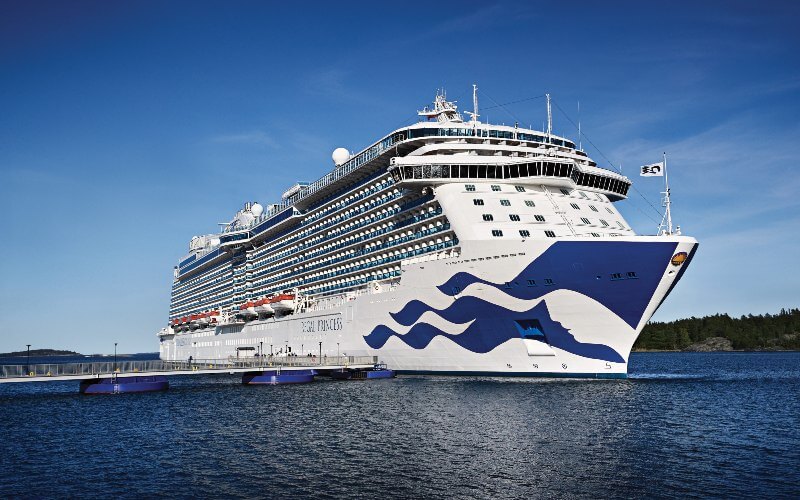 If you stepped onboard Regal Princess today, you might struggle to believe that she's almost 10 years old. It might be an exaggeration to say that she looks brand new, but she has definitely maintained a very high standard and her decor remains contemporary to this day.
The ship is an identical twin to Royal Princess and so didn't introduce anything new or innovative, but that doesn't matter – guests still really enjoy the balance of the ship. She has a lot to offer for daytime and evening activities, but unlike some of the mega ships sailing for other cruise lines she never feels extremely crowded.
Guests do have some minor complaints but they tend to be inconsistent issues – bad dining experiences that are in the minority, patchy WiFi, staff maybe having a bad day and not offering the best service.
Read more: Regal Princess Cabins
2. Coral Princess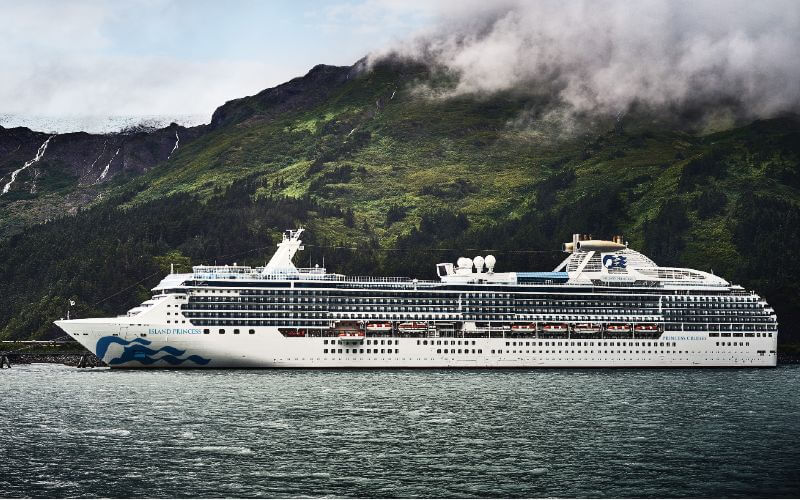 I love some of the surprises that these ranked lists throw up, and Coral Princess being the second-most popular ship in the Princess fleet definitely counts as one.
She's not the eldest ship in the fleet (although you don't have to read much further for that), but she's the second eldest and more importantly, she is the smallest ship in the fleet, tied with her sister ship Island Princess.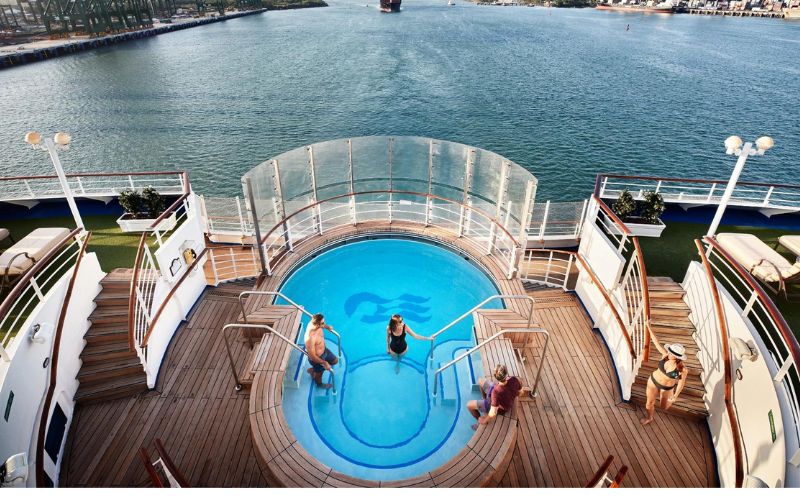 So why the popularity?
She tends to offer more unusual itineraries, and her smaller size gives her a really pleasant, intimate atmosphere – the combination suits a lot of people who want an exciting adventure with excellent service. Onboard features are limited so she feels more like a classic cruise ship – albeit one that is beautifully maintained.
Read more: Coral Princess Cabins
3. Royal Princess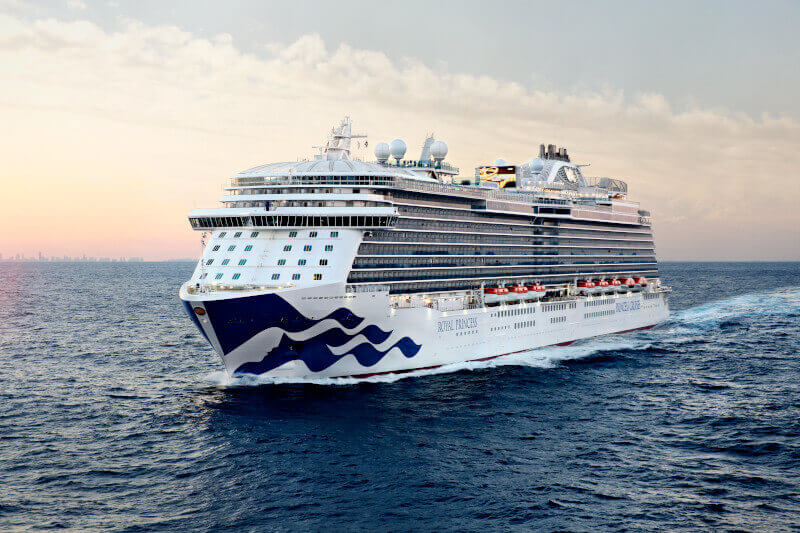 Royal Princess was a major ship launch for Princess Cruises in 2013. The first new ship in 5 years, she was also significantly larger than prior ships in the fleet and she debuted exciting features including the SeaWalk, the glass-bottomed walkway extending over the side of the ship.
She remains really popular because she is spacious, and has a lot to offer for days at sea, but she never feels too busy.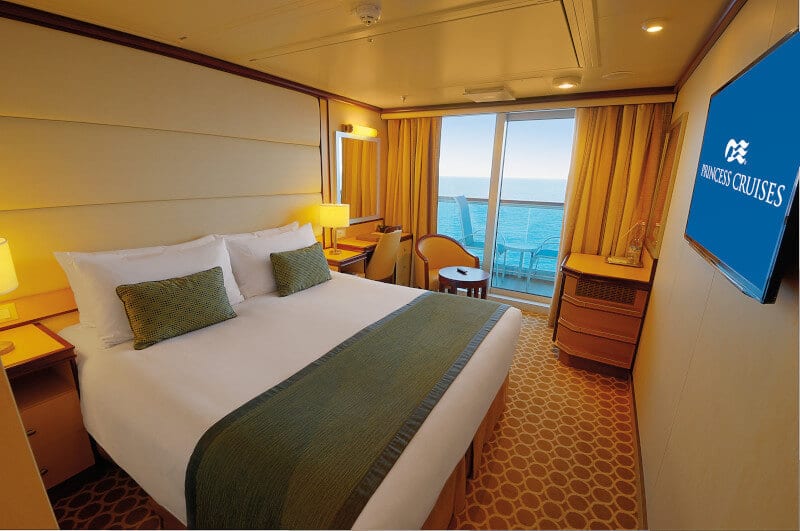 The only consistent criticism from guests is that some of the more basic staterooms aren't huge, but with so much to do onboard it's not a major problem.
Read more: Royal Princess Cabins
4. Grand Princess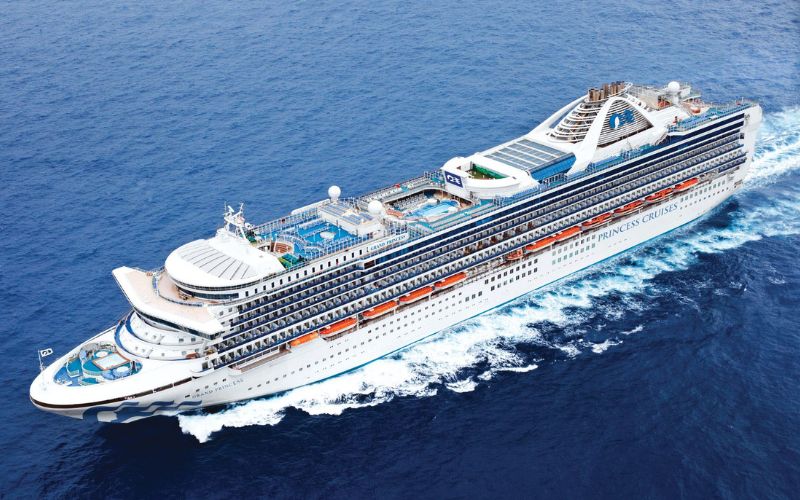 I said it wouldn't be long until we got to the oldest ship in the Princess fleet. And having launched in 1998, Grand Princess is one of the oldest ships still sailing for any of the major American cruise lines.
When she debuted, Grand Princess was the largest and most expensive ship ever built in the world!
Her high review scores are not just based in nostalgia though – yes, she tends to be preferred by older guests who want a more classical cruising experience, but her exciting Alaska and Australia itineraries, and her great dining and evening entertainment, are the basis of her position near the top of this list.
Read more: Grand Princess Cabins
5. Island Princess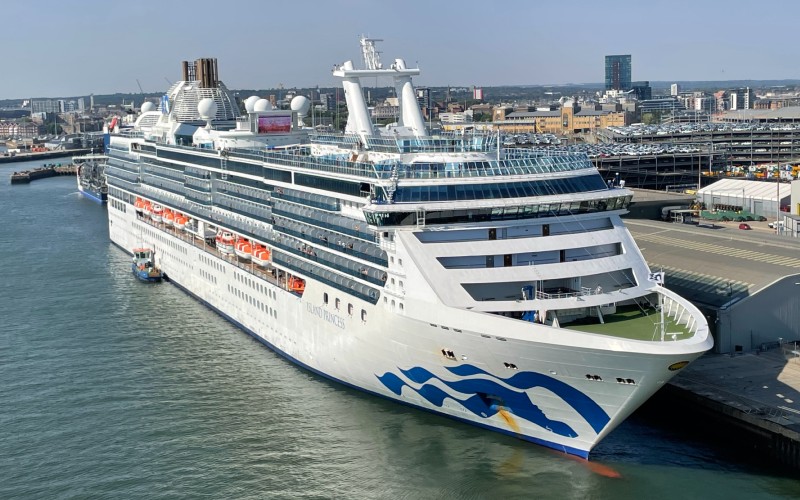 Proof that the older Princess Cruises ships are some of the most loved, the 2003 Island Princess is the second Coral-class vessel for the cruise line and despite lacking some of the modern features of later ships, guests still rate her highly.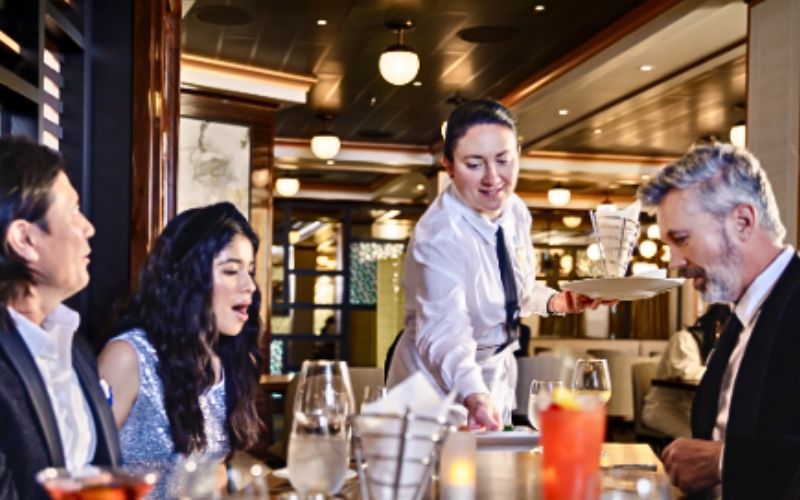 With Island Princess it's less about the itineraries – she offers similar Mediterranean and Northern Europe cruises to other ships – and more about the relaxing atmosphere of this smaller ship. Another good example of a 'classic' cruise ship experience, but with modern decor and a good variety of dining options.
Read more: Island Princess Cabins
6. Ruby Princess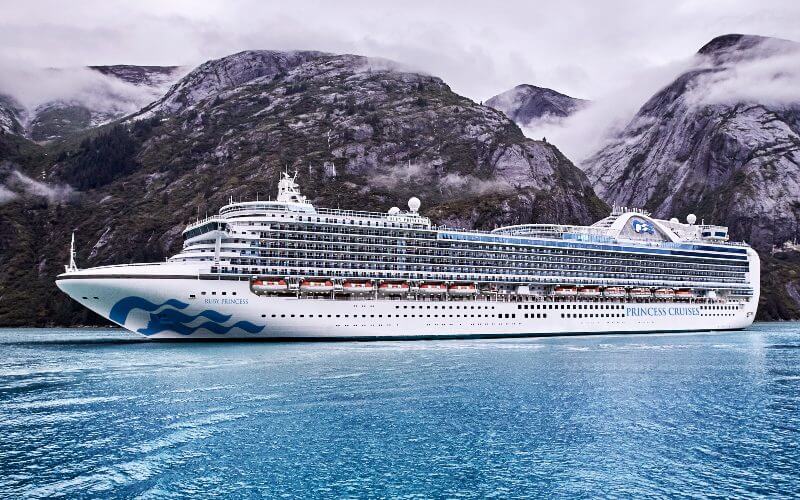 Ruby Princess is a mid-sized ship that offers a varied cruise experience. Unlike some of the smaller ships in the fleet, Ruby feels more suited to families – she isn't packed with features, but she has enough to keep kids of all ages entertained on a couple of sea days, with a great kids club too.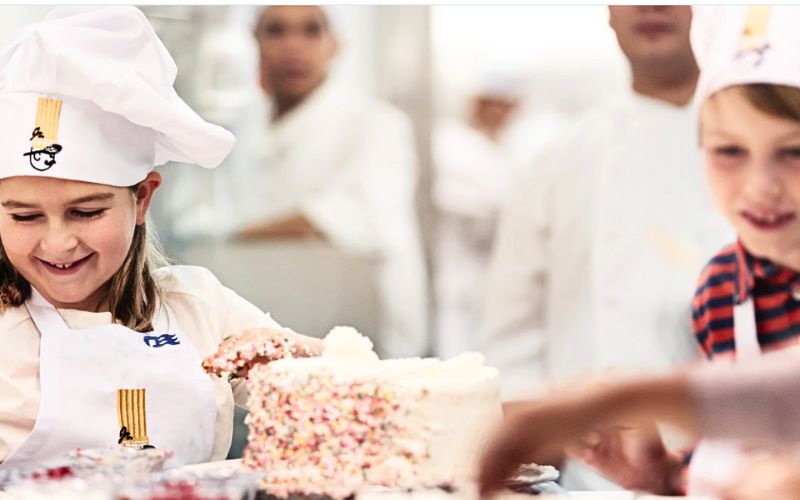 Her itineraries are interesting too, including a mix of sailings around the Caribbean and Alaska, including Panama Canal sailings while repositioning between the two.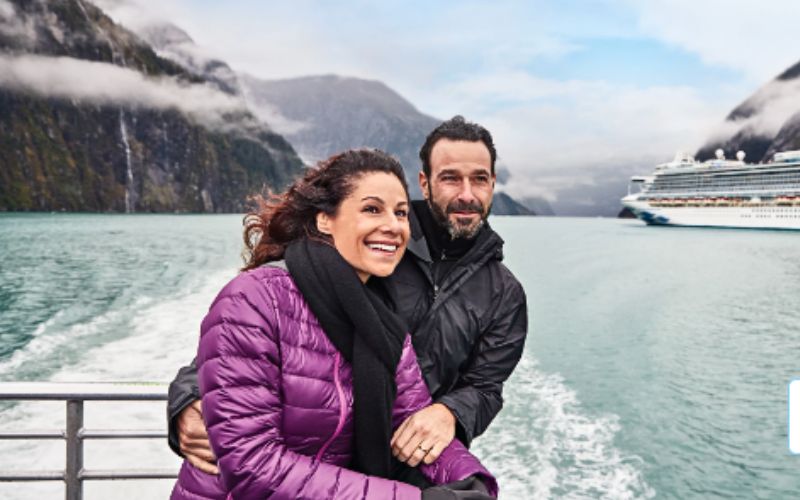 The ship is generally well maintained, although the decor is starting to show its age, especially in some of the staterooms. A minor gripe really, as guests generally have a really positive experience onboard.
Read more: Ruby Princess Cabins
7. Discovery Princess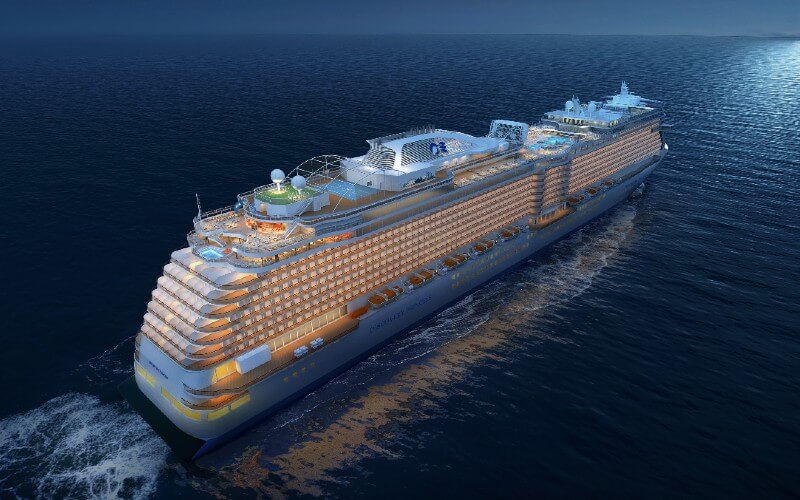 Discovery Princess is, for now, the newest ship in the Princess Cruises fleet, having launched in 2022. Part of the Royal Class, she's larger than Royal Princess and Regal Princess after some design changes which began with 2019's Sky Princess.
The extra space is used for suites and staterooms, rather than adding more entertainment features or facilities, so the day-to-day experience is similar to her sisters, although despite the extra room there are more complaints from guests about service being slow or the ship feeling crowded.
This could be teething issues, although based on the placement of Sky Princess and Enchanted Princess in this list, it could show that the design tweaks weren't quite right.
Read more: Discovery Princess Cabins
8. Majestic Princess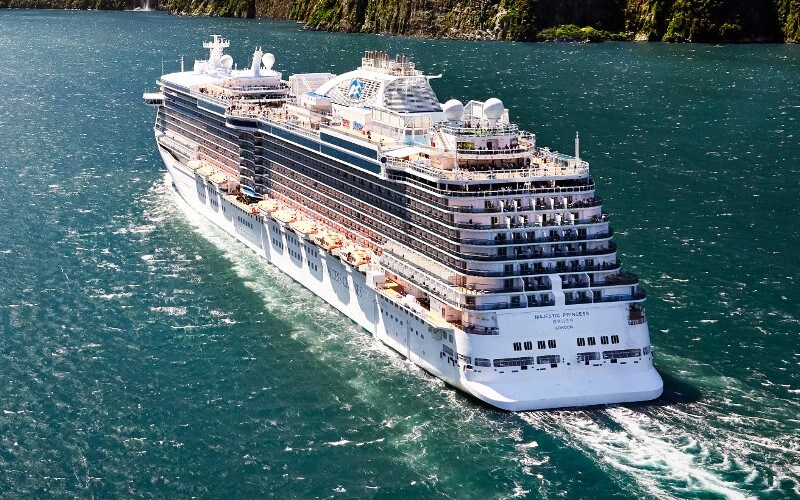 Majestic Princess is a unique ship in the Princess fleet, in that she was originally built with the Chinese cruise market in mind.
She's part of the Royal Class, and shares a lot of similarities, but she has features such as the Harmony restaurant, offering Chinese cuisine, and the Hollywood Pool Club area, that set her apart.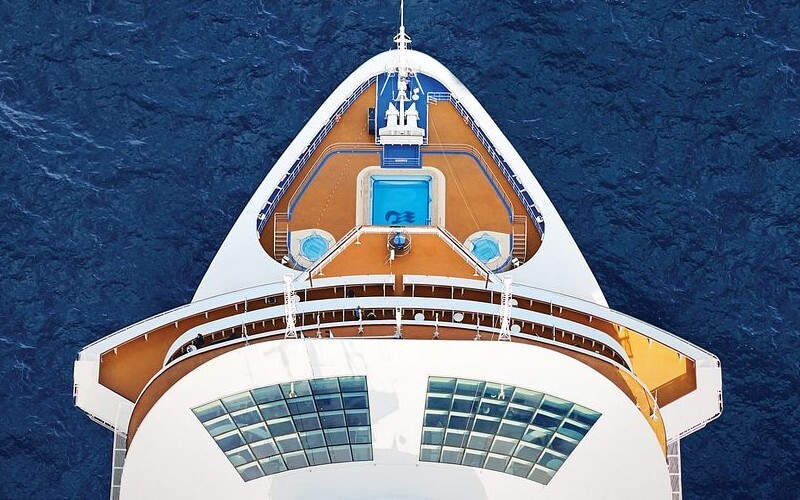 Reviews are broadly positive but she shares some of the same criticisms of other Royal-class ships – particularly in the size of the standard staterooms, which can feel a little cramped. Some complaints also mention how everything relies on the app and the Medallion, and sometimes they fail, which can cause frustrations.
Read more: Majestic Princess Cabins
9. Sapphire Princess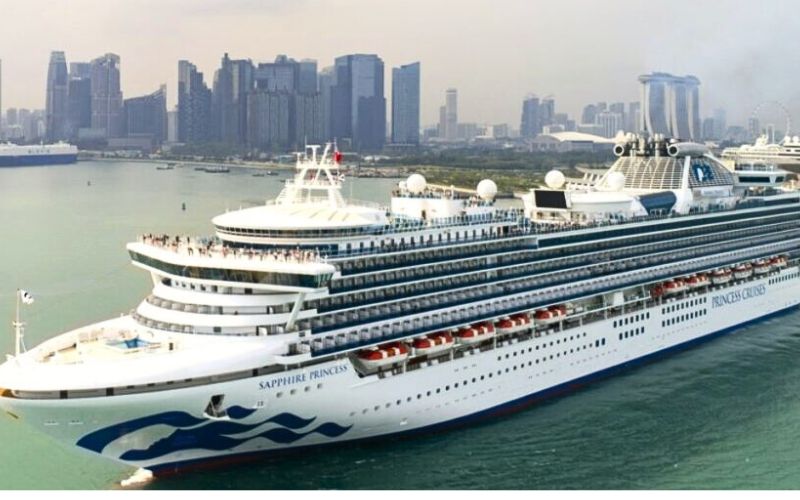 Sapphire Princess is another older ship in the Princess Cruises fleet, having been sailing for around 20 years. And while there are elements of the ship that are showing that age, an extensive refurbishment in 2018 has helped to keep it looking fresh and removed many of the really dated features.
She's the largest ship in the Grand Class but she carries the fewest passengers, which helps give her a more spacious feel (not that any of the Grand Class ships feel particularly cramped).
The best features, according to reviews, are the itineraries and the service offered by the crew. The most frequent comments in negative reviews mention the food being a little basic, and those dated areas of the ship – especially the public bathrooms. 
Read more: Sapphire Princess Cabins
10. Emerald Princess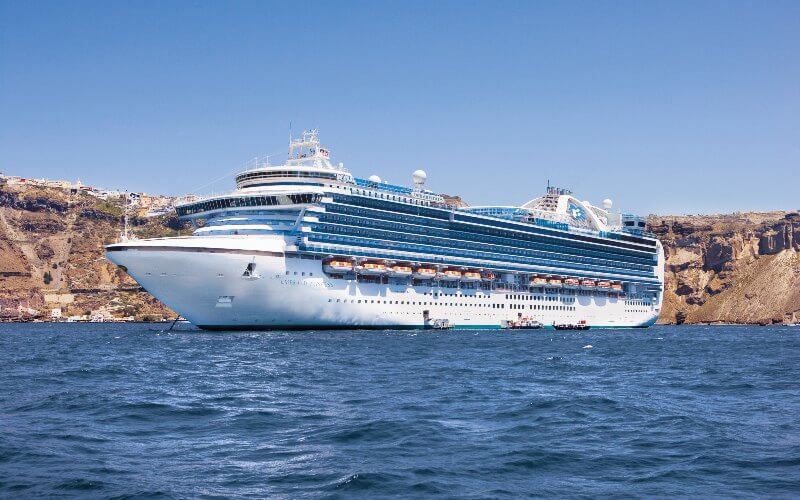 Emerald Princess is another mid-sized ship that's considered part of the Grand Class for Princess, although that class has a number of sub-classes too. She's another ship that offers a fun mix of cruises on both US coastlines, including the Caribbean, cruises to Hawaii and cruises to Canada and New England.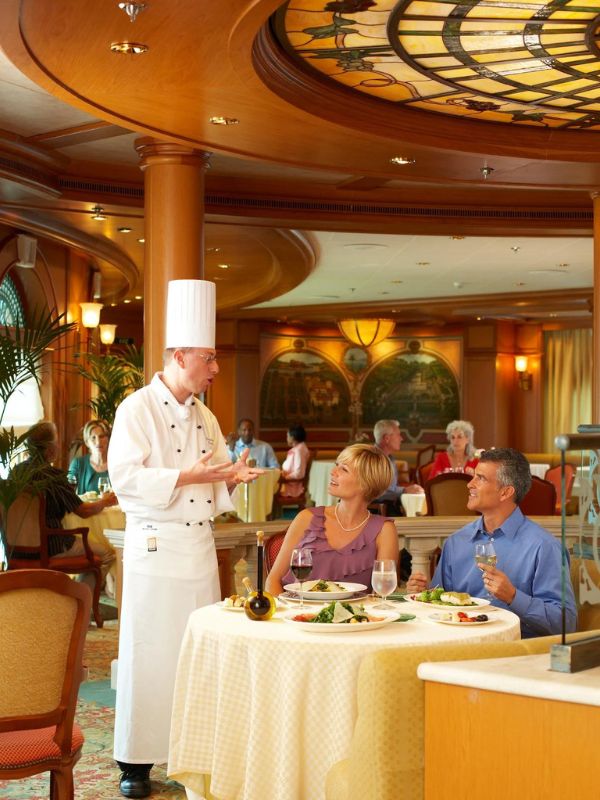 Reviews for the ship are more mixed. Most of the positive comments focus on the food and the service, while most of the criticism are levied against the evening entertainment. There are also some experienced Princess cruise passengers who think the ship just isn't what she used to be, and that there's more nickel-and-diming than there used to be.
Read more: Emerald Princess Cabins
11. Caribbean Princess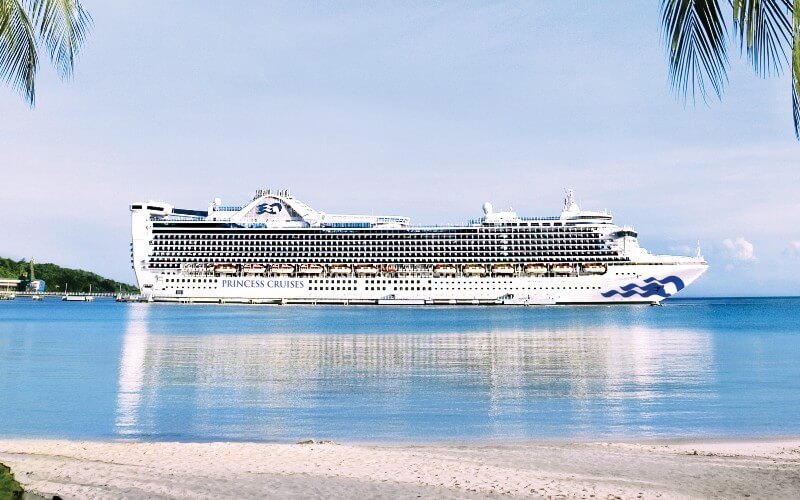 Caribbean Princess is considered part of the Grand Class, but she is also the only Caribbean-class ship sailing for Princess. First launching in 2003 she is a little older than some of the other ships sailing for the fleet, but she's been maintained to a relatively high standard.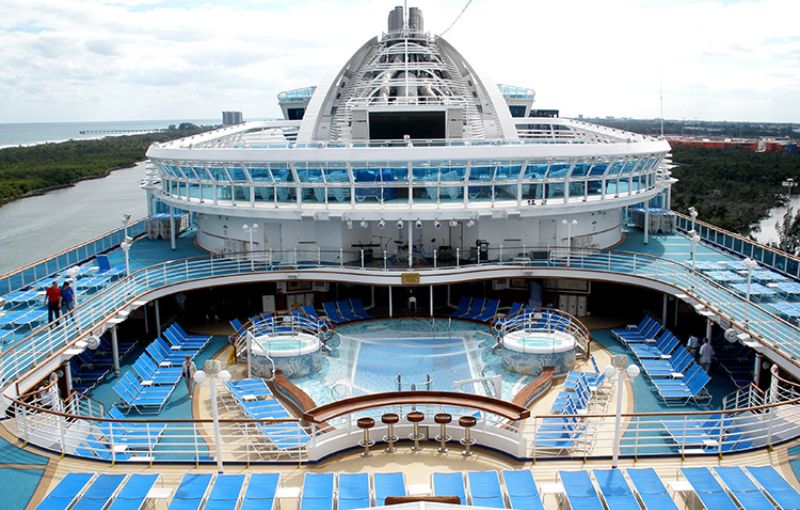 Originally built exclusively for the Caribbean, she now offers sailings in Europe too, although her lack of an enclosed pool due to her original design can sometimes be a drawback. She's definitely a Caribbean ship – there's not a huge amount to do during the day, since you're more likely to be exploring tropical islands, but at night she is a lot of fun.
Read more: Caribbean Princess Cabins
12. Diamond Princess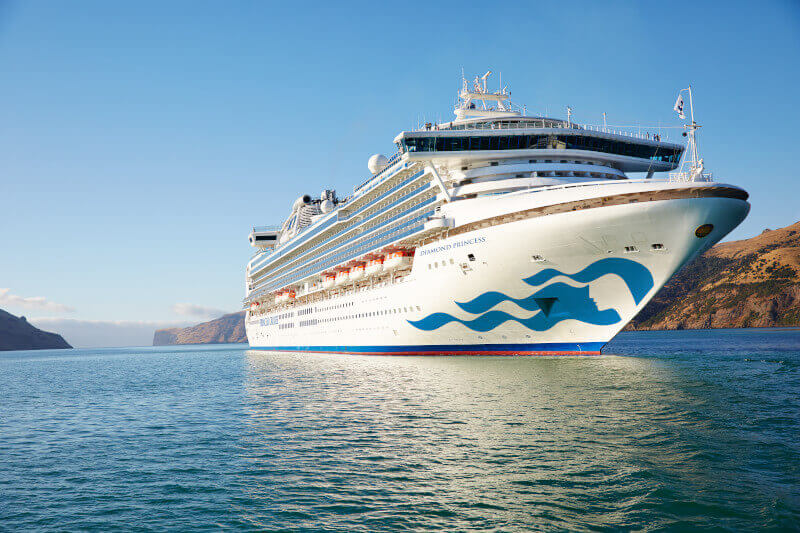 Diamond Princess is a sister ship to Sapphire Princess, and both were built in Japan. The difference is that Diamond Princess has largely remained there – her home port is Yokohama.
This makes for some exciting itineraries, but it also means the ship is much more international than her sister, which can be a positive or a negative. Crew will broadly speak English, so it shouldn't cause any real issues.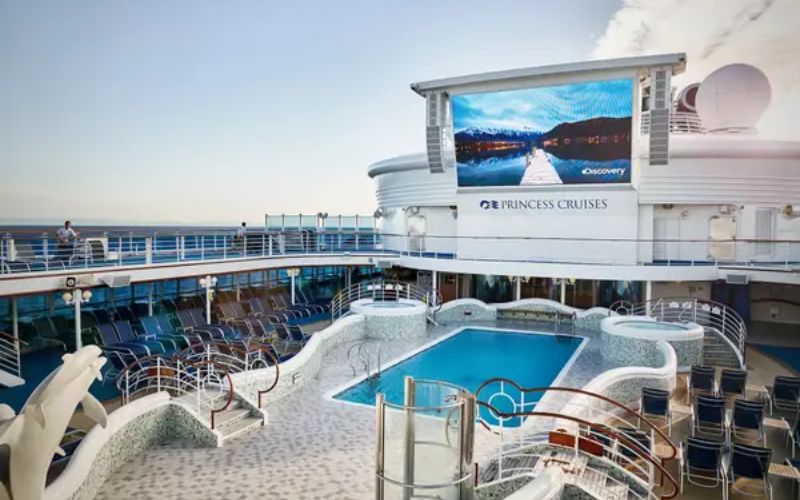 Most guests really enjoy her unique atmosphere, but she is a little dated now and even a 2019 refurbishment hasn't stopped some guests from commenting on how her age is showing in places. If you love international cuisine though then definitely put this ship nearer the top of your list.
Read more: Diamond Princess Cabins
13. Sky Princess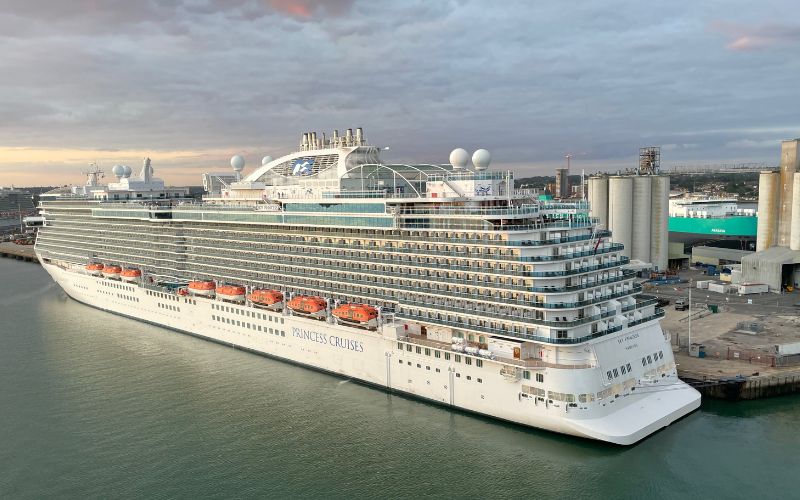 Sky Princess launched in 2019 and she remains one of the largest ships in the fleet, being an enhanced design of the Royal Class. I'm surprised to see her down so low because she's thought of as one of the more popular ships to sail from the UK, she has a lot of facilities and she's very modern.
But the criticisms of the ship seem to be that she's a little too busy even for her size, and that can sometimes impact the quality of the service onboard too. Plus, because she's quite new and big, cruises can sometimes be more expensive.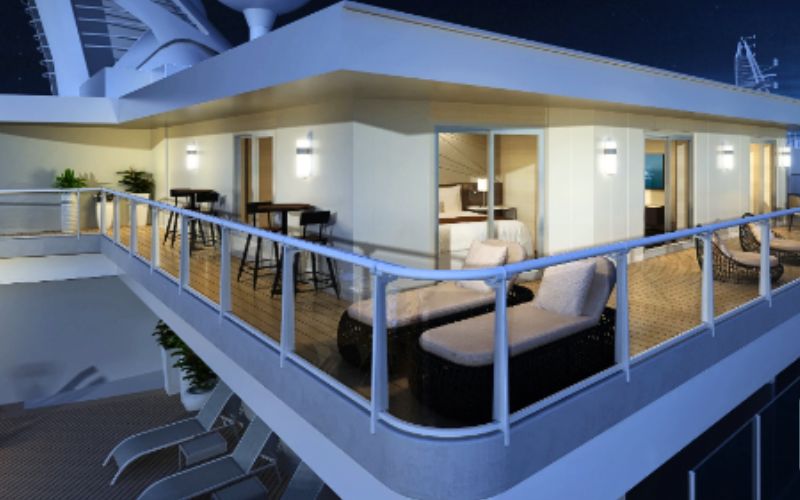 Plus, one of the more exciting features of the ship was the new Sky Suite, with the largest balcony at sea, and that's too costly for most guests to experience, so is hardly going to have a big impact on review scores.
Read more: Sky Princess Cabins
14. Crown Princess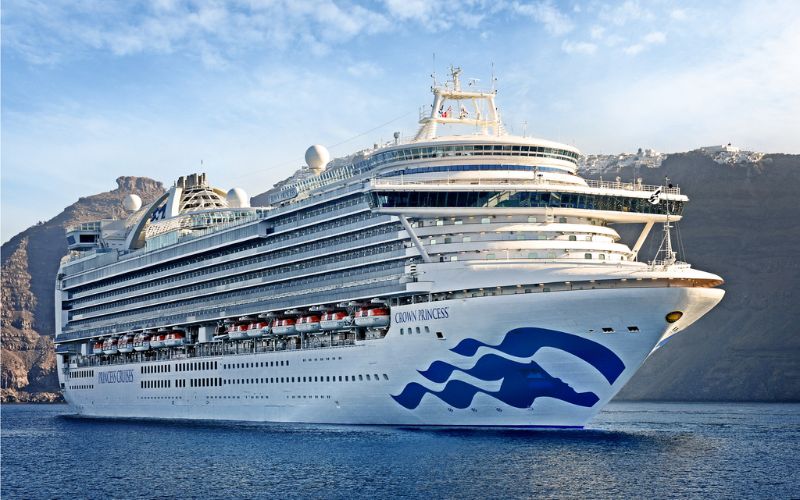 Crown Princess is considered both a Crown-class and a Grand-class ship, similar to others in her class she is a comfortable mid-sized ship that offers a good balance of space and entertainment, but is perhaps starting to show her age.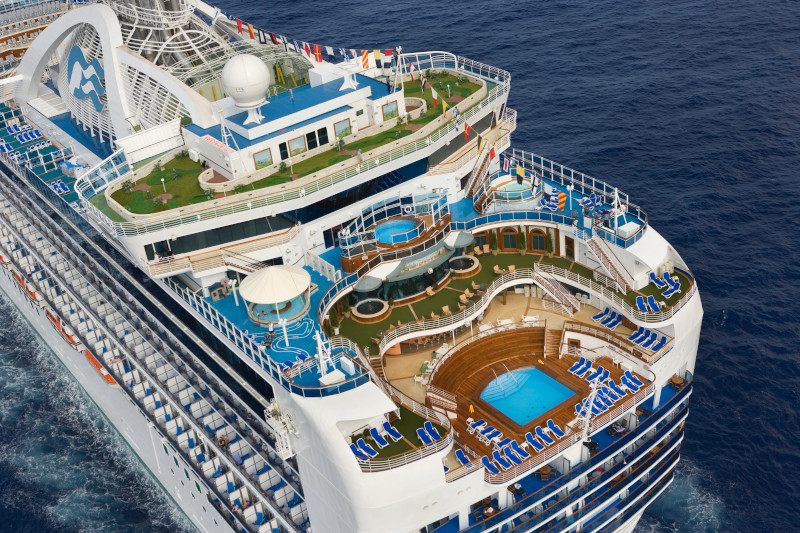 She has been updated, so she doesn't feel too dated, and positive reviews do talk about how her simple style is refreshing compared to feature-packed ships. She just isn't that exciting though, so her review scores tend to be closer to average.
Read more: Crown Princess Cabins
15. Enchanted Princess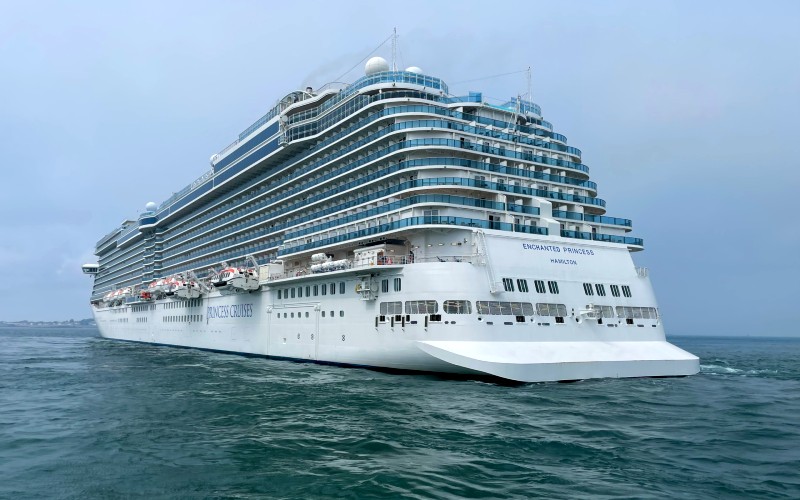 Enchanted Princess is another of the newer Royal-class ships, launching between Sky Princess and Discovery Princess. Unfortunately, guests see her more like her earlier sister Sky, meaning there are some criticisms about how busy she feels, or how expensive the cruises are compared to other ships that offer a similar standard of cruising.
And similar to her earlier Royal-class sisters, there are a handful of customer reviews criticising the size of the rooms and the balconies. Unless you're in a suite, don't expect the most spacious accommodation.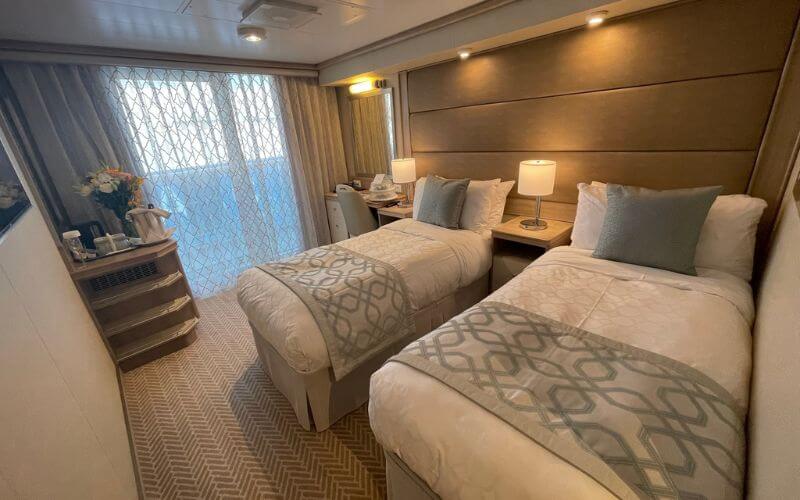 Read more: Enchanted Princess Cabins
Choosing The Best Princess Cruise Ship For You
There's no single answer on which is the best Princess Cruise ship. As you can see from the rankings, the ships have a lot of differences. You're going to have a very different cruise on Island Princess compared to Discovery Princess.
And people have different tastes. A lot of the decision will come down to the itineraries but you need to bear in mind the atmosphere and facilities too. A busier ship may be more entertaining but can also feel overwhelming if you want peace and quiet.
What is the nicest Princess ship?
The nicest Princess Cruise ship is likely the Discovery Princess, being the newest ship with the most contemporary features. However if your idea of a nice ship is one with a more relaxing atmosphere, and the modernity of the decor is less important, then the best ship is likely the Coral Princess.
What is the largest Princess cruise ship?
Discovery Princess is the largest ship in the Princess Cruises fleet, although her sister ships Sky Princess and Enchanted Princess are almost identical in size. Despite their size, guests often view them as feeling the busiest and most cramped. The new Sun Princess, sailing in 2024, will surpass these ships.
Which is the best Princess cruise ship for Alaska
There are a number of Princess Cruises ships that offer sailings to Alaska, and the best-reviewed ship of these is Royal Princess. She is relatively modern, she has a lot of great entertainment, and she has plenty of space to enjoy the stunning Alaska views.
Which Princess ships can you visit Hawaii on?
There are currently six ships in the Princess Cruises fleet with sailings to Hawaii. These are Crown Princess, Discovery Princess, Emerald Princess, Royal Princess, Ruby Princess and Sapphire Princess. Of these, Royal Princess is the most popular with guests.
Which Princess ships go through the Panama Canal?
There are four cruise ships in the Princess Cruises fleet currently sailing the Panama Canal. These are Caribbean Princess, Emerald Princess, Island Princess and Ruby Princess. Of these ships, the most popular according to customer reviews is Island Princess.
Which Princess ships have Alfredo pizza?
The Princess Cruises ships that have an Alfredo's Pizza are Discovery Princess, Grand Princess, Majestic Princess, Regal Princess, Royal Princess, Sapphire Princess and Sky Princess. Coral Princess and Island Princess have pop-up Alfredo's within the Sabatini's Restaurant, while Enchanted Princess has Gigi's – same menu, but a different name.
Which Princess Cruise ships have 2 bedroom family suites?
The Grand-Class ships for Princess Cruises have two-bedroom Family Suites. This includes the Grand Princess, Diamond Princess, Sapphire Princess, Caribbean Princess, Emerald Princess, Crown Princess and Ruby Princess. The Sky Suites on Enchanted Princess, Sky Princess and Discovery Princess also have two bedrooms but are much more expensive.
Which Princess Cruise ships have water slides?
None of the Princess Cruises ships have water slides. The ships are suitable for families, and have entertaining kids clubs, but the pool areas are designed for relaxation rather than having high-speed slides that you'll find on other cruise lines.
The Bottom Line
One thing you can definitely say about Princess Cruises' fleet – it proves that newer ships aren't always the most popular. Yes, some of the more recent Princess ships are near the top of the list, but some are down at the bottom too, and a lot of guests prefer the quieter atmosphere of the older ships.
It's down to you and your own personal preferences, but also remember that none of these ships are "bad". They might have some bad reviews but every ship scored higher than an average rating, so most people enjoy their cruise on every ship in the Princess fleet.
Still, if you're planning a Princess cruise, make sure you consider which ship would be more suited to your style of cruising. And it'll be interesting to see where Sun Princess – the upcoming newest ship in the fleet – will end up in this ranking.
Related Posts