Whether you're cruising for a short break or trying an epic itinerary around the world, you're going to be living on a ship at sea, away from all land amenities. So of course that means using bathrooms on the ship.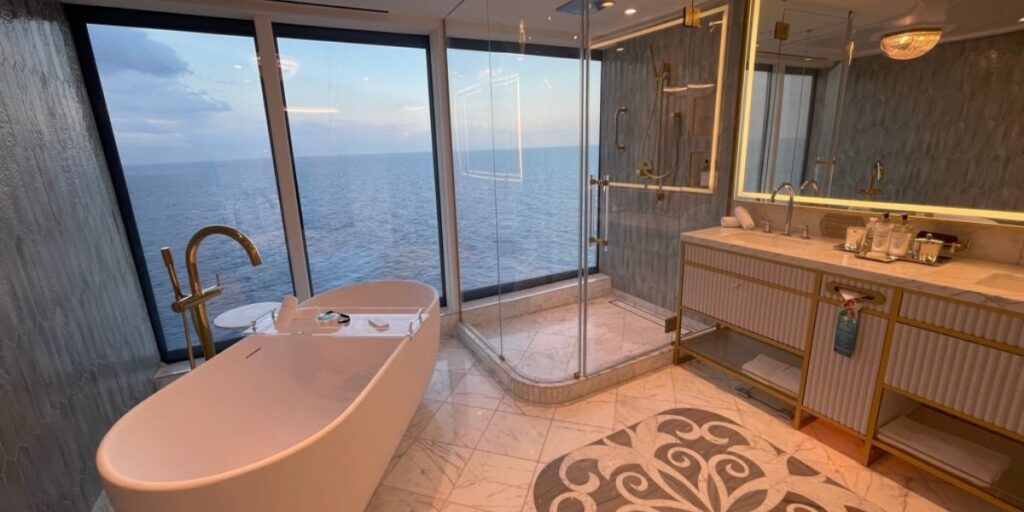 If you're a cruise newbie you might want to know more – how many are there, are they similar to aeroplane bathrooms or more like the ones at home, and are they comfortable?
How many bathrooms are on a cruise ship?
The number of bathrooms on a cruise ship depends on the ship, but most ships will have around 1,000 to 2,000. There will be one private bathroom for every cabin on the ship, plus a number of public bathrooms on each deck.
The largest ship in the world, Icon of the Seas, has 2,854 bathrooms for guests.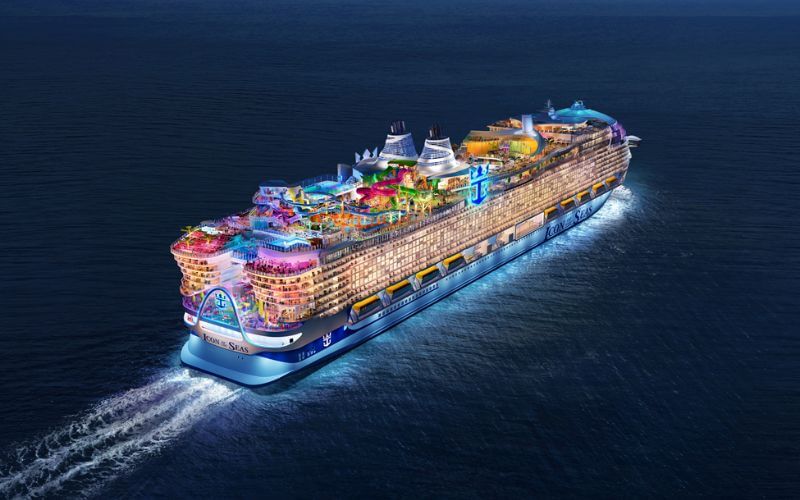 Obviously, you can't access all of those – but that breaks down as 2,805 private bathrooms in staterooms and suites, plus a further 49 bathrooms that I've counted on the deck plans for the ship.
And that doesn't include the number of bathrooms on the ship on the crew decks – so overall the ship will definitely have more than 3,000.
Smaller ships will have fewer bathrooms obviously, because they don't have as many cabins nor do they have as many decks where you'll need public bathrooms.
Do all cruise ship rooms have private bathrooms?
Modern cruise ships will always have private bathrooms for every single stateroom or cabin. Cruise ships used to have shared bathroom facilities, although first-class guests would have private bathrooms on some ships. Since the 1970s all ships have en-suite bathrooms.
It's true – ships from many years ago would often only have shared bathroom facilities.
It's hard to pinpoint exactly when cruise ships introduced private bathrooms but we do know that the Titanic had some, and by the time of the Queen Mary launching for Cunard in 1936, around 60% of her cabins had a private bathroom.
It is believed that her sister ship, the Queen Elizabeth 2, was the first ship to have a private bathroom in every room.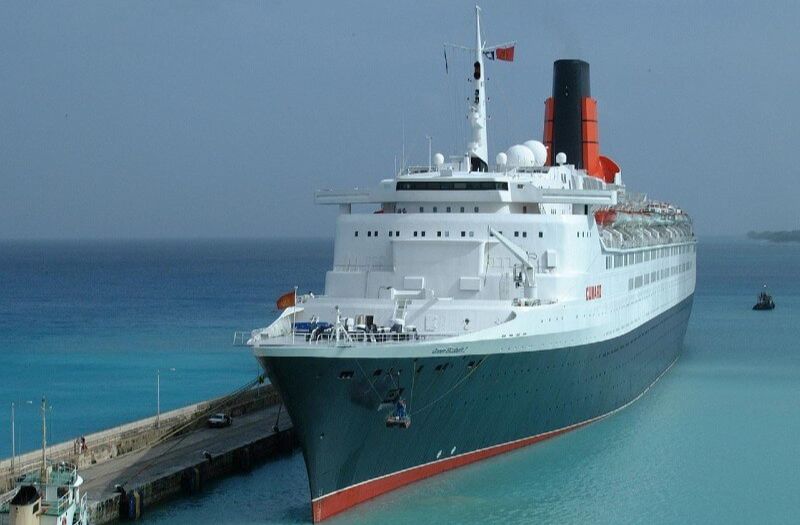 That's hard to verify because it wasn't a record that cruise lines were really shouting about, but it's certainly one of the first major cruise ships to ensure that all guests had private toilets and shower or bath facilities.
How big are the bathrooms on a cruise ship?
The size of a cruise ship bathroom will vary depending on the ship and the room that you book, but expect an average of between 25 and 30 square feet, or 2.3 to 2.8 square meters. Suite bathrooms, or luxury ships, may have larger bathrooms.
In most cases the bathrooms are pretty small – don't expect to be able to swing your toiletry bag around!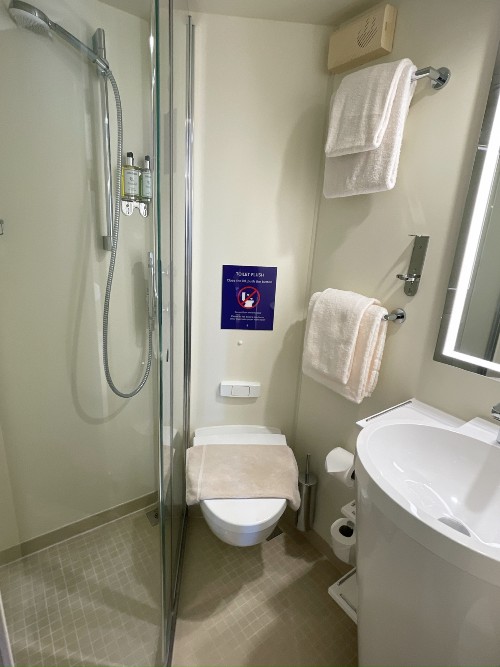 For most people, it's not a problem but if you're a larger person you might find it uncomfortable, especially if the shower has a door rather than a curtain. Some people struggle to fit inside.
If you're concerned that might be the case for you, you can do one of three things:
Upgrade your cruise to a stateroom with a larger bathroom, or a ship that is more luxurious
Leave the shower door open and put down extra towels on the floor to soak up the water
Check the size of the bathrooms in the fitness suite or spa, and see if they're more comfortable to use
What does a split bathroom on a cruise mean?
A split bathroom on a cruise ship is where the stateroom essentially has two bathrooms – one that has a shower or bath with a sink, and one that has a toilet and sink. They're designed to make getting ready easier, so one guest can use the toilet while another is showering.
Split bathrooms are not too common and are used for families. After all, how many times has a child suddenly decided they need the toilet, just when it isn't convenient? Having the option for them to use a toilet while you're showering, without disturbing you, is a huge bonus.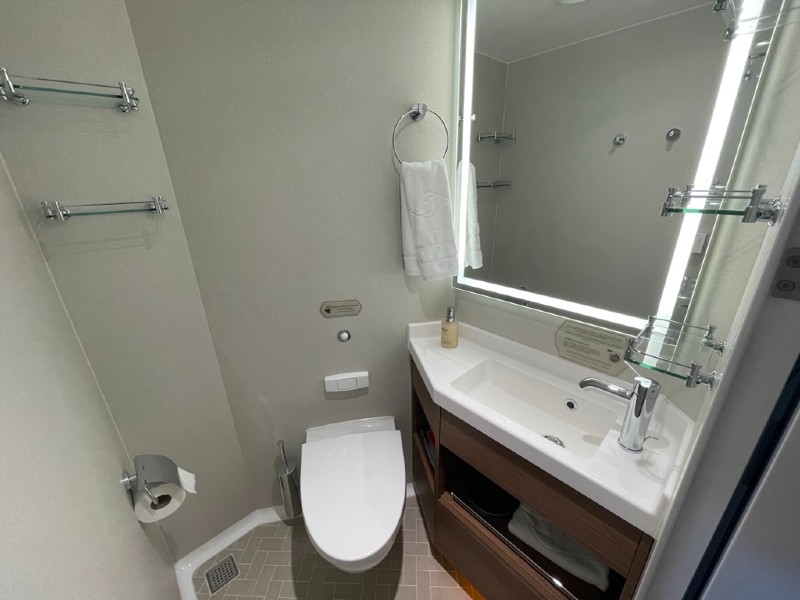 Which cruise lines have split bathrooms?
Not many cruise lines have split bathrooms. You'll find them on Disney Cruise Line ships, and there are some on the new Icon of the Seas ship for Royal Caribbean, specifically in the Family Infinity Balcony staterooms.
The family river cruise ship, A-Rosa Sena also has split bathrooms in the family cabins on Deck 1. As you can see below, there are two sinks and a shower in one side, and a toilet and sink in the other.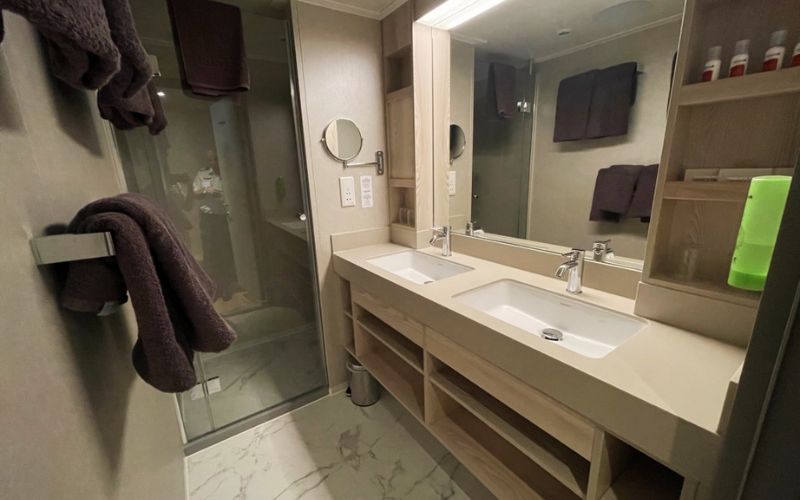 If you like the idea of a split bathroom but don't want to cruise with Disney, A-Rosa or on Icon of the Seas, some ships will have two full bathrooms in the cabin if you choose the largest suites, although expect to pay a premium for these rooms.
How do you shower on a cruise ship?
Most cruise ship bathrooms will have a shower cubicle/stall, although some will have a bathtub with shower over. Most showers on cruise ships do have a handheld attachment but check as there may be some cruise ships with a fixed shower head only.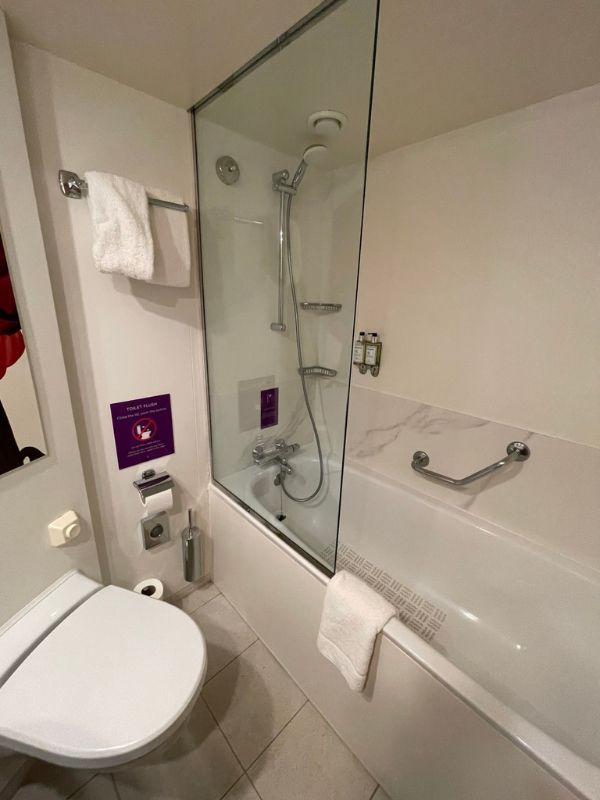 Cruise ships have a pressurised water system that works quite well, so complaints about shower pressure are few – indeed I've read some forum posts where people describe returning home and realising how bad their own shower is!
Showering is typically fine on a cruise, but if you're a larger person then consider upgrading to a room with a larger bathroom if you can.
Are there outlets in cruise ship bathrooms?
While not always the case, most cruise ships have a low-voltage power outlet designed for use with electric shavers, although they will also accept electric toothbrush chargers. They have a low amperage circuit for safety so often can't be used with hair dryers or other high-powered devices.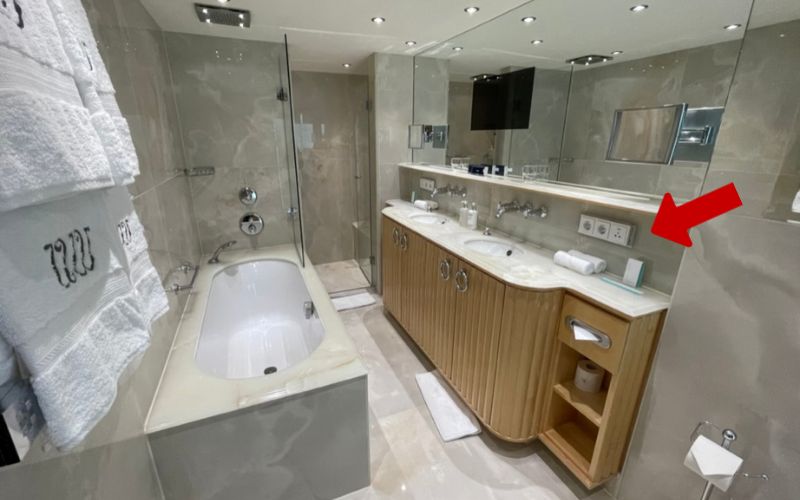 These outlets are the same as you'd find in a typical hotel bathroom. They're special outlets that you should only use with a shaver or toothbrush, and for safety reasons, they're not powerful enough for most of your other devices to work.
Do cruise ship bathrooms have hair dryers?
While most cruise cabins will be equipped with a hair dryer, they are not usually found in cruise ship bathrooms. Instead, they're located in the main cabin, sometimes hidden in a drawer at the desk area, where they will be plugged into an outlet or hard-wired into the ship's electrics.
Disney Magic (bathroom pictured below) has a hairdryer in the bathroom. But as it's over 20 years old it doesn't work that well, so you also get a modern hairdryer in a drawer in the bedroom.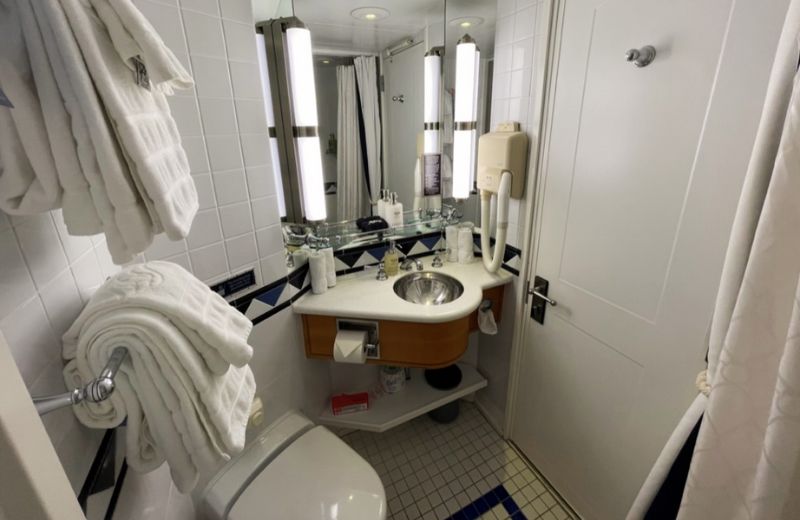 These hair dryers aren't designed to work on low-voltage outlets in the bathroom so don't try to move them. But, if you're going to need some time to dry your hair, it's a good excuse to shower first, so you can dry your hair in the main cabin while your partner is showering.
Some older cruise ships might not be equipped with hair dryers. If you need one, check your ship before you sail. You can usually bring your own.
Do cruise ships have toilet paper?
Cruise ships do provide toilet paper in private and public bathrooms, but it's often low-quality paper specially designed for cruise ship plumbing systems. It is thin, designed to ensure there are no blockages in the vacuum system.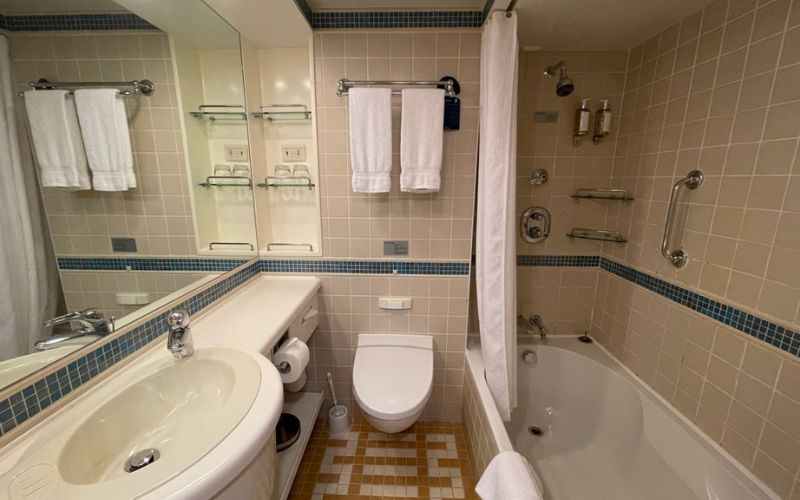 Don't try to bring your own toilet paper with you, unless you're happy putting it in the waste bin. If you use it in the toilet and it causes a blockage you could be liable for any costs incurred in repairing it. So while the provided toilet paper isn't the best, you'll need to get used to it for the duration of your cruise.
If it's a serious issue for you, you can at least look forward to hopefully enjoying better quality toilet paper when you visit bathrooms on a port of call. But that might not be the case either.
Most cruise ships also provide facial tissues as well as toilet paper. You can use this if you have a particularly sensitive behind.
The toilet paper in your private bathroom will be replenished by your room steward whenever they attend to your room. If you find that you're running out more frequently, just ask your steward to leave extra.
What toiletries are provided on a cruise?
Typically in a cruise ship bathroom, you can expect to be provided with shampoo and soap. You may also find hair conditioner and some body lotion as well.
You may also be provided with shower caps. You'll need to bring your own toothpaste, shaving foam and any other basics you need.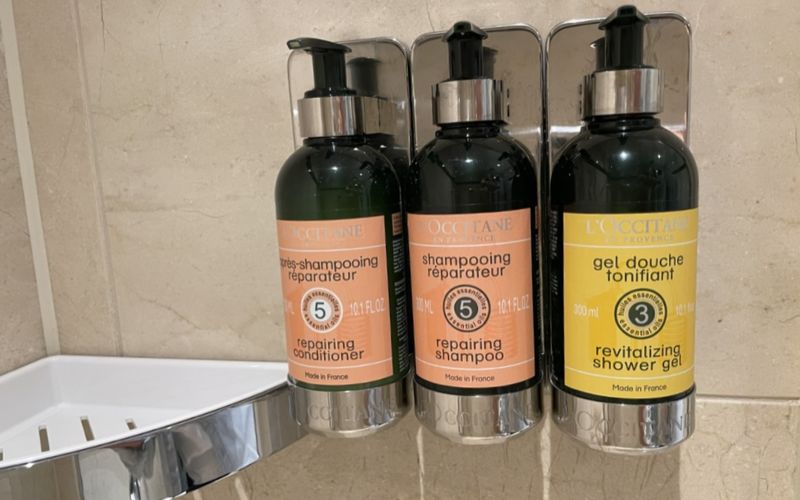 On some ships, you may find upgraded toiletries in the suites as a perk of booking a higher class of accommodation. Usually, though, this only refers to the brand of the toiletries you're given, rather than being provided with a wider range.
Still, you might find that some luxury cruise lines do provide extra touches such as cotton balls, sunscreen and even bath salts – but these are rare.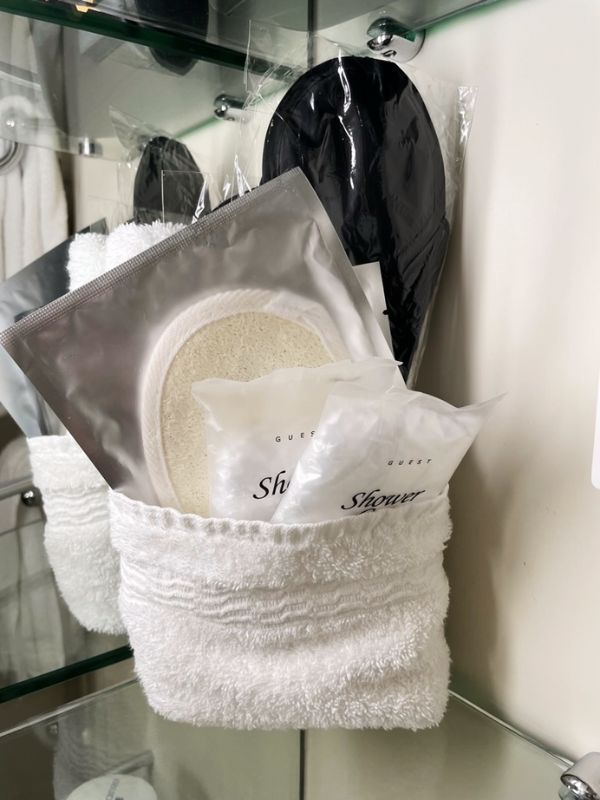 Do you need to bring bath towels on a cruise?
You don't need to provide your own bath towels on a cruise ship. The cruise line will provide all towels that you need for your cruise, including hand towels, bath towels and even pool towels, which will be a different colour to the standard towels, which are usually white.
If you want your towels to be changed, just leave them on the floor of the bathroom. Your cabin steward will then swap them out with a fresh set for you.
If you're lucky (depending on the ship and whether you're travelling with family, usually) they might even make a towel animal for you.
Towel animals have become less common in recent years – some people believe they're less environmentally friendly since they usually need more than one fresh towel to be supplied – while since the pandemic, some people may not want stewards spending more time than necessary touching towels.
Are there disabled bathrooms on cruise ships?
All cruise ships will have disabled bathrooms, including public bathrooms designed for people with accessibility needs, and a selection of disabled-access staterooms that have special bathroom facilities.
The facilities in a wheelchair-accessible cabin will vary. Some ships will have two types of cabins for disabled people – one which is just a little larger and one with a proper wet room, so make sure you book the right one for your needs.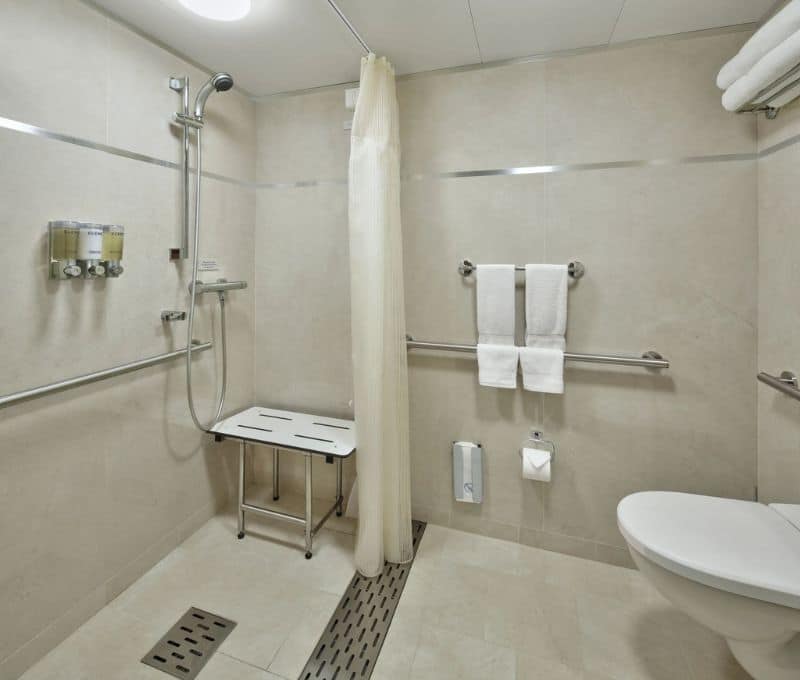 Just be aware, public disabled bathrooms are also where you'll tend to find baby-changing stations. So you might be waiting to use a bathroom in a public area if someone is using it to change a baby's nappy.
Where do service dogs go to the bathroom on a cruise ship?
Cruise ships will typically have a special relief station for service dogs, which may be on a promenade deck or it may be in an area of the ship reserved for crew only. It will always be in a quieter area of the ship away from most guests.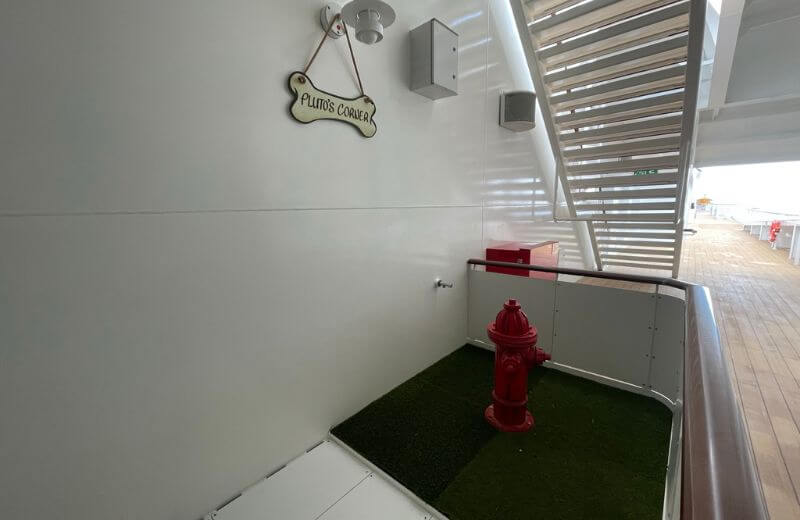 Dogs are usually only permitted on a cruise ship if they are a service dog for a registered disability, but all service dogs do need to be able to go to the toilet. Guests are advised to speak to the crew when they board to find out where the dog needs to be taken.
What happens when you use the bathroom on a cruise ship?
Cruise ship toilets use a vacuum system to remove your waste from the toilet, rather than forcing water down via a water flush system. The waste is treated – it is mostly broken down into water, which is treated until considered safe, and then released into the ocean.
Most toilets at home use water to flush waste down, but to get the right pressure in a ship that is many decks high would be difficult, so vacuum suction is used instead.
The toilet flush is usually behind the toilet lid. That's because you should always flush it with the lid down, to help with the suction and make sure bacteria isn't sprayed into the bathroom. Also, it's really important to make sure sanitary items are disposed of in the bins, not the toilet, or they will clog the system.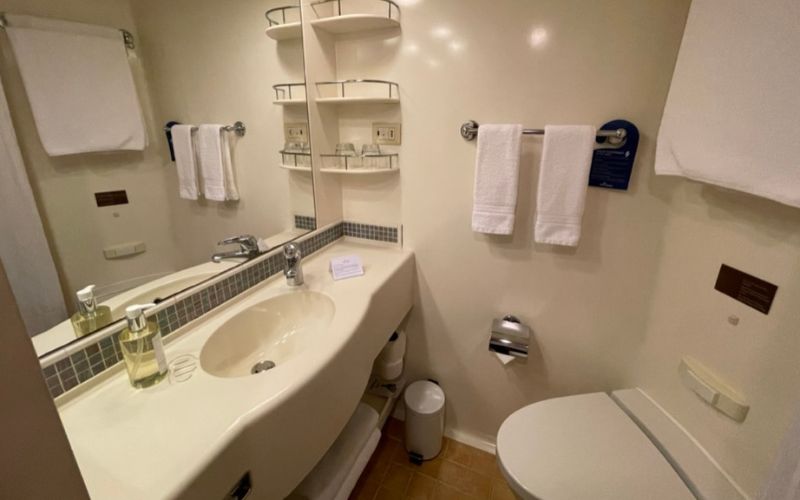 Do cruise ship toilets have water in them?
Cruise ship toilets do have water in them, although water isn't used for the flushing mechanism – it just helps to keep the toilet clean when waste is sucked through the system. Seawater is not used, because the salt would be corrosive to the plumbing system.
That doesn't mean the water doesn't start as seawater though – cruise ships will have a desalination plant that takes seawater, removes the salt and then turns it into fresh water to use in the plumbing system.
Where does the toilet waste go on a cruise ship?
After you flush the toilet on a cruise ship, the waste is sucked into a treatment facility. It passes through a filter, removing any solids that can't be broken down. The remaining water is treated for bacteria and sterilised through multiple steps, before being released into the ocean.
Arguably, the wastewater that cruise ships release into the seas – treated from toilets, showers, laundry and more – is typically cleaner than the actual ocean water. There are some hefty regulations in place to make sure ships are properly treating their wastewater.
To learn more, you can watch this video…
Can you drink water from a cruise ship bathroom?
You can drink water from the taps in your cruise ship bathroom – it will have been treated to make sure it is safe. It may be a little warmer than you'd like but there are water dispensers around the ship if you want to refill a water bottle instead.
It's perfectly fine for drinking a glass of water at night if you're feeling dehydrated, but don't expect super-cold, super-fresh water from the taps.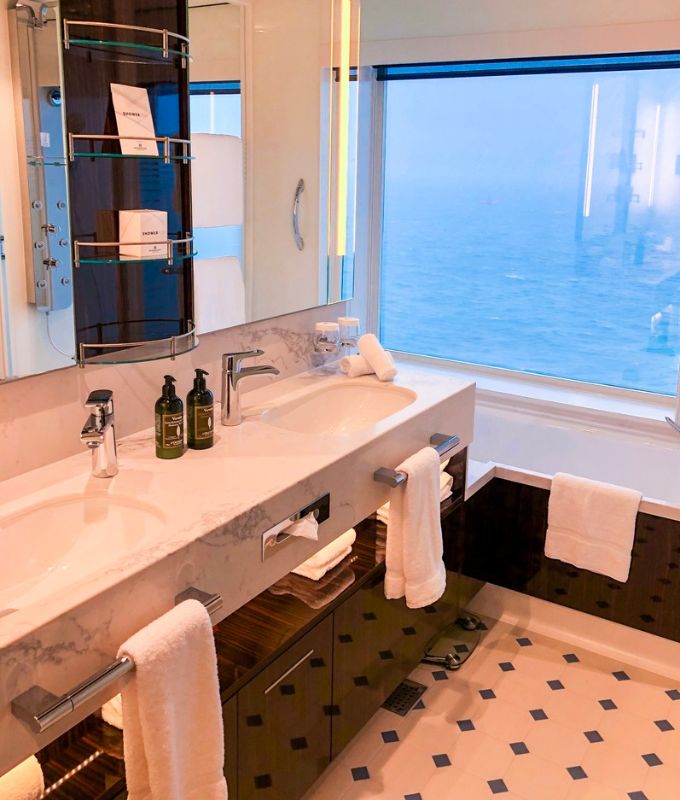 Final word
There you have it – everything you need to know about cruise ship bathrooms. Simply put, they'll have all the basics you need, and there are always public bathrooms on most decks of a cruise ship, so you don't always need to trek back to your room either.
They're not ideal – the shower size in particular can be a little limiting in basic cabins – but you can always upgrade your room if a spacious bathroom is really important to you.
Related Posts: