When planning a cruise on Regal Princess, it's definitely a good idea to take a look at the cabins to choose the best one. There are lots of different rooms on Regal Princess and, as with any cruise ship, there are some less desirable cabins that you'll probably do well to avoid.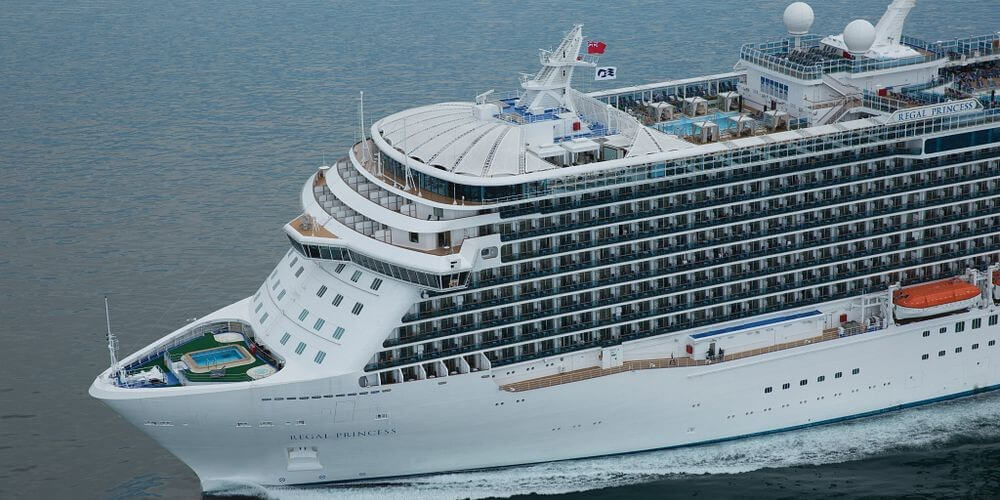 I've spent around twelve hours studying the Regal Princess deck plan and reading all the comments in cruise forums and Facebook groups. I've condensed all of my findings into this simple guide, to make it easy for you to choose the best cabin on Regal Princess for your cruise.
Make sure you keep reading all the way to the 'cabins to avoid' section as I'd hate for you to book one of these dodgy cabins and have it ruin your holiday.
Regal Princess Cabin Types
There are five cabin types to choose from on Regal Princess:
| Accommodation | Sleeps | Size (incl. balcony) |
| --- | --- | --- |
| Interior | 2 to 4 | 158 to 162 sq ft. |
| Balcony | 2 to 4 | 179 to 222 sq. ft. |
| Deluxe Balcony | 2 to 4 | 233 to 279 sq. ft. |
| Mini-Suite | 2 to 4 | 323 sq. ft. |
| Suite | 2 to 4 | 440 to 1,507 sq. ft. |
Unlike some other ships like Sky Princess, Regal Princess does not have any Ocean View cabins with windows.
When choosing the best cabin on Regal Princess, you should consider not just the cabin type but also the location on the ship as well as your overall budget.
I've made a checklist of things you should be aware of when choosing a cruise cabin. You can get it for free here…
Regal Princess Inside Cabins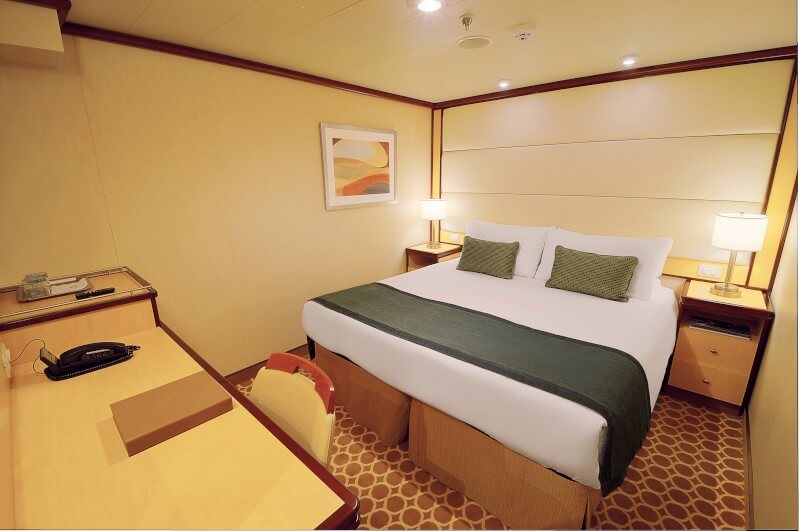 The cheapest cabins on Regal Princess are Inside cabins. Sleeping two or four people, these have no windows so there's no natural light in the room. They're also the smallest rooms on the ship.
If you're on a budget and prefer to spend your time exploring the ship rather than sitting in your room, an inside cabin could be perfect for you.
Inside cabins on Regal Princess have twin beds which can be converted to a queen-size bed. Some cabins also have third and fourth Pullman beds which are ideal for kids, but can also be used by adults.
Suggested read: What is a Pullman bed?
If you want an inside cabin for a couple without kids, I would strongly recommend that you choose one without the upper Pullman beds. Rather than being hidden in the ceiling as on some ships, the Pullman beds on Regal Princess are attached to the wall. Cruisers have complained that they find themselves regularly bashing their heads on the Pullmans when getting in and out of bed.
Regal Princess Inside Cabin Grades
The cabins on Regal Princess are each assigned a grade. The first letter of the grade code (I) means Inside and the second letter refers to the location on the ship.
The higher grades of Inside cabins cost a little more, but they're generally larger and in a more desirable midship location rather than right at the front or back.
| Grade | Sleeps up to | Average Size (sq ft) |
| --- | --- | --- |
| IA | 4 | 175 |
| IB | 4 | 166 / 175 |
| IC | 4 | 166 / 175 |
| ID | 4 | 166 |
| IE | 4 | 166 |
| IF | 2 | 166 |
Regal Princess Balcony Rooms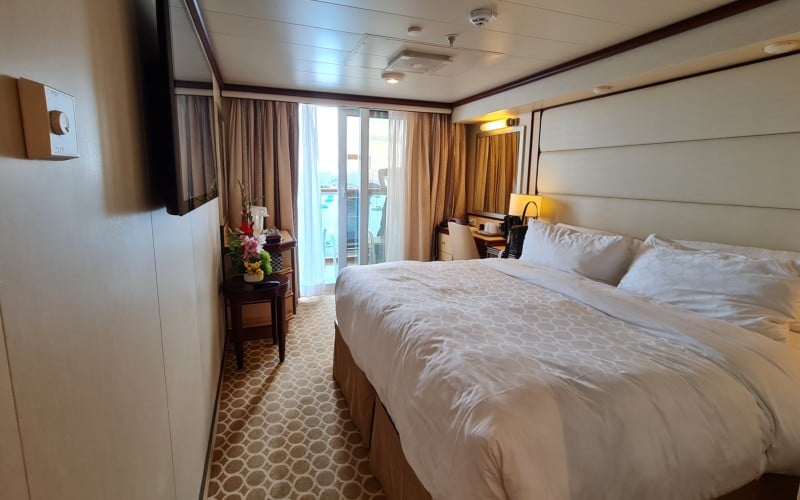 The next step up from an Inside cabin on Regal Princess is a Balcony cabin. These have sliding doors leading out onto a private balcony where you can sit and enjoy the fresh sea air.
There are five types of balcony cabins on Regal Princess:
Balcony with Obstructed View
Deluxe Balcony with Obstructed View
Balcony
Deluxe Balcony
Premium Deluxe Balcony
Balcony cabins with obstructed views are located behind the lifeboats on Deck 8. However, if you're clever you can choose a cabin that's between two lifeboats and enjoy a view that's only slightly obstructed for a cheaper price. More on that later in this guide.
Regal Princess Balcony Cabin Grades
| Grade | Type | Sleeps up to | Average Size (sq ft) |
| --- | --- | --- | --- |
| D4 | Premium Deluxe Balcony | 4 | 277 |
| DA | Deluxe Balcony | 3 | 249 |
| DB | Deluxe Balcony | 4 | 233 |
| DC | Deluxe Balcony | 4 | 233 |
| DD | Deluxe Balcony | 3 | 233 |
| DE | Deluxe Balcony | 4 | 233 |
| DF | Deluxe Balcony | 4 | 233 |
| BA | Balcony | 2 | 222 |
| BB | Balcony | 4 | 222 |
| BC | Balcony | 4 | 222 |
| BD | Balcony | 4 | 222 |
| BE | Balcony | 4 | 222 |
| BF | Balcony | 4 | 222 |
| DW | Deluxe Balcony (Obstructed) | 4 | 233 |
| BW | Balcony (Obstructed | 4 | 222 |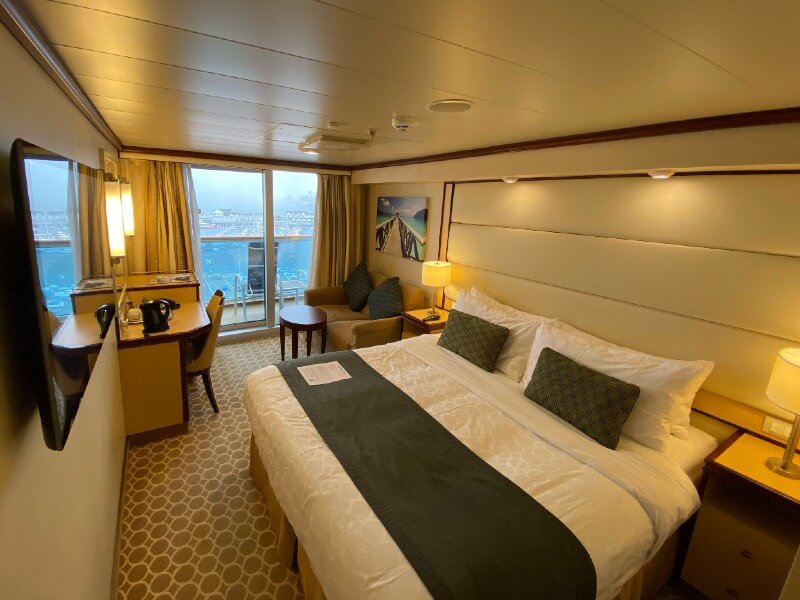 Standard Vs Deluxe Vs Premium Deluxe Balcony
The main difference between Standard, Deluxe and Premium Deluxe Balcony cabins on Regal Princess is the size. When you upgrade from Standard to Deluxe you'll get 5% more space. If you upgrade from Deluxe to Premium Deluxe you'll get a further 18% extra space.
Another difference for families to consider is the bed configuration. Three and four-berth Balcony cabins have one or two Pullman beds that come down from the ceiling. With a Deluxe or Premium Deluxe Balcony cabin you'll get a single sofa bed, with some also having one Pullman bed. This can be a good choice for families who don't want to put very young children in the top bunk.
If you're trying to decide between a Balcony room and a Deluxe balcony room on Regal Princess, here are some excellent cabin tour videos to help you choose:
Regal Princess Mini Suites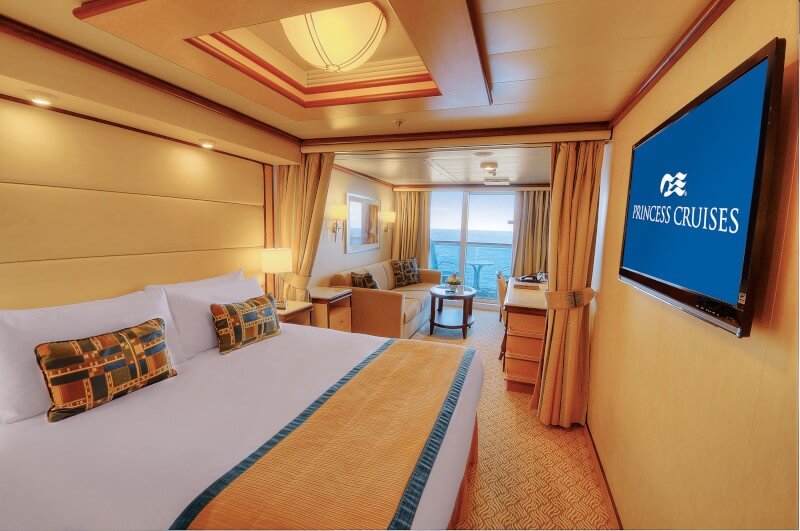 A Mini Suite offers some extra space as well as some added perks. There's a curtain to separate the bedroom and living area and an extra television so you can enjoy a little space away from your travelling companion.
When you book a Mini Suite on Regal Princess you'll also enjoy a welcome glass of bubbly on embarkation day.
Regal Princess Mini Suite Perks:
A separate sitting area with sofa bed and coffee table
A bathtub and massage shower
Up to four chairs on your balcony rather than two
A luxury mattress topper and premium pillows
Two televisions rather than one
A curtain to separate the sofa bed from the main bed
Regal Princess Mini Suite Grades
| Grade | Type | Sleeps up to | Average Size (sq ft) |
| --- | --- | --- | --- |
| M1 | Club Class Mini Suite | 4 | 314 |
| M6 | Club Class Mini Suite | 3 | 314 |
| MA | Mini Suite | 4 | 314 |
| MB | Mini Suite | 4 | 299 |
| MC | Mini Suite | 4 | 299 |
| ME | Mini Suite | 4 | 299 |
| MF | Mini Suite | 3 | 299 |
Club Class Mini Suites
The best Mini Suites on Regal Princess are Club Class Mini Suites. These have some extra perks in addition to those that you'll get with the standard Mini Suites.
Regal Princess Club Class Mini Suite Perks:
More comfortable bed
Priority embarkation and disembarkation at the beginning and end of the cruise
Half bottle of red and half bottle of white wine on embarkation day
Evening canapes (upon request)
Bathrobes
Seated in exlusive area of Main Dining Room with no waiting
Extra menu options
When choosing between a Mini Suite and a Club Class Mini Suite, look at the difference in price to work out whether these added perks and the extra space are worth the upgrade.
Regal Princess Suites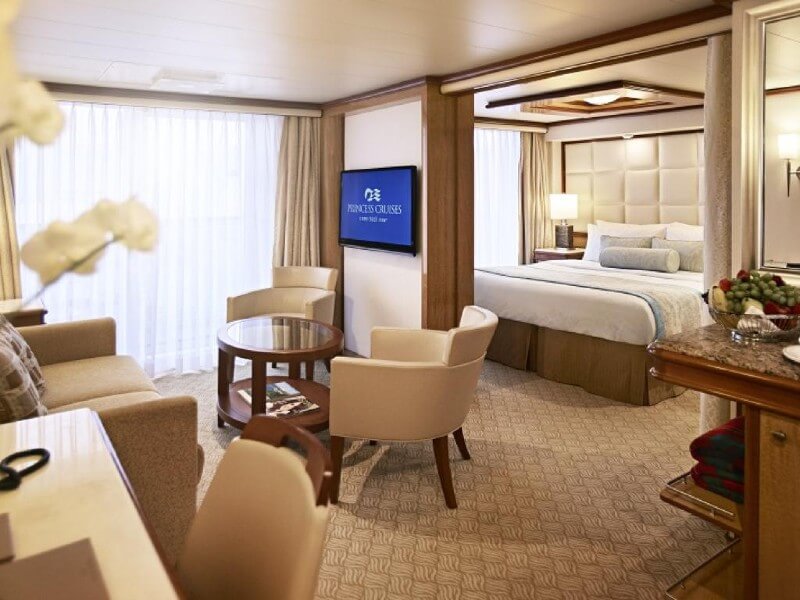 If you want the best of the best, then you should opt for a Suite on Regal Princess. Suites are spacious with a separate bedroom and living area. As well as more space to relax, you'll get all of the perks of a Club Class Mini Suite and more.
Regal Princess Suite Perks:
Priority embarkion and disembark throughout the cruise with use of a special lounge
Priority line at guest services and the shore excursion desk
Priority for special dining reservations
Free private portrait sitting with photographer
Free laundry, dry cleaning and show polishing
Access to the Lotus Spa Thermal Suite
Use of umbrellas
Cruise card wallet
Club Class Dining in an exclusive area with extra menu options
Welcome glass of champagne
Mimosa at breakfast each day
Free mini bar
Evening canapes (upon request)
In-suite tea service
Fruit bowl, refreshed as requested
Ice service, twice daily
Upgraded room service menu
Fresh orchids
With three or four people in a cabin, you cannot have a double or queen bed in any cabin on Regal Princess. You have to have the beds as single twins. This is even true of Suites.
Regal Princess Suite Grades
| Grade | Type | Sleeps up to | Average Size (sq ft) |
| --- | --- | --- | --- |
| S3 | Penthouse Suite | 3 | 643 |
| S4 | Penthouse Suite | 3 | 440 |
| S5 | Premium Suite | 4 | 554 |
Premium Suite Vs Penthouse Suite
There are two types of Suites on Regal Princess – Premium and Penthouse. The Penthouse Suites are the most expensive. With a Penthouse Suite, you get more space and a better location than a Premium Suite.
Premium Suites are located at the front of the ship, but they're not forward-facing. The walls are sloping and you have a little further to walk to the elevators. If you want a Suite that accommodates four people, this is your only option as Penthouse Suites only sleep three.
Regal Princess' Penthouse Suites are located either mid-aft on Deck 14 (S4 grade) or at the aft corners of the ship (S3 grade). The Penthouse Suites at the aft have the best views with an oversized wraparound balcony. They're also much larger.
The Suites with the largest balconies are the Penthouse Suites on Decks 14 and 15.
Special Cabin Types
Regal Princess Aft Cabins
Aft staterooms and suites are located at the very back of the ship with the best views over the wake. They're often larger than average and there's little wind at the rear of the ship.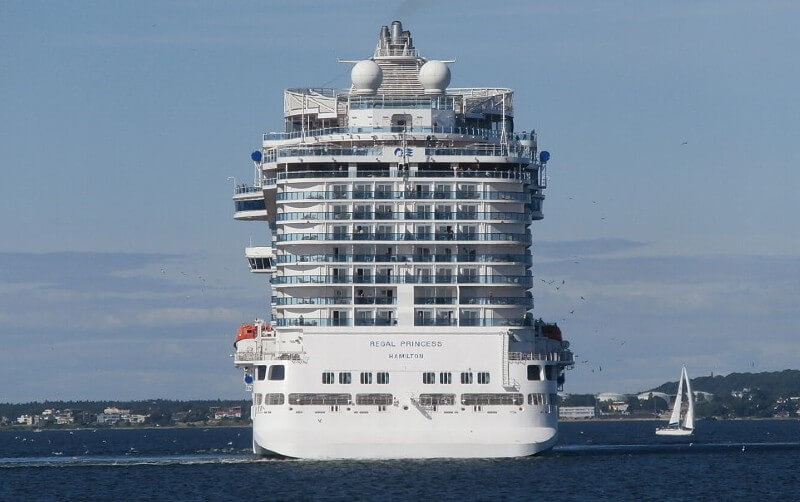 Regal Princess offers the following aft-facing rooms:
Premium Deluxe Balcony Rooms – Located on Decks 8 to 15
Penthouse Suites – Located on Decks 8 to 15
Regal Princess Connecting Rooms
If you have more than four people in your party, it's a good idea to book two connecting rooms with a door between them. However, if you only want one cabin, you should avoid interconnecting rooms as you may have some sound or draught coming through the door.
These are the connecting room options on Regal Princess:
Two Interior rooms
Two Standard Balcony rooms
A Standard Balcony and a Deluxe Balcony
A Standard Balcony and a Mini Suite
Two Deluxe Balcony rooms
Two Premium Deluxe Balcony rooms
Two Mini Suites
Regal Princess Accessible Cabins
Accessible cabins are designed primarily for people who use a wheelchair or scooter. They are spacious, with extra large doors, step-free access and a wet room. Accessible cabins usually get booked quickly, so it's wise to book far in advance if you need this specialist accommodation.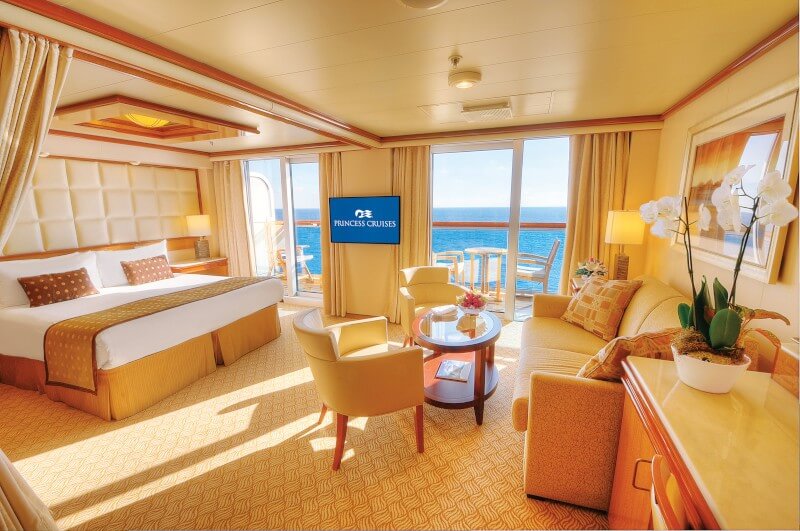 Regal Princess has the following types of accessible cabins:
Interior – Decks 8 & 9
Balcony – Decks 9, 10, 11 & 12
Mini-Suite – Deck 10
Club Class Mini-Suite – Decks 11 & 12
Penthouse Suite – Deck 14
Regal Princess Cabins to Avoid
Now you should be familiar with the various cabin types on Regal Princess and you may have decided which type is the best for you.
Next, we'll take a look at which cabin numbers to steer clear of to avoid a disappointing or frustrating experience when you cruise.
1. Balconies that you can't use when the ship is at sea
L101 to L108, M101 to M108
If your balcony faces forward, you're only allowed to use it when the ship is in port. This is because when the ship is moving it could get very windy out there.
If you want to make the most of your balcony and be able to relax out there on sea days, you should avoid any forward facing rooms or suites on Regal Princess.
However, the forward-facing balconies on Regal Princess do have one distinct advantage – they're huge, as you can see from this video…
2. Metal fronted balconies
L101 to L108, M101 to M108, E101 to E109
Some balconies have metal fronts, rather than glass. This means that you can't see the sea when seated, you have to stand up to enjoy the view.
It's only the balconies in the windiest spots that have metal fronts. On the Regal Princess, this is all forward-facing balconies as well as those at the front of Deck 8.
3. Beds that block the balcony doors
In some cabins, if you want to use the extra beds they're going to go right across the balcony doors, meaning that you would have to climb over someone to get outside.
These cabins are fine for two people, but I would definitely avoid cabins with this poor layout if you're cruising as a family of three or four.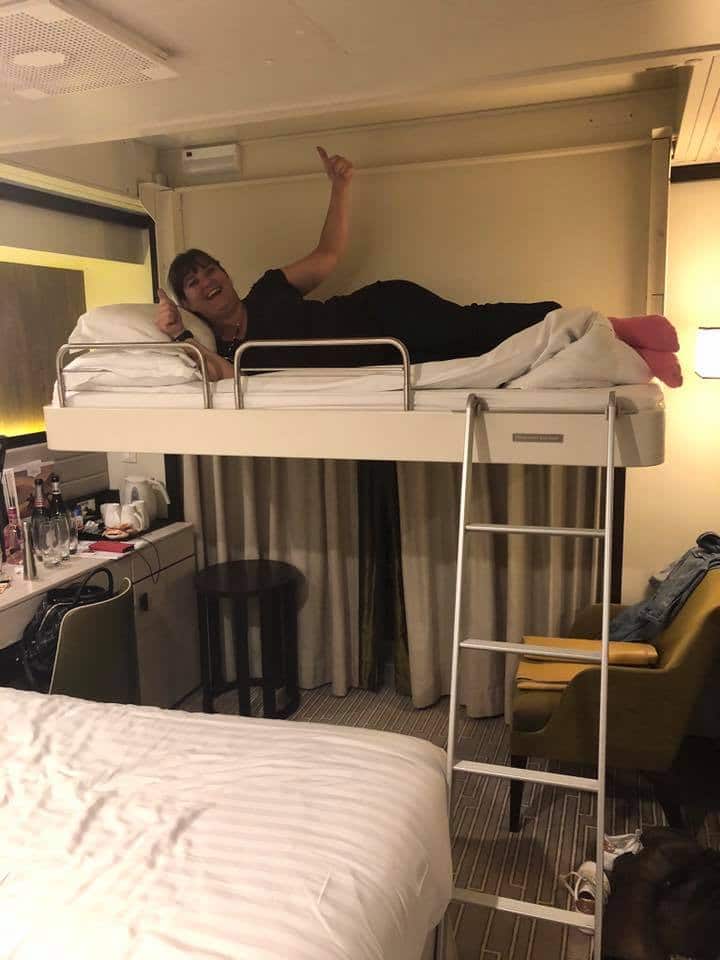 The photo above was taken on board P&O Cruises' Britannia – this is a sister ship to Regal Princess so the design is the same.
The cabins to avoid if you have three or four people are:
Lido Deck: L118, L119, L122, L123, L228, L229
Marina Deck: M130, M131, M307, M308, M309, M310, M511, M512, M620, M621
Riviera Deck: R107, R108, R234, R235, R238, R239, R240, R241,R511, R512, R735
Aloha Deck: A116, A117, A120, A121, A511, A512, A601, A602, A603, A604, A703, A704, A705, A706, A738, A739
Baja Deck: B5128, B129, B130, B131, B252, B253, B254, B255, B501, B502, B503, B504, B511, B512, B703, B704, B705, B706
Caribe Deck: C305, C306, C307, C308, C501, C502, C503, C504, C518, C519, C601, C602, C603, C604, C620, C621, C742, C743,
Dolphin Deck: D151, D152, D224, D225, D228, D229, D230, D231, D517, D519, D520, D522, D524, D525, D526, D531, D618, D619, D620, D621, D703, D704, D705, D706
Emerald Deck: E125, E130, E224, E225, E228, E229, E230, E231, E303, E304, E305, E306, E501, E502, E503, E504, E522, E523, E620, E621, E626, E627, E628, E629, E711, E712
4. Cabins with shaded balconies
All cabins on Lido Deck
If you choose a cabin on the Lido Deck, you should be aware that the deck above overhangs. While this can be good to shelter from the rain, you won't get much sun on these balconies. If you like to sunbathe on your balcony, choose a lower deck.
4. Cabins beneath the Sea Walk
M409, M411, M415, M417, M419, M423, M425, M429, R409, R415, R417, R421, R423, R427, R429, R433, A409, A415, A417, A421, A423, A427, A429, A433, B409, B415, B417, B421, B423, B427, B429, B433, C409, C415, C417, C421, C423, C427, C429, C433, D407, D409, D411, D415, D417, D421, D425, D429
The Sea Walk on Regal Princess is a glass walkway that's suspended over the side of the ship. Cabins beneath the Sea Walk are jokily known as 'Peeping Tom cabins' as from these balconies you may be able to see right up people's skirts!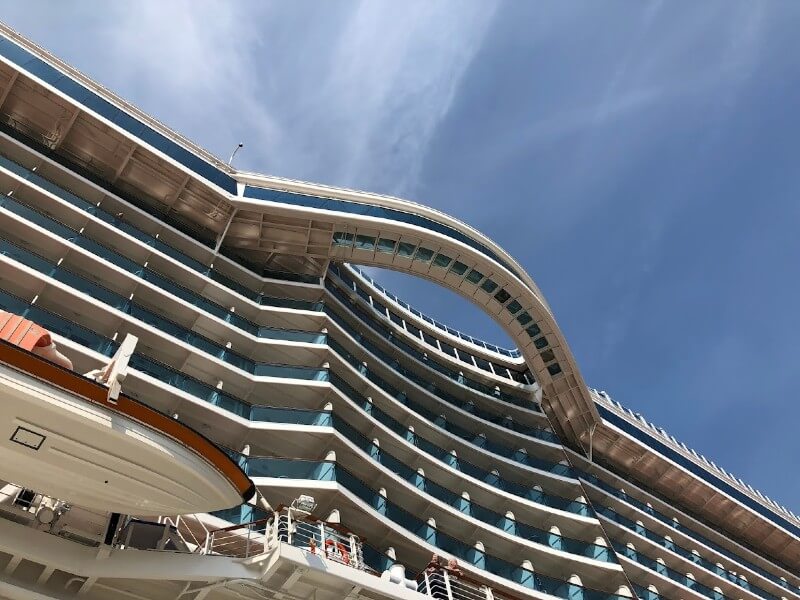 Of course, people on the Sea Walk can see down onto the balconies too, so they don't have a lot of privacy. This isn't so much of an issue if you choose a cabin on a lower deck, but the higher the deck, the easier it will be for people to see right down on to your balcony.
5. Cabins with little privacy
M722, M723, M724, M725, M726, M727
At the aft of the Regal Princess is the Horizon Terrace. This is a popular place for people to stand and admire the view at the back of the ship. As Regal Princess has a tiered stern, anyone looking down from here will see right onto the balconies of the two decks below.
You can see what this looks like in this video…
6. Cabins that could make you seasick
L101 to L129, M101 to M129
If you're concerned about feeling seasick you'll want to avoid the cabins at the very front of the ship and on the highest decks. The movement of the ship will be felt most in these areas. Instead, opt for a midship cabin on a low deck.
7. Cabins that are a long walk from anything
L101 to L129, M101 to M131, R101 to R108, A101 to A129, B101 to B133, C101 to C139, D101 to D151, E101 to E130
Regal Princess is a large ship with has three banks of elevators. If anyone in your group struggles to walk far, you should choose a cabin near the mid ship elevators.
The cabins right at the front of the ship are the furthest from any of the lifts. Plus, lots of the attractions like the kids' clubs, Terrace Pool, buffet, main dining rooms and Vista Lounge are at the back of the ship.
8. Noisy cabins (in the morning)
M310 to M421, M701 to M727
It's never a good idea to book a cabin beneath the Lido Deck on a cruise ship, particularly if you're a night owl who likes to lay in bed past seven in the morning. This is because people often drag sun loungers across the deck. Whilst this won't sound loud to them, it certainly can be for anyone sleeping directly below.
9. Noisy cabins (in the evening)
E123, E125, E128 to E227
If you like to go to sleep before 11pm, then you should avoid booking a cabin directly above the theatre. The shows can go on quite late on some nights, and you won't want to be disturbed by the sound of loud music coming from beneath your room.
10. Cabins by the laundry rooms
M622, M623, R611, R612, A622, A631, B622, C622, C623, D622, D623, E622, E623
Having a cabin across the hall from the laundry room can be quite handy. It's only open from 8 am until 8 pm so you shouldn't be disturbed by any noise in the night, but if you like to sleep in late, you could be awoken by the sound of washing machines in the morning.
The main problem with a cabin across from the laundromat is that it can be a busy area, particularly on the day before a formal night when everybody wants to iron their clothes.
Suggested read: How To Do Laundry on Cruise Ships
12. Cabins with interconnecting doors or extra beds that you don't need
If you're cruising solo or as a couple, you should avoid booking a cabin with Pullman beds or interconnecting doors. Firstly, those cabins are often sought after by families, so leaving them free can be a kind thing to do if you have another option.
Secondly, connecting doors and extra beds can be plain annoying. You're probably going to bump your head on the beds, even when they're folded away. And if you have noisy neighbours then having a door between your rooms won't offer much in the way of soundproofing.
12. Cabins with obstructed views
Obstructed view cabins are a cheaper way to have a balcony cabin. You'll pay less because your view is blocked by a lifeboat.
Importantly, some views are much less obstructed than others. It depends if you're right behind a lifeboat, or in the gap between two lifeboats.
If you're considering an obstructed balcony cabin on Regal Princess, I suggest taking a look at these photos and studying the deck plan to work out which cabins have the least obstruction.
The Best Cabins on Regal Princess
1. The Best Suites on Regal Princess
The best Suites on Regal Princess are the Penthouse Suites at the aft of the ship. You can take a closer look at one of these in this video…
2. The Best Balcony Cabins on Regal Princess
The design of Regal Princess means that some cabins have larger, angled balconies. You can see some of these on this snapshot from the deck plan…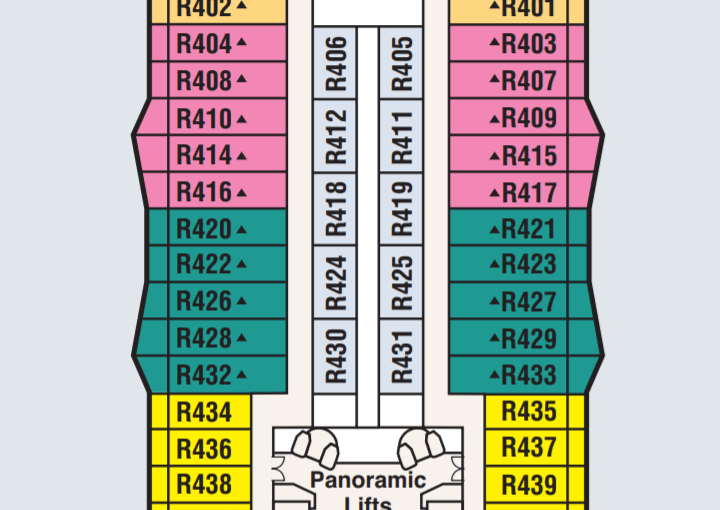 Some of these cabins are overlooked by the Sky Walk, but if that doesn't bother you and you just want extra space then they can be good.
If you'd like to enjoy a larger balcony for the same price, then these are the cabins with the largest balconies…
These rooms on Regal Princess offer the most space for your money:
Balcony Rooms: L301, L302, D424, D425, D428, D429, E424, E425
Deluxe Balcony Rooms: D407, D408, D409, D410, E105, E106, E107, E108, E109, E110, E409, E410, M409, M410, M411, M412, M424, M425, M428, M429
Mini Suites: A409, A410, A414, A415 ,A428, A429, B409, B410, B414, B415, B428, B429, C409, C410, C414, C415, C428, C429, R409, R410, R414, R415, R428, R429, R432, R433
3. Cheap inside cabins for large families
Cruising with children can be expensive. If you have three, four, five or six kids and want to cruise as cheaply as possible, then look out for inside cabins with interconnecting doors and extra beds.
Pairs of inside cabins that would suit big families:
R714 & R716 – Sleeps 6
R715 & R717 – Sleeps 6
A714 & A716 – Sleeps 6
A715 & A717 – Sleeps 6
B714 & B716 – Sleeps 8
B715 & B717 – Sleeps 8
C130 & C134 – Sleeps 6
C131 & C135 – Sleeps 6
C240 & C244 – Sleeps 6
C241 & C245 – Sleeps 6
C529 & C531 – Sleeps 6
C714 & C716 – Sleeps 8
C715 & C717 – Sleeps 8
How To Book Your Princess Cruise For Less
The price of your cruise will be different depending on who you book it with. It's always cheaper to use a travel agent with access discounted rates.
See the best Princess Cruises deals from all travel agents in one place.
Of course, not all travel agents are equal in terms of the service that they provide, and a great travel agent is worth their weight in gold.
I like to recommend this travel agent as she always goes above and beyond to provide a fantastic, personalised service for anyone I put her in touch with. She did a great job of booking my most recent Princess cruise for me.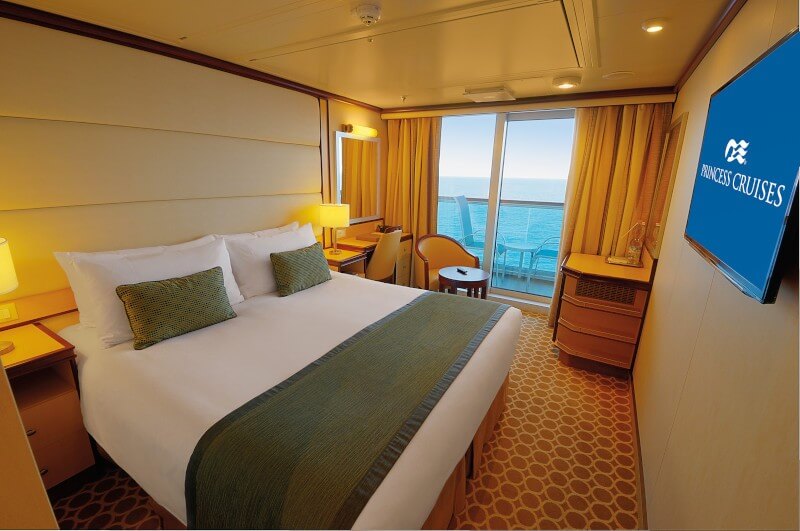 Regal Princess Accommodation FAQs
How many suites does Regal Princess have?
Regal Princess has 34 Suites. There are eight S5 grade Premium Suites, twelve S4 grade Penthouse Suites and fourteen S3 grade aft Penthouse Suites. The best suites are the S3 Penthouse Suites.
How many mini suites are on Regal Princess?
Regal Princess has 314 Mini Suites. These are divided into seven different grades based on the location. Club Class Mini Suites are in the best locations and come with some additional perks.
Does Regal Princess have Oceanview cabins?
Regal Princess does not have any Oceanview cabins. The next best thing to an Oceanview would be an Obstructed Balcony Cabin. Alternatively, you can save money by choosing an Inside Cabin and putting the bridge cam channel on your TV for a view of outside.
What is an obstructed balcony view on Regal Princess?
On Regal Princess, an Obstructed View Balcony is one where your sea view is partially obscured by lifeboats. Some cabins are positioned between lifeboats, so the view isn't obstructed as much as it is in others.
What's the difference between balcony and premium balcony on Princess?
Princess Cruises' Premium Balcony cabins are more spacious than standard Balcony cabins. They have an average size of 277 square feet, compared to 222 square feet for a Balcony cabin and 233 square feet for a Deluxe Balcony cabin.
What deck are the lifeboats on Regal Princess?
On Regal Princess, the lifeboats are on the Promenade Deck which is Deck 7. There are no cabins on this deck, but cabins on the deck above, Emerald Deck, may have obstructed views due to the lifeboats below.
Does Regal Princess have kettles in cabins?
Regal Princess has kettles in the cabins only on cruises that are departing from the UK. On other itineraries, you probably won't find a kettle but you can get tea and coffee for free from the buffet.
Does Regal Princess have a Promenade Deck?
There is a Promenade Deck on deck 7 of Regal Princess. The Promenade Deck is the best place to go for a stroll on the ship. Some areas are very narrow, but there are wide areas of the Promenade Deck that have seating. You cannot complete a full circuit of the deck.
Get your cabin checklist
Want to get a free copy of the checklist I use when choosing a cruise cabin? You can get it here…
Related posts: