Majestic Princess is a ship that truly lives up to her name – she really is majestic in every way, with some fantastic restaurants, places to relax and accommodation. But not all rooms are created equally.
So, before you make a snap decision and book a cabin that isn't right for you, it's important that you learn about the options available.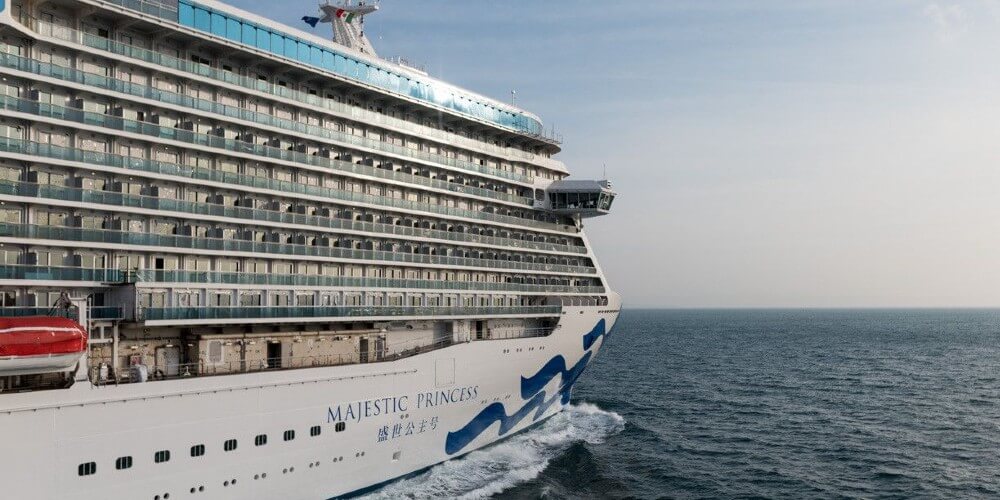 That's why I've created this guide to all of the stateroom options onboard Majestic Princess. I've scoured the deck plans, read up on the cruise forums and Majestic Princess reviews, and I've spent time in various social media groups dedicated to the ship to learn everything I can. It's been a hectic task!
In this guide to accommodation on Majestic Princess, I'll give you the most comprehensive information on the internet to help you make the right choice for your stateroom. I've included everything on the best and worst cabins on Majestic Princess.
It's worth reading through the whole guide. Even if you're someone who only wants the cheapest room available, or you're set on a Suite, it's good to learn about the various options.
But most importantly, make sure you don't skip the 'cabins to avoid' section – that's got some great tips that the cruise line won't necessarily tell you.
Majestic Princess Cabin Types
There are five main cabin types available on Majestic Princess.
| Accommodation | Sleeps | Size (incl. balcony) |
| --- | --- | --- |
| Interior | 2 to 4 | 166 to 175 sq. ft. |
| Balcony | 2 to 4 | 222 to 232 sq. ft. |
| Deluxe Balcony | 2 to 4 | 242 to 312 sq. ft. |
| Mini Suite | 2 to 4 | 299 to 329 sq. ft. |
| Suite | 2 to 4 | 440 to 682 sq. ft. |
The Majestic Princess was the last of the Royal-Class ships built without Ocean View staterooms – these were introduced on the Sky Princess and Enchanted Princess.
So, on Majestic Princess, you've either got the choice of having a private balcony, or no view at all from an Interior room.
There's more to booking your cruise accommodation than deciding on whether you want a view though. You need to think about your budget (and where you want to prioritise spending it), and the location of the room on the ship.
Don't worry though, I've made it simple with my own checklist of things you need to think about when you're deciding which cabin to book. Get your copy of the checklist here:
Majestic Princess Inside Cabins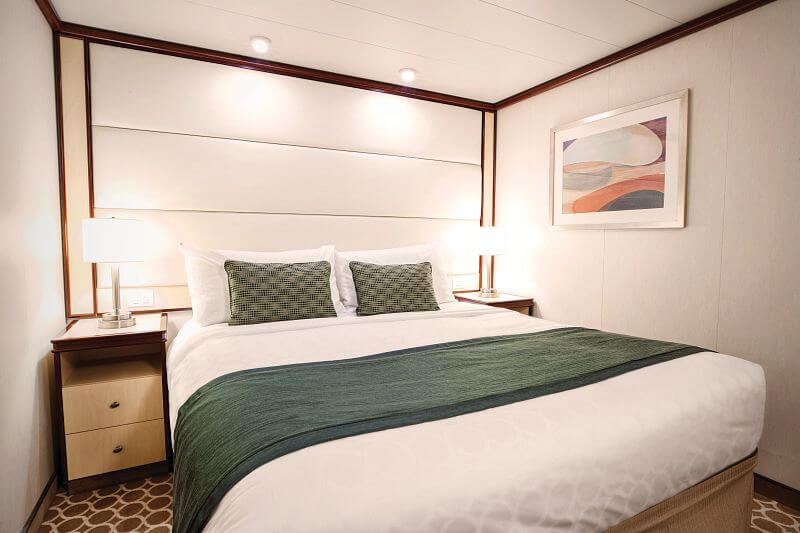 The cheapest accommodation you'll find on Majestic Princess is the interior cabins. As the name suggests, they're on the inside of the ship, which means no windows and therefore no natural light.
They're also the smallest rooms, but many of them can still accommodate up to four guests, even if they're better suited for two people. If you aren't too fussed about spending a lot of time in your room and your priority is to get the cheapest cruise, then an interior room is a good option.
Remember that you're never too far away from an open deck or a lounge with windows for when you do want to watch the sunset. Choosing an interior frees up more of your budget to spend on speciality dining, or on excursions.
Interior cabins all come with twin beds that can be zipped together to create a queen-sized one for couples who want to share. Grades IA to IE, which can all sleep up to four people, have Pullman beds too.
Pullman beds are fold-down beds that will either be stored attached to the wall, or hidden in the ceiling. They're better for children than they are for adults, but grown-ups can use them at a push.
Just be aware that the interior cabins on Majestic Princess are the fold-down type, which means it's annoyingly easy for guests in the main beds to bash their heads on them when sitting up.
Take a look at this video to see more of an inside cabin on Majestic Princess:
Majestic Princess Inside Cabin Grades
Princess Cruises assigns every stateroom a grade. These grades are made up of two characters – the first is always a letter, and for most cabin types the second will be too, though sometimes it is a number.
The first letter tells you what kind of cabin it is, with Interior cabins all beginning with "I". So far, so simple.
The second character refers to where the cabin is on the ship. The higher the letter or lower the number, the more prime the location. So an IA cabin is a better choice than an IF. However, you will pay more too.
| Grade | Sleeps up to | Average size (sq ft) |
| --- | --- | --- |
| IA | 4 | 175 |
| IB | 4 | 166 – 175 |
| IC | 4 | 166 – 175 |
| ID | 4 | 166 |
| IE | 4 | 166 |
| IF | 2 | 166 |
Majestic Princess Balcony Cabins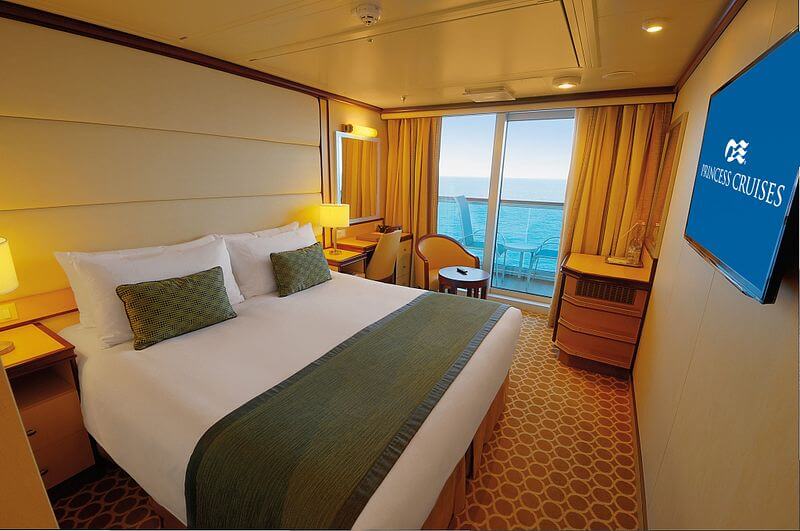 If you're someone who needs natural light in their stateroom to avoid feeling a little claustrophobic, or you like the idea of sitting outside in your own private space with a view, then a Balcony cabin is what you need. You'll have a small balcony of your own, accessed via sliding doors from your main cabin.
The balconies are usually quite small unless you buy one of the more premium grade cabins. You'll be able to sit, but most only have space for two chairs at most.
And remember that a balcony doesn't guarantee a great view. You might think you'll be able to enjoy the sights of the port, but you might be unlucky enough to be on the wrong side of the ship.
Here's a video of a Balcony Stateroom on Majestic Princess:
Majestic Princess has five different types of balcony cabins:
Balcony
Balcony with Obstructed View
Deluxe Balcony
Deluxe Balcony with Obstructed View
Premium Deluxe Balcony
An obstructed view balcony cabin means that your view is partially blocked. These rooms are all on Deck 8 and the cause is the lifeboats – they hang on the sides of the ship just outside these cabins.
If you're clever you can book an 'obstructed' room that has its balcony between two lifeboats, which means they only hang slightly into your view. You still save money too. More on that later.
Majestic Princess Balcony Cabin Grades
| Grade | Type | Sleeps up to | Average size (sq ft) |
| --- | --- | --- | --- |
| D4 | Premium Deluxe Balcony | 4 | 242 – 312 |
| DA | Deluxe Balcony | 3 | 233 |
| DB | Deluxe Balcony | 4 | 233 |
| DC | Deluxe Balcony | 4 | 233 |
| DD | Deluxe Balcony | 3 | 233 |
| DE | Deluxe Balcony | 4 | 233 |
| DF | Deluxe Balcony | 4 | 233 |
| BA | Balcony | 2 | 222 |
| BB | Balcony | 4 | 222 |
| BC | Balcony | 4 | 222 |
| BD | Balcony | 4 | 222 |
| BE | Balcony | 4 | 222 |
| BF | Balcony | 4 | 222 |
| DW | Deluxe Balcony (Obstructed) | 4 | 233 |
| BW | Balcony (Obstructed) | 4 | 222 |
Standard Vs. Deluxe Vs. Premium Deluxe Balcony
As you can see from the table of grades, the main difference between a Standard Balcony cabin and a Deluxe or Premium Deluxe option is the space available.
You get around 5% more floor space in total when you upgrade from Standard to Deluxe and 18% more when you opt for a Premium Deluxe room. This extra floor space just makes things a little more comfortable, but the furniture included is still mainly the same.
Here's a video of the Premium Deluxe Stateroom for you to compare with the Standard Balcony video you saw earlier…
The only furniture difference is in the bed configurations – you get a sofa bed with both a Deluxe and Premium Deluxe room. These are designed to sleep one person, which means that the 3-berth rooms have no Pullman beds at all, and the 4-berth rooms have just one Pullman bed.
If you've got a child that's younger that you don't want to risk in a higher bunk, choosing a Deluxe or Premium Deluxe Balcony is therefore ideal since you can put them in the sofa bed instead. It's a more comfortable choice for three adults travelling together too.
Majestic Princess Mini Suites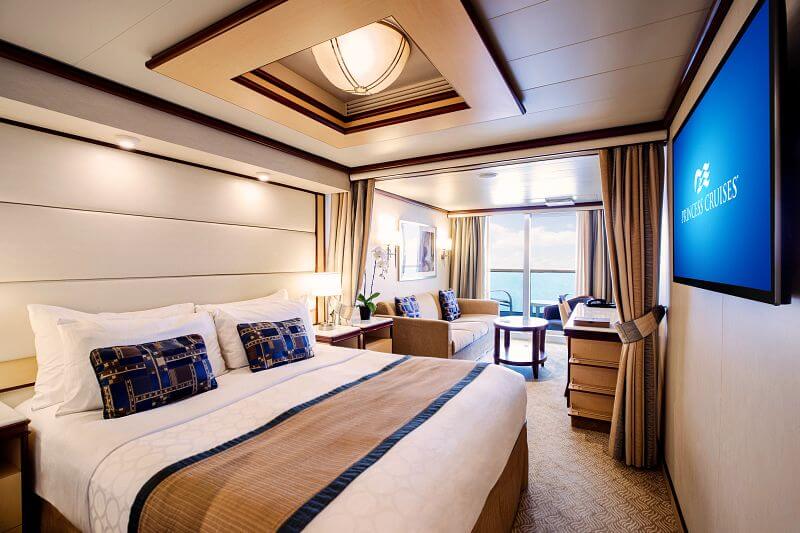 Looking for something a little more luxurious than a Balcony stateroom but don't quite have the budget for a full-blown Suite? Mini Suites offer a good middle ground.
You get some extra perks, although nowhere near as many as a Suite offers. But you don't pay Suite prices either, so it's a balance.
Majestic Princess Mini Suite Perks:
A dedicated sitting area for the sofa bed, with a coffee table and an extra TV
A curtain to separate the sofa bed area from the bed, creating two 'bedrooms'
A better bathroom with a bathtub and a massage shower
An improved bed with an extra luxurious mattress topper and more premium pillows
More chairs on the balcony (up to 4)
A free glass of sparkling wine when you board the ship
Majestic Princess Mini Suite Grades
| Grade | Type | Sleeps up to | Average size (sq ft) |
| --- | --- | --- | --- |
| M1 | Club Class Mini Suite | 4 | 314 |
| M6 | Club Class Mini Suite | 3 | 314 |
| MA | Mini Suite | 4 | 314 |
| MB | Mini Suite | 4 | 299 – 329 |
| MC | Mini Suite | 4 | 299 |
| ME | Mini Suite | 4 | 299 |
| MF | Mini Suite | 3 | 299 |
Club Class Mini Suites
An extra step up from your standard Mini Suites, the premium Club Class Mini Suites are even more spacious and they have a few extra perks to offer too. It's up to you whether you think these are worth the extra cruise fare.
Majestic Princess Club Class Mini Suite Perks:
Priority embarkation and disembarkation queues at the start and end of your cruise
An enhanced bed designed to be more comfortable
A half bottle of red and half bottle of white wine provided in your cabin on embarkation day
Bathrobes for every guest in the room
Evening canapes served in your Mini Suite (though you have to ask for them)
Exclusive seating in the Main Dining Room with a few extra menu options too
So, take a look at this list – do you like the idea of shorter queue times and a nicer bed? Or would it be better to save the money? The decision on whether to upgrade to Club Class purely depends on your own preferences.
Check out this video of a Club Class Mini Suite on Majestic Princess…
Majestic Princess Suites
If you want the best of the best for your cruise holiday, you're going to want to book one of the Majestic Princess Suites. These are much bigger rooms with a properly distinct bedroom and sitting area and the largest balconies too.
As well as all the benefits of a Club Class Mini Suite, there's quite the list of extra perks you get too.
Majestic Princess Suite Perks:
Priority queues for excursions, as well as for embarkation and disembarkation
Priority queues at the guest services and shore excursion desks
Priority booking for the speciality dining venues
Exclusive Club Class dining with extra menu options
Access to the exclusive Lotus Spa Thermal Suite
An enhanced room service menu
A welcome glass of Champagne when you board the ship, and a free mimosa with every breakfast
A complimentary mini-bar in your room along with fresh orchids and a fruit bowl (topped up on request)
Twice-daily ice service
In-suite tea service
A cruise card wallet
Free laundry and dry cleaning, and a shoe-shining service
Free use of umbrellas if needed
A free private portrait sitting with the ship's photographer
Majestic Princess Suite Grades
| Grade | Type | Sleeps up to | Average size (sq ft) |
| --- | --- | --- | --- |
| S2 | Owner's Suite | 3 | 879 |
| S3 | Penthouse Suite | 3 | 587 – 682 |
| S4 | Penthouse Suite | 3 | 440 |
| S5 | Premium Suite | 4 | 554 |
Premium Suites Vs. Penthouse Suites Vs. Owner's Suites
Within the Suite class, there are three different options: Premium, Penthouse and Owner's.
Owner's Suites are the crème de la crème of accommodation options, and they're the most expensive. Penthouse Suites aren't far behind and are just a little smaller. They only sleep 3 people though, so if you're a group of 4 then you'll want to look at Premium Suites instead.
The Premium Suites are situated towards the front of the ship, but they aren't forward-facing. They're closer to the elevators and have balconies facing the port or starboard side.
The Owner's and Penthouse Suites are at the aft (back) of the ship with amazing views over the wake. The balconies are much larger than any other accommodation class on the ship and wrap around the aft.
The Owner's Suites are situated on Deck 8 and are the biggest rooms on the ship. If you want the absolute best room on Majestic Princess, these are the ones to go for. The Penthouse Suites with the biggest balconies are higher up the ship on Decks 14 and 15.
If you're trying to decide between the different suites, then here are some links to videos of each, which is the best way to have a look around before you book:
Special Cabin Types
Here are some special room types that may be perfect for you, depending on your situation…
Majestic Princess Aft Rooms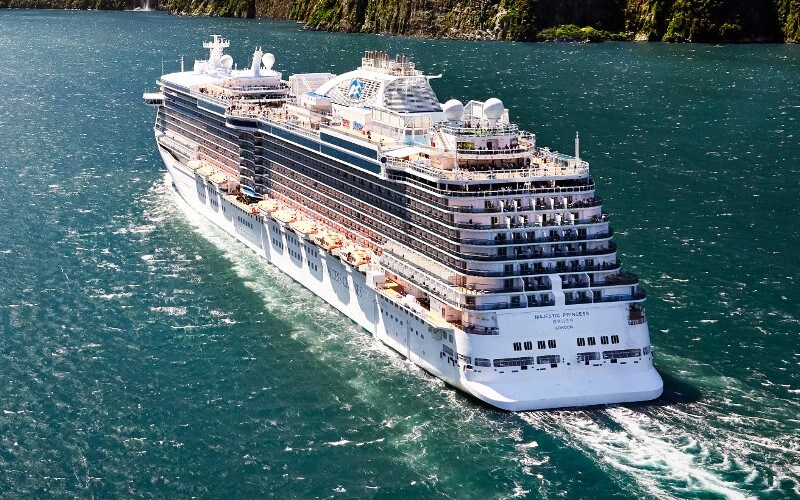 Some of the most popular staterooms on any ship are those located at the aft (back of the ship). The view over the wake of a ship is pretty stunning, and because you're facing away from the direction of travel, you don't have the wind smacking you in the face either – bonus. Often aft rooms are larger too.
On Majestic Princess there are three choices for aft-facing staterooms:
Premium Deluxe Balcony Rooms
Penthouse Suites
Owner's Suite
Every deck from 9 to 15 has two Penthouse Suites in the respective aft corners, and then four Premium Deluxe Balcony rooms between them. The biggest rooms are the Owner's Suites, which are both situated on Deck 8.
Majestic Princess Connecting Rooms
If you're travelling with more than four people, or you just don't want to rely on Pullman and sofa beds, you'll want to consider connecting rooms. These are staterooms that have a connecting door between them. These doors stay locked unless you've requested for them to be unlocked to link the rooms together.
It's best to try to avoid a connecting room if you are only booking one stateroom. No one can get through the locked door, but they're not as soundproof, and sometimes there's a draught under the door too.
On Majestic Princess you've got the following options for connecting staterooms:
Two Interior cabins
Two Standard Balcony cabins
An Obstructed Balcony and a Standard Balcony
An Obstructed Balcony and a Deluxe Balcony
Two Obstructed Deluxe Balcony rooms
Two Deluxe Balcony Rooms
Two Mini Suites
Two Club Class Mini Suites
Majestic Princess Accessible Rooms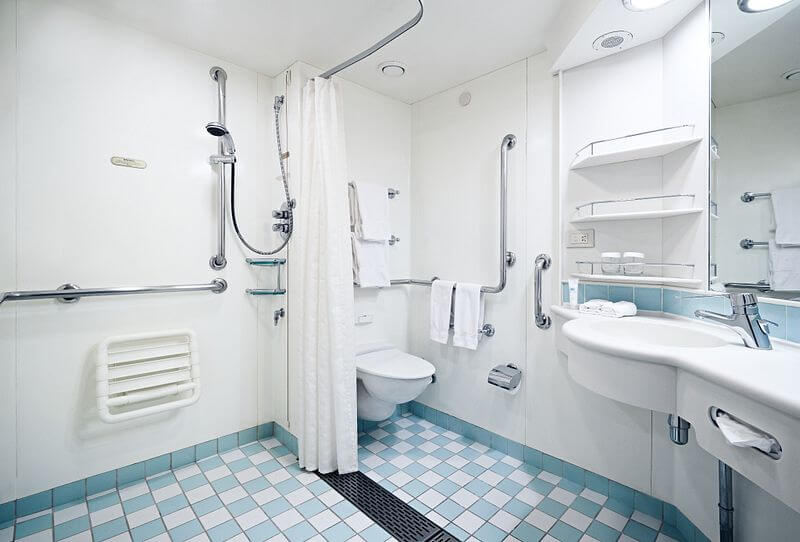 There is a selection of accessible rooms available on Majestic Princess – these are specially designed for users of wheelchairs or scooters. They're slightly larger and have widened doors to make it easier to get in and out. The bathroom is also a full wet room rather than having a separate shower cubicle.
Understandably, given how popular cruising is with less able-bodied people, these rooms are really popular. So, if you need one then try to book as far in advance as possible.
Majestic Princess' accessible staterooms are as follows:
Interior – Decks 8 and 9
Balcony – Decks 9-12, Deck 15
Mini Suites – Decks 10, 11 and 12
Club Class Mini Suites – Decks 11 and 12
Penthouse Suites – Deck 14
NEW DEALS JUST RELEASED!
See the latest Princess Cruises offers…
Majestic Princess Cabins to Avoid
OK, now you know the different options for cabin grades and all the factual information, let's delve a little deeper into the specific cabins you'll want to avoid.
This is the stuff the cruise line might hold back on telling you, or may not make completely obvious when you book. So, let's take a look at the cabins you shouldn't book for your Majestic Princess cruise holiday.
1. Cabins That May Make Seasickness Worse
L101 to L229, M101 to M229, R101 to R229
If you're one of the poor few to suffer from seasickness, the last thing you want is a stateroom that can amplify the motion of the ocean and make you feel queasy. This is a general tip for any cruise ship rather than a specific Majestic Princess once, which is why I'm getting it out of the way early.
The rule is that the closer you are to the middle of the ship, the less you'll feel the movement. So, avoid higher decks, and avoid the front or aft of the ship. The worst staterooms are those on high decks in a forward or aft position. If you know you're likely to get seasick, ask for a lower mid-ship room instead.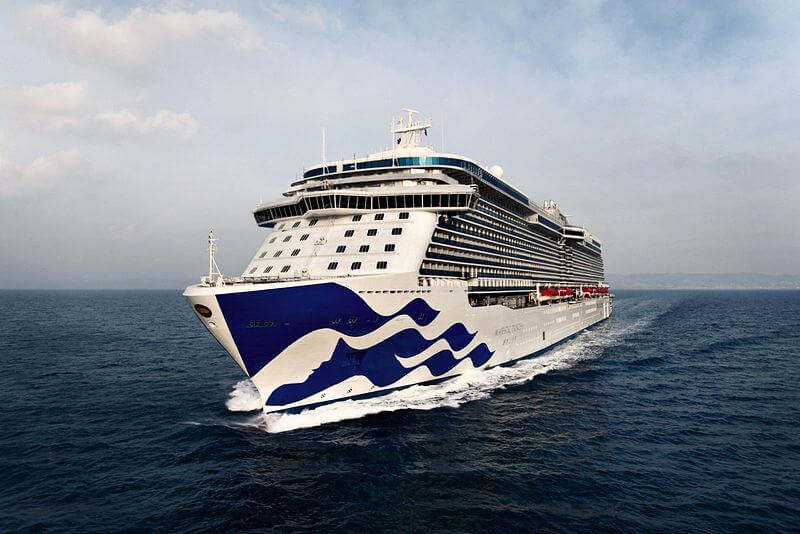 2. Interconnecting Rooms That You Don't Need
Various
Another tip that applies to any cruise ship rather than specifically Majestic Princess. If you don't plan on booking two interconnecting rooms together and opening the door between them, you'll want to avoid booking one of them altogether.
It's not like you'll get strangers wandering into your room – the door stays locked. But, that door is a lot less solid than an actual cabin wall, so don't be surprised if you hear next door's TV, a baby crying, or any other noises they might be making.
Interconnecting rooms are great for people who want to share two cabins, but otherwise, definitely one to avoid.
3. Obstructed View Rooms
Most of Deck 8 – cabins beginning with E
The lifeboats on Majestic Princess hang in front of the balconies on Deck 8, which means you'll have an obstructed view. The whole point of paying for a Balcony stateroom is so that you can enjoy the ocean sights in comfort – not see the bottom of a lifeboat in front of your face.
However, there are some rooms that are between lifeboats, which only have a partially-blocked view. So if you don't mind only seeing between two boats, or you don't care about the view at all and just want to enjoy the fresh sea air, then you can save money by choosing one of these options instead.
When you check the Majestic Princess Deck plan, you can see the shapes of the lifeboats on Deck 8. The gaps between, such as where E310 is, are where you'll want to aim for with your obstructed view cabin. This way, you'll be able to see right through the gap.
The good thing about obstructed views on Majestic Princess is that the lifeboats are a little lower than on some other ships, so you can see over them. Check out this video to see what to expect from this cabin type…
4. Front-Facing Rooms With Limited Balcony Access
L101 to L108, M101 to M108
On the higher decks on Majestic Princess, there is a selection of forward-facing staterooms that have good-sized balconies. The catch is that you're only allowed to use them in port, and they aren't made of glass, so you only get a really good view when you're stood up.
This is because the wind speed caused by the ship's movement is pretty fast. It's not safe to open the cabin doors while the ship is moving and it wouldn't be particularly comfortable for you either.
If you want to use your balcony while the ship is sailing, don't choose one of these cabins.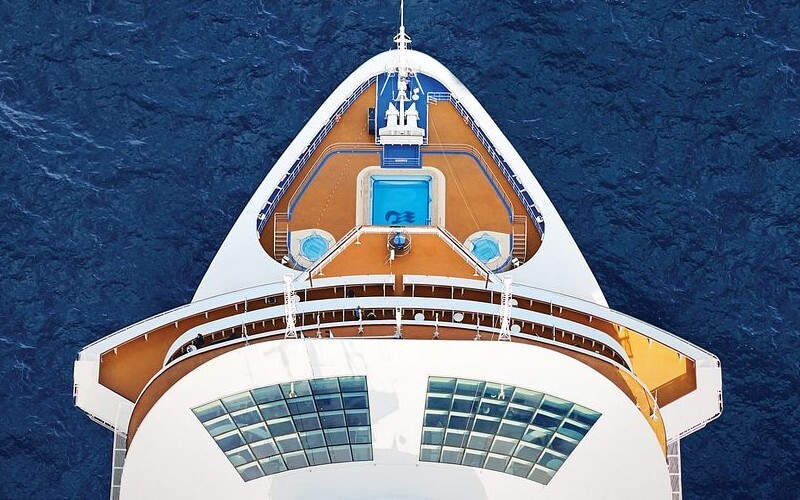 5. Rooms Underneath the Lido Deck or Sun Deck
M302 to M436, L101 to L301
These are the staterooms that you'll want to avoid if you don't want to hear sounds during the daytime. And that daytime could be very early hours, as other guests rush to secure themselves a deck chair on these decks.
While they're dragging chairs around, it might not sound too loud to them, but the sound will definitely amplify through your ceiling. If you prefer a lie-in in the morning, try to avoid a room that's directly underneath an area where guests might be moving furniture around.
6. Rooms Above the Entertainment at Night
E125, E130, E201 to E225, E445 to E612, E630 to E733
While the rooms on higher decks are at risk of noise above, it's the rooms on Deck 8 situated above some of the entertainment venues that can cause problems in the evening. Some of the live music and shows can go onto the later hours, and the sound will carry through your floor.
If you are a light sleeper and you enjoy getting an early night ahead of another day of cruise adventures, then maybe book a room a little higher up the ship, away from the theatre and lounges.
7. Overlooked Balcony Rooms
M411, M415, M417, M419, M423, M425, R415, R417, R421, R423, R427, R429, A417, A421, A423, A427, A429, B417, B421, B423, B427, B429 (Overlooked by the SeaWalk)
M722, M723, M724, M725, M726, M727 (Overlooked by the Wake View Bar Terrace)
D145 to D277, D701 to D725 (Overlooked by cabins above)
There are three areas on the ship where you're at risk of being overlooked when you're sitting on your balcony.
The first is in the staterooms below the SeaWalk – the glass-bottomed walkway that comes out from the side of the ship. Bear in mind too that not only can people see down into your balcony, but you can see them. Maybe don't wear a skirt when you walk the SeaWalk yourself!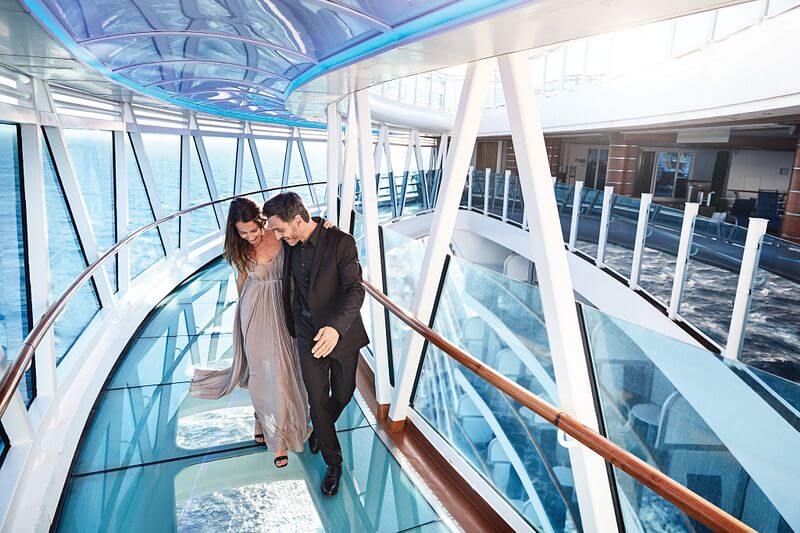 The other location is at the aft of the ship, where the design means that each balcony juts out a little further as you progress down the decks. It's not usually an issue for any rooms below Deck 15 since you'd have to stand at the edge of your balcony looking down.
But on Deck 16 near the Wake View Bar, that's exactly what some cruise guests do – stand at the railing to look out to sea. If they look down, they'll see right into your balcony. Maybe opt for a lower deck or a mid-ship location if you value your privacy.
On Deck 9, some of the Deluxe Balcony staterooms have large balconies that jut out further than the rest. These are overlooked from above as you can see in this photo: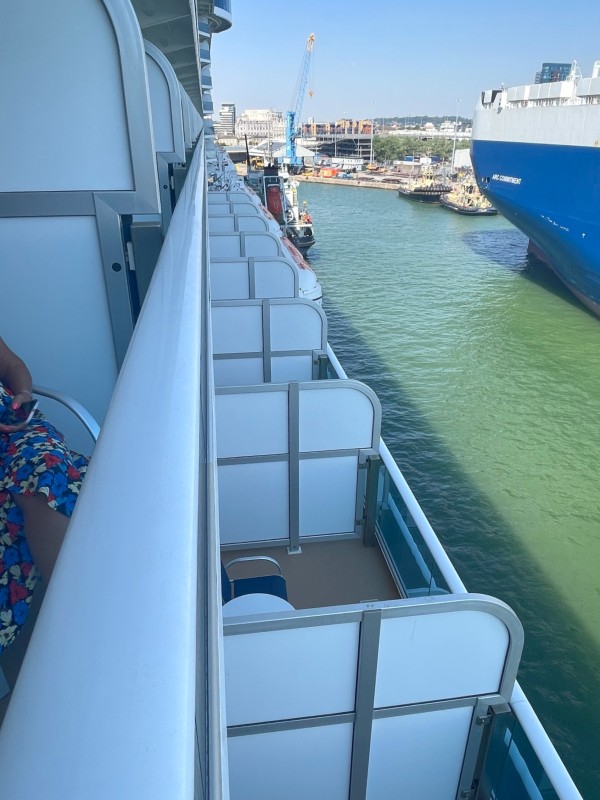 The Best Cabins on Majestic Princess
We've been through the cabins to avoid, but which are the best rooms on Majestic Princess? Well, there are a few that stand out as offering great value for money or special touches that might be worth splashing out on. These are…
1. Interior Stateroom
The cheapest and smallest accommodation on the ship – and one of the best? Well yes, if you don't care about your room too much and you want to save money.
Majestic Princess is packed with places where you can relax and hang out, whether that's a lounge or the theatre or just a deck chair beside the pool. You may only need your stateroom for a quick shower, a change of clothes and sleep. Why overspend if you don't really care about relaxing in your own private space?
Mini Suites and above can sometimes be twice the price of an Interior room, if not more. Would you rather have one cruise in a Mini Suite, or two cruises in an Interior? One to think about.
If you're a real budget cruiser like me, you can get some great deals by having four adults in an inside stateroom and taking advantage of discounts for third and fourth passengers. Sometimes, they can cruise for just a nominal extra fee – making your cruise virtually half price!
NEW DEALS JUST RELEASED!
See the latest Princess Cruises offers…
2. Owner's Suite
From one end of the scale to the other – Owner's Suites are definitely amazing and if you have the money for them – they do make your holiday feel so much more special.
As well as having all the space you could want to unwind in peace, you get a lot of extra perks both within your room and as part of your overall cruise experience.
See what extra perks you get with an Owner's Suite here.
But, you can't ignore the price, which makes it a personal decision as to whether they are right for you or not. If you want all those extras then go for it, but consider whether two cruises in a Balcony stateroom would be a better use of your hard-earned money.
3. Rooms With Larger Balconies
Not every balcony on Majestic Princess is the same. Some of the mid-ship balconies have angle balconies, which makes them larger. Look at this section of the deck plan to see what I mean: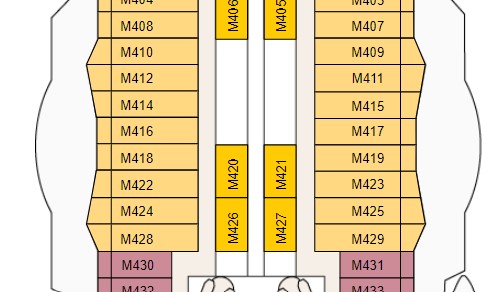 You can find these balconies in some Mini Suites, including Club Class Mini Suites. They're also an option on Decks 8 and 9 for Balcony and Deluxe Balcony staterooms too, although the ones on Deck 8 are those with an obstructed view because of the lifeboats.
If a larger balcony appeals, then make sure you try to secure one of these options with an angled veranda.
4. 'White Noise' Rooms
If you're the kind of person who likes to fall asleep to the gentle sound of white noise, then this little hint might be right up your street. There are some interior cabins on Deck 10 from C316 to C335 that are next to an air vent from the funnels. It generates a low background humming noise.
The cruisers that have commented on this have said that it's not annoying at all because it's so quiet, but it is audible when the ship is peaceful, and it's apparently quite relaxing. If you like the sound of a gentle hum sending you to sleep at night then consider one of these rooms – no white noise app required!
NEW DEALS JUST RELEASED!
See the latest Princess Cruises offers…
Majestic Princess Accommodation FAQs
Do you still have questions about Majestic Princess staterooms and suites? Here are some of the top ones I've been asked…
Does Majestic Princess have single cabins?
There are no dedicated single cabins on Majestic Princess. Solo travellers will need to book a two-berth room and may need to pay the full amount for two people, but you may avoid that if you book early enough and secure a deal.
How many suites are on the Majestic Princess?
There are 36 Suites available on Majestic Princess. There are 12 aft-facing Penthouse Suites, 14 mid-ship Penthouse Suites, 8 Premium Suites and 2 Owner's Suites.
What deck is the SeaWalk on Majestic Princess?
The SeaWalk on Majestic Princess is situated on Deck 16, the Lido Deck. If you choose a Balcony Stateroom on Decks 15 (M403 to M431) or 14 (R403 to R437), you should be aware that people on the SeaWalk can see onto the balconies.
How old is the Majestic Princess cruise ship?
Majestic Princess is one of the Royal-class ships in the Princess Cruises fleet and she launched in 2017. Originally designed for the Chinese market, she has since started offering itineraries in Oceania and on the west coast of America too.
Has Majestic Princess been refurbished?
Majestic Princess has not been refurbished. She was launched in 2017 and so hasn't needed to be updated yet. Sister ship Royal Princess, which launched the Royal-class of ships in 2013, was refurbished in 2018, so Majestic Princess may be refurbished in the near future.
The Bottom Line
Majestic Princess is a wonderful cruise ship, but as with any ship, there are some rooms that are better than others. It usually doesn't cost any extra to choose your room on a Princess Cruise, so it's worth spending a little time to make sure that you choose a great one, rather than having any room assigned to you.
After all, the rooms that are assigned will, by default, be the rooms that nobody else has chosen!
NEW DEALS JUST RELEASED!
See the latest Princess Cruises offers…
Related Posts:
More Princess Cruises Cabin Guides