Sky Princess is a beautiful ship with some incredible cabins and suites. But like any cruise ship, some rooms are better than others.
I'm something of a geek when it comes to picking cruise cabins, so I've spent twelve hours scrutinising the Sky Princess deck plan and learning from cruise forums to produce this guide to Sky Princess cabins.
If you're planning to cruise on Sky Princess, read on for an overview of each of the different cabin types, a list of the best cabins and details of which cabins you may wish to avoid.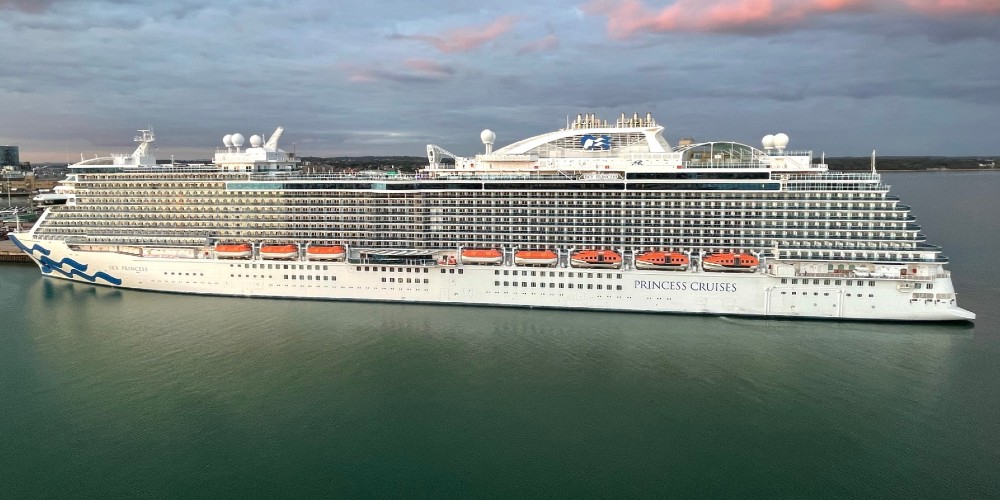 Sky Princess Cabin Types
There are six cabin types to choose from on Sky Princess:
| Room | Sleeps | Size (incl. balcony) |
| --- | --- | --- |
| Interior | 2 to 4 | 158 to 162 sq ft. |
| Premium Oceanview | 2 | 172 sq. ft. |
| Balcony | 2 to 4 | 214 to 222 sq. ft. |
| Deluxe Balcony | 2 to 4 | 233 to 279 sq. ft. |
| Mini-Suite | 2 to 4 | 323 sq. ft. |
| Suite | 2 to 5 | 440 to 1,873 sq. ft. |
Which is the best cabin type on Sky Princess for you will depend on various factors including how many people you're cruising with and your overall budget.
Once you've decided on your preferred cabin type, read on for more information to help you to choose from the best cabin numbers.
Sky Princess Inside Cabins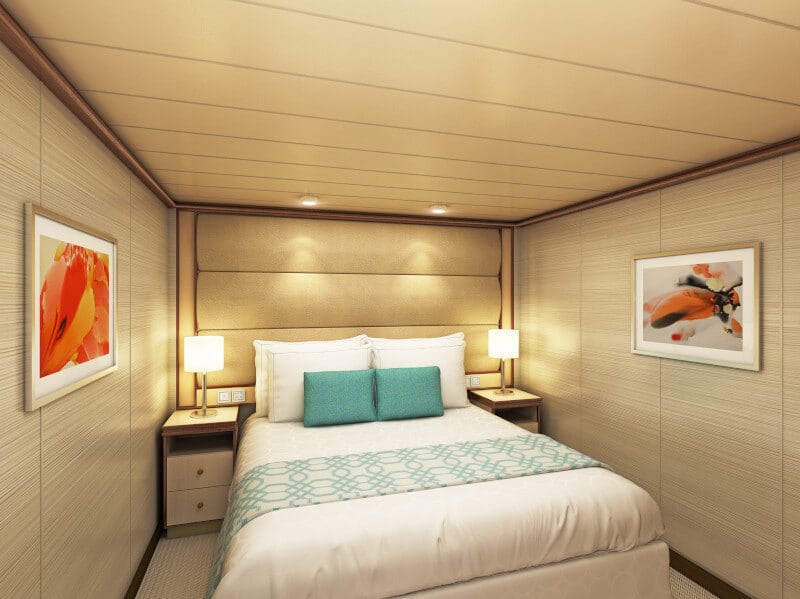 Inside cabins are the most affordable option on Sky Princess. Sleeping two to four people, interior cabins have no windows but are ideal for those on a budget who prefer to spend their time enjoying the rest of the ship, rather than being in their room.
Each inside cabin on Sky Princess has twin beds. In some cabins (but not all) these can be converted to a Queen-size bed.
If you're cruising with children on Sky Princess, you'll find that some inside cabins sleep up to four people with two extra Pullman beds which come down from the ceiling. Cabins with extra beds do not have a Queen bed, only twins. This means that parents must sleep separately!
Tip: If you're cruising as a family and want a double (Queen-size) bed on Sky Princess, you'll need to book a Deluxe Balcony cabin or above.
Sky Princess Outside Cabins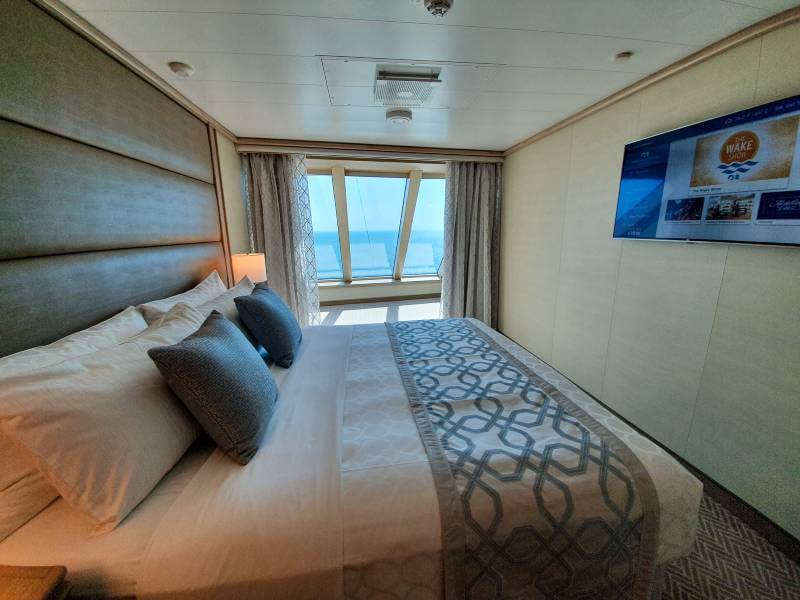 The outside cabins on Sky Princess are really special. Rather than just a porthole or small window, these cabins have huge floor-to-ceiling slanted windows.
Each cabin has twin beds that can be arranged as a Queen bed if you prefer. These cabins can only accommodate two people, so they aren't suitable for families.
Located on the Sun Deck and forward-facing, there are only six outside cabins on Sky Princess and one of those is only available for people needing wheelchair access. So if you want one of these stunning cabins, it's important to book early.
Sky Princess Balcony Rooms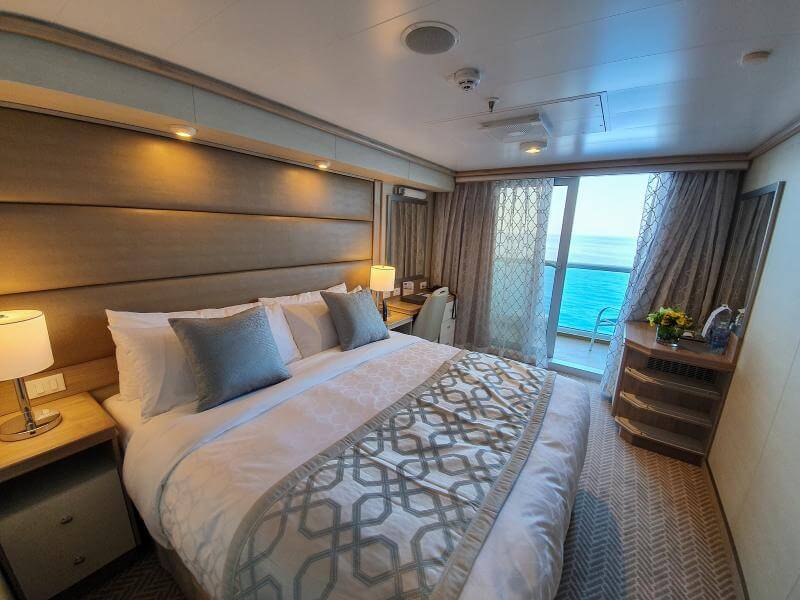 Balcony cabins on Sky Princess are a good option for those who like to enjoy the sea views from the comfort of their own balcony.
There are three types of balcony cabin on Sky Princess:
Standard Balcony
Deluxe Balcony
Premium Deluxe Balcony
Standard Vs Deluxe Vs Premium Deluxe Balcony
Most Standard Balcony cabins accommodate two people, although you will find some that have extra Pullman beds that lower from the ceiling for third and fourth passengers. Deluxe Balcony cabins are larger, with the addition of a sofa bed so that they can accommodate three or four people easily.
If you're considering a cabin with a balcony and are cruising as a family, it's important to note that if you use Pullman beds, you will have to have the main beds as twin beds rather than a Queen. This is so that you can access the ladders.
If you're cruising with kids and want to share a bed with your partner, you should go for the Deluxe or Premium Deluxe Balcony so that you can have a Queen bed, with the kids on the sofa bed.
Tip: If you'd prefer that your kids have their own beds, then go for the Standard Balcony cabin and they will each have their own Pullman bed.
Premium Deluxe Balcony cabins are like Deluxe Balcony cabins, only with larger balconies. These can accommodate three guests with a small sofa bed, and some also have an extra Pullman bed for a fourth person.
Suggested read: What is a Pullman bed on a cruise ship
Sky Princess Mini-Suites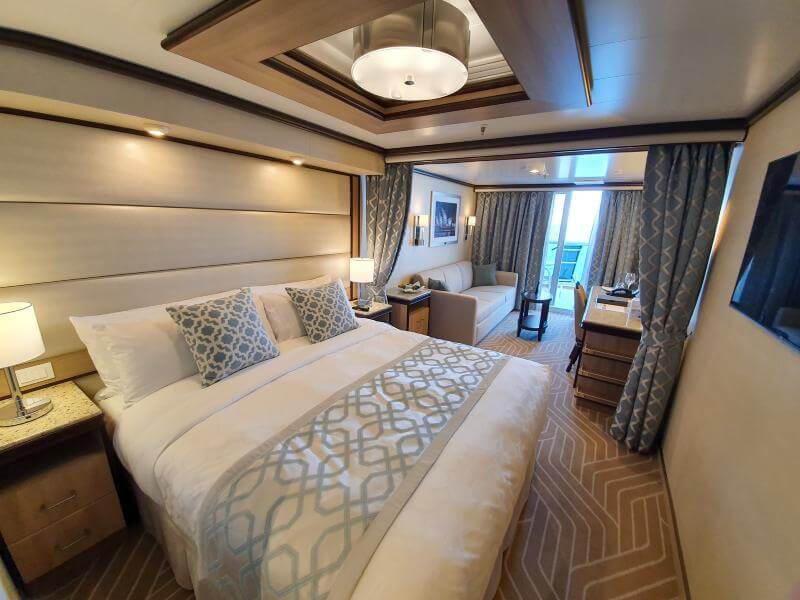 A nice upgrade from a balcony cabin, Mini-Suites on Sky Princess are up to 46% larger than Standard Balcony rooms and up to 38% larger than Deluxe Balcony rooms.
But Mini-Suites aren't just about extra space. You'll be welcomed with a glass of Champagne on embarkation day and enjoy extra comforts.
Sky Princess Mini-Suite perks:
A separate sitting area with sofa bed and coffee table
A bathtub and massage shower
Up to four chairs on your balcony rather than two
A luxury mattress topper and premium pillows
Two televisions rather than one
A curtain to separate the sofa bed from the main bed
Club Class Mini-Suites
Club Class Mini-Suites are have everything that you would get in a standard Mini-Suite, with some extra VIP perks that are otherwise only available to guests staying in full suites.
Club Class Mini-Suite perks:
No queues – Priority embarkation and disembarkation at the start and end of your cruise
Welcome drinks – Half a bottle of red wine and half a bottle of white wine on embarkation day
Evening canapes – Complimentary premium canapes available on request
Princess Luxury Bed – The most comfortable bed with 100% Jacquard-woven cotton sheets and a plush duvet
Bathrobes – Luxurious terry shawl bathrobes to enjoy during your cruise
Club Class Dining – Access to an exclusive area of the Main Dining Room with extra menu options and the very best service
Priority dining reservations – Priority access to speciality restaurants
Location – Choose a Mini-Suite in one of the best locations on the ship
Sky Princess Suites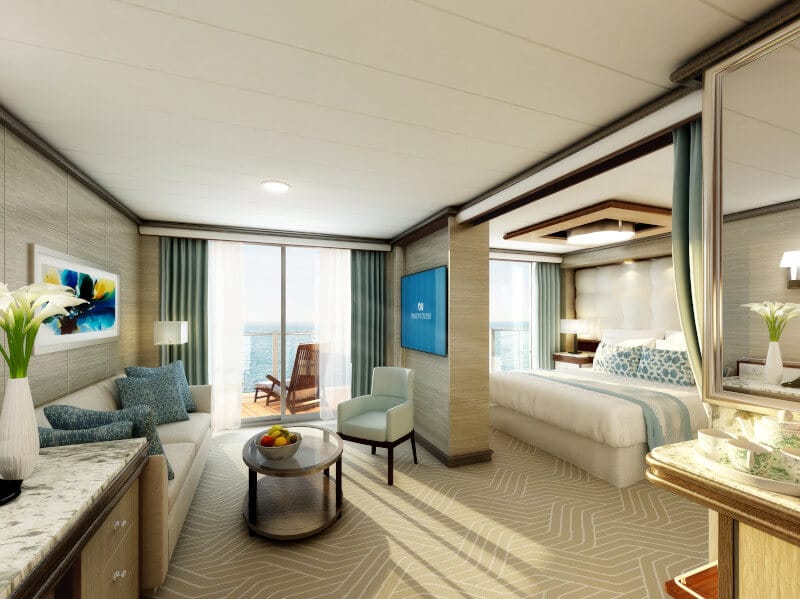 If you want the very best accommodation with lots of space, a separate seating area and enhanced amenities, then you should consider one of Sky Princess' wonderful suites.
Sky Princess has 6 different suite types to choose from:
| Suite | Sleeps | Size (incl. balcony) |
| --- | --- | --- |
| Window Suite | 2 to 3 | 710 sq. ft. |
| Vista Suite | 2 to 3 | 441 sq. ft |
| Premium Suite | 2 to 4 | 554 sq. ft. |
| Penthouse Suite | 2 to 4 | 419 to 680 sq. ft. |
| Owner's Suite | 2 to 4 | 879 sq. ft. |
| Sky Suite | 2 to 5 | 1727 sq. ft |
Window Suites
There are two Window Suites on Sky Princess. There are located at the forward corners of the Sun Deck and have spectacular views through the floor to ceiling windows, but no balcony. These suites accommodate a third guest on a sofa bed in the separate living room.
Vista Suites
Sky Princess has six Vista Suites which are located on the Sun Deck. Vista Suites do not have a separate living room, but they do have two large wardrobes. A third guest can be accommodated on the sofa bed, although, unlike other suites, there is only a single television.
Premium Suites
There are eight Premium Suites on Sky Princess. These are located at the forward corners of Decks 9 to 12. Premium Suites accommodate up to four guests, with a separate seating area with a sofa bed. These suites have a sloping wall.
Penthouse Suites
Penthouse Suites are located mid-ship on Deck 14 as well as at the aft corners of Decks 9 to 15. Sleeping up to three or four guests, they have a spacious seating area with a sofa bed.
The best Penthouse Suites on Sky Princess are the aft-facing ones as these have wraparound balconies. The one on Deck 9 has the biggest balcony of all.
Owners Suites
Sky Princess has two owners suites which are located at the aft corners of Deck 8. Owner's Suites can accommodate up to four guests and feature expansive wraparound balconies.
Sky Suites
On Sky Princess, the two Sky Suites are the best suites on the ship. Located up on Deck 18, they each have 1000-square-foot balconies which offer 270-degree views over the pool and the ocean.
Sky Suites sleep up to five guests in two bedrooms and have two bathrooms and three closets. On the balcony, you'll find a large outdoor daybed, dining table, loungers, TV, mini bar, fridge and a telescope!
Suite Perks
The different suites all come with different perks, with more benefits as you upgrade from Mini Suite to Club Class Mini Suite and then to a Full Suite.
You can read more about these here: Princess Cruises Suite Perks (Compare the 5 Suite Types).
NEW DEALS JUST RELEASED!
See the latest Princess Cruises offers…
Special Cabin Types
Sky Princess aft cabins
Aft cabins are those at the very back of the ship with balconies that have stunning views over the ship's wake. Many cruisers believe that aft-facing balconies are the best because they're often larger than average and are less windy.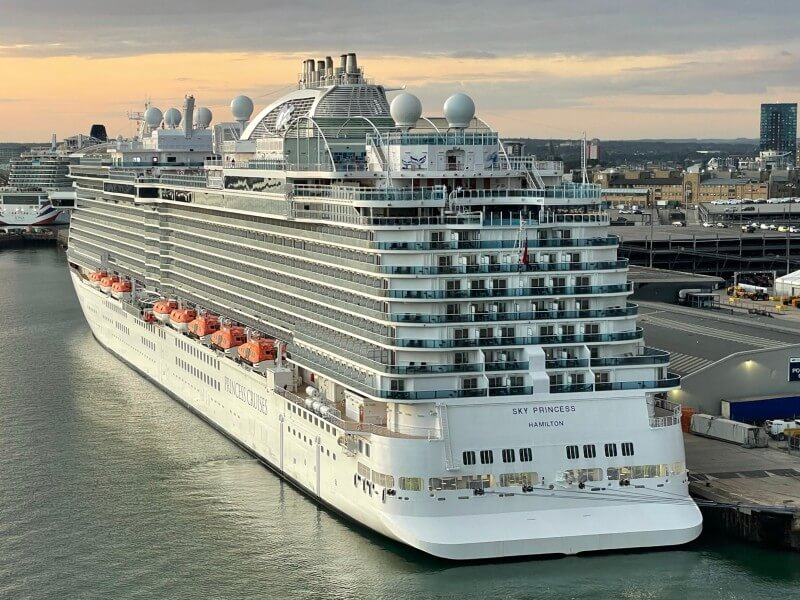 Sky Princess offers the following aft-facing rooms:
Premium Deluxe Balconies – Located on Decks 8 to 15
Penthouse Suites – Located on Decks 9 to 15
Owners Suites – Located on Deck 8
Sky Princess connecting rooms
Connecting rooms are a great option for families and groups who want two cabins with a door between them.
These are the connecting room options on Sky Princess:
Two Interior rooms
Two Standard Balcony rooms
A Standard Balcony and a Deluxe Balcony
A Standard Balcony and a Mini-Suite
Two Deluxe Balcony rooms
Two Premium Deluxe Balcony rooms
Two Mini-Suites
If you have more than four people in your group, be sure to look for connecting cabins that also have enough extra beds, as not all do.
Sky Princess accessible cabins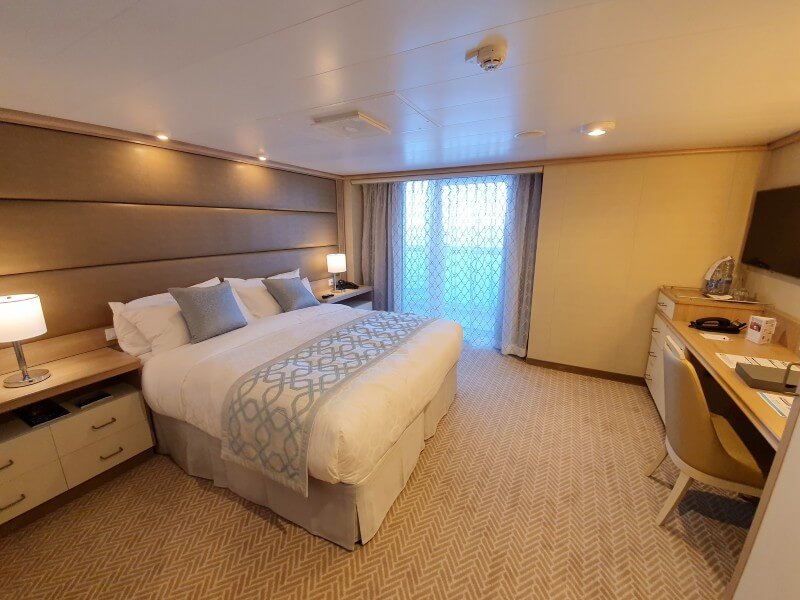 Accessible cabins on Sky Princess are designed with wheelchair users in mind. They are larger than average and feature extra-wide doors, wet rooms and step-free access. These cabins should only be booked by people with disabilities that require these facilities.
Sky Princess has the following types of accessible cabins:
Interior – Decks 8 & 9
Oceanview – Deck 17
Balcony – Decks 9, 10, 11, 12 & 15
Mini-Suite – Deck 10
Club Class Mini-Suite – Decks 11 & 12
Penthouse Suite – Deck 14
NEW DEALS JUST RELEASED!
See the latest Princess Cruises offers…
Sky Princess Cabins to Avoid
Now that we're familiarised ourselves with the various cabin types, let's take a look at which ones you'll want to steer clear of when booking your cruise…
1. Balconies that you can't use when the ship is at sea
L101 to L108, M101 to M108
If you book a forward-facing balcony cabin or suite on Deck 15 or 16, you will only be able to use it when the ship is in port. This is because it would be very windy so you are asked not to open your balcony doors.
While these rooms have very large balconies, that could be very frustrating if you can't use them.
2. Balconies where you must stand up to see the sea
L101 to L108, M101 to M108, E101 to E110
Another problem with cabins towards the very front of the ship is that the balcony railings are metal, rather than glass. This means that you will only be able to see the sea when you are standing up.
You can see photos of the metal balconies here.
3. Balconies with obstructed views
L109, L110, L114, L115, Most balconies on Deck 8 (Emerald Deck)
On Sky Princess, some balconies have views that are obstructed by the bridge or by lifeboats. Obstructed views aren't necessarily a bad thing, as the amount of obstruction can vary hugely and these are often cheaper than non-obstructed view cabins.
An obstructed view balcony can actually be a great find if the obstruction is minimal and the price is low. You can see photos of some of the obstructed views here.
4. Cabins with beds that block the balcony doors
L122, L123, M130, M131, M505, M511, M512, M620, M621, R107, R108, R234, R235, R511, R512, R735, A511, A512, A738, A739, B511, B512, C518, C519, C620, C621, C742, C743, D151, D152, D224, D225, D517, D519, D520, D522, D618 to D621, E123, E128, E218, E219, E522, E523, E620, E621, E707, E708, E711, E712
In certain cabins, if you use the upper bed or sofa bed, this will block your balcony doors. While your room steward will put away the bed each morning and set it up in the evening, this could still cause an annoyance if you like to step out onto the balcony when you first wake up.
These cabins will be fine for two people, but families should avoid them as there are plenty of other cabins that don't have this issue.
5. Cabins that could make seasickness worse
S101 to S215, L101 to L129
If you're prone to seasickness, you'll want to avoid any cabins that are on high decks towards the front of the ship, as that's where you'll feel the most movement. Instead, opt for mid-ship cabins on a low deck.
6. Cabins that are a long walk from anything
S101 to S115, L101 to L129, M101 to M131, R101 to R108, A101 to A129, B101 to B133, C101 to C139, D101 to D151, E101 to E130
If you struggle to walk long distances, then you should choose a mid-ship cabin that's not too far from the elevators.
Many of the attractions on Sky Princess are at the back of the ship, including the kids' club, buffet, main dining rooms and Vista Lounge. So if you pick a cabin right at the front, you may have some way to walk.
High and low decks don't matter so much, as either way you'll probably take the lift, but it can take at least ten minutes to walk from the front of the ship to the back.
7. Cabins that may be noisy in the morning
S114 to S221, M310 to M421, M701 to M725
If you like to sleep in late, its generally wise to avoid booking cruise cabins that are beneath any open deck space such as beneath the Sky Deck, Sun Deck or Lido Deck. This is because you may be disturbed in the early morning by the sound of sun loungers and deck chairs being dragged across the floor above your head.
8. Cabins that may be noisy in the evening
E123, E125, E128 to E227
If you like to go to bed early, you may wish to avoid booking a cabin that's directly above the theatre. On Princess Cruises, shows can go on until 11 pm and you may be able to hear some noise from the speakers until this time.
9. Cabins outside the laundry rooms
M622, M623, R611, R612, A622, A631, B622, B623, C622, C623, D622, D623, E622, E623
You may wish to avoid cabins that are directly across from the self-service laundry. Particularly on longer cruises, this area may be busy with people coming and going to wash their clothes.
10. Cabins with inter-connecting doors
As with any cruise ship, you should avoid booking a cabin that has connecting doors to another cabin, unless you have both cabins. This is partly because the door may not be as soundproof as a wall, so you may hear your next-door neighbours. But another reason is that a family may need these cabins, so you should look for one without the extra doors if you can.
11. Balconies with no privacy
D145 to D277, D701 to D725
On Deck 9 (Dolphin Deck) some staterooms have double-size balconies. While this can certainly be seen as a positive, it's important to note that these balconies are overlooked by the balconies above.
The reason why these Deluxe Balconies are so large is that they jut out further than all of the rest. So, while you might enjoy the extra space, anyone above you looking down will see right onto your balcony. There's no privacy unless you stand right at the back.
Here's the view that anyone looking down from the deck above will see…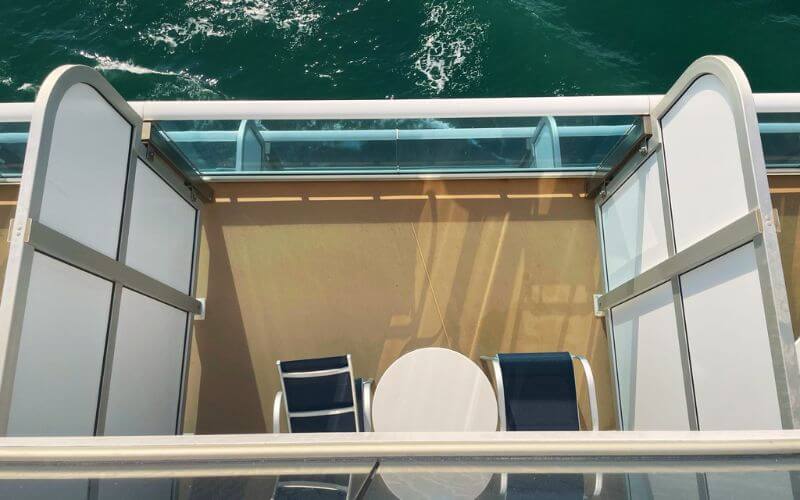 12. Another noisy cabin
One cruiser commented: "I am in Sky Princess L302 and recommend that you put this on your cabins to avoid list. The noise from carts running over the threshold out to the deck is really loud and shaking the room. Too bad, the cabin is otherwise perfect."
This is one to avoid, and I would expect that L301 would also have the same problem. They do both have nice big balconies though!
Cabins that seem dodgy but are actually okay…
1. Cabins below the SeaWalk
Princess Cruises' Royal Class ships feature the SeaWalk – a 60-foot long glass walkway that's cantilevered 28 feet beyond the edge of the ship. On Royal Princess, Regal Princess and Majestic Princess, savvy cruisers avoid booking cabins beneath the SeaWalk as people on the walkway can see right down onto the balconies.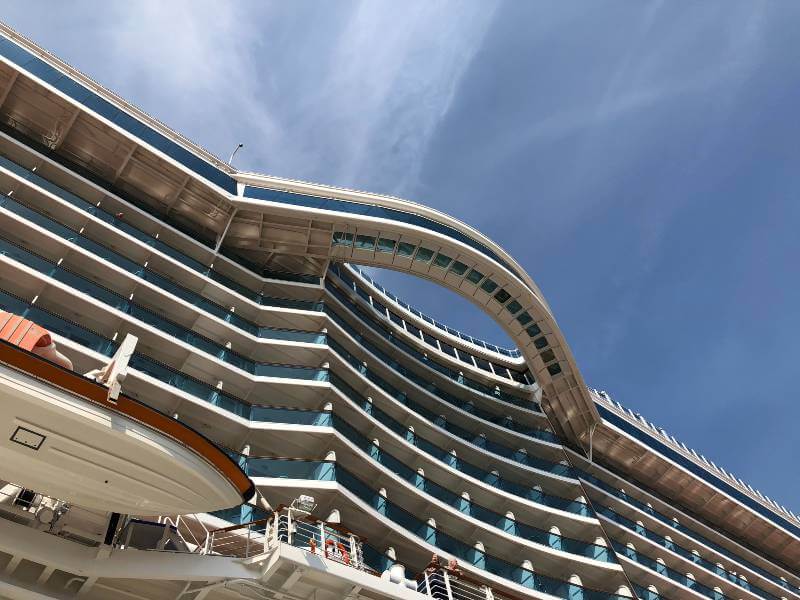 If you've booked a cabin beneath the SeaWalk on Sky Princess, there's really no need to worry…
On Sky Princess, the SeaWalk design has been changed to include a solid section, so that the privacy of people on balconies below is no longer an issue. You do not need to avoid booking cabins beneath the SeaWalk on Sky Princess.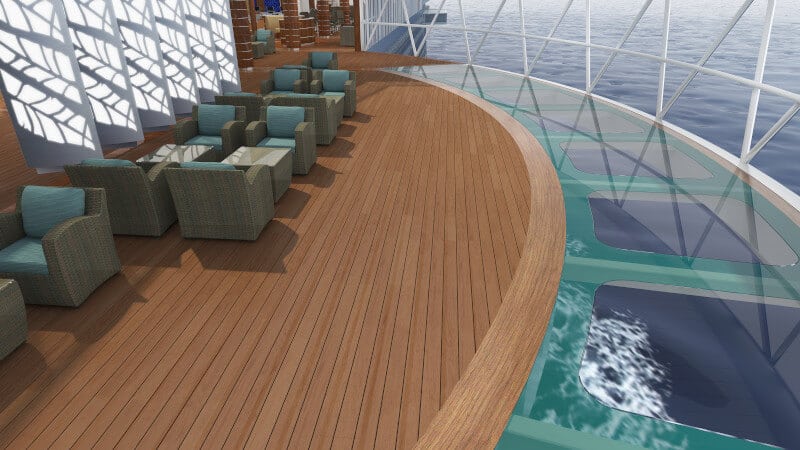 2. Cabins with hinged balcony doors
A few balcony cabins on Princess ships have hinged balcony doors, rather than sliding. I wouldn't say that you should necessarily avoid those, but it may be something to be aware of.
When you select your cabin on the Sky Princess deck plan, a warning will come up to alert you to things like this. If you're concerned, you can pick another cabin, but I wouldn't say this is a deal-breaker.
The Best Rooms on Sky Princess
1. The best suite on Sky Princess
If you just want the very best room on the ship, then the Sky Suites are simple incredible! Take a look at this video for a closer look at what you can expect from a Sky Suite on Sky Princess…
2. The best balcony rooms on Sky Princess
There are some huge variations in balcony size with the cabins on Sky Princess. Oftentimes, a cabin with a large balcony will be or Deluxe or Premium Deluxe room, so you'll pay more for it.
However, there are some cabins that have much larger balconies than others in the same grade. Look out for these as they offer incredible value for money – you get extra space without the extra charge!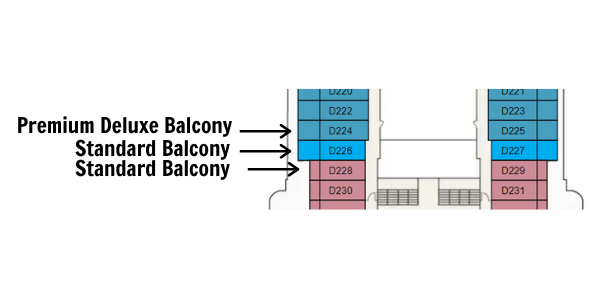 These Sky Princess balcony cabin offer the most space for your money:
Standard Balconies: L301, L302, D226, D227, D701 to D710, E112, E114, E118
Deluxe Balconies: E111, E115, E117
Premium Deluxe Balconies: R732 to R735, B736 to B739
Mini-Suites: M407 to M410, M422, M423, M426, M427, R409, R410, R414, R415, R428, R429, R432, R433, A409, A410, A414, A415, A428, A429, A432, A433, B409, B410, B414, B415, B428, B429, B432, B433, C409, C410, C428, C429, C432, C433, D407, D408, D410, D411, D424, D425, D428, D429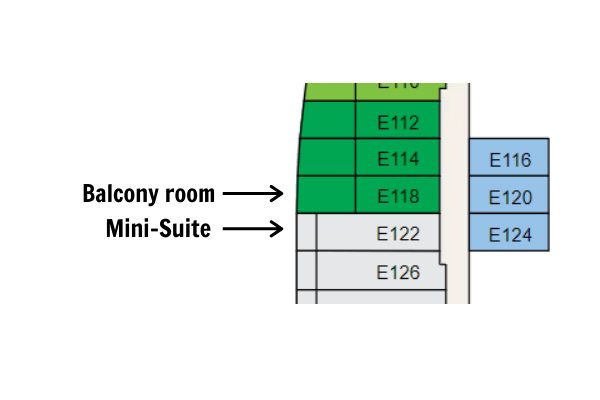 3. Cheap inside cabins for large families
Families of five or more who want to cruise as cheaply as possible on Sky Princess should look out for inside cabins with extra beds and interconnecting doors.
There are three pairs of inside cabins that would suit big families:
C240 & C244 – Sleeps 6
C241 & C245 – Sleeps 6
C715 & C717 – Sleeps 8
NEW DEALS JUST RELEASED!
See the latest Princess Cruises offers…
Sky Princess Accommodation FAQs
Is Sky Princess a good ship?
Sky Princess is an excellent choice for a cruise holiday. She is a modern, premium ship with great restaurants and entertainment for the whole family. Cruise deals with Princess Cruises are often in the more affordable price bracket too.
Is Sky Princess a new ship?
Sky Princess is a relatively new ship, having joined the Princess Cruises fleet in 2019. She is not the newest ship in the fleet but she is considered the flagship, as she is slightly larger than the more recent Enchanted Princess ship.
How many decks does the Sky Princess have?
There are 19 decks in total on Sky Princess, of which 15 are accessible to guests and eight are dedicated to cabins. The ship also has 16 elevators to allow guests to easily move between the decks.
What is category BB on Princess Cruises?
Cabin grades on Princess Cruises are made up of two letters. The first refers to the stateroom type, and the second the location. BB means a Balcony stateroom situated in a desirable location, although the exact deck and position can still vary.
What is a premium balcony on Princess Cruises?
A premium balcony on a Princess Cruises ship is larger than a standard balcony. The stateroom itself is normally the same size, but the balcony area is larger. It may also be in a better location, such as the rear of the ship.
What is a deluxe balcony on Princess Cruises?
A Deluxe Balcony refers to the stateroom rather than the balcony itself. It means the cabin is larger and includes some of the same benefits as a mini-suite, including an upgraded duvet and extra bathroom amenities. The room also has a comfy sofa bed as well as the main bed.
What are the benefits of a suite on Princess Cruises?
Princess Cruises' suites are much larger than standard rooms and have numerous benefits, including upgraded beds and balcony furniture and expanded bathrooms. Suite guests can enjoy priority boarding and dining reservations, as well as an improved room service menu.
How much is a Princess Sky suite?
The prices for a Princess Sky Suite vary depending on your cruise itinerary but, as a guide, expect to pay around $7,000 per person for a 7-night cruise. The per-night cost will normally be lower on longer itineraries.
Do rooms on Sky Princess have a fridge?
Each stateroom on Sky Princess has its own refrigerator. You can also request a bucket of ice from your room steward if you wish.
What plug sockets are there on Sky Princess?
On Sky Princess, there are US and European power outlets as well as some USB charging ports. You may wish to bring US and European adaptors, particularly if your electrical items have British plugs.
Are toiletries provided on Sky Princess?
In your cabin bathroom on Sky Princess, you'll find shampoo, conditioner and body lotion. However, you may prefer to bring your own.
Are hairdryers provided on Sky Princess?
Each cabin on Sky Princess comes with a hairdryer. You may bring your hair straighteners or curling iron as well.
Is room service free on Sky Princess?
Room service on Sky Princess is free of charge, except for pizza.
Is the mini-bar free on Sky Princess?
Your mini-bar on Sky Princess will only be free of charge if you are staying in a suite. Drinks packages do not include drinks from the mini-bar.
Are the upper beds on Princess Cruises suitable for adults?
The upper beds on Princess Cruises may be used by children or adults. The maximum weight capacity is 250lbs (17st 12lb).
NEW DEALS JUST RELEASED!
See the latest Princess Cruises offers…
Related Posts:
More Princess Cruises Cabin Guides