Princess Cruises' Suites comes with a whole host of VIP benefits. And, the better the Suite you choose, the more free perks you'll get.
Choosing the best Suite or Mini-Suite for you is a decision that you won't want to get wrong. So in this guide, I'll show you what you can expect when you book each of the different accommodation types on Princess Cruises ships.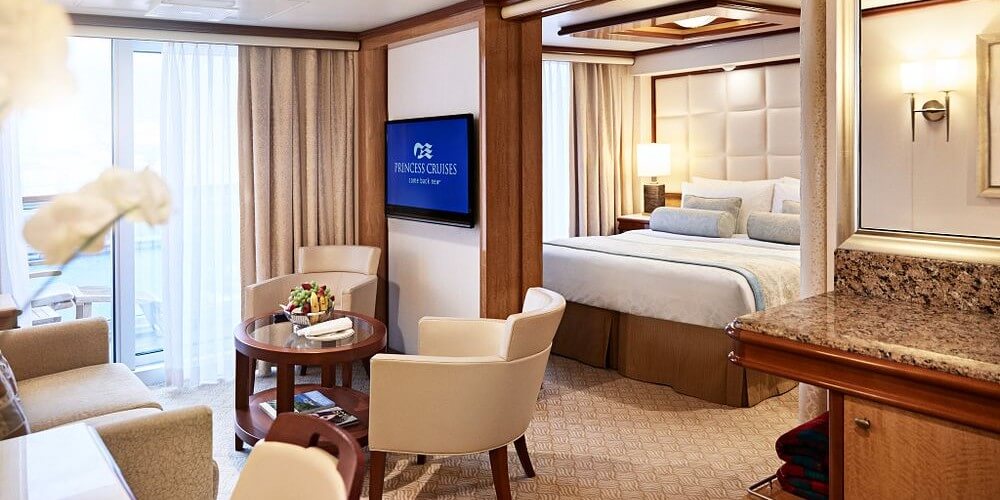 Princess Cruises Suite Types
First, let's look at the different types of suites that you can book on a Princess cruise. Then, we'll take a closer look at the upgraded amenities and perks that you get with each so that you can decide if a suite is worth it.
There are five different suite types on Princess Cruise ships:
Mini-Suites
Club Class Mini-Suites
Suites
Two Bedroom Family Suites
Sky Suites
Here's some information about each type of suite…
Mini-Suites
Mini-Suites are the next level of accommodation up from a balcony room and they feature a separate sitting area – ideal for people who like a little more space.
Mini-Suites are substantially larger than balcony rooms but, as the name suggests, not as large as a Full Suite.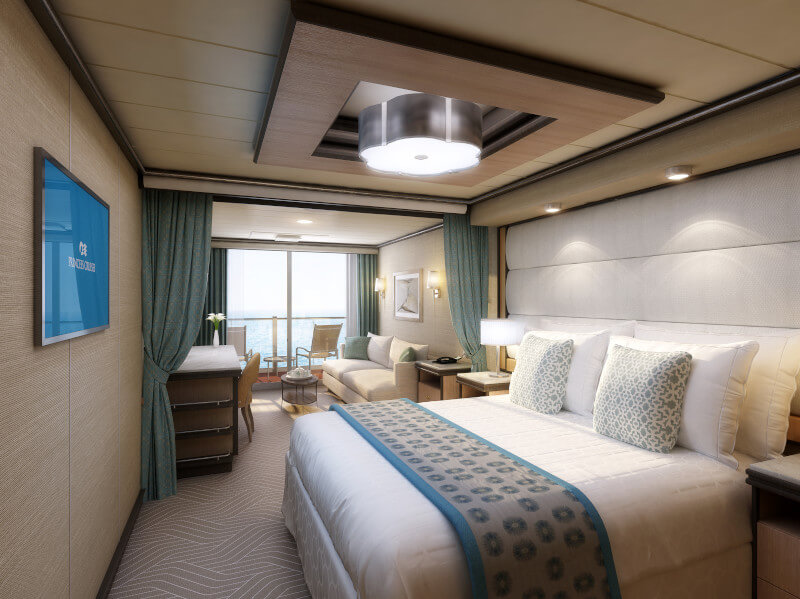 Club Class Mini-Suites
The best Mini-Suites on Princess Cruises ships are Club Class Mini-Suites. These are located in the best spots in the middle of each ship and come with a selection of extra perks like Club Class Dining, priority boarding and free wine on embarkation day.
You can learn more about Princess' Club Class perks later in this guide.
Suites
On Princess Cruises ships, Suites come with all the amenities of Club Class Mini-Suites and a few more as well. You'll enjoy considerably more space and extra freebies like laundry, a mini-bar setup and speciality dining on the first night.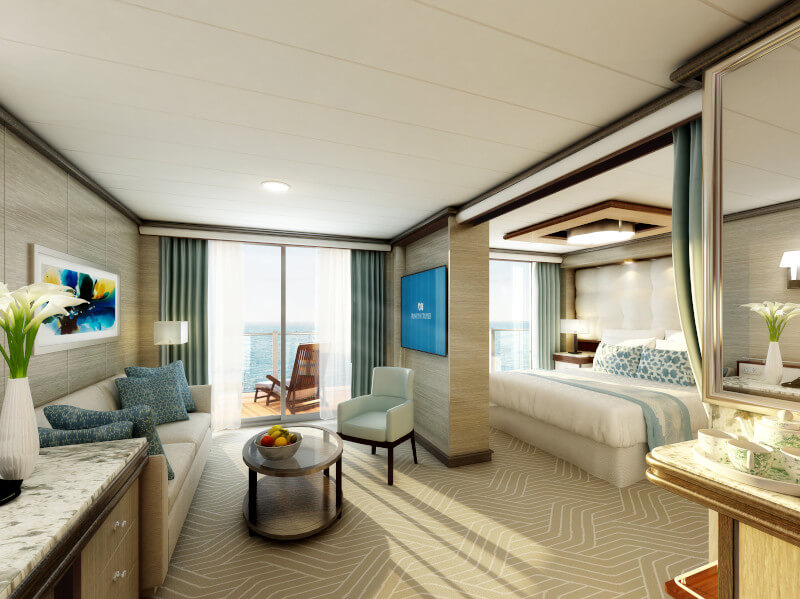 Sky Suites
Sky Suites are only available on the three newest ships – Sky Princess, Enchanted Princess and Discovery Princess.
They are absolutely huge, with a 1,000-square-foot balcony offering 270-degree views. You'll be looked after by a Suite Experience Manager are will receive lots of free perks like access to The Enclave spa, VIP seats in the theatre and meals served on your balcony if you wish.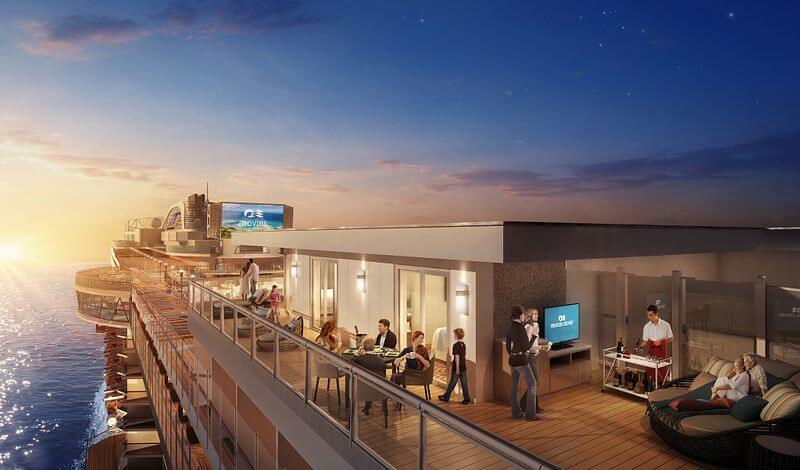 Two Bedroom Family Suites
A Two Bedroom Family Suite is essentially a regular Mini-Suite that's connected to an Inside Stateroom via a shared lounge.
They are only available on certain ships – Caribbean Princess, Crown Princess, Diamond Princess, Emerald Princess, Grand Princess, Ruby Princess and Sapphire Princess. These suites sleep up to eight people on most ships, but only six people on Diamond Princess and Sapphire Princess.
NEW DEALS JUST RELEASED!
See the latest Princess Cruises offers…
Princess Cruises Suite Benefits
The VIP perks and amenities you can expect differ across the different Princess Suites. The most expensive suites, Sky Suites, are extremely spacious and feature lots of facilities and extra services. The cheapest Mini-Suites, however, are just a small upgrade from a balcony room.
Here's what you can expect at each level…
1. Separate sitting area
On Princess Cruises, what sets a Mini-Suite or Suite aside from a Balcony room is the separate sitting area. And the larger your suite, the larger and more distinct this area is.
With a Mini-Suite, you'll get a sofa bed and coffee table, whereas, in a Full Suite the seating area features a sofa bed, chair and two tables.
The living area in Princess Cruises' Sky Suites is the most spacious with a sofa bed, side table, lounge chair, coffee table and a large dining table that seats four.
2. Bathtub
One of the perks of a Suite or Mini-Suite on a Princess cruise is that you get a bathtub rather than just a stand-up shower. This is ideal for families with young children or those who like to soak in the tub.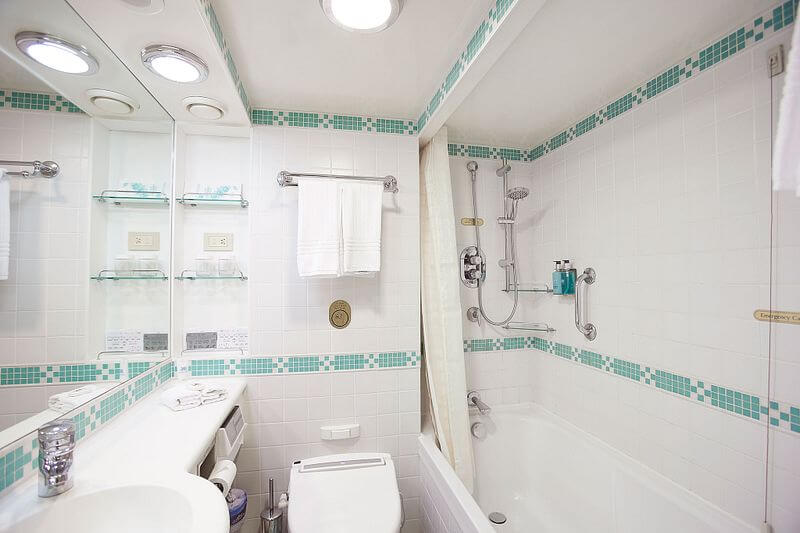 In Club Class Mini-Suites and Suites, you'll also get upgraded toiletries, although the standard toiletries are very nice anyway.
Sky Suites feature two bathrooms – one with a bathtub and separate rain shower and another with a shower. The toiletries and towels are extra special too.
3. Larger balcony
Princess Cruises Suites generally have larger balconies than standard Balcony cabins. These increase in size as you upgrade through the different suite types. Princess Cruises' Sky Suites have the largest balconies at sea.
The Sky Suite balcony is so large that it's impossible to fit it all into one photo. While it is very large, it doesn't have a jacuzzi on the balcony as you might expect if you're used to cruising with other cruise lines such as Carnival.
Approximate balcony sizes on Princess Cruises ships:
Balcony Room – 40 sq. ft.
Mini-Suite – 40 sq. ft.
Suite – 70 to 210 sq. ft.
Sky Suite – 947 to 1012 sq. ft.
Mini-Suites have floor to ceiling glass doors, while full Suites have two sets of sliding glass doors and Sky Suites have three, as well as a window onto the balcony.
One thing to be aware of though, is that not every suite has a balcony. Some Suites, known as Window Suites, have a large window instead. If you value a balcony, you'll want to avoid these. However, if you're travelling with young children or a vulnerable person, the lack of a balcony could give you some added peace of mind.
4. Luxury Bedding
When you book a Mini-Suite you can expect a better night's sleep as your bed will feature a luxury mattress topper and pillows.
Club Class Mini-Suites and above feature 'The Princess Luxury Bed'. Designed by sleep expert Dr Michael Breus, the mattress, linens, duvets and pillows have been carefully crafted for maximum comfort. So comfortable is this bed, that many cruisers are willing to pay upwards of $2,000 to recreate the experience at home.
Guests staying in Full Suites have the option to customise their bed with a pillow and mattress topper menu.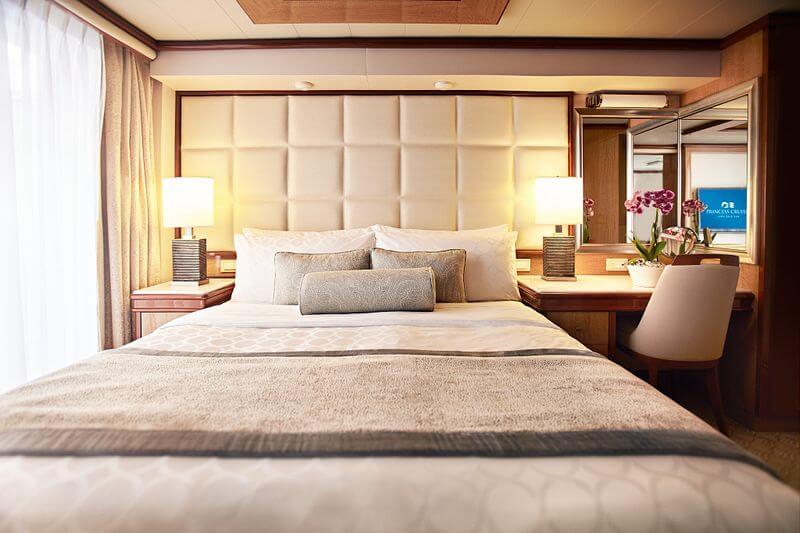 5. Extra Television
In each Princess Cruises Suite and Mini-Suite you'll find not one but two flat-screen televisions – one in the bedroom and one in the seating area. On the newer ships these have a touch screen.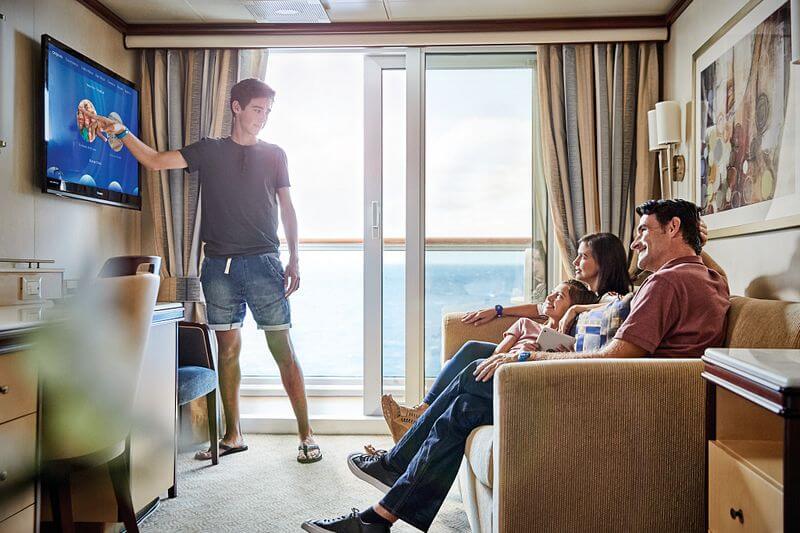 Princess Cruises Sky Suites have an unbelievable four TVs as well as a view of the big movie screen on the pool deck. So, every member of the family can watch something different should they wish.
6. Bathrobes and Slippers
Mini-Suites don't come with bathrobes on Princess Cruises – those are reserved for guests staying in Club Class Mini-Suites and Full Suites. If you book the Sky Suite, you'll get an extra special robe to wear.
Slippers are only provided for guests in Full Suites, except on Asian cruises where they are generally provided for everybody as is expected by the local culture. You'll need to return your dressing gown at the end of the cruise, but the slippers are yours to keep.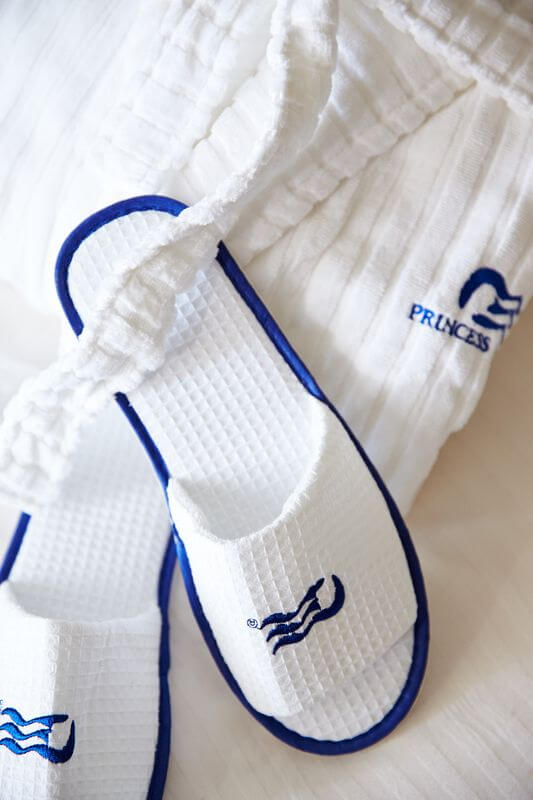 7. Complimentary drinks
On Princess cruises, Mini-Suite guests will be welcomed with a complimentary glass of bubbly on embarkation day, but if you book Club Class or a Full Suite this will be upgraded to real Champagne.
Club Class and above also receive a complimentary wine set up on embarkation day, with half a bottle of red and half a bottle of white wine.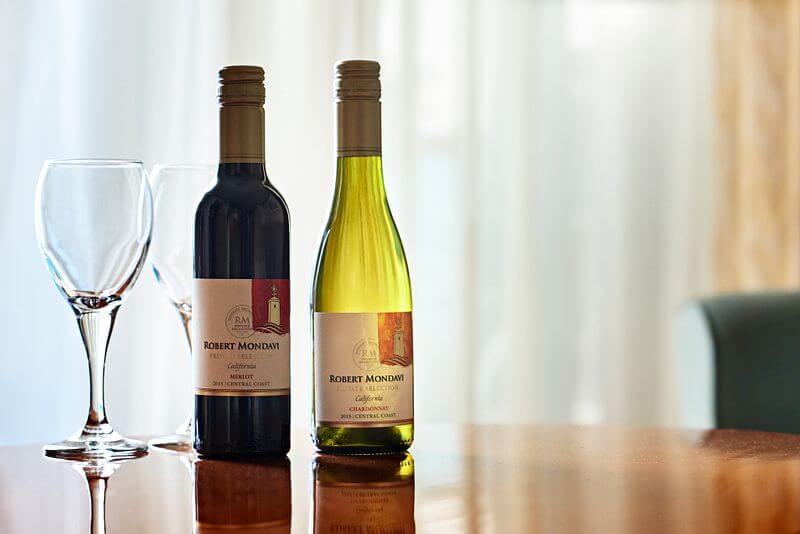 Guests staying in Full Suites will also receive one complimentary mini-bar set up. But after this, you'll be expected to pay for drinks from your mini-bar. You'll also get free bottled water delivered daily.
If you stay in the Sky Suite, you'll also be invited to a complimentary fine wine tasting on one evening.
8. Canapes
One of the perks of staying in a Club Class Mini-Suite or Full Suite is that you can have delicious canapes delivered each evening. To avoid waste, these arent delivered automatically, you'll need to request them. So, don't forget to let your room steward know if this is something that you'd like.
9. Dining perks
One of the main reasons to upgrade from a Mini-Suite to a Club Class Mini-Suite or Full Suite is the Club Class Dining Experience.
You'll be seated in an exclusive area of the main dining room that's a bit nicer than the rest of the room. You'll benefit from the best waiters so you can be sure of the very best service and you'll have extra menu options with a daily Chef's Special that's not on offer to other guests.
Club Class Dining is available for breakfast and dinner every day, as well as lunch on sea days.
If you cruise on board Caribbean Princess, Crown Princess, Emerald Princess, Ruby Princess, Star Princess, Diamond Princess, Sapphire Princess, Coral Princess or Island
Princess, Suite guests will also enjoy a complimentary speciality dining dinner on the first evening of the cruise.
Other culinary perks for suite guests include 'welcome goodies' from the chef on embarkation evening, afternoon tea served in your suite each day, a bowl of exotic fruits refreshed as required and an upgraded room service menu.
10. Priority access
While Mini-Suite guests are not invited to the front of any lines, those staying in Club Class Mini-Suites and above will benefit from priority embarkation and disembarkation at the beginning and end of the cruise.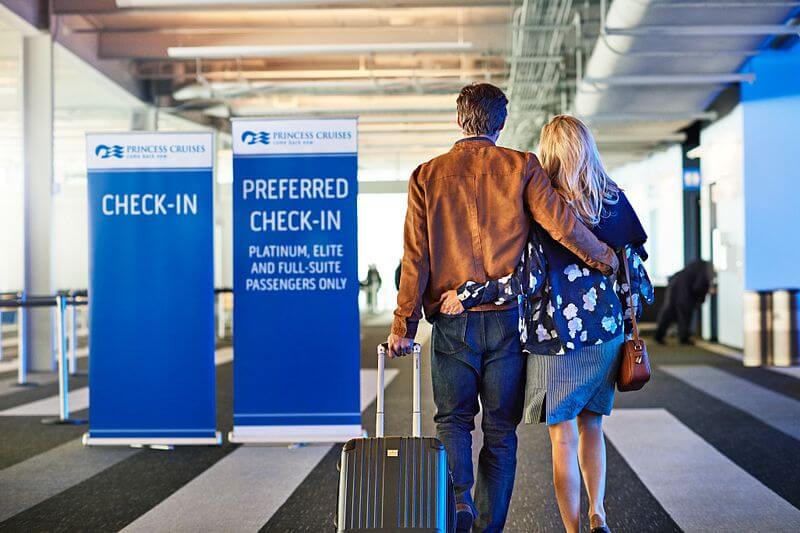 If you choose a Full Suite, you'll also get priority disembarkation at tender ports, meaning that there will be no wait for a boat to take you ashore. You'll also benefit from priority dining and shore excursion reservations and can join the VIP line at the guest services desk.
11. Free laundry
On longer cruises, free laundry can be a really valuable perk to have. If you book a Suite on a Princess cruise, you'll receive free laundry and dry cleaning throughout your trip.
Suggested read: Cruise Ship Laundry Guide
12. VIP lounge
Guests staying in Full Suites have exclusive access to the Elite Lounge which is available on most ships. Here you can enjoy complimentary hors d'oeuvres and coffee. Concierge will be on hand to assist with any reservations that you require.
13. Spa Access
Suite guests receive complimentary access to the Thermal Suite of the Lotus Spa on selected ships. Here you can use the hydrotherapy pool, heated beds, steam rooms and saunas. This usually costs around $20 per person, per day. You'll have to pay extra for any spa treatments.
14. Little Touches
One of the best reasons to choose a suite is all of the little extras that add up to make you feel really special during your cruise. Some of the perks you can look forward to when you choose a Full Suite include:
Fresh orchids in your suite
An upgraded turndown service
Use of umbrellas
A free cruise card wallet
Complimentary Shoe polishing service
Private portrait sitting with the photographer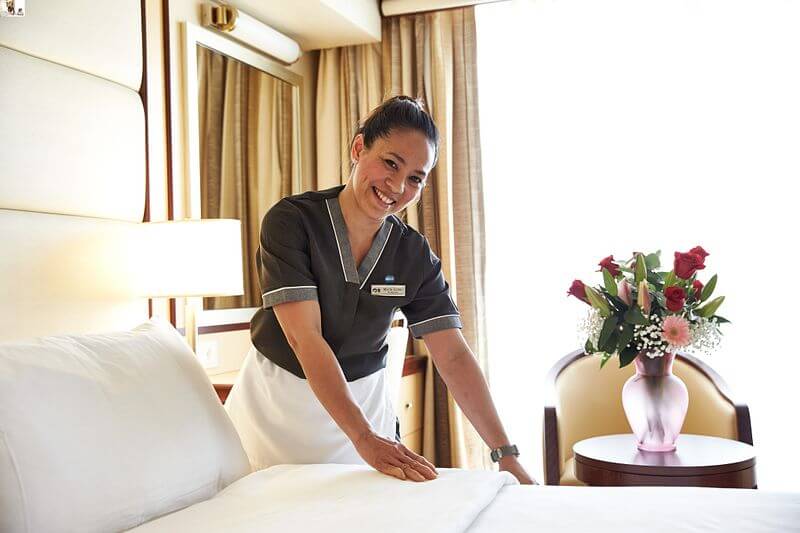 15. Sky Suite Perks
Those staying in Princess Cruises' very best suites, Sky Suites, can expect some extra perks that nobody else will get. These include:
Pre-cruise shoreside concierge
Seamless curb to suite experience
Services of a Suite Experience Manager
Reserved seats in the theatre
A reserved bungalow at Princess Cays on cruises that call there
Two full bottle bar setups with mixers
Free wine tasting event
Private shopping concierge
The ability to choose a movie on the big screen for Movies Under the Stars
Use of telescope
Breakfast and dinner on your balcony
Nespresso machine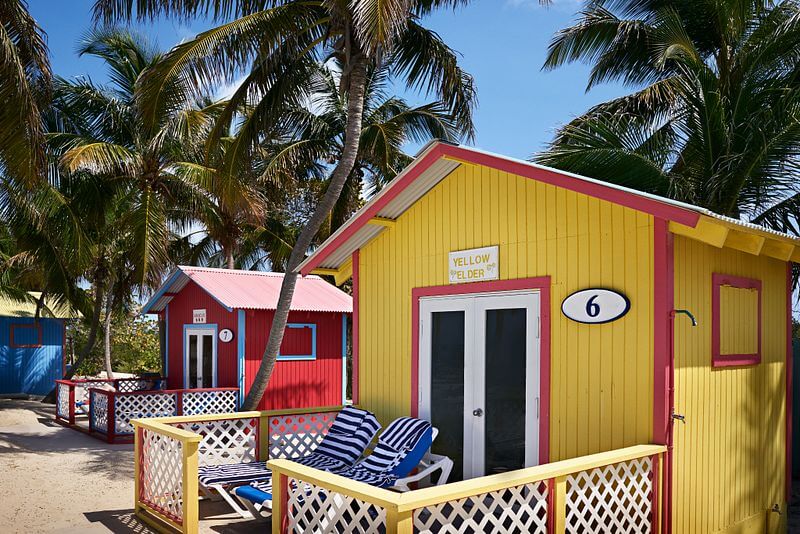 Which suite to choose?
If money is no question and you want the best suite on the ship, then there's no question – you have to go for a Sky Suite. However, these are only available on three ships and there are only two Sky Suites on each ship, so you'll need to book early to secure your place.
Princess Cruises Suites come with so many perks and plenty of room to relax. Many cruisers say that once they enjoy the benefits of a Suite, they never want to go back to the standard accommodation classes.
If a Suite is out of your budget, you can choose between a spacious Mini-Suite and a Club Class Mini-Suite which comes with some additional benefits.
Is Club Class on Princess Cruises worth it?
On Princess Cruises, Club Class Mini-Suites gives you the perks of a Suite, at a lower price. Most people would say that Club Class is worth it because your Mini-Suite will be in a great location on the ship, you'll enjoy exclusive Club Class Dining and priority boarding and debarkation.
To decide which is the best Princess Cruises Suite for you, I'd suggest getting quotes on the various options and considering carefully whether you think that the benefits that you'll get from upgrading are worth it or not.
Related Posts: