Launching in 2004 alongside her sister ship the Sapphire Princess, Diamond Princess was the first ship to be launched for Princess that was part of the Grand Class whilst also being part of a sub-class, the Gem Class.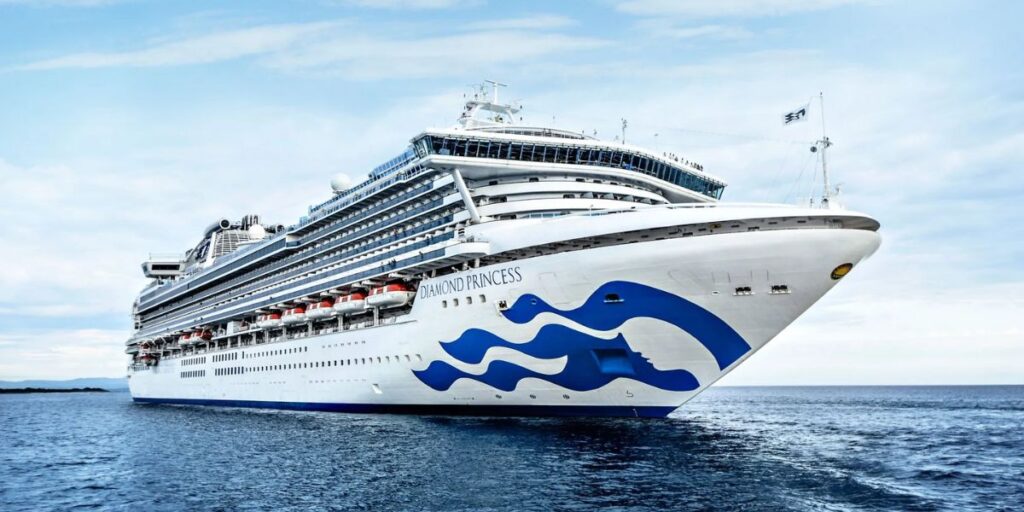 She is generally positioned either off the west coast of the US, or around Japan, giving her some exciting and unique itineraries that guests love to explore. But the first step in booking your own Japanese cruise adventure is choosing a cabin type – and that's where this guide can help.
Read on to learn everything you need to know about the best and worst cabins, so that you make the most of your Diamond Princess cruise adventure.
Diamond Princess Cabin Types
There are seven main types of cabin on Diamond Princess.
| Accommodation | Sleeps | Size (incl. balcony) |
| --- | --- | --- |
| Interior | 2 to 4 | 168 to 182 sq. ft. |
| Oceanview | 2 to 4 | 183 sq. ft |
| Premium Oceanview | 2 | 200 sq. ft |
| Balcony | 2 to 4 | 237 to 277 sq. ft. |
| Premium Balcony | 2 to 4 | 237 to 277 sq. ft. |
| Mini Suite | 2 to 4 | 354 sq. ft. |
| Suite | 2 to 4 | 525 to 1,329 sq. ft. |
Not every ship in the Princess fleet has Oceanview rooms, but Diamond Princess does, including some at the front of the ship that let you look ahead to where you're sailing. But the majority of rooms on the ship are either Interior, Balcony or Premium Balcony.
However, the decision of which room you should book is a lot more than just picking a cabin type. There's a lot to consider, as within each type there are different categories, some of which are better than others, and then you also need to think about the location on the ship as well, and how close you want to be to certain facilities (or how far away, if you want a quieter room).
Because there's a lot to think about, I've made a checklist that tells you everything you need to be aware of. And you can get it free here:
Diamond Princess Inside Cabins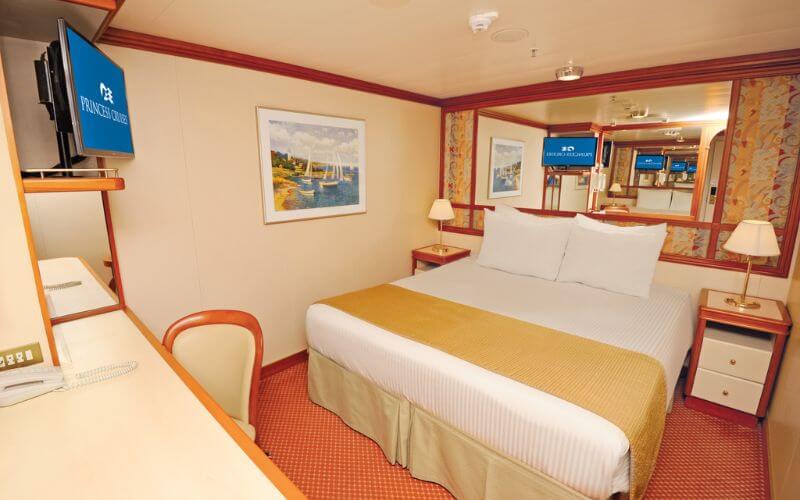 On most cruise ships, the most 'basic' accommodation you can book is an interior or inside cabin, and Diamond Princess is no different. These rooms are on the inside of the ship, as the name suggests, which means you don't have any windows for natural light.
They're normally designed for two people but there are some that can sleep four. Often inside rooms are the smallest on a ship, but there are some smaller Oceanview cabins on Diamond Princess – though not by much.
These rooms are ideal for anyone who either doesn't like to be woken up by sunlight, and thinks they may get a better sleep without any windows, or for anyone who just isn't too bothered by having a nice view. After all, there are plenty of open decks where you can go when you do want to see the sea.
And interior cabins are the cheapest available, which frees up more of your budget for on-board activities or even for your next cruise. There are some wheelchair-accessible interior cabins on Diamond Princess, and they're some of the most spacious rooms on the ship that aren't suites.
Beds are flexible – they're normally twin beds that can be converted into a double – while the cabins that sleep up to four will have Pullman beds that are more suited to children but can support some adults.
Suggested read: What is a Pullman bed?
Pullman beds are either fold-down from the wall, or they're hidden in the ceiling, and on Diamond Princess, it's the fold-down from the wall version. These aren't as good, because people in the twin beds can bump their heads on the Pullman even when folded up.
Diamond Princess Inside Cabin Grades
Every cabin on Diamond Princess has a two-letter code that tells you the grade. The first letter makes clear the cabin type, while the second character (a mix of numbers and letters) tells you where it is on the ship, and what sub-type of room it is.
Inside cabins begin with I, and the second letter runs from A to F. A is considered the best due to the location, while F is the worst. Costs vary, so an IA will cost more than an IF – if you want the best location, you have to pay a little more.
| Grade | Sleeps up to | Average size (sq ft) |
| --- | --- | --- |
| IA | 2 | 168 |
| IB | 4 | 168 – 182 |
| IC | 2 | 168 – 182 |
| ID | 2 | 168 |
| IE | 2 | 168 |
| IF | 4 | 168 |
Diamond Princess Oceanview Cabins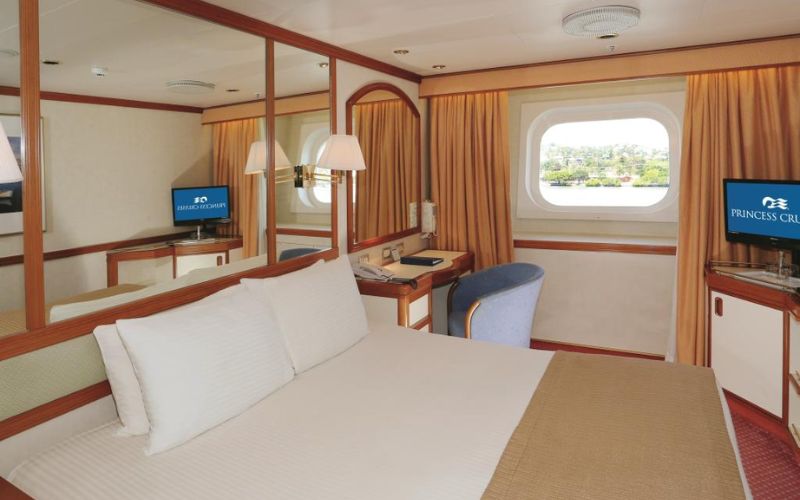 If you want to enjoy a view from your room, or the thought of no natural light leaves you feeling a bit cramped, then an Oceanview is the next step up. Cheaper than a Balcony, you tend to get just a little more space than an Interior cabin, but more importantly some view of the ocean.
Bear in mind that some of the Oceanview cabins on Diamond Princess have an obstructed view, either caused by the lifeboats or by the bridge at the front of the ship. These are cheaper, so if you're not so worried about the view and just want some sunlight, these could be ideal.
And if you want a little more floor space, you can choose a Premium Oceanview cabin – they're around 10% bigger.
Diamond Princess Oceanview Cabin Grades
| Grade | Type | Sleeps up to | Average size (sq ft) |
| --- | --- | --- | --- |
| O5 | Premium Oceanview | 2 | 200 |
| OC | Oceanview | 2 | 183 |
| OF | Oceanview | 2 | 183 |
| OV | Oceanview (Obstructed) | 4 | 183 |
| OW | Oceanview (Obstructed) | 2 | 183 |
| OY | Oceanview (Obstructed) | 2 | 183 |
| OZ | Oceanview (Obstructed) | 2 | 183 |
Diamond Princess Balcony Cabins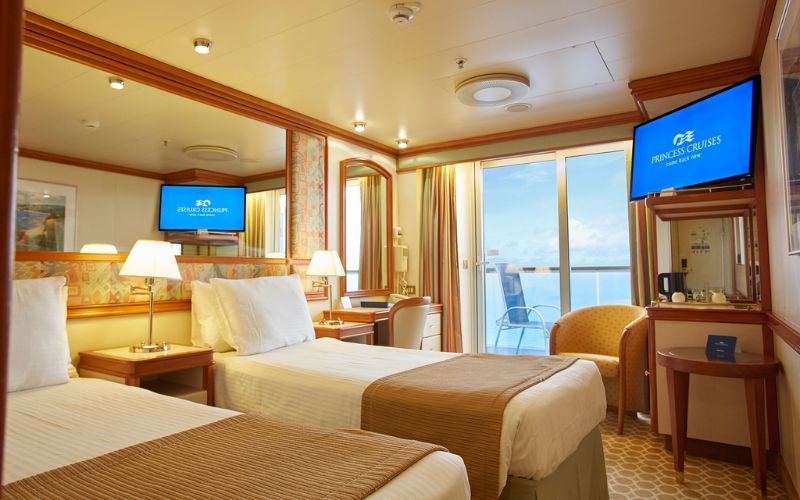 Looking for a little more space again, and the chance to soak up some fresh air from the comfort of your own room? That's when you want a Balcony cabin. These have sliding doors opening onto your own miniature veranda where you'll have a couple of chairs and you can sit and relax with a view.
Within the Balcony category, there are a couple of different options available – Balcony and Premium Balcony. Premium Balconies have more space and are in some premium locations, including the aft of the ship overlooking the wake.
Diamond Princess Balcony Cabin Grades
| Grade | Type | Sleeps up to | Average size (sq ft) |
| --- | --- | --- | --- |
| B2 | Premium Balcony | 4 | 277 |
| B4 | Premium Balcony | 4 | 237 – 277 |
| BA | Balcony | 4 | 237 |
| BB | Balcony | 4 | 237 |
| BC | Balcony | 4 | 237 |
| BD | Balcony | 3 | 237 – 277 |
| BE | Balcony | 2 | 237 – 277 |
| BF | Balcony | 2 | 237 |
Diamond Princess Mini Suites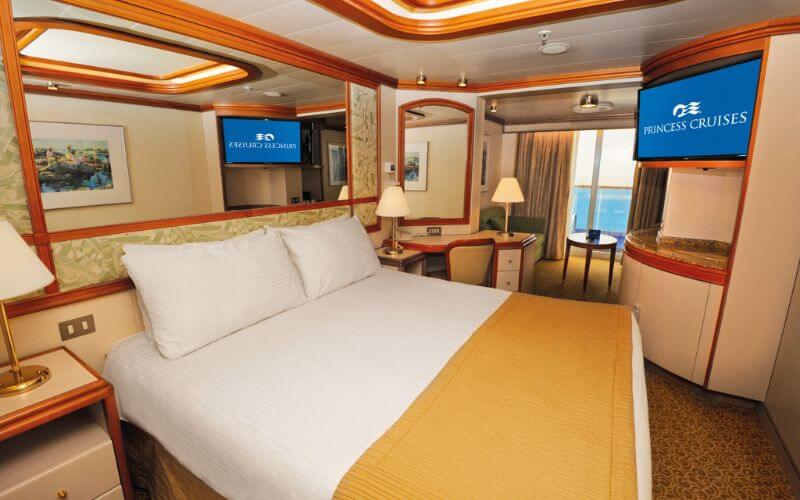 The Mini Suites on Diamond Princess are a middle step between a Balcony stateroom and a full-size suite. This has some plusses and some drawbacks – you get more space, and you get a few extra benefits, but not as many as if you were to make the step up all the way to a full suite. However, you're also not paying the same price as your would be for a Suite, so there is that to consider as well.
The perks you get in a Mini Suite on Diamond Princess are:
A separate sitting area in your suite, with a sofa bed and a coffee table
A curtain so that you can separate the sofa bed from the main bed area, creating two bedrooms
An extra TV – the usual one facing the bed, and a second in the sitting area
A better bathroom that has a bathtub and a massage shower
An upgraded bed, that has better pillows and a plump mattress topper
Additional balcony chairs – up to four (instead of the normal two)
A glass of sparkling wine as you board the ship
Diamond Princess Mini Suite Grades
| Grade | Type | Sleeps up to | Average size (sq ft) |
| --- | --- | --- | --- |
| M1 | Club Class Mini Suite | 3 | 354 |
| MB | Mini Suite | 4 | 354 |
| MD | Mini Suite | 4 | 354 |
| ME | Mini Suite | 4 | 354 |
Club Class Mini Suites
If Mini Suites are a halfway house between Balcony cabins and Suites, then Club Class are a two-thirds house…in that they're a premium subclass of Mini Suites that have some additional perks, despite not being any larger.
Diamond Princess Club Class Mini Suite perks:
Priority embarkation and disembarkation queues at the start and the end of your cruise
An even comfier bed
Bathrobes provided for each guest for the duration of the cruise (don't steal them!)
A half bottle of red wine and a half bottle of white wine in your Mini Suite on embarkation day
Evening canapes served in your room (on request)
Access to an exclusive seating area in the Main Dining Room, with additional menu options to choose from.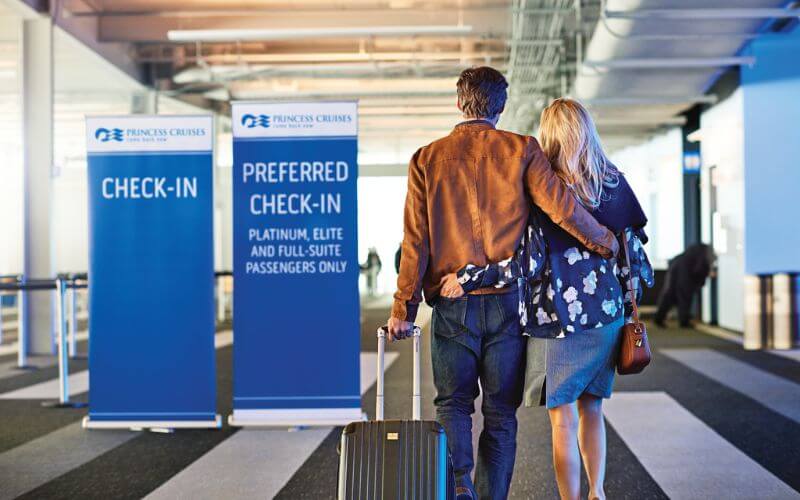 If you're thinking about making the step up to a Mini Suite or a Club Class Mini Suite, it's worth taking the time to consider whether these extra benefits are worth it to you. And if they are, then you might also want to pay a little more for a full-sized Suite.
If the perks aren't something you want to pay more for, then it's not worth booking a Club Class Mini Suite, although you may prefer the extra room that a regular Mini Suite gives you compared to a Balcony cabin.
Diamond Princess Suites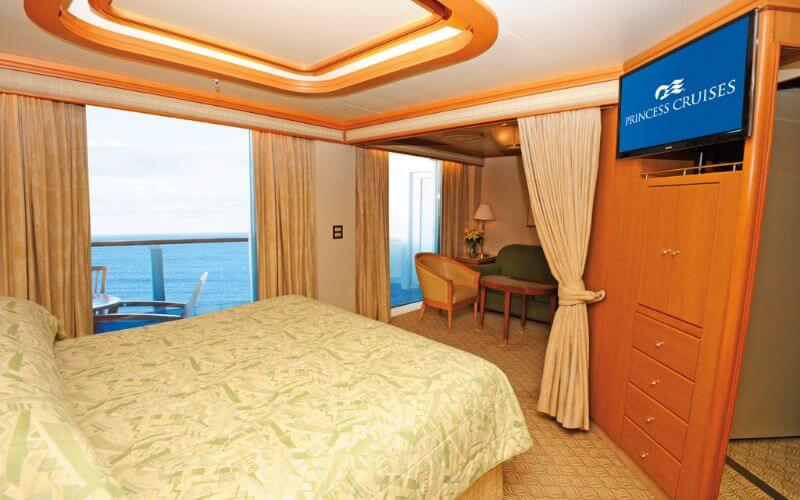 If you want to really live the high life, or you just want the most space to be able to relax in the privacy of your own room, then a Suite is the way to go. Diamond Princess has some fantastic Suite options, giving you all of the perks of a Club Class Mini Suite, as well as a long list of additional extras as well.
Diamond Princess Suite Perks:
Priority queues for embarkation and disembarkation, and for shore excursions/tenders
Priority lines for booking shore excursions and for guest services desks
Priority booking for the speciality dining venues
Access to the Club Class Dining area of the Main Dining Room with its extra menu choices
Access to the exclusive Lotus Spa Thermal Suite
An upgraded room service menu to choose from
Your boarding drink is upgraded to Champagne
A free mini bar in the room, a fruit bowl (topped up on request) and a fresh vase of orchids in your suite for your arrival
A free mimosa at breakfast every day
A twice-daily ice service
Tea served in your suite
A cruise card wallet
Complimentary use of umbrellas as necessary
Free laundry, dry cleaning and shoe-shining
One free private portrait photograph taken by the ship's photographer
Diamond Princess Suite Grades
| Grade | Type | Sleeps up to | Average size (sq ft) |
| --- | --- | --- | --- |
| S1 | Grand Suite | 4 | 1,329 |
| S2 | Owner's Suite | 3 | 692 |
| S3 | Penthouse Suite | 3 | 525 – 572 |
| S4 | Penthouse Suite | 3 | 555 |
| S5 | Premium Suite | 3 | 705 |
| S6 | Vista Suite | 3 | 525 – 548 |
| S8 | Family Suite | 6 | 618 |
Grand Vs. Owner's Vs. Penthouse Vs. Premium Vs. Vista
There are six different types of Suite on the Diamond Princess, although one of those is a speciality category aimed at families – more on that below.
But when comparing the suites, the best is the Grand Suite. Not only is it the most spacious, but it has a prime location at the aft corner of the ship, giving you the biggest balcony area and what many believe to be the best view. It also has multiple seating areas, and is great for hosting.
The Owner's Suite is situated on the same deck as the Grand Suite, but in the opposite corner. It is still exceptionally spacious and is maybe a better choice if you aren't likely to have people visiting your room.
Some of the Penthouse Suites are also situated at the aft in a more central location, as are the smaller Vista Suites – although they are on a lower deck, so you don't get quite as expansive a view.
The S4 Penthouse Suites are situated mid-ship, and while these views aren't as sought after, it does mean that you're closer to all of the amenities of the ship. If you want to head to the Lotus Spa then you're a lot closer than an Owner's Suite guest.
The Premium Suites are located in a forward position, with balconies at the front of the ship. There may be times that you can't use these balconies because of the winds as the ship is sailing – so bear that in mind.
NEW DEALS JUST RELEASED!
See the latest Princess Cruises offers…
Special Cabin Types
Diamond Princess Aft Rooms
Most people covet an aft room because of the views you can enjoy. Looking out of the wake is pretty exciting, and you're sheltered from a lot of the winds that stream past the ship while you're sailing too. Plus the rooms tend to be larger, so you're getting more space and a wonderful view every morning.
On the Diamond Princess, the aft-facing rooms include:
Premium Balcony Cabins – Decks 8 to 12, excluding Deck 11
Vista Suites – Decks 8 to 10
Penthouse Suites – Decks 10 and 11
Owner's Suite – Deck 11
Grand Suite – Deck 11
Diamond Princess Connecting Rooms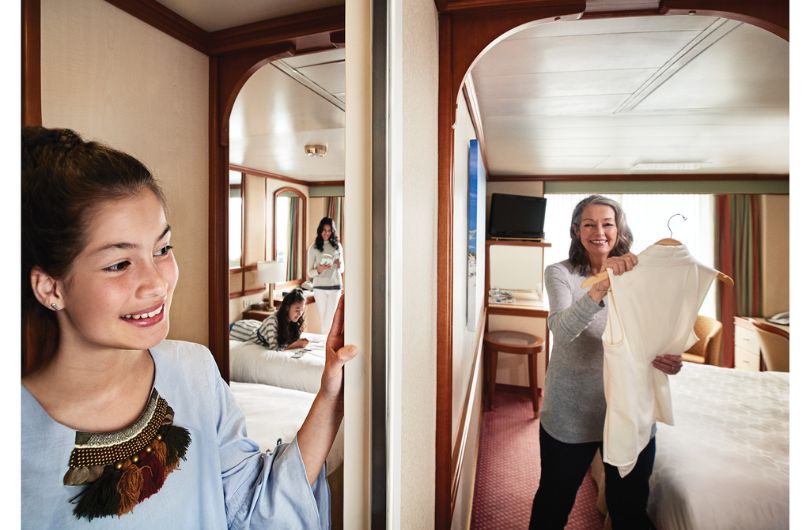 Connecting rooms are designed for any groups that are travelling together that either can't fit into one cabin, or that want a little more space. They're two cabins side-by-side that have a door between them. This door is locked by default, so that any guest can book these rooms without a stranger wandering in. But if you book both rooms you can have this connecting door unlocked so that you can wander between the two rooms freely.
On Diamond Princess, there are a few choices when it comes to connecting rooms:
Two Obstructed Oceanview Cabins
Two Balcony Cabins
Two Premium Balcony Cabins
Diamond Princess Family Suites
There is another type of connecting room that's a little more special – the Family Suite. Technically each of the two Family Suites are just two Balcony cabins at the front of the ship, but they must be booked together – you can't book these rooms individually.
Despite the fact that they are listed as separate rooms within one suite, they have been converted so instead of a shared door, they have a shared living space and fully open balcony area.
Plus you get all the benefits of booking a suite too, and because there are two sofa beds the suites sleep up to 6 guests. So if you're looking for something special for your family, or you're travelling with a larger group, these could be ideal.
Diamond Princess Accessible Rooms
While the public areas of the ship are fully accessible for wheelchair users, not every cabin is really suited. There are a selection of dedicated accessible cabins though, which have wider doorways, more floorspace around the bed to allow a chair to manoeuvre, and a wet room.
These are really popular and will often book up quickly, so if you're interested then you should definitely try to book in advance. And if you don't need an accessible cabin, try not to book them so that those who do require the space don't miss out.
The accessible cabins on Diamond Princess include:
Interior Cabins – Decks 8, 10, 12 and 14
Obstructed Oceanview Cabins – Deck 8
Balcony Cabins – Decks 10-12
Premium Balcony Cabins – Decks 10 and 12
NEW DEALS JUST RELEASED!
See the latest Princess Cruises offers…
Diamond Princess Cabins to Avoid
Now that we've run through every type of accommodation you can book on Diamond Princess, it's time to pick out those individual cabins that maybe aren't the best choice.
I've scoured forums and Facebook groups to find the rooms on Diamond Princess that people haven't been too happy with and made a note of them for you here. But remember that a lot of this is subjective, and some of these might actually be a good choice for you.
None of the recommendations here are down to a 'bad' room. These are all tips based on the location of the rooms, and what surrounds them.
With that clarified, here are the Diamond Princess cabins you might want to avoid.
1. Cabins That Are Under the Lido Deck
A310 to 751
A common thread you see on forums and Facebook groups about cruise ships is problems with the noise from pool decks. There are a lot of rooms that are situated directly underneath the wooden decking of the pools, and when guests wake up nice and early to secure themselves and their deck chair, they will often scrape it along the floor to get it into position.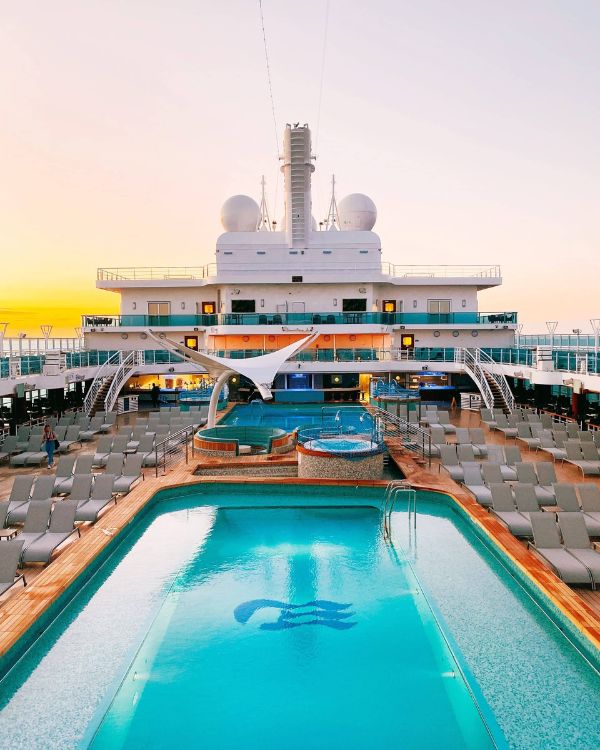 And that sound carries through the floor.
What was interesting was that it wasn't just complaints about the passengers in the morning that I read about, but also about crew working late to clean the Lido, scraping the deck as they cleaned it as late as almost midnight.
When the guest in question complained they did get an apology, as well as a credit to their on-board spend account, so that should show it's not a super-regular thing. But if you are someone who appreciates a lie-in then definitely consider booking a room that isn't underneath the scraping deck chairs.
2. Balcony Cabins Near the Front of the Ship
L200 and 201, A104 and 201, B104 and 107, C104 and 107, D104 and 105,
A few cruise lines have balcony cabins situated in a forward position on the ship, but they're rendered completely unusable while the ship is sailing because of the high winds – barring some that have special reinforced panels in place.
While Diamond Princess doesn't have forward-facing balconies (except in two Premium Suites), it does have some that are situated close to the front of the ship. These balconies may be out of bounds during particularly high winds, but even when you are allowed to use them I saw a couple of people saying that it wasn't a pleasant experience – it was too breezy to be able to relax.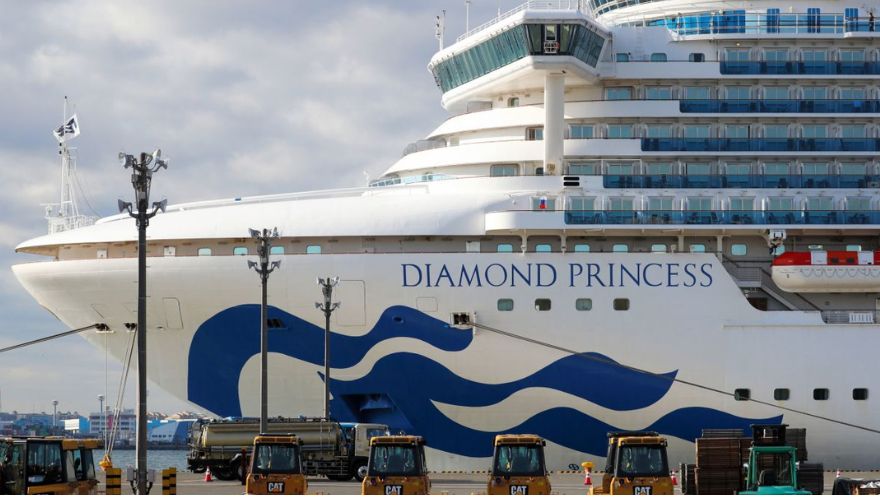 If your idea of a balcony is one where things are peaceful, a mid-ship location may be a better choice.
3. Cabins That Can Be Worse for Seasickness
L200 to 311, A104 to 301 and 628 to 751, B100 to 301 and 628 to 757, C100 to 301 and 628 to 757
If you're someone that's worried about potentially getting seasick, then you'll want to avoid cabins where you will feel the motion the most. Those are the cabins on the higher decks towards the front and aft of the ship.
It's particularly important on Diamond Princess as a couple of people have mentioned on the Facebook groups that itineraries departing from San Francisco – where the ship is often based – can have some choppy waters.
It's not a reason to avoid Diamond Princess altogether, but aim for a mid-ship room on a lower deck if you are concerned, as you'll feel the rocking of the ship less.
4. Cabins Directly Adjacent to the Laundromat
D226 and D229, C610 and C611, B708 and B711
There are a handful of laundry rooms on Diamond Princess, meaning guests don't have to cart their dirty clothes up many floors in the elevator. However, there are a couple of staterooms that are directly adjacent to these rooms, and you may want to avoid them.
And there are two reasons – firstly, the obvious noise of the machines. This isn't terrible but it can also cause vibrations in the room.
The other issue is just traffic – you may have a lot of noise from people coming and going, especially as each of the cabins I've listed is between the laundromat and the lift.
5. Cabins at the Front of the Ship Near Crew Stairwells
P200 to 201, E100 to 103, C101 to 102, D102 to 105
There are three main staircases on the Diamond Princess that go from Deck 5 to the higher decks. One at the front of the ship, one mid-ship and one at the aft. The mid-ship and aft staircases are open to passengers, which means they actually get the least use – because everyone uses the elevators.
The staircase at the front of the ship is for crew only, and some guests have reported that there can be some noise early in the morning when the crew are moving around between floors to get everything ready for guests waking up.
It's not a comment I saw a lot, but I did see it a couple of times, so it's worth being aware of it if you like a lie-in.
6. Obstructed View Rooms if a View Is Important to You
Any OV, OW, OY or OZ cabin (Deck 8), C100 to 103, 105 to 106 and 109 (Deck 10), B100 to 103, 105 (Deck 11)
There are a number of Oceanview cabins on Deck 8 that have an obstructed view caused by the ship's lifeboats. And equally in the Oceanview cabins at the front of Decks 10 and 11, the bridge causes an obstruction too.
This isn't a problem if you don't want a view and only want some natural sunlight – you'll still get that, and you can save money. But if you want a good view, it's best to book an unobstructed room since you don't know just how much you'll be able to see.
7. Connecting Cabins if You Don't Need Them
Various
The connecting cabins are great for travelling families, but if you aren't planning on booking both connecting rooms then it's a good idea to avoid booking one of them at all.
The connecting door will always remain locked, so you don't have to worry about a stranger wandering in. But that door is not as well insulated for sound as an actual wall, and so you may hear your neighbours a lot – and they might hear you.
If you like privacy, then avoid a connecting room unless you need it.
8. Aft Cabins if You Don't Want to Risk Soot
A744, 746, 749 and 751, B750, 751 and 753
Some guests have reported that when they've booked an aft balcony room, there have been some soot build-ups coming from the stacks.
It's not something that you'll always have to deal with, but it is a risk for the cabins that are higher up. You may notice a fine dusting of soot on the deck and if you leave any clothes out there, they may get a coating too.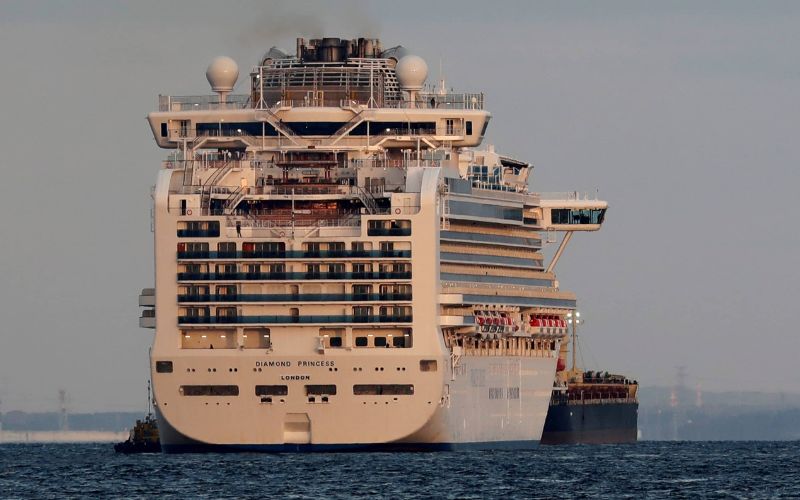 Booking a lower balcony will minimise the risk, but will sacrifice some of the view, so it's something you need to balance.
The Best Cabins on Diamond Princess
1. Family Suites
The two Family Suites are a great option for any larger groups who want to sail on Diamond Princess. They aren't necessarily packed with fun activities for the kids, like some family-oriented suites are on other cruise lines like Royal Caribbean, but they're really spacious and they have a good-sized balcony that everyone can enjoy.
The only real downside is their forward location, which means some amenities on the ship will be a long walk away. But that's worth it to not be living underneath each other's noses or having to book multiple cabins.
2. The Cheapest Cabins
The cheapest cabins on Diamond Princess are some of the inside cabins, especially those situated towards the front of the ship. They're not the biggest, and they're a decent walk from many of the amenities, but for someone who plans on spending a very small amount of time in their room they are ideal.
You'll save a lot of money – often paying half of what a guest in a Premium Balcony or Mini Suite may be paying – which can go towards all your onboard experiences or even your next cruise holiday.
3. Staterooms Adjacent to the Terrace Pool
Specifically the Interior rooms A740 and R745, the Balcony cabins A752 and 747, and the Premium Balcony cabins A746 and A751 (which have slightly extended balconies too).
These are right next to the Terrace Pool at the back of the ship, which gives you first dibs on a relaxing deck chair overlooking the wake. Not many people tend to rush here in the morning and you can literally step out of your room and be by the pool in around 10 yards. It's like your own little private haven.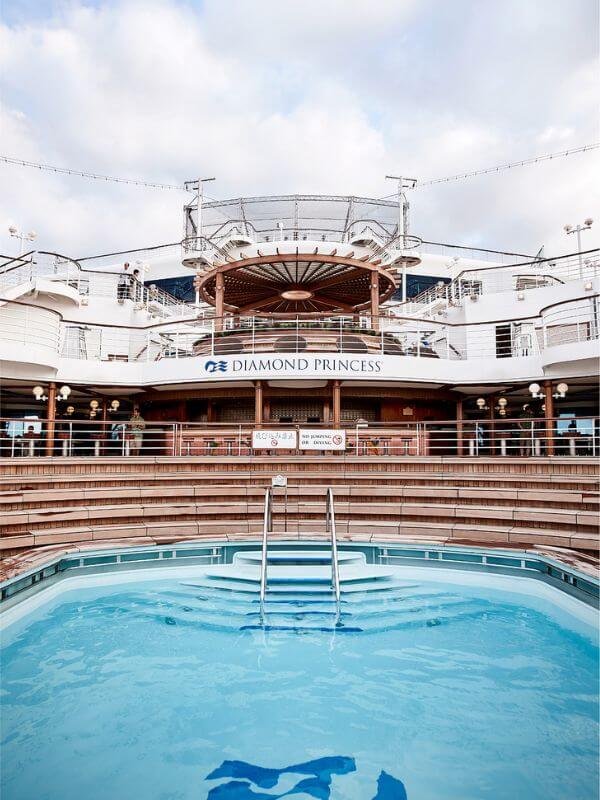 Other guests will sometimes come this way and so there can be increased traffic, but if you're awake then you will never miss a deck chair from these rooms.
NEW DEALS JUST RELEASED!
See the latest Princess Cruises offers…
To Conclude
There really aren't any bad cabins on Diamond Princess, but depending on your preferences for noise, location and how prone you are to feeling sick, there may be some that are better for you than others.
I took a lot of this feedback from Facebook groups and forums, and from reading Diamond Princess cabin reviews, so it's always a good idea to check those out yourself too.
You can even ask about a specific cabin – someone on the groups will normally be able to tell you about their own experiences. Many also take their own Diamond Princess cabins photos, so you might get to see what it looks like before you sail.
NEW DEALS JUST RELEASED!
See the latest Princess Cruises offers…
Diamond Princess Accommodation FAQs
When was the Diamond Princess last refurbished?
The Diamond Princess was last refurbished in February 2019 as part of a large overhaul of the Grand Class ships in the fleet. She received various updates as well as a general refresh of the décor and furnishings.
How many pools are there on Diamond Princess?
There are four main swimming pools on the Diamond Princess, including one which is indoors. Of the eight hot tubs on the ship (not counting those in the Izumi Bath), two are also indoors.
What is the difference between Balcony and Premium Balcony on Princess?
The difference between Balcony and Premium Balcony cabins on Princess is the size and location. Premium Balcony cabins tend to be slightly larger, but more importantly, they are situated in prime locations including with aft views.
How many passengers does Diamond Princess hold?
Diamond Princess has a total guest capacity of 2,670 with a total number of cabins of 1,353 – of which, 976 have either a balcony or an ocean view, while 377 are inside. There are 32 suites and 184 Mini Suites.
How many decks does Diamond Princess have?
Diamond Princess has 13 guests open to passengers, ranging from Deck 4 (Gala) to Deck 17 (Sky). There is no Deck 13, as there usually isn't on most cruise ships. There are three more decks below Gala for crew only. The Diamond Princess deck plan on the Princess website shows you what each deck holds.
Related Posts:
More Princess Cruises Cabin Guides