Launched in 2021, Enchanted Princess is a ship worthy of her name – she's absolutely beautiful, and furnished to the highest standards throughout, including the accommodation.
That doesn't mean that every cabin and suite is as good as the others, though – there are still some that you should be looking to make your priority when you book your cruise, and some that you should be looking to avoid if you can.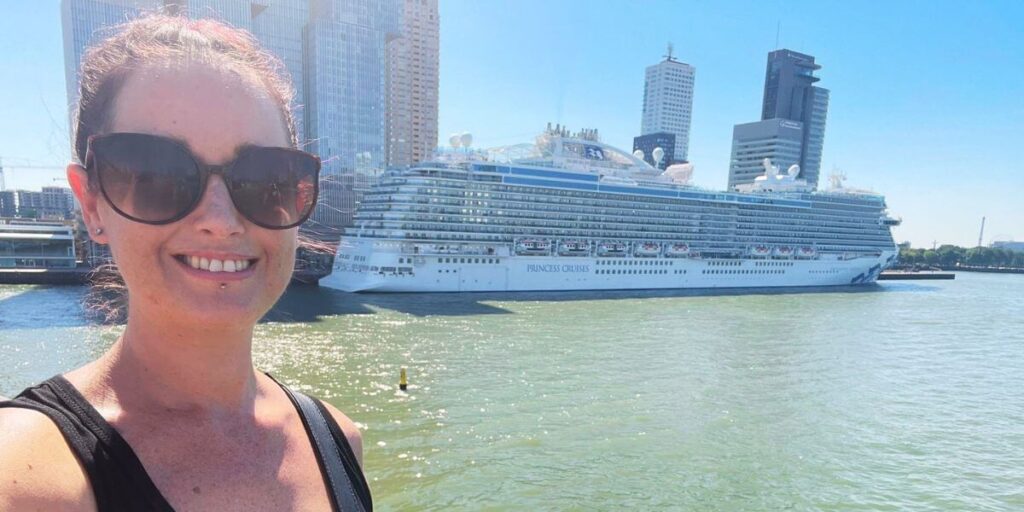 With that in mind, I've spent over eight hours scouring the Enchanted Princess Deck Plans, reading cruise forums and social media groups, and pulling together a super-comprehensive guide to everything you need to know about Enchanted Princess' cabins.
If you're thinking of cruising on this magnificent ship, then take a look below to learn about every cabin type available, along with some that you might want to be wary of.
Enchanted Princess Cabin Types
There are six main cabin types to choose from on-board Enchanted Princess, although some have sub-classes of accommodation too.
| Room | Sleeps | Size (incl. balcony if it has one) |
| --- | --- | --- |
| Interior | 2 to 4 | 166 to 175 sq ft |
| Premium Oceanview | 2 | 172 sq ft |
| Balcony | 2 to 4 | 222 to 251 sq ft |
| Deluxe Balcony | 2 to 4 | 233 to 312 sq ft |
| Mini-Suite | 2 to 4 | 299 to 558 sq ft |
| Suite | 2 to 5 | 440 to 1507 sq ft |
Not sure which cabin' type is right for you? It'll depend on a few things, including how much time you'll spend in your cabin, how much you want to spend, and how many people you're travelling with.
Whether you know which one is right for you, or you want to know a bit more information first, let's dive into more detail on the cabins.
But first, I suggest that you grab a copy of my free checklist to help you avoid any dodgy cabins when you cruise on any ship.
Now, let's take a closer look at each of the cabin types on Enchanted Princess
Enchanted Princess Inside Cabins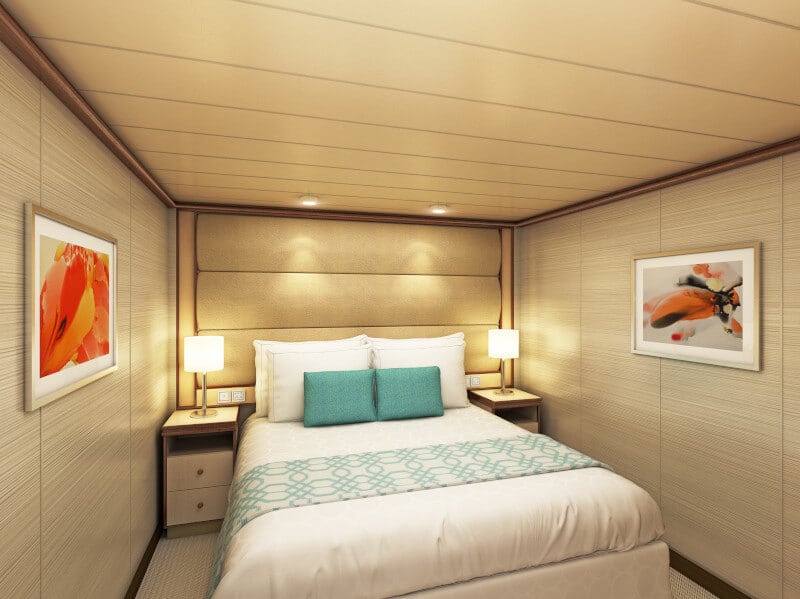 The cheapest accommodation on any ship is the inside or interior cabins. They're found on the inside of the ship, meaning you don't get any windows – it's a completely enclosed room. They're generally the smallest rooms on the ship, although there are some that are slightly bigger than the Premium Oceanview rooms, so that's not always true.
Because you don't get any windows, that means no natural light – for some people this is a deal-breaker, while others will relish the chance to save money. After all, you're never far from an incredible view if you just take a short walk to an open deck. A lot of people only use their room for sleeping, showering and getting dressed anyway, so they're not too concerned with the size or whether there's a balcony.
The beds in an interior cabin are twin, but they're able to be zipped together to form a queen-sized bed if you'd prefer it. The inside cabins that can sleep four people will have Pullman beds as extras. Adults could use these but they're mainly designed for children.
Suggested read: What is a Pullman bed?
The Pullman beds in the inside cabins are attached to the wall and fold down. This isn't ideal because it can be easy for anyone in the beds below to bump their head on them, even when folded up against the wall.
In some of the higher cabin grades, there are bunk beds that fold into the ceiling – these are generally better since they're not in the way at all.
Top tip from a cruise forum – if you do have a room with a fold-up Pullman bed, take some brightly coloured tape to stick on the corner, just so you can see it easily and won't bang your head as much!
Enchanted Princess Inside Cabin Grades
Every cabin on Enchanted Princess has a grade. These grades consist of two letters – the first tells you what kind of room it is, and the second indicates where it is on the ship.
Inside cabins all begin with the letter I (because why complicate things?). The second letter runs from A to F, with IA rooms considered the best of the interior cabins, and IF the least desirable, although it's mainly down to where they are on the ship.
The cost of the rooms will vary though, with an IF cabin running you less than an IA will. If you want a better location then you will need to pay a little bit more.
| Grade | Sleeps up to | Average size (sq ft) |
| --- | --- | --- |
| IA | 4 | 166 – 175 |
| IB | 4 | 166 – 175 |
| IC | 4 | 166 – 175 |
| ID | 4 | 166 – 175 |
| IE | 4 | 166 – 175 |
| IF | 2 | 166 |
Enchanted Princess Oceanview Cabins
Not every ship in the Royal Class for Princess Cruises has Oceanview cabins, but Enchanted Princess does. Only six of them, mind, but these are pretty cool.
A lot of ocean view cabins on other, older cruise ships will have a porthole or relatively small window. In the Deluxe Oceanview cabins on Enchanted Princess, you get a floor-to-ceiling slanted window facing the front of the ship.
True, the front of the ship isn't the best view – most people prefer the wake – but these huge windows let in a ton of natural lighting and really help to make the rooms feel much larger, even if they're still some of the smallest on the ship.
Because of the layout of the rooms, there's no option for 3rd or 4th berths, so if you're a larger party you'll need to book more cabins. Only one of these six rooms is suitable for wheelchair users too, so book nice and early if you want it.
NEW DEALS JUST RELEASED!
See the latest Princess Cruises offers…
Enchanted Princess Ocean View Cabin Grades
The Oceanview cabins on Enchanted Princess are all O6 grade.
| Grade | Sleeps | Size |
| --- | --- | --- |
| O6 | 2 | 172 sq. ft. |
Enchanted Princess Balcony Cabins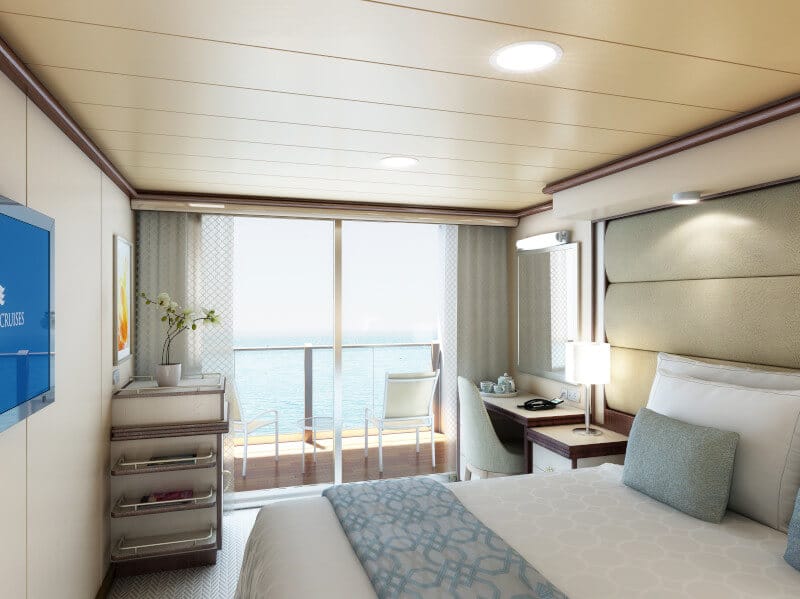 Whether you want a little more space, or you want to have your own private area where you can enjoy the fresh breeze and salty air, a balcony cabin gives you a small outdoor space to call your own, with sliding doors into your room.
Most of the cabins on Enchanted Princess have some kind of balcony, including the suites. But just within the balcony cabin grade, there are many different options available, with different-sized balconies. Don't expect to have loads of room to lounge around if you choose the cheapest one.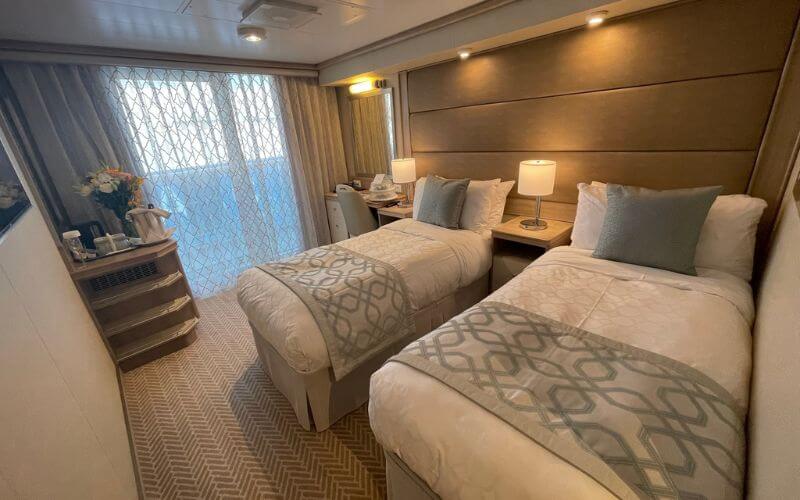 And remember that there's no guarantee of an incredible view. Even if you avoid choosing one with an obstructed view, you might get really unlucky and always be sailing facing away from the sunset. Still, the open deck is never more than a short walk away.
There are five types of balcony cabin on Enchanted Princess:
Balcony
Balcony with Obstructed View
Deluxe Balcony
Deluxe Balcony with Obstructed View
Premium Deluxe Balcony
The Balcony and Deluxe Balcony cabins that have obstructed views are all situated on Deck 8, where the lifeboats are. Every cabin with a lifeboat near it is classed as an obstructed view, even if you're situated between two lifeboats and can see through the gap between them. This is one good way you can save money, but I'll explain more on that in a bit.
Enchanted Princess Balcony Cabin Grades
| Grade | Type | Sleeps up to | Average size (sq ft) |
| --- | --- | --- | --- |
| D4 | Premium Deluxe Balcony | 4 | 242 – 312 |
| DA | Deluxe Balcony | 3 | 233 |
| DB | Deluxe Balcony | 4 | 233 |
| DC | Deluxe Balcony | 4 | 233 |
| DE | Deluxe Balcony | 4 | 233 – 252 |
| DF | Deluxe Balcony | 4 | 233 – 255 |
| BA | Balcony | 2 | 222 – 237 |
| BB | Balcony | 4 | 222 |
| BC | Balcony | 4 | 222 – 231 |
| BD | Balcony | 4 | 222 |
| BE | Balcony | 4 | 222 |
| BF | Balcony | 4 | 222 |
| DW | Deluxe Balcony (Obstructed) | 4 | 233 – 360 |
| BW | Balcony (Obstructed) | 4 | 222 – 251 |
It's an interesting little quirk that there are no DD rooms on Enchanted Princess. As far as I can tell there's no reason for it to be skipped, and other ships in the Royal Class do have DD rooms. In fact, looking at older deck plans, it seems like there were some DD rooms that have been reclassified as DE.
Standard Vs. Deluxe Vs. Premium Deluxe Balcony
The main difference between Standard, Deluxe and Premium Deluxe Balcony cabins is the space that you get. Generally, you'll get around 5% more floorspace upgrading from a Standard to a Deluxe, and then another 5% again going into a Premium Deluxe, although some are even bigger.
The other main difference is in the 3 and 4 berth options. Deluxe and Premium Deluxe cabins have a sofa bed, which is much more preferable to a Pullman for most people. The ones that sleep 4 guests will have a Pullman as well, but if you're only travelling with one child then you can leave it untouched and just use the sofa bed.
Take a look at this video to see what you can expect from the top grade of balcony room – the Premium Deluxe Balcony…
Enchanted Princess Mini Suites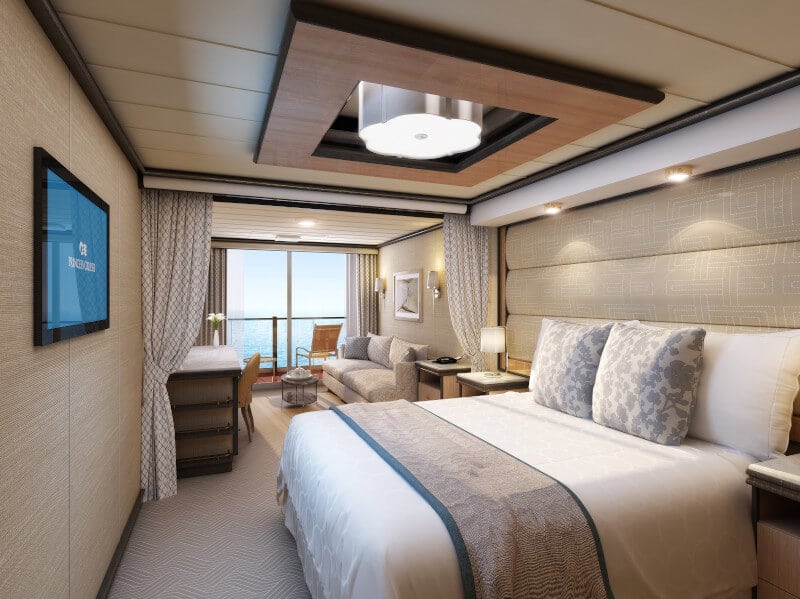 Choosing a full Suite on any cruise ship tends to be quite expensive, so Mini Suites work as a sort of middle ground between Balcony cabins and the really top-end accommodation. You'll get more space again, and a few extras, but not the full range of perks that a Suite gets you.
Enchanted Princess Mini Suite Perks:
A proper sitting area with the sofa bed and a coffee table
A curtain to separate the sitting area from the bed space, creating a second bedroom
A second TV – one facing the bed(s) and one facing the sofa
A larger bathroom with a bathtub and a better shower
The option to fit four chairs on the balcony (usually it's two)
A glass of Champagne when you board the ship
To see how the mini suite perks compare to the full suite perks, check out my guide to Princess Cruises Suite Perks.
Enchanted Princess Mini Suite Grades
| Grade | Type | Sleeps up to | Average size (sq ft) |
| --- | --- | --- | --- |
| M1 | Club Class Mini Suite | 4 | 299 – 329 |
| M6 | Premium Mini Suite | 3 | 319 |
| MA | Mini Suite | 4 | 299 – 329 |
| MB | Mini Suite | 4 | 299 – 329 |
| MC | Mini Suite | 4 | 299 |
| ME | Mini Suite | 4 | 299 |
| MF | Mini Suite | 3 | 299 |
Club Class Mini Suites
Some of the Mini Suites on Princess Cruises' ships are considered Club Class. These are in the best locations and come with some extra perks as listed below.
Strangely, on Enchanted Princess, there are two types of Club Class Mini Suite but one of them is officially named a 'Premium Mini Suite'.
Regardless of whether you book a Club Class Mini Suite or Premium Mini Suite, there are a selection of extra Club Class perks you'll get as part of your accommodation. And the rooms are a lot more spacious too, ideal if you like to wander around while you get ready for dinner.
Enchanted Princess Club Class Mini Suite Perks:
Priority embarkation and disembarkation at the start and end of your holiday – no queuing with the masses!
A welcome half-bottle of red and half-bottle of white wine waiting in your Mini Suite on embarkation day
Complimentary canapes in the evening on request
A more luxurious bed with plush duvet and premium sheets
Luxury bathrobes to use throughout your cruise
Priority reservations for speciality restaurants on-board
Club Class Dining – a special area of the Main Dining Room with extra menu options and even better service
Enchanted Princess Suites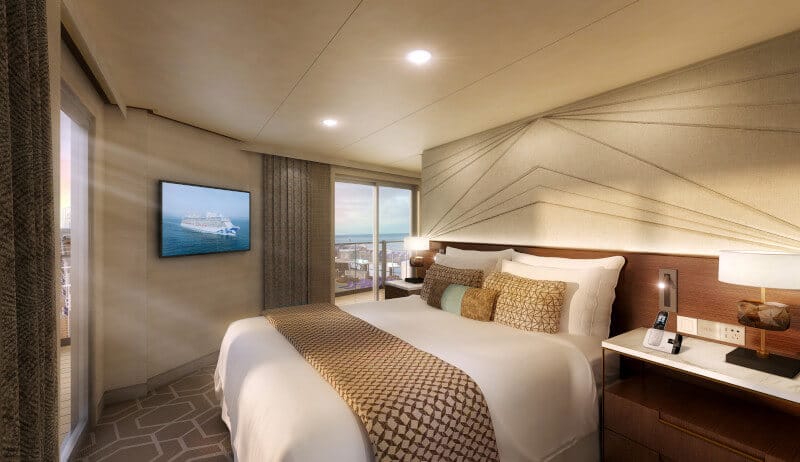 Want the absolute best accommodation possible for your cruise? You'll want a Suite. These rooms are much larger, and unlock a lot of perks for you to enjoy throughout the duration of your holiday.
Enchanted Princess Suite Perks:
There are lots of different perks available for staying in a Suite on Enchanted Princess, and they vary depending on which type of suite you choose. You can read more about the pers of the different suites here.
Some of the perks (depending on your choice) include:
Priority lines at the shore excursions desk
More complimentary drinks including a fully-stocked mini bar
Special events reserved for suite guests
Upgraded room service options
Free laundry and dry cleaning services
Enchanted Princess Suite Grades
There are six types of Suite to choose from across seven grades on Enchanted Princess:
| Grade | Type | Sleeps up to | Average size (sq ft) |
| --- | --- | --- | --- |
| S0 | Sky Suite | 5 | 1727 – 1792 |
| S2 | Owner's Suite | 4 | 587 – 682 |
| S3 | Penthouse Suite | 4 | 587 – 682 |
| S4 | Penthouse Suite | 4 | 440 |
| S5 | Premium Suite | 4 | 554 |
| S6 | Vista Suite | 3 | 484 – 527 |
| S7 | Window Suite | 3 | 710 |
Window Suites
Window Suites are quite rare in cruising, in that they are considered Suites but they don't have any kind of balcony. They do still have amazing views though, as the windows completely wrap around the room and face the front corners of the ship. They can sleep up to 3 people, with a normal twin/queen bed and a sofa bed.
This video shows a Window Suite on Sky Princess, but they're sister ships so the suite is identical:
Vista Suites
Vista Suites are situated on the Sun Deck just behind the Window Suites, towards the front of the ship.
They're a little unusual – despite having more space than a Club Class Mini Suite, they don't have the separate living area or second TV. You do get a large wardrobe for clothes storage though, which is a rare treat on a cruise ship.
Here's a good video of a Vista Suite on Enchanted Princess:
Premium Suites
Situated at the front corners of Decks 9 through 12, the eight Premium Suites are spacious with separate living areas that have a sloping wall and a good-sized balcony to enjoy.
This video shows what you can expect from a Premium Suite on Enchanted Princess…
Penthouse Suites
Penthouse Suites are situated mainly on the aft corners of Decks 9 through 15, although there are some in a mid-aft position on Deck 14 as well. These sleep up to 4 guests and have a separate living area, and they're beautifully furnished.
The bigger balconies are on those in the aft corners, with the Penthouse Suites on Deck 9 enjoying the biggest balconies of this sub-class.
Take a closer look at a Penthouse Suite on Enchanted Princess with this video:
Owner's Suites
With expansive wrap-around balconies offering amazing views over the wake of the ship, and gorgeous, spacious bedroom and living areas, the two Owner's Suites are very special, although they are situated directly about the Vista Lounge where live music is often playing.
Sky Suites
It's not often that accommodation alone can elevate a holiday so much, but the two Sky Suites on Enchanted Princess really are something special. They have balconies measuring 1,000 square feet, with outdoor TVs, cuddle chairs, loungers and more with stunning views over the pool and the ocean.
Take a look at these images of one of the Sky Suites on Enchanted Princess. Incredible, right?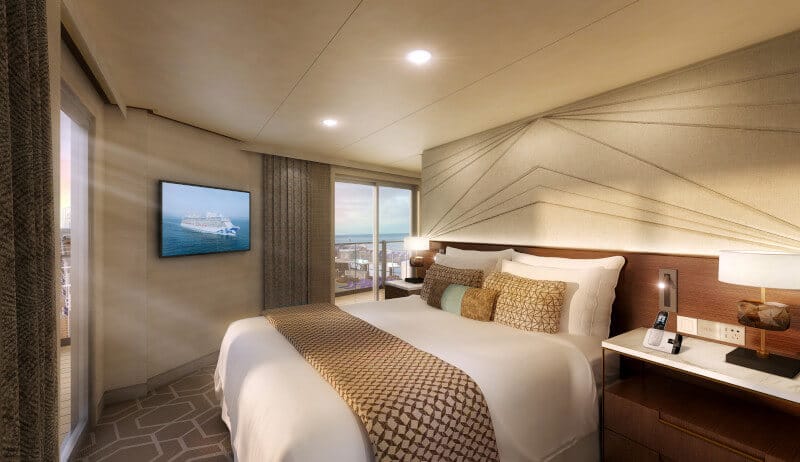 Special Cabin Types
Enchanted Princess Aft Rooms
Ask experienced cruisers where their favourite place on a ship is to book a cabin, and most will say the aft. Because the rooms face the rear of the ship, you get an incredible view over the wake as you sail.
Also, because you're facing away from the direction of travel, you're more protected from the wind. These rooms also tend to be larger.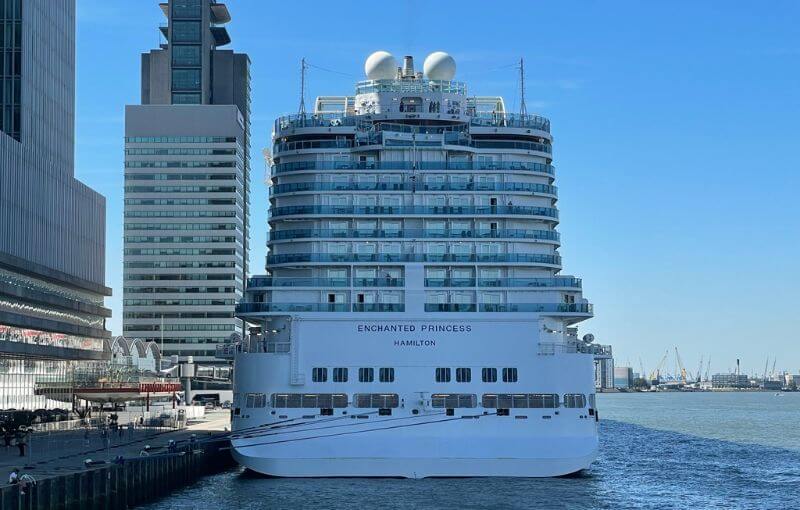 Enchanted Princess has the following options for aft-facing rooms:
Premium Deluxe Balconies – Located on Decks 8 to 15
Penthouse Suites – Located on Decks 9 to 15
Owners Suites – Located on Deck 8
Enchanted Princess Connecting Rooms
Connecting rooms are those that have a door between them. This door stays locked, unless a party books both connecting rooms and asks for the door to be unlocked so that guests can pass between them.
They're a great option if you're travelling in a larger party since you don't have to have completely separate rooms.
On Enchanted Princess, you've got various room combination options if you want connecting cabins:
Two Interior rooms
Two Standard Balcony rooms
A Standard Balcony and a Deluxe Balcony
A Standard Balcony and a Mini-Suite
Two Deluxe Balcony rooms
Two Premium Deluxe Balcony rooms
Two Mini-Suites
Remember that some cabins only sleep two people, so if your group is larger than 4, don't assume that two connecting rooms will be sufficient – check that they have the beds you'll need.
Enchanted Princess Accessible Rooms
While wheelchair users should have no trouble navigating most of the public areas on a cruise ship, not every cabin is well-suited. Only some are designed with wheelchair users in mind, and they'll be slightly larger, have a wet room for a bathroom, and extra-wide doors.
There aren't too many of them, so if you don't need one then avoid booking one – let someone who needs these facilities take advantage.
On Enchanted Princess you'll find the accessible cabins on these decks:
Interior – Decks 8 & 9
Oceanview – Deck 17
Balcony – Decks 9, 10, 11, 12 & 15
Mini-Suite – Deck 10
Club Class Mini-Suite – Decks 11 & 12
Penthouse Suite – Deck 14
NEW DEALS JUST RELEASED!
See the latest Princess Cruises offers…
Enchanted Princess Cabins to Avoid
Now that you're totally up to speed on the various cabin types and grades, let's dig a little bit further into the specific rooms you might want to avoid when booking your cruise, and why. Here are some of the worst cabins on Enchanted Princess:
1. Balconies That You Can't Use While at Sea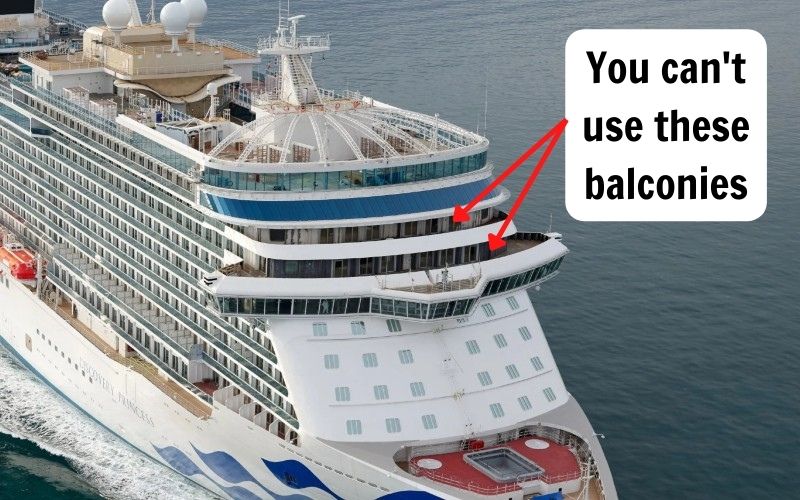 L101 to L108, M101 to M108
While the rooms facing the front of the ship have some great views, you can't enjoy them from your balcony while the ship is moving. That's because the sliding doors must be kept closed at all times due to the high winds caused by travel.
The balconies tend to be larger, which makes up for it a little when you are in port. But while at sea you'll need to find somewhere else to relax if you want to be outdoors.
2. Obstructed View Rooms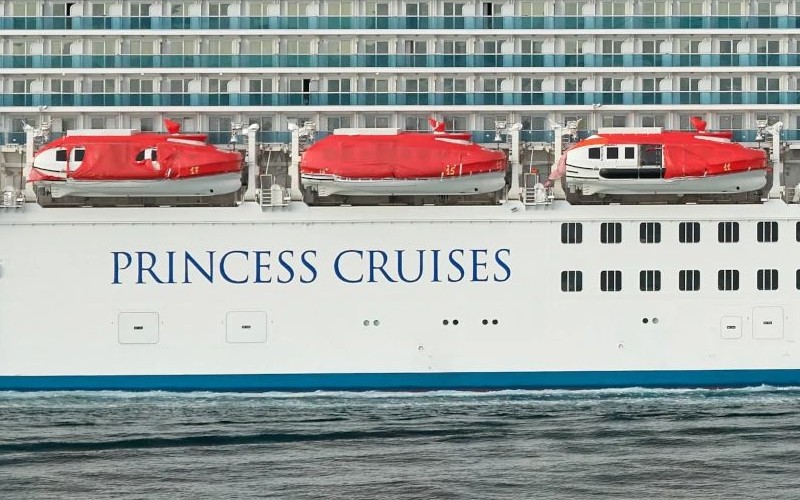 L109, L110, L114, L115, Most balconies on Deck 8 (Emerald Deck)
Some of the balcony rooms on Enchanted Princess have a view that's blocked, either by the Bridge or more usually by the lifeboats.
These rooms are cheaper than those without the obstruction, which is a good way of getting a cheaper balcony room if you're not too bothered, especially as some are only partially blocked.
Some examples of the Enchanted Princess obstructed balcony views can be seen here.
3. Rooms With Beds That Block the Balcony Doors
L122, L123, M130, M131, M505, M511, M512, M620, M621, R107, R108, R234, R235, R511, R512, R735, A511, A512, A738, A739, B511, B512, C518, C519, C620, C621, C742, C743, D151, D152, D224, D225, D517, D519, D520, D522, D618 to D621, E123, E128, E218, E219, E522, E523, E620, E621, E707, E708, E711, E712
In some of the balcony rooms, the fold-down beds will run across the sliding doors leading to the balcony. During the day this isn't an issue, as the beds will be folded up out of the way for you. But, it does mean you can't really get to your balcony first thing in the morning if you want to enjoy the sunrise.
These cabins will be fine for two people, but families should avoid them as there are plenty of other cabins that don't have this problem.
4. Rooms That Can Make Seasickness Worse
S101 to S215, L101 to L129
Anyone who knows they can sometimes get seasick would be best avoiding the cabins on higher decks towards the front of the ship, where the movement will be felt the most. Mid-ship cabins on a lower deck should keep the feelings of movement, and any vibrations, to a minimum.
5. Cabins That Can Be Noisy in the Morning
S114 to S221, M310 to M421, M701 to M725
Like a lie-in? Not every cruiser does, and some will be up at the crack of dawn to go reserve themselves a sun lounger or deck chair by the pool. If your room is directly below this area, the sound of loungers being scraped is often amplified, so that lazy morning might not be quite so relaxing.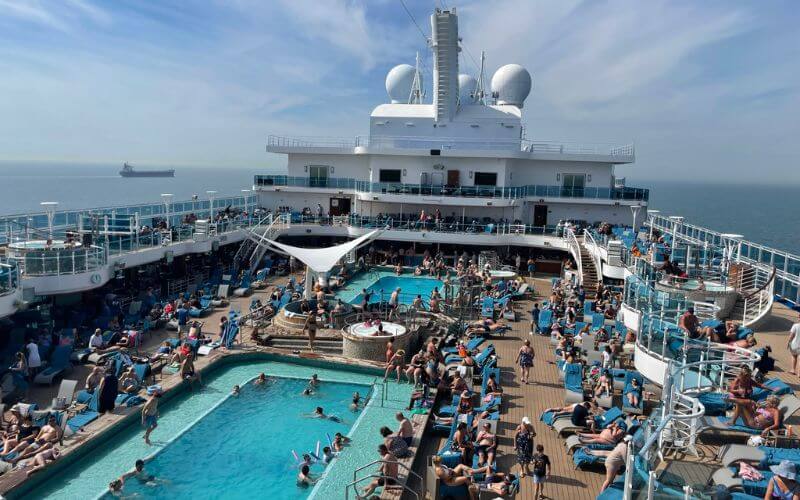 6. Cabins That Can Be Noisy in the Evening
E123, E125, E128 to E227
The Emerald Deck is right above a lot of the entertainment venues and speciality dining restaurants on Enchanted Princess. Booking a room here, especially one of these cabins above the theatre, could mean you hear some noise until the shows finish at 11 pm. If you want to get to sleep before this time, another cabin location may be more suitable.
7. Cabins That Can Be Noisy Near the Laundry Rooms
M622, M623, R611, R612, A622, A631, B622, B623, C622, C623, D622, D623, E622, E623
Cabins near the laundry facilities can also suffer from a bit of noise. Not so much from the washing machines themselves – they're relatively well insulated. Instead it's more the amount of people coming and going to the laundry rooms, especially on longer cruises where more people are using them.
8. Cabins With Interconnecting Doors You Don't Need
If you don't intend to use connecting cabins, try to avoid booking them. Not only are you booking rooms that families might need, but the doors themselves can be a little annoying. They'll always stay locked, but they're far from being as soundproof as the walls, so you could well hear your next-cabin neighbours, which might not be ideal.
9. Cabins With Pullman Beds You Don't Need
Not every cabin has Pullman beds, so if you don't intend to use them then you should avoid booking these rooms if possible. Again, this keeps them free for the families who need them.
And as I've said, the ones that fold up to the wall can sometimes stick out just enough for you to absent-mindedly bang your head when you sit up. Finally, some cruisers have reported that the Pullman beds, even on newer ships like Enchanted Princess, can be quite creaky during choppy seas.
Best avoided, if you can.
 10. Cabins That Are a Long Walk From Anything
S101 to S115, L101 to L129, M101 to M131, R101 to R108, A101 to A129, B101 to B133, C101 to C139, D101 to D151, E101 to E130
Enchanted Princess is a big ship, with a lot of facilities, most of which are situated towards the aft on the lower decks. While getting between floors is easy enough with the lifts, you don't want to be trekking the length of the ship all the time if you can avoid it. Aim for the mid-ship instead, close to the lifts, to cut down on your longer walks.
11. Overlooked Balconies
D145 to D277, D701 to D725
On Deck 9 (Dolphin Deck) some Enchanted Princess rooms have double-size balconies. While this can certainly be seen as a positive, it's important to note that these balconies are overlooked by the balconies above.
You see, the reason why these Deluxe Balconies are so large is that they jut out further than all of the rest. So, while you might enjoy the extra space, anyone above you looking down will see right onto your balcony. There's no privacy unless you stand right at the back.
Here's the view looking down from my cabin on the deck above…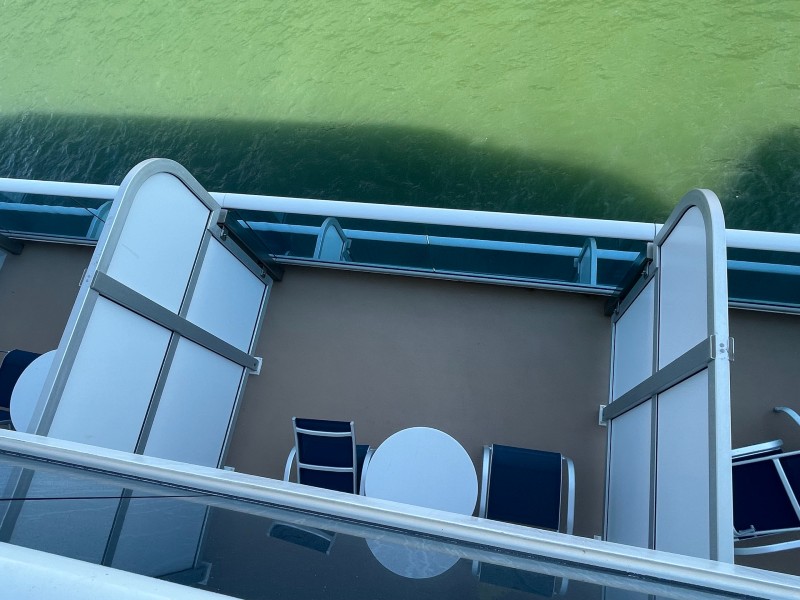 The Best Cabins on Enchanted Princess
So now you know which rooms to avoid on Enchanted Princess, let's take a look at the best rooms on the ship.
These are the ones that you want to book, if they're still available for your dates. You can check the Princess Cruises website to see if they are, even if you intend to book with a travel agent.
1. Sky Suites
The Sky Suites really are amazing. Their huge balconies could easily host parties, or you can just cuddle up outdoors and watch the TV. They're super luxurious and spacious, and you get a ton of perks too – though you can of course expect to pay a chunky price to book these rooms.
2. Rooms With Extended Balconies
Not all balconies are equal on Enchanted Princess. Due to the design of the ship, some rooms have an angled or otherwise extended balcony that's bigger than the rest of the sub-class. Some Balcony cabins will have a balcony larger than a Deluxe Balcony or Premium Deluxe Balcony!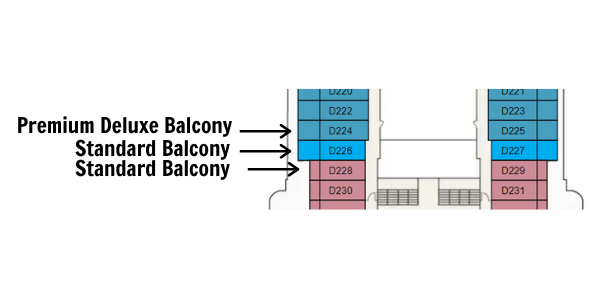 These Enchanted Princess balcony cabins give you extra space:
Standard Balconies: L301, L302, D226, D227, D701 to D710, E112, E114, E118
Deluxe Balconies: E111, E115, E117
Premium Deluxe Balconies: R732 to R735, B736 to B739
Mini-Suites: M407 to M410, M422, M423, M426, M427, R409, R410, R414, R415, R428, R429, R432, R433, A409, A410, A414, A415, A428, A429, A432, A433, B409, B410, B414, B415, B428, B429, B432, B433, C409, C410, C428, C429, C432, C433, D407, D408, D410, D411, D424, D425, D428, D429
3. The Cheapest Cabins
Not everybody wants the biggest cabins, and if you're someone who wants to spend more time making use of the rest of the ship's facilities, then an inside cabin can save you a lot of money.
The price difference between an inside and a balcony can be significant, with the extra money then available for more speciality dining, or excursions, or even another cruise.
If you're a larger family then connecting inside rooms are the best way to keep costs down. Your options are:
C240 & C244 – Sleeps 6
C241 & C245 – Sleeps 6
C715 & C717 – Sleeps 8
Should You Say No to Upgrades?
As your cruise gets closer, sometimes the cruise line will look at the cabins they have available and move guests into what they consider to be an upgraded room as a nice little perk. It's very rare you'll change class, but you might move from a BD to a BA, for example.
However if you've followed the tips in this guide and managed to find the room that's perfect for you, an upgrade could actually be a bad thing! Don't worry though, all you need to do is ask your travel agent to make a note on your room booking stating 'No upgrades' and you'll be left alone.
NEW DEALS JUST RELEASED!
See the latest Princess Cruises offers…
Enchanted Princess Accommodation FAQs
Does the Enchanted Princess have ocean view cabins?
Enchanted Princess has six Deluxe Oceanview cabins. They're all situated on the Sun Deck near the top and front of the ship, with angled floor-to-ceiling windows. They each sleep two guests.
How many Sky Suites does the Enchanted Princess have?
Enchanted Princess has two Sky Suites, both on the Sky Deck in a mid-forward position. S310 is slightly smaller at 1727 square feet, while S309 has 1792 square feet. Both have extensive balcony space.
Does Enchanted Princess have a promenade deck?
Deck 7 on Enchanted Princess is the Promenade Deck. As well as the promenade it's also home to a lot of the speciality dining restaurants and entertainment venues on-board the ship, which is worth bearing in mind if you're booking accommodation on Deck 8 directly above.
How old is the Enchanted Princess ship?
Enchanted Princess was completed in September 2020, but due to the shutdown at the time she only took her maiden voyage in November 2021.
How big is Enchanted Princess?
Enchanted Princess measures 145,281 Gross Tonnes, and is almost 330 metres (1,082 feet) long. She is slightly smaller than sister ship Sky Princess, which is the current flagship of the Princess Cruises fleet.
NEW DEALS JUST RELEASED!
See the latest Princess Cruises offers…
Related Posts:
More Princess Cruises Cabin Guides