When you're planning a honeymoon, you want a trip that's going to be truly special. This is supposed to be a time when you celebrate your love for your new husband or wife, creating memories that you will look back on fondly with every anniversary.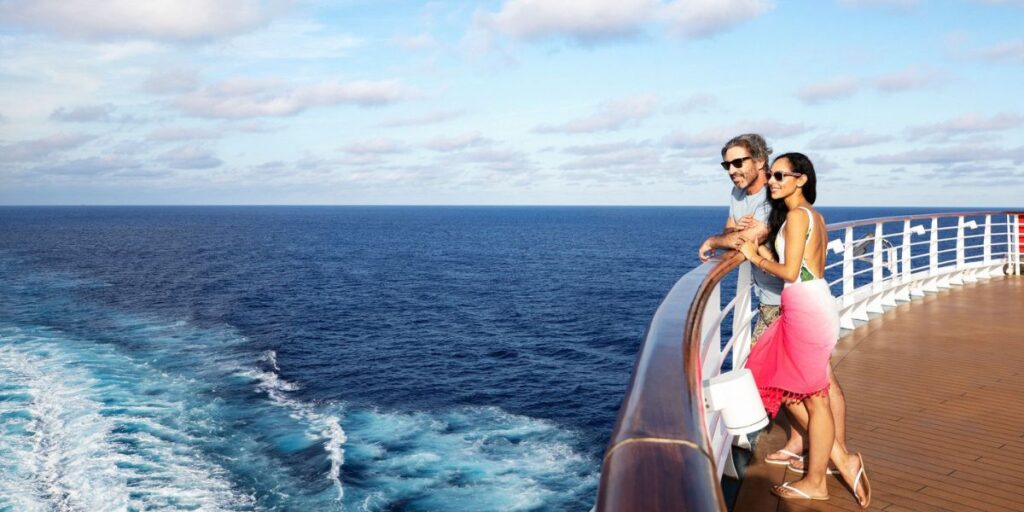 And a cruise is often one of the best options – amazing food, wonderful experiences, and ever-changing scenery.
If you're considering a honeymoon Carnival cruise, here are some of the things that you need to know – including ways to make the absolute most out of your honeymoon vacation.
1. Carnival Lets You Set up a Gift Registry for Your Cruise
Carnival doesn't offer special honeymoon cruise packages – they focus more on those that include a wedding ceremony instead. But one cool thing they do is let you set up your own cruise registry on their Carnival Wishes website.
Here, you can add a list of gifts tailored to your cruise, and send it to your wedding guests. They can then pay for things on your registry directly, meaning that when you set sail, you'll be able to enjoy a host of little extra touches without having to pay for them yourself.
There are lots of options too – you can set up contributions towards shore excursions, ask for drinks packages, speciality dining reservations, or even just let people pay towards the cost of the cruise itself.
If you don't have a specific list of gifts that you want for your wedding, a Carnival Wishes registry is a great way of making your honeymoon even more special.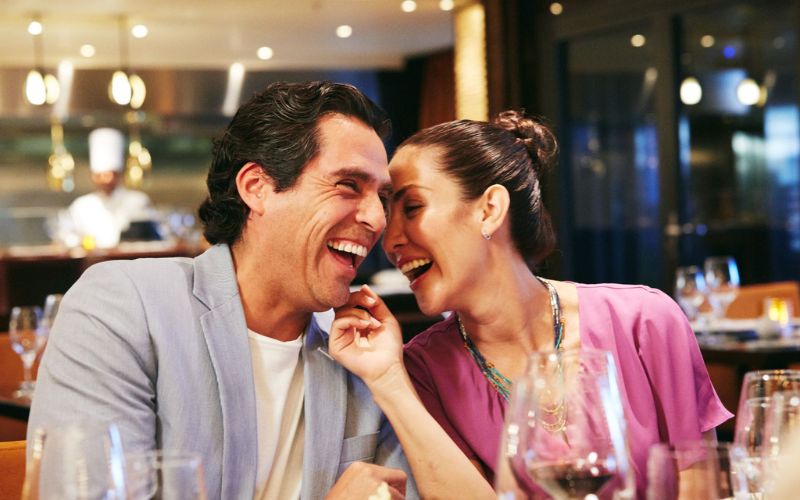 2. You Can Pre-Order Gifts for Your Stateroom With Carnival
If you don't want to set up a registry, or you've got other wedding gifts in mind, then you can still pay for your own little extras to make your honeymoon cruise go perfectly. Visit the Carnival Funshops site and you can pre-order all kinds of added extras.
You might just want some drinks to be waiting for you in the room, or even a cake – they do a special six-inch honeymoon cake shaped like a heart that is available in chocolate or vanilla, or in sugar-free options of both flavours too.
Just to give you an idea of the scale of options available, there are over 150 items you can pre-order from the food and beverage section alone. So you don't have to settle – you'll find something special that you'll both love.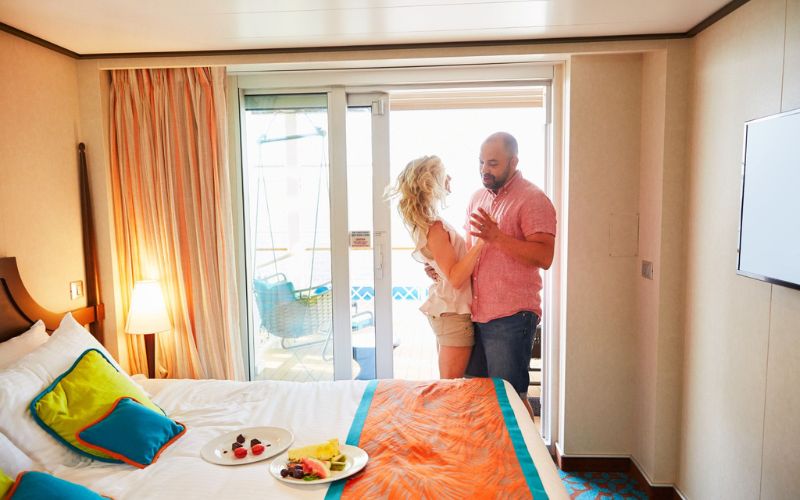 3. Buy a Drinks Package So You Can Fully Relax
Nobody wants to go on a cruise and spend the entire time worrying about their budget. And that's especially true on a honeymoon. If you're having to do the math while you're staring at the drinks menu to see whether you can comfortably afford the beers you wanted to buy, then something's not right.
Instead, consider paying for the Cheers package. That way, you can really relax and just enjoy the time with your partner, having as many drinks as you want (within reason).
Even if you don't drink, there are packages that will let you and your partner enjoy as many non-alcoholic beverages as you want, so you can try something a little more unusual – an alcohol-free cocktail can really make that tropical cruise feel extra special.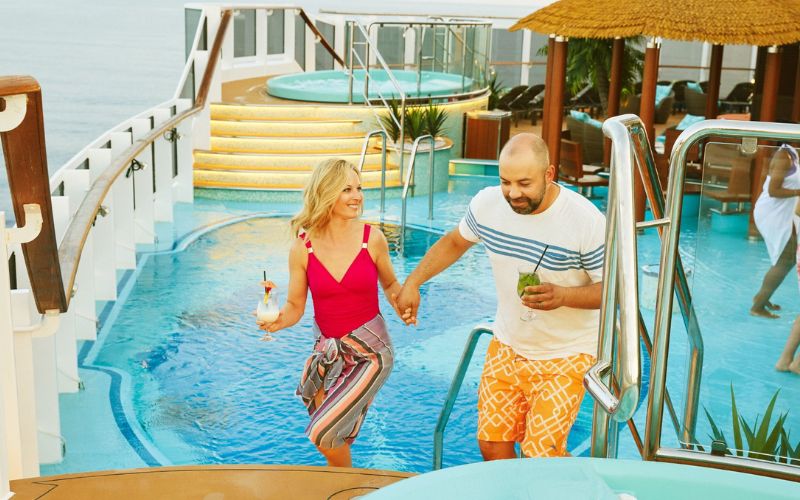 4. Consider Upgrading to a Suite
Upgrading to a suite is a surefire way of making your entire cruise feel so much more special.
It's not just about the extra space – although that is a nice bonus. Having a more roomy cabin and a larger balcony will help you to really have that VIP feeling during your cruise.
But there are also a host of Carnival suite perks that you get when booking one of these special accommodation options, including things like priority boarding, free laundry services, the best service and depending on your chosen suite, access to exclusive areas of the ship as well.
NEW DEALS JUST RELEASED!
See the latest Carnival cruise offers…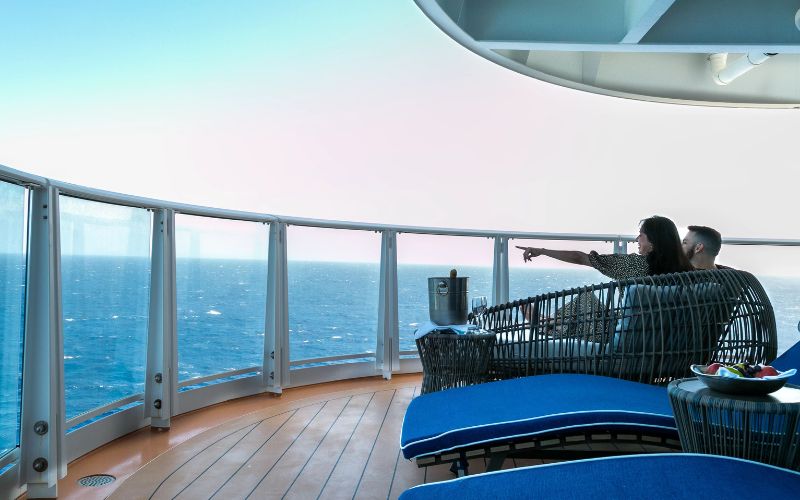 5. Choose One of the Newer Carnival Ships for the Best Experience
While you will no doubt want to spend some time exploring the ports that you visit, and also just relaxing by the pool, you'll want to keep yourself busy during your cruise with the various entertainment and dining options too.
So make sure to choose one of the newer Carnival ships if you want the best choice of experiences. The newer ships are the biggest, and they are packed with some of the most exciting features to make every night a new and unique date night during your honeymoon.
And it's not just about the things to do, but being on a bigger ship means you've got more spaces to unwind together as well, and just watch as the world sails by.
Read more: Carnival Cruise Ships By Size
However, bigger isn't necessarily better for everyone. If you'd prefer your cruise to be a little more laid back and put more value on visiting interesting destinations and enjoying great service, then you may actually prefer one of the smaller Carnival ships.
Take a look at this list of the best Carnival cruise ships according to reviews to help you make your decision.
6. Plan Your Days Ashore in Advance
When you book a honeymoon cruise, you'll have the advantage of being able to see multiple destinations in one vacation. But you don't get a huge amount of time ashore, and the best excursions may book up in advance.
While you will no doubt be spending time planning your wedding, don't forget to plan your cruise too, and that includes looking at where you'll be getting off the ship, and working out what you want to do in advance.
Otherwise, you might miss some key experiences or, worse, you could get caught up and distracted and miss your return time for the ship.
My first-ever cruise was for our honeymoon and we left for the airport straight from the wedding reception! I was so busy planning the wedding that I didn't plan the cruise at all. We had no excursions planned and had to book them on the ship, which wasn't ideal as it was the most expensive way to do it.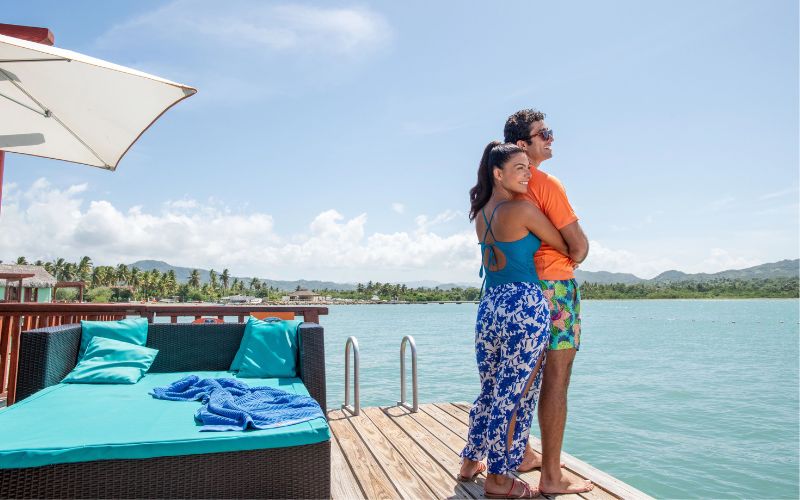 7. Don't Wear Pineapple Print During Your Cruise!
A small tip, but a vital one – you shouldn't wear pineapple print during your cruise.
You might like the idea of getting some tropical outfits together if you're sailing to a destination like the Caribbean for your honeymoon, but pineapple print is best avoided as some people believe pineapples (especially upside-down pineapples) to have a hidden meaning – being a code for swinging or wife-swapping.
Of course, if you're into that lifestyle then feel free – especially if you or your partner are the new 'wife' to be swapped.
Also bear in mind that pineapples are not a definitive code, so don't assume that someone else wearing a pineapple is also up for joining you!
Read more: Upside Down Pineapple: The Secret Meaning
8. Treat Yourself (And Your Partner) to Speciality Dining Reservations
Carnival cruises are not all-inclusive and while many things will be covered by your cruise fare, not everything is. One of the things you'll need to pay extra for is dining in a speciality restaurant.
Suggested read: 5 Best All-Inclusive Honeymoon Cruises
That doesn't mean you should avoid it though, because these restaurants are normally quieter (ideal for a honeymoon) and they have a more premium menu. The main dining room menu is still excellent, but at these restaurants, you can sample some truly special options that are befitting a honeymoon cruise.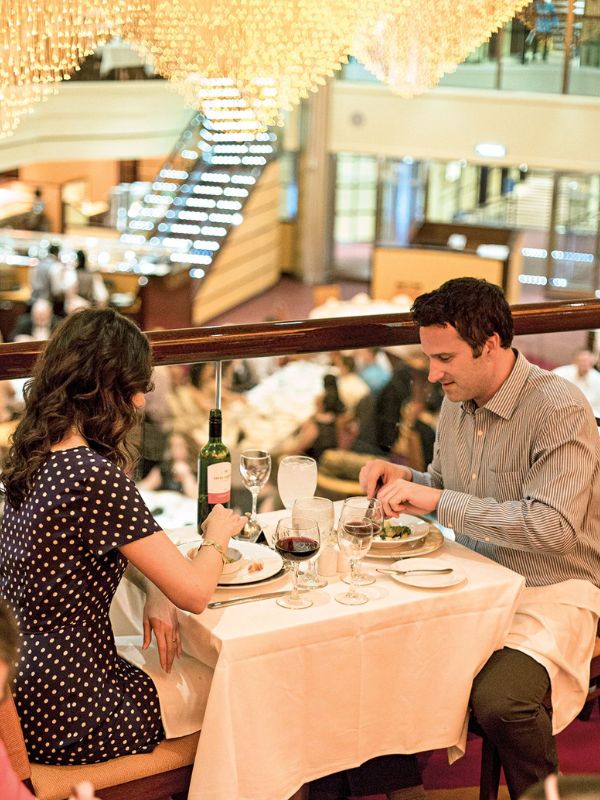 9. You Can Get a Portrait Photo To Commemorate Your Honeymoon
There are official photographers on any cruise that will offer to take your photo for you – you need to pay for the service, but at least you get a professional-quality photo to commemorate your cruise.
So why not pay the extra to enjoy this on your honeymoon? The photos will make a great appendix for your wedding album, after all.
10. There Are Couples' Massages Available for Shared Experiences
What's better than treating your partner to a luxurious massage at the spa, where there can truly relax and have their stresses almost pushed out of them by a trained masseuse? Joining them for one at the same time, of course.
Couples' massages are available at the spa on any Carnival cruise, meaning you don't need to spend time away from your new spouse while you both benefit from the soothing experience. You both deserve it, so why not?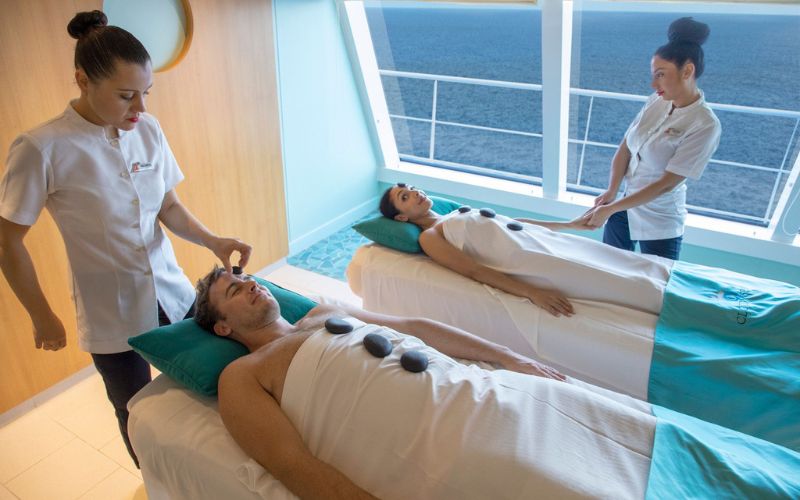 11. Room Service Is Available 24/7
Sometimes on a honeymoon, you don't want to get dressed and go exploring the ship – and that's fine. Sometimes you might just prefer to take it easy in your stateroom and enjoy some quiet, quality time together.
So it's good to know that room service is available 24/7 for your Carnival cruise right up to the last night. Have a lazy start to the day and order breakfast in bed, or order a bottle of fizz for your cosy evening together. It's your honeymoon, so do it your way.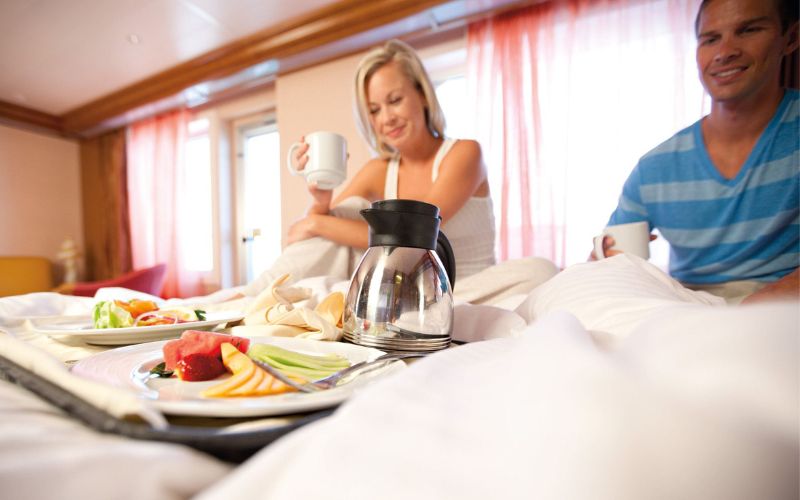 12. Carnival WiFi Can Be Expensive – Which Might Be a Good Thing
It can be tempting to always stay connected to the outside world through the internet. Especially once you've just got married – you might want to check in to see which photos your guests have been posting of your big day.
But to be honest, Carnival WiFi can be pretty expensive, since you need to pay for it for the entire cruise. It's not the most expensive of any other cruise line – compared to others it's not too bad – but you might not want to pay $100+ to get online during your cruise.
So maybe don't? It's up to you, but a honeymoon cruise is the perfect time to disconnect and just enjoy each other's company.
13. Take Time To Unwind in the Serenity Retreat
The one important thing to consider when choosing Carnival for your honeymoon cruise is that this is a family-friendly cruise line, and so there might be a lot of kids running around and enjoying their break too.
But every ship in the Carnival fleet has a Serenity Retreat, which is an adults-only space where you can escape for a little while if things do get a bit noisy. It's definitely the place to be on a honeymoon.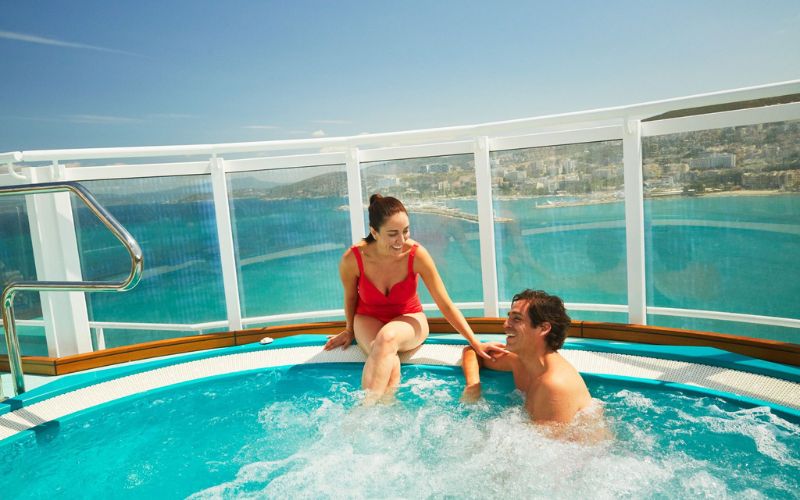 14. Your Waiters Might Sing to You at Dinner
Just a heads up – some people have reported that their waiting staff have sung to them when they've discovered it's their honeymoon. You might think this is cute, or you might be mortified – so be careful who you tell!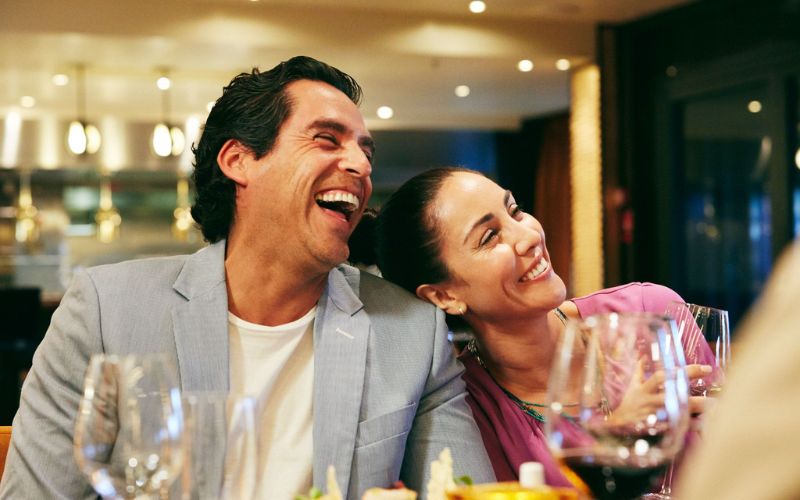 The Bottom Line
Knowing these tips and details about honeymoon cruises will help you to have the best time when you sail with Carnival. You'll get married, have the best day ever, and then have an incredible cruise waiting to receive you.
But, have you considered other cruise lines as well? You might have assumed Carnival was the best, but there may be others that could be a great choice too. It's definitely worth checking those out before you make your decision.
If you're not 100% set on a Carnival cruise, I suggest that you check out my next article about the Best Cruise Lines For A Honeymoon.
NEW DEALS JUST RELEASED!
See the latest Carnival cruise offers…
Related Posts: