If you've never booked a cruise before, you might not be certain what comes as part of your fare and what you need to pay extra for.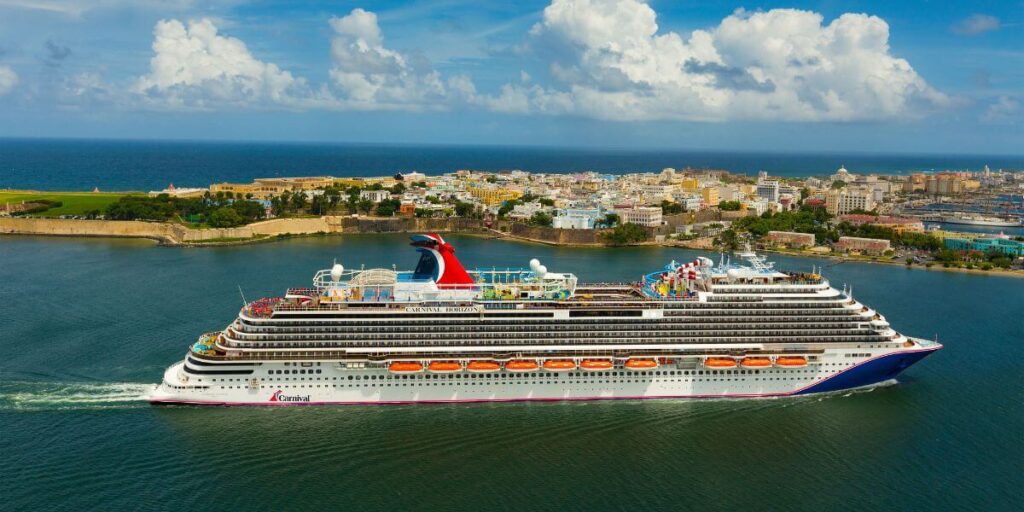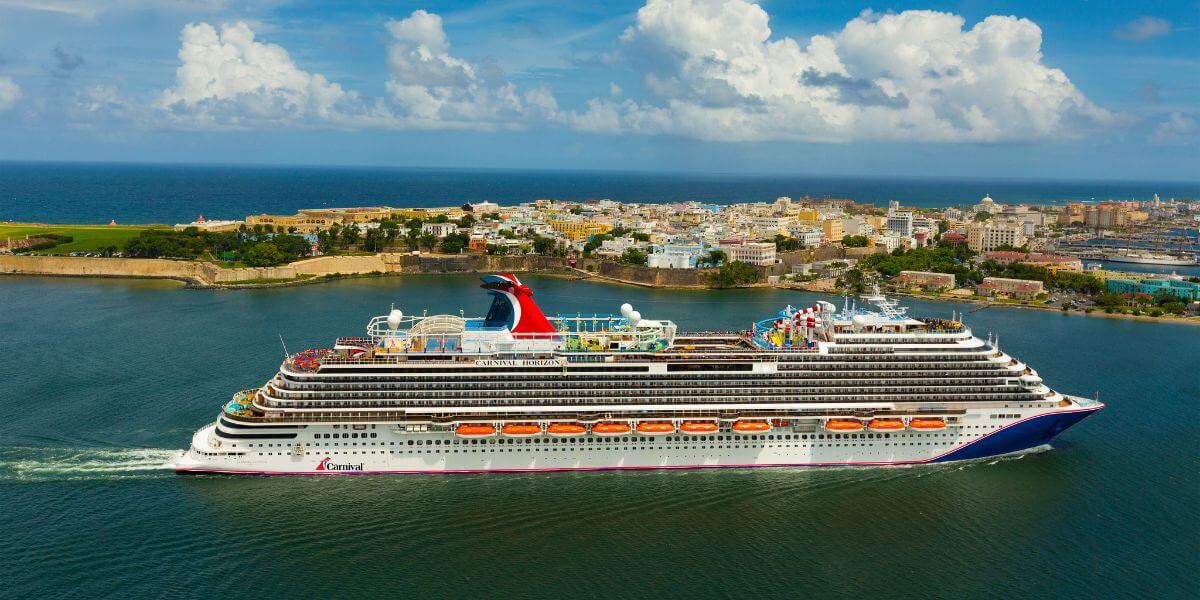 Carnival cruises are some of the most popular (thanks, in part, to their huge fleet of fun ships) and they often offer cruise holidays that are a bit cheaper than other large cruise lines. But it's important to know what you get for that money, and whether the total cost is going to be a lot higher.
So, let's take a look at what's included and whether a Carnival cruise can be considered all-inclusive.
Does Carnival Offer All-Inclusive Cruises?
Carnival cruises are not completely all-inclusive. The standard cruise fare includes your accommodation, access to most of the leisure facilities on-board, and your food in the main dining rooms and buffets. Most of your drinks, including alcohol, do cost extra as do some speciality restaurants.
You can make your Carnival cruise all inclusive – or at least 'more' inclusive – if you want to by buying one of Carnival's drinks packages. There are two available – Bottomless Bubbles, which covers unlimited sodas, and the Cheers package which covers most of your alcoholic drinks.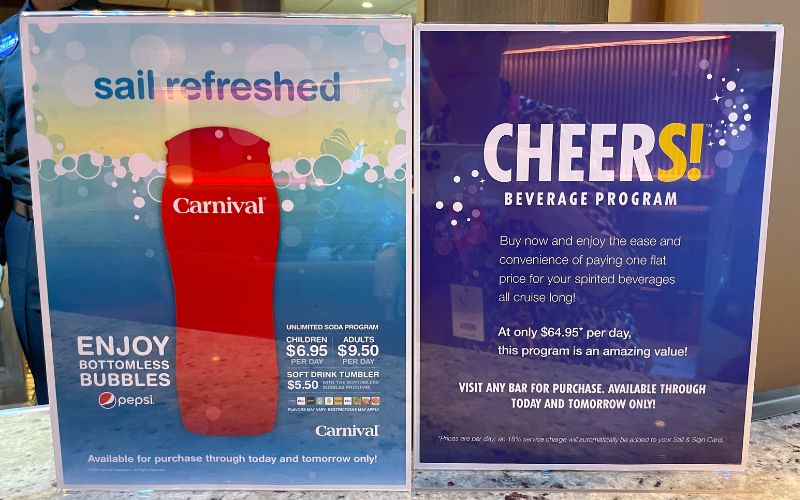 To work out whether the drinks package is worth it or not, thousands of cruisers use my free Drink Package Calculator tool:
You can definitely book a Carnival cruise, pay your standard fare and not have to pay much extra, but even if you only eat in the free venues and drink the free drinks, you'll still need to pay at least your gratuities on top of that at the end of your cruise.
But it is possible to have a great holiday without spending a lot more than your original cruise fare.
Suggested read: Carnival Cruise Drink Menus
What is Included in the Carnival Cruise Price?
Here's a breakdown of everything that is covered in your Carnival cruise fare:
Your stateroom, including a nightly turndown service, use of a private safe and your own TV
Live entertainment including theatre shows, comedians and musicians
Access to the lounges around the ship offering various live entertainment performances
The fitness centre with contemporary gym equipment
All pools, hot tubs and waterslides (except for certain areas, such as Havana)
Kids clubs for 2- to 17-year-olds
All of the food in the Main Dining Room and the Lido buffet restaurant
Select meals in some of the speciality dining venues for breakfast and lunch
The 24-hour pizzeria and 24-hour soft serve ice cream and frozen yogurt
Select drinks in the Main Dining Room with meals, and 24/7 in the Lido: non-bottled water, lemonade, iced tea, hot chocolate and non-speciality teas and coffees
Is Food Included on Carnival Cruises?
Food is included on all Carnival cruises, but not all food is free. You can eat for no extra charge in the Main Dining Room and the Lido buffet, while some of the speciality restaurants have free options for breakfast and lunch. The 24-hour pizzeria is also free.
All other food options have an extra cost – this includes any snacks you want in the cafes and lounges or the evening meals in the speciality restaurants. The only other food item that's free is the soft serve ice cream and frozen yoghurt served on deck – so make the most of it!
Also, there are sometimes select meals in the Main Dining Room that do have an additional charge – these are the Steakhouse Selections and include prime cuts of meat.
Room service is also an extra charge – if you want to keep the costs of your cruise down and you're hungry in the middle of the night, you'll need to take a walk to the pizzeria.
The options available in the Main Dining Room and Lido buffet are plentiful and varied, and many cruise customers are happy enjoying these for the duration of their cruise. You don't have to pay extra for food if you don't want to.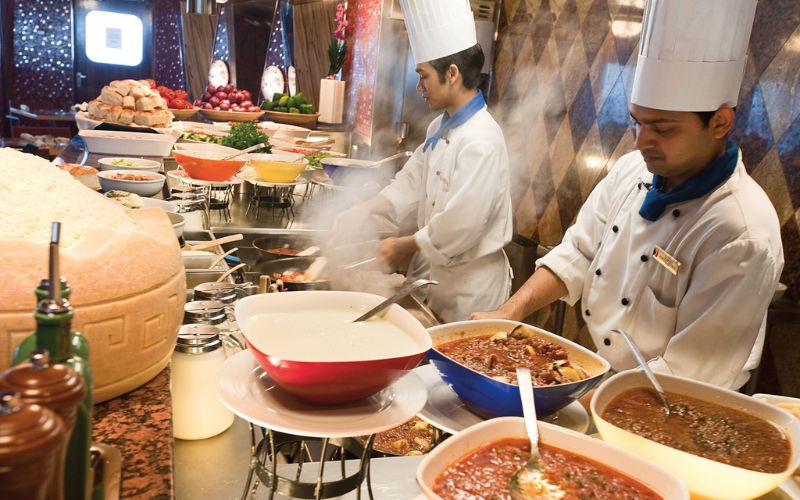 Plus, you can order as many courses as you want in the Main Dining Room and you won't pay any extra, as long as you avoid the Steakhouse Selections. Torn between two entrees? Get both! Don't feel embarrassed either, a lot of people do it.
What Drinks are Included on a Carnival Cruise?
The drinks that you can enjoy free of charge on a Carnival cruise include:
Non-bottled water
Lemonade
Iced tea
Hot chocolate
Non-speciality teas and coffees
You can enjoy these drinks 24/7 in the Lido buffet, or during meal servings in the Main Dining Room.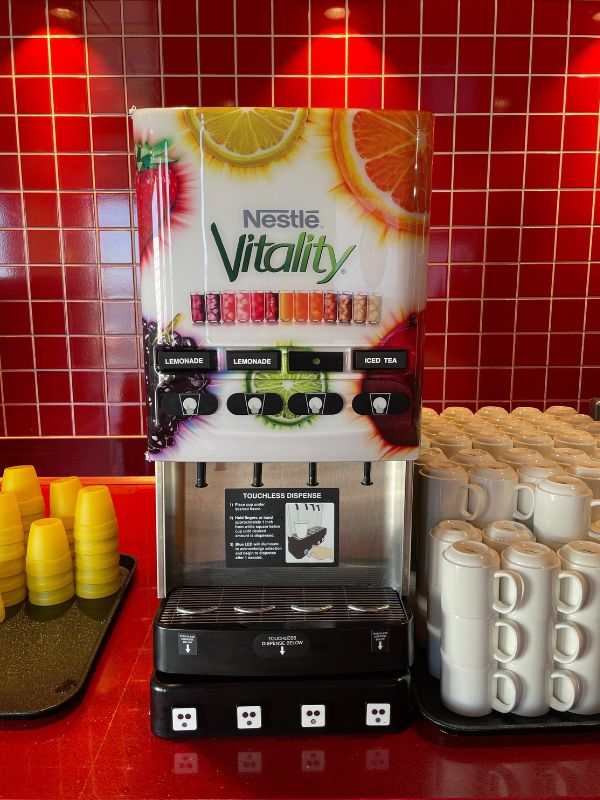 All other drinks have a cost attached to them.
Bottomless Bubbles Soda Package
The Bottomless Bubbles soda package is Carnival's unlimited soda package. If you decide to buy this, you'll be able to enjoy any sodas and juices that you want free of charge from any of the venues on-board that serve drinks.
The only places where the Bottomless Bubbles package doesn't apply are for room service, drinks ordered through the interactive TV system (which counts as room service), or from the minibar.
Only one person may use a drinks package – if you want to share drinks, then each member of your party needs to pay for the package. You can order one drink at a time, and drinks are served by the glass – 16 ounces for sodas and 10 ounces for juices.
The Bottomless Bubbles package price can vary by ship and itinerary, and starts at $6.95 per day for children and $9.50 per day for adults. You can't buy it daily though – you need to buy it for the whole cruise.
Cheers Package
The Cheers package is the equivalent alcoholic drinks package, and it lets you enjoy all the alcoholic drinks you want from the list of included options during your cruise.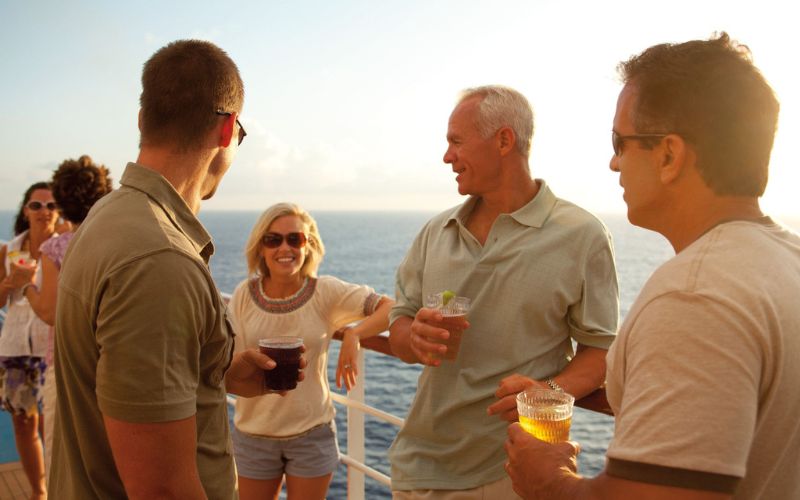 The package includes:
All spirits (including cocktails!) that have a $20 or lower menu price
All beers and wines by the glass with a $20 or lower menu price
Sodas, alcohol-free cocktails, energy drinks, speciality coffees, hot tea, bottled water (500ml) and other non-alcoholic bottled drinks
Packaged water in the Main Dining Room and speciality restaurants
25% off the menu price for any spirits or wines by the glass costing more than $20 on the menu
25% off wines and Champagnes by the bottle
25% off beverage seminars and classes
There are some other exclusions too:
It doesn't include beverages sold in souvenir glasses
You can't buy bottles of liquor
It doesn't include drinks offered at gangway
It doesn't include room service or your minibar
It doesn't include sharer cocktails, floaters, pitchers or beer buckets
It doesn't include beverages offered through enomatic wine machines
It doesn't include any merch or related items
It doesn't include any food
The cost for the Cheers package can is $59.95 per day if you buy it before your cruise or $64.95 if you buy it on the ship.
The alcohol package must be bought for the duration of the cruise and can only be purchased by guests aged 21 or over. And you must also buy it for a whole stateroom – you can't buy it for one adult in a stateroom and not the other.
Do Carnival Cruises Include Flights?
Carnival cruises can include flights. They're an optional extra when you book, along with transfers to and from the airport. If you need flights, then you can choose to book them as part of your fare or arrange them yourself.
You might be able to save some money if you book your flights and transfers separately, but obviously, that comes with the extra work of sorting it yourself too.
Plus if there are any delays to your flights or transfers, the ship may not wait for you. Sometimes cruise lines will wait for guests who have booked flights as part of a package with the line.
Speak to your travel agent, or if you're booking your cruise yourself then weigh up whether you want to balance the risk of delays with the potential savings. It may be worth booking your flights as part of a package, for extra peace of mind.
NEW DEALS JUST RELEASED!
See the latest Carnival cruise offers…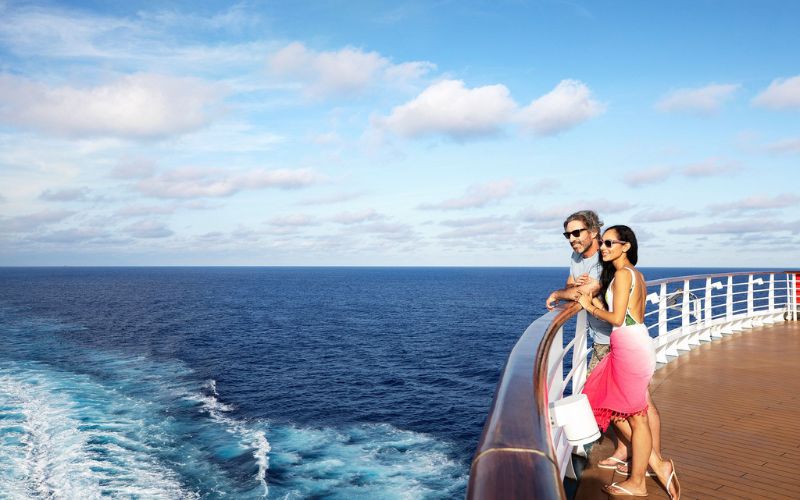 What's Included Can Depend on What Stateroom You Book
Booking a suite on a Carnival ship does get you some extra inclusions on your fare, such as:
Priority check-in and express boarding
Priority debarkation
One free bag of laundry per cruise
Two free bottles of water in your suite
It's not a huge amount extra, but really in a suite, you're paying for the better quality of service from your stewards, and the more luxurious accommodation. But there are some other perks too depending on the type of suite you book.
Havana Suite guests enjoy:
Daytime access to the Havana Pool area including cabanas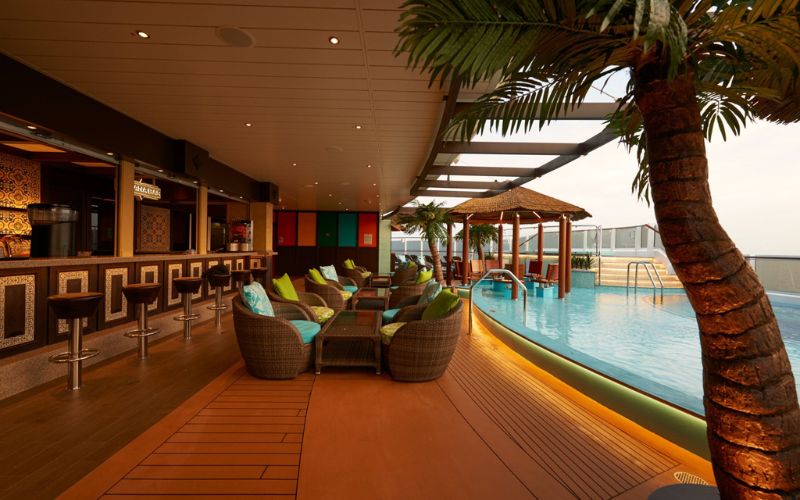 Family Harbor Suite guests enjoy:
Access to the Family Harbor Lounge with board games and video games to enjoy
Free breakfast and snacks in the lounge
Kids eat free in most speciality restaurants
One free evening of babysitting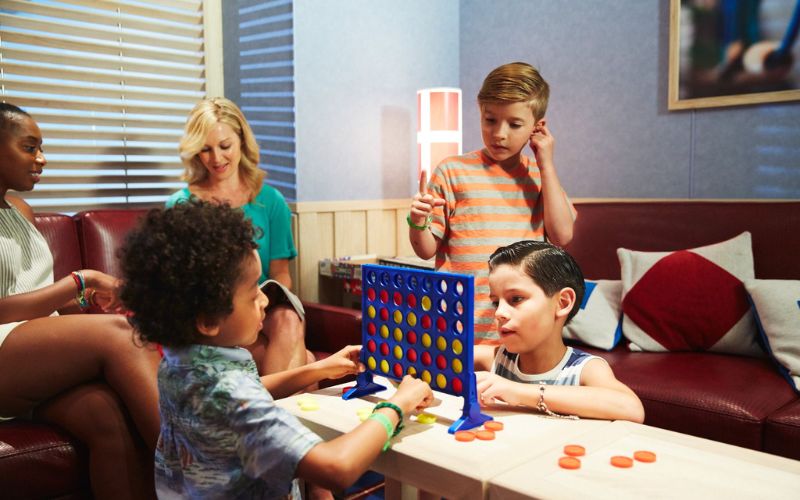 Cloud 9 Spa guests enjoy:
Unlimited access to the thermal suites
Priority reservations for the spa
Two free fitness classes per person
A free body composition analysis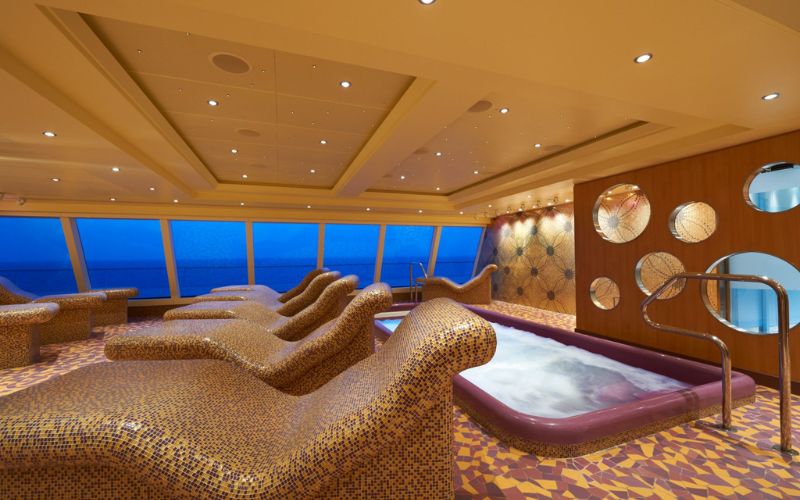 Some of the best suites are the Carnival Excel Suites. These come with a longer list of extras, including:
Free access to Loft 19 with priority cabana reservations
Free sparkling wine and a fruit bowl in the suite
A Bottomless Bubbles drinks package included
Free room service
Free movies on-demand
Unlimited free laundry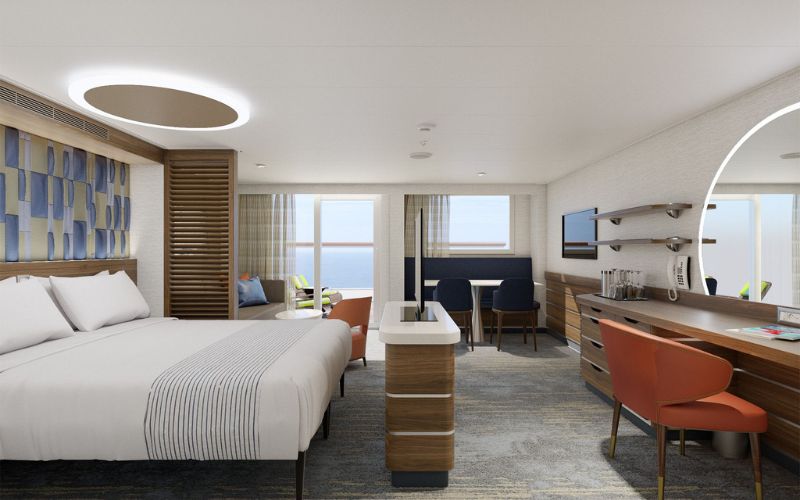 Obviously, you pay a lot more for a suite than you would for other accommodations, so don't just decide to book one to get the extras. Many of the suite inclusions are things you can pay for separately, at a lower cost than the suite upgrade.
Read more: Carnival Cruise Suite Perks
What's Not Included on a Carnival Cruise
While there is a lot that is included as part of your Carnival cruise fare, there's a lot that isn't included too.
Gratuities
Gratuities are something that every guest over the age of 2 has to pay. They cost $16 per person per day for standard staterooms, and $18 per person, per day for suites.
Those costs can add up if you aren't expecting them – for a family of four in a standard stateroom cruising for 7 days, that's $448 you need to pay. And this will be added to your account on the second last night, so you'll need to pay it before you disembark.
You can pre-pay your gratuities if you'd prefer to, and you can do that anytime up to your sailing date. If you're budgeting and want to clear it before you sail, just log onto your booking or speak to your travel agent.
Shore Excursions
If you're a first-time cruiser, you might be wowed by the promises of so many exciting things to see and do while you're in a new port every day.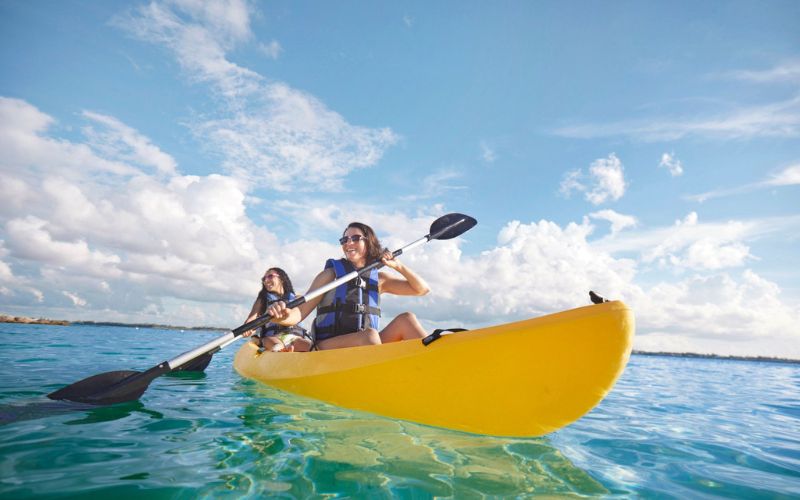 But it's important to realise that shore excursions – the official trips organised by the cruise lines – carry an additional charge. And depending on the excursion, they aren't all cheap.
You're more than welcome to just step off the ship and explore on your own, but bear in mind that a lot of ports aren't actually close to the cities you're visiting. Cruises calling at Rome, for example, actually dock at Civitavecchia – an hour's drive from the city.
A cheaper alternative may be to book excursions with a third party, but these come with a risk – if you're late back to the ship and miss departure time, the ship will leave without you.
Official excursions are different as the ship will always wait, but if you choose a cheaper excursion with someone else, and there's a delay on the roads, you may be in trouble.
But if you want to keep costs down, staying on the ship is a great way to do so – you'll often be able to enjoy a much less crowded atmosphere while everyone is off exploring too.
Speciality Dining
Speciality dining restaurants are more unique venues on board the ships that offer a tailored menu. Some breakfast and lunch items will be free, but evening meals will cost extra – around the same sort of price you would pay in a restaurant on land.
Kids eat free in speciality dining restaurants if you book a Family Haven suite but otherwise, every guest has to pay.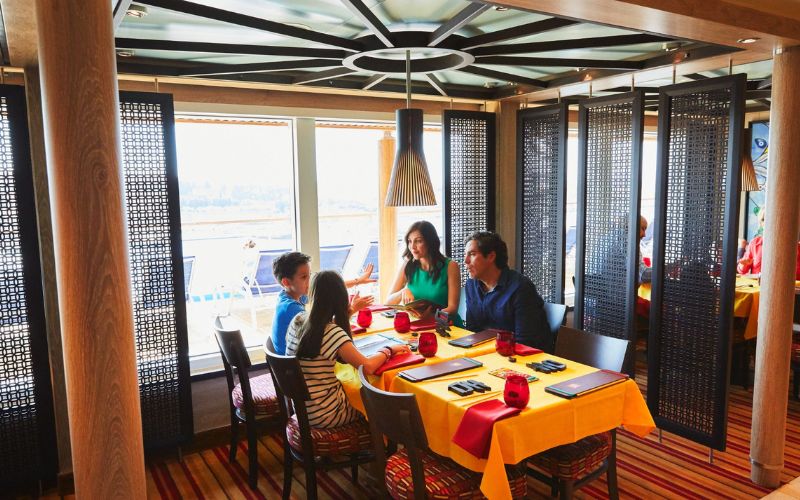 Drinks
As covered already, most of your drinks on your Carnival cruise will cost you extra, unless you choose one of the drinks packages.
Remember that the drinks packages don't cover everything, so be careful about your choice of beverage if you're trying to keep the costs down.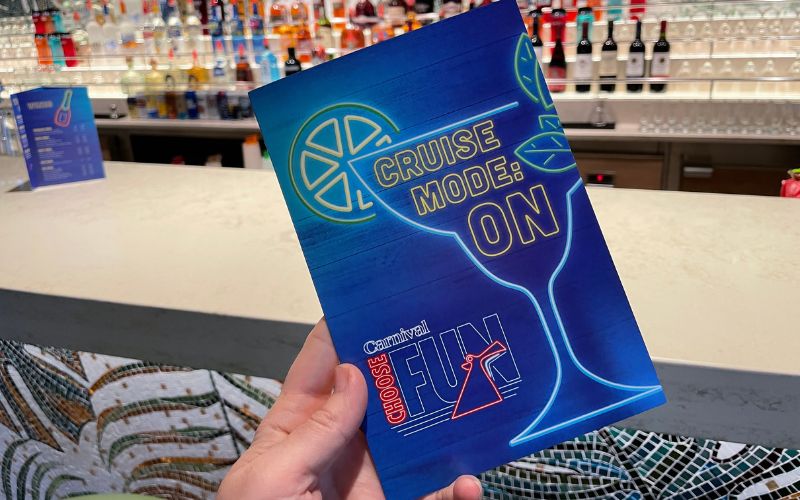 Room Service
Room service is always paid for, unless you're in one of Carnival's top suites. Room service includes some light bites, snacks and drinks options. The costs aren't super high, but you can usually find something free if you're willing to throw some clothes on and take a short walk to the pizzeria, the Lido buffet or the soft serve ice cream station.
Select Entertainment
While most of your entertainment on your cruise is included, not everything is. Some things have an extra charge, including the IMAX cinema, the Sky Zone trampoline park and the Bolt roller coaster at sea. These features aren't on every ship, but where they are, you'll need to pay a little extra to have a go.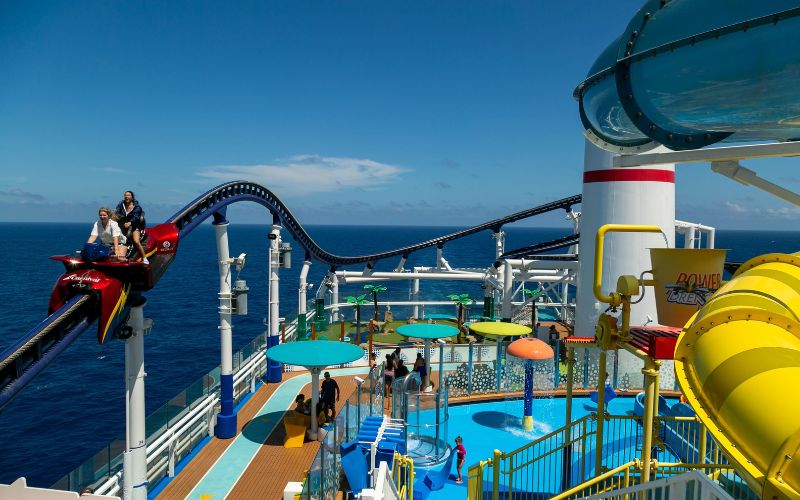 Other entertainment that has an additional cost includes any gambling, the video arcade, and the interactive games of Bingo and Deal or No Deal.
And Others That Aren't Included in Your Fare:
Anything you buy in the gift shop
Purchases at Cherry On Top or Special Occasions
Spa treatments and fitness classes
Loft 19 rental (unless you're in an Excel suite)
Art auctions
Photos
Internet access
Ship-to-shore telephone calls
Medical services
Laundry services
To Conclude
So, is Carnival all inclusive? No, but then you'd get the same answer if you asked are cruises all inclusive in general. You typically get the same inclusions regardless of cruise line, unless you go ultra-luxury.
The best way to make your Carnival cruise all-inclusive is to buy a drinks package that covers the type of drinks you'll be buying, and pre-pay your gratuities. Then, you can probably enjoy the whole cruise without paying anything extra.
If you want to make sure that the drink package is worth it, based on what you like to drink, then be sure to check out my free drink package calculator tool.
Whether it's drinks, speciality dining, or excursions – there are a lot of extras you can add on to your Carnival cruise. But they are optional, and you'll still have an amazing holiday without them.
So the short answer is no, Carnival cruises aren't all-inclusive. There are a lot of things you have to pay for if you want to. But your cruise fare does cover your room, your food, select drinks and your entertainment – plenty to make for a great cruise.
I suggest that you take a look at this article next: How Much Cash To Take On A Carnival Cruise.
NEW DEALS JUST RELEASED!
See the latest Carnival cruise offers…
Related Posts: