So, you're considering a cruise for your honeymoon. Well, there's certainly plenty of choice out there – but working out which is the best for the special occasion can leave you feeling quite confused.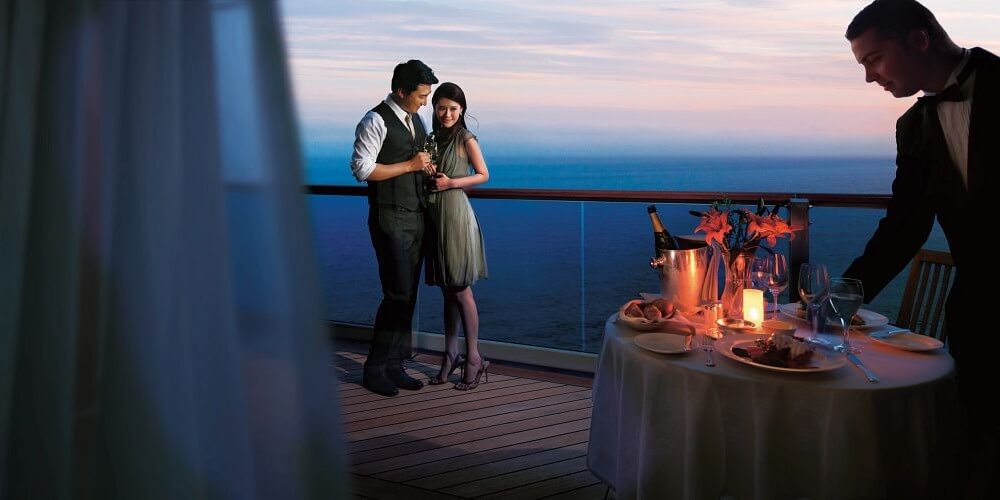 The problem is, there are so many cruise holidays that would make a great honeymoon!
So, how do you know where to start? With ships varying not only between cruise lines but even within each cruise company, it can be tricky to know what the best honeymoon cruises are for you.
Whether you're keen explorers wanting your next big adventure, honeymooning with children in tow and want to enjoy a bit of alone time, or simply wanting to relax in paradise after your wedding, I'm here to help.
My first ever cruise was my honeymoon and I've been addicted ever since!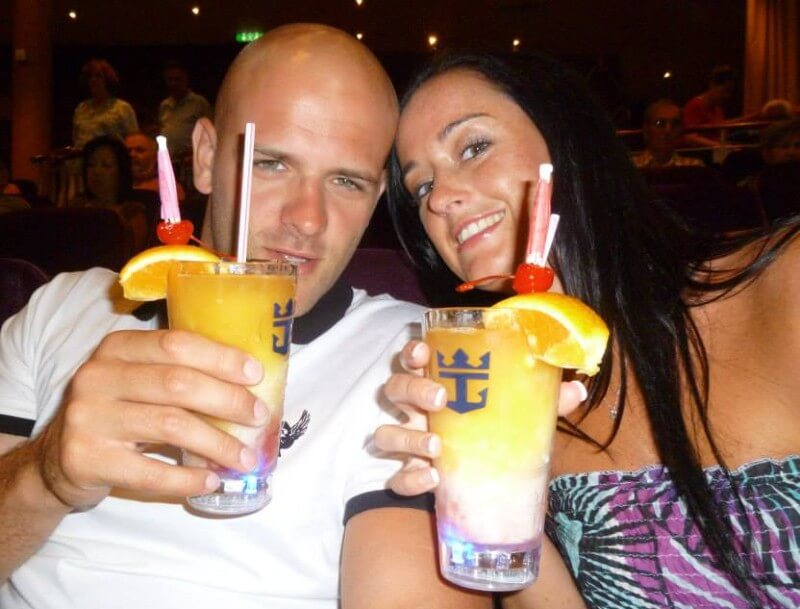 If you're not sure which cruise lines are the best for honeymoon holidays, read on to find out more about my top 5 honeymoon cruise lines…
1. Royal Caribbean
Royal Caribbean is perfect for fun-loving couples, as well as those choosing to honeymoon with kids. It offers plenty of fun activities, as well as kids clubs to keep youngsters occupied when you want to dial up the romance.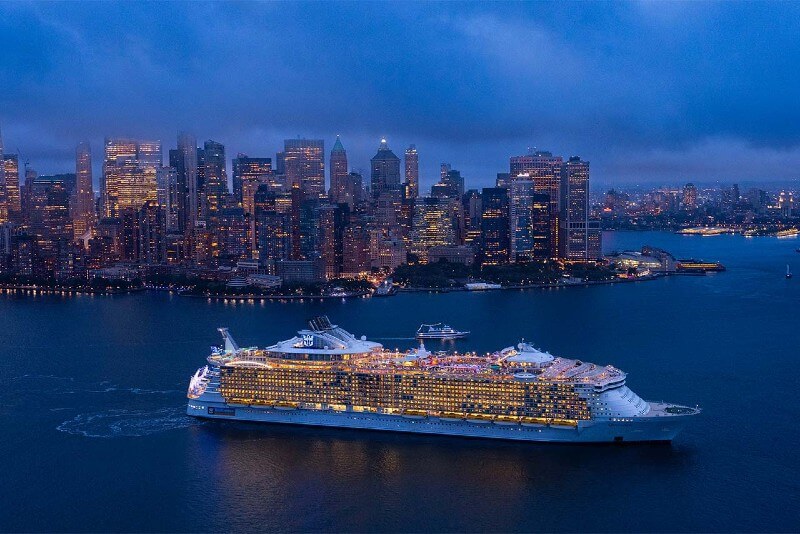 Royal Caribbean is Best for…
Fun-loving couples – You can never be bored on a Royal Caribbean cruise
Parents – The

kids' clubs will entertain little ones while you enjoy some alone time

Foodies – The incredible dining options will suit everyone
As I went on a Royal Caribbean cruise for my honeymoon, I have a bit of a soft spot for this cruise line. We sailed on Allure of the Seas in the Caribbean in 2013. It was my first-ever cruise and the one that set me on the path of cruise addition.
Bringing the Kids on your Honeymoon?
If you want the best cruise for honeymoon families, Royal Caribbean is definitely up there.
The breadth of activities available for children to attend is endless. The kids' clubs are open from the early morning, throughout the day and well into the evening, meaning that there's more time to spend just the two of you!
Spots such as the adults-only solarium, wine bars and late-night comedy events are also perfect for enjoying as a couple while the kids are entertained elsewhere.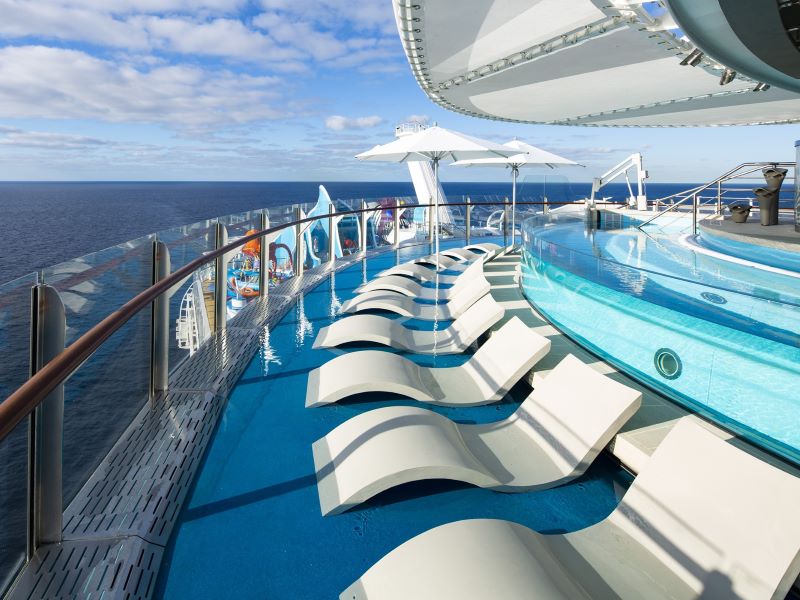 Watch the Best Shows at Sea
Royal Caribbean offers some of the best cruise line entertainment programmes at sea. Enjoy Broadway-style shows in the theatre such as Grease, We Will Rock You, Hairspray and Mamma Mia.
There's a fantastic couples gameshow called Mr & Mrs that you certainly won't want to miss. Being honeymooners, you also have a good chance of being selected to participate on stage!
There's also the incredible AquaTheater shows which feature mesmerising high-diving shows – though these are only available on selected ships.
Dream Honeymoon Itineraries
If you opt for an Eastern Caribbean itinerary, it's likely you will visit the cruise line's private island – Perfect Day at CocoCay. Here, you can enjoy an exclusive resort complete with an incredible water park, over-water cabanas, swim-up bars, zip line, beaches and water sports, all reserved just for Royal Caribbean guests.
This is an ideal place to visit if you're planning on experiencing the best of both worlds during your honeymoon – the beautiful beach and warm waters of the Caribbean and the exciting facilities of a Royal Caribbean cruise ship.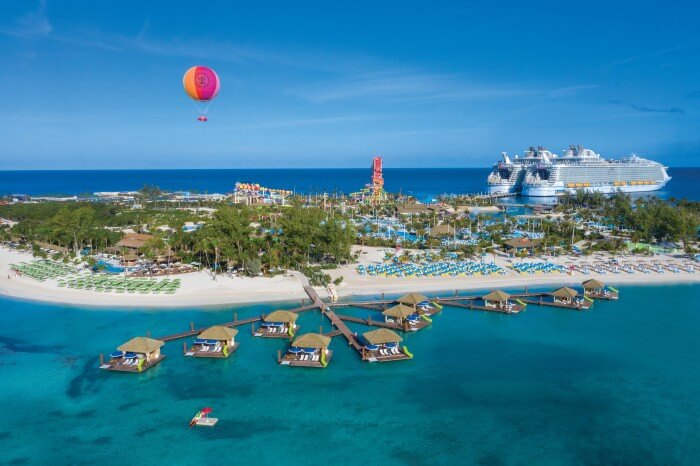 The Best Royal Caribbean Ship for a Honeymoon
Royal Caribbean has a huge choice of ships to choose from for your honeymoon, all of which include the adult-only solarium, meaning there's bound to be a ship to suit you.
The ships do vary in terms of size and onboard amenities. This also affects the price and destinations featured on your itinerary.
For something low-key and budget-friendly, the older ships (Vision, Voyager and Radiance Class) are a good choice. Or, if you're seeking plenty to do on-board and a huge ship to explore, you can't go wrong with either the Oasis Class or Quantum Class ships.
Suggested read: The Best Royal Caribbean Ships for Adults
My Top Tip for a Royal Caribbean Honeymoon Cruise:
Book your onboard activities ahead of time to ensure you don't miss out. The Escape Rooms, RipCord by iFLY and North Star are some of the most popular ones that are definitely worth experiencing!
2. Celebrity Cruises
Celebrity Cruises is a great choice to mark an occasion as special – these modern, luxurious ships visit breathtaking destinations across the globe and offer incredible service to match. Certainly some of the best cruises for honeymoon planners.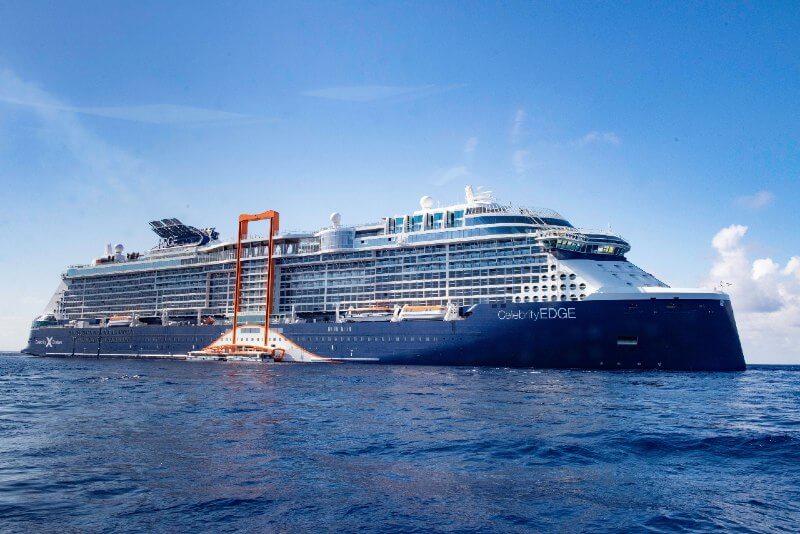 Celebrity Cruises are Best for:
Luxury lovers – Those who appreciate the finer things in life
Beach bums – Celebrity cruises are great for relaxation and recharging your batteries
Foodies – The food on board is something really special
Honeymoon in Luxurious Surroundings
For something a little more luxurious and indulgent, Celebrity Cruises' luxury cruises are ideal. With 15 ships to choose from, the cruise line offers contemporary cruising that's sure to elevate your honeymoon to new heights.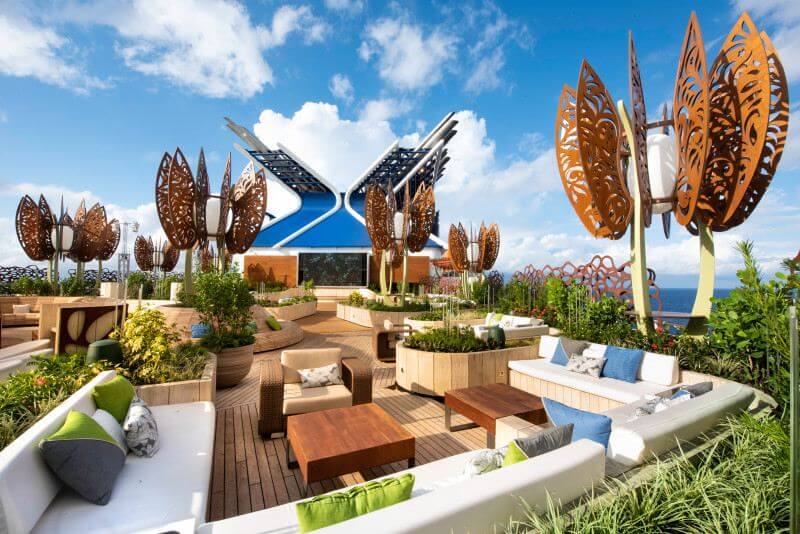 The cruise line isn't as tailored to children as other cruise lines, but there's still a great kids' club so this is an option if your kids are coming with you on honeymoon.
From ages 3 to 12, Camp at Sea offers activities and parties under the supervision of youth staff – perfect for those moments you want to share just the two of you!
Enjoy a VIP Experience
If you're opting for cruising as just a couple, The Retreat is a VIP space offering the perfect spot to completely unwind. Reserved exclusively for suite guests, it features luxurious services and amenities for a truly special honeymoon experience.
Enjoy relaxing on the Retreat Sundeck with plush furniture and cocktails at your call or visit the Retreat Lounge for 24-7 access to complimentary drinks, gourmet bits and dedicated concierge services. It's the ultimate in indulgence.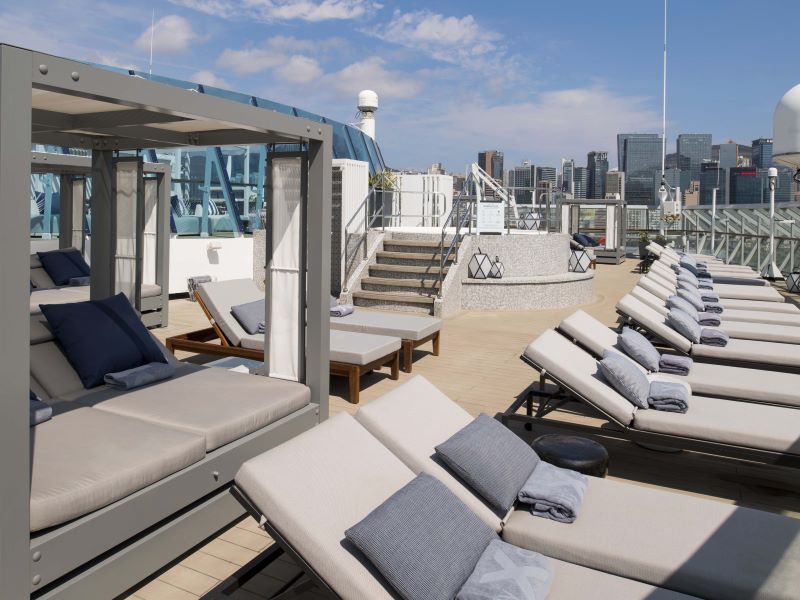 The Best Celebrity Cruises Ship for a Honeymoon
Though Celebrity Cruises has quite a large fleet to choose from, there are only four classes to differentiate between.
The Millennium Class features the older generation of just four ships, though many have been renovated in the last 1-2 years.
The Solstice Class is slightly larger with five ships, offering a little more space to unwind.
The Edge Class, launched in 2018 with Celebrity Edge as its namesake, features the three most modern ships.
The final class includes the three Expedition ships, including Celebrity Flora, which is purpose-built for the Galapagos Islands.
Award-Winning Dining
If you're foodies, there's plenty to get excited about with Celebrity Cruises. The cruise line has won awards for its dining experiences, some of which have been awarded for eight consecutive years!
Complimentary venues include the main restaurant where you can enjoy an ever-changing menu in a modern and elegant setting. Guests staying in AquaClass can also visit Blu Restaurant and suite guests can visit the Luminae Restaurant.
If you're seeking next-level dining, there's a great choice from Sushi on Five, to the French-inspired Murano; Fine Cut Steakhouse to the Parisian influences of Le Grande Bistro.
For something extra-special, the Edge Class offers the Magic Carpet experience – an alfresco restaurant situated sky-high for Dinner on the Edge.
My Top Tip for a Celebrity Cruises Honeymoon:
Celebrity Cruises offers a celebration package that includes wine, a bouquet of flowers, delectable chocolate-dipped strawberries and the perfect element of surprise for your new hubby or wifey!
Suggested read: Celebrity cruise ships by age, size and class
3. Virgin Voyages
Relatively new to the cruise line world, Virgin Voyages has torn up the rule book to offer an over-18s experience you won't forget – think tattoo parlours, boozy brunches and late-night port visits! Already it's considered as one of the best cruise lines for honeymoon getaways.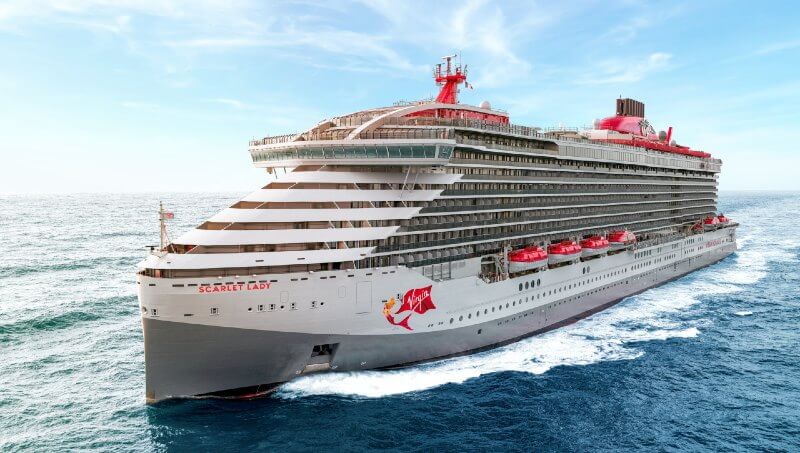 Virgin Voyages is best for:
Rock stars – The RockStar suites will make you feel super-special
Adventure seekers – There's lots of fun, both on board and ashore
Health nuts – Ships have huge gyms and lots of fitness classes
One of the Newest Cruise Lines
If you're keen to set sail with zero children in sight, a Virgin Voyages honeymoon cruise is a great choice. Not only is the cruise line completely adults-only, but there's also plenty to look out for on board to ensure you have a brilliant honeymoon cruise.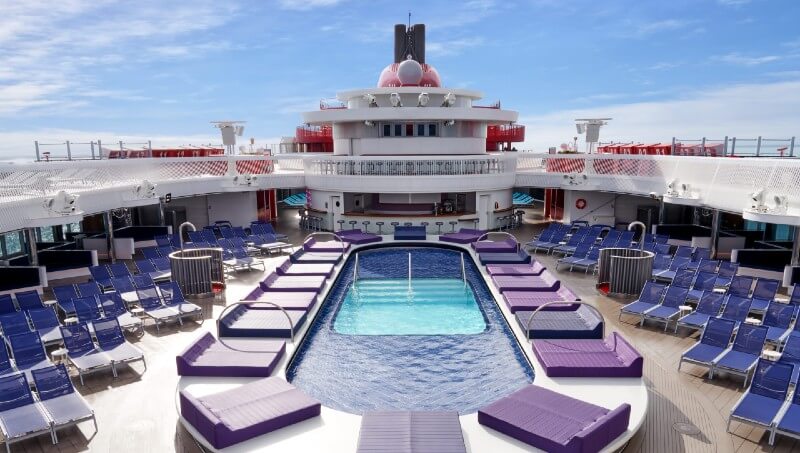 Virgin Voyages caters to couples looking to enjoy every minute of their time on-board. Included as standard in your cruise fare is over $600 worth of amenities, including Wi-Fi, dining at over 20 venues, fitness classes and soft drinks.
There's even a tattoo parlour on-board so you can commemorate your honeymoon with matching ink to remember forever – that's if you're feeling brave!
Feel Better Than Ever
Virgin Voyages is a big advocate for wellbeing and so offers classes such as sunrise yoga, spa facilities like cold plunge pools and heated hammam benches, and a beauty parlour – so you can look as good as you feel on your honeymoon.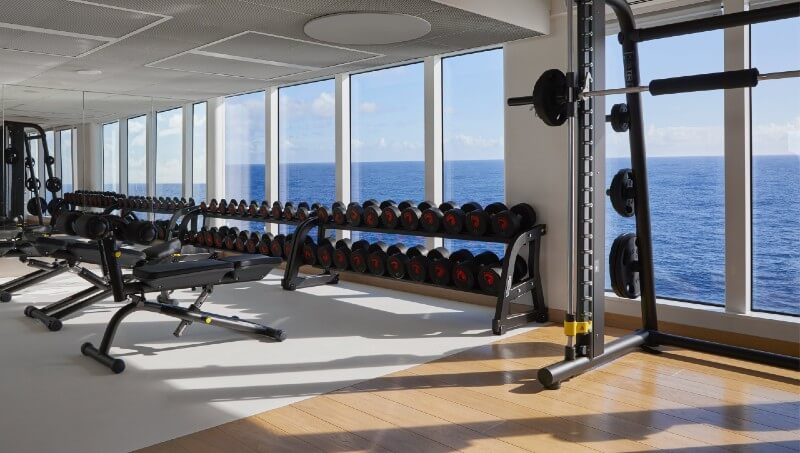 The Best Virgin Voyages Ship for a Honeymoon
Virgin Voyages has four ships in the fleet you can sail on. The newest is Brilliant Lady, which is due to launch in 2024. The other three ships – Scarlet Lady, Valiant Lady, and Resilient Lady – are already sailing.
The ships are identical, so the only choice you need to make is finding the right destination and date to suit you.
Exotic itineraries
There are three main destinations that Virgin Voyages sails to – the Caribbean, the Mediterranean, and Australia and the South Pacific.
The Caribbean includes ports such as San Juan, Costa Maya and Key West, all of which sail out of the cruise line's home port, Miami.
For sailings that explore the Bahamas, Virgin Voyages offers callings at the Beach Club at Bimini – this private beach club experience is exclusive to cruise guests. Here, you can enjoy a resort-like life during your time here, starting with morning yoga and ending with beach bonfires.
The second destination to explore on a Virgin Voyages cruise is Europe, with Barcelona, Spain and Piraeus (Athens) as the home ports.
You can enjoy exploring countless capital cities during your honeymoon with Virgin Voyages. While there are no private islands to explore here, you can enjoy overnight stays in ports including Monte Carlo and Ibiza – so you can party until the early hours!
The cruises around the South Pacific are more limited, sailing out of Melbourne or Auckland, and they include the vibrancy of modern Australia along with traditional Maori culture.
My Top Tip for a Virgin Voyages Honeymoon:
Virgin Voyages doesn't offer the typical drinks packages seen on other cruise lines. So if you want to get sloshed, it's going to get pricey.
You can, however, get a prepaid Bar Tab that gets you discounts. You can share your Bar Tab between you both, so you don't have to purchase one each – we'll drink to that!
Suggested read: Virgin Voyages drinks package
4. Princess Cruises
Princess Cruises offer traditional cruising with an air of elegance, ideal for those travelling with or without children.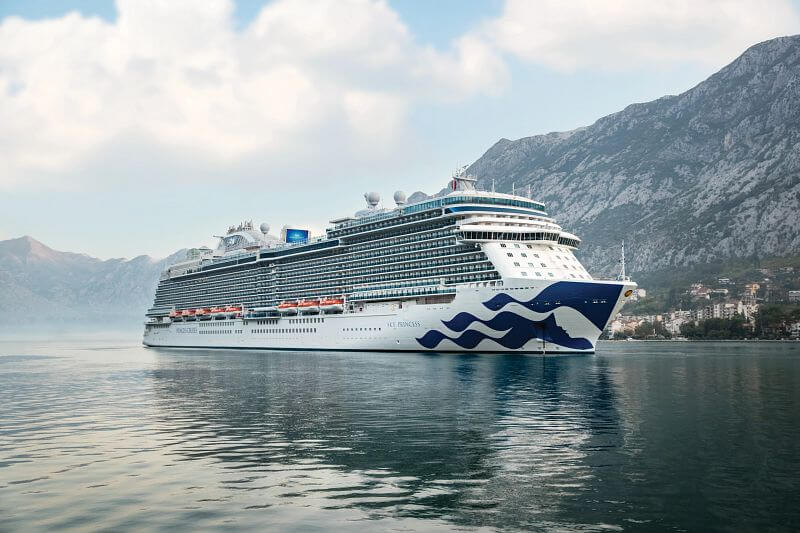 Princess Cruises is Best for:
Laid-back lovers – The atmosphere is geared towards relaxing
Explorers – Enjoy fantastic destination-focused itineraries
Over 50s – Although you'll find a wide range of ages on board
Traditional Cruising at its Best
From award-winning spas and dining to exciting itineraries, Princess Cruises is a cruise line that caters to many joys of travel and relaxation.
The cruise line specialises in creating lasting memories with those you love, featuring unique on-board activities amongst in-depth itineraries to curate sailings that are almost made in heaven – just like you newlyweds!
Enjoy Time Spent Together
With Princess Cruises, there are many opportunities to indulge in sharing experiences together. Learn to ballroom dance or test your knowledge of each other in the Marriage Match Game Show!
Savour a romantic meal at the many speciality restaurants on board your ship or enjoy a decadent chocolate and wine tasting.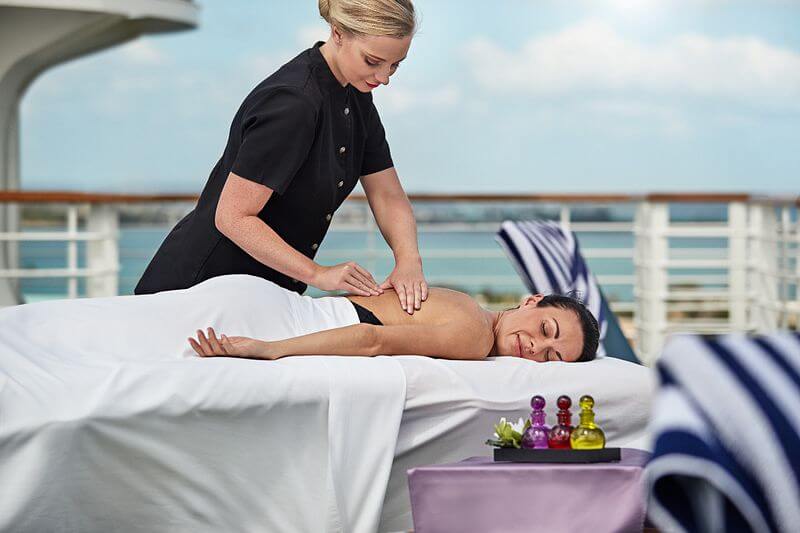 The Lotus Spa is an ideal haven to unwind. I recommend booking a couple's massage for a relaxing time together.
Visit a Paradise Island
Princess Cruises has its own private island, situated in the Bahamas. Princess Cays is a 40-acre resort on the island of Eleuthera featuring unspoilt beaches, private cabanas and a sanctuary fit for your special celebration.
Enjoy beach barbeques, visit the local shops and craft markets, or relax on the beach.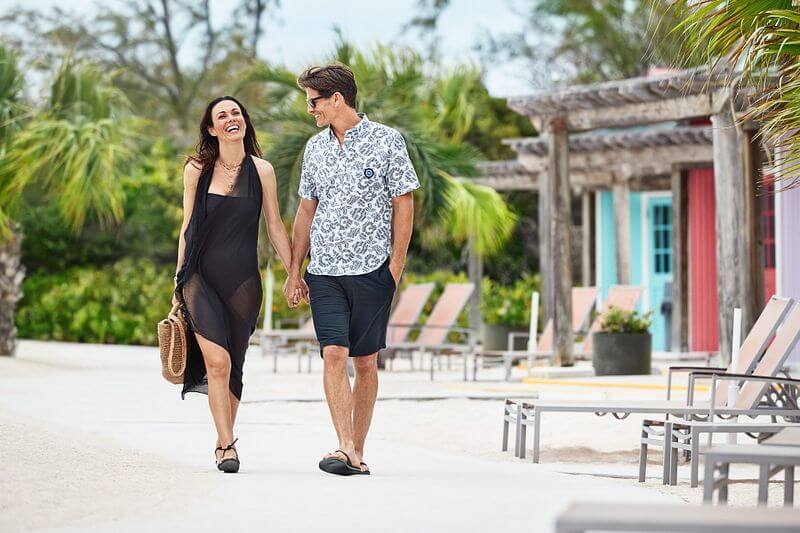 The Full Package
Princess Cruises offers honeymoon packages complete with vintage Champagne, gourmet breakfast on the balcony and quality time together in the therapeutic thermal suite. Prices for this added extra start at $299.
My Top Tip for a Princess Cruises Honeymoon:
Enjoy your evenings on board with Movie Under the Stars. This outdoor cinema experience is a great way to end the day, complete with blankets, popcorn, and one of the latest blockbuster hits.
Suggested read: Princess Cruises ships by age
5. Uniworld River Cruises
Boutique and stylish with flair, Uniworld River Cruises offer a unique option for those looking to enjoy all-inclusive luxury river cruising. It's definitely a contender for best cruise line for honeymoon river cruises.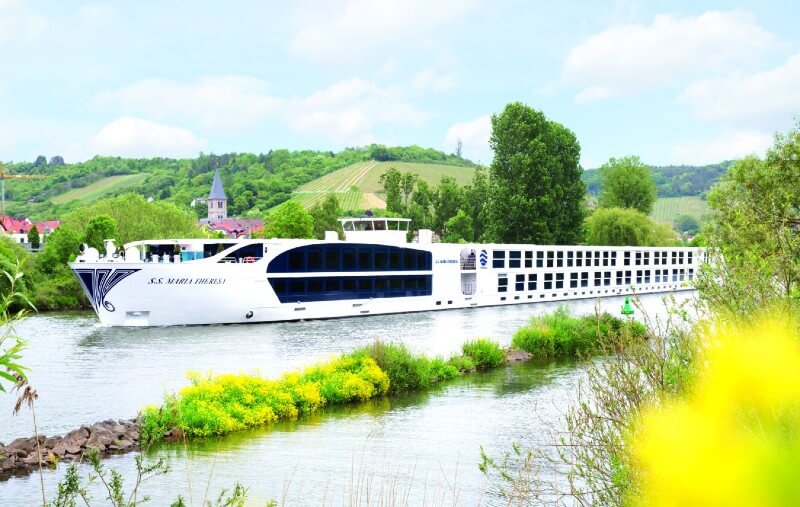 Uniworld is Best for:
History buffs – Explore fascinating cities across Europe
Sea sickness sufferers – Because there are no waves on a river!
Luxury lovers – A high staff to guest ratio means you'll be well looked after
Explore Europe's Most Romantic Cities Via River
For a more intimate setting, a river cruise offers the chance to sail along one of Europe's best-loved rivers, up-close and personal.
No cruise line does it quite like Uniworld River Cruises, which designs each of its ships akin to boutique hotels.
Modelled after the cruise line's sister company, the Red Carnation Hotel Collection, the Uniworld fleet boasts destination-inspired décor, carefully selected amenities and delectable cuisine you will never want to leave.
Think beautiful colour palettes, custom fabrics, original artworks and more.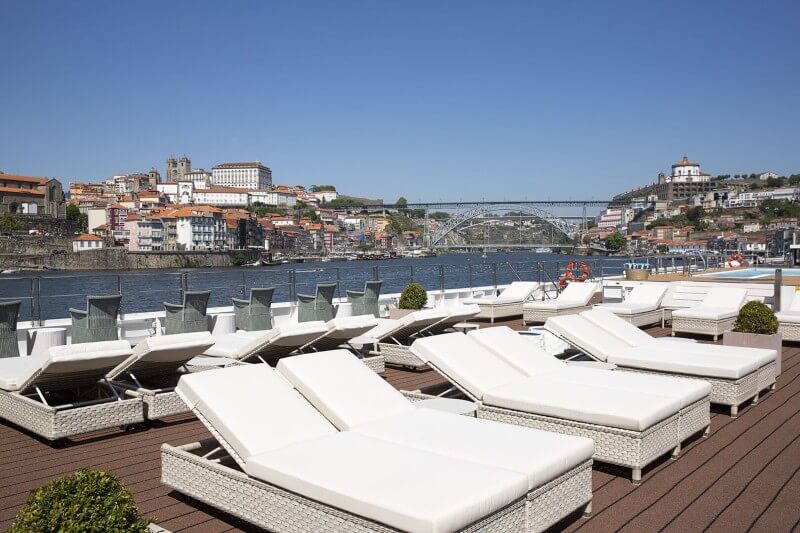 An All-Inclusive Experience
Uniworld ships may each look unique, but they all offer the same all-inclusive experience.
Culinary treats are akin to world-class cuisine with menus inspired by the destinations you visit.
Your suite features butler service, all-marble bathrooms and fresh cookies delivered daily, while the same standard of service is matched throughout the ship venues with a truly guest-centric atmosphere on-board.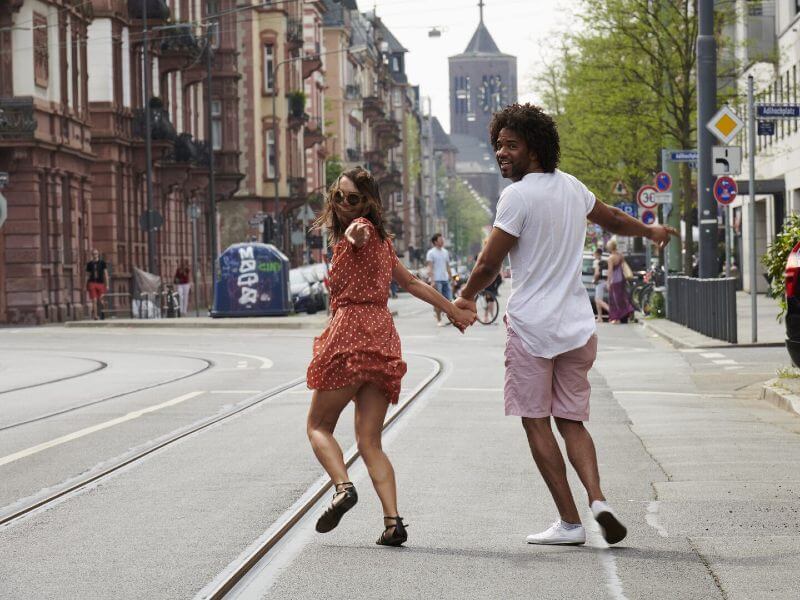 See More of the World
As for destinations, follow some of the world's greatest rivers including the Nile, Amazon, and the Rhine. Each place features its own curated ship designed for that specific destination so you're constantly exploring even while you're sailing!
Wine lovers can sail to some of Europe's renowned wine regions such as Bordeaux or Burgundy. Uniworld even offers specially-themed itineraries as part of its Connoisseur Collection for lovers of French food and wine.
Or, you could tour the Christmas Markets along the Danube or Rhine and snuggle down for an unforgettable winter honeymoon
My Top Tip for a Uniworld Honeymoon:
If you are planning to travel with children, Uniworld offers selected family-friendly sailings as part of its Generations Collection with special programs, events, and excursions tailored to all ages.
Final Word
There's definitely a cruise line to suit your honeymoon style – whether adventurous or chilled, kid-free or family-friendly, fellow foodie or wine-lover.
These cruise lines are just a snippet of the great choices out there for your cruise to celebrate the beginning of your marriage.
There are plenty of new ships on the cruise horizon too – meaning there's always going to be something new to try, as well as hundreds of destinations to decide on where to visit. Check out my guide to the 19 Best Cruise Destinations For Couples for inspiration.
On our honeymoon, we cruised on what was (at the time) the newest and biggest cruise ship in the world. A fellow passenger told us that we had 'ruined it', by doing the best one first.
Little did we know that bigger and better cruise ships are built every year. So, here's to a lifetime of cruise addiction together!
Related posts: